Milford Sound and Fiordland National Park – A Must-Do For Your New Zealand Vacation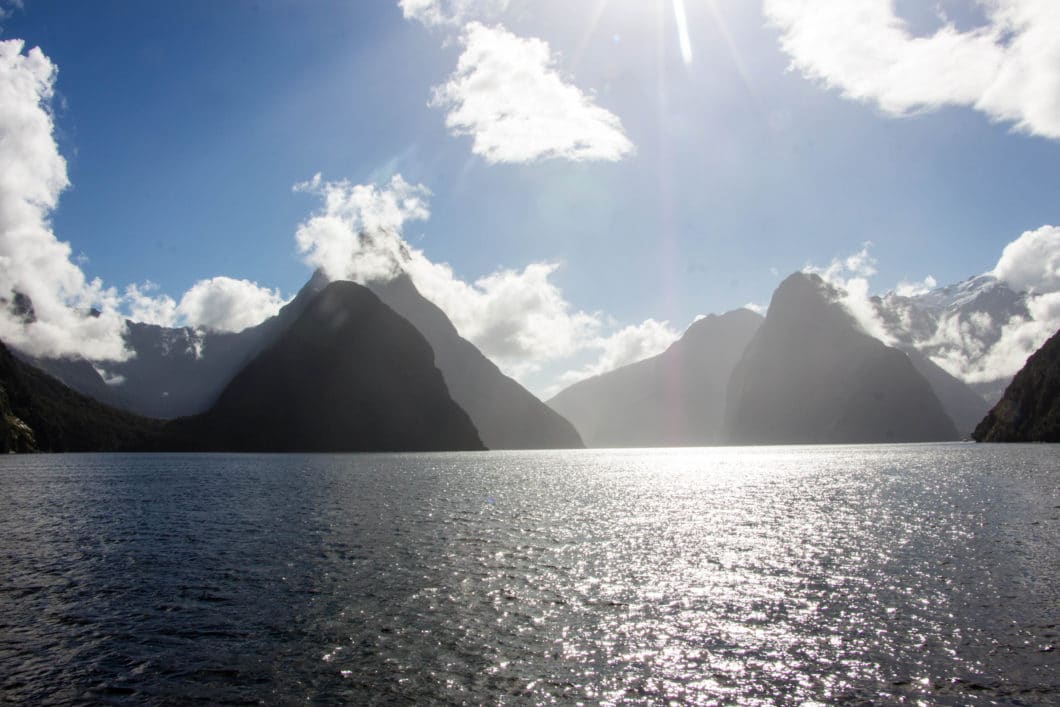 I know in my last post I said that Queenstown, New Zealand was one of the most beautiful areas I have ever seen. But, Milford Sound and Fiordland National Park are certainly tied for that title, in my opinion! Milford Sound and Fiordland National Park are actually not too far from Queenstown, but it takes quite a long time to get there by car from Queenstown because the roads are so curvy and windy. And let me tell you, it is certainly worth the journey! (I'll be splitting this post into two sections starting with Milford Sound and ending with Fiordland National Park.)
Milford Sound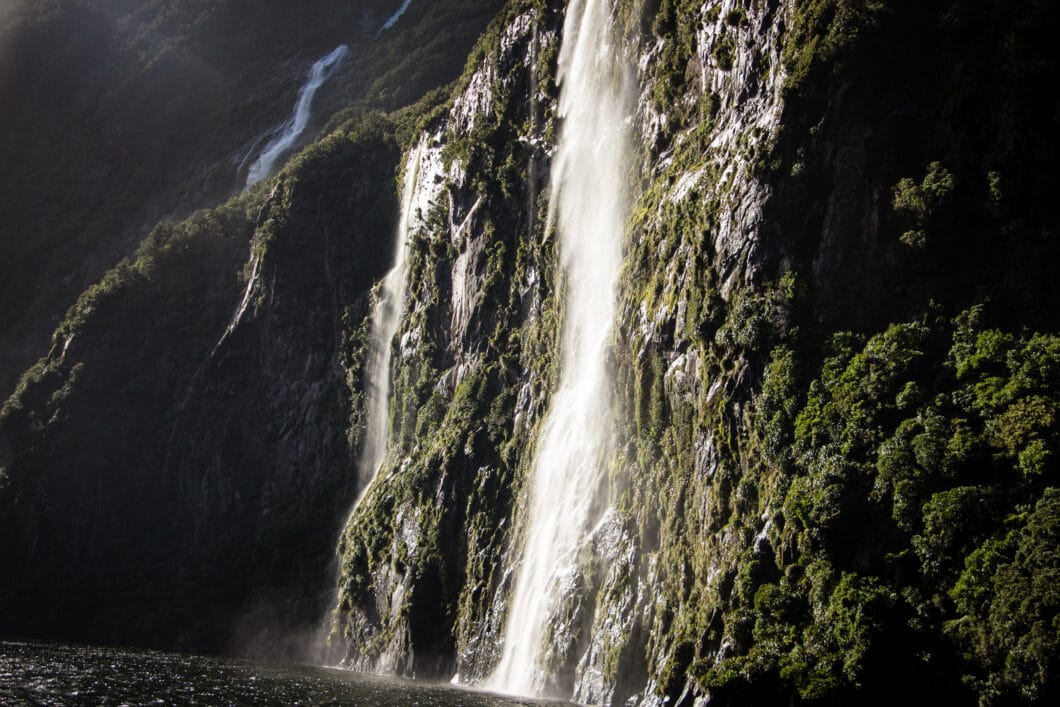 Milford Sound has incredibly dramatic landscapes, ranging from waterfalls to mountains and even glaciers! If you only have time to do one thing while in the South Island of New Zealand – Milford Sound should definitely be it.
There are a couple different ways you can experience Milford Sound. You could take a plane ride over it, go sea kayaking or the most popular option is to take a boat cruise. We opted for the boat cruise and were very happy with our experience! It was a great way to see the beauty of the fiord and get up close and personal with the waterfalls.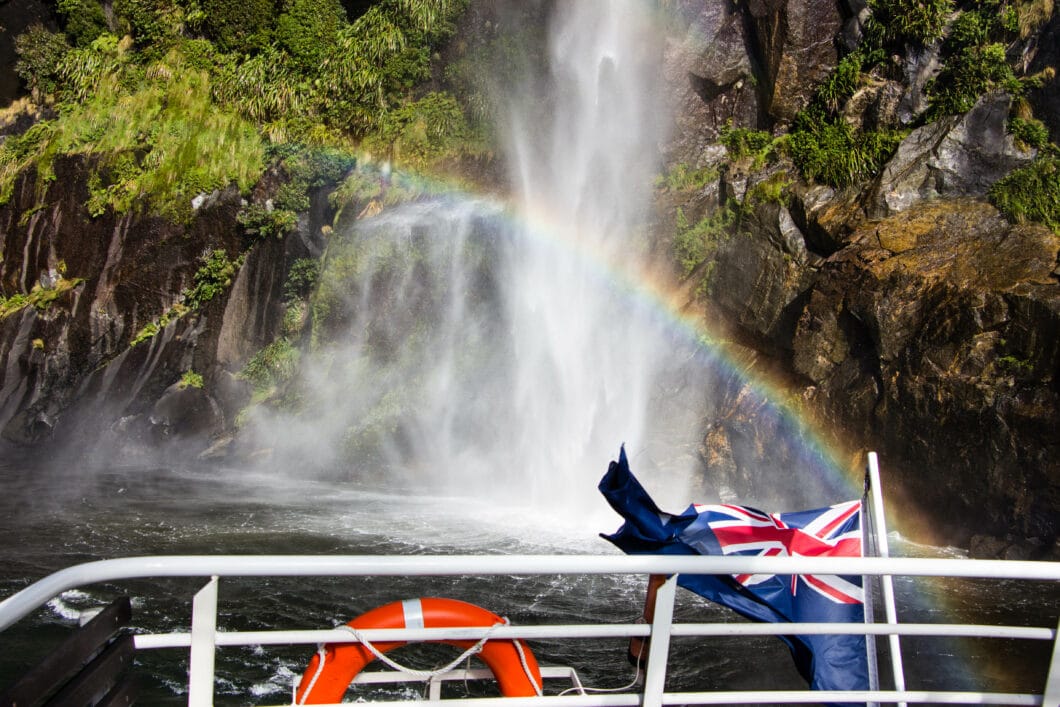 If you have waterproof clothing bring them with for the boat cruise too! The captain will actually take you right into some of the waterfalls, and you will get soaked if you're not inside. You should also dress in layers, as the weather is constantly changing in this area. It was raining out when we arrived and then turned sunny and beautiful. It felt as though we had experienced all four seasons by the end of the day. Haha.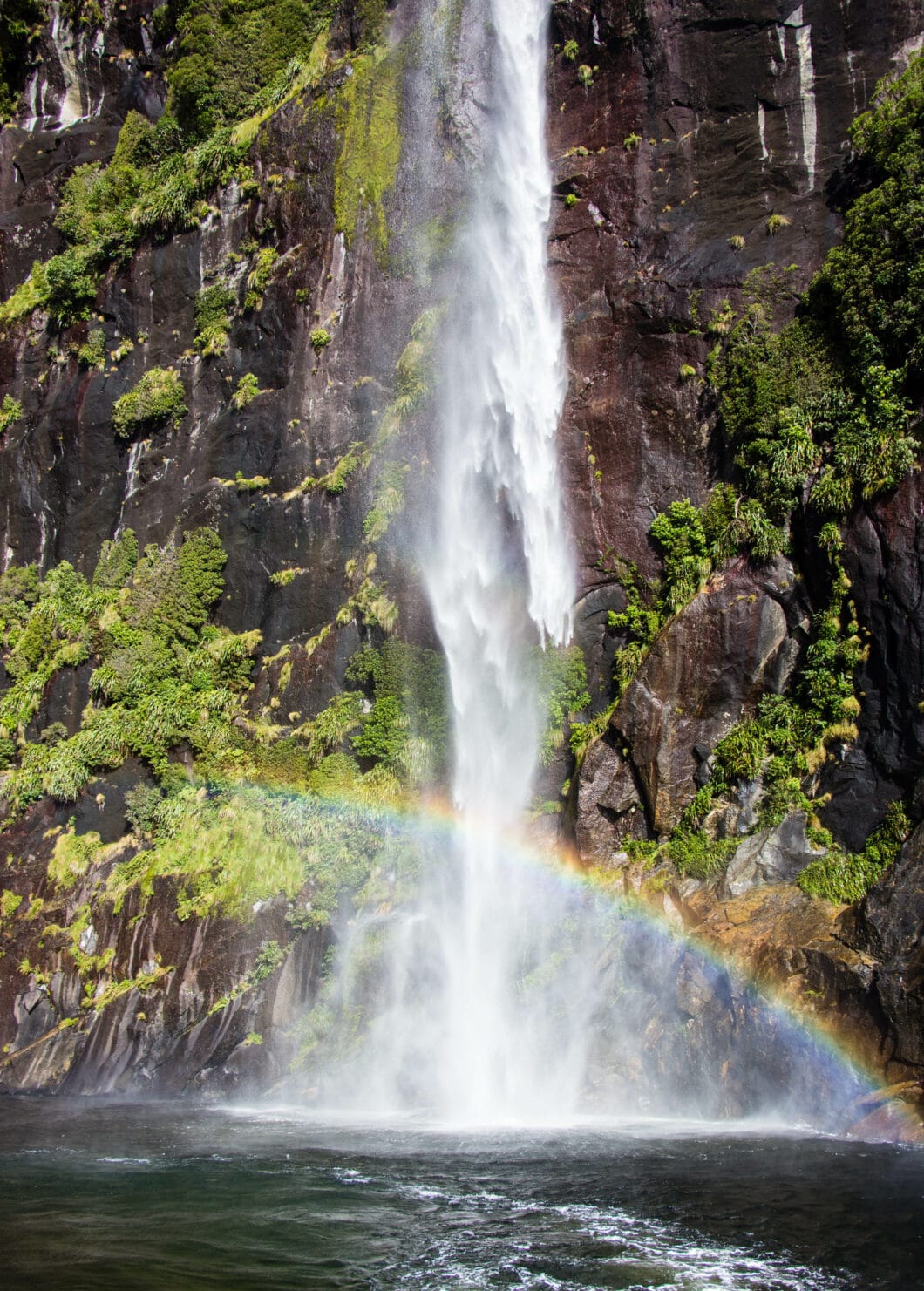 And there are also seals and dolphins in Milford Sound. The seals blended in really well with the rocks, so you had to look carefully for them!
We were lucky on our cruise because well over 20 dolphins decided to follow our boat! It was so fun to watch them. I did an absolutely horrible job at photographing them, though. I took about a hundred photos and all of them were after they jumped back in the water. Whoops!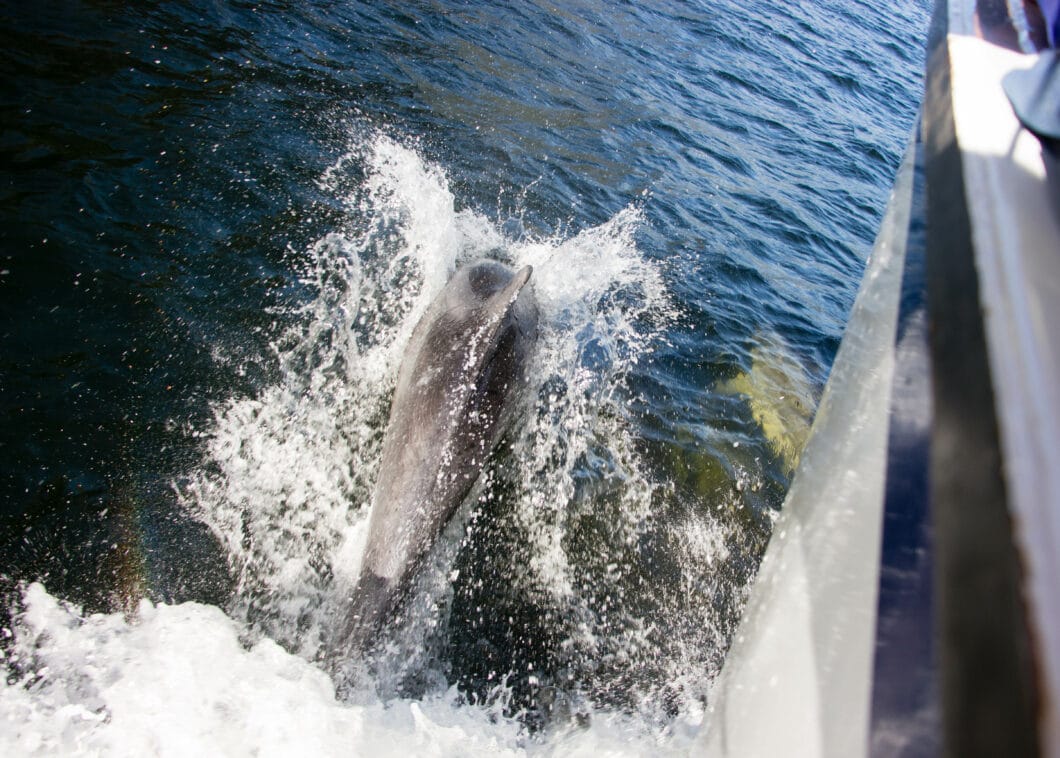 You'll also get a glimpse of a glacier!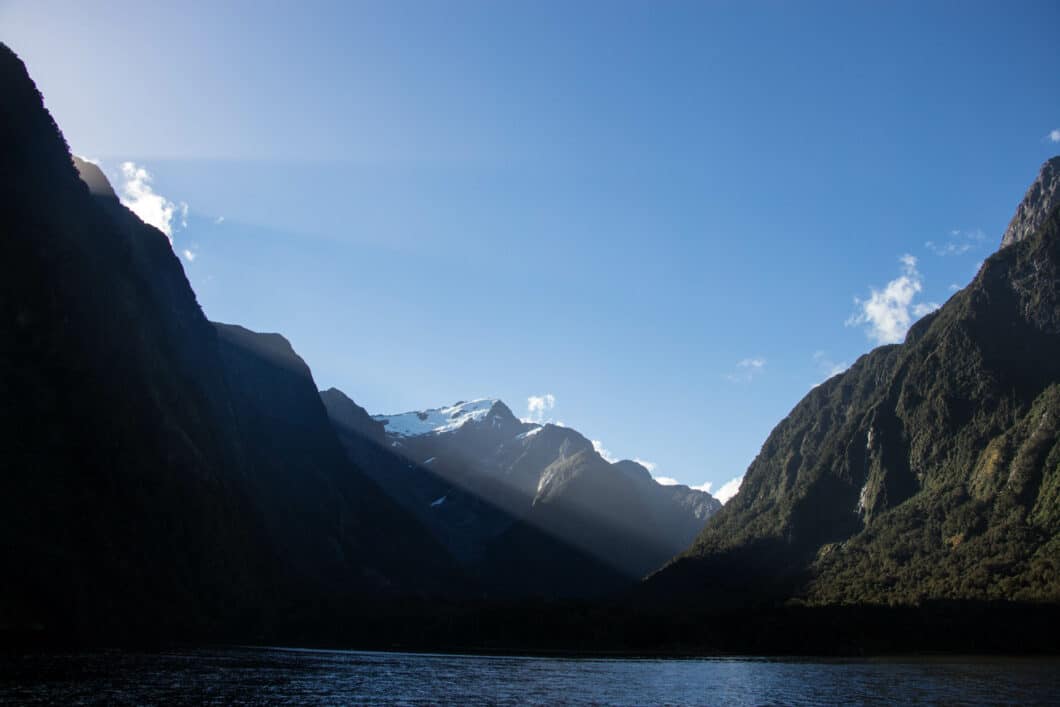 The cruise takes a little over 2 hours and was absolutely perfect! It was included in part of a tour we booked, which I'll explain a bit more in the next section. But regardless of how you decide to take in the beauty of Milford Sound, you won't be disappointed!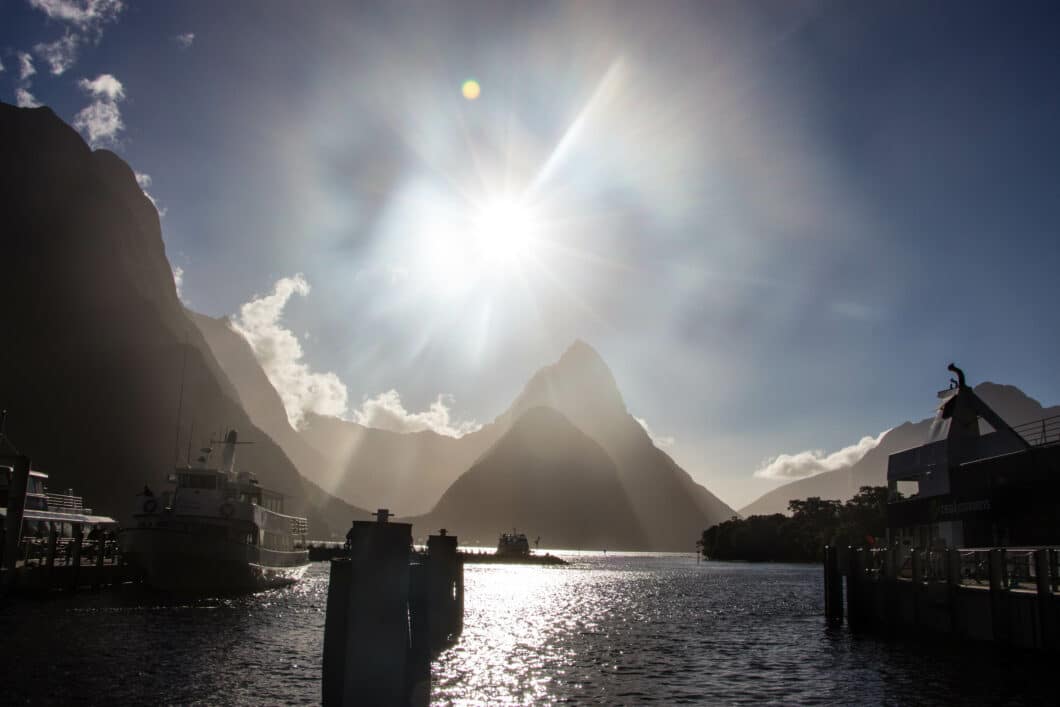 Fiordland National Park
In order to get to Milford Sound, you'll have to drive through Fiordland National Park. My husband and I did not rent a car while we were here, so we took a bus tour from Queenstown to Milford Sound. We booked the Milford Sound BBQ Bus because you also got a really yummy BBQ picnic lunch on this one. I really enjoyed this tour! We were actually with a couple who enjoyed this tour so much, they did it every time one of their children came to visit them in New Zealand. (And they lived all the way up by Auckland!)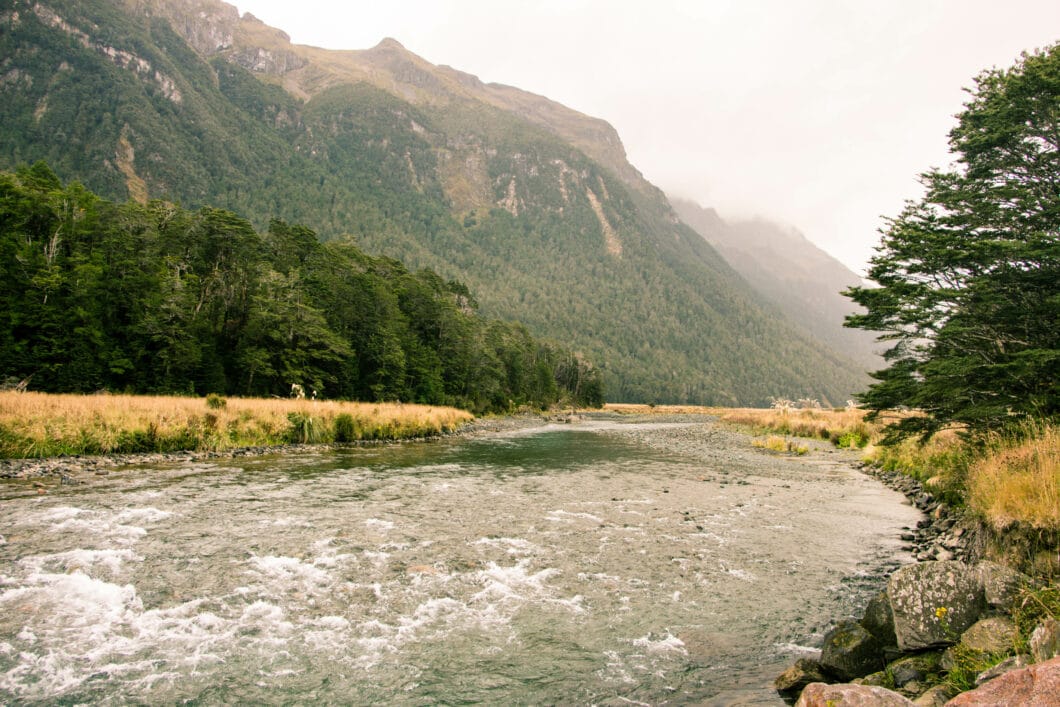 The tour leaves at 8 a.m. from Queenstown (and will pick you up from your hotel or hostel sometime between 7 a.m. & 8 a.m., just call to confirm your pickup time). We had many stops along the way for photos, bathroom breaks and also our lunch. We arrived at Milford Sound a little before 2 p.m. if I remember right. If you were to drive straight from Queenstown to Milford Sound it would take about 4 hours. But with views like this, it would silly not to stop and take in some of the beauty!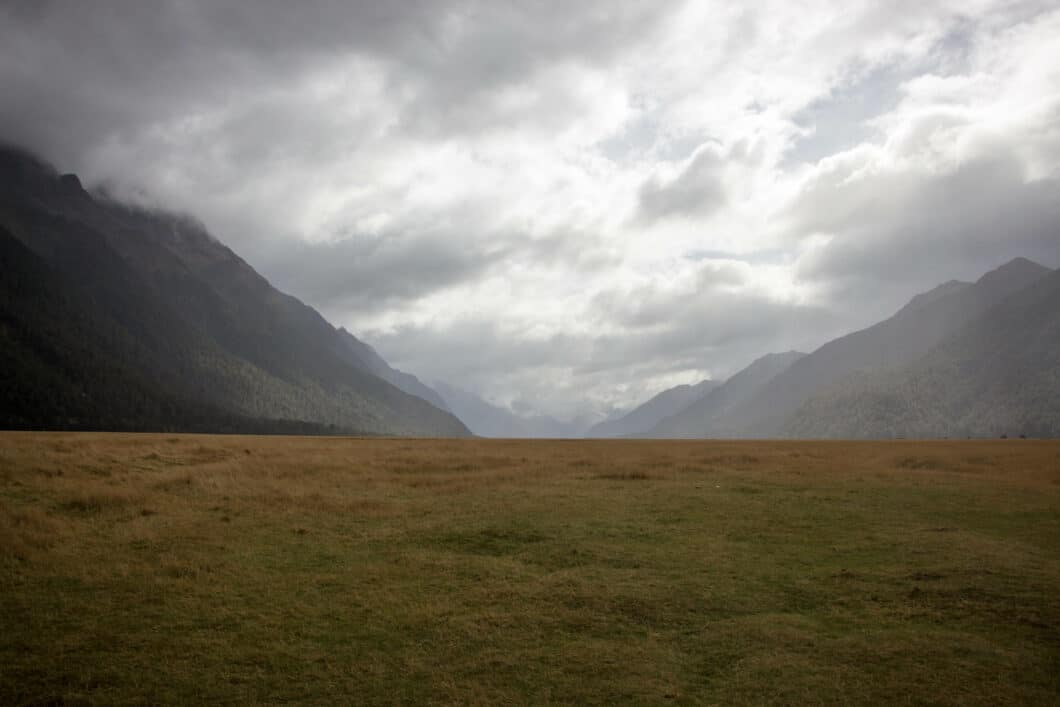 Some battle scenes from Lord of the Rings were shot in the photo above if it looks familiar. New Zealand really is Middle Earth!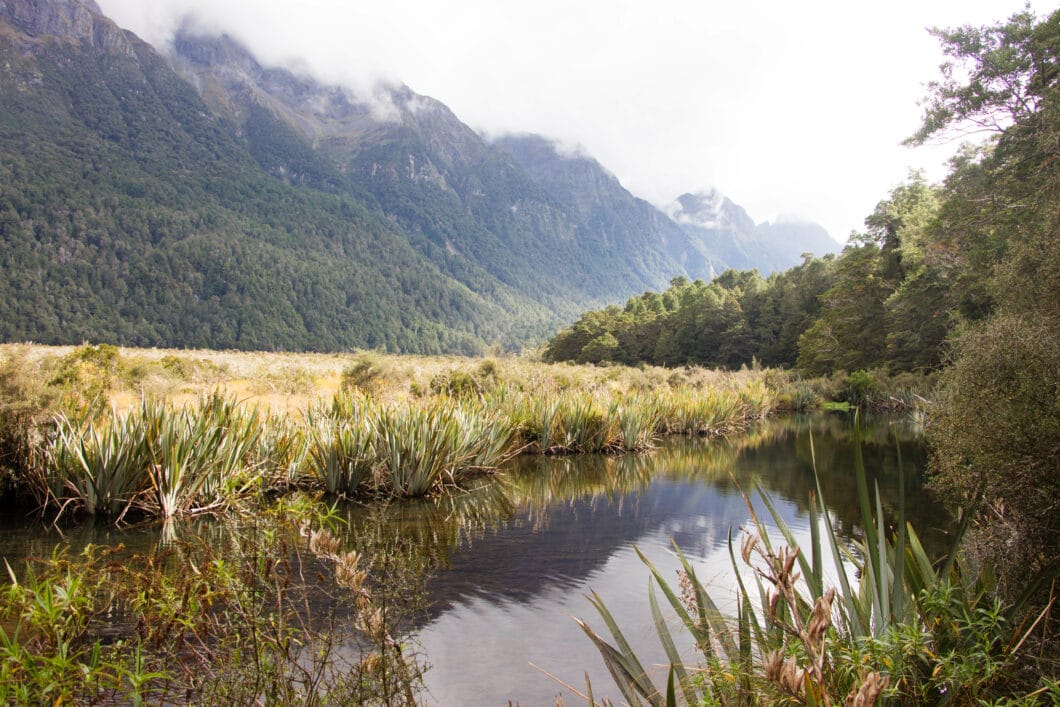 The photo above is of "Mirror Lake" the water is so clear and calm, it's a perfect reflection in the water! Check out the pic below to get a better sense of what I mean.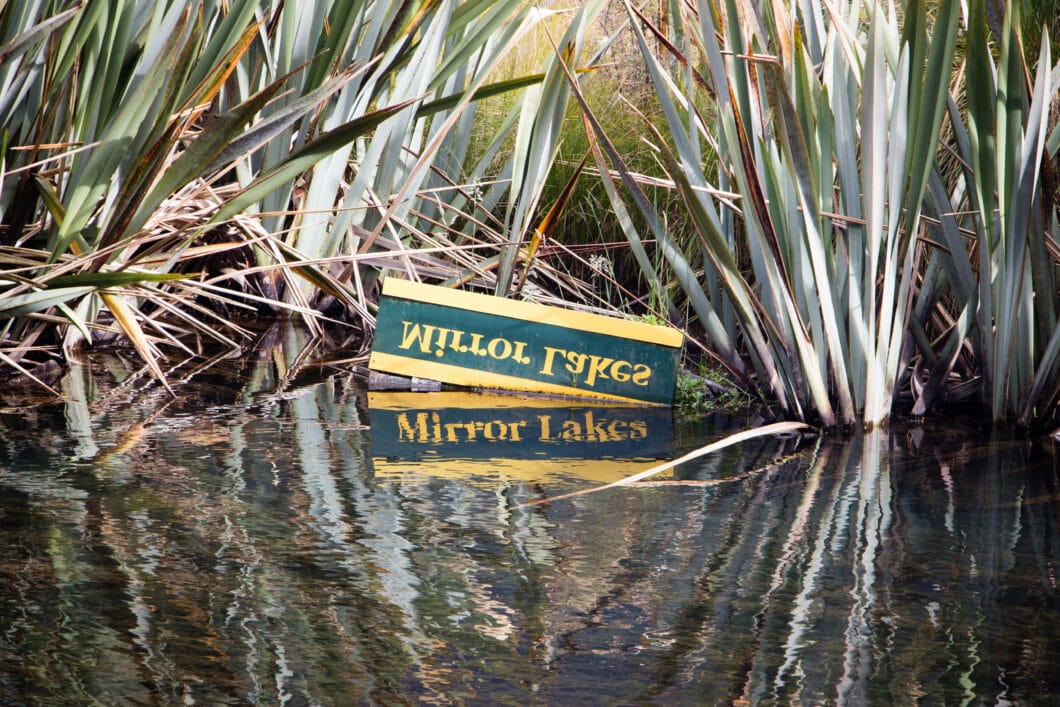 You won't be doing a terrible amount of walking, but you will be out in the woods…so, wear comfy shoes and clothing you don't mind getting dirty. You'll get some time to explore while your guide makes lunch too! The area you stop for your picnic on this tour is really beautiful!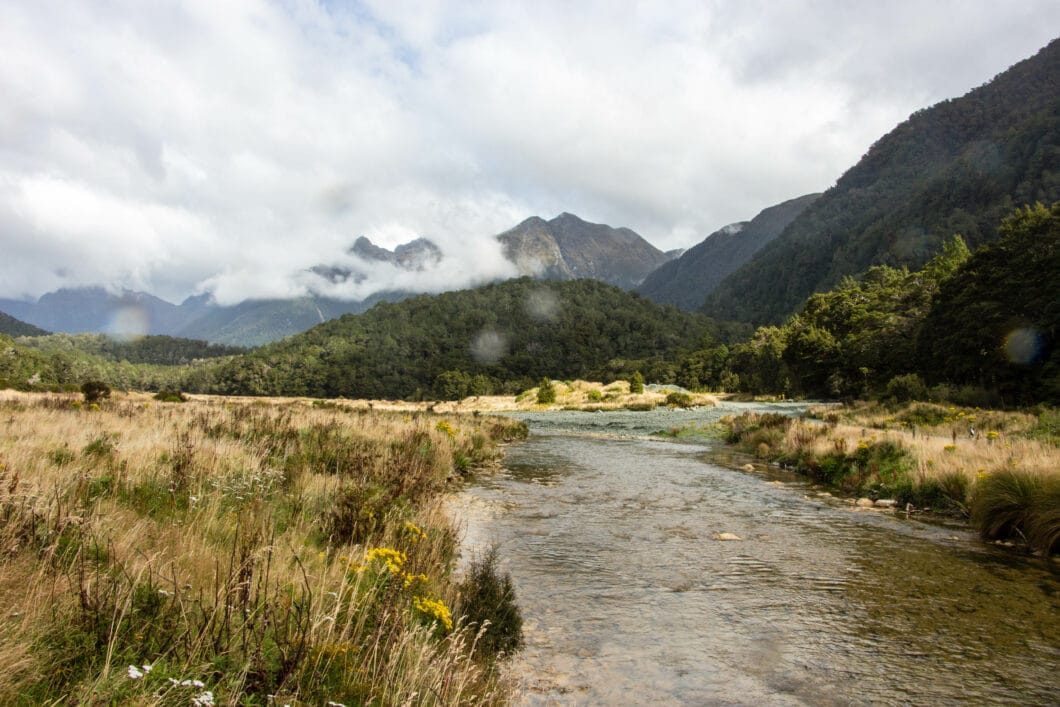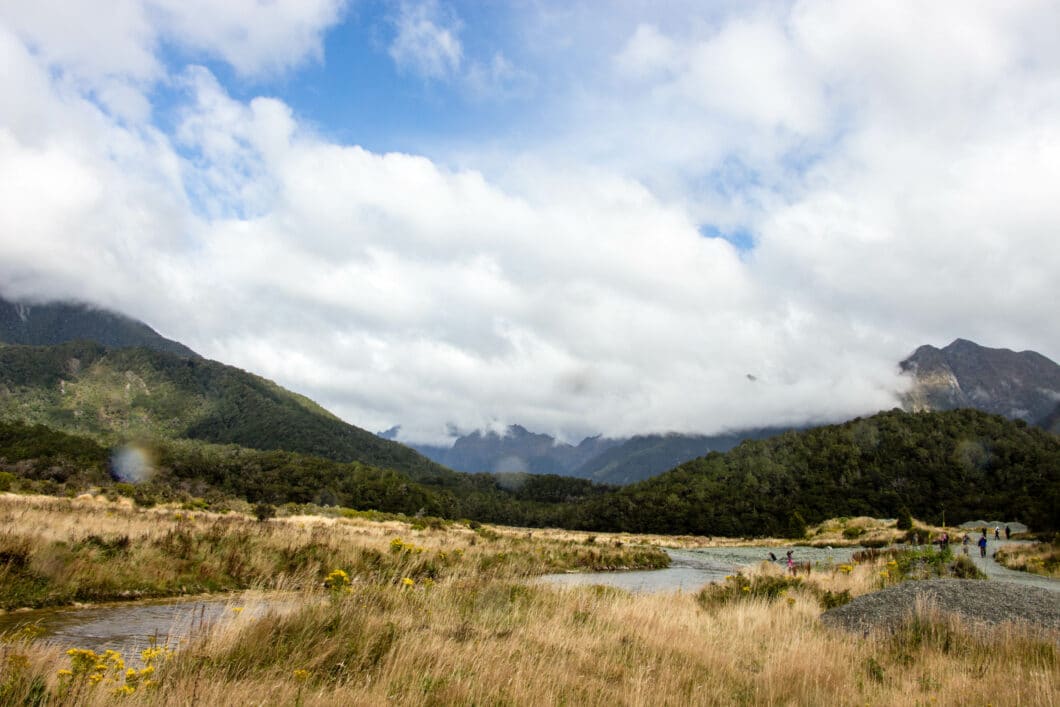 Sorry for the water droplets, I didn't bring my hood with for my lens. Ugh. (Bring one if you have one! It will more than likely rain at some point during the day.)
And also, I am the WORST when it comes to photographing food because I'm always hungry and devour any food before thinking to take a photo of it. Haha. But, take my word for it, the BBQ lunch featuring lamb, chicken, pork and various salads was VERY good!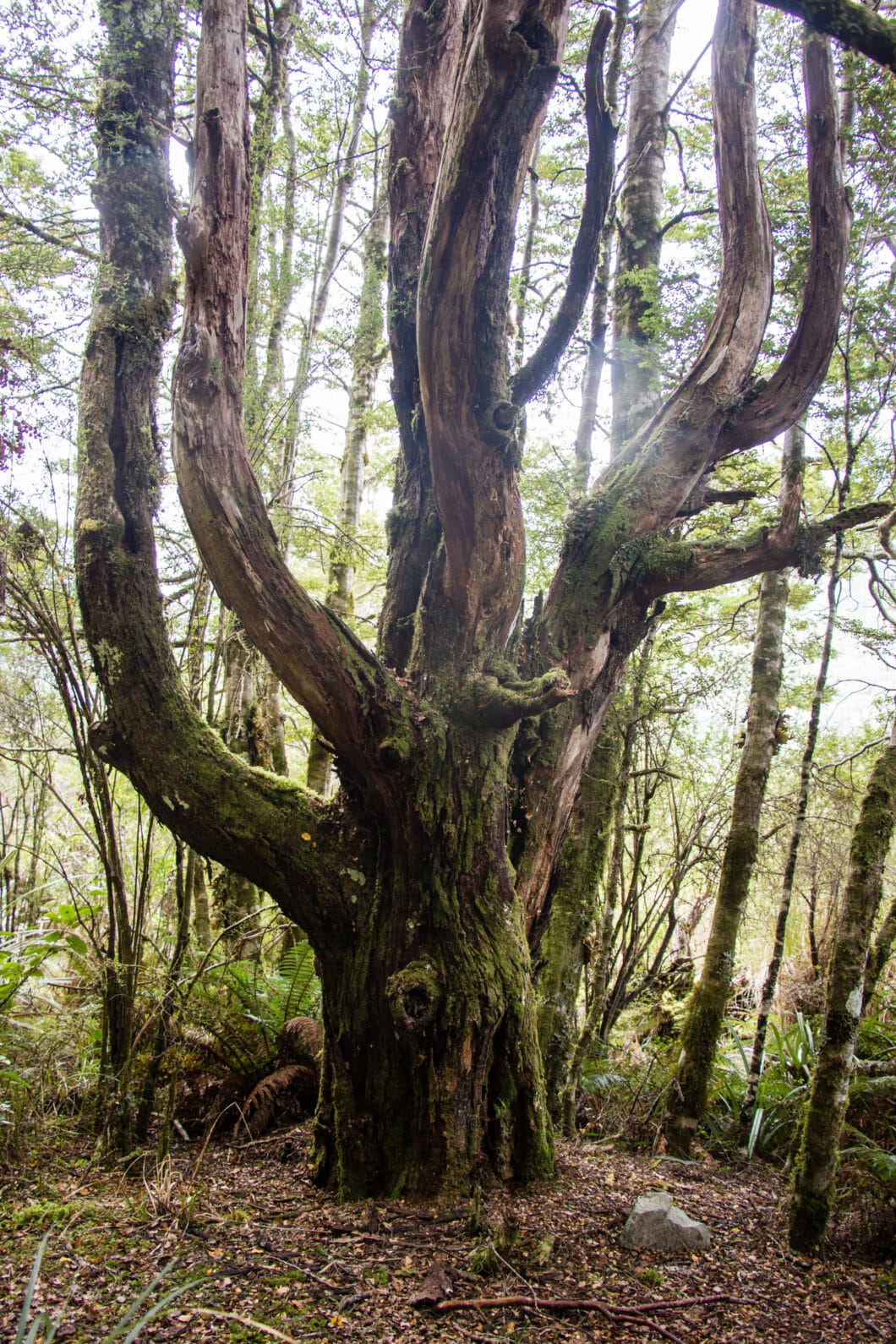 Also, this is a rainforest, so expect some rain during the day! And don't be disappointed about the rain, it just means the waterfalls will be that much more impressive!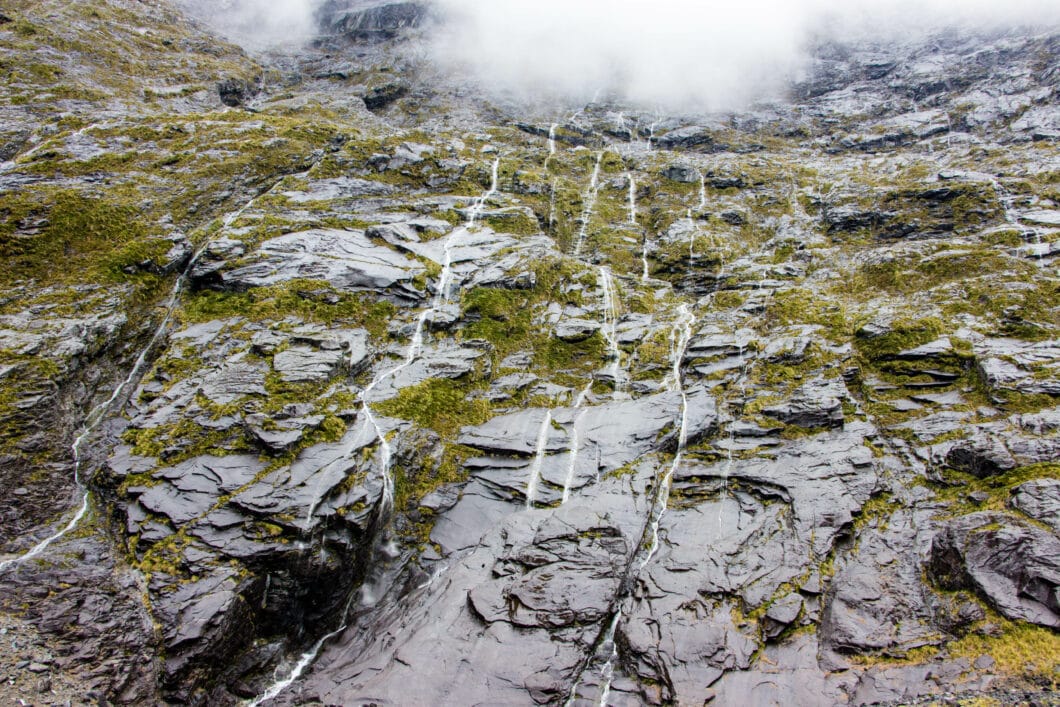 We arrived back at our hotel shortly after 8 p.m. that night. So, it's a long day, but certainly worth it!
And sorry for the photo overload in this post, but I had a hard time limiting the photos with so much natural beauty! You can't come to the South Island in New Zealand and not visit them!
If you're interested in the tour we took, you can click here. And let me know if you have any questions about it in the comments section below.
What are your thoughts on Milford Sound and Fiordland National Park? Do you think it's worth your time if you were to visit New Zealand? Let me know in the comments section.
And before I let you guys go, I have some really exciting news to share! You may remember me mentioning a while back I have been creating walking tours that feature my travel articles for the app GPSmyCity! So, the travel articles I have written, that are city-specific, are available for download on iTunes via the GPSmyCity app. (Sorry, they're only available for iOS at this time.) You have the ability to read my travel articles at times when you may not have cell phone reception, as they can be downloaded and read offline. (Great reading material for a plane ride!) You also have the option to upgrade the article for a fee of $1.99 to get all the GPS coordinates and take your own walking tour of the sites, restaurants, museums, etc. I mention in my articles! BUT, for this week only you can get my upgraded article "10 Quirky Things to Do in New Orleans" for free!
*Click here to download the GPSmyCity app (if you don't already have it). After clicking on the link, you will be re-directed to iTunes. Please proceed to download the GPSmyCity app on your iOS device. When the app is launched, you will enter the article title in the search bar at the top, "10 Quirky Things to Do in New Orleans."
*Once you have downloaded the article, simply click the Upgrade button to upgrade it for FREE. You can get this articles for free from now until Sunday, April 30, anytime after that it will cost you $1.99 to upgrade. Enjoy!
I can't help myself, here are some more photos of Fiordland National Park. Haha.
Disclosure: some of the links in this post are affiliate links. Meaning, if you click a link and make a purchase, Have Clothes, Will Travel gets a very small commission. Thank you for supporting the brands that make this blog possible!