My 30th Birthday Outfit Idea for Ladies
Dress c/o* | Bag | Booties (Similar) | Tights | Necklace (Similar) | Sunglasses
Holy smokes! I've hit triple decades in the age department, haha. My 30th birthday was this past Saturday. So, to mourn the end of my 20s, I've decided for my 30th birthday outfit to dress entirely in black…
Just kidding! I'm really not having any issues with being another year older or not being able to say I'm in my 20s. Age is just a number! The lovely folks over at Grace Karin happened to send me this black dress just in time for my birthday…so, that's what I decided to wear. (And I just liked the way these booties looked with the dress…and black is the only color of tights I have with me at the moment.) So, the all black outfit was more of a coincidence than anything!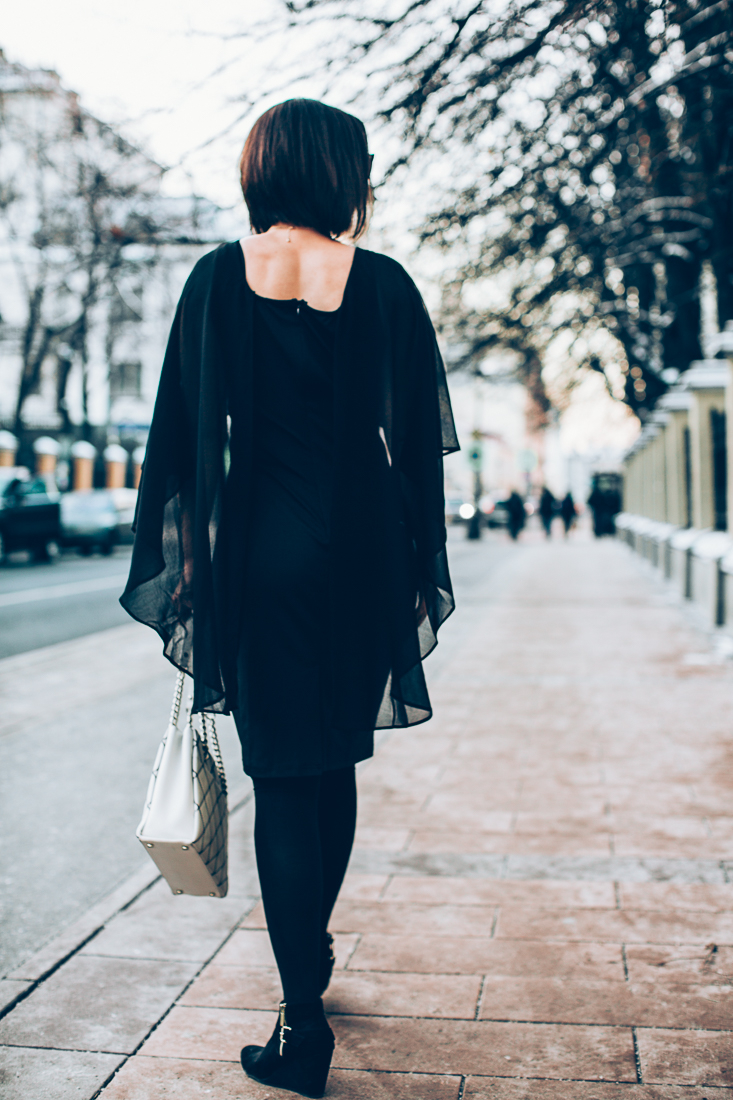 If you've been following me for a bit, you may have noticed I'm obsessed with capes…and this dress is right up my alley! I do usually avoid fitted dresses, but this one is surprisingly comfortable to wear and the cape portion of the dress lays so nicely. I also love the back cutout. It looks a little sexy, but I can still wear a regular bra without it peeking out. It's also true to size, and it's available on Amazon and via Grace Karin's website – use code BODYCONS for 40% off.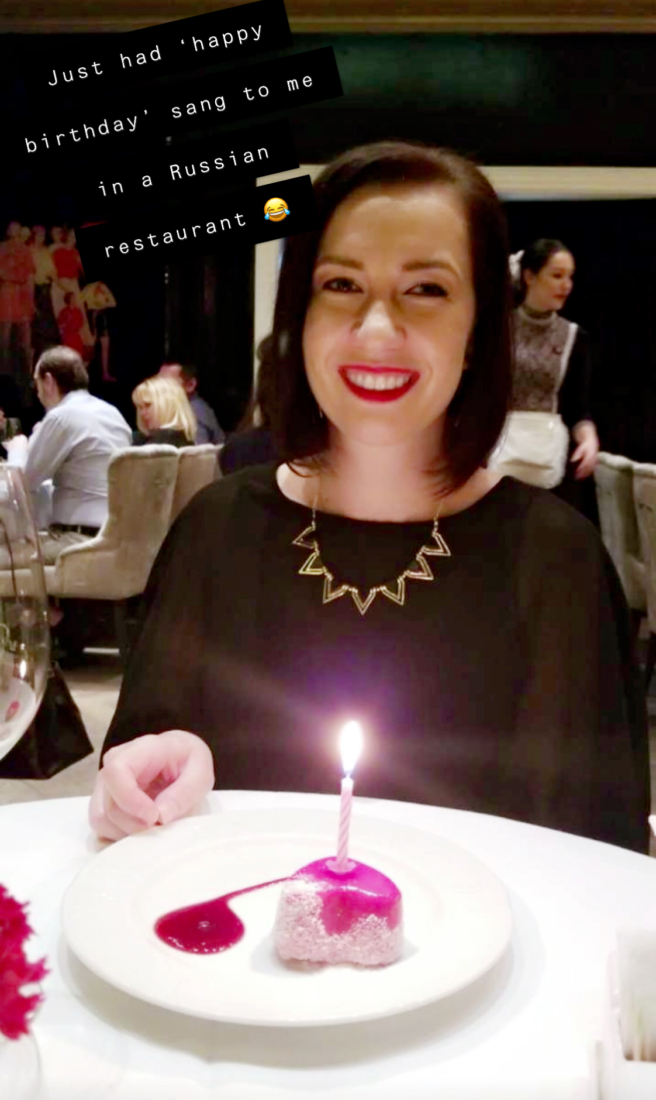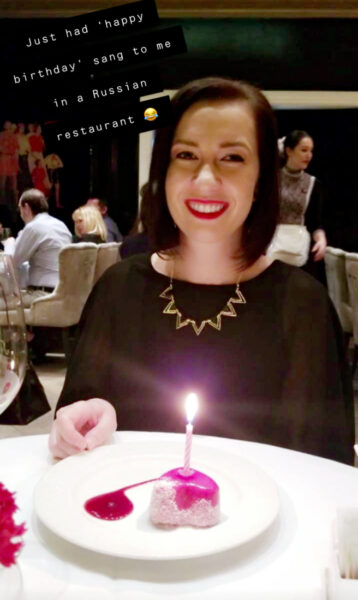 I had worn this outfit for a nice night out with my husband to celebrate. We went to a trendy restaurant in Moscow and enjoyed some great Russian food. Our waitress overheard my husband say it's my birthday, and she brought out a dessert with a candle…while she and the other waitresses sang "happy birthday" (in English) complete with sparklers, haha. I don't think I've ever had "happy birthday" sung to me in a restaurant before. It was an even more memorable experience having it sung to me in a Russian restaurant in Moscow, haha!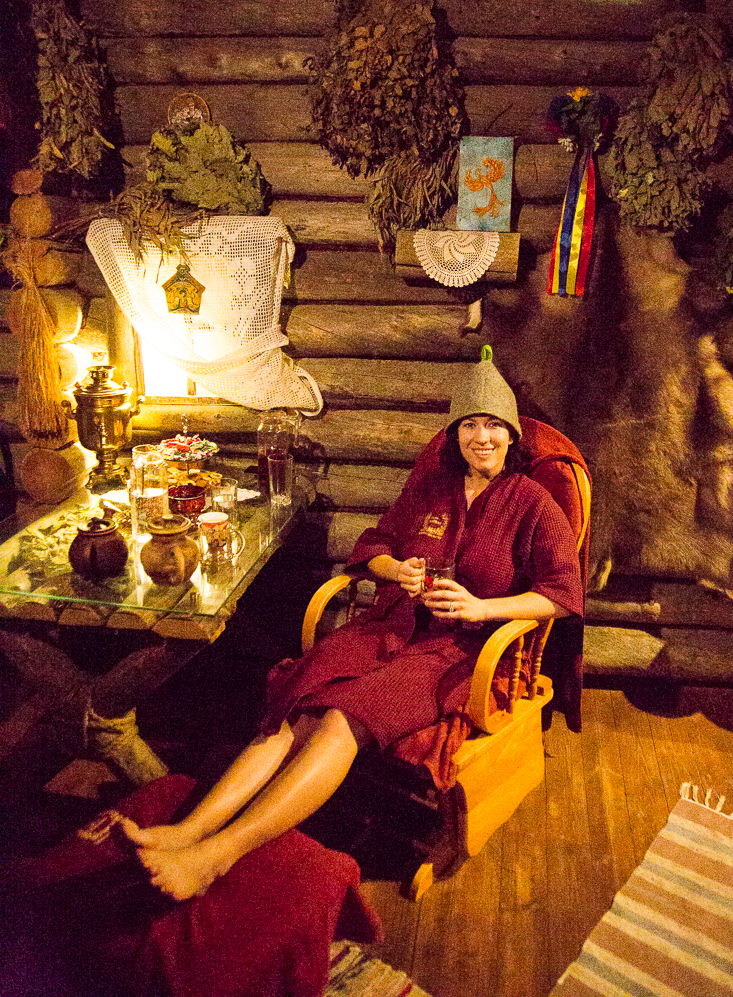 Funny enough, though, I spent the majority of my birthday in my birthday suit, haha. (Womp-womp.) We went to a traditional Siberian banya (sauna) called "БАННЫЙ ДОМ СТОЛЕШНИКИ." It was pure heaven! I don't usually like saunas or spa experiences in general, but this one was a game-changer.
It's a bit tough to explain, but while in the "banya" an attend lightly hits you with a bundle of dry birch branches and leaves (we were at a private banya, but at a public one, strangers will do this for one another). It sounds odd, but I swear it felt good. They also placed a bundle of cold, wet pine branches on my head while I was in there, along with that lovely felt hat to regulate my body temperature. After, you get to dunk yourself in cold water.
Then we had a "washing session," (massage/exfoliation of your body), and then another wonderful massage. It was pure heaven! And the area you see me sitting in above was our little relaxation area in between services. Here we had tea, juice and treats waiting for us and also a hay bed to nap in. It was a great way to start my 30s!
How do you like to celebrate your birthday? Or do you try to avoid celebrating them at all? Let me know in the comments!
Where to find it:
Dress: c/o* Grace Karin
Bag: Kate Spade
Booties: Old (Similar here )
Necklace: Gift from my Mom (Similar here)
Tights: Old (Similar here)
Sunglasses: Maui Jim
*Disclosure: some of these links are affiliate links. Meaning, if you click a link and make a purchase, Have Clothes, Will Travel gets a very small commission at no extra cost to you. Thank you for supporting the brands that make this blog possible! I am also a participant in the Amazon Services LLC Associates Program, an affiliate advertising program designed to provide a means for us to earn fees by linking to Amazon.com and affiliated sites.
*c/o = courtesy of, meaning the company gave me the product to be used on my blog, and I did not pay for it. All opinions are my own, and I am not being compensated for a positive review.