15 Winter Birthday Outfit Ideas for Ladies
Looking for a winter birthday outfit idea? Then this post is for you! As a December baby in my 30s, I now have some experience dressing for winter birthdays in a variety of climates.
My birthday is on December 15th (today)! I've been fortunate to celebrate it in Australia, Argentina, Russia, New York City, and right at home in Wisconsin. For the most part, it has been FREEZING for all of my birthday celebrations throughout my life. But I'll also be sharing a few outfit ideas if you happen to live in a slightly warmer climate than Russia or Wisconsin!
Now, when it comes to my birthday, I tend to use this as an excuse to be a little over-the-top with what I wear. I mean, it's my day to be a princess… right? So, dresses, tulle skirts and high heels are more my forte for my birthday outfits. I'll also include a few more casual outfits too.
I'll start with dresses, then skirts, then jeans/leggings outfits and end with this year's birthday outfit! Enjoy!
Pro Tip: Invest in a Nice Pea Coat, Swing Coat or Trench Coat
---
Now, if you are spending your birthday in a cold climate, it's tempting to just wear your puffer jacket over your birthday outfit and call it a night. However, if you really want to stand out and have that "put together look" – having a "nice" coat is a great idea (for any occasion, not just your birthday). This could be a pea coat or trench coat, or a swing coat – like mine. (Click here to shop the coat above.)
I'm personally a fan of Collectif's collection of outerwear (that's where the coat above is from). Their selection ranges from classic/vintage style coats and jackets to some REALLY over-the-top designs. Either way, you're sure to make an entrance to your birthday party!
~Winter Birthday Outfit Ideas Featuring Dresses ~
---
1.) Long-sleeved Top + Tulle Midi Skirt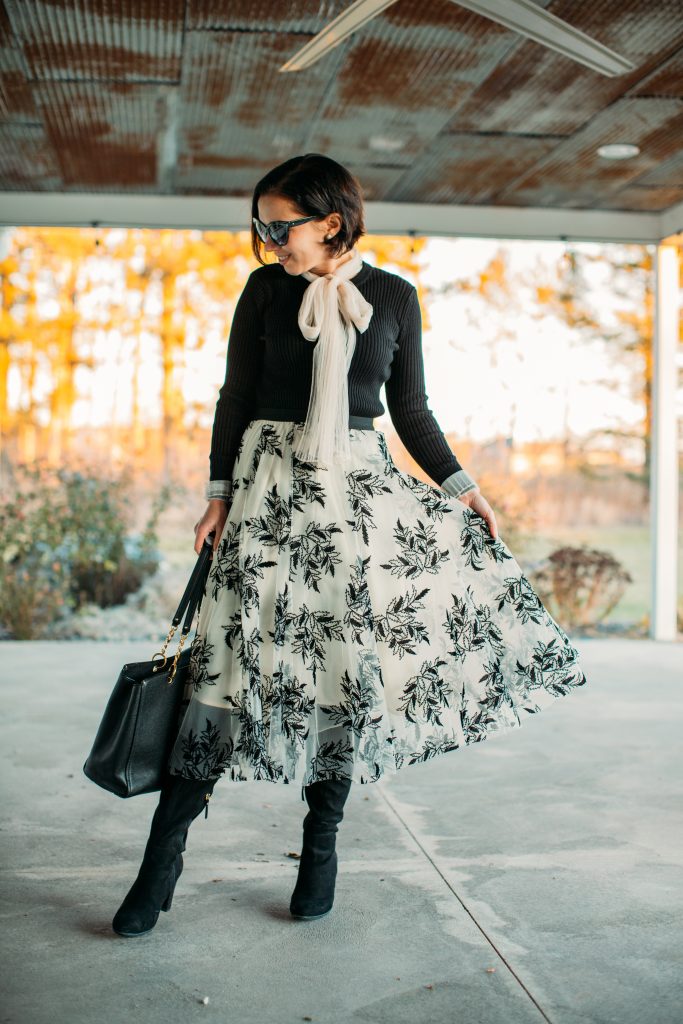 This is going to be my birthday outfit for this year (2021). My husband and I are going to a nice restaurant in Green Bay, Wisconsin – keeping it kind of low-key as my birthday falls on a weeknight this year…plus, we're really celebrating after Christmas at a fancy-schmancy spa (which only requires a bathrobe + slippers)! The weather on my birthday is supposed to be unusually warm, though, so I might ditch the boots and just wear my pumps instead. *This also makes a great Christmas/NYE outfit!
2.) Velvet Dress with Over-the-Knee Boots
This was my birthday outfit 2 years ago. At this time of year, velvet will never look out of place, plus it can be super comfortable. I wore this birthday outfit to a nice dinner here in Appleton, Wisconsin, and then to see a performance of The Phantom of the Opera. After the show, we explored a couple of new bars in downtown Appleton. It was super cold and also snowy! I was really grateful to be wearing tall boots and thick tights!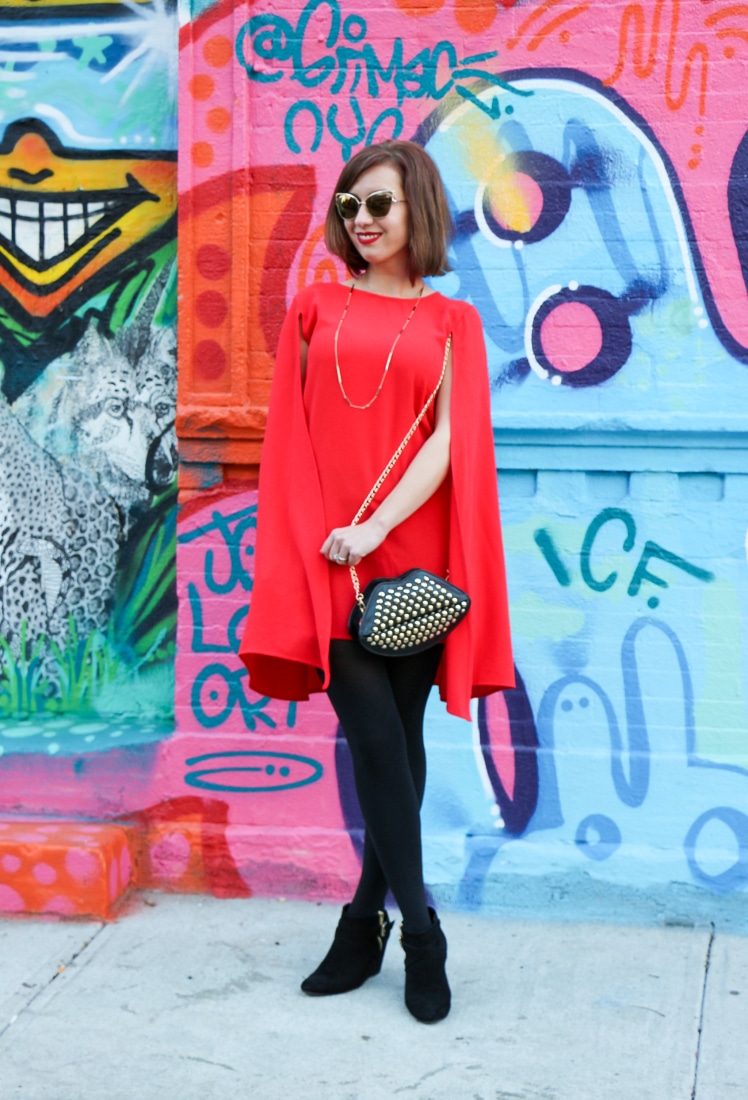 3.) Dramatic Cape Dress with Booties
You're sure to get noticed in an outfit like this! This vibrant red cape dress was a hit for my birthday several years ago in New York City. We stopped in the East Village for a drink at a bar I had been meaning to try… and then went to see the interactive play, Sleep No More. (If you're ever in NYC, it is such a COOL experience.)
4.) Classy Cape Dress with Booties – Monochromatic Black Outfit
I had joked that I wore all black this day to mourn the end of my 20s, as this was my 30th birthday outfit. I was living in Moscow, Russia at the time and, of course, it was COLD. This cape dress isn't the warmest dress in my wardrobe, but I paired it with fleece-lined tights and a warm pea coat, and I was fine!
5.) Evening Gown + Leather Pumps
If there is ever a day to break out an evening gown, it going to be my birthday! This year is a little more low-key for activities, though… so, maybe next year?
6.) Sparkly Kimono-Style Dress + Knee High Boots
This outfit also doubled as my New Year's Eve outfit that year! This sparkly Byron Lars dress is one of the most unique dresses in my wardrobe. Plus, it's a little thicker than most on this list. I can easily pair it with my boots or a pair of heels.
7.) Edgy Animal Print Dress with Tulle + Booties
You have to have a little fun some years with your birthday outfits! This was one of those years where I wanted to get a little crazy with my outfit choice. So, tulle and animal print it was! I even wore this outfit for a holiday party that year… because why not?! (As you can see too, I have REALLY gotten my monies worth out of these black wedge booties over the years!)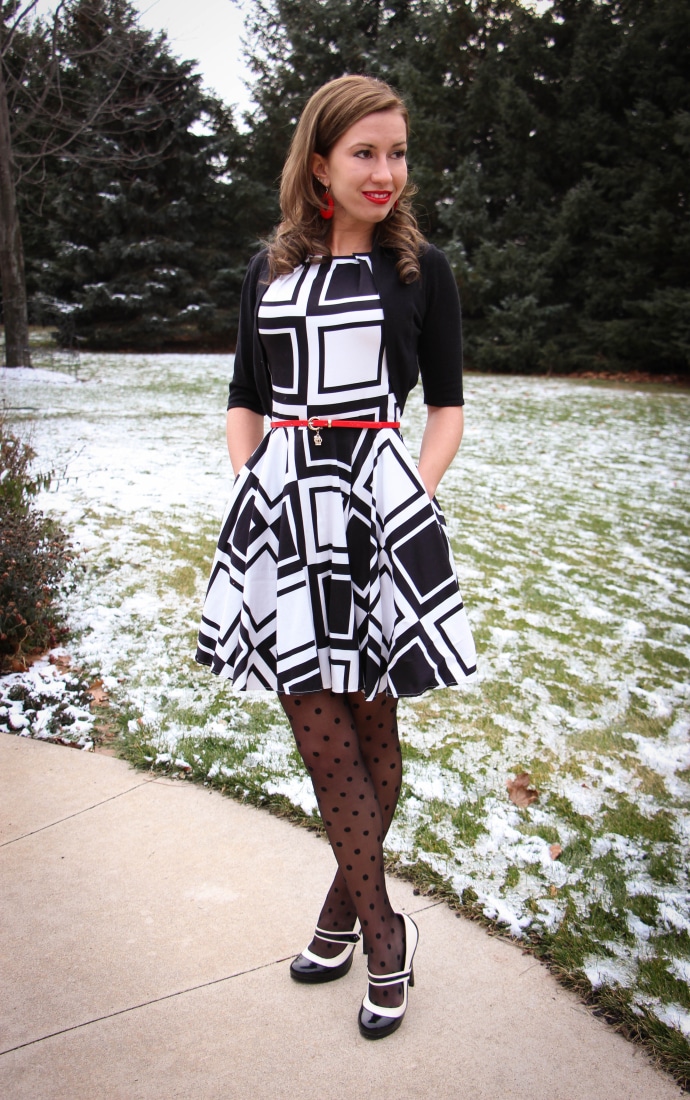 8.) Retro Skater Dress + Black & White Pumps – Pattern Mixing
Again, if there is a day to experiment with pattern and print mixing, it might as well be your birthday! I wasn't sure if this outfit would be "too much," but it is still one of the most popular outfits on my blog! This was also one of my first "birthday outfits" I featured on my blog. We had gone out for a night of fun at a local piano bar in Appleton, Wisconsin (that isn't there anymore, unfortunately). I had to even get up on stage at one point that night! It was the perfect night to wear something a little more retro and slap on some red lipstick.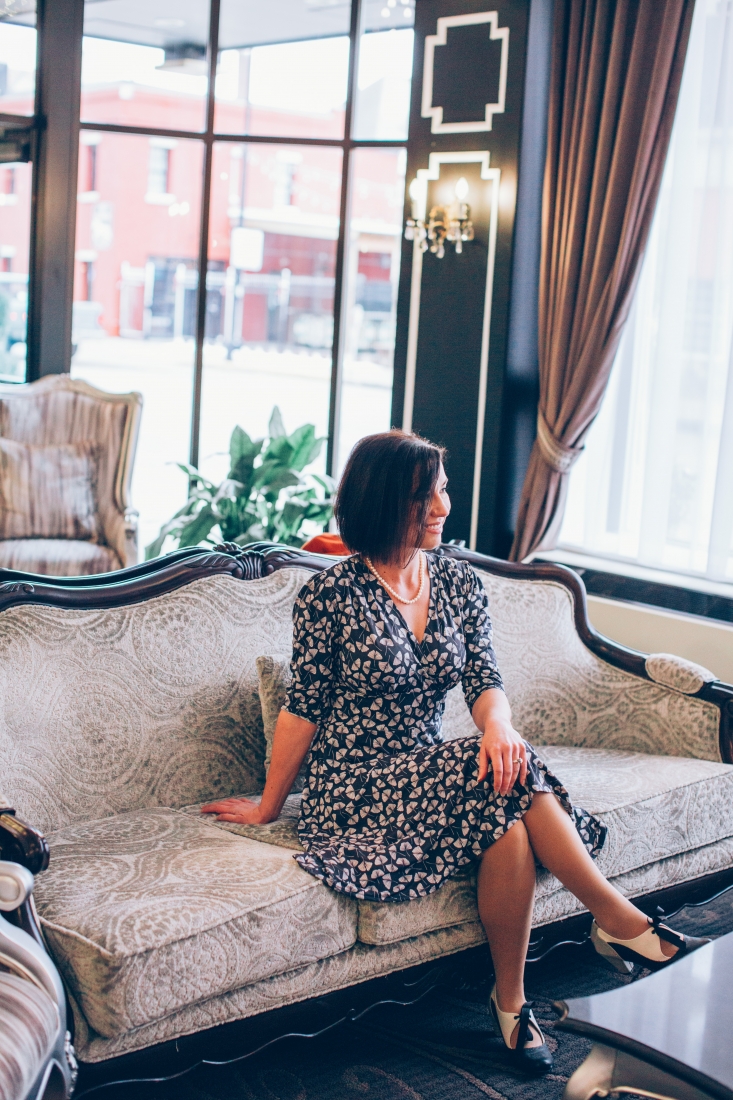 9.) Classic V-Neck with Retro Heels
Ok, so this was actually worn for my anniversary celebration with my husband last year at Hotel Retlaw in Fond du Lac. However, that's only a couple weeks after my birthday! (And we have Christmas in there too – lots of celebrations all at one time in our house.) So, I'm including this as an outfit idea too, as it would work equally well for a birthday celebration for a fellow vintage-style lover.
~Winter Birthday Outfit Ideas Featuring Skirts~
---
10.) Metallic Skirt With Cardigan + Knee-High Boots
Winter is the perfect time to break out a metallic skirt! I had fleece-lined tights on under this skirt, as the weather in Wisconsin is always quite frigid at this time of year… even if there isn't any snow. Wearing knee-high boots also provided an extra layer of warmth. I could of also paired a black scarf with this outfit, but I opted for the sparkly necklace for that celebration.
BONUS: Metallic Skirt + Bow Heels for a Warm Weather Birthday Outfit
Just to show that this skirt can work in a warmer climate, too! This was over my birthday in Sydney, Australia. Which, December is summer in Sydney… so, I was sweating in this outfit. However, this outfit could easily be paired with a black long-sleeve top or chunky sweater too.
11.) All Black With a Colorful Midi Skirt
This is a fun outfit that could work with a variety of midi skirts – it doesn't need to be a floral one. Wearing a black turtle neck with black tights and high heels creates an awesome contrast against a colorful midi skirt… especially if there is some snow on the ground!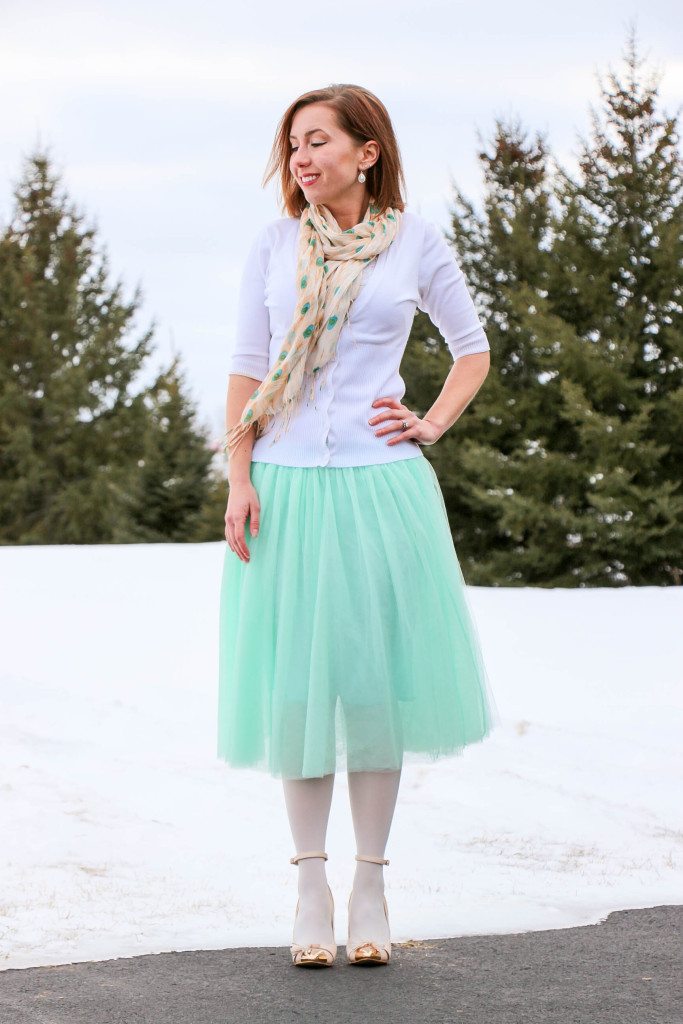 12.) Tulle Skirt + Heels – Princess Outfit
This outfit is a similar concept to the one above, but with white instead of black. Plus, there isn't a better day of the year to look like a princess! A tulle skirt with a shiny pair of heels… this outfit really only needs a birthday tiara to complete the princess look!
~Jeans & Leggings Winter Birthday Outfit Ideas~
---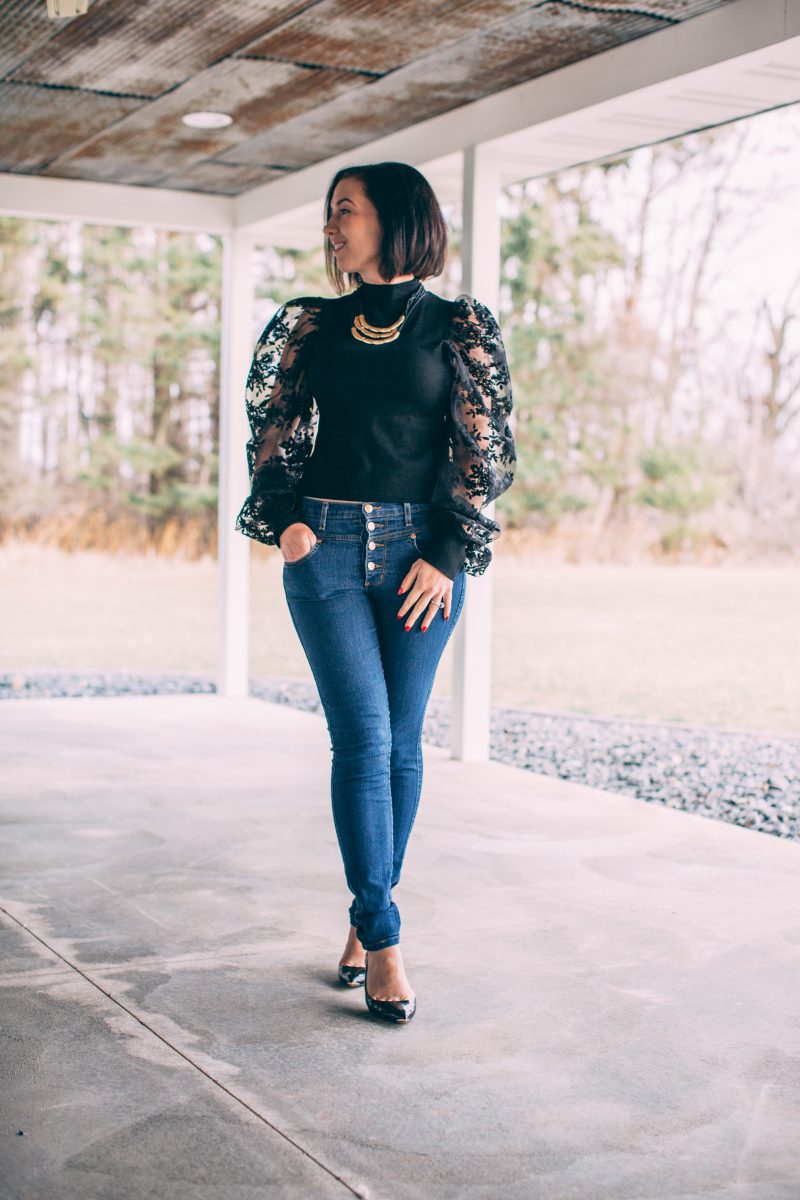 13.) Puff-Sleeved Top + High-Waisted Jeans
Puff sleeved tops are having a moment right now, and that little extra drama in your outfit can be perfect for a birthday celebration. I liked wearing this top with jeans, but it could easily work with a skirt as well.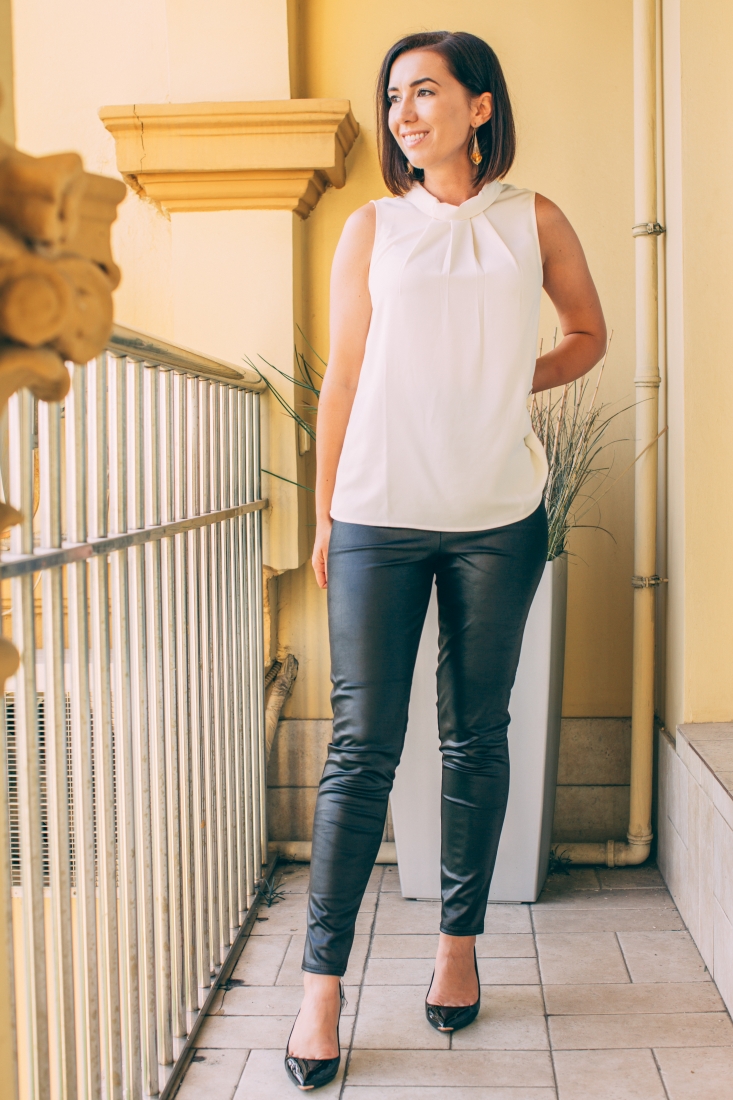 14.) Faux Leather Leggings + Tunic
Now, this outfit would absolutely need a cardigan or fun blazer for the dead of winter! But, faux leather leggings can be a great addition to an outfit to wear out at night. I'm a big fan of my new Spanx faux leather leggings. This outfit could also be paired with combat boots if the snow is deep.
15.) Cardigan + Stretchy Jeans
If comfort is the name of the game for you, then you can't go wrong with stretchy jeans (or jeggings) and a cozy cardigan + scarf! I think an outfit like this can absolutely look nice for a birthday celebration, while still being practical and comfortable. Wearing black jeans or even colored jeans can be a nice way to spice up an outfit with a cardigan. Blue jeans are nice, but I like to pair them with a more dramatic top when it comes to birthday celebrations (like that puff-sleeved one above).
Bonus: PJs!
Alright, so this is actual footage of what my birthday outfit looked like for 2020. Ah, what a weird year that was! But hey, celebrating your birthday in the world's softest PJs from Shinesty, while binging Netflix and eating pizza, isn't a half-bad birthday celebration in my book either! Plus, just recently I found out I can actually get pizza delivered to my house! (This is a new development for us, as we don't live in a city right now.) See, 2020 had its positives too!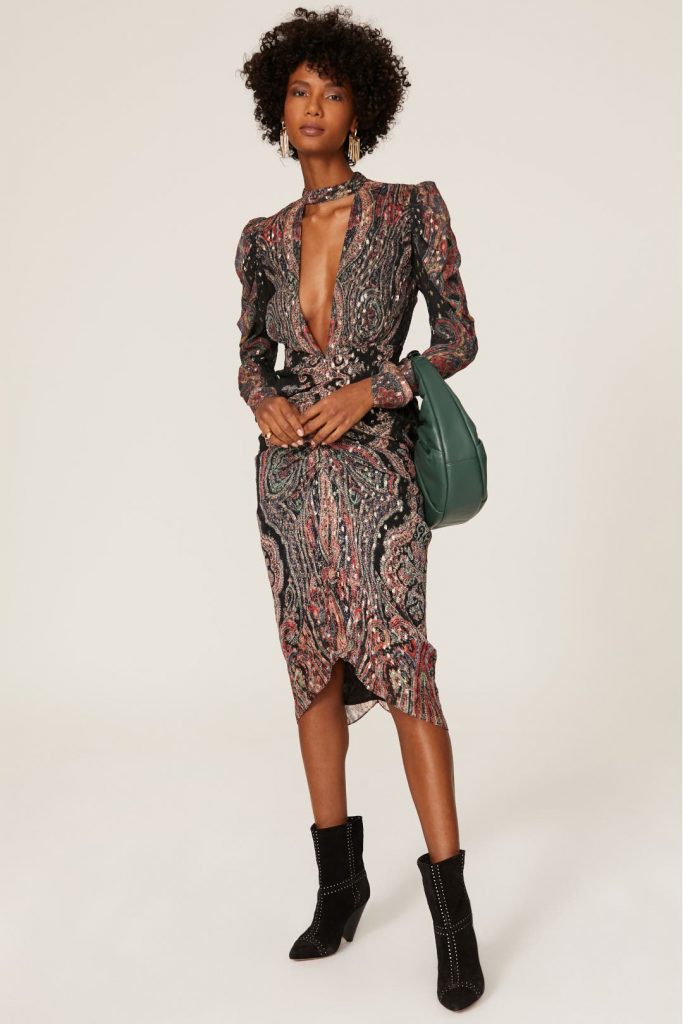 BONUS IDEA: Rent the Runway
If you want to try a fancy outfit for your birthday, but are worried you'll only wear it once… I recommend trying Rent the Runway! They have thousands of dresses and outfits to choose from that you can rent (vs buying and paying full price).
Want to see another fun birthday winter outfit idea? Check out my friend (and birthday twin!) Jodie's winter birthday outfit!
Are there any other winter babies out there? What do you like to wear on your birthday? Let me know in the comments!
*Disclosure: some of these links are affiliate links. Meaning, if you click a link and make a purchase, Have Clothes, Will Travel gets a very small commission at no extra cost to you. Thank you for supporting the brands that make this blog possible! I am also a participant in the Amazon Services LLC Associates Program, an affiliate advertising program designed to provide a means for us to earn fees by linking to Amazon.com and affiliated sites.