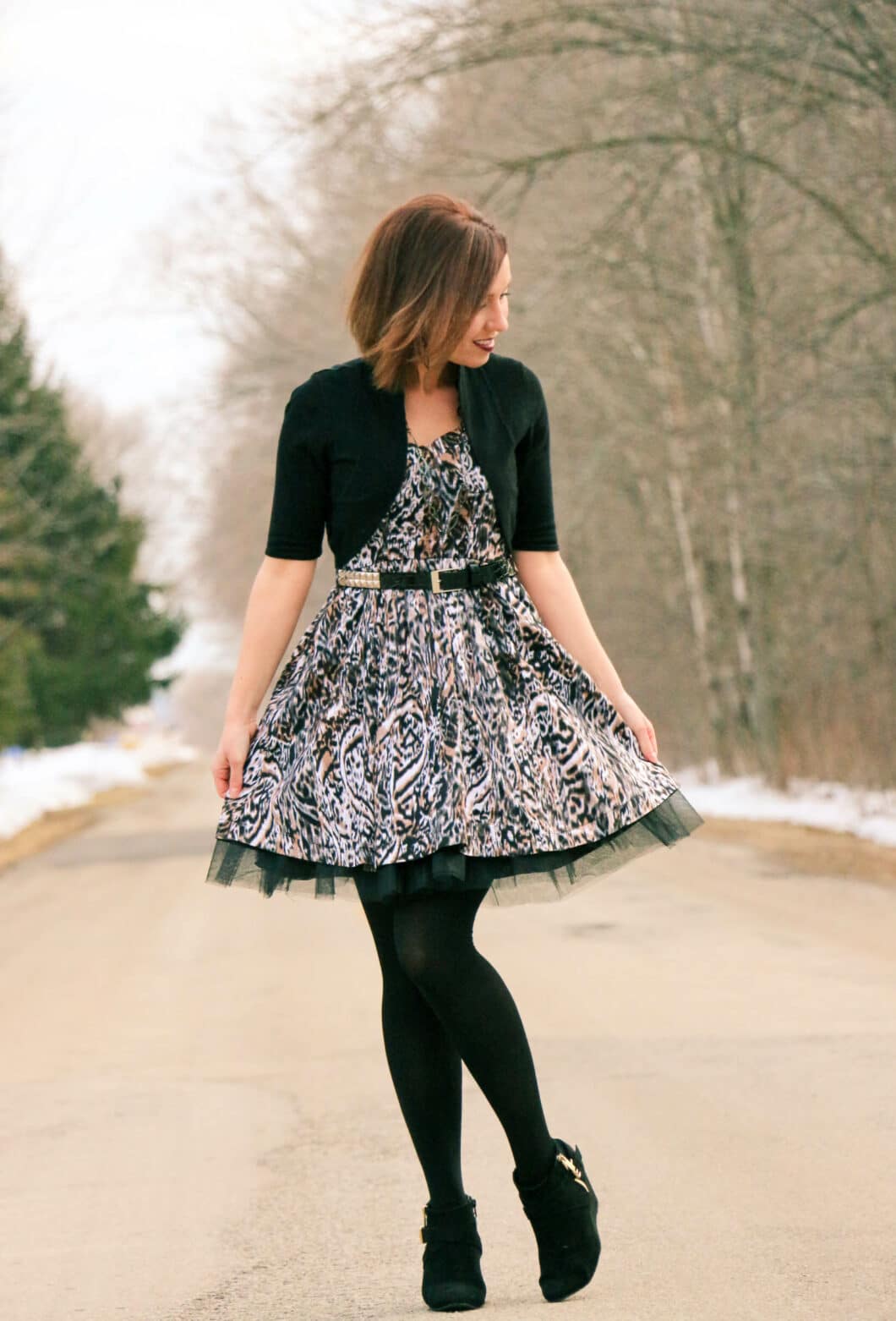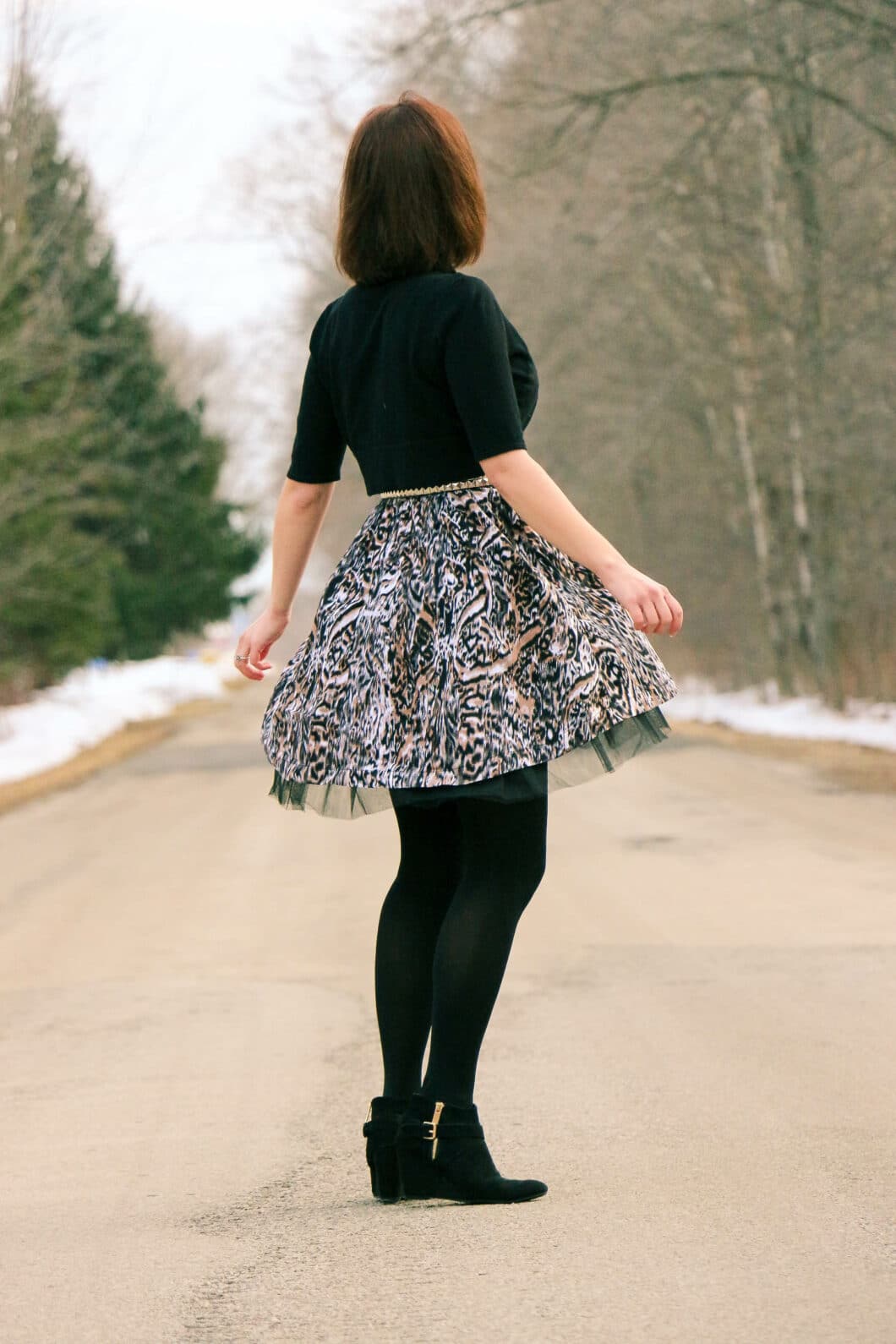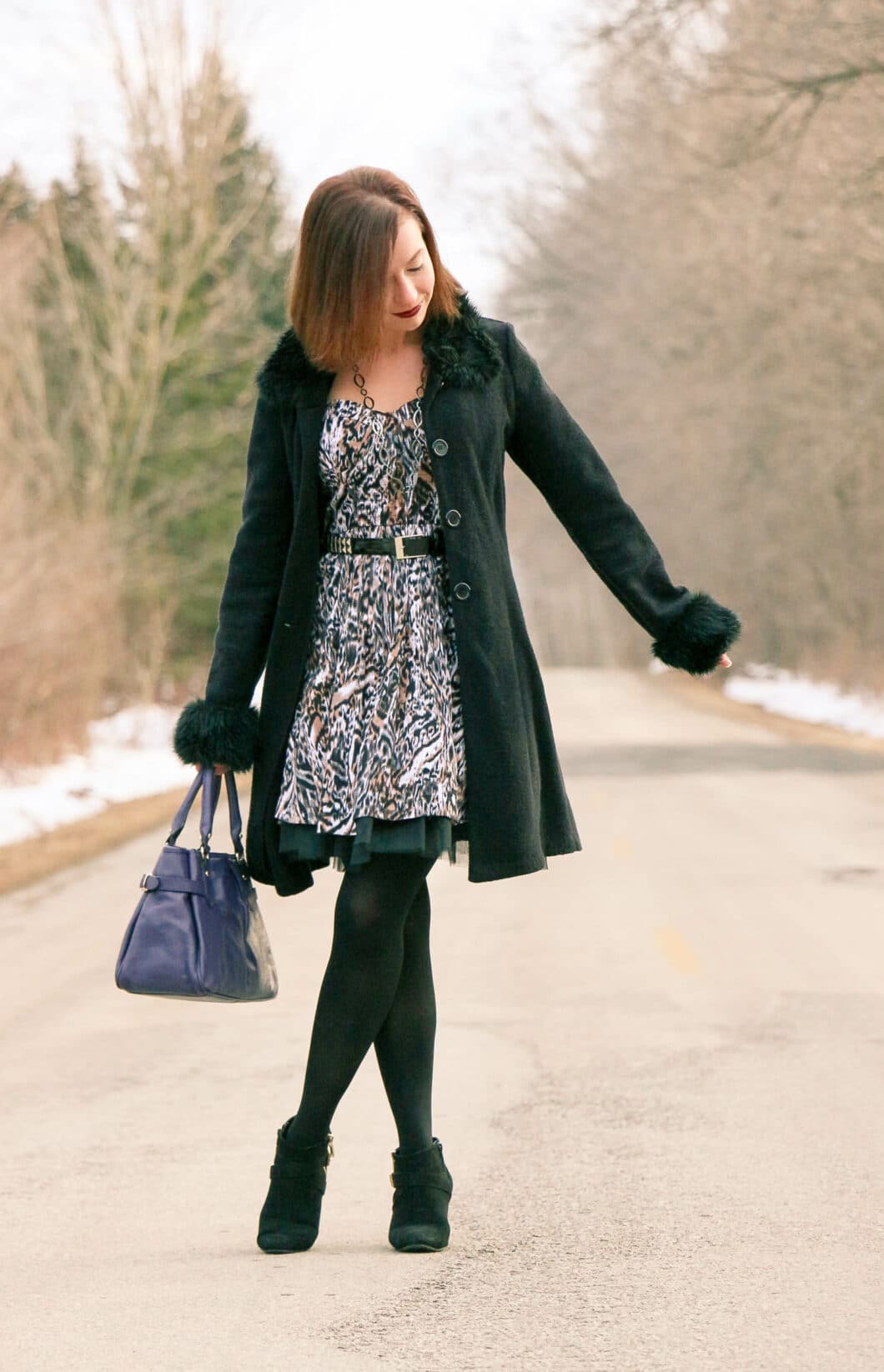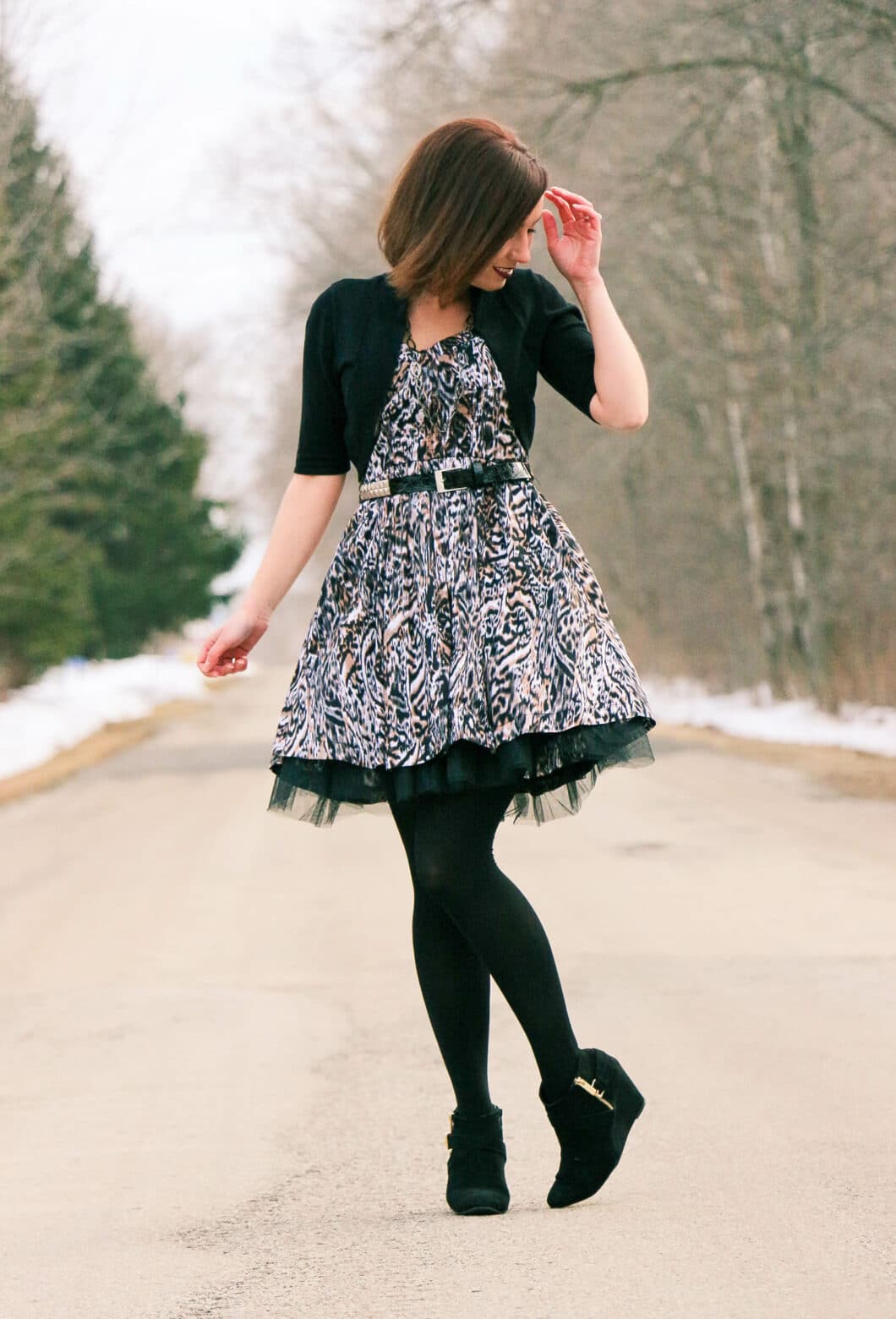 Shop the look:

So, I admit it…I'm a liar. About a year ago I made the statement on here that I never wear animal print clothing (save for a tiny bit in this post, here). However, this is quite untrue now, as you can see. I love wearing prints. However, I never find myself gravitating toward animal print…except for this dress. Who would have thought animal print and tulle could be such a fun combo?
This dress is…ooh, about 6 years old. I believe I paid about $5 for it, haha. I thought I had donated it when I was purging everything I owned in order to be a nomad with my husband (click here to read more on that). But this dress had actually been saved! It was tucked into a dress bag in the back of a closet at my mom's house. I found 3 dresses last weekend that I thought I no longer owned. This was honestly better than shopping for new dresses!
The second I found it I had to wear it. I used to style this dress with pearl necklaces and curls in my hair…a more demure look. However, it was Friday night, and I was going out to see a local band. So, I decided to embrace the edgy side of the dress, with vampy lips and a studded belt. And if I ever acquire the ability to sing, this is the kind of look I would want to wear on stage. Haha.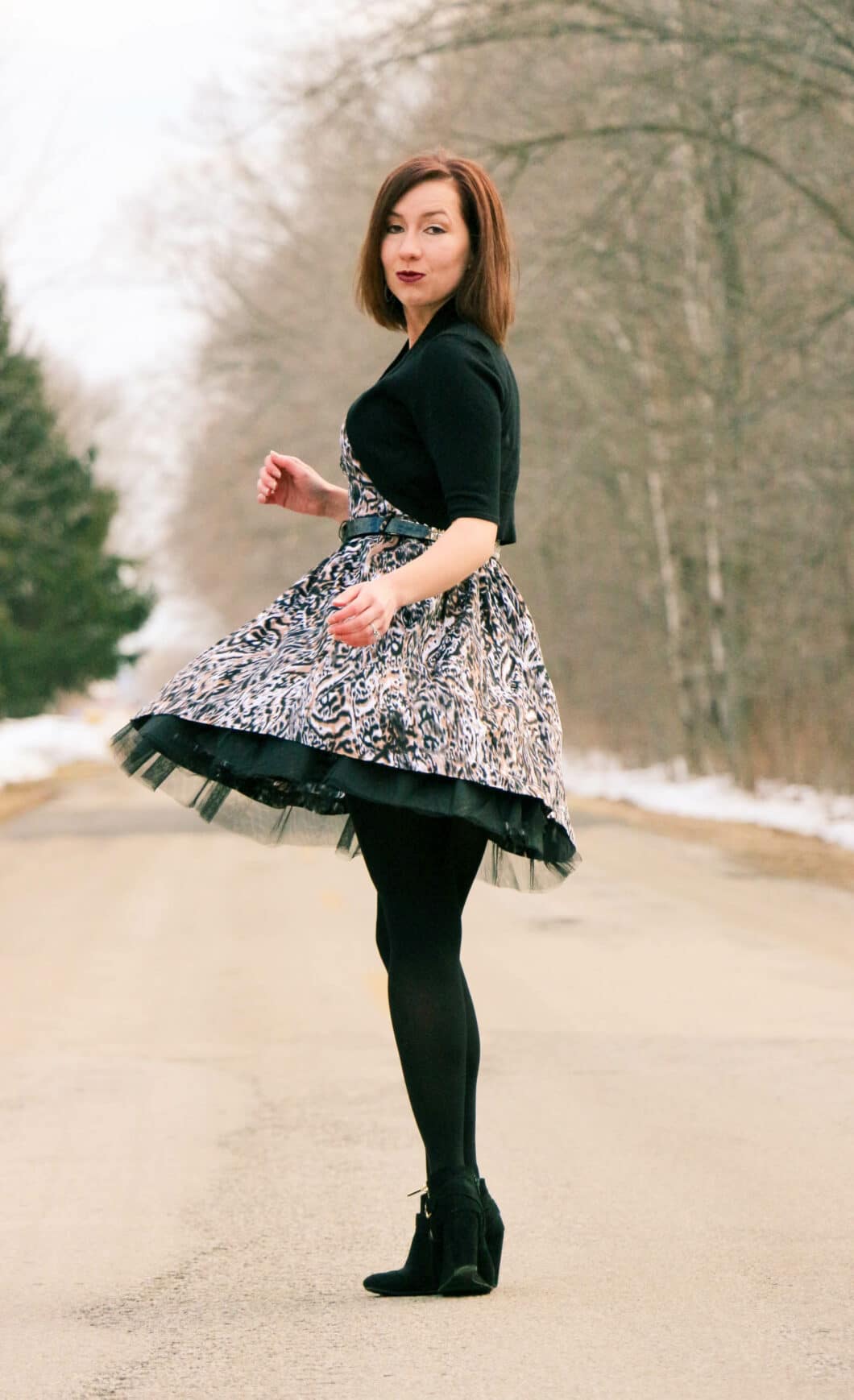 And here are some awkward twirling photos to show that my twirling has not exactly improved like I thought it had. Haha. Oh well! Twirling is too fun…especially when there's tulle involved.
Has anyone else starting wearing prints they swore they'd never don? Let me know in the comments!
Where to find it:

Dress: Rue 21 (Old. Similar here.)
Cardigan: Maurices (Old. Similar here.)
Booties: Old (Similar here)
Tights: *c/o Kushyfoot
Necklace: Kohls (similar)
Purse: Ifchic #24 event (similar here)
Coat: Old (similar here)
Lip gloss: Stila Stay All Day Vinyl Lip Gloss
Last chance to enter my Polette glasses giveaway! The winner will be announced in Wednesday's post! Click here to enter.
Follow