20 Beautiful Wedding Guest Dresses for This Winter
Is there anything more magical than a winter wedding? Admittedly, I'm a bit biased, as my wedding was in January, but still!
I'm also a way bigger fan of the wedding guest dresses that are worn for winter weddings. The colors, the fabrics, and the hem lengths are just more my style and tend to look a little glitzier than their summer counterparts.
Winter Wedding Guest Dress Shopping Tips
When shopping for your wedding guest dresses for this winter, these are a couple of things to keep in mind:
Opt for deep jewel tones – black is also acceptable to wear to a winter wedding. (A little sparkle never hurt at this time of year, either!)
Luxe fabrics such as velvet, satin, or lace are great for winter weddings.
Invest in a dressy cardigan or shawl, if your dress does not have sleeves.
Don't be afraid to pair your dress with fleece-lined tights or pantyhose, if the forecast is especially fridged!
Now, below, you'll find some of my top picks for winter wedding guest dresses for 2022/2023. This post starts off with my pricier picks and ends with dresses that are below $100 and below $50. Happy shopping!
*Disclosure: some of these links are affiliate links. Meaning, if you click a link and make a purchase, Have Clothes, Will Travel gets a very small commission at no extra cost to you. Thank you for supporting the brands that make this blog possible!
Best Winter Wedding Guest Dresses for 2022 & 2023 (Over $100)
The colors, the beading, and the style of this dress are perfect for a winter wedding! Don't let its' form-fitting look scare you away either – the ruching and lining of this dress make it flattering for many body types.
The gorgeous detailing of this black lace dress becomes more and more stunning the closer you look! This lovely wedding guest dress is fully-lined except for the short sleeves with an ornate black lace overlay that boasts a floral pattern and black sequin detailing throughout. Vintage-inspired and perfect for a variety of special occasions! This dress could easily be paired with tights too.
Velvet is the perfect fabric to wear for a winter wedding! This Adrianna Papell velvet high-low gown is the perfect balance of elegance and comfort. It also comes in midnight blue, if emerald isn't your color.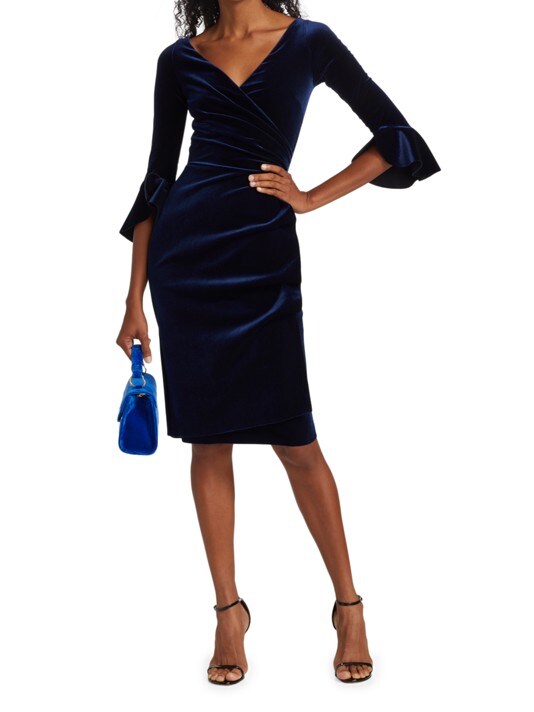 This is one of the pricier dresses on this list, but it is so divine, it deserved a place on this list too! The color, cut, and sleeves of this dress are stunning!
Florals aren't just for summer! This mock-neck maxi dress offers a modest design for a wedding guest + this is a dress that could be worn for a variety of events (not just a wedding).
Bronx and Banco have such a gorgeous selection of dresses! This midi dress would be great for any season and a variety of events.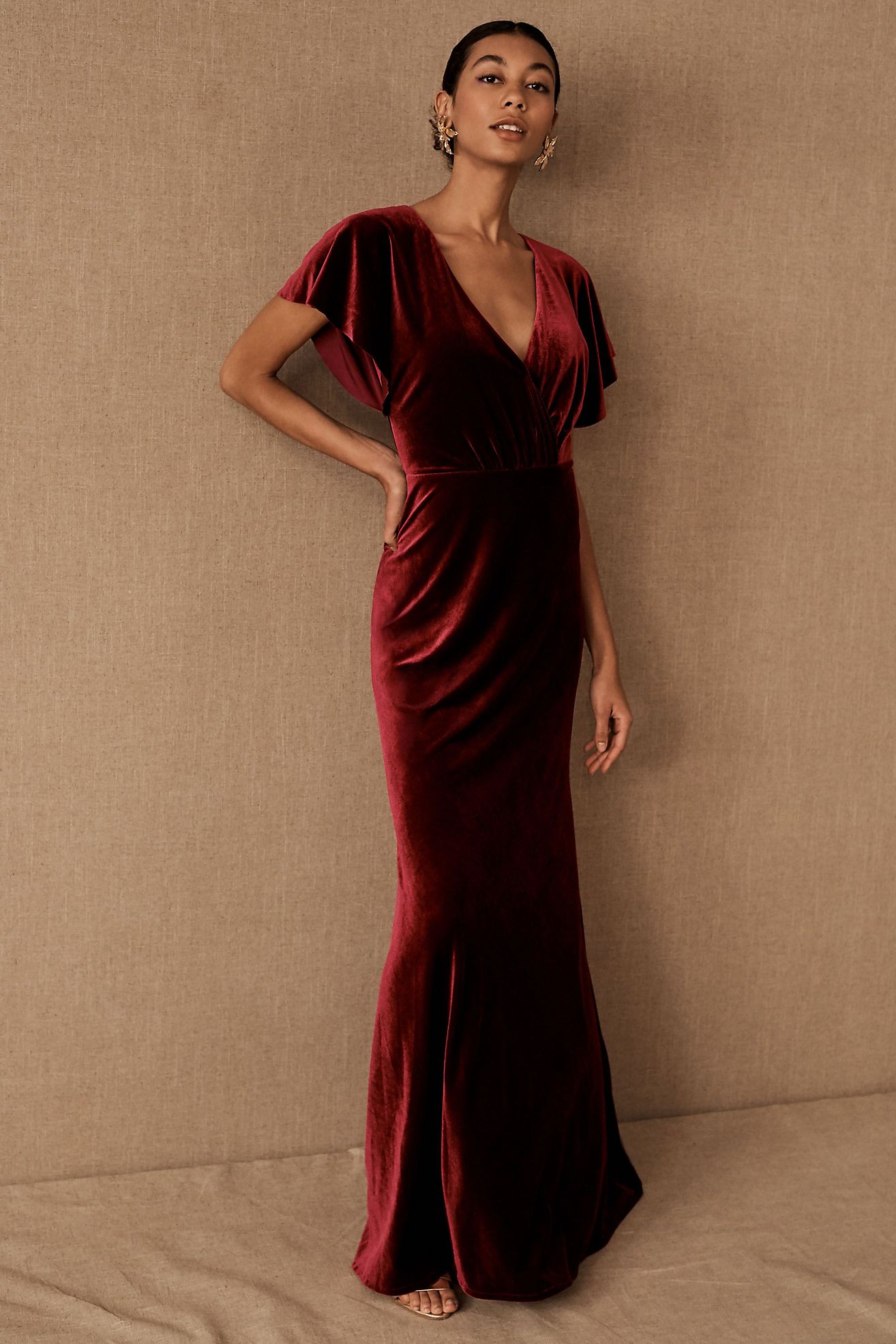 Talk about gorgeous! Flutter sleeves and a v-neckline top off this fitted, floor-skimming dress in luxurious velvet. Plus, an open back topped with a slender tie makes a dramatic finishing touch.
This floral cocktail dress is cut in airy polyester georgette with a cape overlay. This works great for fall, winter… or any season, really!
This gown is exquisite and would work great in winter paired with a dressy cardigan and pantyhose – so you don't freeze! I also love the idea of pairing it with bow heels too, check out these bow stiletto heels on Amazon.
Use code CLOTHES for 20% off your order + free shipping.
Ted Baker is one of my favorite brands for dresses and skirts. They are of fantastic quality and are perfect for weddings! (I mean, Shiv even wore a Ted Baker dress to her mother's wedding on "Succession.") This dress is versatile and would work for a variety of occasions as well – pair it with heels or boots and a sparkly clutch.
I love the mermaid silhouette with ruffle detail on the hem of this dress. Pair it with a black and gold belt and gold jewelry for a dressy wedding guest look!
For a formal wedding guest look, this silky column gown evokes elegance and simplicity while offering easy movement.
Winter Wedding Guest Dresses Less than $100
This dress is a glamorous vintage style wiggle with a lovely portrait neckline in a sultry V shape and semi-off shoulder design. It's available in sizes XS-5X and 4 other colors.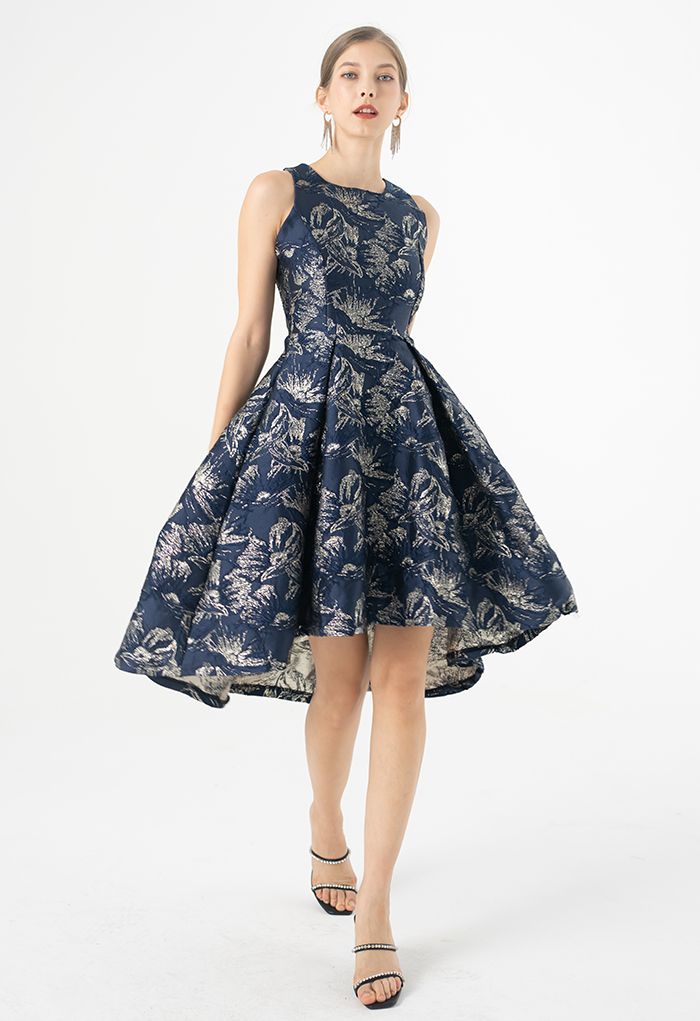 The sleeveless, asymmetric hem and box pleat from the waist gives this dress the perfect simple yet sophisticated touches. This is another dress that will pair well with a cropped cardigan or shawl for winter.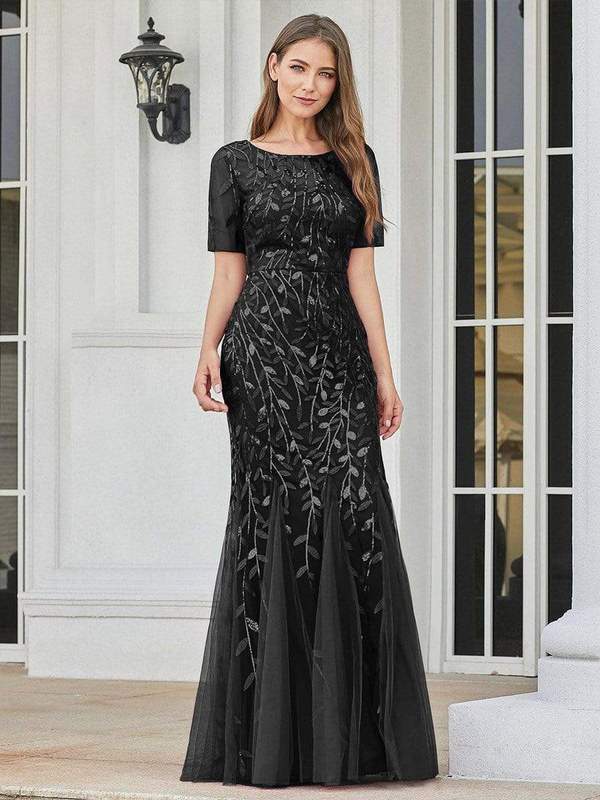 So, this dress I already own and have worn. (I featured it in a post about my favorite evening gowns). I think it is perfect for a formal wedding or for a mother-of-the-bride dress. The price is fantastic as well!
This retro-styled dress is cast in a beautiful green textured velvet. The stunning sweetheart neckline features a sparkling rhinestone faux button. Perfect to wear as a winter wedding guest or any holiday event this year! (It's also available in 4 other colors.)
Winter Wedding Guest Dresses for Less than $50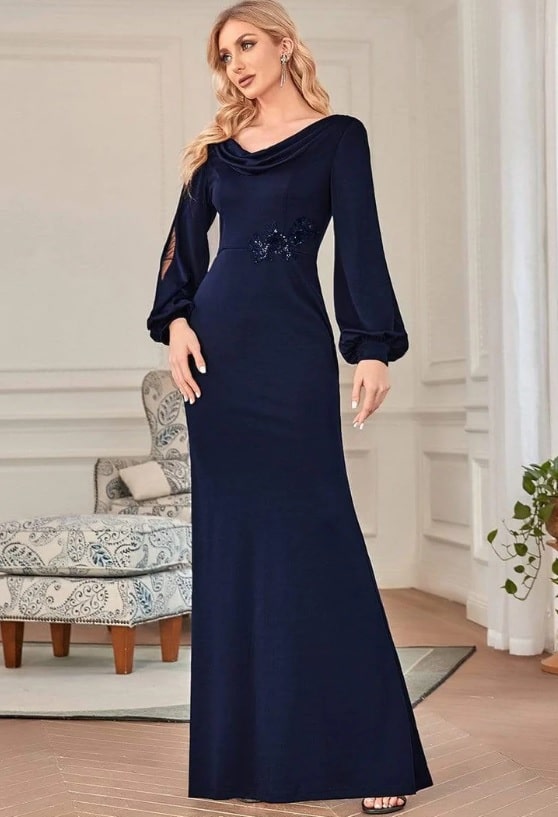 I know the price on this one might seem too good to be true, but I have had great luck ordering from this cheap dress company in the past! You can read my full review of Ever-Pretty here.
While I don't own this dress specifically, I have bought several dresses from this brand in the past and have been very happy with them for the price. This dress also has a lot of positive Amazon reviews from people who bought it to be used as a wedding guest dress.
Not only is this winter wedding guest dress beautiful, but it's also less than $25!! Talk about a steal. If you're nervous about ordering from this company, read my Shein shopping tips post or my full Shein review post.
And if you thought that price was good – this dress is less than $20!! It also comes in 10 other colors that would all work for a winter wedding.
Bonus: Wedding Guest Dress Rental!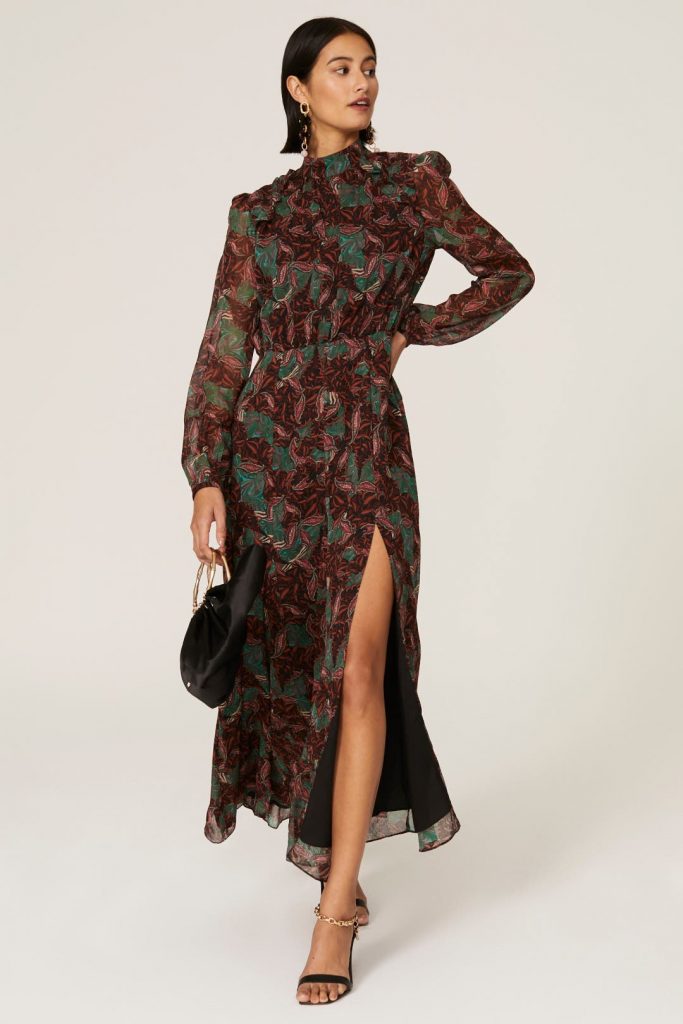 Now, if you don't want to run out and buy a whole new outfit for your upcoming wedding… rent it! Rent the Runway is fantastic – they let you rent items for events, or you can subscribe to their rental plans and have items sent to your home every month or even week!
I also love how helpful their reviews section is. A lot of customers will upload photos too, so you have a really good idea of what the items look like.
Now, I'm curious, which of these winter wedding guest dresses is your favorite? Let me know in the comments!
Do you need shoes to match your wedding guest dress? I highly recommend shopping on Zappos! Zappos can be great for dresses too.