My 5 Year Blogiversary Giveaway + Life Update
*Enter to win my $100 Nordstrom gift card giveaway at the end of the blog post.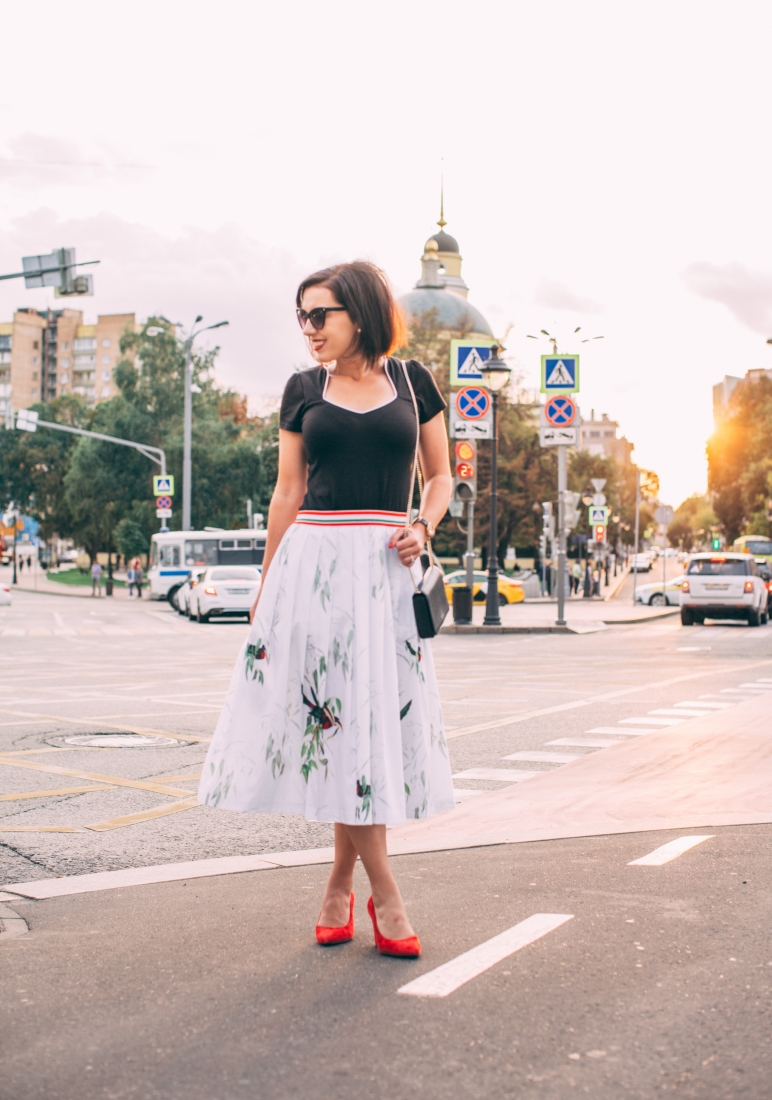 5 years old! Can you believe it? My blog is old enough to go to Kindergarten, now! To be perfectly honest, too…I didn't actually publish this post on my real "blogiversary." It's on August 15th.
However, these last couple weeks have been bonkers busy – but in the best possible way. And one of the things I'm working on this blogging year is to not beat myself up over arbitrary dates and numbers that I set myself. There's no need to "force content" when there isn't a reason to do so!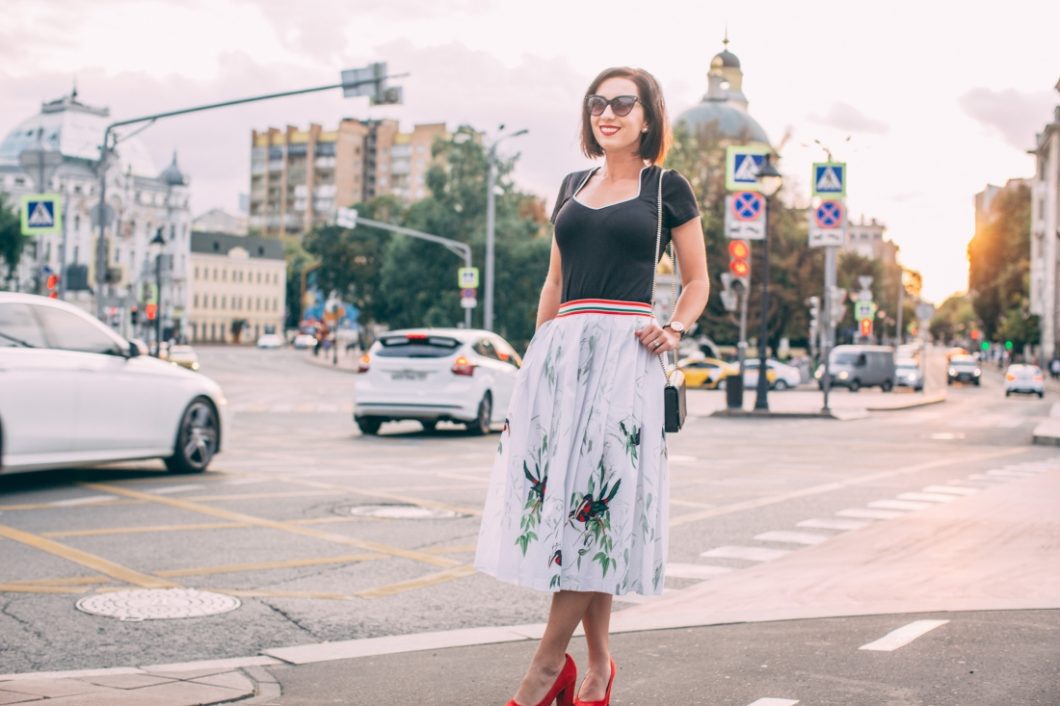 There have been all kinds of changes and opportunities coming our way. So, I figured this post would be as good as any to make some announcements about what to expect over the next couple of months if you keep following along!
Changes that are happening…
As of September 17, we will no longer be living in Russia. I'm always hesitant to make these announcements until we're quite literally on an airplane or have landed…as things can change in the blink of an eye! However, we didn't renew our lease in Moscow for October, and we have a one-way ticket booked to the US. So, I think it's safe to say our days in Russia are numbered.

I'll be doing all kinds of exploring the next few weeks, though! This will include more spots I've been meaning to check out in Moscow and one last trip to the Bolshoi Theatre.

To make the most of our last few weeks – we have a couple of trips planned around here!

The first is to St. Petersburg next weekend to check out Peterhof Palace in all its glory. We've only ever been to St. Petersburg when things are frozen – so, we're excited to see it in summer and the fountains at Peterhof Palace.
The next is to Baku, Azerbaijan – where I'll be working with Bag Baku Tour! Azerbaijan is an easy flight for us from Moscow…so, I'm really excited to be able to visit a country that isn't exactly on the map as a hot tourist destination and shed some light on this exciting country with Bag Baku!

We head to Dallas, Texas on Sept. 17, before we head back to our home in Wisconsin on Sept. 22. My husband's yearly work conference is in Dallas this year, and we'll be going to that first before we officially return home. I had been in Dallas a few years ago but had been ridiculously sick. So, I never had a chance to properly explore it. I'm open to any suggestions anyone has in the comments section of what to do there.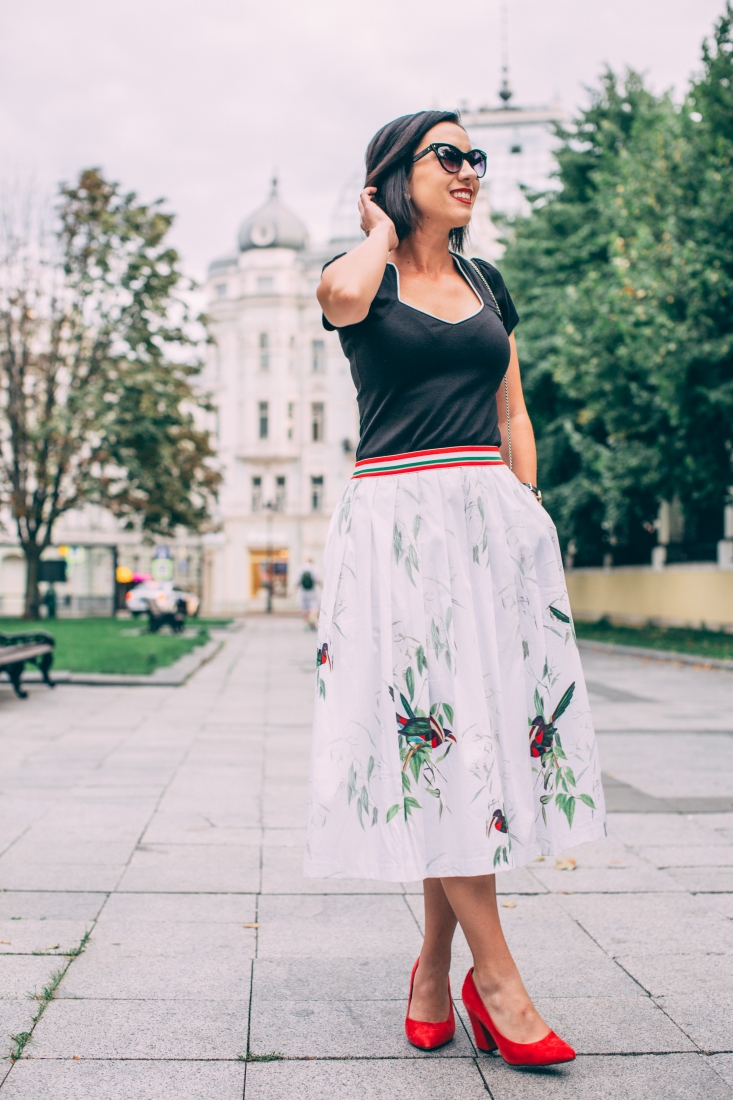 So… now what?
We don't have any plans at the moment to move abroad. For now, we're going to be enjoying our home in Wisconsin…but we're always keeping our eyes open for more chances to explore!
Right after we get home, though, I'll be heading off to explore Jamaica with Sandals Resorts! I'm really excited to be working more closely with Sandals this next blogging year and to kick off this partnership, I'll be checking out their Negril and Royal Carribean Resorts in Jamaica, so I can put together my first blog post featuring them. I'll be flying out Oct. 3. – so just over a week after we actually get back home. (See, we don't sit still for that long.) My husband will get to come with me too!
We're also going to start making some changes (slowly) to my blog. Once all of this madness calms down, Have Clothes, Will Travel is going to be getting a facelift. I've had my current website theme for 5 years now, it's time for a change in that department. We're also going to be doing a light rebrand…so, stay tuned. However, it's all going to be moving quite slowly. So, don't expect any major blog changes to be happening for the next couple of months.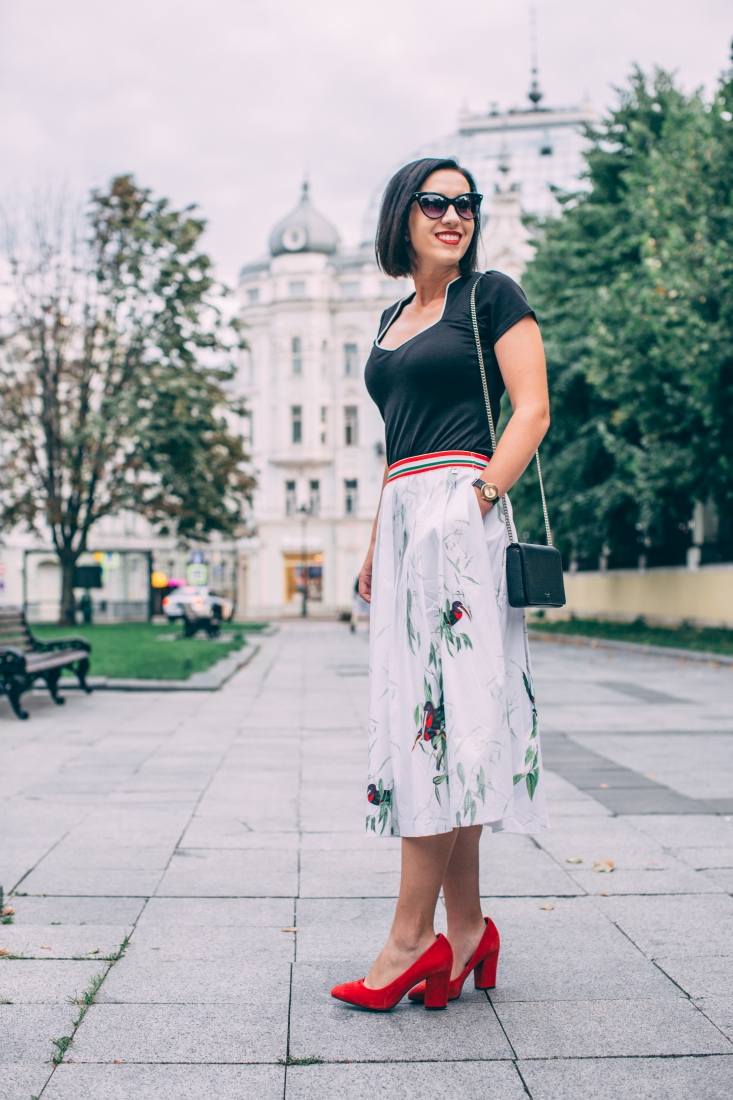 After 5 years of blogging, I finally starting to feel comfortable saying, "I'm a blogger." Everytime someone asks me "what I do" I always try to change the subject. It's easier than trying to explain I am blogger, and it is how I make a living. (Seriously!) I still don't love answering that question, but I am starting to own it more!
New blog series!
And, because of this, I thought it would be good to do a little series on my blog talking about what I've learned after 5 years of blogging. How I make money, mistakes I've made, blogging tools I love (and also ones that I hate), camera equipment that I use – you name it. I also want to hear what you want to know about 5 years of blogging in the comments section! What's something you're dying to know about the blogging world? I'll do my best to include answers to these questions in my upcoming blog series.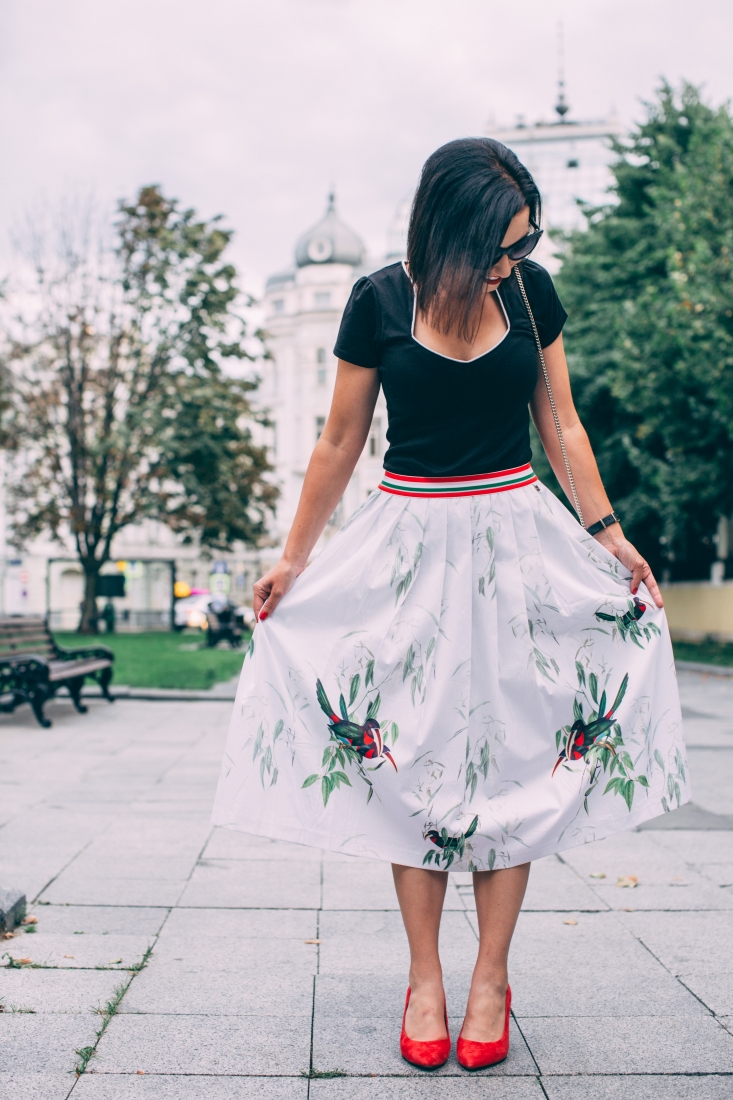 This Outfit
It's not a blogiversary post unless I can break out a new favorite outfit to kick off a new blogging year! This one is featuring a new (to me) Ted Baker skirt, a pair of Bella Vita pumps and a Kate Spade bag. All of them came from Nordstrom , so that was the idea behind this year's giveaway.
All of them also were on sale or clearance – which is why I could afford them! (Nordstrom is not exactly inexpensive.) I took advantage of the Nordstrom Anniversary Sale, plus a couple of random sales I stumbled on this summer.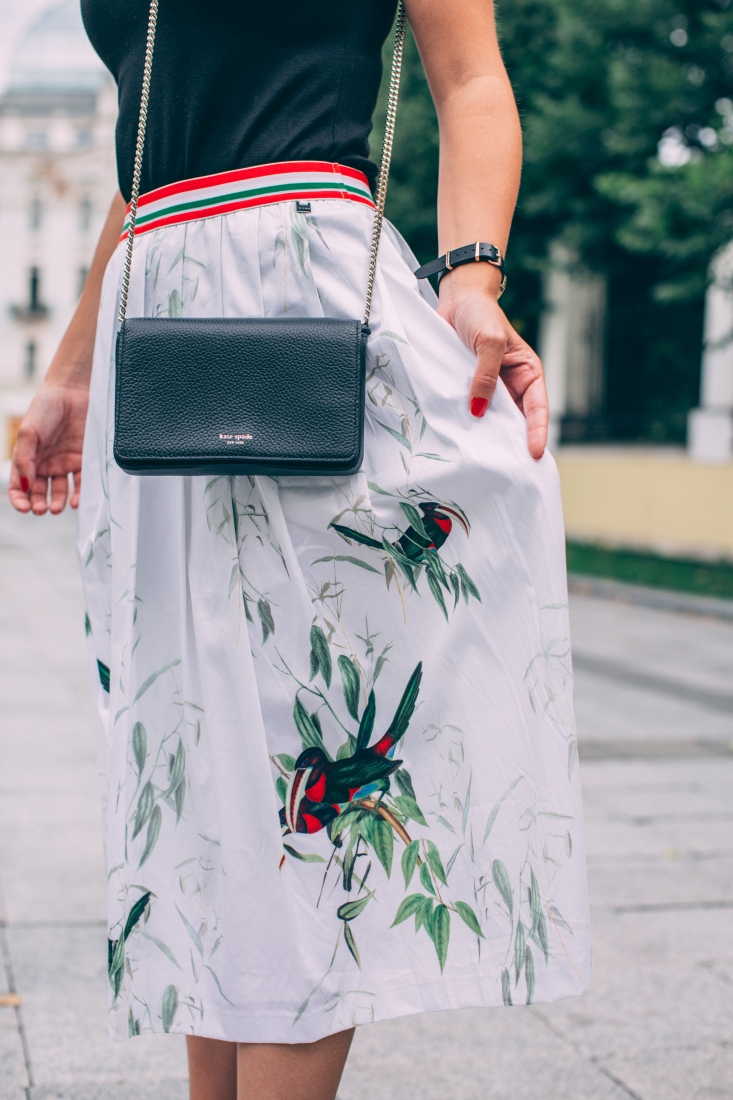 Sorry, because I got this skirt on clearance, it's no longer available. However, Ted Baker has all kinds of gorgeous pieces to choose from right now. (I'm becoming addicted to Ted Baker sales!)
My Kate Spade bag has been getting tons of use as well. Despite its small size, I really like using it. It looks so classy with almost any outfit – whether it's a dress or a just jeans and a tee, this bag just WORKS. (Sorry, it's still available, but it's not longer on sale.)
*Still loving my Timex watch too!! Finally wearing it with its black band in this post.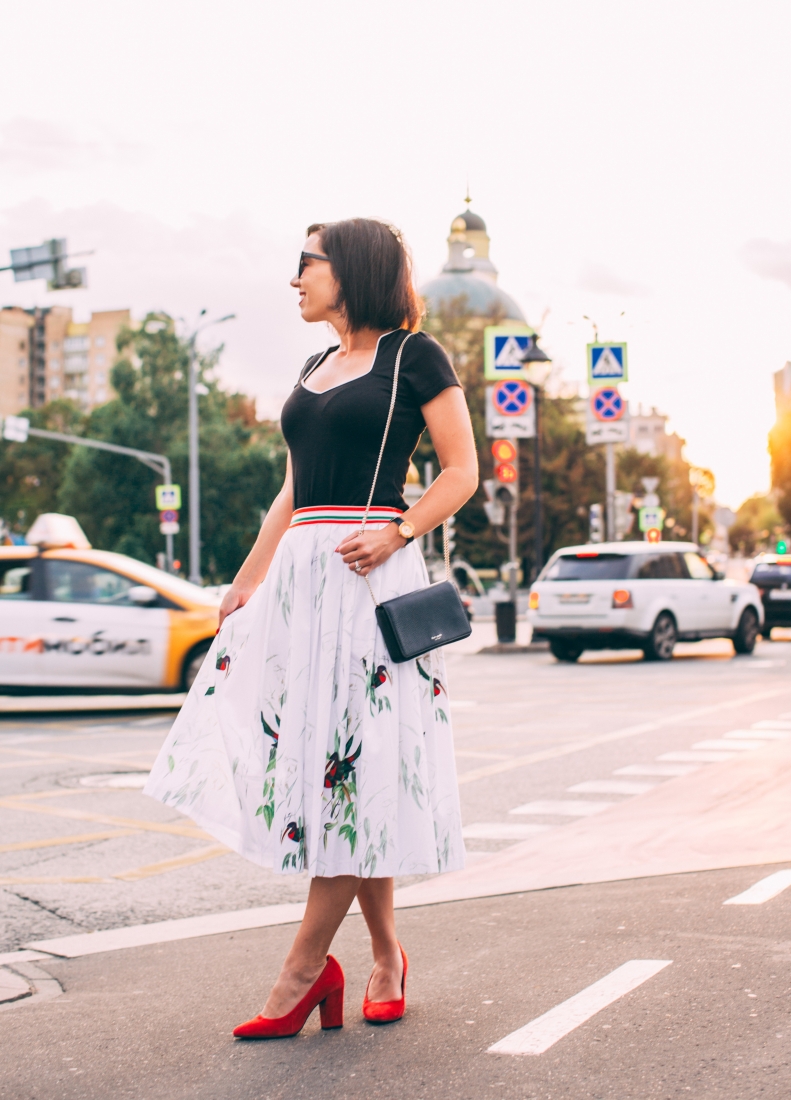 These Bella Vita pumps are still in stock AND on sale, though! They are so comfortable too. I wore them to walk to a few photo locations I wanted to shoot this outfit in – both of these spots are about a 10 minute walk from our apartment.
I also wore them to dinner at Beluga this weekend…and I accidentally had the wrong address in for our cab. (Turns out, there are 2 Beluga restaurants in Moscow, whoops!) So, I ended up walking another 15 minutes to get to the restaurant. And I was able to do all of this walking in these pumps! It's awesome. Now, they're not as comfy as a pair of flats, but as far as pumps go, these are fantastic! They also fit my wide feet – which is always rare.
I'll share more about our dining experience at Beluga in a separate blog post. But, we had gone here to try caviar for the first time – as caviar is a BIG deal in Russia. (Caviar and vodka!)
You can also check out more outfit details via the links at the end of the post.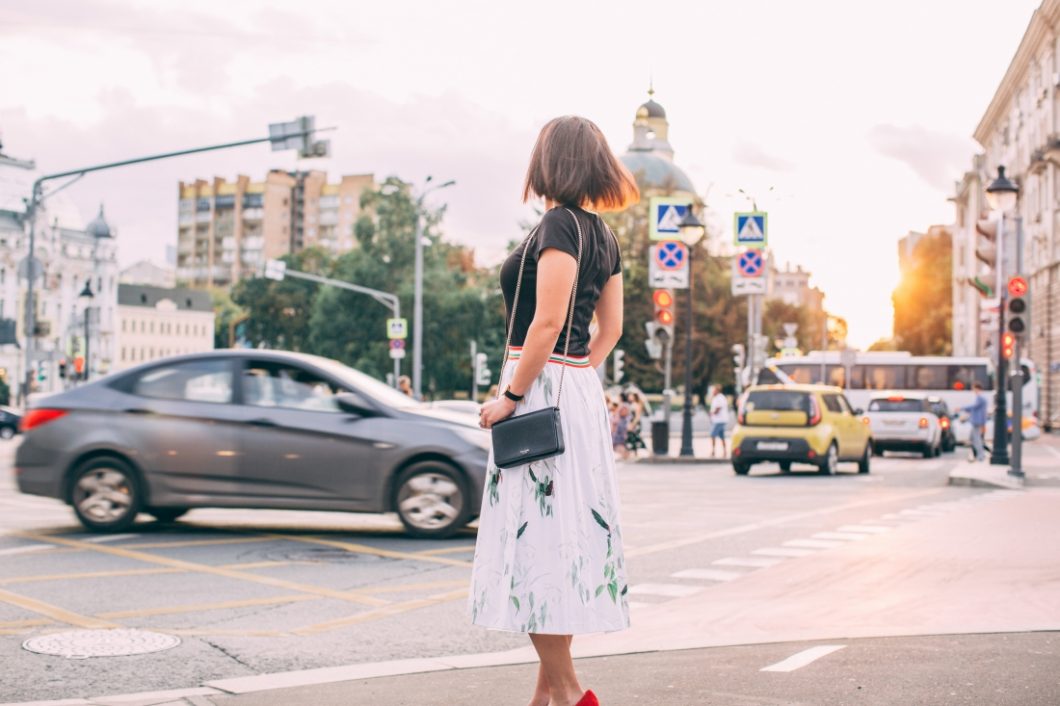 $100 Nordstrom Gift Card Giveaway!
This is also the time of year when I want to take the time to say THANK YOU to each and every one of you. Without you lovely readers none of this would be possible. 5 years of blogging simply wouldn't have happened if you all didn't pop in here to read and interact with my posts, and share my blog with your friends, family and coworkers. Oh! And buy items via my links. You're keeping Have Clothes, Will Travel in motion!
These last 5 years have connected me with so many amazing people, virtually and even in person. The blogging community is truly an inspiring place to be and I am so grateful to have such supportive readers cheering me on – both virtually and in person. I'm also super lucky to have such supportive family and friends – who share every single post of mine and are always telling everyone to "check out Have Clothes, Will Travel – it's Lindsey's business!"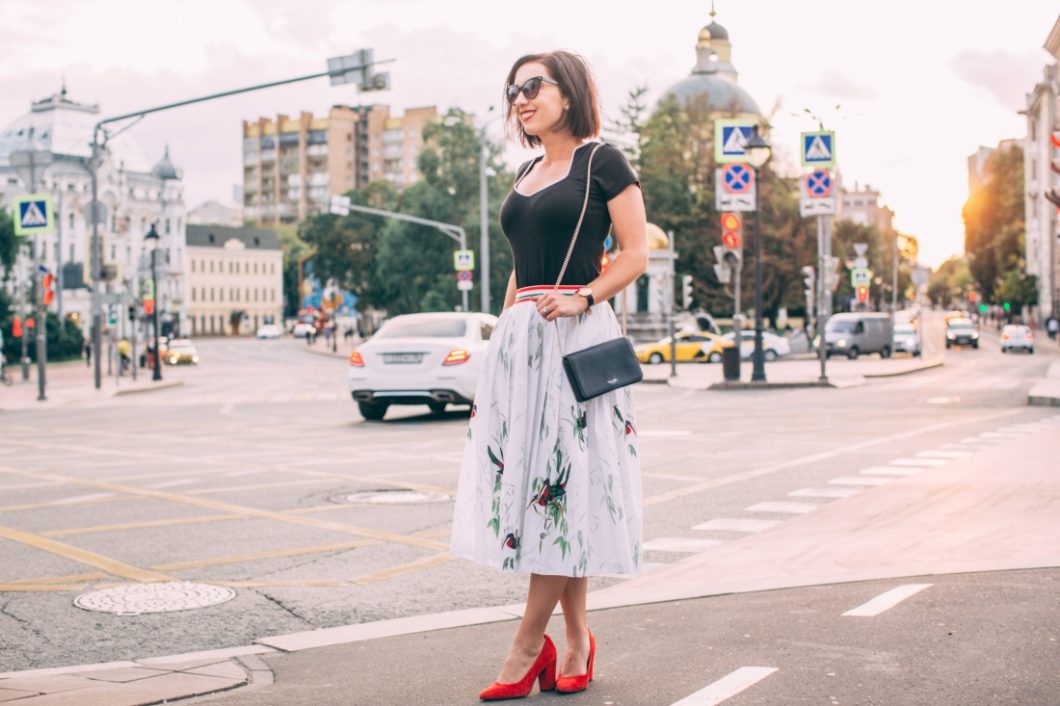 And to say thank you, I'm giving away a $100 Nordstrom gift card! Nordstrom is a store I never frequented until I started blogging. They do a great job of supporting us bloggers via affiliate sales (and our shopping addictions), though, and I've finally started to see why there is so much hype surrounding this store! It's also what nearly this entire outfit is made up of, haha. (Links to individual items are below.) And this year's giveaway will hopefully be nice and easy for you all, as I'm pretty sure most of you are already following me on one form of social media or another. Feel free to grab as many entries as you can, though! Enter in the widget below, or I can't pick you to win!
Have Clothes, Will Travel $100 Nordstrom gift card giveaway!

*This giveaway is not sponsored by Nordstrom or its affiliates.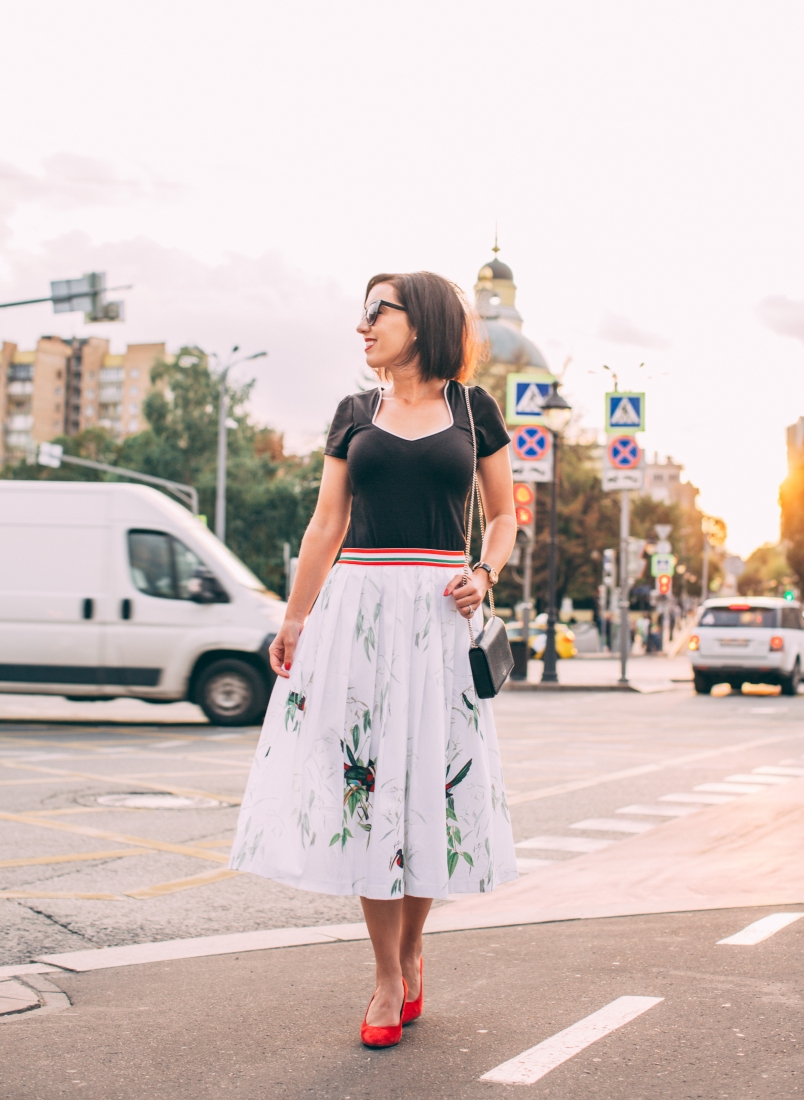 Where to find it:
Skirt: Ted Baker
Pumps: Bella Vita
Bag: Kate Spade
Watch: c/o* Timex
Sunglasses: Old (Similar here)
Blouse: Old (Similar here & here)
Lipstick: Stila Stay All Day in Beso
*Disclosure: some of these links are affiliate links. Meaning, if you click a link and make a purchase, Have Clothes, Will Travel gets a very small commission at no extra cost to you. Thank you for supporting the brands that make this blog possible! I am also a participant in the Amazon Services LLC Associates Program, an affiliate advertising program designed to provide a means for us to earn fees by linking to Amazon.com and affiliated sites.
*c/o = courtesy of, meaning the company gave me the product to be used on my blog, and I did not pay for it. All opinions are my own, and I am not being compensated for a positive review.