Our Aquafari Experience in Curaçao: Everything You Need to Know Before You Go
When we were searching for unique things to do in Curaçao, my husband found this incredible Aquafari tour for us to take! It was the first thing we did when we arrived in Curaçao.
We are avid fans of snorkeling. However, we are not certified divers. This is due, mainly, to me being too claustrophobic to scuba dive. Aquafari seemed like it would bring the best of both worlds together for us, and allow us to explore underwater in a unique way.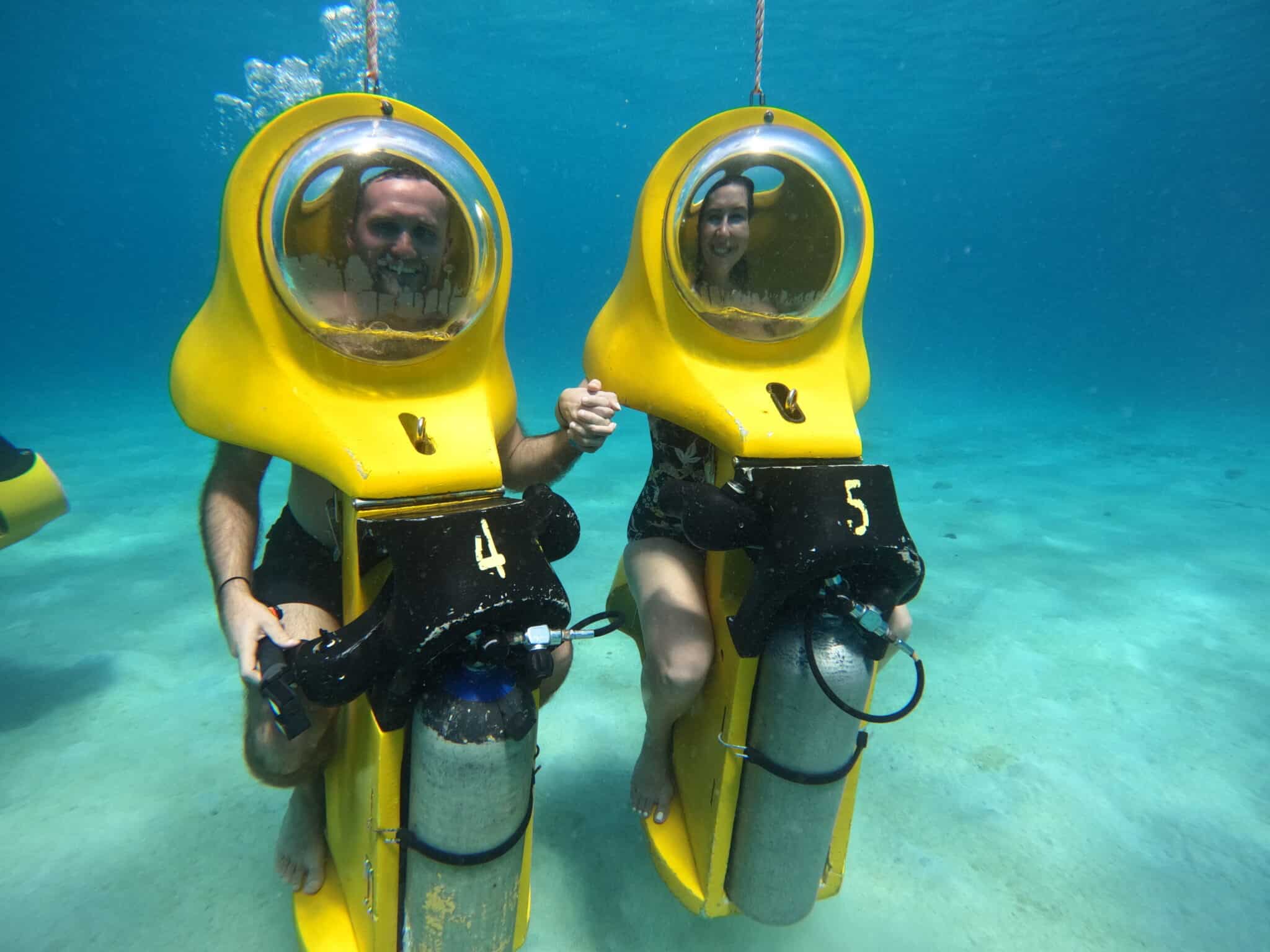 *Disclosure: Have Clothes, Will Travel uses affiliate links. Meaning, if you click a link and make a purchase, Have Clothes, Will Travel gets a very small commission at no extra cost to you. Thank you for supporting the brands that make this blog possible!
What is an Aquafari Tour?
For those of you who might not know, Aquafari is not your typical water adventure. Far from the usual snorkeling or scuba diving, Aquafari offers a unique, immersive, and exhilarating experience!
You get to explore the underwater world on a personal submarine scooter. That's right! Aqaufari lets you dive into the ocean, allowing you to explore the captivating marine life in a novel, exciting way.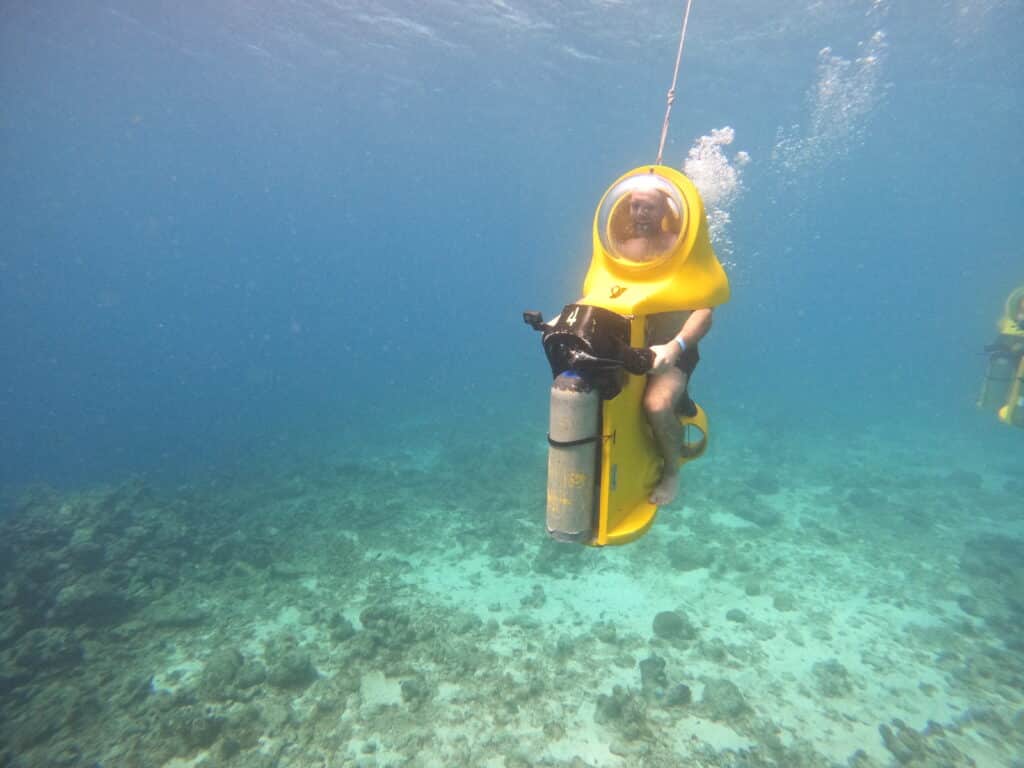 Unlike traditional snorkeling or scuba diving, Aquafari allows you to explore the marine world independently on a personal, self-propelled submarine scooter. The beauty of this is that you don't need any prior diving experience or training to partake in this adventure.
Aquafari's submarine scooters are designed with the utmost safety in mind. They include a clear, air-filled dome that covers your head, allowing you to breathe normally while submerged.
Plus, there are trained professionals who will be diving next to you guiding you every step of the way.
This is something you can do if you are on a cruise! Actually, we were the only members of our group who were not on a cruise ship.
My aquafari youtube video
Our Aquafari Curaçao Experience
Curaçao is known for its vibrant marine life and crystal-clear waters, making it one of the most popular locations for an Aquafari adventure. This Caribbean island is a haven for underwater explorers, with its diverse coral reefs and colorful marine species.
Note: The tour takes a maximum of 8 people underwater at a time. So, this is a "small" group tour.
The meeting point to begin our Aquafari experience was at Boka Sami Beach. This is about a 20-minute drive from downtown Willemstad. (We had been staying at the Renaissance Resort, which was right next to the cruise ship terminal). We ended up splitting a cab with a nice couple from the cruise ship by our hotel.
It is also a good idea to download the 24-7 Tax Curaçao app to request cabs on the island if you will not be renting a car.
Once we arrived, the Aquafari Curaçao journey began with a comprehensive safety briefing and training session. At the office, we watched a brief video that showed us what to expect, and how to operate the scooters. We also learned a few hand signals so we could communicate with the divers who would be accompanying us underwater.
We then put our belongings in a locker in the office and set off to the dock where our scooters were waiting for us already underwater. It was only a few minutes walk from the office to get to the Aquafari scooters.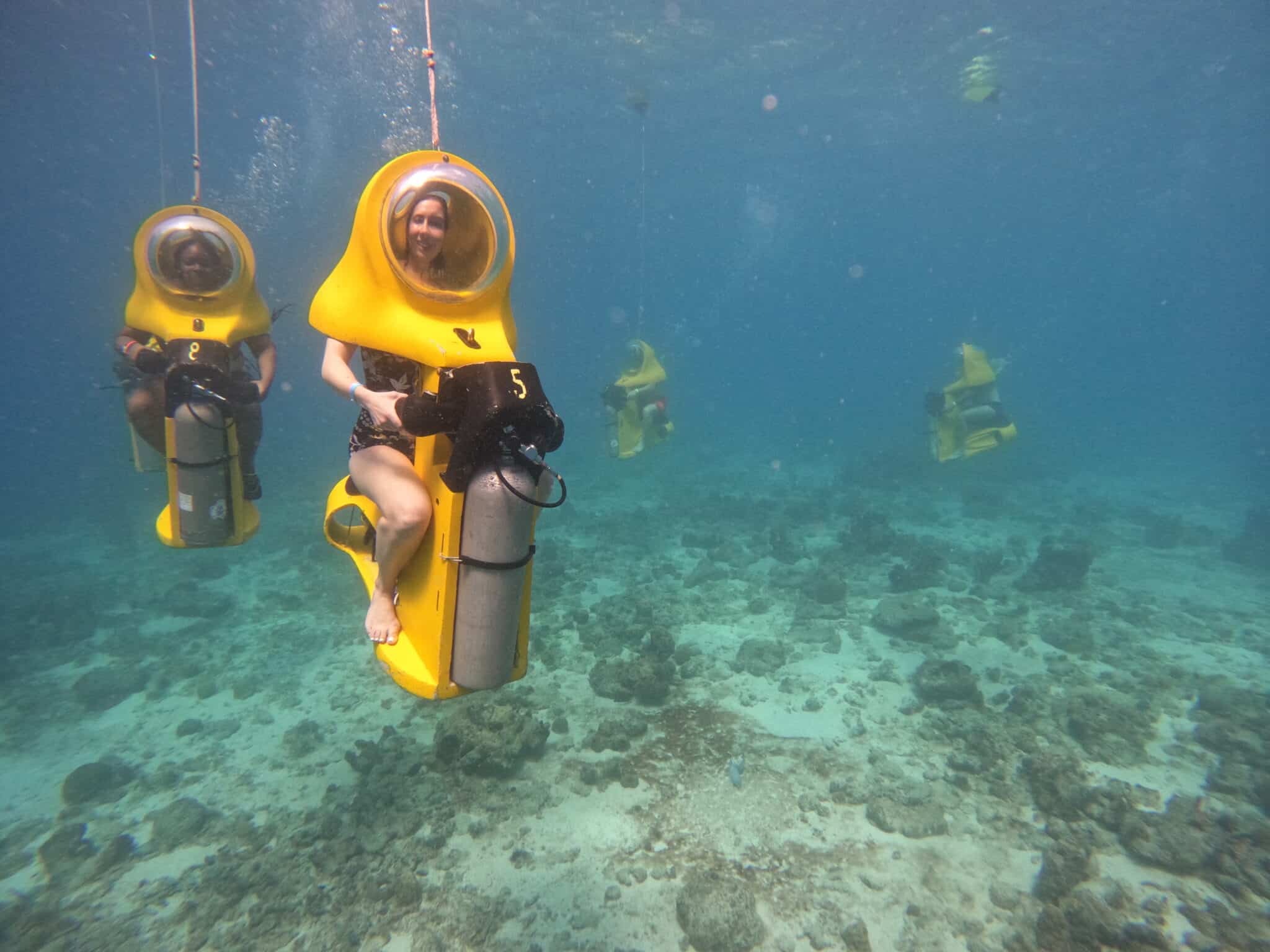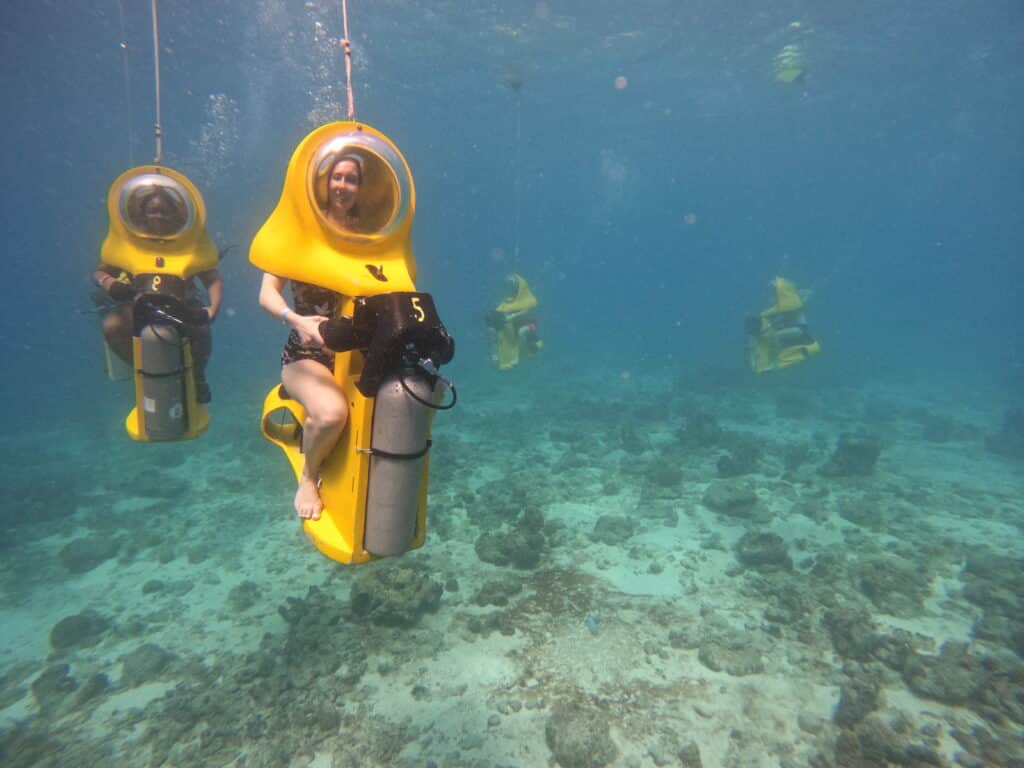 Once on the dock, we were given another demonstration of how to operate the scooter (it was basically just turn them off and on and steer them), and did a refresher on hand signals for the scuba divers.
Getting into the scooter is a bit of an adventure! You will have to hold your breath for a second, get your head in the bubble, and then situate your butt on the scooter. (You can see this in my YouTube video.) Getting into and out of the helmet is the only time your head will get wet. This is also the only time you need to "swim." I'm not a strong swimmer, but didn't have any issues paddling from the dock to my scooter. So, you by no means need to be a good swimmer to participate in this tour.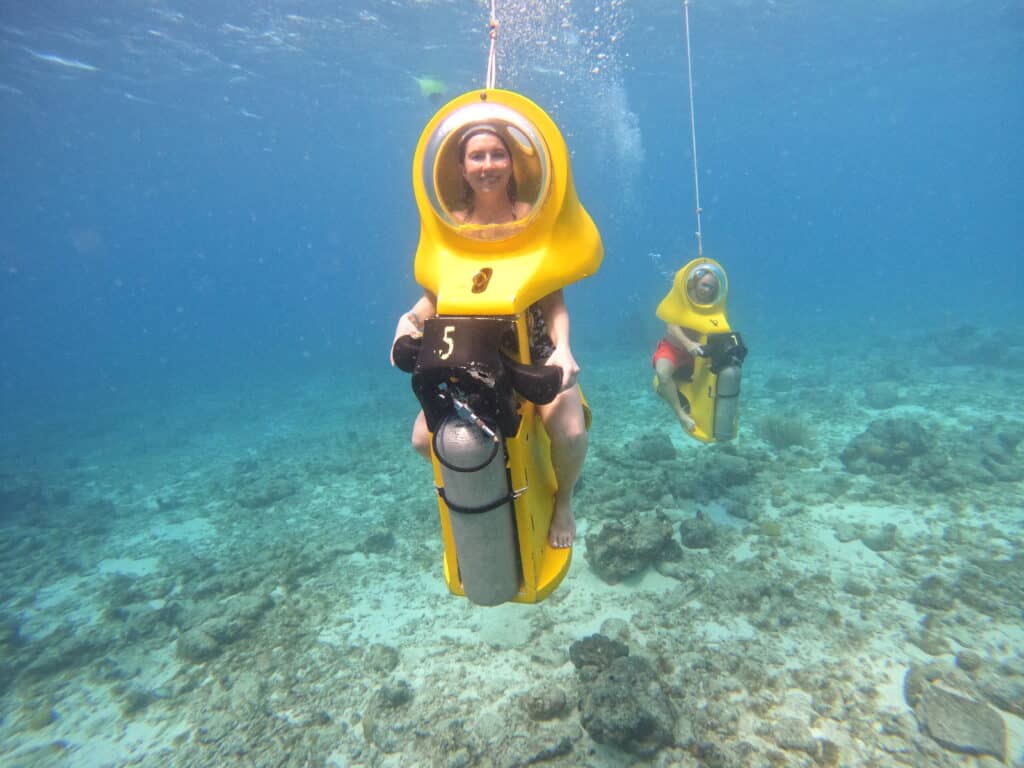 Once you are in the Aquafari scooter, your guide/scuba diver will make sure you are comfortable and are breathing normally. I learned that day that I am someone who needs more oxygen than the average person! We had to adjust my air tank settings so it was sending more oxygen into my helmet, otherwise, it felt like I couldn't breathe properly. Fortunately, this isn't that unusual, and it only took a few seconds to get everything adjusted and on my merry way underwater.
As you go deeper into the water the guide would adjust the balloon attached to the scooter. They were also directing us with hand signals throughout the tour.
We also stopped a few times so the guides could arrange us and take some fun photos.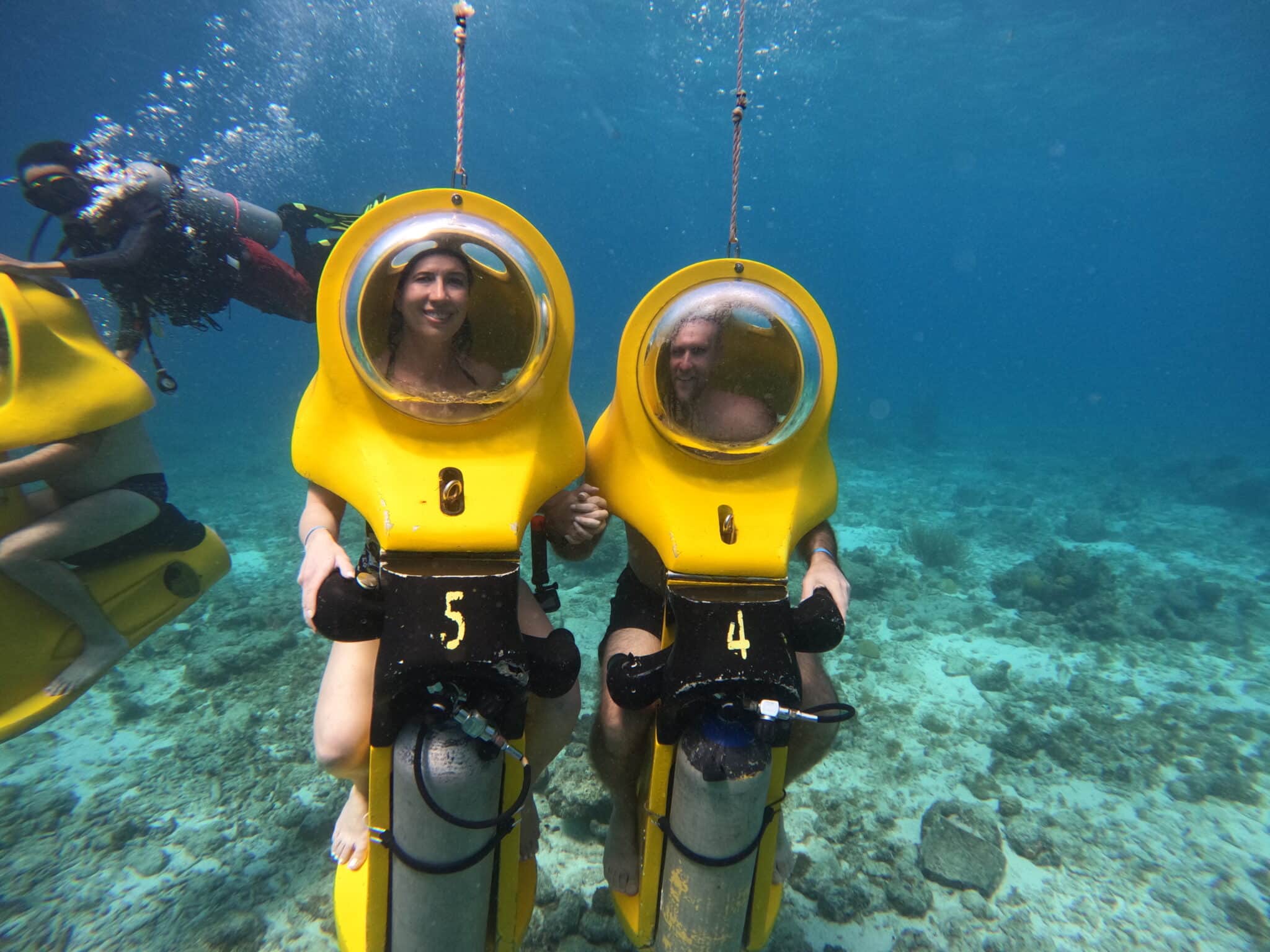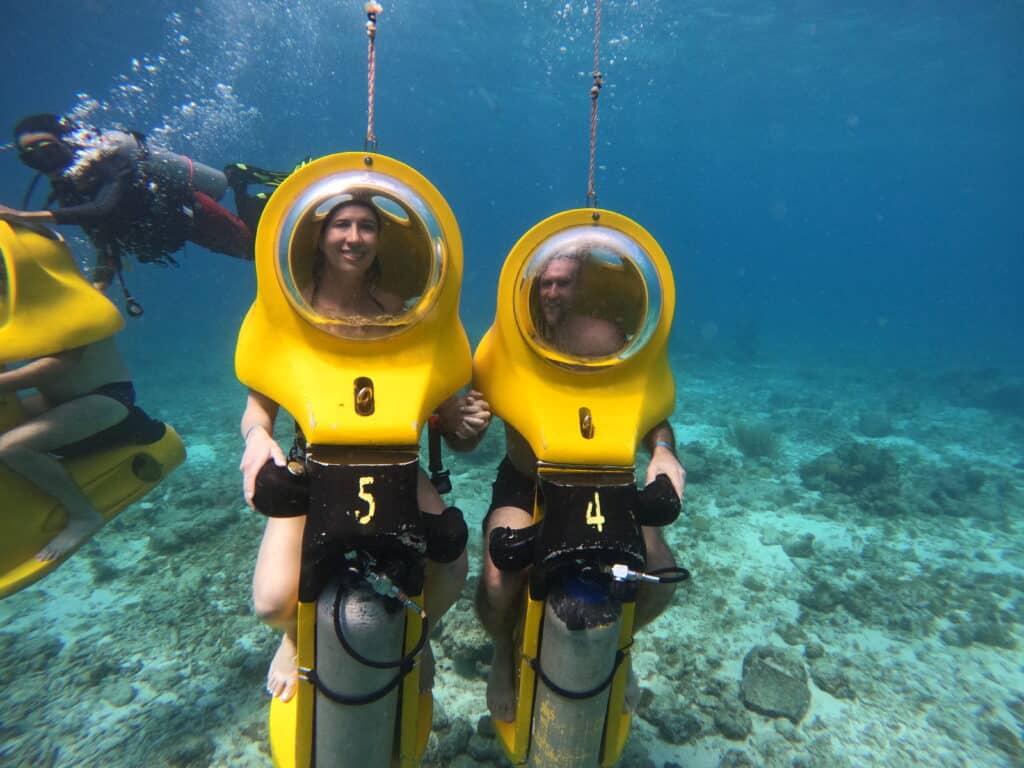 The tour itself was around 1 hour underwater. Some reviews of the Aquafari tour complained it was too short. Personally, I thought this was the perfect amount of time. We had plenty of time to have some fun jetting around on our scooters underwater, seeing fish and turtles, getting some photos, and even seeing a shipwreck. When it was time to go up, I was ready to be on dry land again!
What if You Are Claustrophobic? Can You Still Take an Aquafari Tour?
As I mentioned above, the reason I have never gone scuba diving is due to how claustrophobic I am. My husband was SO excited about this Aquafari tour, though, that I decided to try, even though I had a feeling this was not going to be kind to those of us who are claustrophobic.
I'm happy to report, I did not have any panic attacks while underwater! I think that knowing I could easily get out of the Aquafari and swim to the surface helped me. Plus, the helmets are a good size, so I didn't feel too trapped.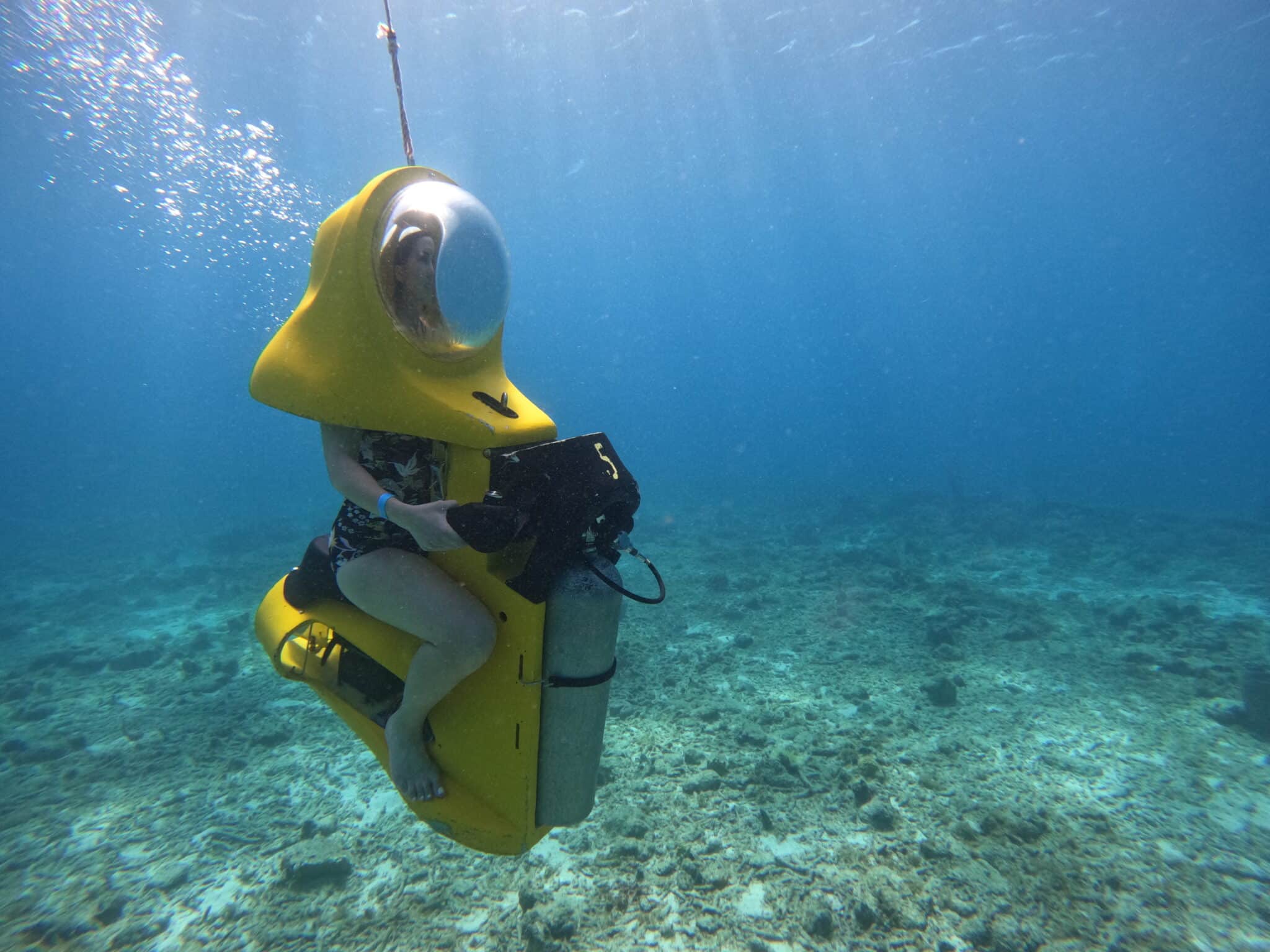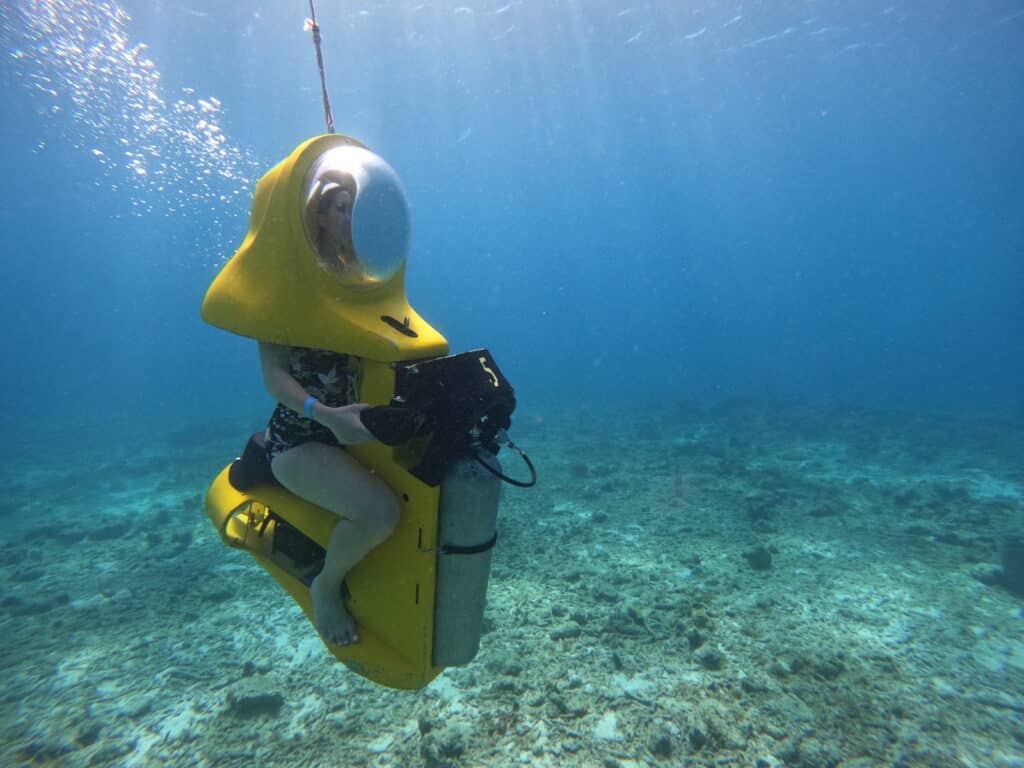 That said, I don't feel the need to ever go on another Aquafari tour, because I still had that panicky, claustrophobic feeling bubbling in my chest. I powered through it and even enjoyed the tour at times, but this is definitely not for someone who is as claustrophobic as I am.
On the other hand, my husband is not claustrophobic and absolutely loved every second of this tour! This was his favorite thing he did in Curaçao, and he would do it again in a heartbeat.
Other Restrictions
Not wheelchair accessible.
This excursion is also not suitable for pregnant women, people suffering from a recent neck or back injury, heart conditions, respiratory ailments, epilepsy, or diabetes.
Minimum age requirement is 10 years old.
Minimum height requirement is 4ft (1.2 meters) and a maximum weight limit of 275 lbs (125 kg).
If any of these restrictions apply to you, a doctor's consent letter is required to be allowed on the excursion.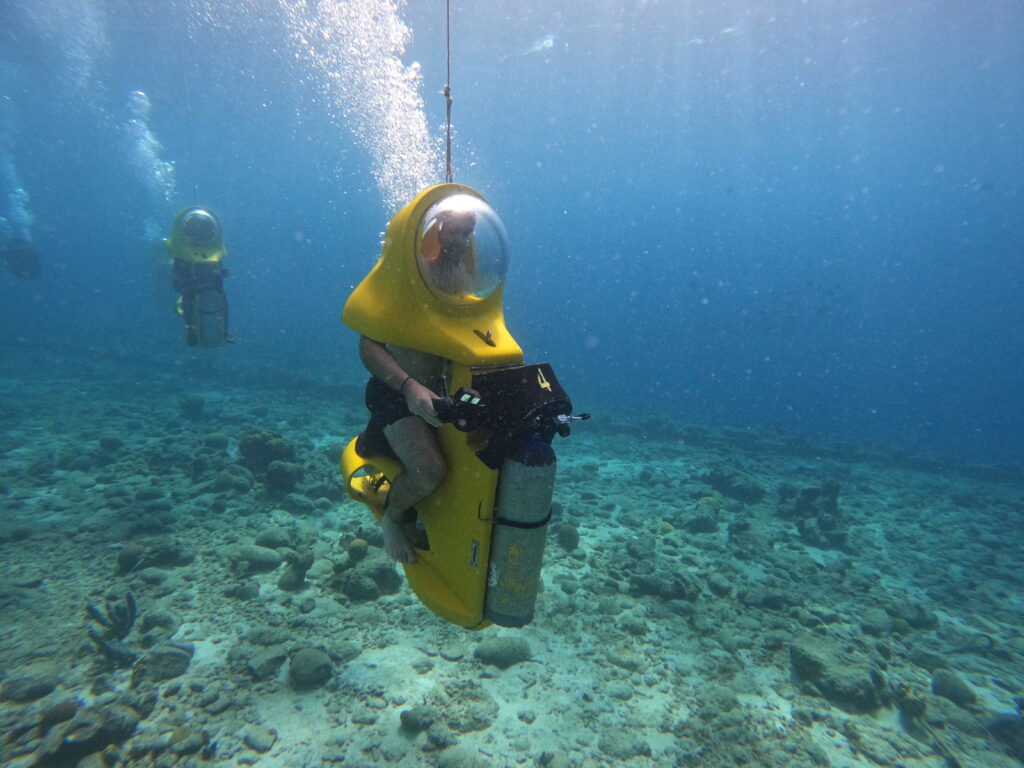 How Much Does Aquafari Curaçao Cost?
The Aquafari Curaçao adventure cost is really not too bad, considering all that goes into it. The cost includes not only the underwater journey but also the associated training, equipment, and a professional guide's services.
While the cost can vary based on the specific package you choose, you can expect to pay around $150 for an individual ride. I had booked the tour via Viator. (I like Viator because it does not require prepayment, and I can cancel up to 24 hours before a tour, free of charge.) However, others on the tour had booked through Tripadvisor. You can also book directly on the Aquafari website.
I also paid an extra $25 to purchase the photo package after the tour.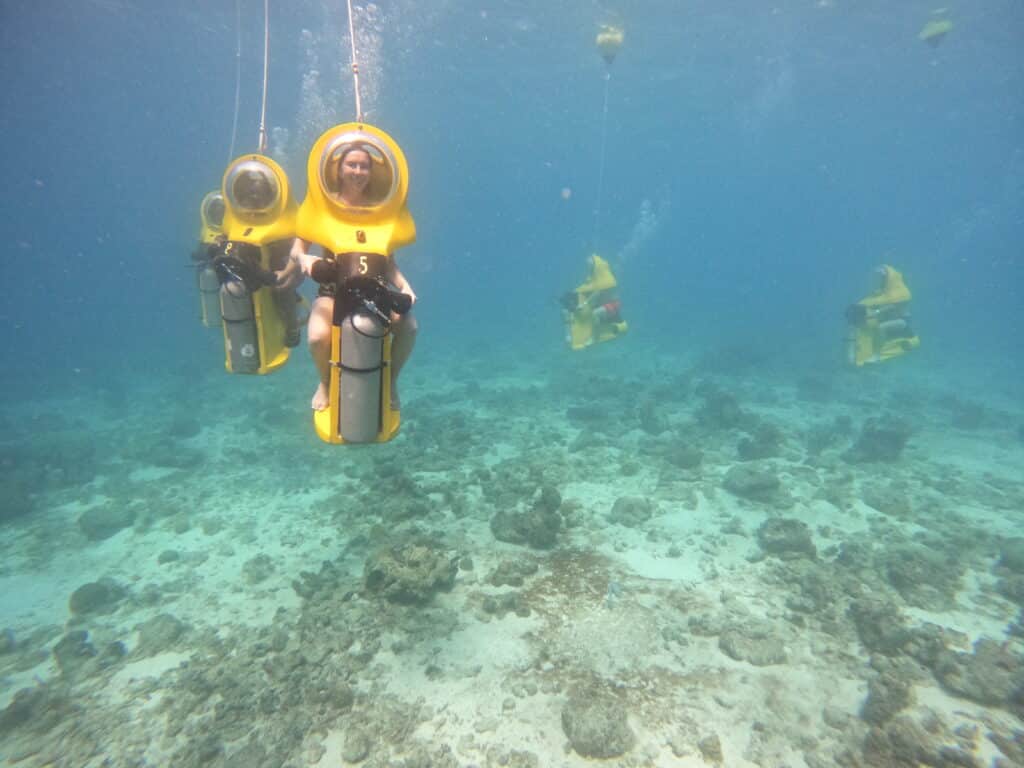 Honest Reviews of Aquafari Curaçao
As part of my research, I dived into various Aquafari Curaçao reviews to provide an unbiased perspective. The consensus? Aquafari Curaçao is a hit among adventure seekers and marine life enthusiasts.
Many reviewers appreciated the comprehensive safety briefing and found the staff to be friendly, professional, and attentive. They also highlighted the uniqueness of the adventure and the beauty of the underwater world in Curaçao.
Of course, no experience is perfect. Some reviewers mentioned that they wished they had more time underwater. However, they agreed that the overall experience was well worth it and something they would recommend to others.
Our Aquafari Review
My husband absolutely loved this Aquafari tour! It's one of his favorite tours we have taken in all of our travels. He had a blast jetting around on the scooter and checking out the marine life.
I thought the tour was incredible! I am really glad I experienced it and got out of my comfort zone, but due to my claustrophobia, I won't ever be doing this again.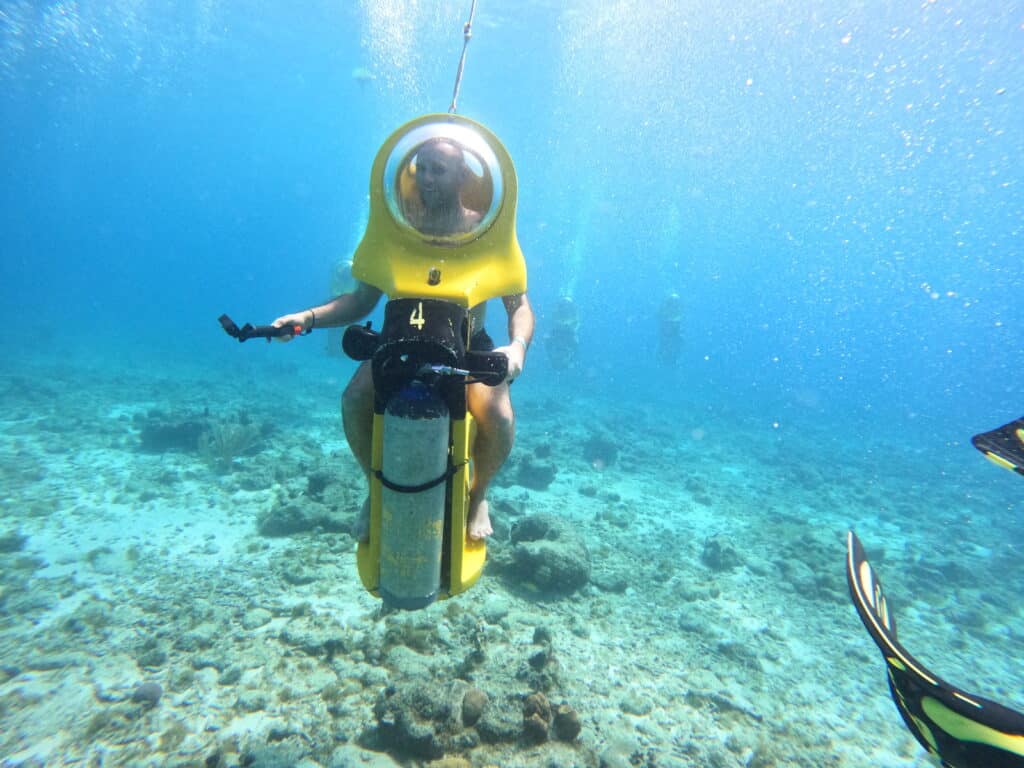 Preparing for Your Aquafari Adventure – What To Wear + Bring
If you are planning to do an Aquafari tour when you're in Curaçao, here are a few things you can do to prepare for your adventure!
First, try to book your Aquafari early in your trip. This allows for flexibility in case of changes due to weather conditions.
It's also essential to wear appropriate clothing. I wore my Esther Williams swimsuit and SCOTTeVEST dress to the tour, along with a pair of flip-flops. A swimsuit is a must, and it's not a bad idea to bring a change of clothes. Sitting in my wet swimsuit for a 20-minute cab ride was not ideal.
You will also want to bring a towel to dry off with. And water socks are not a bad idea to wear either.
Don't forget your reef-safe sunscreen either! Despite being underwater, my arms did get a bit burned because I had not applied sunscreen before the tour.
Bring along your GoPro if you have one! While the Aquafari team takes photos, it's always fun to capture your own memories. (We ended up buying the photos from Aquafari and also taking our own with our GoPro.)
You do NOT need to wear a wetsuit.
Aquafari Tour Packing Checklist
Lastly, remember to relax and enjoy the experience. It's natural to feel nervous, especially if it's your first time, but the Aquafari team will ensure your safety and comfort throughout the journey.
Alternatives to Aquafari
While Aquafari offers a unique and exhilarating experience, there are other underwater adventures to consider. Traditional snorkeling and scuba diving are popular options, offering a chance to explore the marine world. My personal favorite memory of Curaçao was snorkeling with sea turtles at Playa Piskada!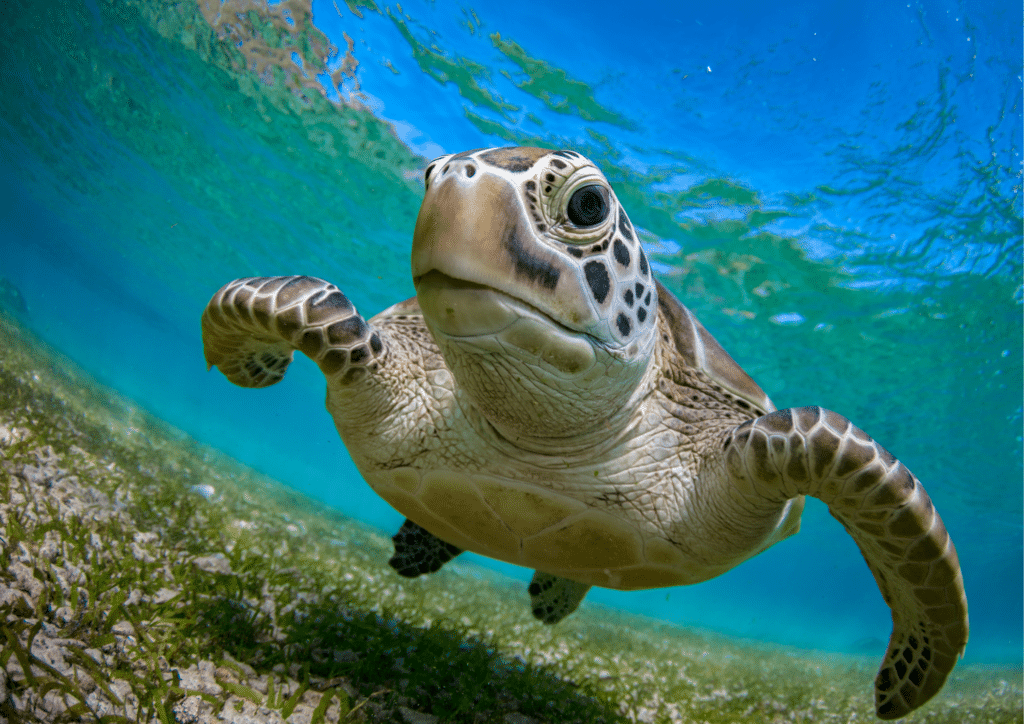 Then there's sea walking, where you walk on the ocean floor with a specially designed helmet. This is also known as SNUBA, a blend of snorkeling and scuba diving, where you breathe through a long hose connected to a surface air supply. This is very similar to an Aquafari tour, but instead of riding on a scooter, you swim/walk.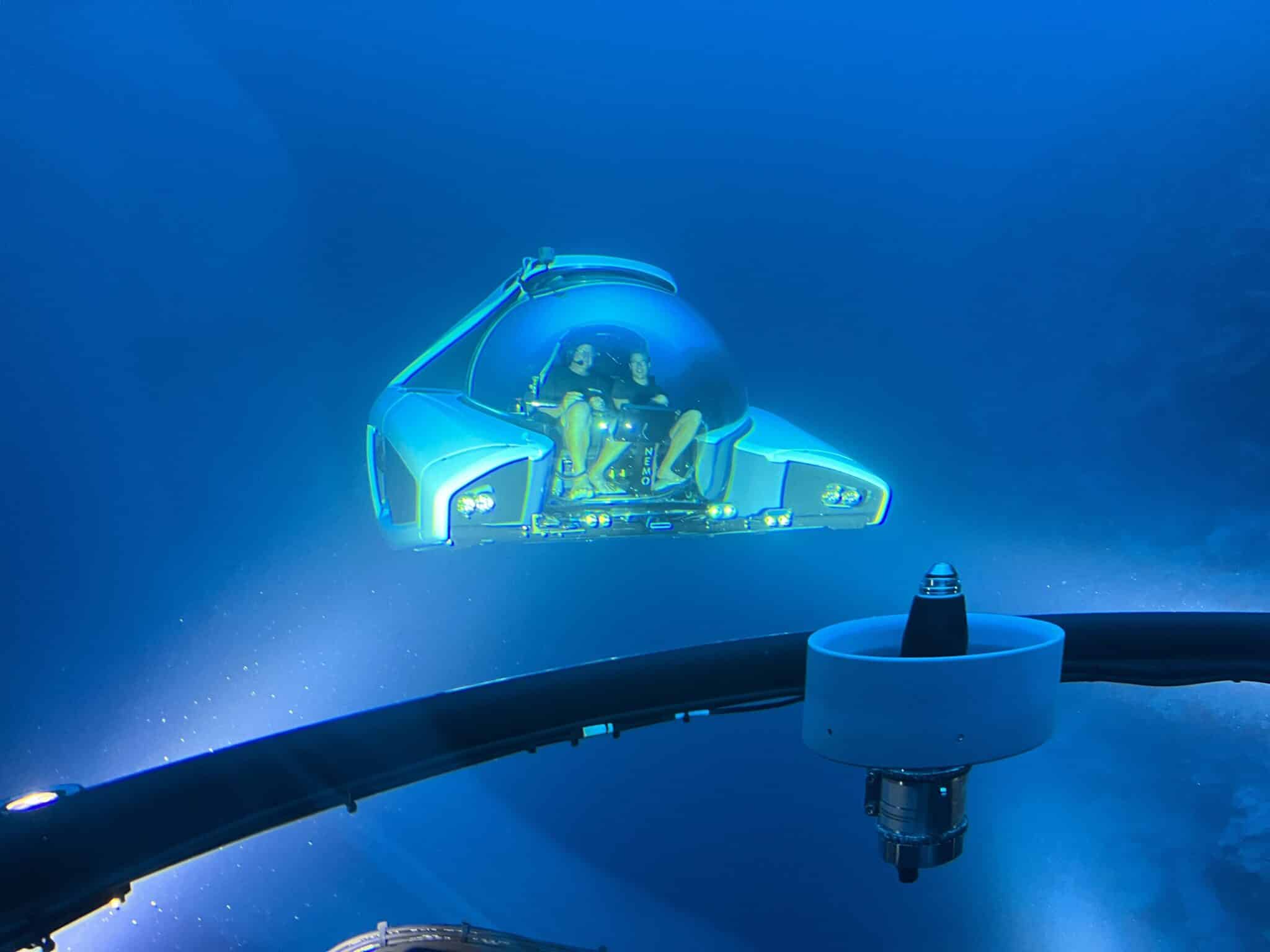 Lastly, taking a submarine ride is another fabulous way to experience the ocean depths! I was able to do this and had no feelings of claustrophobia while in the submarine. It is very comfortable and feels similar to a car. (This is, however, much more expensive than the Aquafari tour.)
While these alternatives provide their own unique experiences, none quite match the independent and immersive experience offered by Aquafari.
Final Thoughts
The Aquafari adventure is a unique, thrilling, and unforgettable experience. It's an opportunity to explore the underwater world in a whole new way, making it a must-try for every adventure seeker and marine life enthusiast.