Patagonia – How to Take a Day Trip to El Chaltén from El Calafate
Patagonia – How to Take a Day Trip to El Chaltén from El Calafate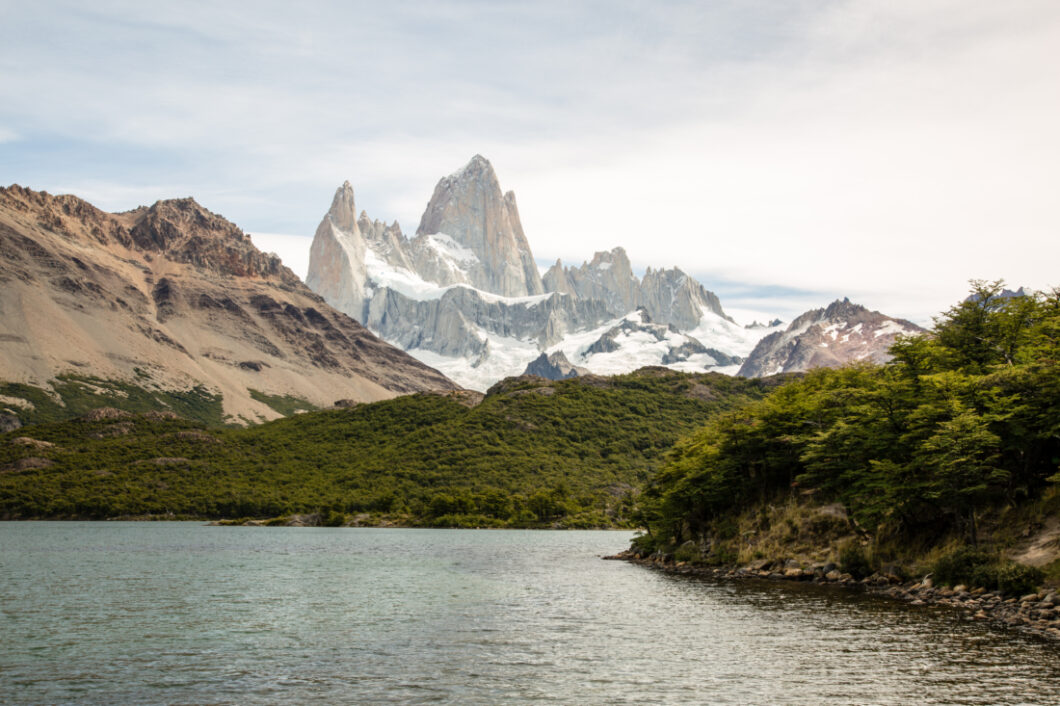 This will be my first travel post from Patagonia! I'm really excited to kick off this series as our Patagonian adventure has been one of my favorites to date! Our first day we arrived in El Calafate from Puerto Iguazu and woke up bright and early the next day to head to El Chaltén.
And at the risk of sounding like a broken record in my blog posts, I have to say, if you have more time, by all means, spend more than one day in El Chaltén! The town itself is worth spending some time to explore, and there are many hiking trails and incredible areas to camp.
However, if you're like me and have to cram as much as possible into your Patagonia trip, this is one way to visit El Calafate, El Chaltén and get the chance to see the iconic Mount Fitz Roy!
Why Visit El Chaltén?
If you're just beginning the planning of your adventure to Patagonia, your first thought might be, why would you go to El Chaltén at all. Well, El Chaltén is dubbed Argentina's trekking capital with tons of hikes to choose from. The main reason we wanted to go to El Chaltén was to see Mount Fitz Roy. Now, you can actually climb Mount Fitz Roy, but it's known to be one of the hardest peaks to climb on the planet. So, I was more than content with getting a lovely view of it from some of the easier trails in El Chaltén.
*Fun fact: Mount Fitz Roy is actually the Patagonia clothing line logo!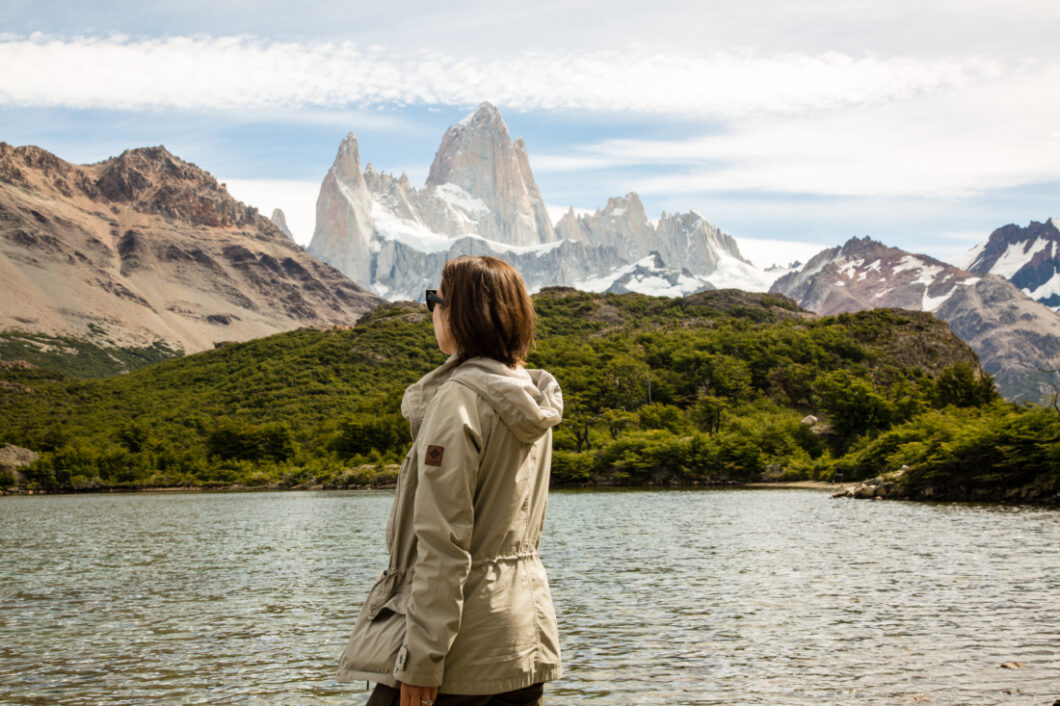 El Chaltén itself is just over 1,000 people but has some cute bars, restaurants, and hostels. It's a unique, little town with little to no cell phone reception, and currently has no banks and only one ATM, haha. It's very much a town geared toward hikers and backpackers.
How to Take a Day Trip to El Chaltén from El Calafate
So, how do you get from El Calafate to El Chaltén? You have a couple of different options…
1.) One of the most popular ways it to rent a car and drive yourself from El Calafate to El Chaltén. It's not a terrible drive by any means, and you won't have to worry about traffic! However, be on the lookout for guanaco! They tend to run across the roads and are the size of a llama.
2.) Another way is to take a shuttle bus from El Calafate to El Chaltén. There are buses running a few times a day and it will cost $600 ARS. (The bus ride takes about 3 hours.)
3.) Last up you can take a guided tour to El Chaltén. The trails are incredibly well-marked and you will be greeted by rangers at the entrance, where you will be given maps, and you can ask any questions you might have. You certainly won't need a guide for the hike itself (but your guide will be more than happy to accompany you if you choose). However, a guided tour is nice as they will pick you up directly from your hotel/hostel, and give you a lot of great information about the area. Boxed lunches are also included.
Hiking in El Chaltén
As I mentioned, there are many different hikes to take. However, if you are only taking a day trip here. This will greatly limit your selections of hikes you can do in one day.
1.) Laguna Capri
This is the hike we did. It will take about 3-4 hours and is quite easy, in my opinion. There are several amazing view points, and yes, you will get to see Mount Fit Roy on this hike. We also stopped at the lagun to eat the lunch we packed and enjoy the magnificent views of Mount Fitz Roy. (This is an out and back route.)
*Check out the views in my photos, below.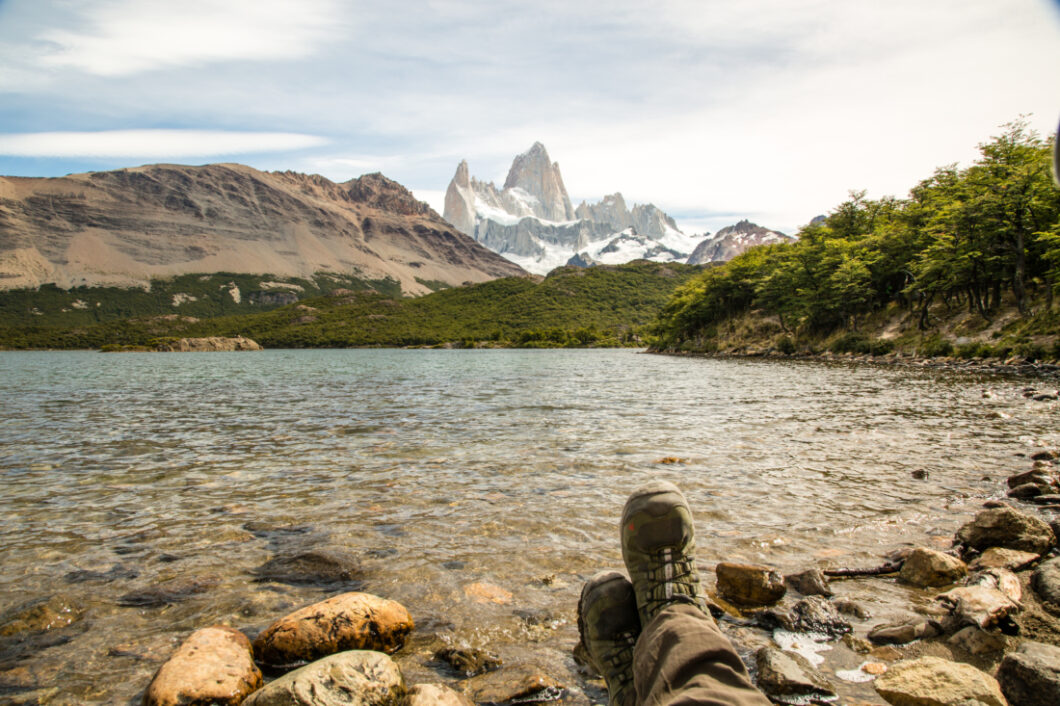 2.) Laguna Torre
This is the most popular day walk, but it takes about 7-8 hours and is very weather-dependant (the wind can get particularly dangerous). Be sure to give yourself enough time to complete this trek and keep an eye on the forecast.
*Click here for a complete list of the hikes you can do in El Chaltén.
What to Pack & How to Dress for Your Hike
For a day hike in El Chaltén, you won't have to get too crazy with your packing or attire. However, you will want to dress in layers and pack yourself a lunch and snacks.
Here is what I brought for my day hike:
*Cash! You'll need to pay a park entrance fee (it was $500 ARS at the time we went, March 2018)
*Day backpack
*Camera (duh, haha)
*Bagged lunch + snacks
*Bottle water
*Sunscreen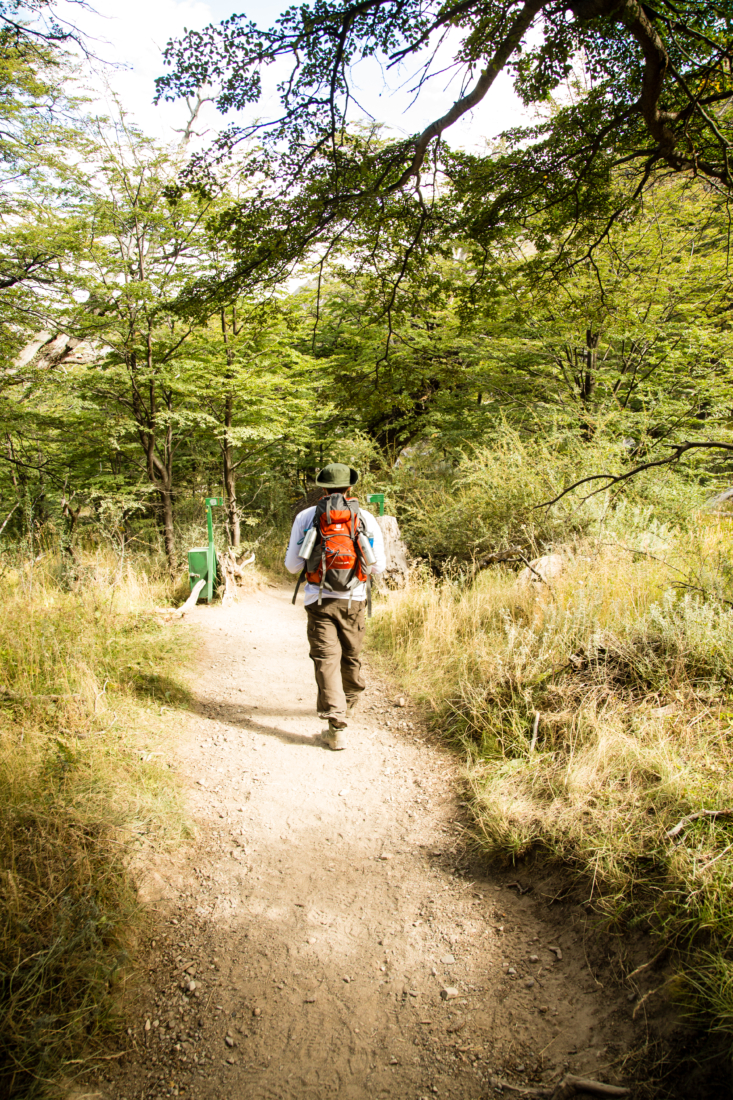 What I wore:
*Hiking pants with shorts zip offs (it got rather warm midway through the hike)
*Hiking boots – for the trek we did, I would not say you need to run out and buy hiking boots if you don't already have them (athletic shoes would be fine). You can see how smooth the trail was in the photo above.
*Light moisture-wicking socks
*Moisture-wicking shirt
*Sweatshirt
*Waterproof windbreaker
*Sunglasses
*I would also recommend wearing a hat like my husband's for additional sun protection.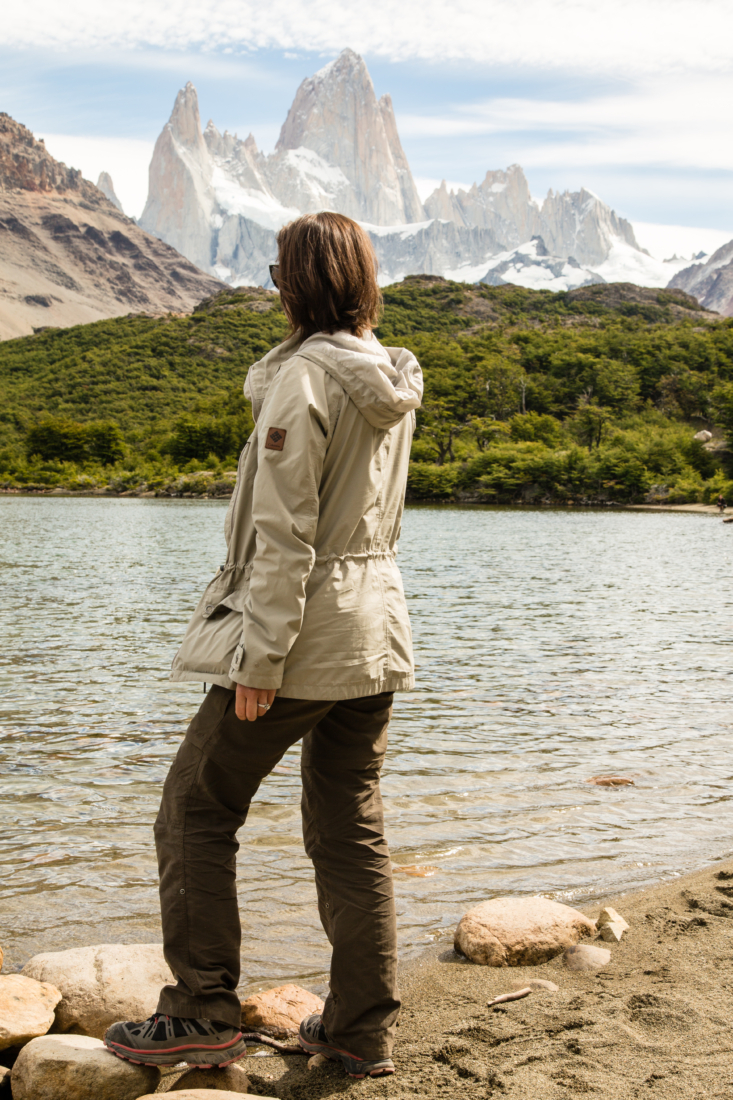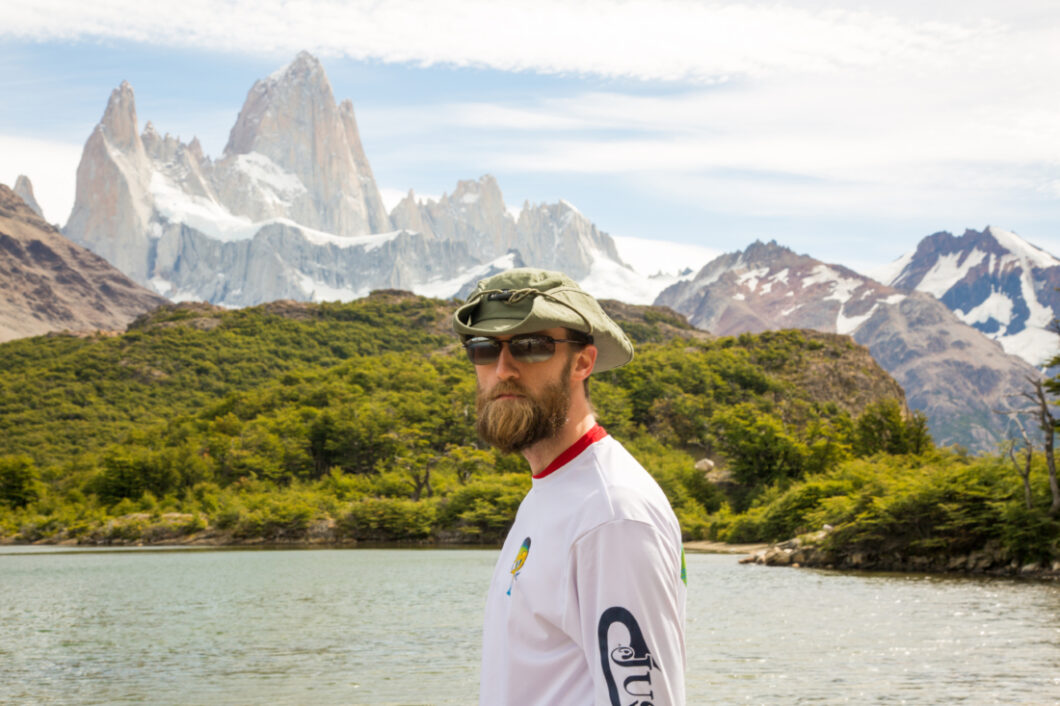 Was it Worth it?
Absolutely! The views were amazing, and I am very happy I was able to see Mount Fitz Roy. I also liked that the trails were very well-marked. I do regret not spending more time in El Chaltén, but one day was all that we had.
I'll be sharing my complete Patagonia itinerary soon, and showing my reasoning for why I spent the amount of time I did in each place. Stay tuned!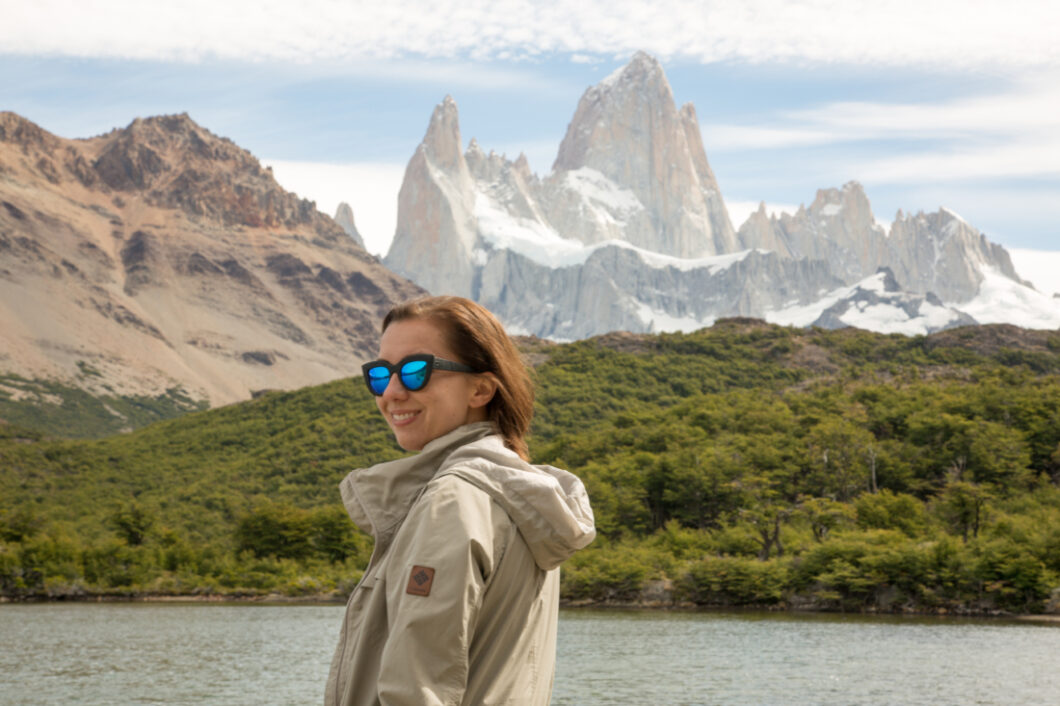 Would you make the journey to El Chaltén? Let me know in the comments!
*Click here to see all of my Argentina travel posts!
*Click here to read my post, "How to Spend 10 Days in Argentina."
Travel Insurance
It's a good idea, no matter where your adventure takes you, to have travel insurance. You never know what might happen! Whether you get sick before your trip and can't go, or you become sick or injured while on your adventure – being covered with travel insurance is a must. Some credit card companies do provide this service (check with yours), or you can get a quote from companies such as RoamRight. To get a free quote, click here.
Visa Requirements
To check if your country requires a Visa for traveling to Argentina, click here.
Want to Learn Spanish Before Your Trip?
Knowing some basics in Spanish can be helpful for your time in Argentina. Try a free 3 day trial of Rosetta Stone (the best way to learn a foreign language) by clicking here.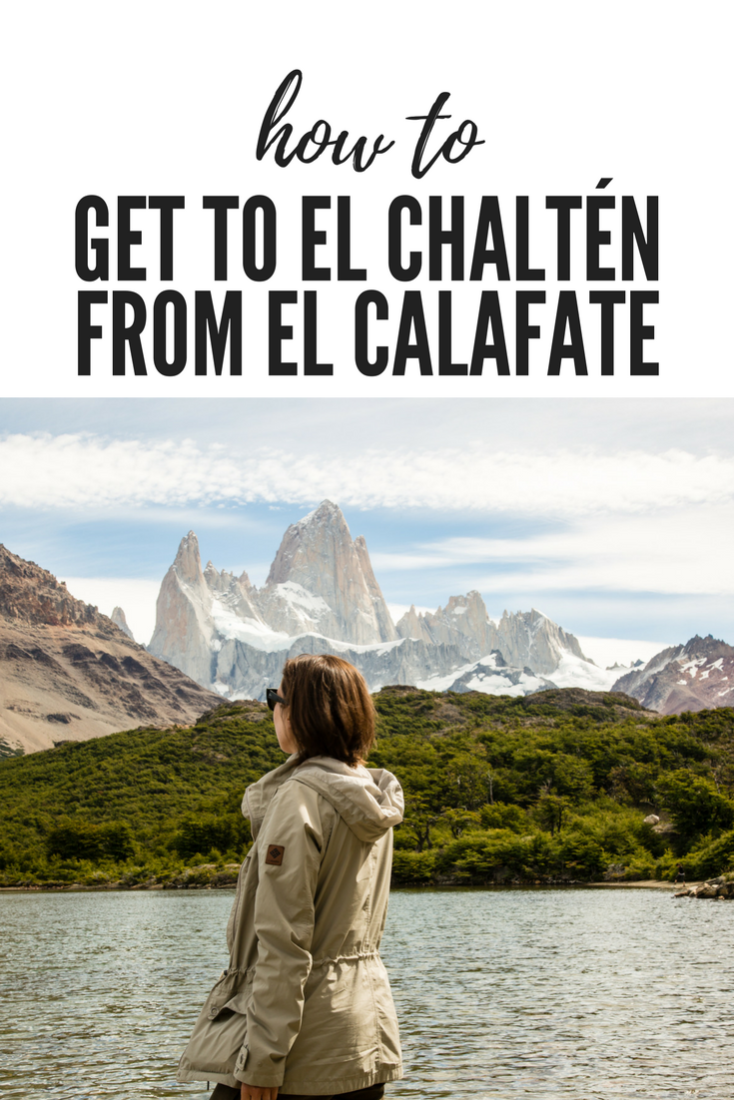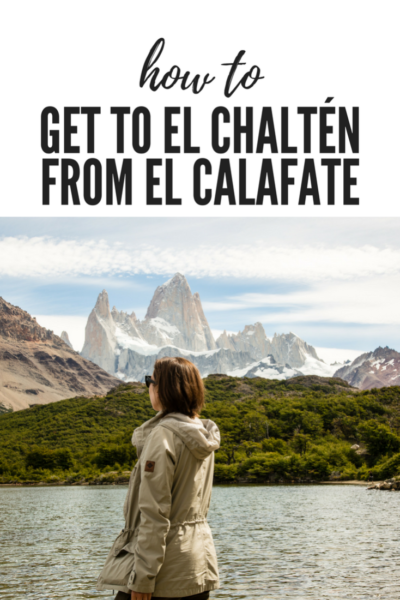 *Disclosure: some of these links are affiliate links. Meaning, if you click a link and make a purchase, Have Clothes, Will Travel gets a very small commission at no extra cost to you. Thank you for supporting the brands that make this blog possible! I am also a participant in the Amazon Services LLC Associates Program, an affiliate advertising program designed to provide a means for us to earn fees by linking to Amazon.com and affiliated sites.
*c/o = courtesy of, meaning the company gave me the product to be used on my blog, and I did not pay for it. All opinions are my own, and I am not being compensated for a positive review.