Rebecca of "Becci Abroad"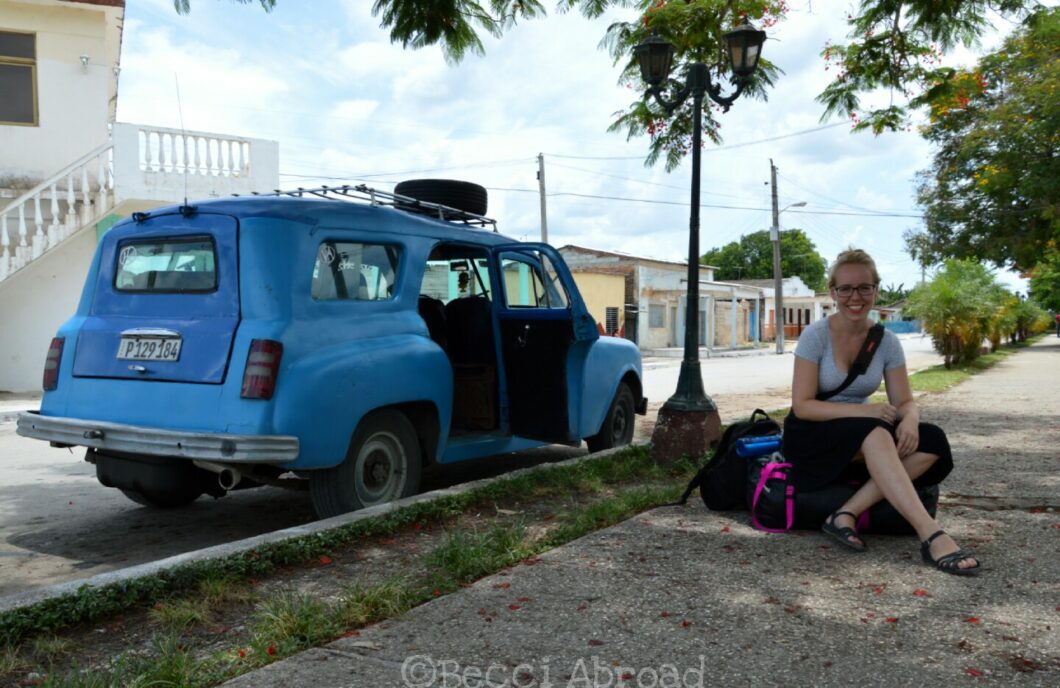 Meet Rebecca! She's this month's Featured Fashionista and the creator of the blog, "Becci Abroad." Becci Abroad is all about Rebecca's time in Latin America… specifically Buenos Aires. (Her posts have really been helping to fill my Argentina void!)
Rebecca also has the best travel tips for Latin America and even created a Beginners Spanish Guide to use in Argentina. As someone who has also lived in Latin America, I can vouch for just how incredibly useful Rebecca's posts are! Rebecca has even been featured in a book about Latin American (that you can buy on Amazon!), but she'll tell you more about that in her Q&A, below.
And if "Becci Abroad" sounds familiar, that's because Rebecca was one of the helpful ladies who wrote a guest post while I was moving! If you missed it, you'll also want to read Rebecca's post "5 Affordable Things To Do In Buenos Aires."
Q&A With Rebecca
Tell me a little about yourself.
Rebecca: I'm Rebecca the voice behind the travel and expat blog, Becci Abroad. I'm a mid-20 Copenhagener with a huge fascination for Spanish-speaking countries. That has bought me to Spain, Cuba, Colombia and now Argentina, where I have lived in the Argentine Capital of Buenos Aires for the last two years. I have an undergraduate degree in business administration and Spanish from Denmark, and I'm studying my Master degree in Business Psychology – completely in Spanish.
Apart from that, I'm a crazy cat lover (practicing to be a crazy cat woman, if you ask my boyfriend…), and I'm so lucky that we just adopted the most gorgeous little lady cat which we found lost on the street.
I named her Gata, which means female cat in Spanish. Kind of stupid name when we live in a Spanish speaking country… Buuut anyway, isn't she sweet?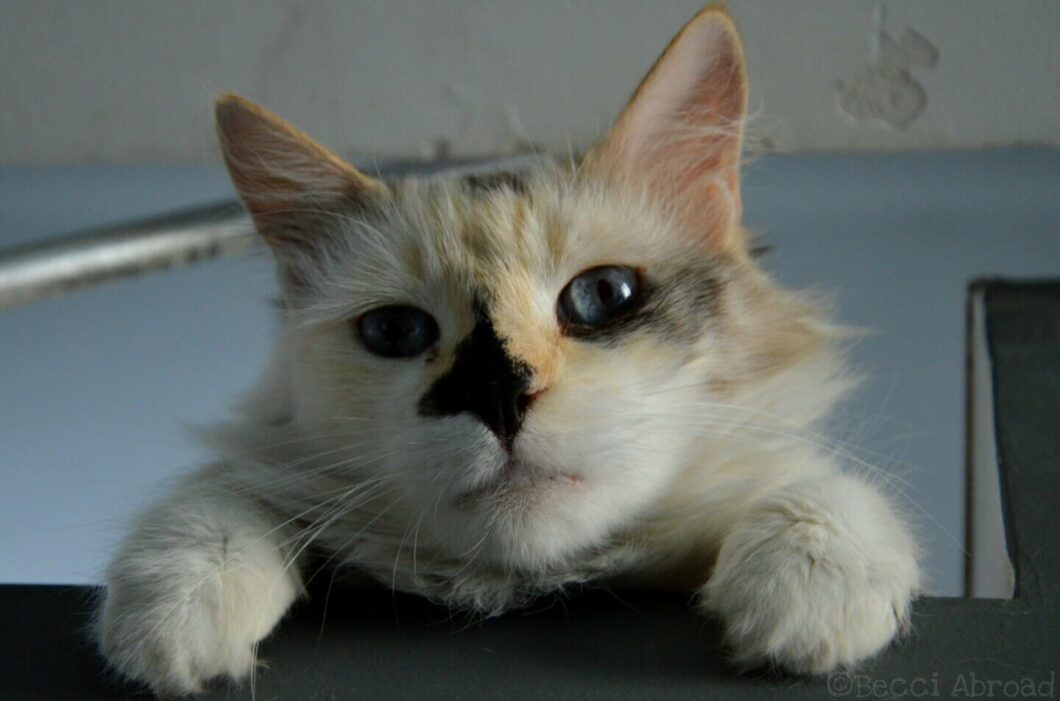 How would you describe your blog, "Becci Abroad?"
Rebecca: Becci Abroad is my blog about travel and life in Latin America, especially focused on Buenos Aires. I aim at sharing travel tips, guides on what to do around the region and stories from life abroad.
What do you hope the future holds for Becci Abroad?
Rebecca: I would like Becci Abroad to be a source of inspiration for people traveling to or wanting to move to Latin America or Argentina.
However, life takes its turns and I have decided to turn down the ambitions for the blog as I have just been accepted for a master program in Latin America Politics which means that I will be doing two Master programs at the same time – both of them in Spanish… Wish me luck!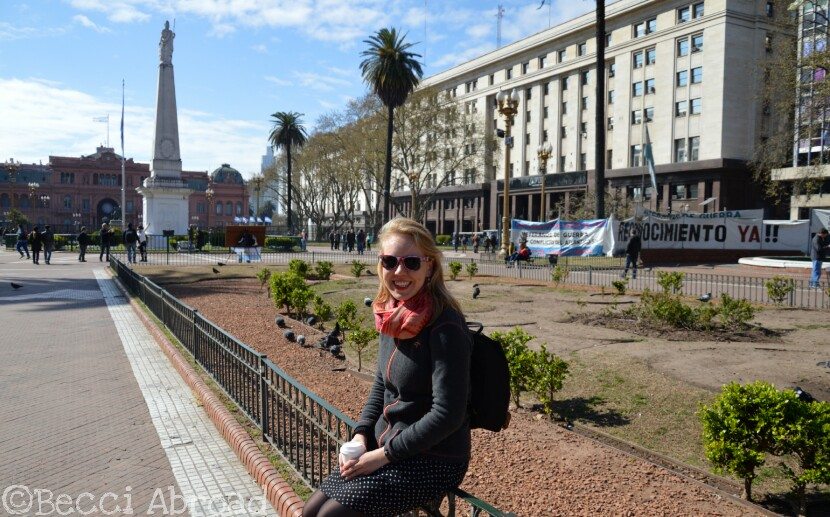 What would you say your favorite post is on your blog and why?
Rebecca: I think it is the post about places that will make you doubt that you are in Havana.
I visited Cuba for the first time back in 2014 where I stayed for almost 5 months while studying Spanish at the University of Havana's short-time courses. I walked a lot around the area of Vedado where the University is located and where I also lived the first two months of my stay in Havana.
I went back to Cuba in 2016, and was surprised to find how a whole area had been transformed into this hot spot of modern restaurants, art and a playground for kids; nothing looked like "the Cuba" we see in the news. I knew from that moment that I just needed to share this different view on Cuba.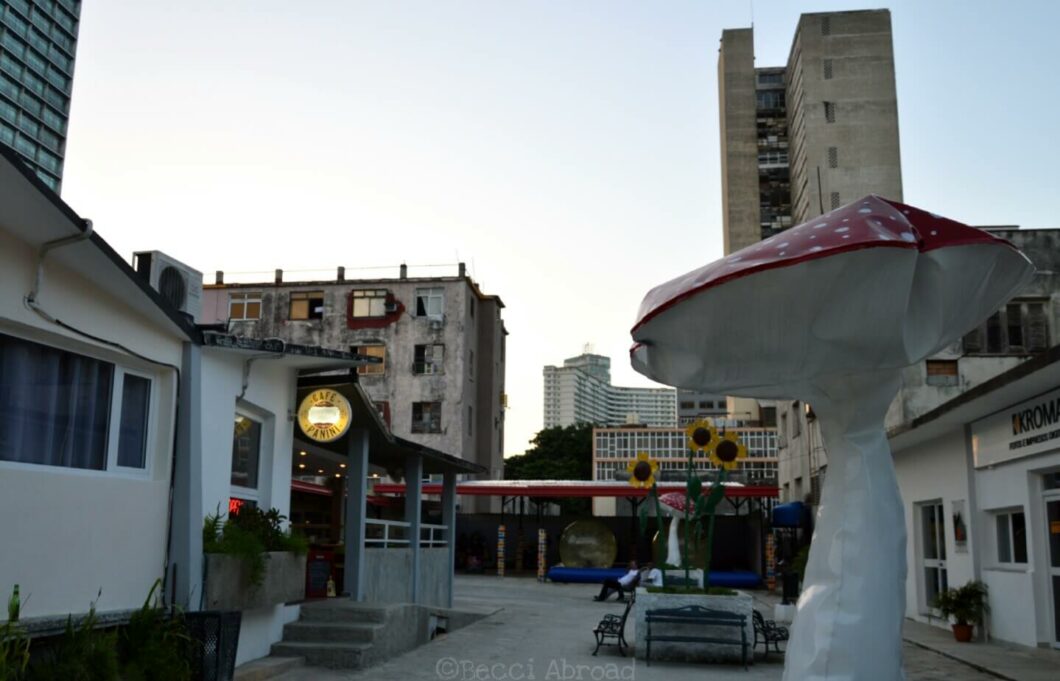 How long have you been living in Buenos Aires? And what sparked your move there?
Rebecca: I have been living in Buenos Aires for almost two years now. Actually, I just went for a semester abroad, which I extended to writing my bachelor thesis from Buenos Aires (about Argentina – you get the pattern here, right?), and now to study my masters here.
I think you can say that I fell in love with Buenos Aires.
What have you loved best about living in Buenos Aires, so far?
Rebecca: I really love the hustle and bustle of living in a big city mixed with the Argentine laid-back attitude of taking their time to be in the moment with the people that surround them. You can call somebody and ask them to meet up the same evening if you need a chat.
In Denmark, we are too much control freaks with our time and plan so much ahead that you have to ask weeks in advance to see your friends. Maybe we could learn something from the Argentine?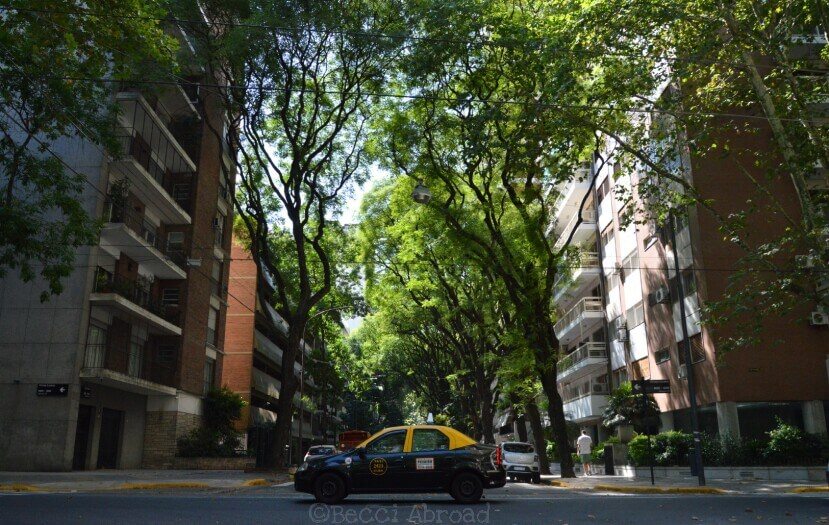 And what tips do you have for anyone who wants to visit?
Rebecca: Don't just stay in the area of central Buenos Aires by Casa Rosada, 9 de Julio, Feria de San Telmo, etc., and jump on the Subte (the Argentine name for subway), and explore areas such as Belgrano (my favorite), Palermo o Almagro.
Here you will get a complete other feel of Buenos Aires with small restaurants, streets covered in trees and beautiful colonial-style houses.
And remember to brush off your Spanish a bit before you go.
How long do you hope to stay in Buenos Aires?
Rebecca: I don't have any time limit. To finish my Master degrees I will have to stay at least for the next two to three years.
After that… Time will tell!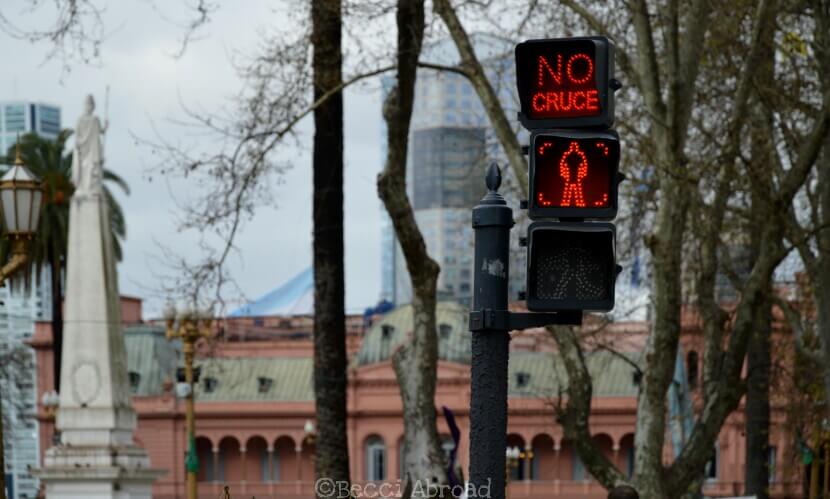 You were also recently featured in a book about traveling in Latin America! Congratulations! Could you tell us a little about this, and where we can buy the book?
Rebecca: Thank you so much, Lindsey! Yes, the cool ladies behind "Women Travel Latin America" did a writing competition about travel experiences in Latin America a while ago. I submitted a personal piece on how an acquaintance of mine got "kidnapped" by a taxi driver in Buenos Aires. Read more about my piece here.
Luckily, the editors of Women Travel Latin America liked my story and chose it to be published in the travel anthology, Alone Together. The book is filled with all kind of wonderful, scary and unique stories about what's like to be a woman traveling in Latin America.
The book can be brought on Amazon as a paperback or for Kindle.
Now, other than BA, what would you say is your favorite place you've traveled to/lived in and why?
Rebecca: My favorite place is properly Spain. I lived for close to two years in Southern Spain, and it was a great experience and the place where I took my first baby steps in Spanish.
I love Spain for the beautiful architecture and the relaxed lifestyle. In the description Spain and Argentina/Buenos Aires might seem very similar, thus, for me, there seems to be more craziness (or quilombo as the Argentine say) in Buenos Aires. I would definitely like to go back to Spain at some point.

What's advice do you have for someone looking to start a life abroad?
Rebecca: Life abroad is not like holidays – it will be difficult, challenging, boring and everyday-like but also super awesome. Before you go, be aware that there will be difficult days where the sun isn't always shining. However, little by little you will get used to it.
Read more about how I think life abroad actually is here.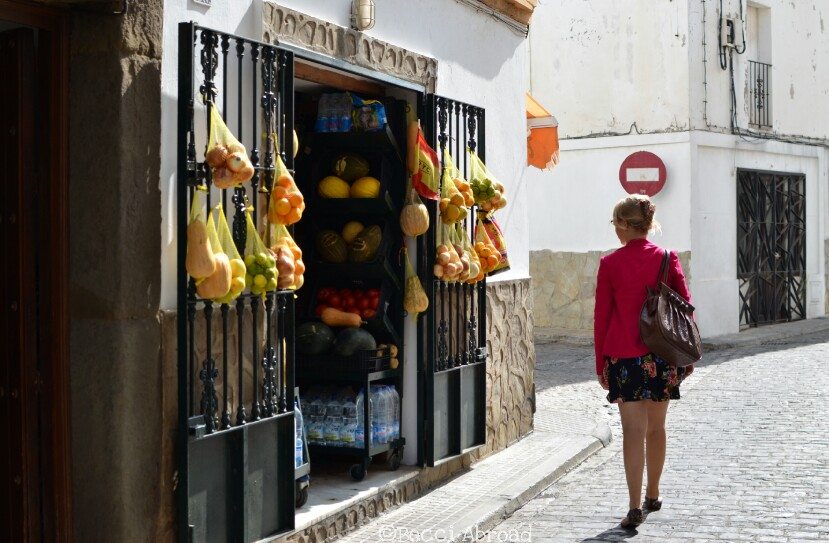 And what advice would you share to someone interested in blogging about their adventures?
Rebecca: Just start…! And learn along the way 🙂
There are so, SO many things involved in having and running a blog that if you want to be an expert before you start… Well, you will never start. So, just start blogging and learn along the way how to edit photos, optimize for SEO, etc. I have cone a long way but still feel like a miss A LOT.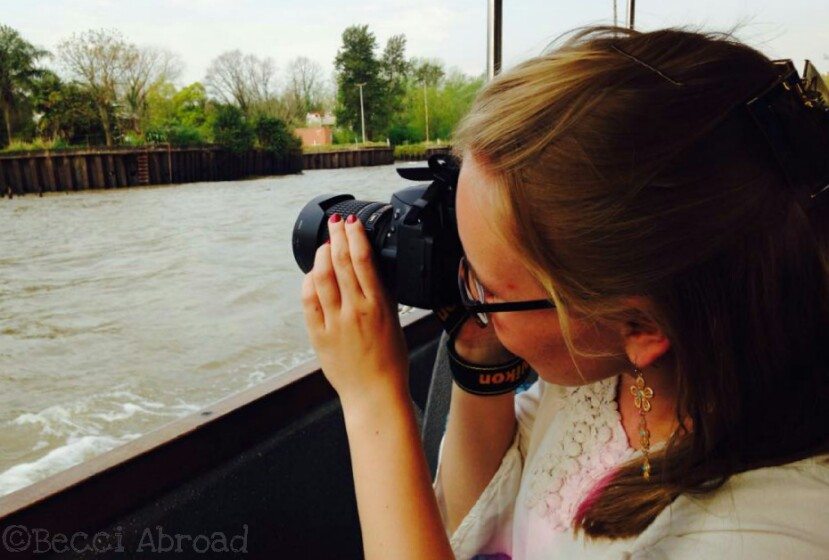 Last but not least, where can my readers find you?
I'm on Twitter under @becciabroad (by far my most active social account), Pinterest as @becciabroad and Instagram as… You get the pattern, right? @becciabroad