Styling a Red Floral Dress for Spring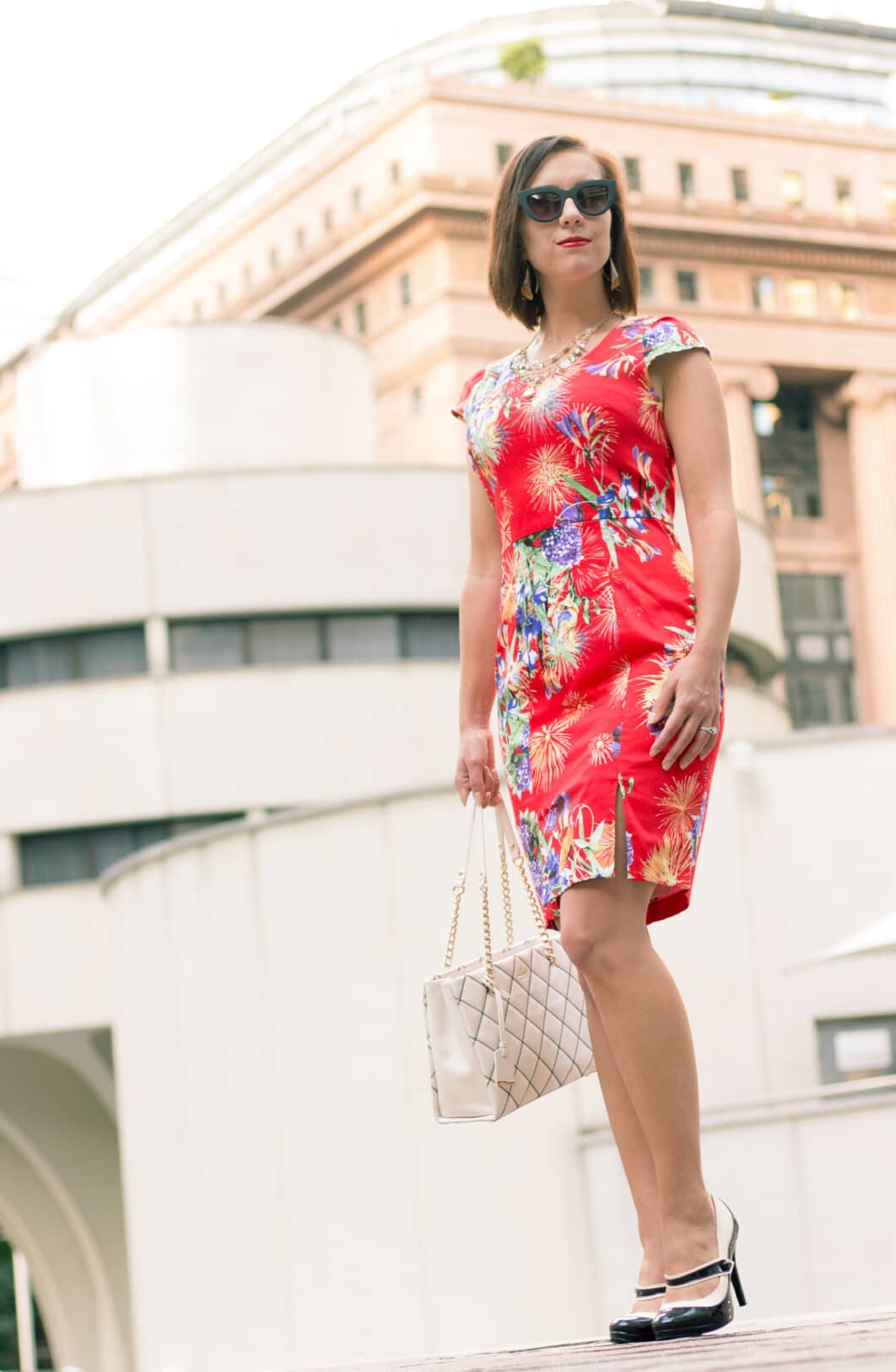 You must think I'm crazy for featuring a red floral dress on here so shortly after my red coat fiasco. Haha. But don't worry, this dress didn't bleed on anything, and I had actually taken these photos nearly a month ago…but just hadn't had a chance to share them!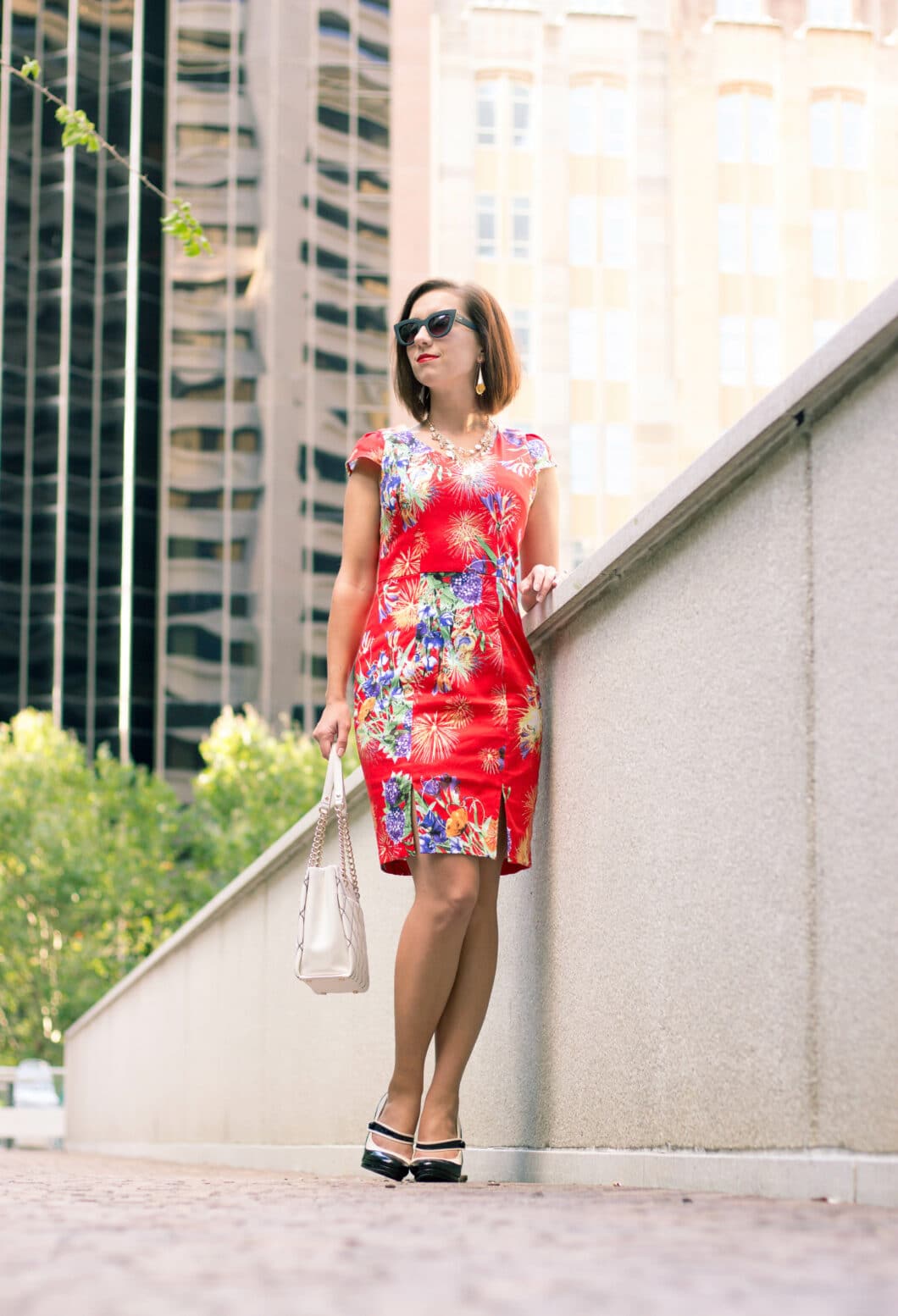 That's why my purse is also in these photos. As of right now, it's still at the cleaners. Apparently, they have a lot of handbags to try and clean this week. (If you missed my post last week, I had a red coat bleed all over the Kate Spade bag pictured above – and am still waiting to see if the stain is going to come out completely.)
And 'tis the season, right? Whether you're celebrating the Chinese New Year or gearing up for Valentine's Day, it's all about the color red right now. And this will be my last outfit post until after Valentine's Day (lots of fun Great Barrier Reef stuff to go through first)…so, we could call this my Valentine's Day outfit post!
I'm not sure exactly how I'll be spending it yet…we don't generally do anything too crazy for it. However, this year, it looks like my hubby and I might be going deep sea fishing for Marlin! We'll see how the weather is. The deep-sea fishing trip has already been canceled twice due to bad weather…so, we'll see if Valentine's Day is going to be the day or not.
Anyways….back to the outfit! This here red floral dress is another one from my friends over at Lilee Yamanto. It's a fabulous dress, and a very unique cut and print. This is unlike any floral print I have. Plus, you don't see a red floral dress too often.
I kept my styling simple with black and white pumps and a matching purse. I went with gold jewelry to match the golden bursts on this dress. (And my earrings are even in the shape of flowers too!)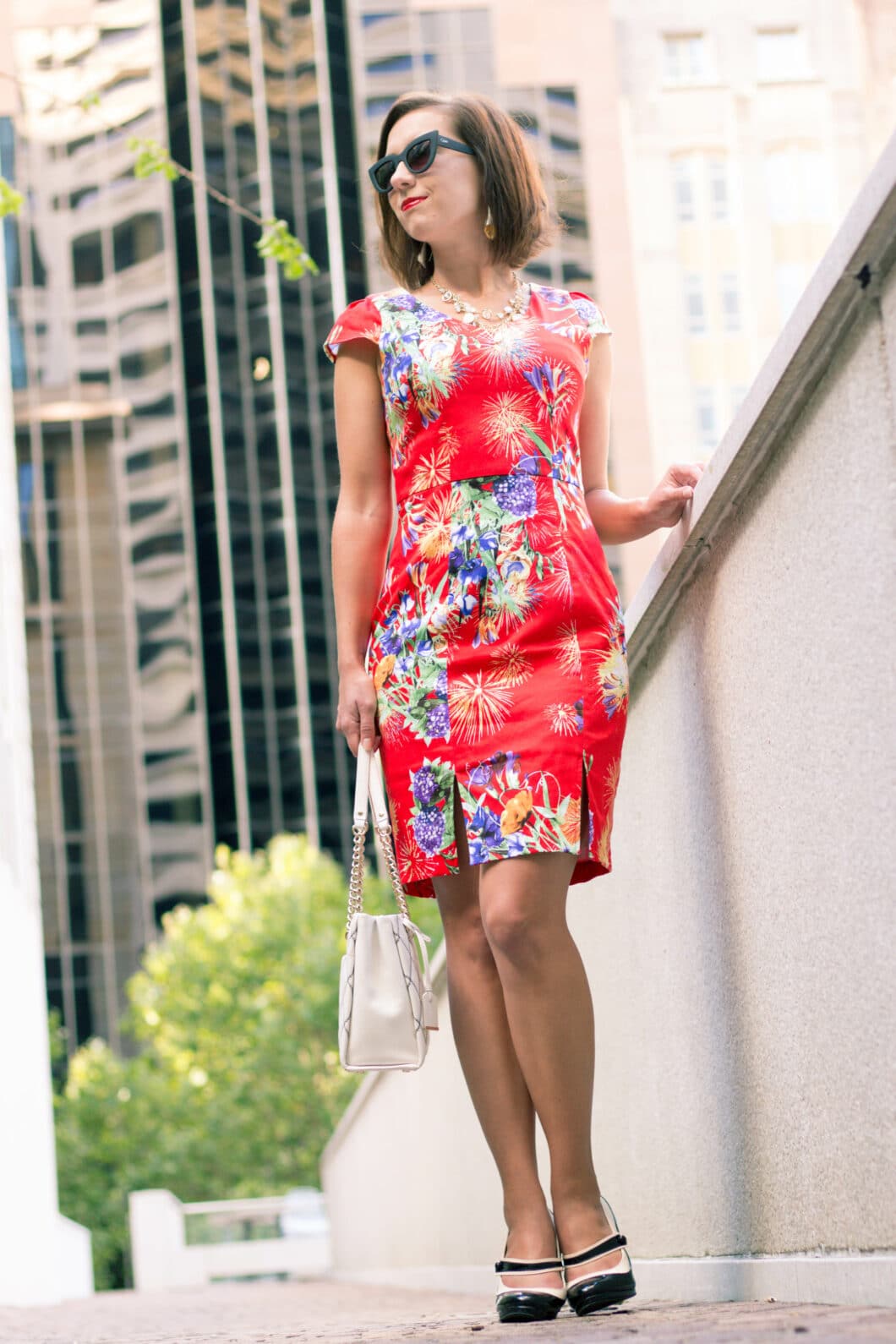 Unfortunately, it appears the red floral dress from Lilee Yamanto is sold out at the moment. I did find several similar styles of dresses, though, that I linked to below.
What are your plans for Valentine's Day? Do you celebrate with your family or significant other? Or do you think it's a crap holiday? Let me know in the comments!
*P.S. I have a feature on Cut Out + Keep today! I was asked to recreate Audrey Hepburn's style using DIYs. Click here to see it.
Where to find it:
Dress: c/o* Lilee Yamanto (Similar here and here)
Heels: Old (Similar here.)
Sunglasses: Quay (Sold out. Similar here.)
Purse: Kate Spade (Similar)
Earrings: FrenchChicbyMaiwenn
Similar dresses:

*c/o = courtesy of, meaning the company gave me the product to be used on my blog, and I did not pay for it. All opinions are my own, and I am not being compensated for a positive review.
*Disclosure: some of these links are affiliate links. Meaning, if you click a link and make a purchase, Have Clothes, Will Travel gets a very small commission at no extra cost to you. Thank you for supporting the brands that make this blog possible! I am also a participant in the Amazon Services LLC Associates Program, an affiliate advertising program designed to provide a means for us to earn fees by linking to Amazon.com and affiliated sites.