Click to shop:

As with all trends, the sneakers and skirt trend took me a bit to warm up to. But boy oh boy, was I missing out! This look is so gosh darn comfortable.
Admittedly, when I first looked at myself in this outfit "nerdy cheerleader" was what came to mind. But after an entire day of walking around the city of Rosario, I was absolutely sold on this outfit. We're almost in the throes of summer here and temps have been soaring around 90 degrees Fahrenheit, so light breezy outfits are where it's at.
However, you've probably heard me mention a few times that the sidewalks in Rosario are a bit treacherous. A lot of them are broken and quite dirty (garbage, dog poo, broken glass, etc.)…so I don't love wearing open-toed shoes here. (I'm not picking on Rosario either, I didn't love wearing open-toed shoes in New York, San Francisco, etc., lots of cities have nasty sidewalks!) So, my Superstar sneakers have been on repeat with my wardrobe lately!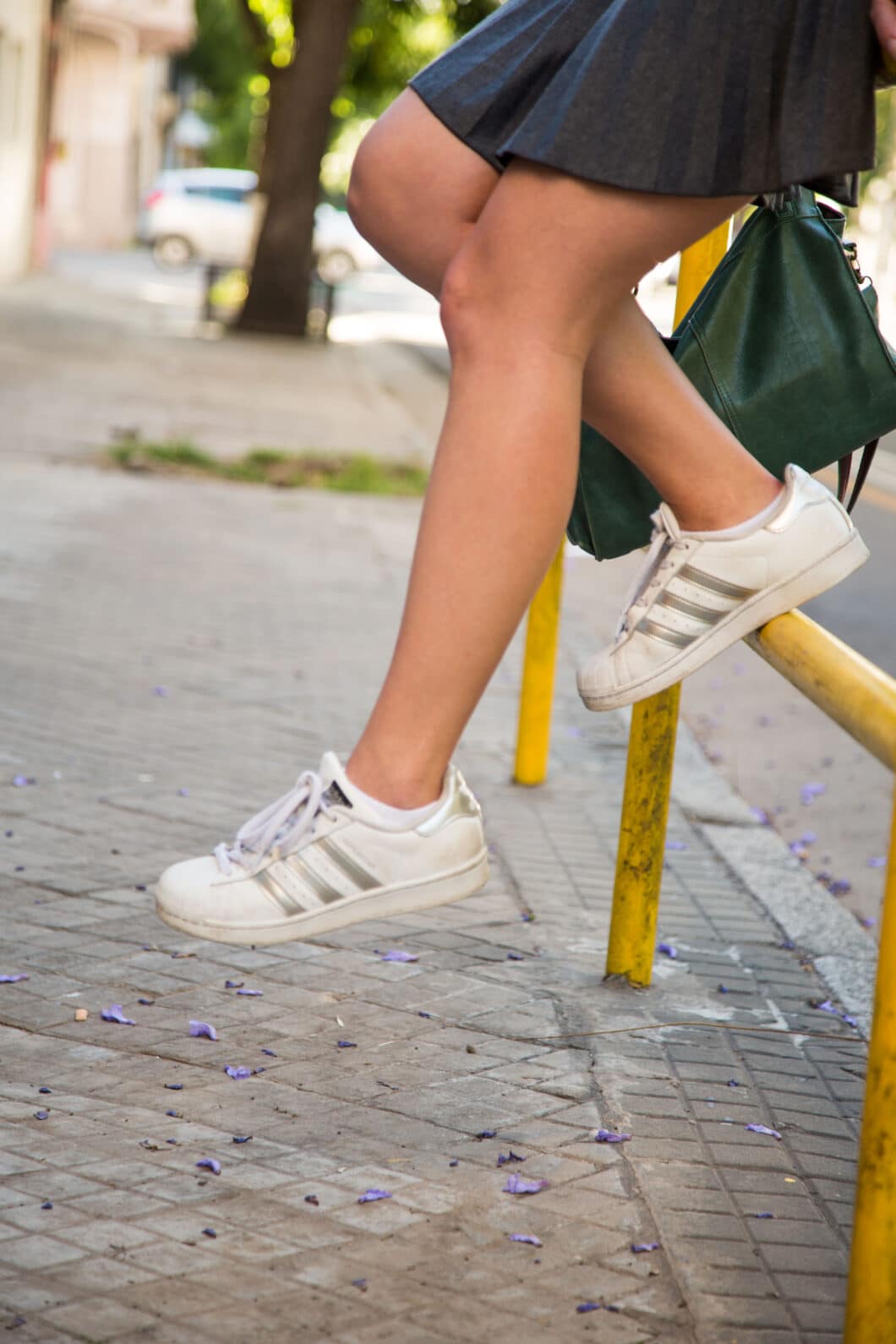 The shell-toe is absolutely perfect for walking as I can't tell you how many times I've stubbed my toe on broken concrete…but never felt it thanks to these shoes! They also make me rather nostalgic for my teenage years, as they were the only sneakers I wore in middle/high school, haha. (I LOVE that they've made a comeback.) These sneakers did, however, take an unreasonably long time to break in. The leather was super stiff with these! But with that being said, I put these shoes through hell most days, and I'm pretty sure they're going to last forever! (I've already had them for about 6 months and wear them at least 3 or 4 times a week.)
Anyways! This outfit was specifically put together because I had met up with friends that morning to play Pokemon Go and catch a Mewtwo! Yes, we are still playing Pokemon Go here, haha. As my sister-in-law would say…nerd alert! But we love it, and it's been a great way to meet people in Rosario and just walk around. It's also been a good way to get us to practice our Spanish conversation skills when we go out to these Pokemon battles/raids.
It's a bit hard to see in the photos, but this is my "Team Instinct" shirt my brother-in-law bought for me last Christmas. And of course, I was going to miss a chance to break out my Bulbasaur brooch! Haha.
I know many of you lovely ladies are in chillier climates, though, and this is not an ideal outfit for the weather right now! If you're interested in the sneaker and skirt trend, though, I suggest getting a long skirt (maxi or midi), like this one or this one and pairing with an oversized sweater or coat. And then, of course, your favorite pair of sneakers.
Next week, though, I'll be able to post some wintery outfits! I'm heading back to Wisconsin on Friday to visit my family for Thanksgiving! I'm so excited, as I haven't seen them in quite a long time. (The blog will still be published as usual, though. Might just be a bit slow responding to comments, etc…you know the drill.) 🙂
What do you think of sneakers and skirts? And did anyone else have a pair of Superstars back in the day? Haha. Let me know in the comments!
Where to find it:
Skirt: ModCloth (Out of stock right now. Try this one instead.)
Sneakers: Nordstrom
Shirt: Gift from my brother-in-law (Similar here)
Bag: Old (Similar here)
Brooch: Old (Similar here)
Earrings: Old (Similar here)
Disclosure: some of the links in this post are affiliate links. Meaning, if you click a link and make a purchase, Have Clothes, Will Travel gets a very small commission. Thank you for supporting the brands that make this blog possible!
*c/o = courtesy of, meaning the company gave me the product to be used on my blog, and I did not pay for it. All opinions are my own, and I am not being compensated for a positive review.