Spotting Wildlife in Peru's Amazon Rainforest
One of the coolest parts of staying in the Amazon Rainforest is all of the incredible critters you get to see during the day and at night. We spotted many different types of monkeys, sloths, birds, fish…and even alligators and gigantic spiders and snakes!
My last post was dedicated to what it was like staying at Treehouse Lodge. (Click here if you missed that.) So, for this post, I will be sharing one of the ways we spent our time in the Amazon Rainforest – looking for wildlife! Again, if you stay at Treehouse Lodge, these adventures are all included in the price…and there's never a dull moment!
We were there during the rainy season when the river is very high. So, we spent most of our time in the boat, because the forest was flooded. This was really unique, though, in my opinion.
I'll be splitting this post up into daytime and nighttime sightings and by the type of animal we saw…starting with daytime and monkeys. Enjoy!
Wildlife Spotting in Peru's Amazon Rainforest – Daytime
Monkeys
Ok, so, the little monkey above and in the video below is not entirely "wild." She and her sibling were found abandoned when they were first born. They were raised in captivity and then rehabilitated to live in the wild and released. They are still semi-reliant on people feeding them, though. So, a couple times a day you'll see a boat pull up to feed them bananas.
The video below is my husband getting very up close and personal with her to give her a banana. (I believe her name is Neera.) She accidentally fell on him when he was trying to feed her, haha.
Now, from here on out, the sightings were truly "wild" animals. This little family of monkeys was too darn cute! Can you spot the baby monkey?
This one really blends in with the tree branches. Can you spot him? (Seriously, bring binoculars! I should've brought along a good pair like the ones on Opticsmag.)
Sloth!
Now, this sloth had some cool markings! He was wayyyyy up at the top of the tree looking for food. Our guide said they'll stay up in the trees like that for a week at a time and only come down once a week to poop. Who knew?
Macaws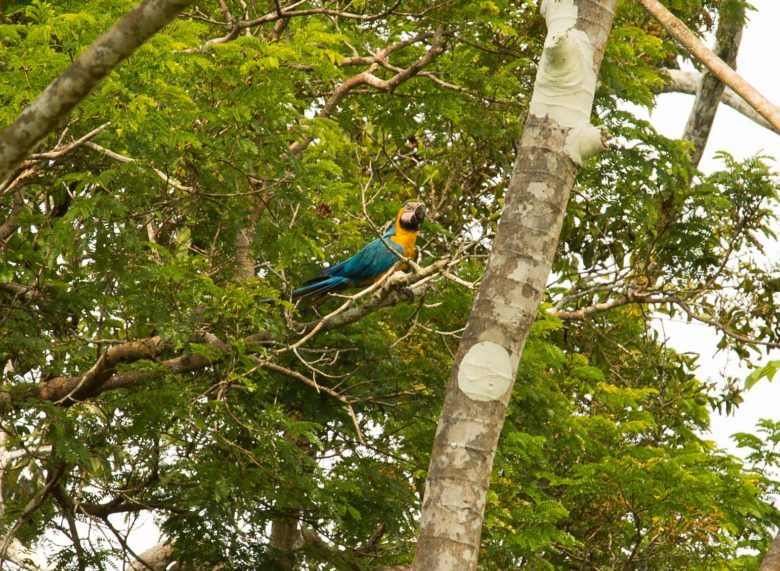 I do apologize, I probably took 5,000 photos of the beautiful birds in the Amazon, ranging from various species of hawks to toucans and parakeets, and the only ones that sort of looked decent were these ones above of the macaws. Bird photography is hard! Haha.
Wildlife Spotting in Peru's Amazon Rainforest – Nightime
Huge Frogs
How big is that frog? Holy moly! I laughed so hard too…after I took this photo that frog lunged at my husband, and I'm pretty sure my husband jumped 8 feet in the air he was so surprised. Haha!
Huge Spiders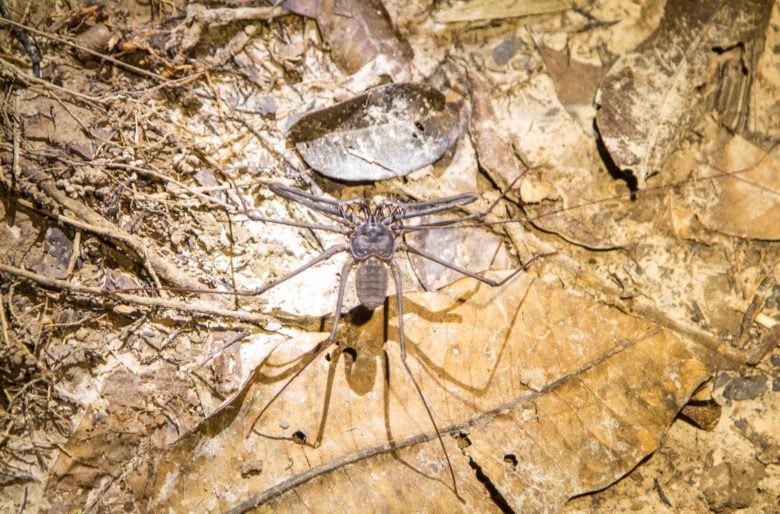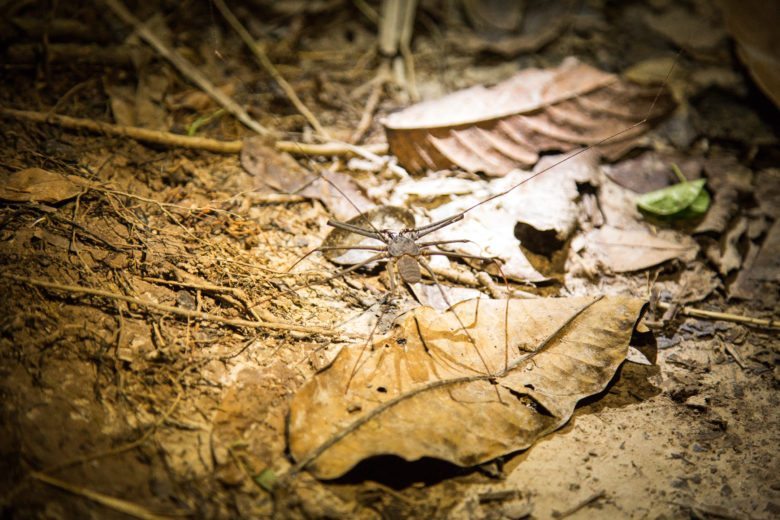 I absolutely hate spiders. So, you're welcome for even managing to get these two photos! Haha. I believe this was called a scorpion spider, an account of the pinchers. We also saw a lot of wolf spiders but those scared me so much I refused to get close to take a photo. Haha. Sorry!
Alligators
Our last night in the Amazon we took our flashlights and went searching for alligators! We could spot them because their eyes would look like little red dots in the water. It was interesting! The one above our guide somehow magically scooped out of the water. I have no idea how he did it. It looked he just leaned over the boat and then poof! He had an alligator with him! Haha.
Tree Boa
And last but not least, we also saw a couple tree boas after we spotted our alligators. These guys are harmless, too. We did actually see a poisonous viper in the water earlier in the day. We couldn't get out of that area of the forest fast enough!!
Next up, I'll be sharing an outfit post from the Amazon Rainforest and then some footage of our fishing expeditions in the Amazon! Stay tuned!
Do you enjoy looking for wildlife when you travel? And what's your favorite animal you've seen in the wild? Let me know in the comments!
*Click here to read my post, "How to Spend 10 Days in Peru."
Click here for my Treehouse Lodge post if you missed it, and click here for all my posts on Peru!
Travel Insurance
It's a good idea, no matter where your adventure takes you, to have travel insurance. You never know what might happen! Whether you get sick before your trip and can't go, or you become sick or injured while on your adventure – being covered with travel insurance is a must. Some credit card companies do provide this (check with yours), or you can get a free quote from travel insurance companies such as RoamRight to find the best plan for you and your adventure. To get a free quote, click here.
Visa Requirements
To check if your country requires a Visa for traveling to Peru, click here.
Want to Learn Spanish Before Your Trip?
Knowing some basics in Spanish can be helpful for your time in Peru. Try a free 3 day trial of Rosetta Stone (the best way to learn a foreign language) by clicking here.
*Disclosure: some of these links are affiliate links. Meaning, if you click a link and make a purchase, Have Clothes, Will Travel gets a very small commission at no extra cost to you. Thank you for supporting the brands that make this blog possible! I am also a participant in the Amazon Services LLC Associates Program, an affiliate advertising program designed to provide a means for us to earn fees by linking to Amazon.com and affiliated sites.