Perfect One-Piece Swimsuit for a Beach Vacation / Honeymoon
Whether you're jetting off to a tropical location for your honeymoon or just taking a much-needed beachside vacation – I've found the perfect one-piece swimsuit! It's just the right amount of sexy for a honeymoon swimsuit in my opinion (or anyone looking to be a little sassy looking in a one-piece swimsuit)!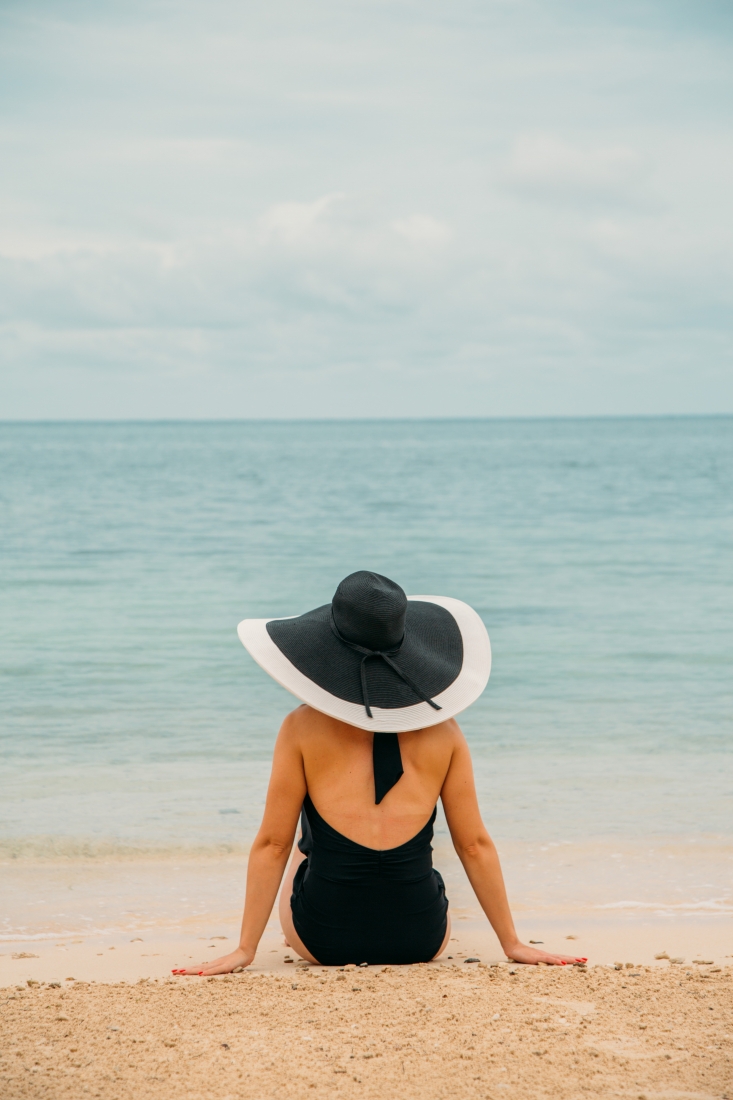 I wasn't on my honeymoon by any means while I wore this swimsuit from Unique Vintage. I had bought it for a recent trip to visit Sandals Resorts in Jamaica. These photos were taken at Sandals Montego Bay. (Click here for my full review of this resort.) However, Sandals is a very romantic resort (perfect for a honeymoon) and this suit also comes in white… so, I couldn't help but think it would be perfect for a newlywed too.
I had wanted to get a bit outside of my comfort zone with this swimsuit. I normally opt for more modest swimwear, but for this trip to Jamaica, I knew there was no need to be so covered up. Plus, I knew I was not going to be moving around a whole lot, so I could wear something with a different fit/cut than my normal "practical" swimwear.
So… why is this swimsuit so perfect for a honeymoon and/or beach vacation? I'll explain!
Unique Vintage Black Halter Shirred Derek One Piece Swimsuit Review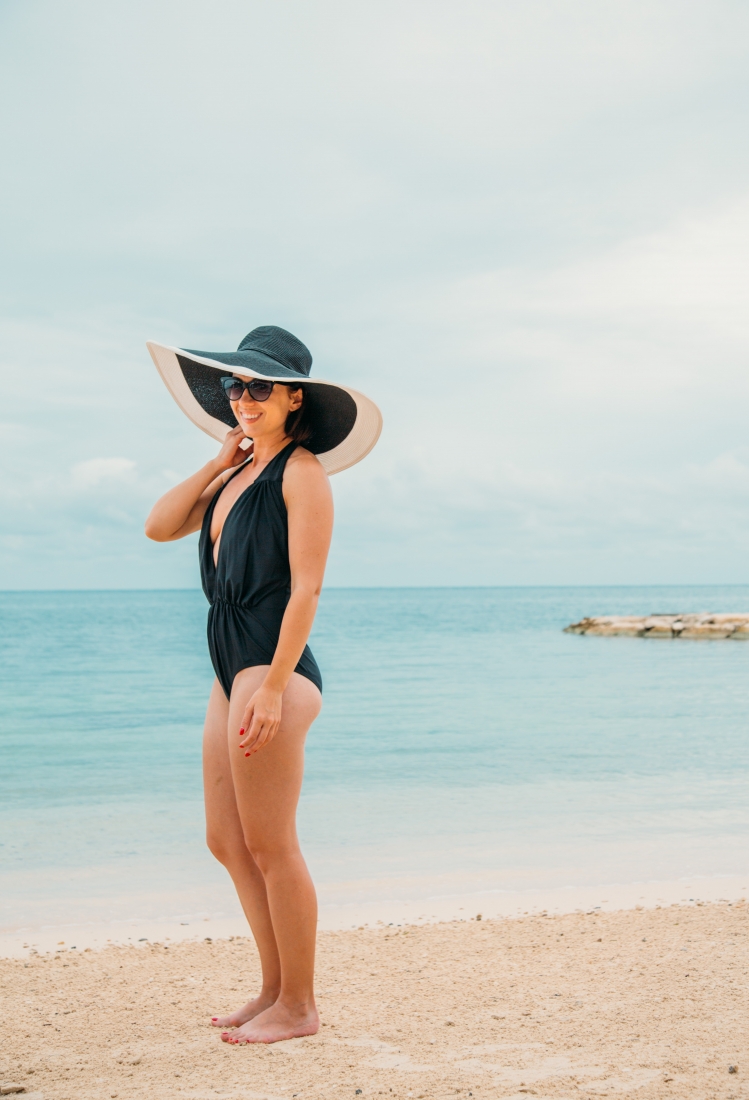 Pros
It's a unique and amazing design for a swimsuit! You won't have to worry about anyone else wearing the same suit as you + it's sexy without being scandalous.
It's made by Unique Vintage… so, it's very high-quality.
The shirred waist is super flattering and comfortable… so, if you're like me and like to indulge on pizza and beer while vacationing – this swimsuit will still be comfy!
The bottoms are comfy and also don't ride up too much. I have some swimsuits where I'm picking a grundy every few moments. But this swimsuit stayed right where it was supposed to.
The top is adjustable – so, if you want a looser more revealing fit you can have it! Or if you would prefer the gals to be covered, you can just tie the halter portion tighter.
It comes in sizes XS – 3X!
Cons
While I love the way this suit looks, it's also not a suit that you can be terribly active in. This is because you WILL have a nip slip unless you tape this suit (and nobody wants to tape a swimsuit). It's fine for laying on the beach, hanging out at the swim-up bar and light swimming… but if you're planning on playing beach volleyball or going waterskiing, you'll want another swimsuit along.
There is NO support in the top half – the gals are free to do as they please. If I'm just laying on a beach this doesn't bother me. However, again, if you're looking to be more active… then this wouldn't be the suit for you.
It's rather expensive. However, Unique Vintage makes some high-quality pieces… so, I do feel this is worth it.
My hat is also from Unique Vintage, and it's also fantastic for a day at the beach. It's quite the head-turner + it provides some great sun protection… given its huge size! I've had it for a little over 5 years now and it's held up very well… even after countless trips where it gets stuffed into a suitcase rather carelessly. (You'd think I would be better about how I pack my bag by now… but I'm still a terrible packer!)
What sort of a swimsuit would you wear for a honeymoon or beach vacation? Let me know in the comments!
Where to find it:
Swimsuit: Unique Vintage
Hat: Unique Vintage
Sunglasses: Old (Similar here)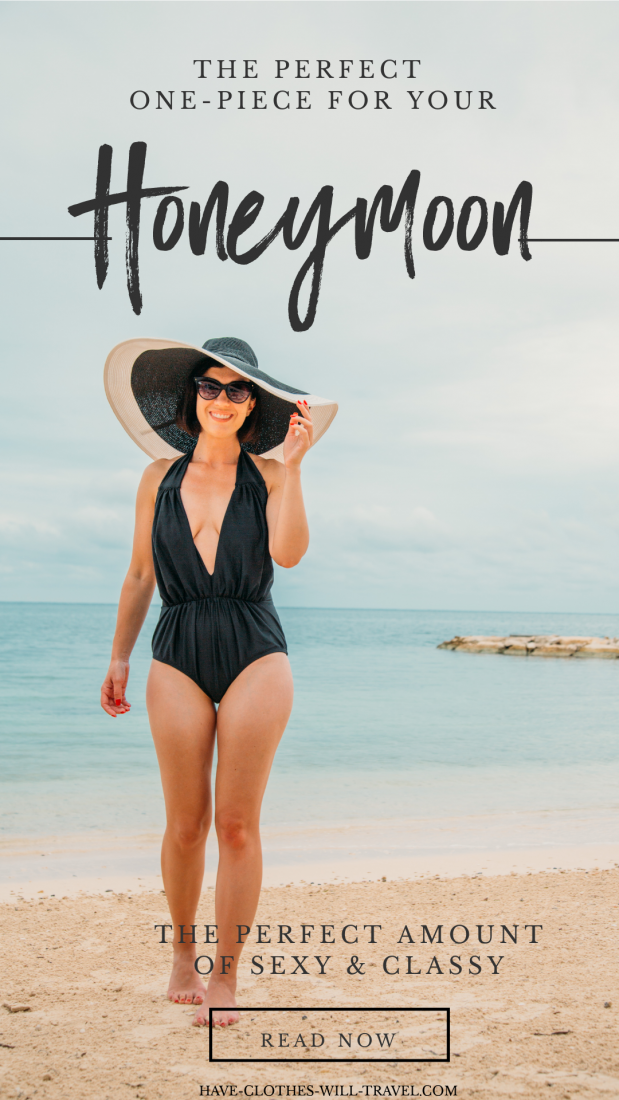 *Disclosure: some of these links are affiliate links. Meaning, if you click a link and make a purchase, Have Clothes, Will Travel gets a very small commission at no extra cost to you. Thank you for supporting the brands that make this blog possible! I am also a participant in the Amazon Services LLC Associates Program, an affiliate advertising program designed to provide a means for us to earn fees by linking to Amazon.com and affiliated sites.