The Best Food to Try in Each of the 50 States, According to Americans
Welcome to a culinary journey across the United States! In this article, we will take you on a mouthwatering tour through all 50 states, exploring the most iconic and beloved dishes each region has to offer. From hearty Southern BBQ to New England seafood delights, and from Tex-Mex feasts to Pacific Northwest treats, the diverse flavors of American cuisine await. So grab your appetite and join us as we discover the gastronomic treasures that make each state a unique and delectable part of the culinary tapestry we call America. Bon appétit!
Alabama: BBQ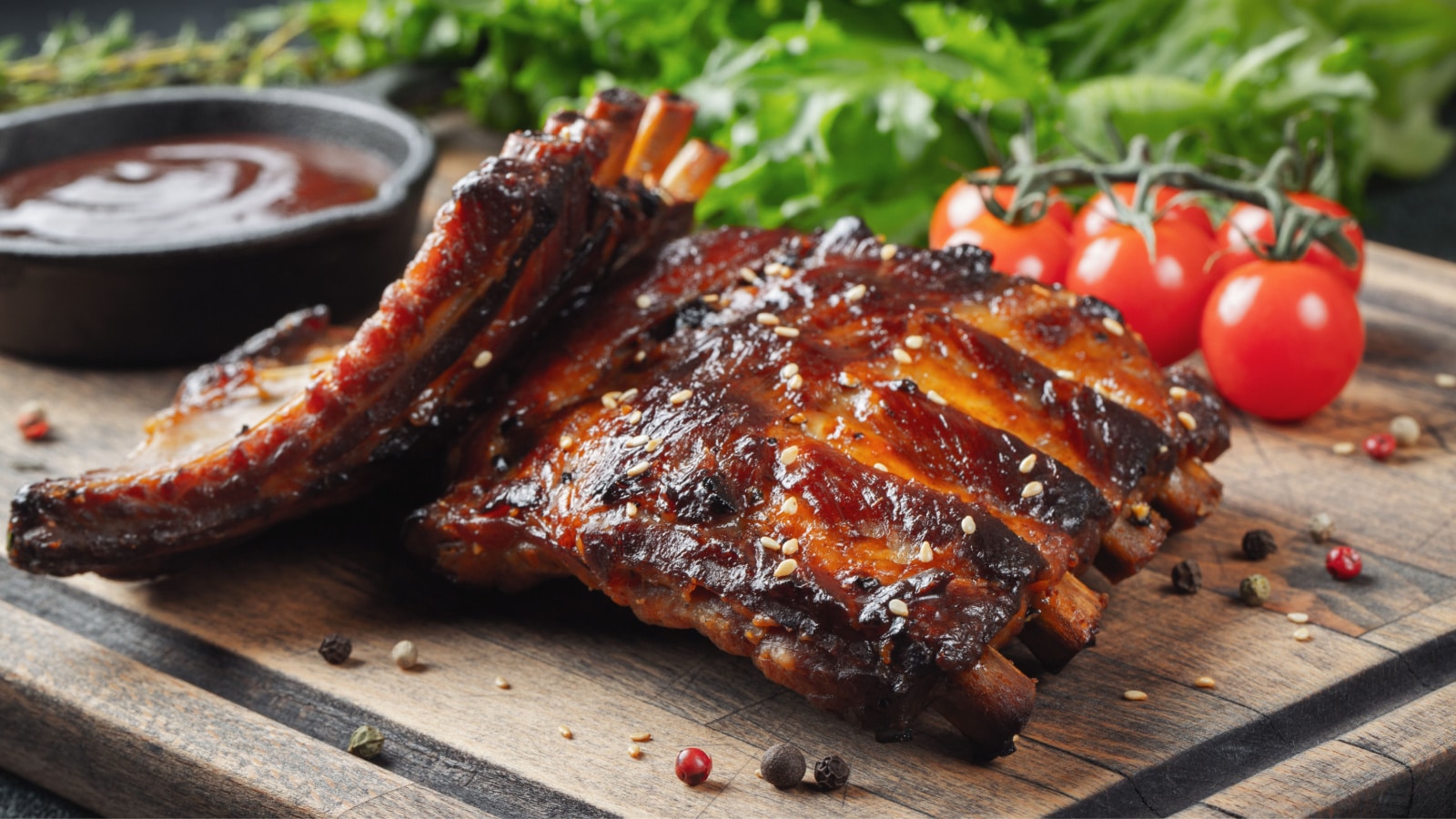 Alabama BBQ is known for its tender, slow-cooked pulled pork or ribs, often served with a tangy, vinegar-based sauce. It's popular in Alabama due to its strong Southern barbecue tradition, where smoking and grilling meats are celebrated social events and family gatherings.
Alaska: King Crab
Alaskan King Crab legs are a delicacy known for their sweet and succulent meat. They are popular in Alaska because the state is famous for its seafood bounty, and Alaskan King Crabs are harvested from the cold, pristine waters of the Bering Sea.
Arizona: Sonoran Hot Dogs
Sonoran hot dogs are bacon-wrapped hot dogs topped with pinto beans, onions, tomatoes, mayonnaise, mustard, and jalapenos served in a soft bun. Popular in Arizona, this dish reflects the state's proximity to Mexico, where the Sonoran desert stretches across both countries, influencing the region's culinary landscape.
Arkansas: Southern-Style Fried Catfish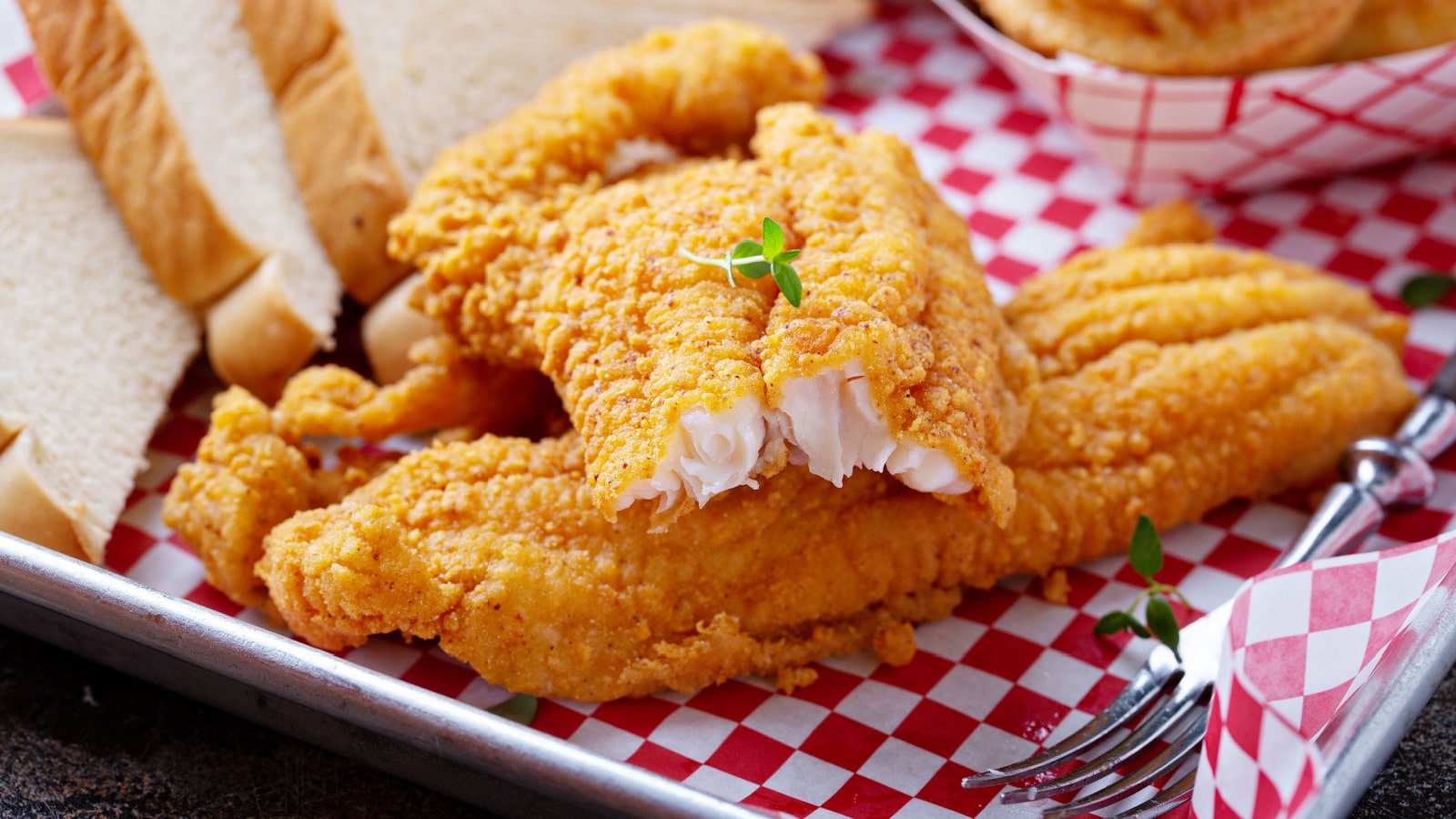 Southern-style fried catfish is a beloved dish in Arkansas due to the state's proximity to the Mississippi River and its rich culinary heritage. The catfish is often coated in cornmeal and deep-fried until golden and crispy, served with hushpuppies and coleslaw.
California: In-N-Out Burger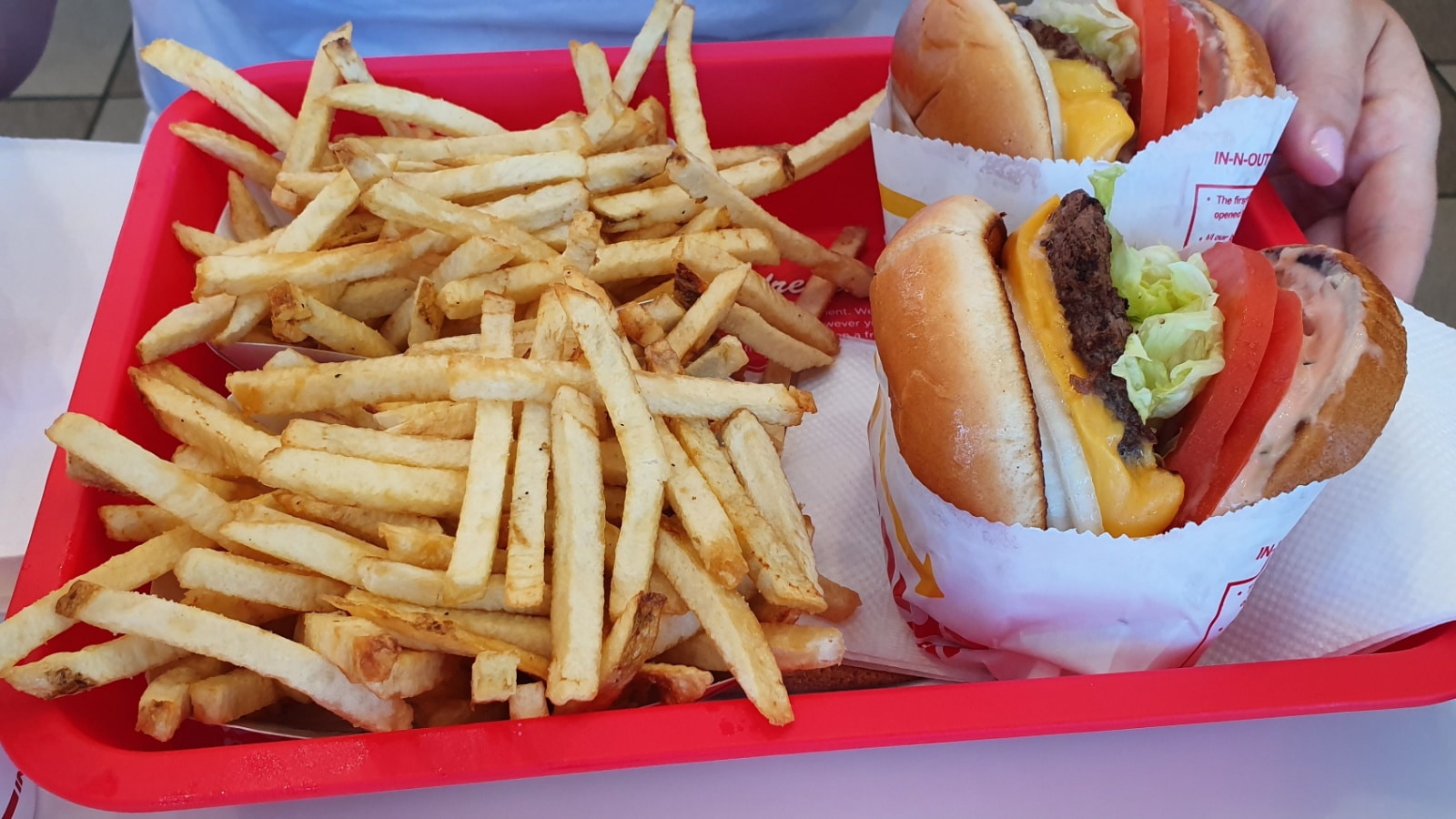 In-N-Out Burger is a fast-food chain famous for its simple yet delicious burgers made with fresh ingredients. It's popular in California, where the chain originated, and has gained a cult-like following for its secret menu and emphasis on quality.
Colorado: Rocky Mountain Oysters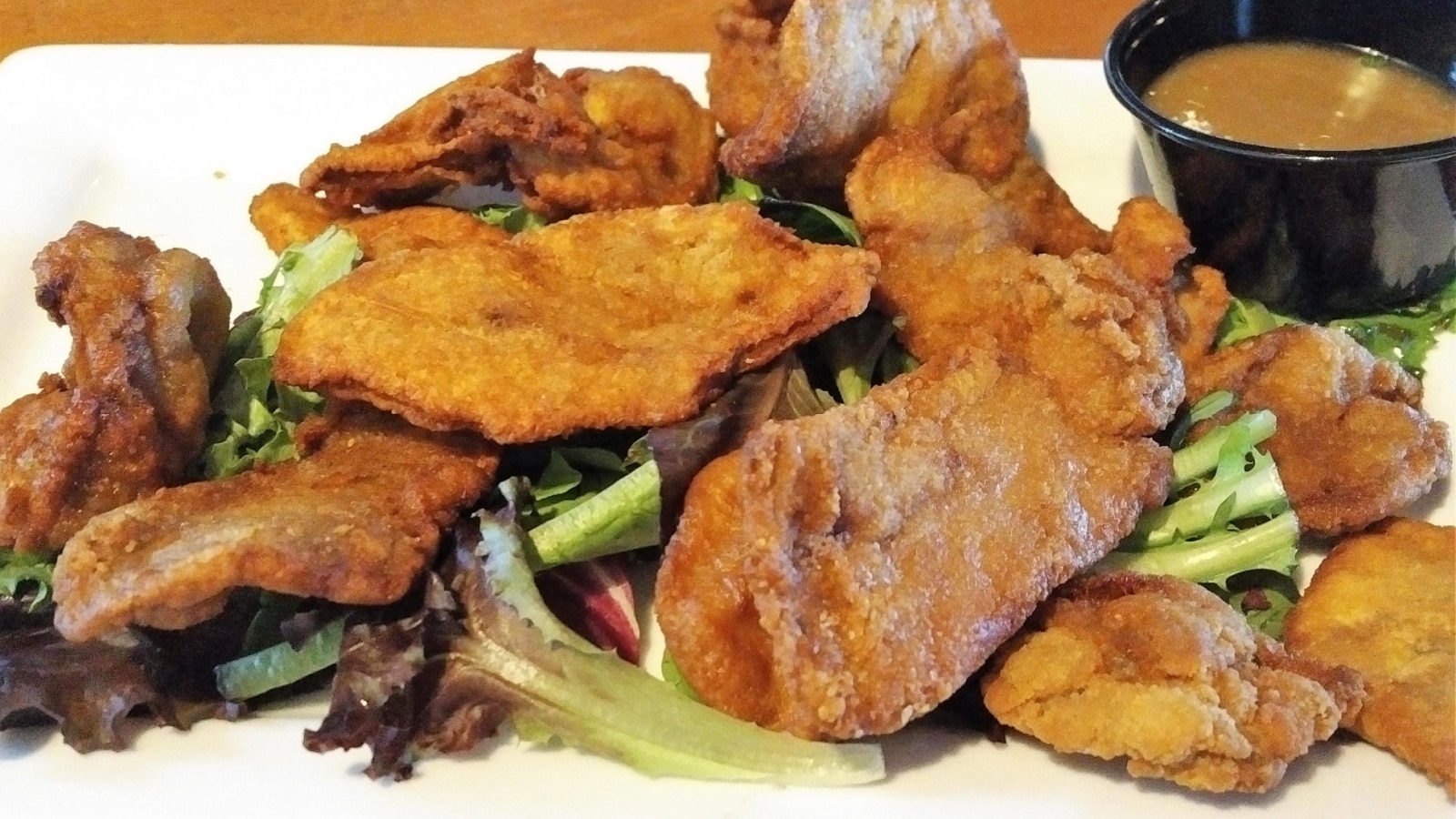 Rocky Mountain Oysters are a novelty dish made from bull testicles, sliced, breaded, and deep-fried. They're popular in Colorado, particularly during rodeo events and festivals, as a unique way to celebrate the state's ranching culture.
Connecticut: New Haven-style Pizza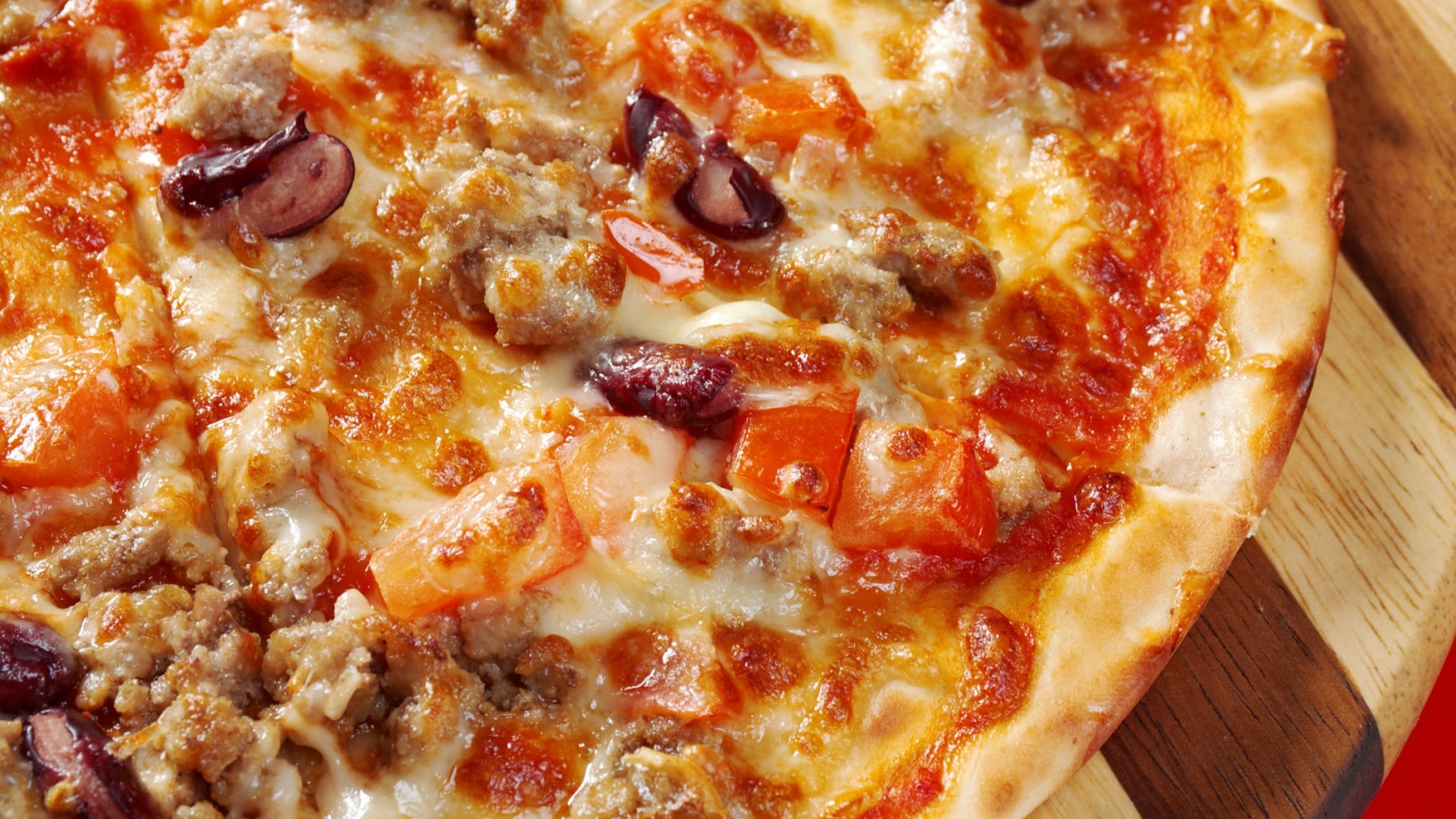 New Haven-style pizza, also known as apizza, is a thin-crust pizza cooked in a coal-fired oven. It's popular in Connecticut, especially in New Haven, because it's believed to be one of the earliest styles of pizza introduced to the United States by Italian immigrants.
Delaware: Slippery Dumplings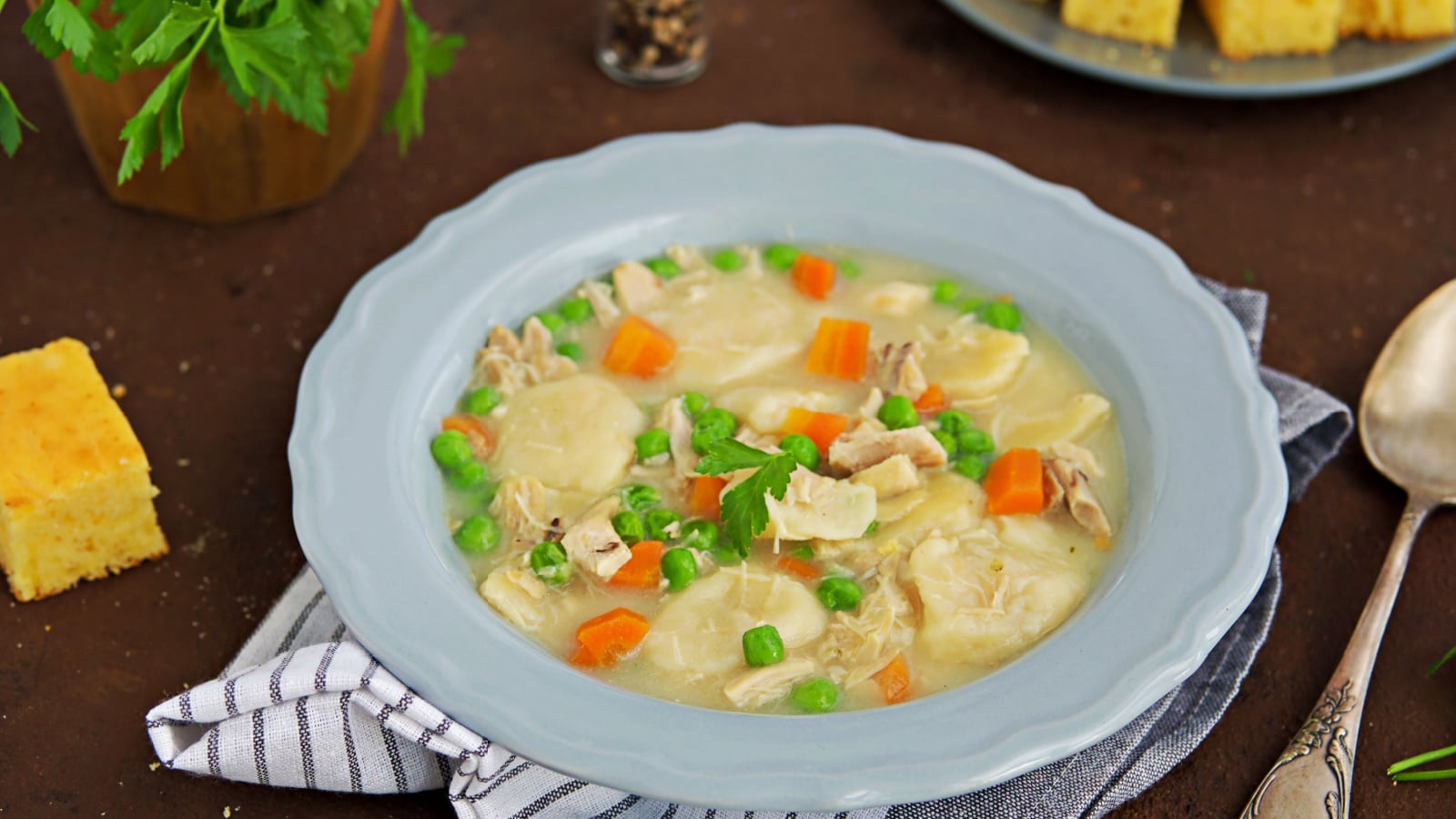 Slippery Dumpling is a comforting dish made with tender chicken, broth, and dumplings. It's popular in Delaware due to the state's rich poultry industry and the influence of Southern cuisine.
Florida: Key Lime Pie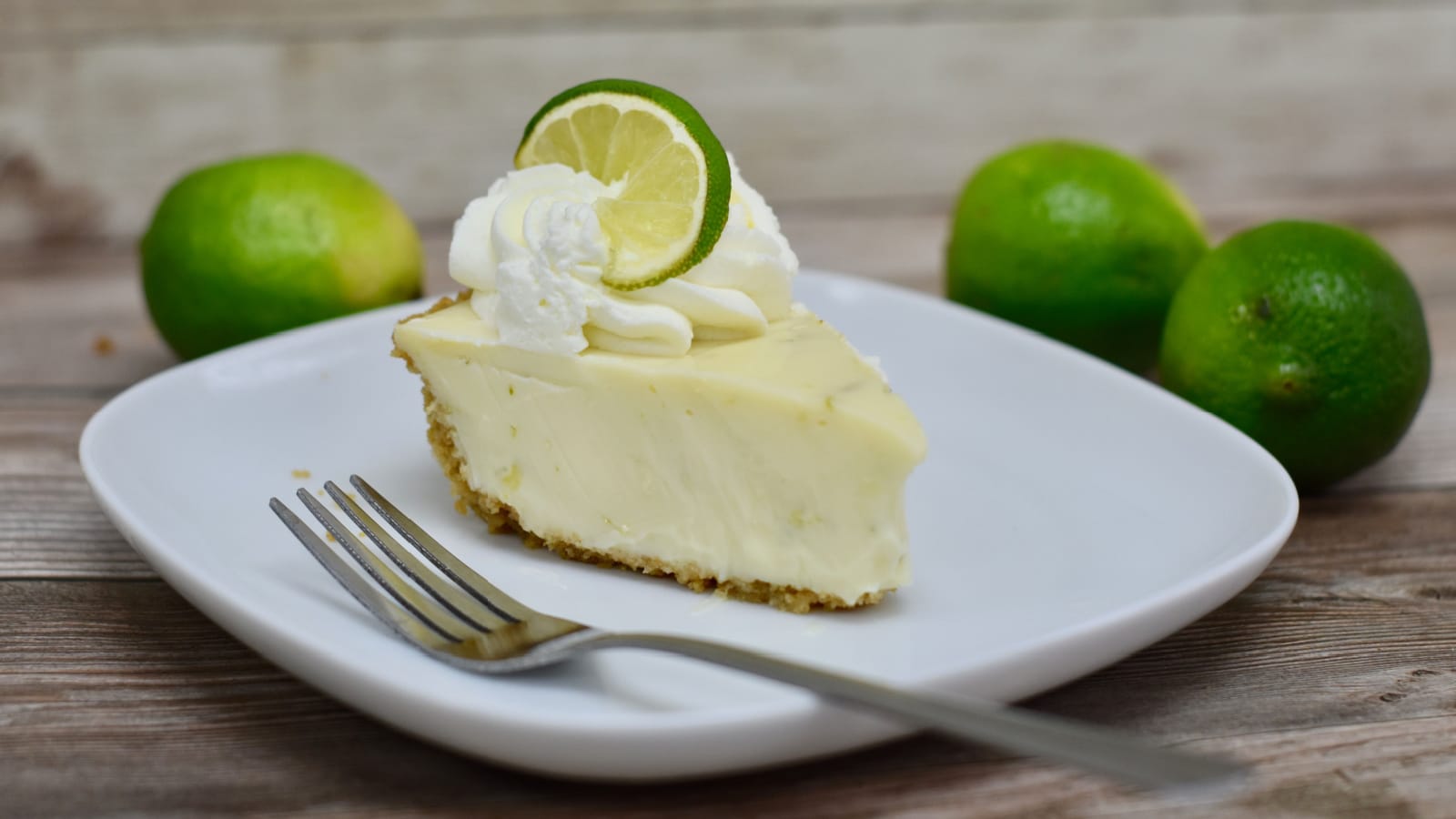 Key Lime Pie is a tart and creamy dessert made with key lime juice, condensed milk, and a graham cracker crust. It's popular in Florida because the Florida Keys are known for their abundant key lime trees, and the pie has become a symbol of the region.
Georgia: Peach Cobbler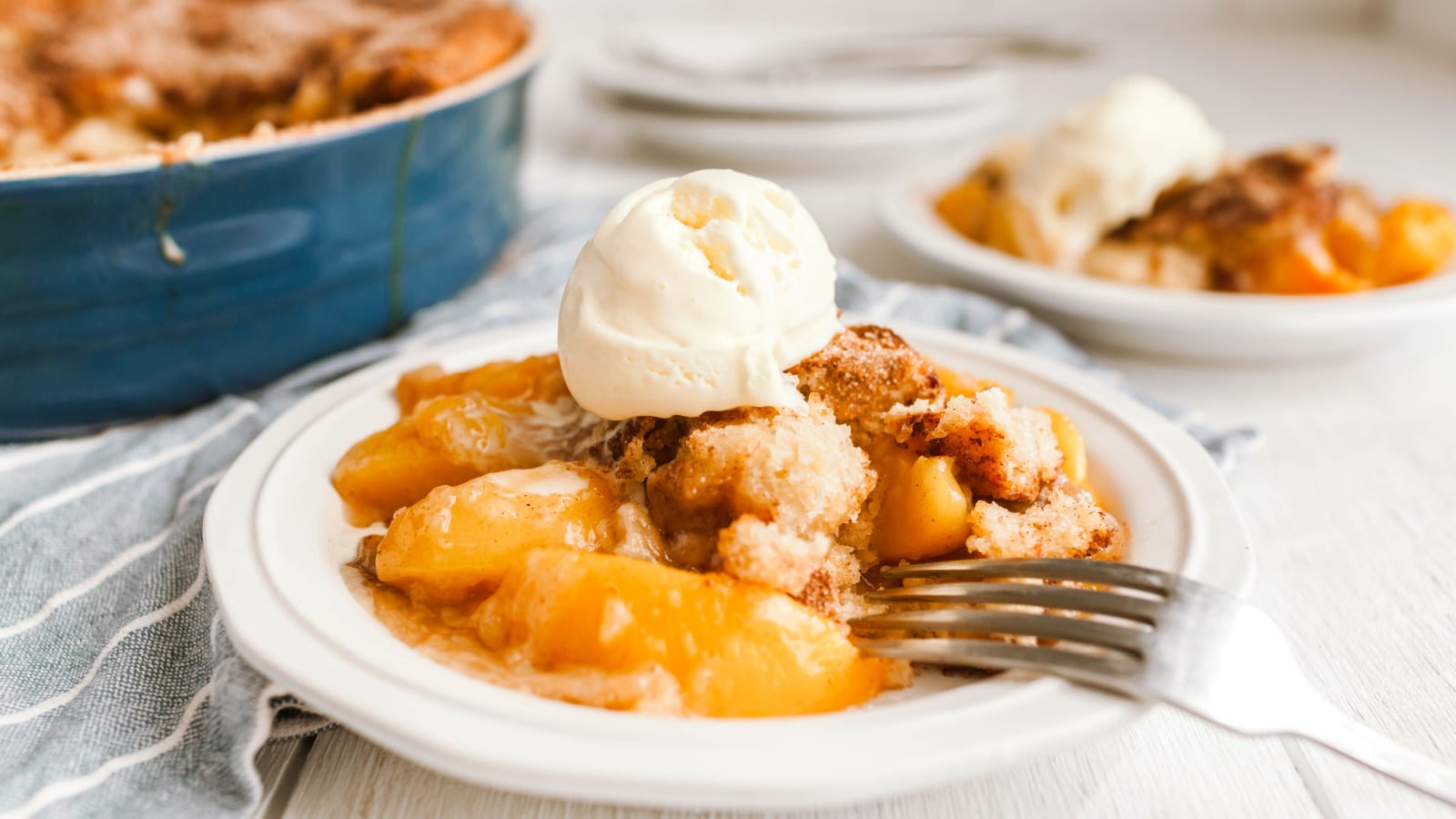 Peach Cobbler is a classic Southern dessert made with fresh peaches, sugar, and a buttery biscuit-like topping. It's popular in Georgia, known as the Peach State, for its deliciously sweet and juicy peaches.
Hawaii: Poke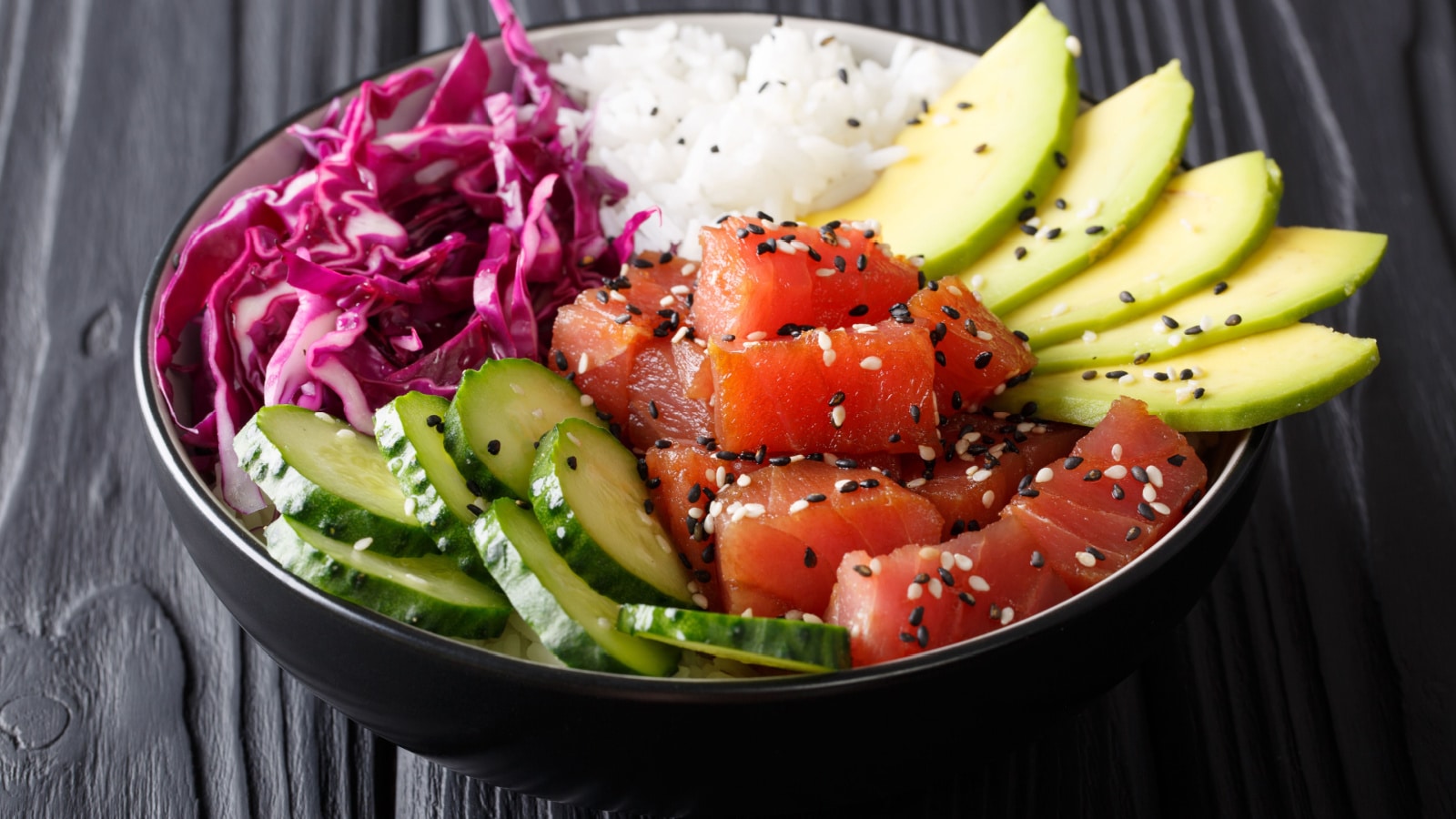 Poke is a traditional Hawaiian dish consisting of raw fish (usually tuna) marinated in soy sauce, sesame oil, and other seasonings. It's popular in Hawaii due to the state's strong connection to the ocean and fresh seafood.
Idaho: Finger Steaks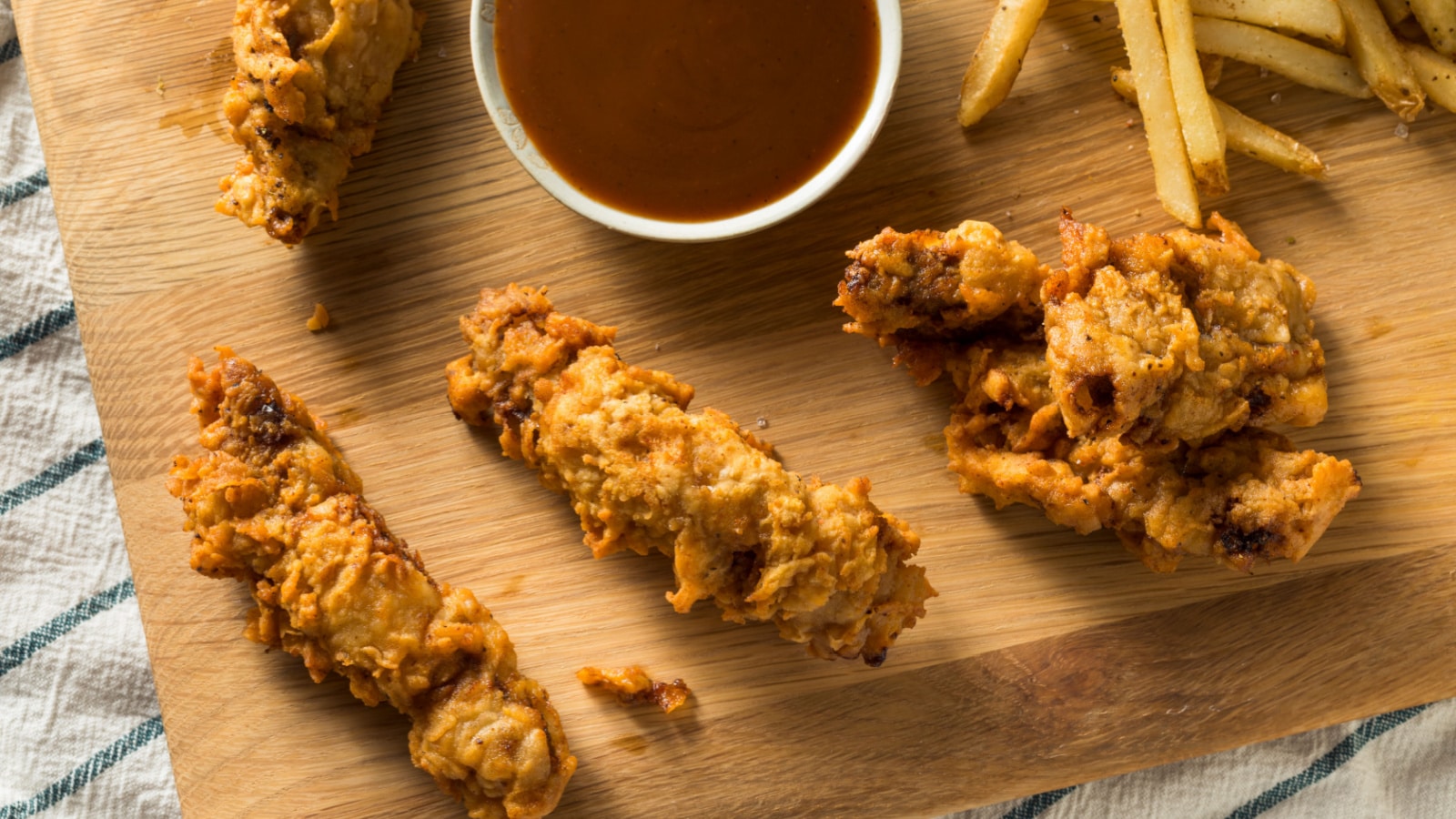 Finger Steaks are thin strips of beef, breaded and deep-fried, typically served with a dipping sauce like cocktail sauce or ranch dressing. They're popular in Idaho, where potatoes and beef are abundant, and finger steaks have become a local favorite.
Illinois: Chicago-Style Deep-Dish Pizza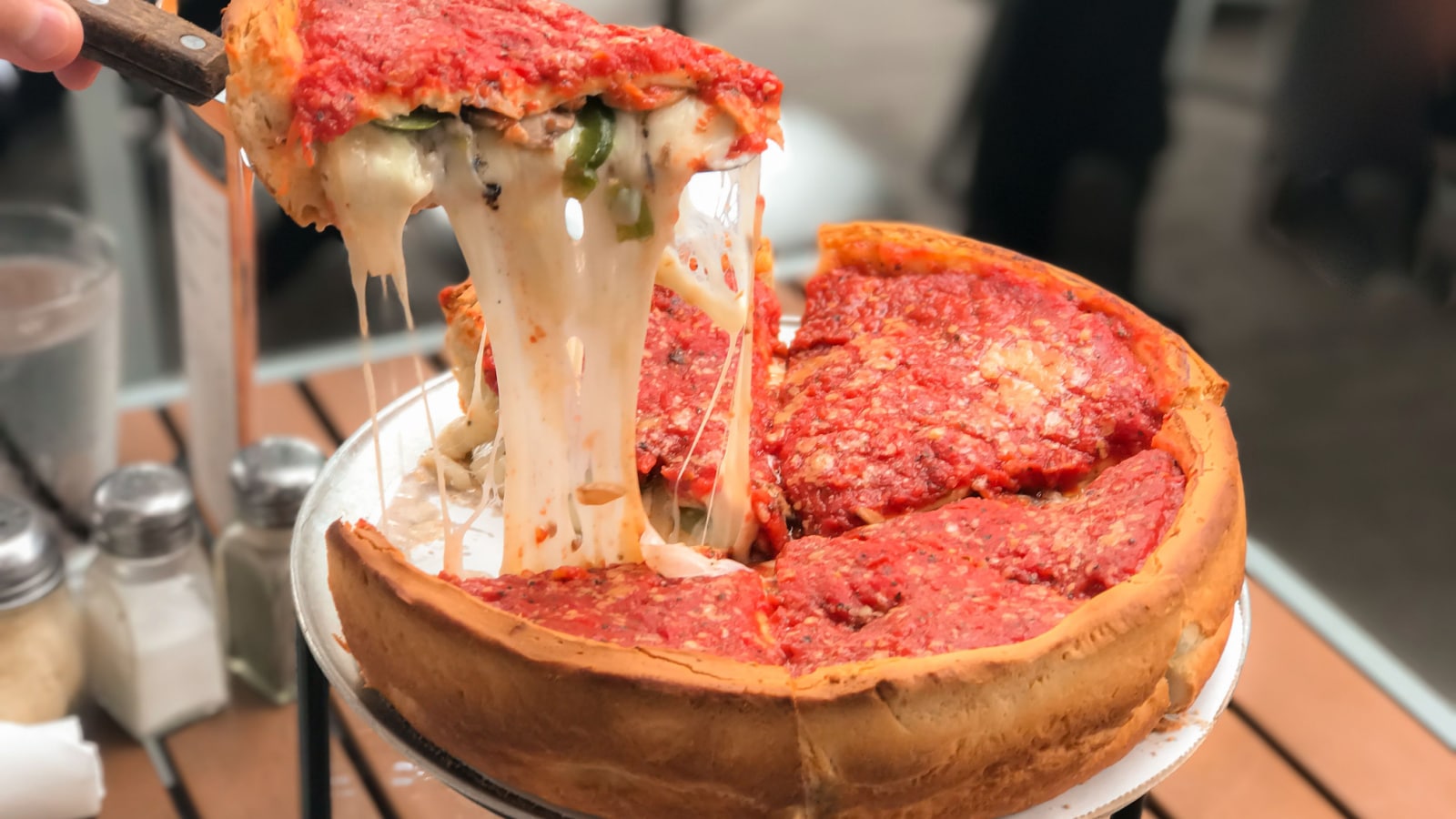 Chicago-style deep-dish pizza is a hearty, thick-crusted pizza with layers of cheese, toppings, and chunky tomato sauce. It's popular in Illinois, especially in Chicago, as an iconic representation of the city's unique pizza culture.
Indiana: Pork Tenderloin Sandwich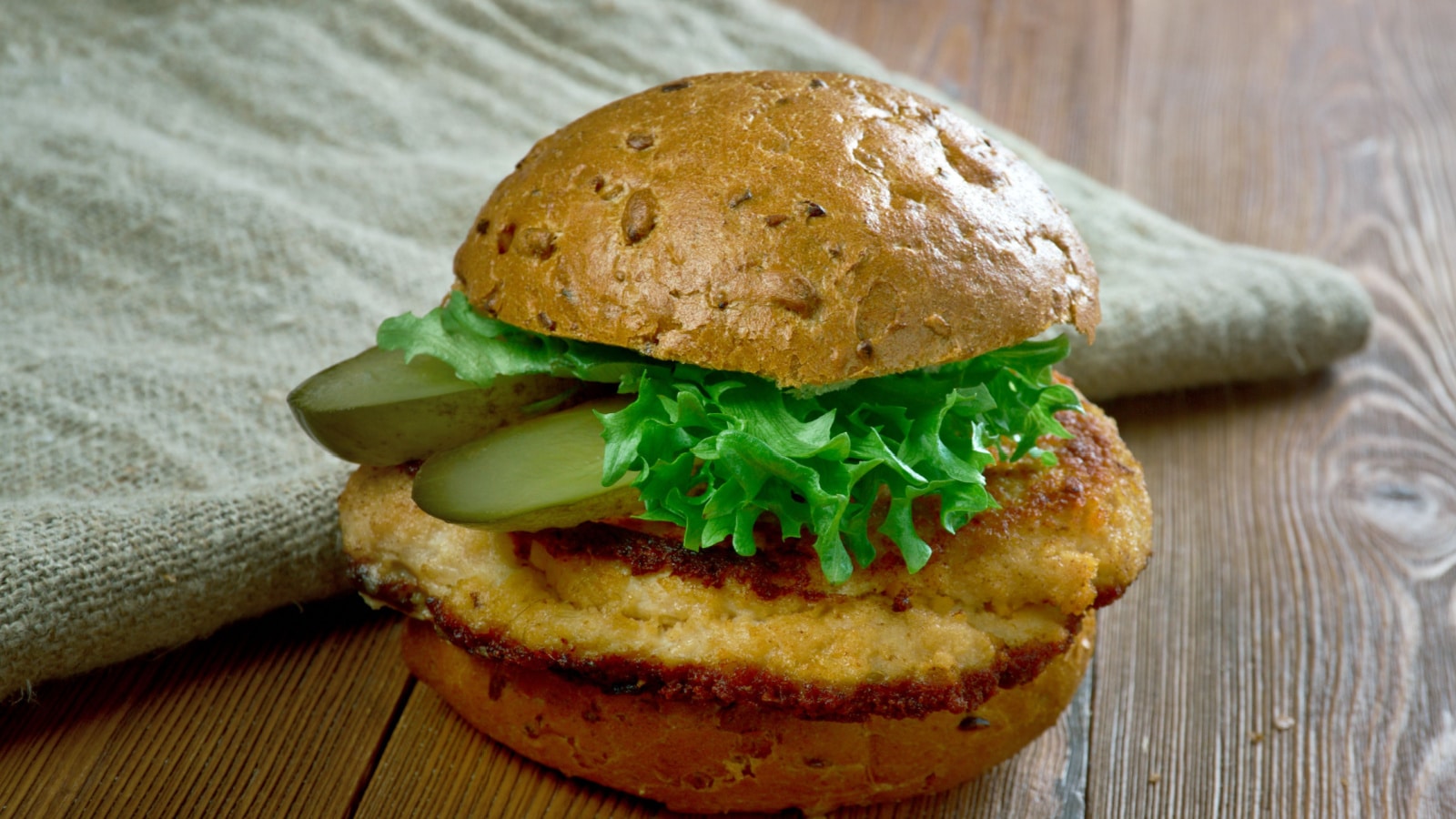 A pork tenderloin sandwich features a breaded and fried pork cutlet served on a bun with various toppings. It's popular in Indiana due to its agricultural heritage and the abundance of pork production.
Iowa: Corn on the Cob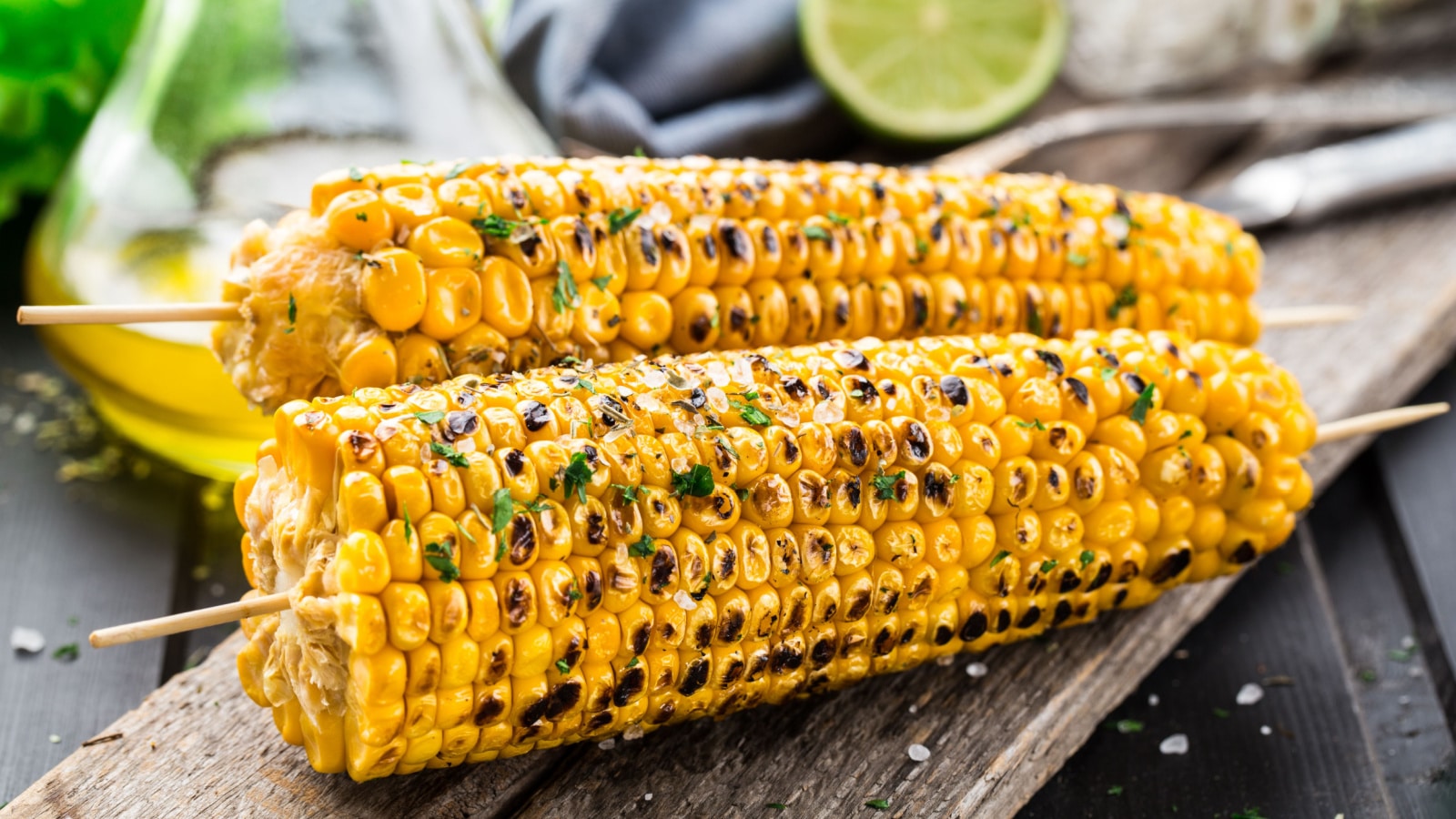 Corn on the Cob is a simple yet delicious dish where fresh sweet corn is boiled or grilled and served with butter and salt. It's popular in Iowa due to the state's reputation as a major corn-producing region.
Kansas: Kansas City-style BBQ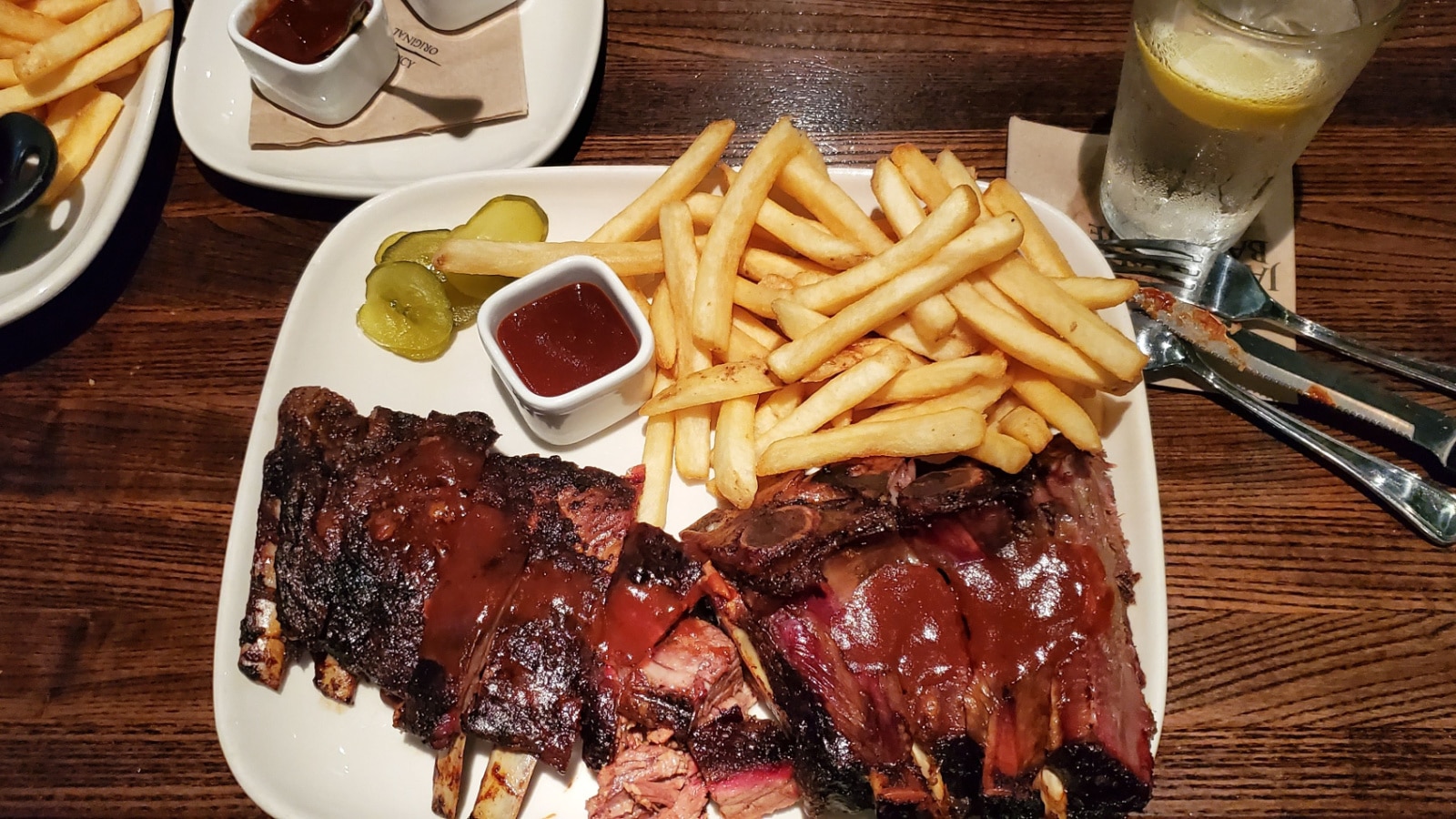 Kansas City-style BBQ is known for its slow-smoked meats, particularly beef, pork, and ribs, with a rich tomato and molasses-based sauce. It's popular in Kansas due to the city's BBQ heritage and annual BBQ competitions.
Kentucky: Hot Brown
Hot Brown is an open-faced sandwich made with turkey, bacon, tomatoes, and Mornay sauce, then broiled until bubbly and browned. It's popular in Kentucky, originating from Louisville's Brown Hotel in the 1920s.
Louisiana: Gumbo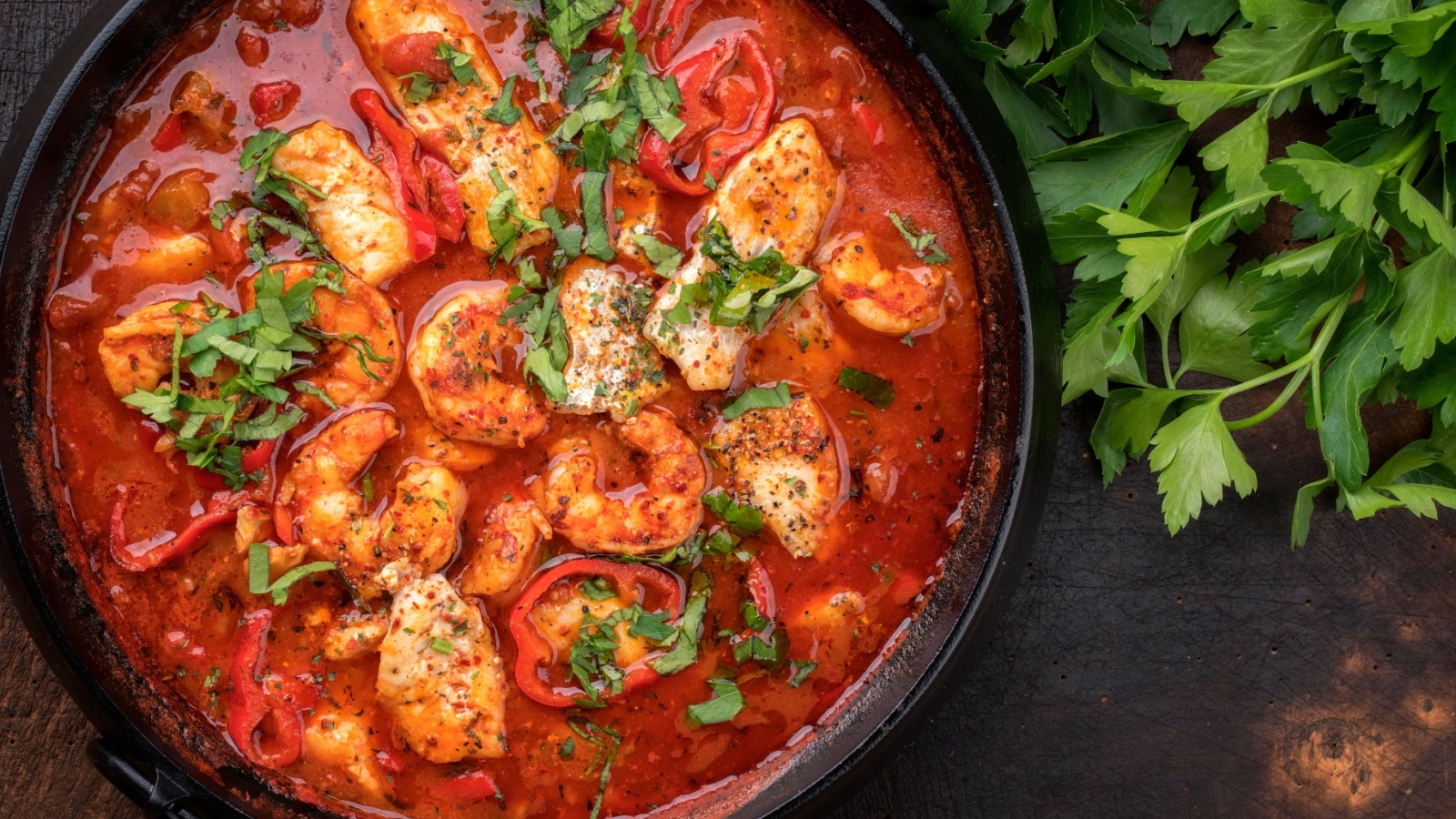 Gumbo is a flavorful stew with a mix of meat (often sausage, chicken, or seafood), vegetables, and a thick roux-based broth. It's popular in Louisiana, reflecting the state's rich culinary heritage and diverse cultural influences.
Maine: Lobster Roll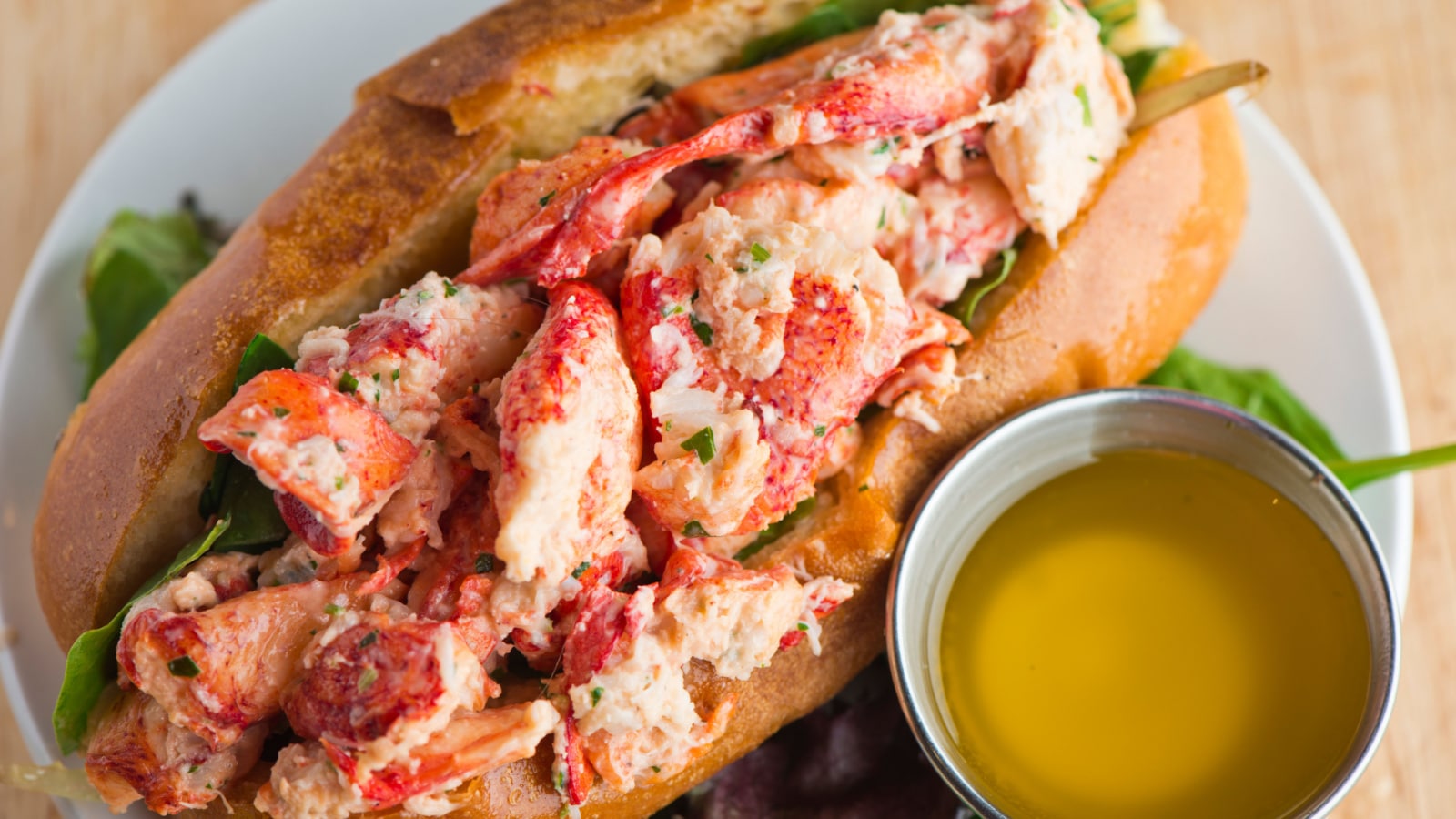 Lobster Rolls are a classic New England dish made with fresh lobster meat mixed with mayonnaise and served in a toasted hot dog bun. It's popular in Maine due to the state's abundant lobster fisheries.
Maryland: Crab Cakes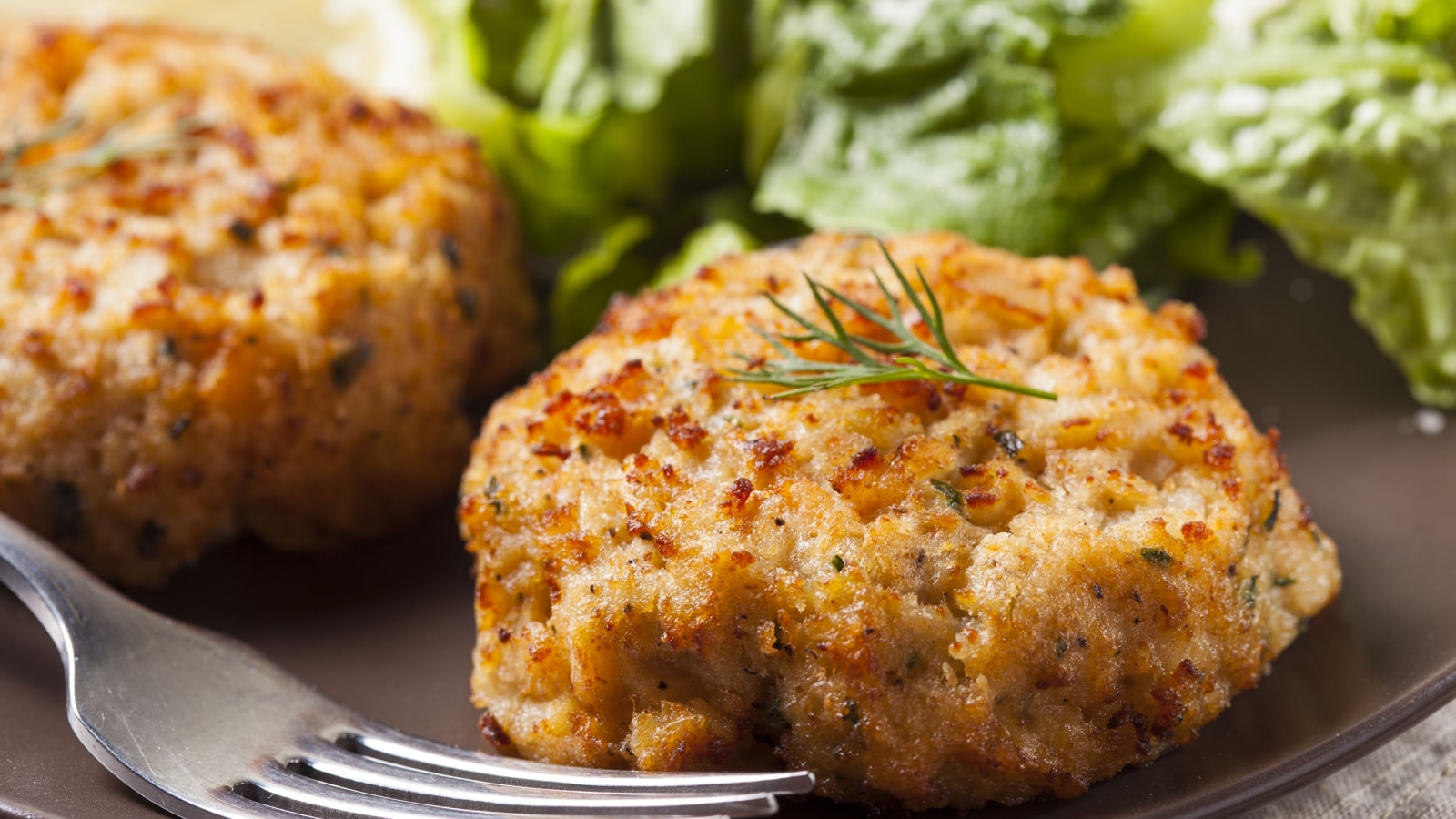 Crab Cakes are patties made with crab meat, breadcrumbs, and seasonings, then pan-fried or baked until golden. They're popular in Maryland because of the Chesapeake Bay's famous blue crabs.
Massachusetts: Clam Chowder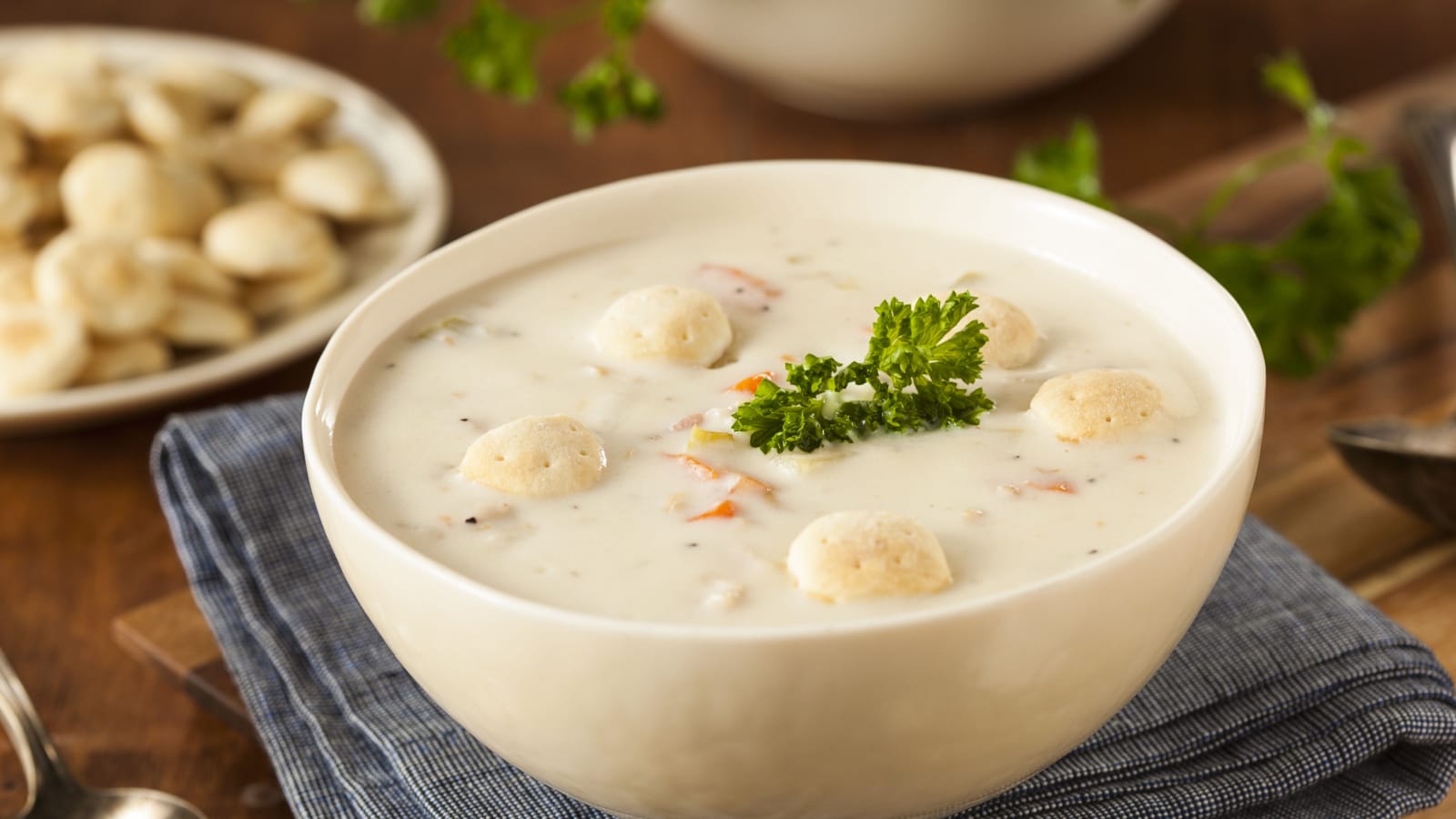 Clam Chowder is a creamy soup made with clams, potatoes, onions, and sometimes bacon. It's popular in Massachusetts, particularly in Boston, as a comforting and hearty dish.
Michigan: Coney Island Hot Dog
Coney Island Hot Dog is a steamed hot dog topped with chili, onions, and mustard. It's popular in Michigan, especially in Detroit and Flint, due to the state's large population of Greek immigrants who brought the dish to the region.
Minnesota: Juicy Lucy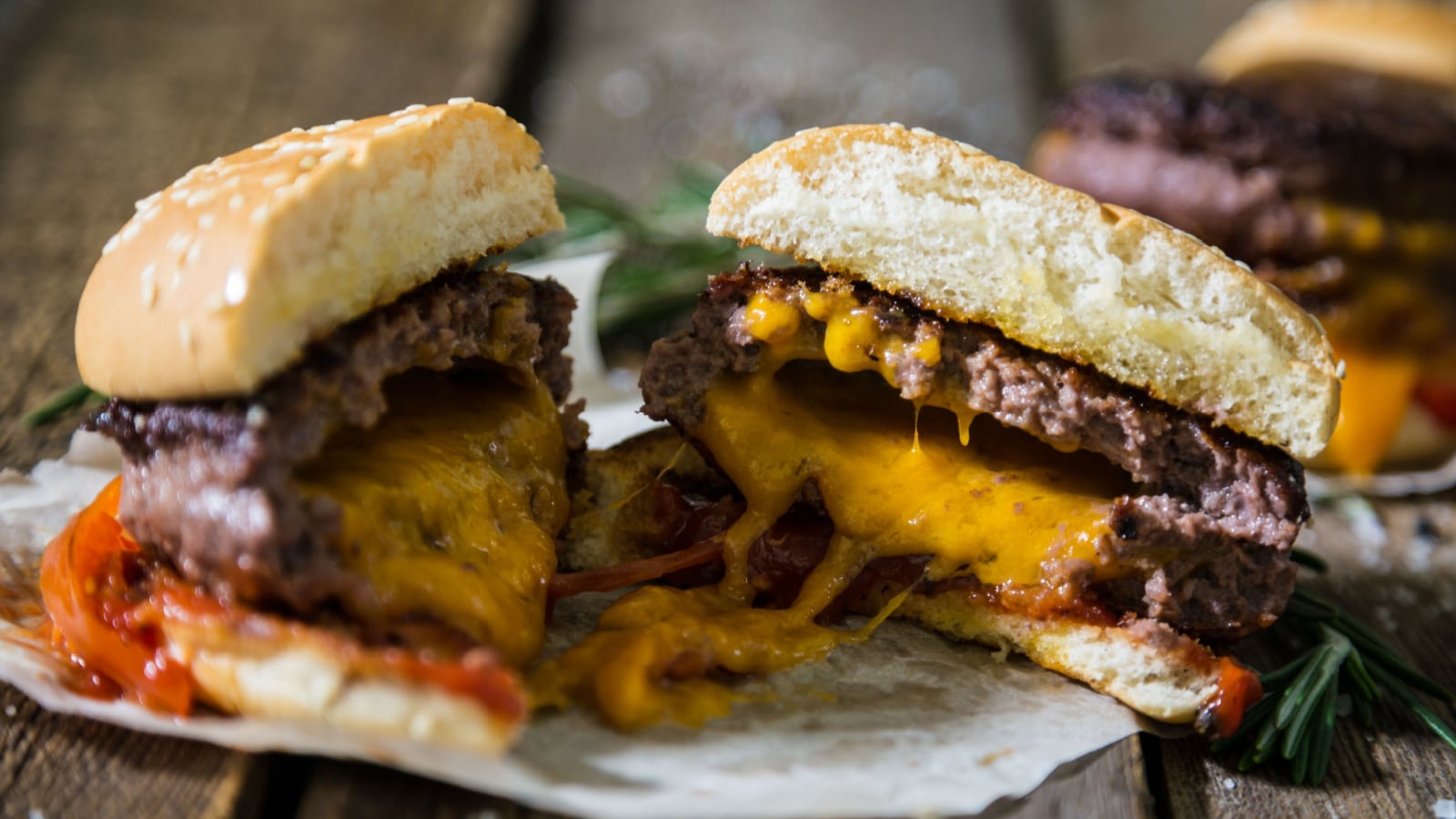 Juicy Lucy is a cheese-stuffed burger, with the cheese inside the meat patty instead of on top. It's popular in Minnesota, particularly in Minneapolis and St. Paul, where several restaurants claim to have originated this cheesy delight.
Mississippi: Mississippi Mud Pie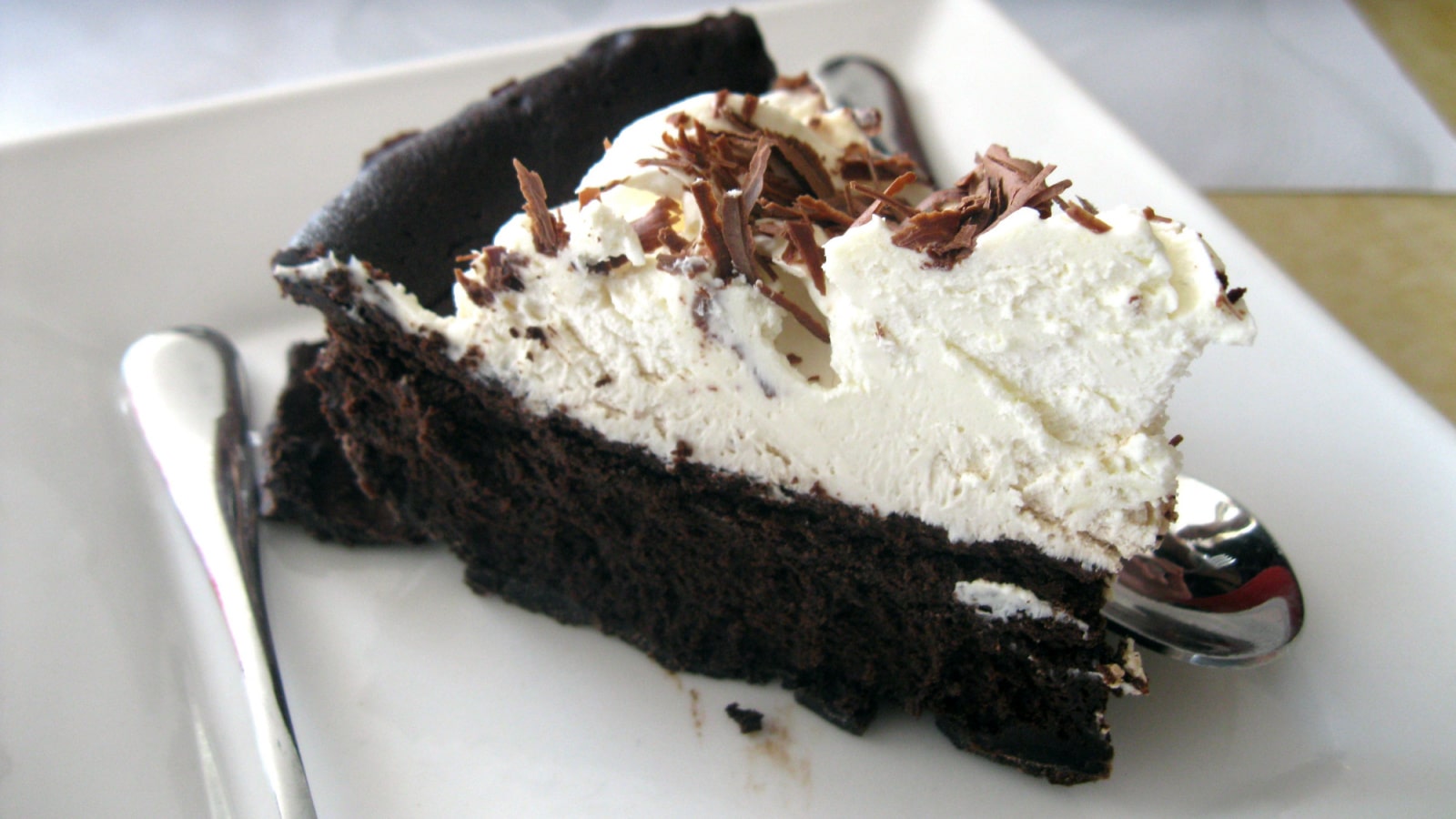 Mississippi Mud Pie is a rich and indulgent dessert made with chocolate, and coffee, and often served with whipped cream or ice cream. It's popular in Mississippi, representing the state's love for chocolate and decadent desserts.
Missouri: Toasted Ravioli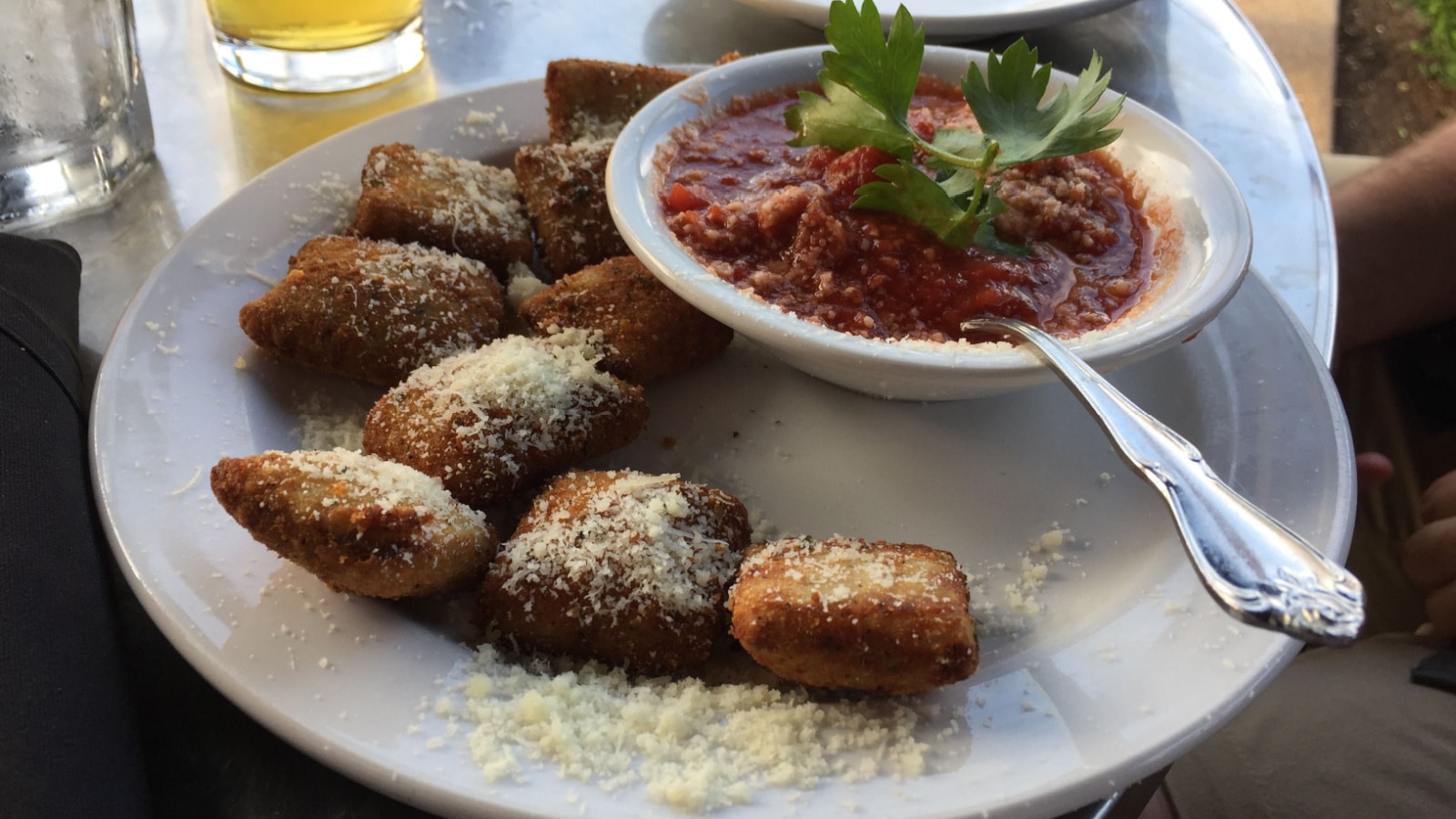 Toasted Ravioli is breaded and deep-fried ravioli, usually filled with meat or cheese. It's popular in Missouri, particularly in St. Louis, as a tasty appetizer or snack.
Montana: Bison Burger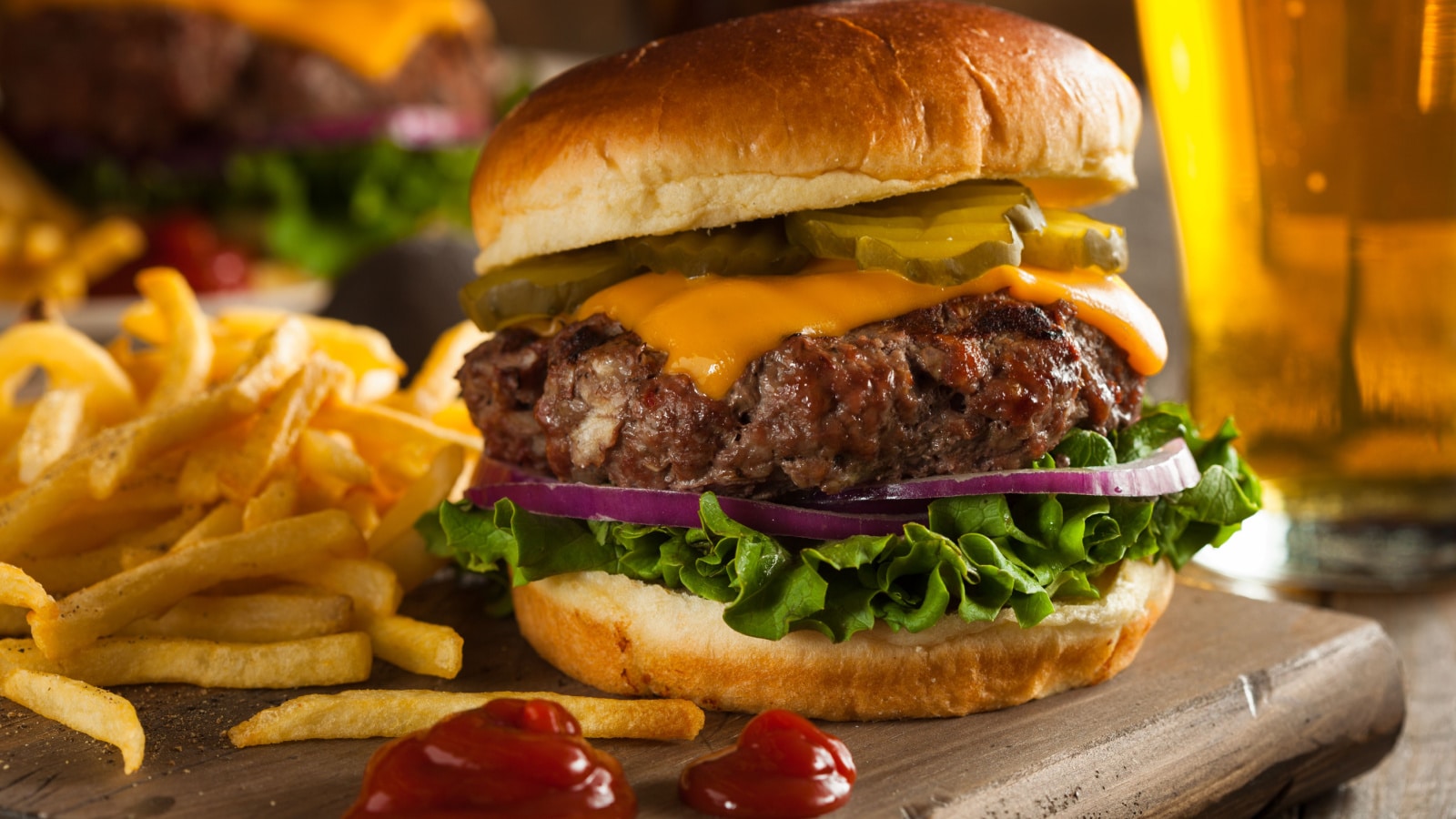 A Bison burger features a juicy burger patty made from lean and flavorful bison meat. It's popular in Montana, as the state has a significant population of bison and celebrates its Western heritage.
Nebraska: Runza Sandwich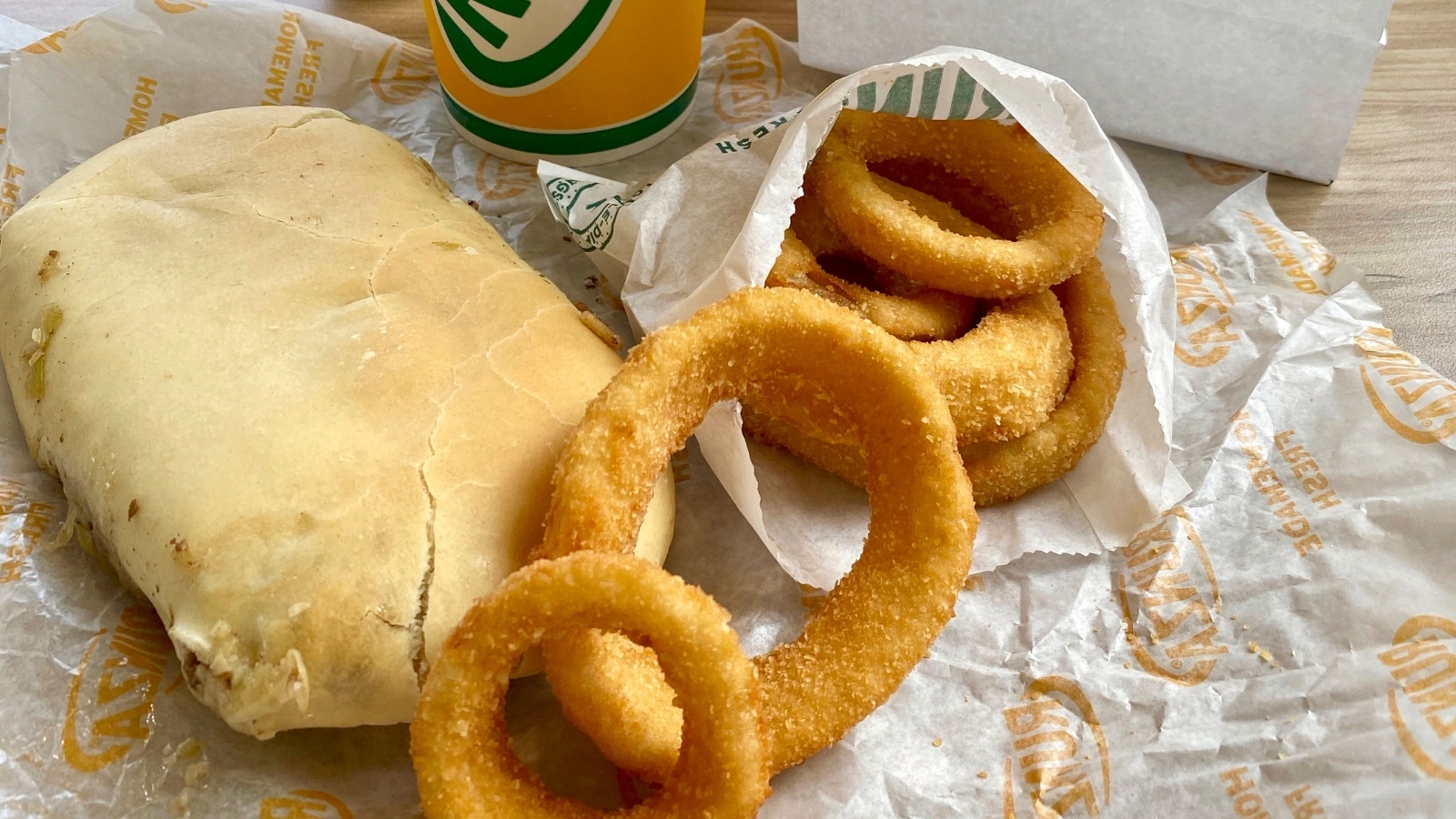 A Runza Sandwich is a savory pastry filled with ground beef, cabbage, and onions. It's popular in Nebraska, where it's considered a comfort food and is often associated with German-Russian immigrants.
Nevada: Shrimp Cocktail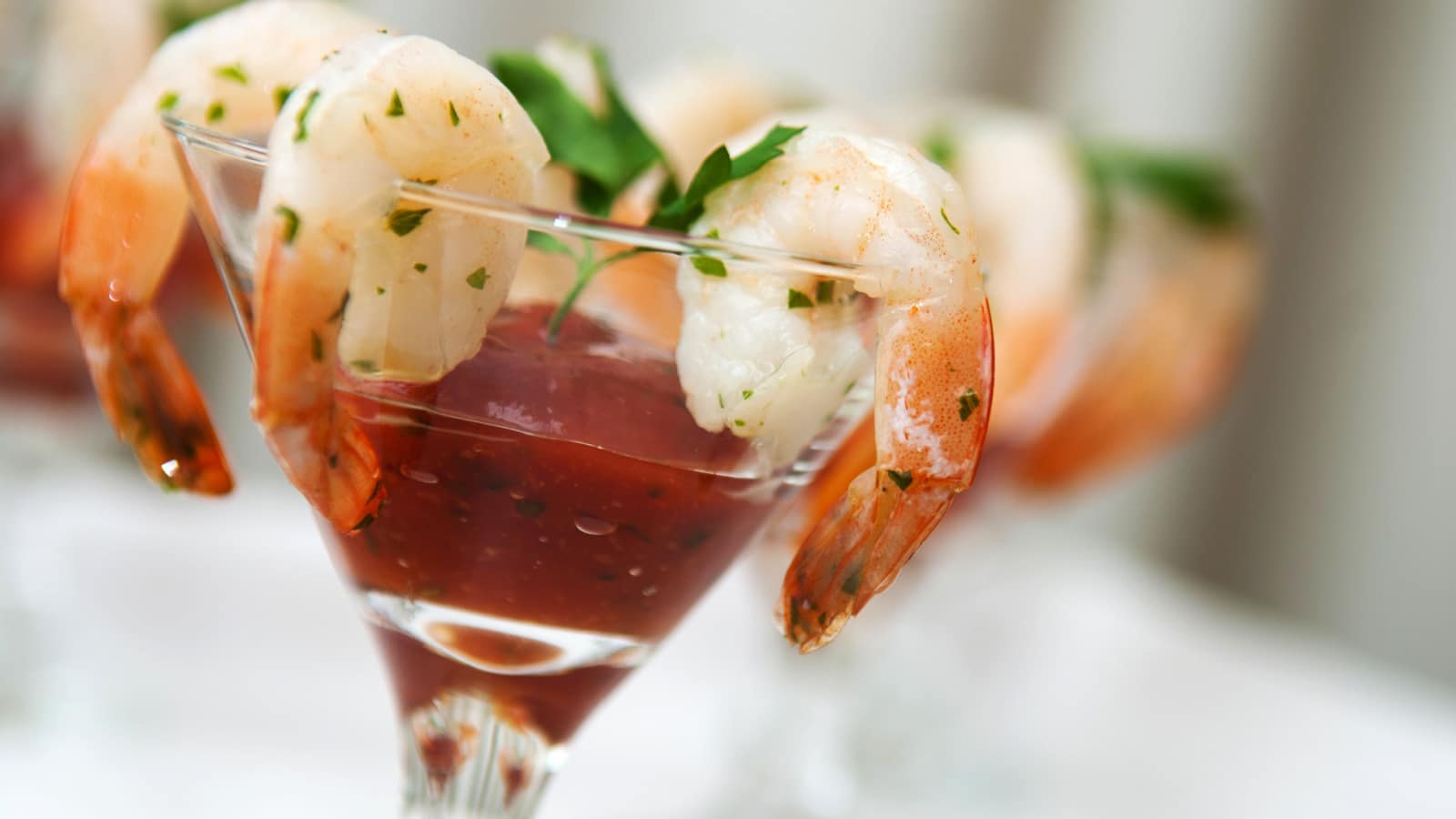 A Shrimp Cocktail is a dish of chilled cooked shrimp served with a tangy cocktail sauce. It's popular in Nevada, particularly in Las Vegas, as a classic appetizer in many restaurants and casinos.
New Hampshire: New England Boiled Dinner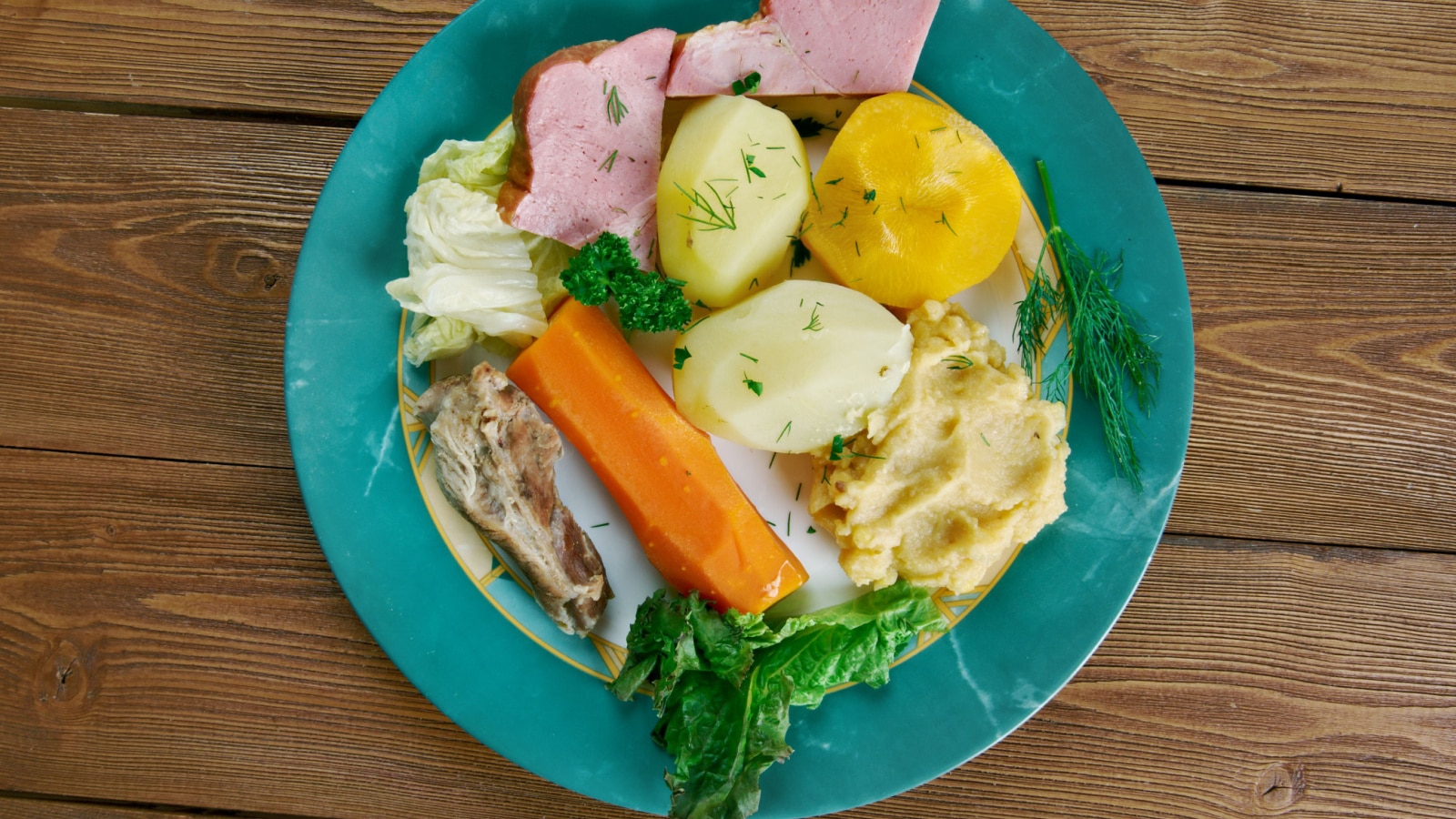 New England Boiled Dinner consists of corned beef or ham, potatoes, cabbage, and other vegetables boiled together. It's popular in New Hampshire, reflecting the state's New England heritage.
New Jersey: Taylor Ham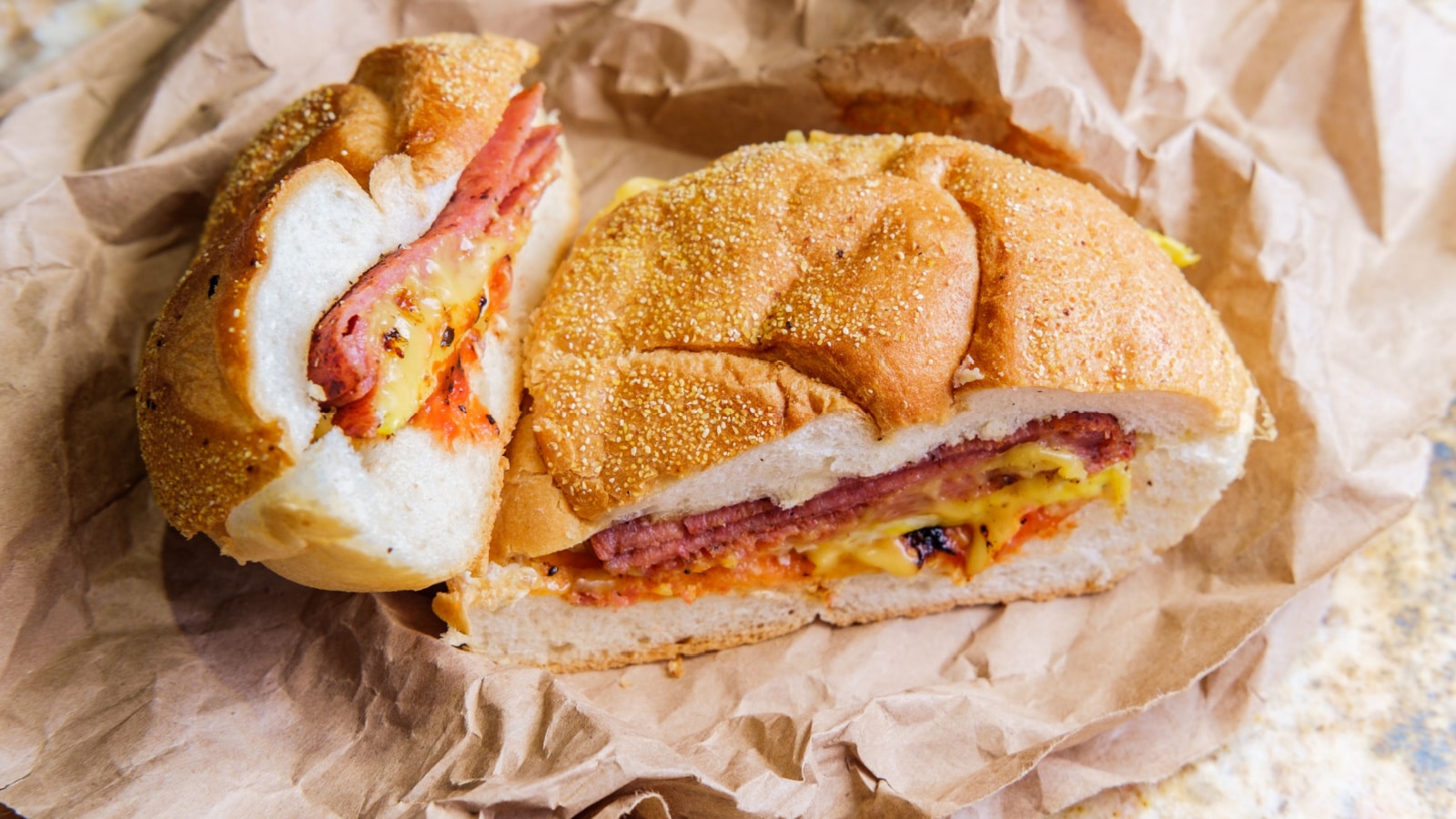 Taylor Ham, also known as Pork Roll, is a processed pork product often served as a breakfast meat or in sandwiches. It's popular in New Jersey, where it's a regional specialty and a staple in many breakfast diners.
New Mexico: Green Chile Stew
Green Chile Stew is a hearty and spicy soup made with green chile peppers, meat (such as pork or beef), and vegetables. It's popular in New Mexico, where green chiles are a central part of the state's cuisine.
New York: New York-style Pizza
New York-style pizza is a large, thin-crusted pizza with a foldable slice, often topped with a simple tomato sauce and mozzarella cheese. It's popular in New York, especially in New York City, as a quintessential grab-and-go meal.
North Carolina: North Carolina BBQ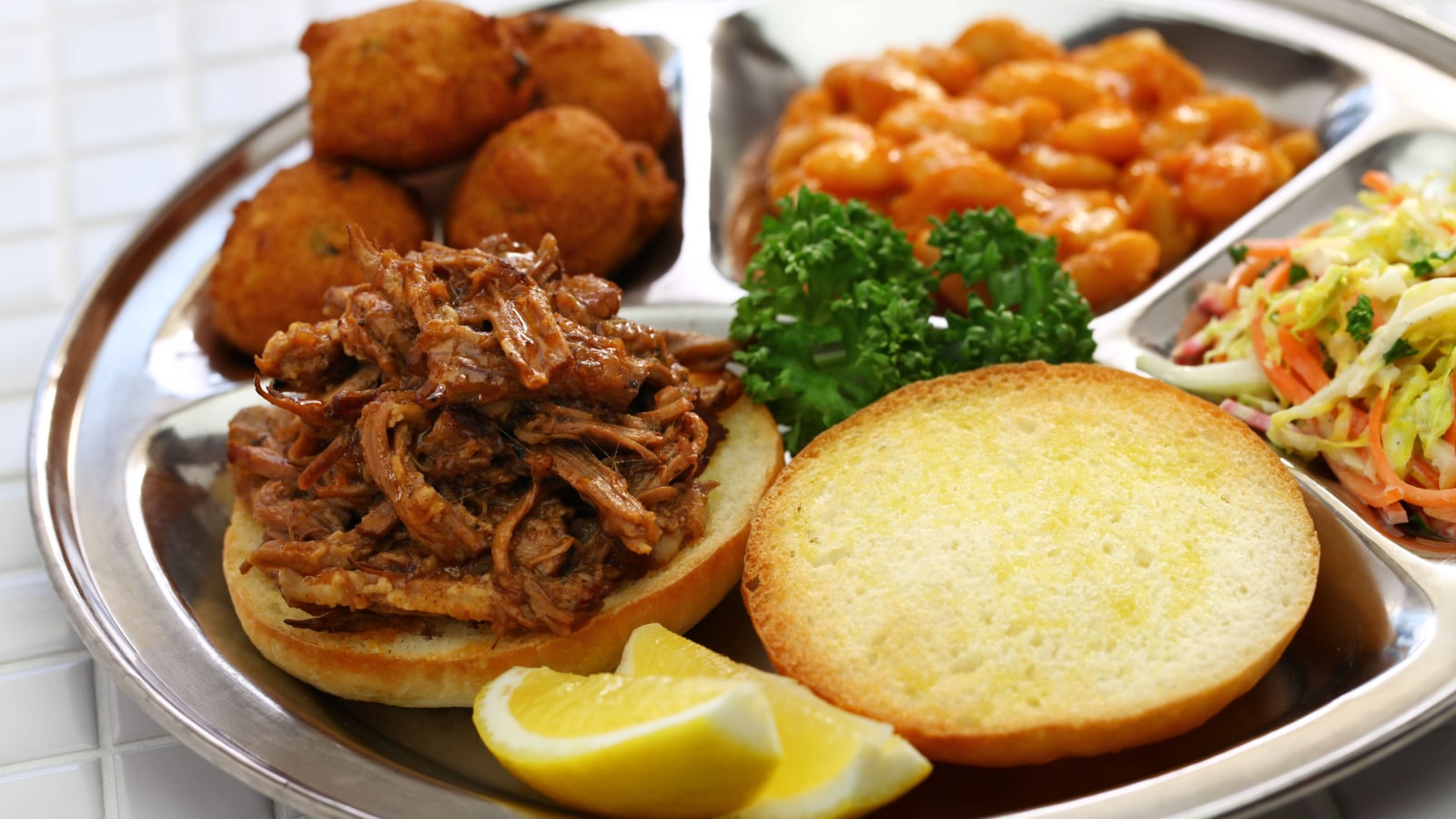 North Carolina BBQ features slow-cooked pork, usually pulled or chopped, and served with a vinegar-based sauce. It's popular in North Carolina due to its rich barbecue tradition and regional variations.
North Dakota: Knoephla Soup
Knoephla Soup is a hearty soup made with dumplings, potatoes, and sometimes chicken or vegetables. It's popular in North Dakota, where German-Russian immigrants brought this comforting dish.
Ohio: Cincinnati-style Chili
Cincinnati-style Chili is a unique chili dish seasoned with cinnamon, cloves, and served over spaghetti with cheese and onions. It's popular in Ohio, particularly in Cincinnati, where it has become a local favorite.
Oklahoma: Chicken-Fried Steak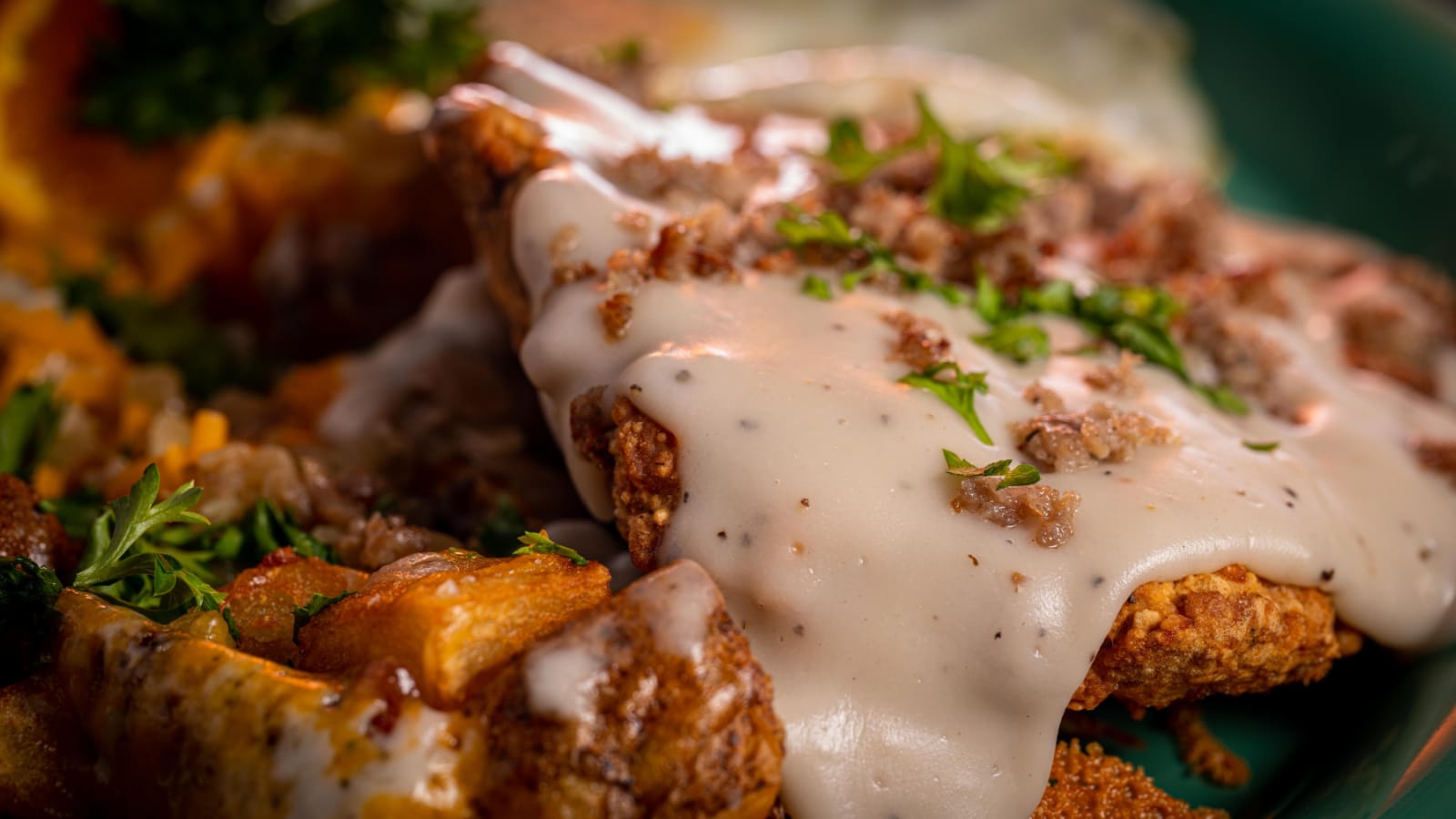 Chicken-Fried Steak is a breaded and fried steak, similar to fried chicken but made with beef. It's popular in Oklahoma as a hearty comfort food with Southern influences.
Oregon: Marionberry Pie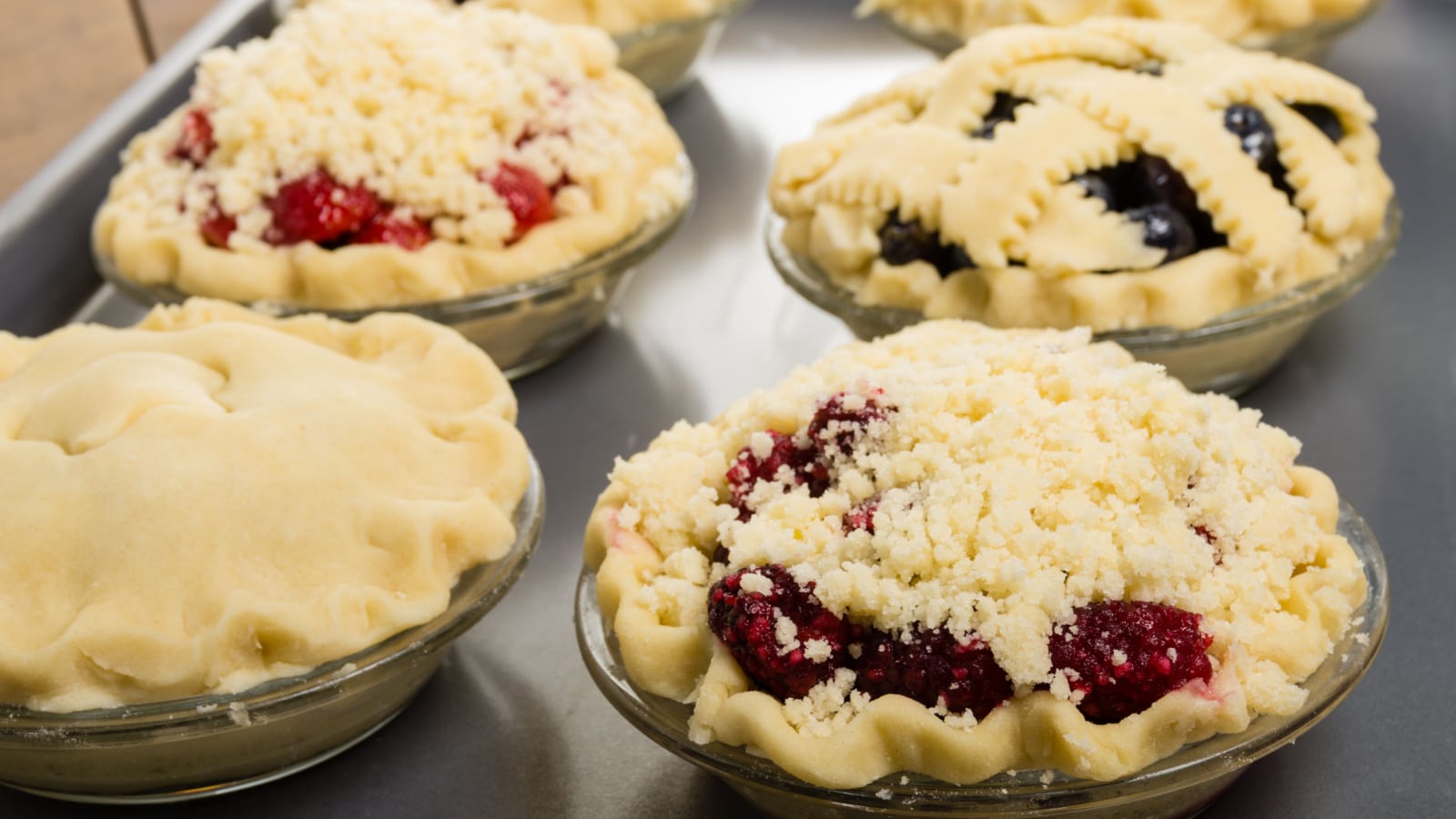 Marionberry Pie is a sweet and tart pie made with marionberries, a type of blackberry grown in Oregon. It's popular in Oregon due to the state's abundant berry production.
Pennsylvania: Philly Cheesesteak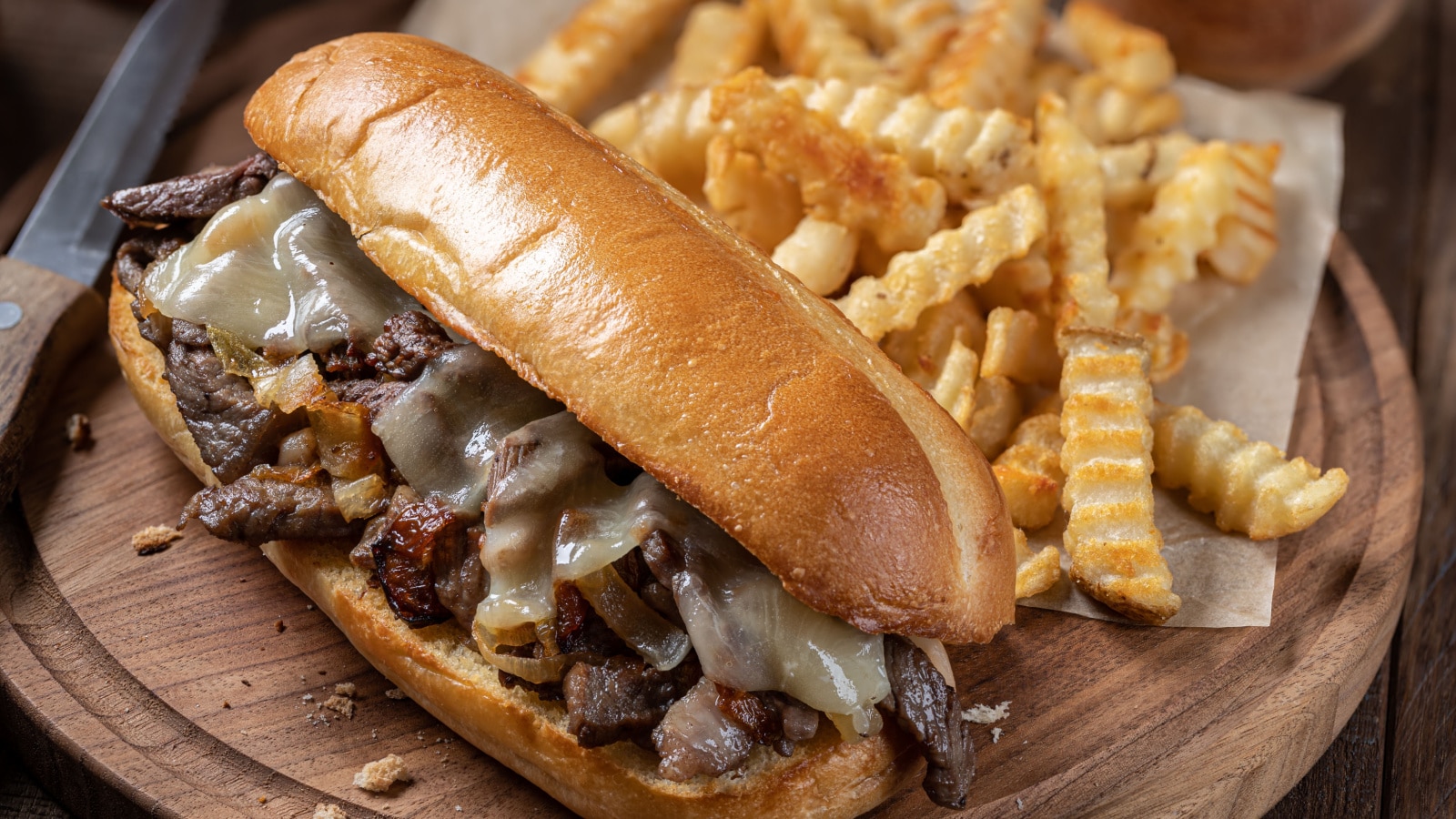 Philly Cheesesteak is a sandwich made with thinly sliced beefsteak, melted cheese, and often topped with onions and peppers. It's popular in Pennsylvania, particularly in Philadelphia, as an iconic street food.
Rhode Island: Rhode Island Clam Cake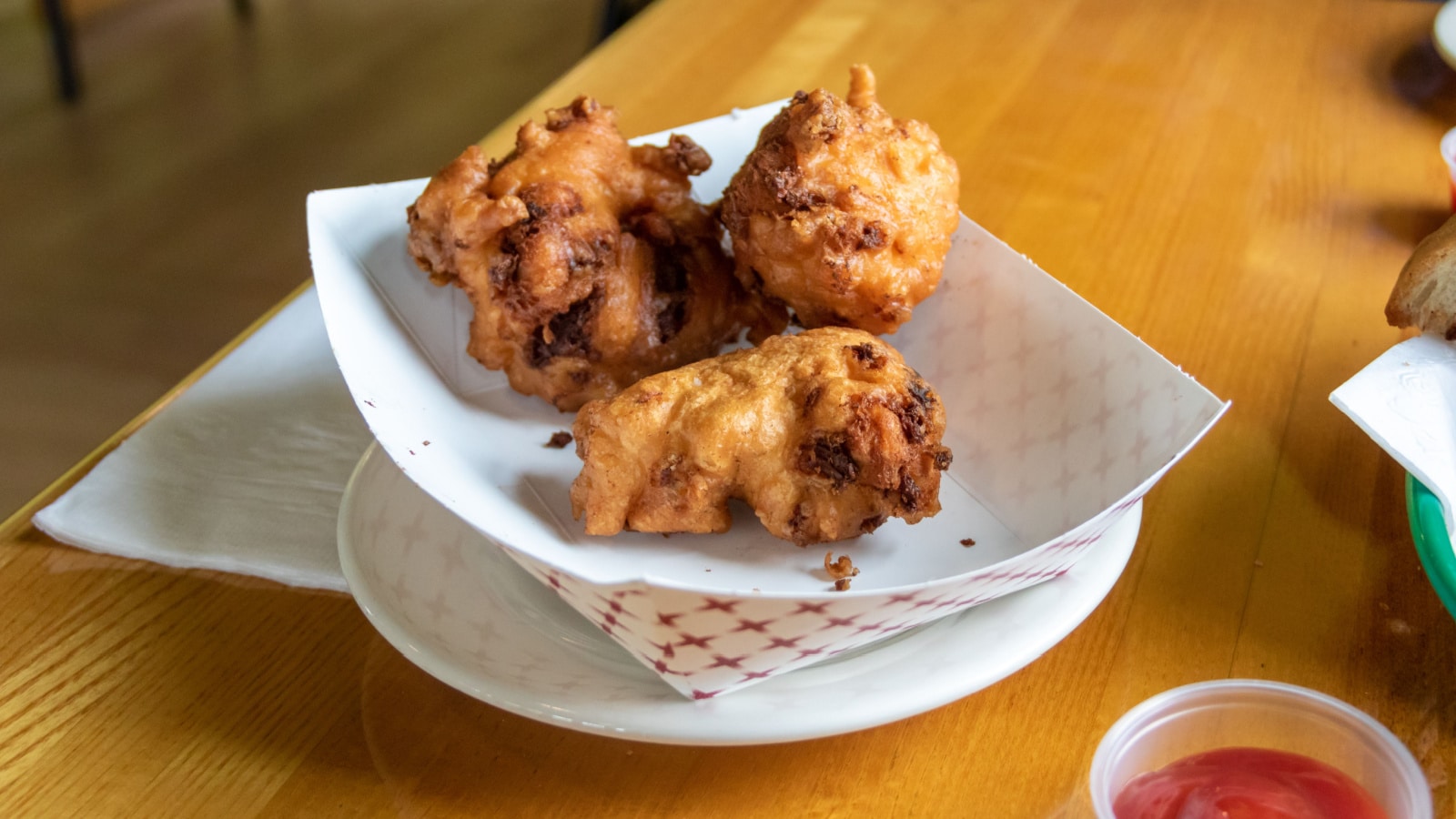 Rhode Island Clam Cake is a deep-fried dough ball with bits of clam, served as a popular snack in Rhode Island's coastal regions.
South Carolina: Shrimp and Grits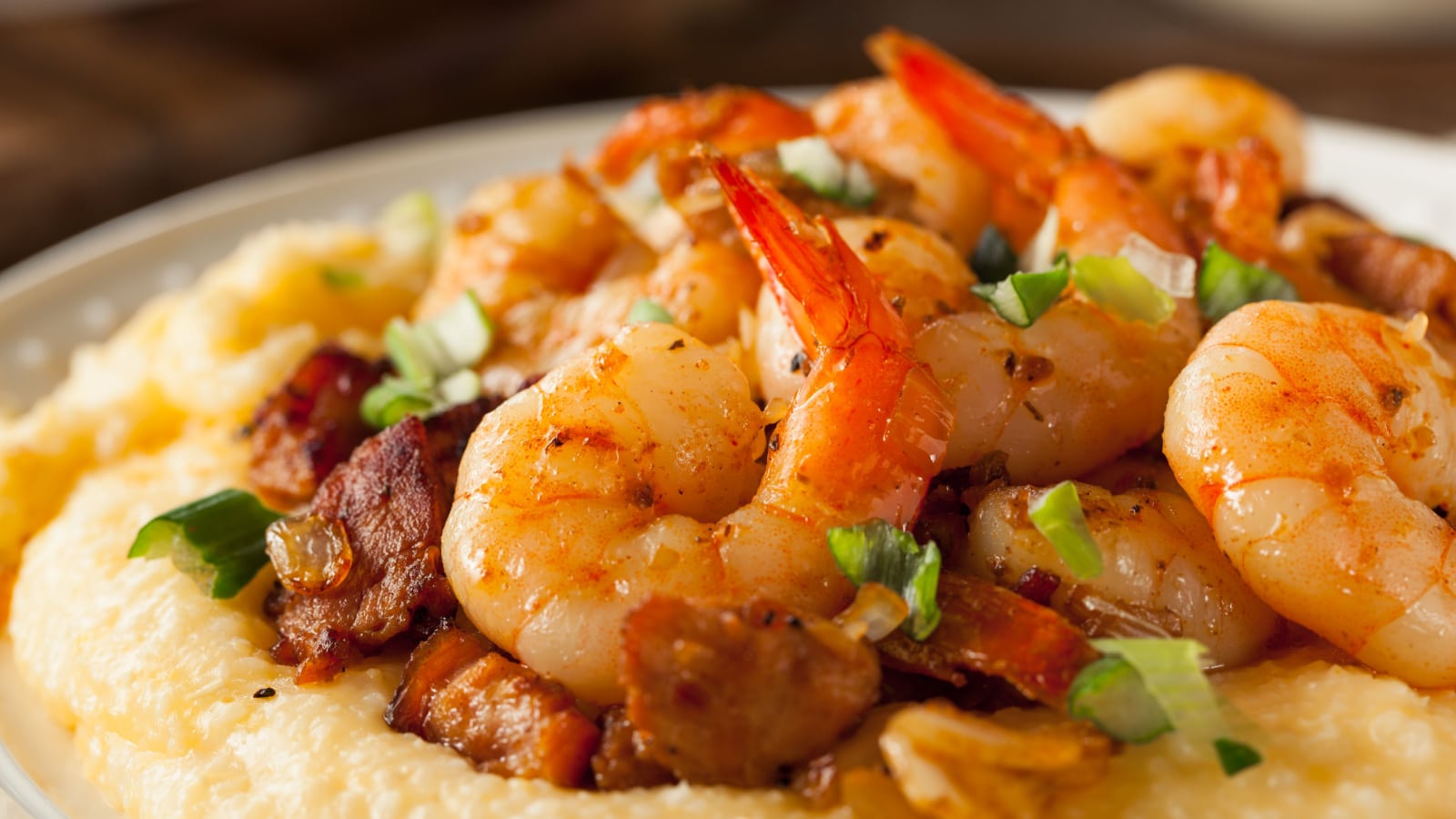 Shrimp and Grits is a dish made with sautéed shrimp served over creamy, buttery grits. It's popular in South Carolina, reflecting the state's coastal heritage and love for seafood.
South Dakota: Chislic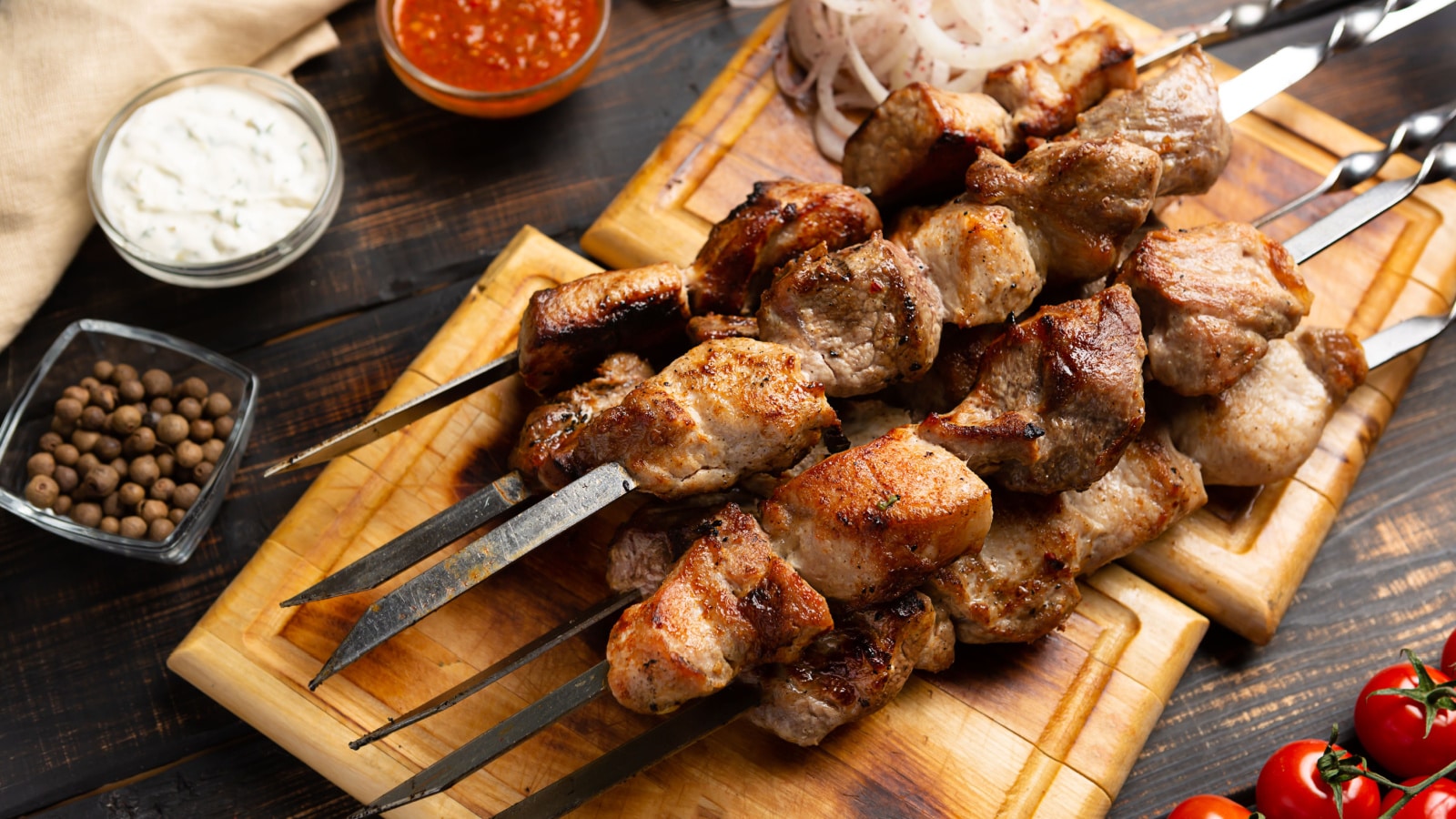 Chislic is a dish of cubed and grilled meat, traditionally made with lamb or beef, seasoned with garlic salt. It's popular in South Dakota, particularly during festivals and gatherings.
Tennessee: Hot Chicken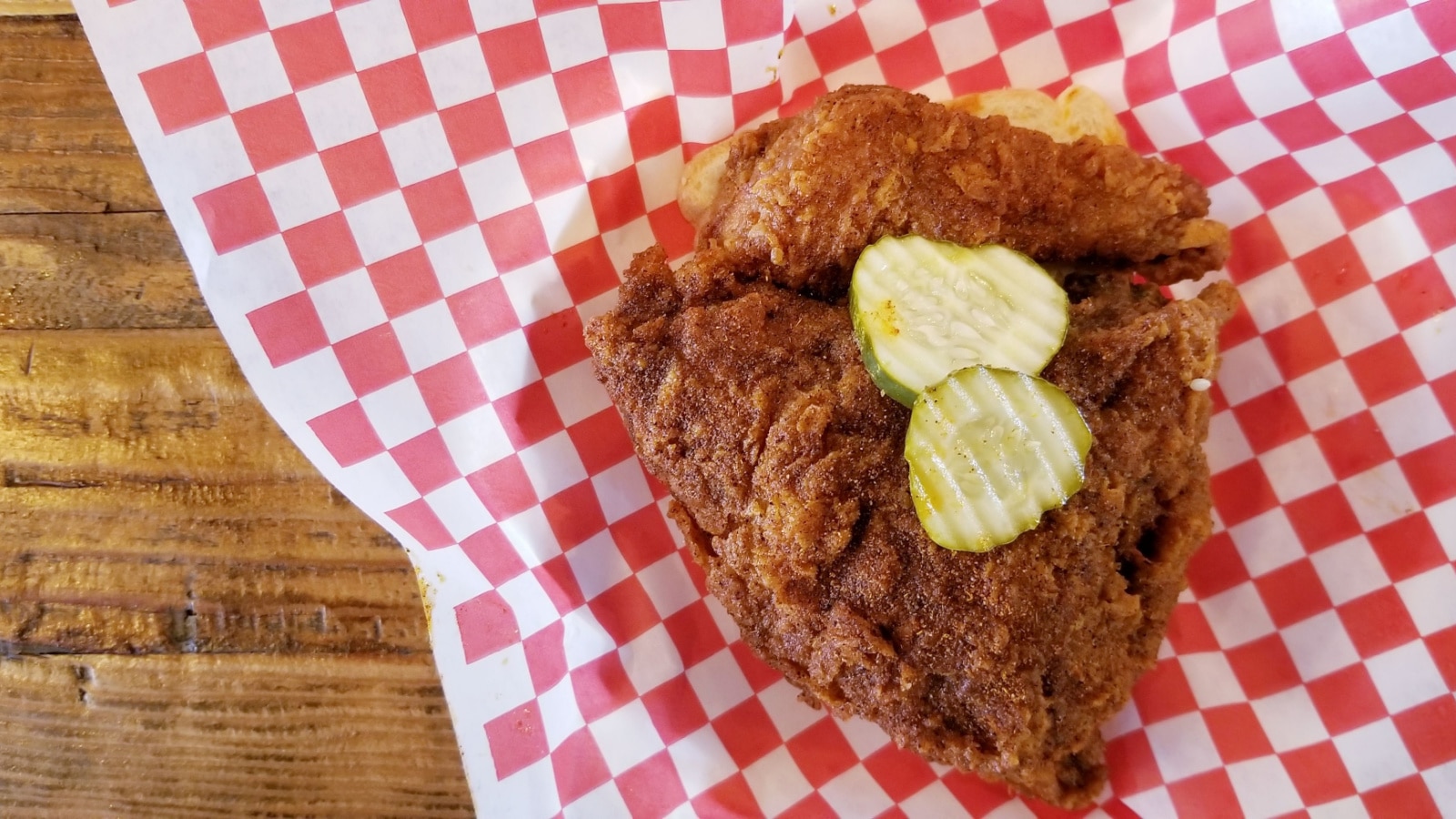 Hot Chicken is a spicy fried chicken dish seasoned with cayenne pepper and served with pickles and white bread. It's popular in Tennessee, especially in Nashville, where it was invented.
Texas: Tex-Mex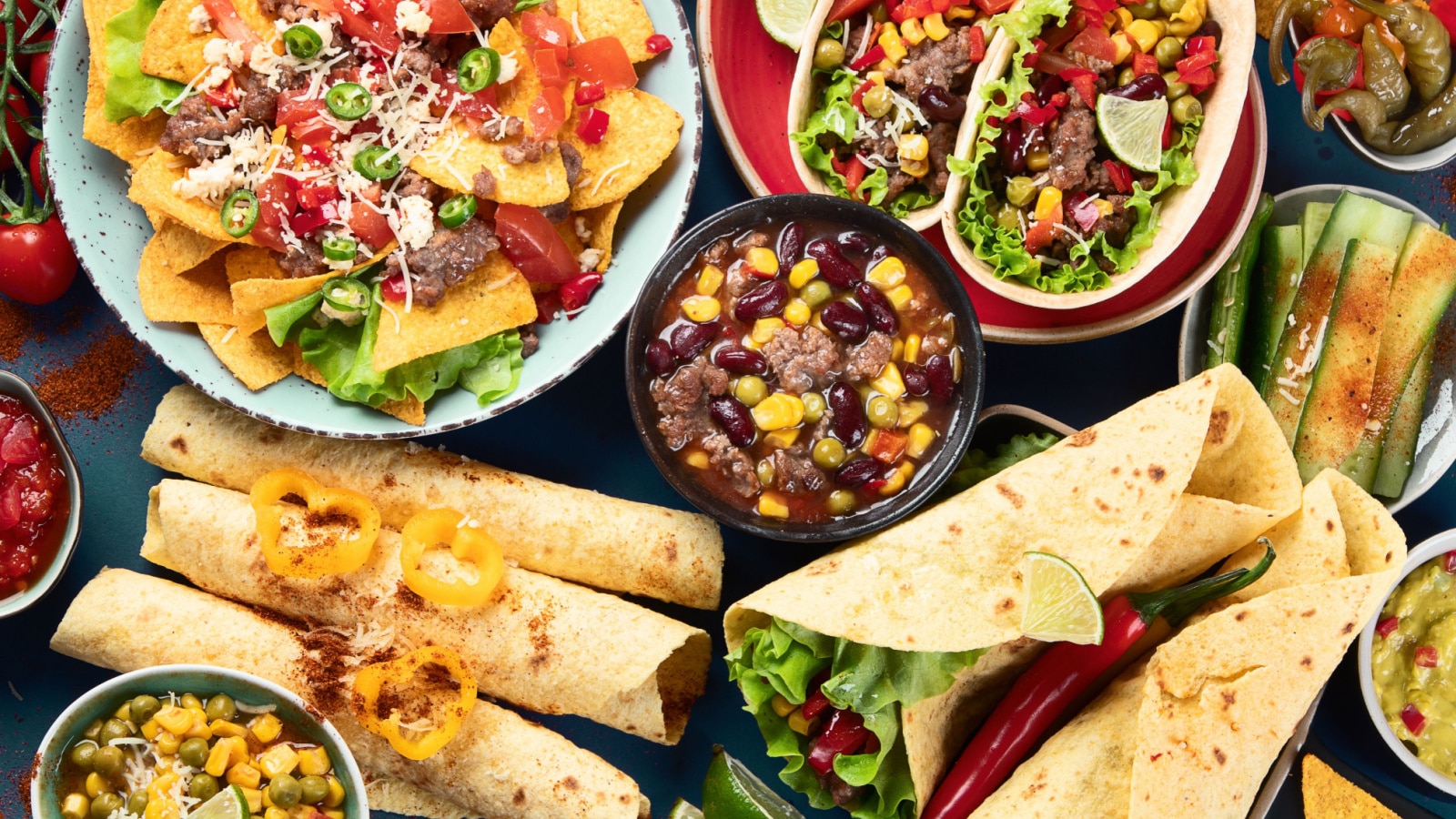 Tex-Mex cuisine is a blend of Texan and Mexican flavors, with dishes like fajitas, enchiladas, and chili con carne being particularly popular in Texas.
Utah: Funeral Potatoes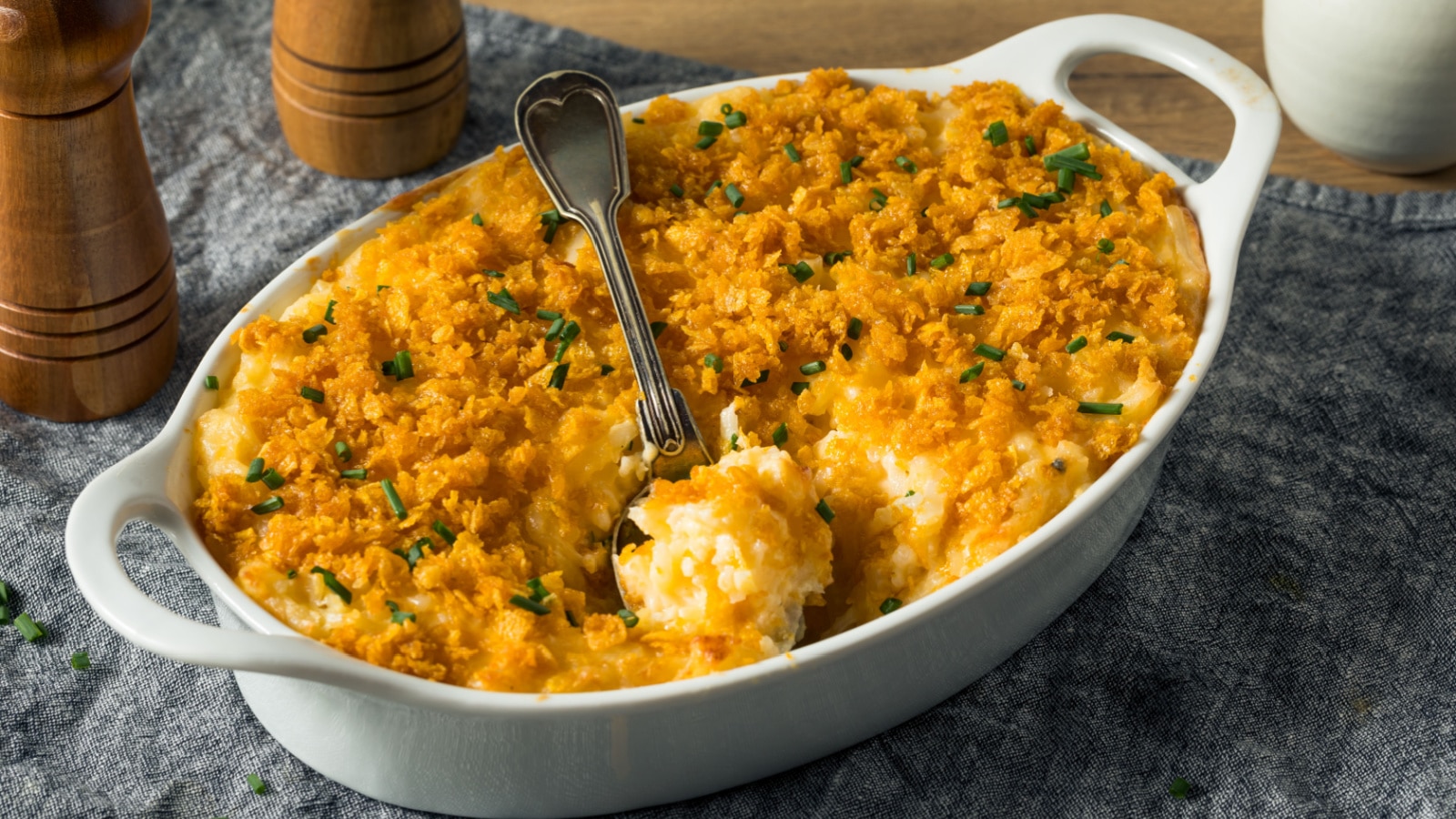 Funeral Potatoes is a casserole dish made with potatoes, cheese, and a creamy sauce, often served at funerals and potluck gatherings. It's popular in Utah as a comforting and easy-to-make dish.
Vermont: Maple Syrup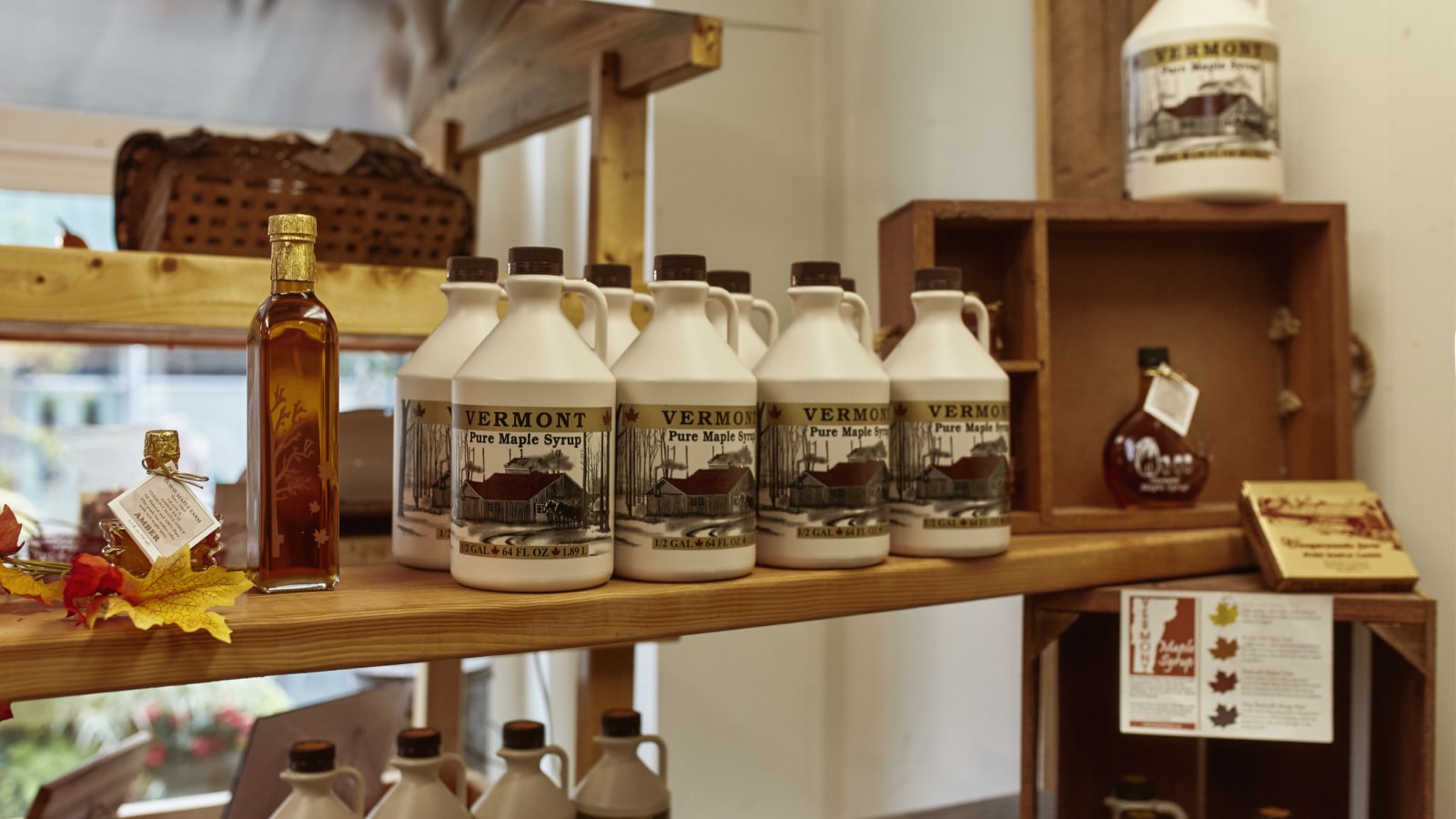 Maple Syrup from Vermont is a sweet, sugary syrup made from the sap of sugar maple trees. It's popular in Vermont, where the state's abundant maple trees make it a significant part of the local culture.
Virginia: Virginia Ham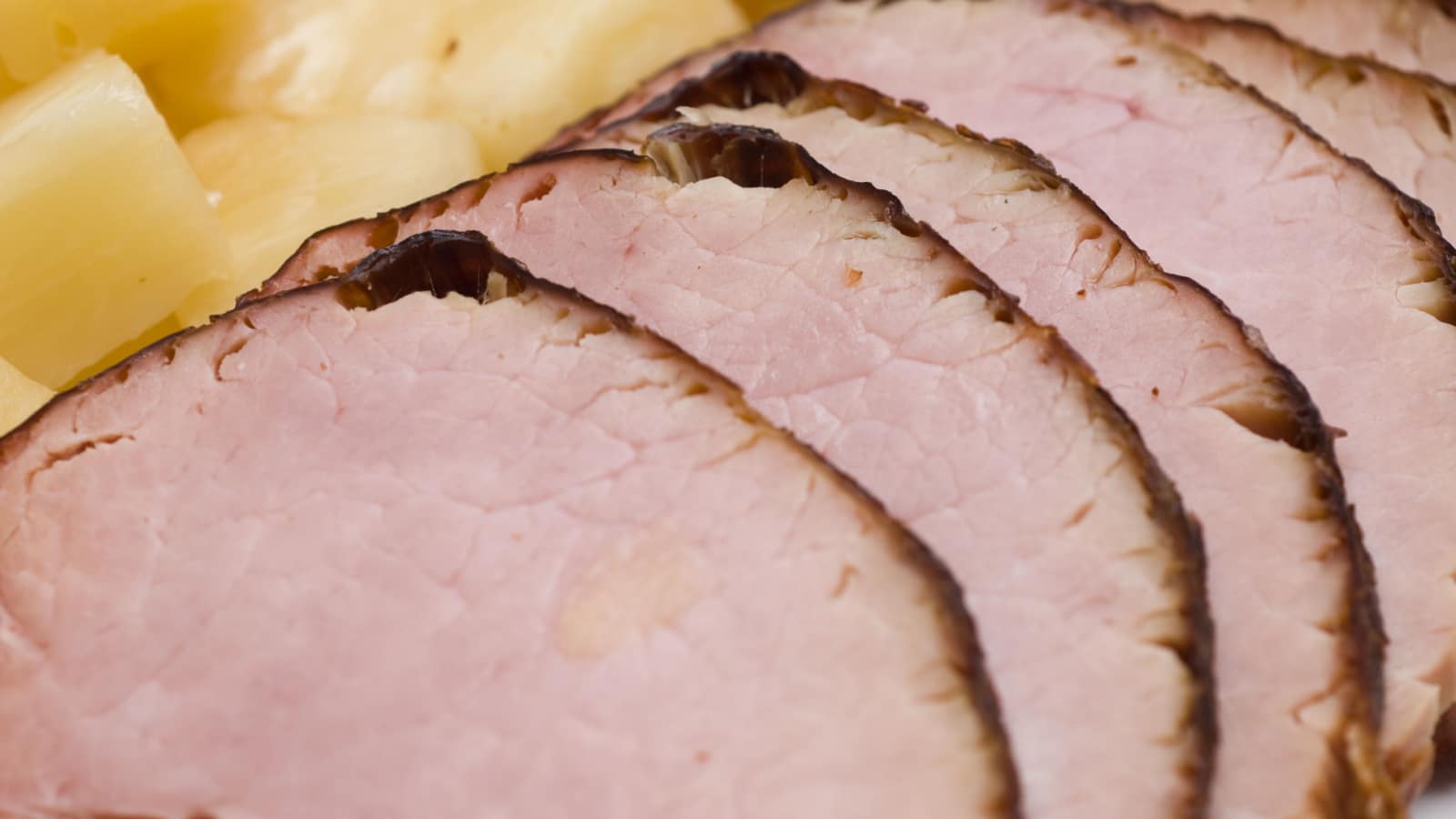 Virginia Ham is a dry-cured ham that has been aged and is known for its distinctive flavor. It's popular in Virginia, particularly in Smithfield, where it's a local specialty.
Washington: Pacific Salmon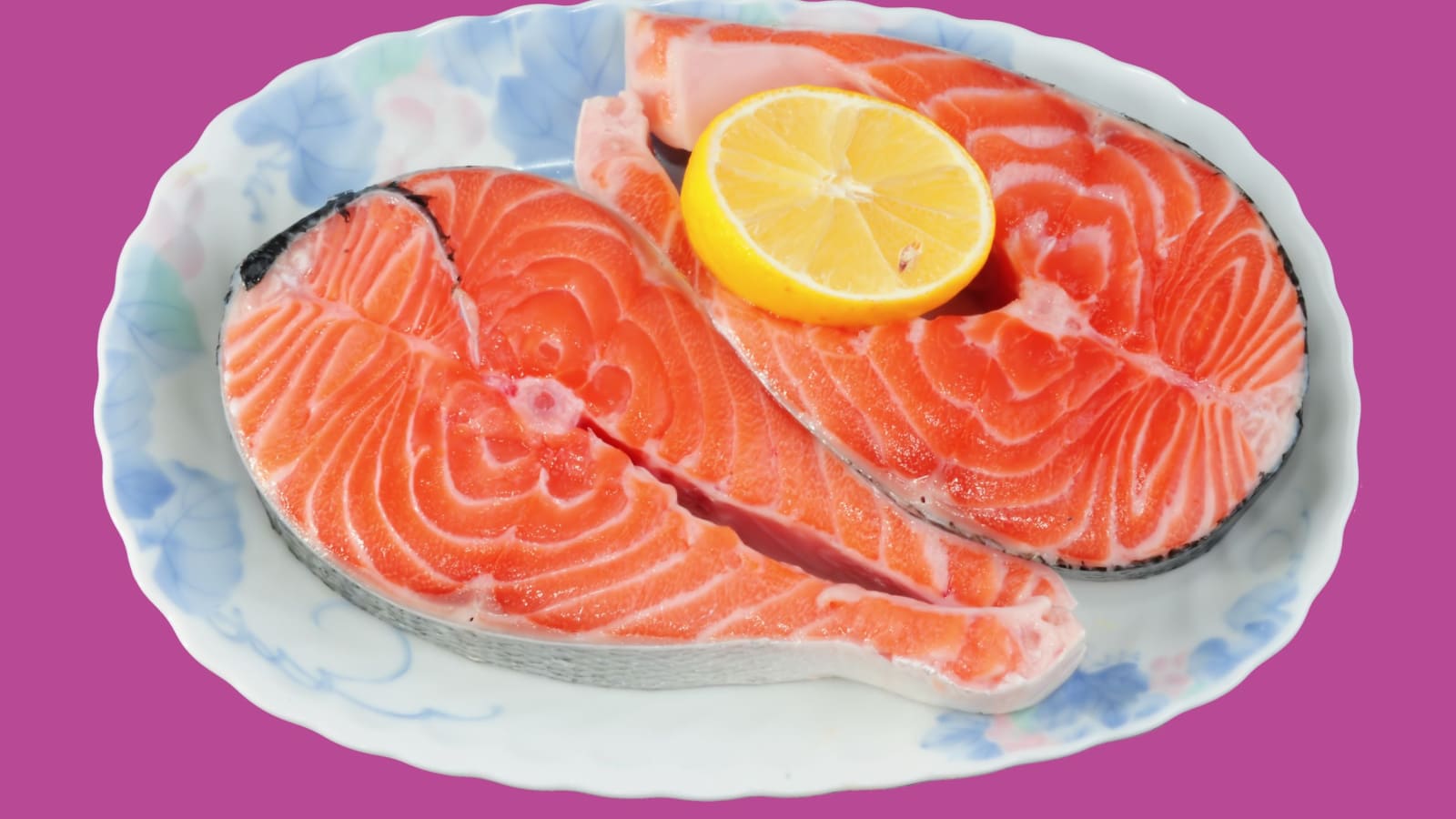 Pacific Salmon is a type of wild-caught salmon found in the waters of the Pacific Northwest. It's popular in Washington, reflecting the state's connection to the ocean and fishing heritage.
West Virginia: Pepperoni Roll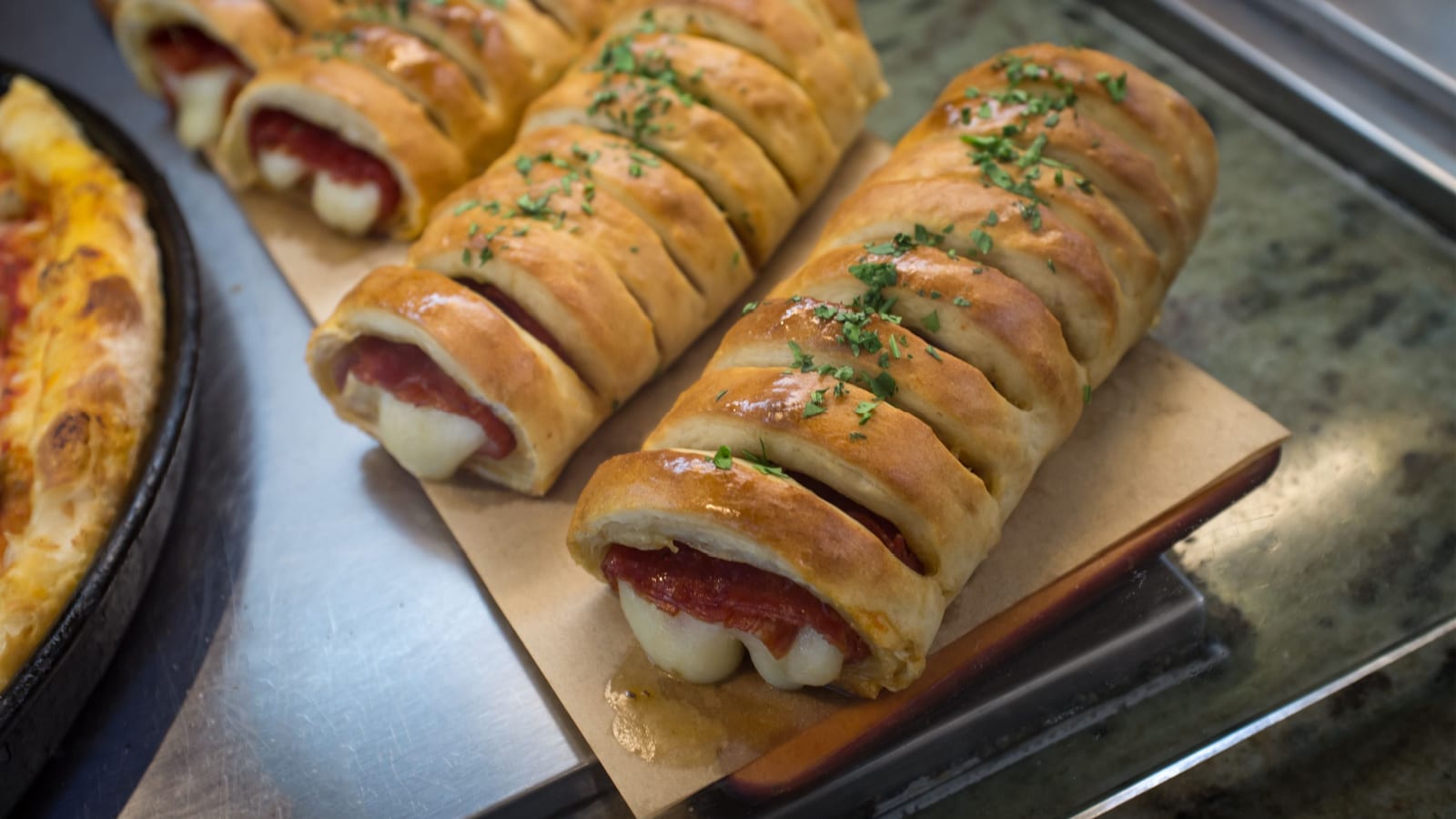 Pepperoni Roll is a soft roll filled with pepperoni, often served as a portable snack or quick meal. It's popular in West Virginia, where it was invented to cater to the state's coal miners.
Wisconsin: Cheese Curds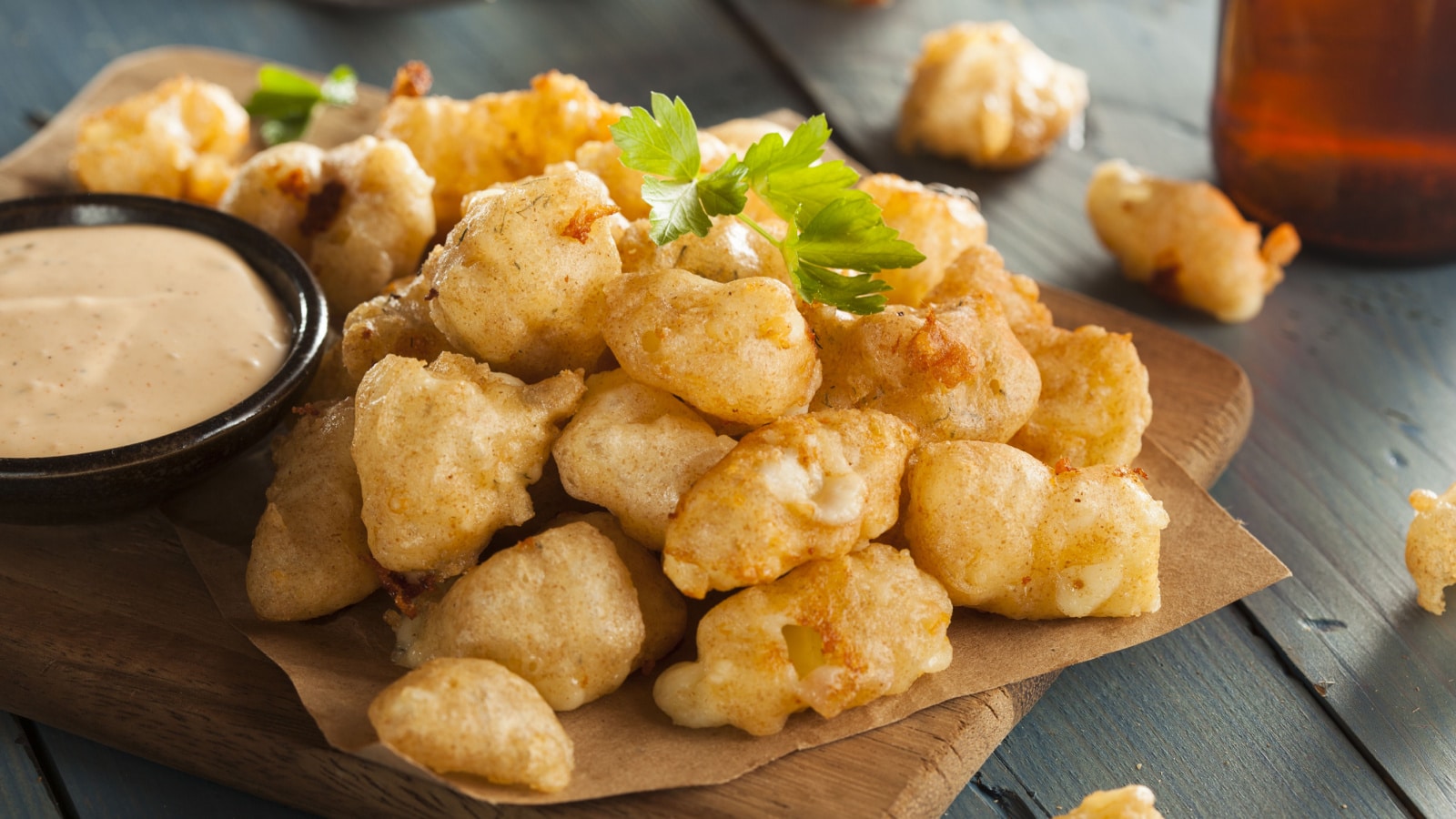 Cheese curds are bite-sized pieces of cheese, usually cheddar, that have been separated from the whey during the cheese-making process. They can be served fresh or deep-fried. If served fresh, they will "squeak" when you eat them. They're popular in Wisconsin, a state known for its dairy industry.
Wyoming: Buffalo Burger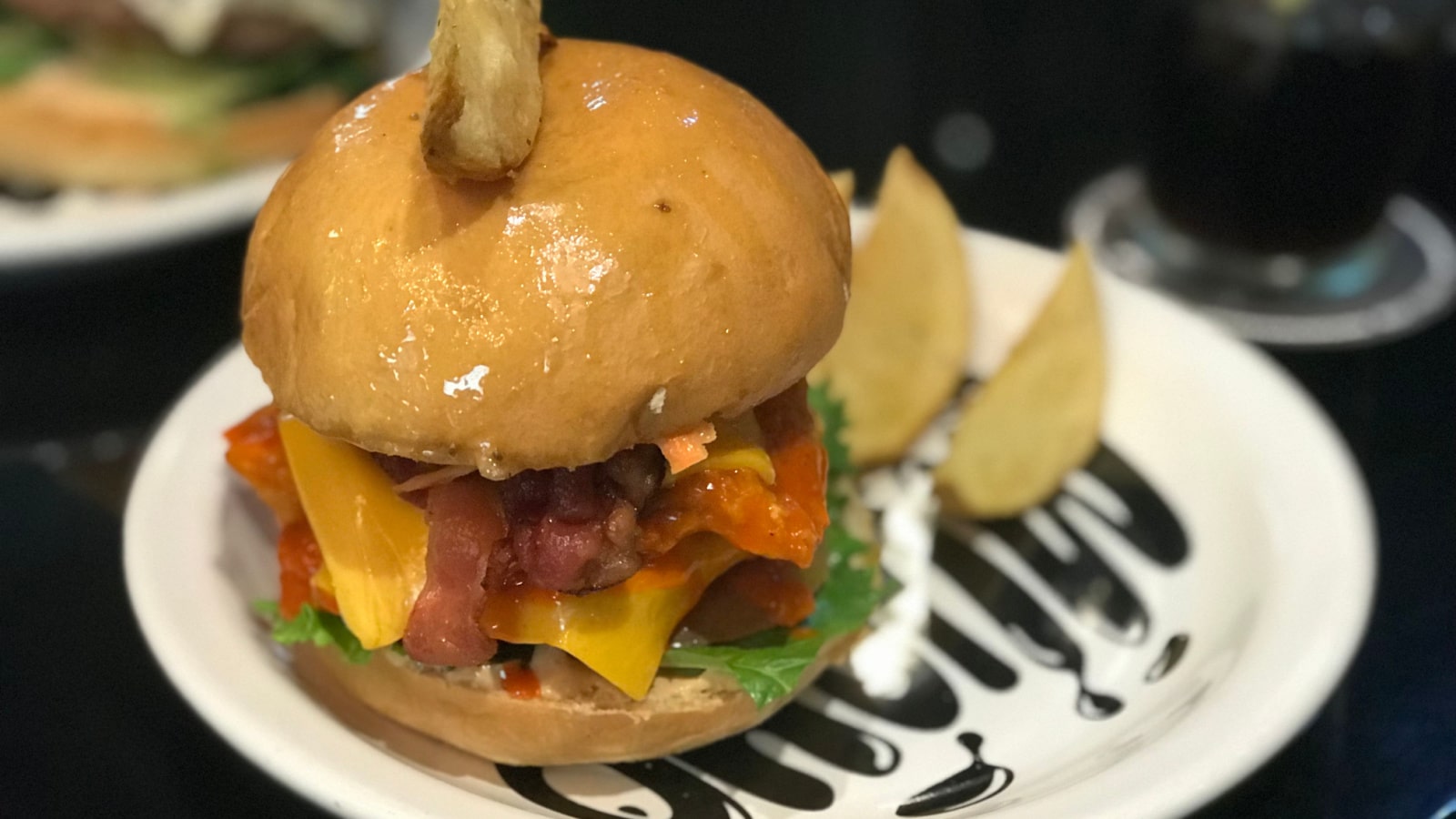 Wyoming is known for its vast ranch lands and abundant wildlife, and buffalo (also known as bison) have been an important part of the state's history and culture.
Buffalo burgers are made from lean buffalo meat, which has a rich, slightly sweet flavor. The meat is lower in fat and cholesterol compared to beef, making it a healthier alternative while still being delicious and flavorful.
Many restaurants and eateries throughout Wyoming serve buffalo burgers, often prepared with various toppings and served with local ingredients. Trying a buffalo burger allows you to experience a unique taste of the region while also supporting the state's local ranching industry and sustainable food practices.
12 of the Best 'American' Foods According to Non-Americans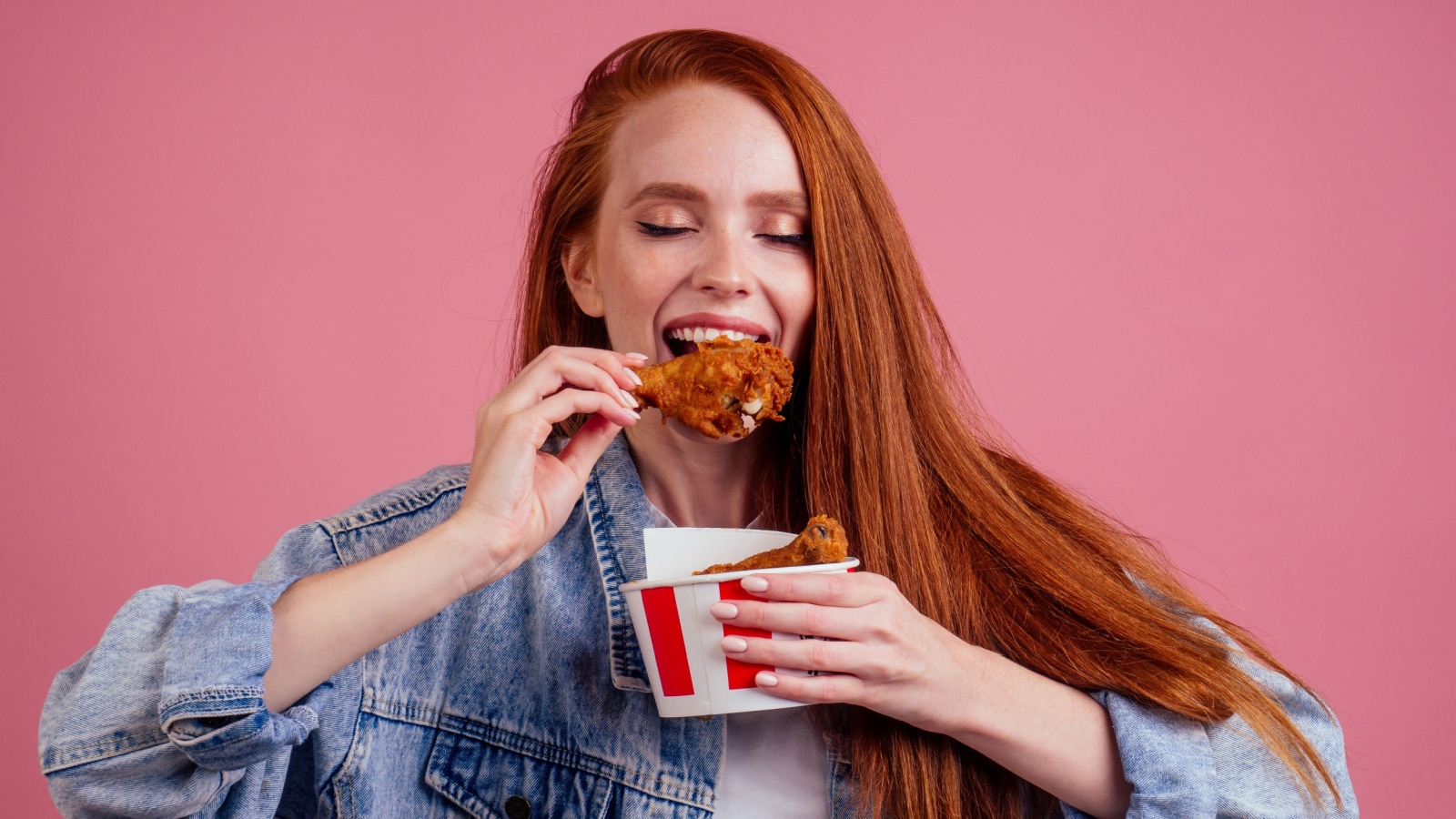 Unveiling the essence of American cuisine from an outsider's perspective, these 12 mouthwatering delights showcase the country's rich and fascinating culinary heritage.
Read more: 12 of the Best 'American' Foods According to Non-Americans
14 of the Most "American" Cooking Ingredients and Foods
When it comes to American culture, food is undoubtedly a major player. With a melting pot of different cultures, it's no surprise that American cuisine boasts an impressive array of ingredients and flavors. But have you ever wondered what the quintessential American cooking ingredient or food is? Well, wonder no more! I scoured the depths of an online platform to gather insights from different people and compiled a list of the top contenders. Let's explore the most American cooking ingredient and foods!
Read more: 14 of the Most "American" Cooking Ingredients and Foods
The Most Beautiful Places to Visit in Each of the 50 U.S. States, According to Travelers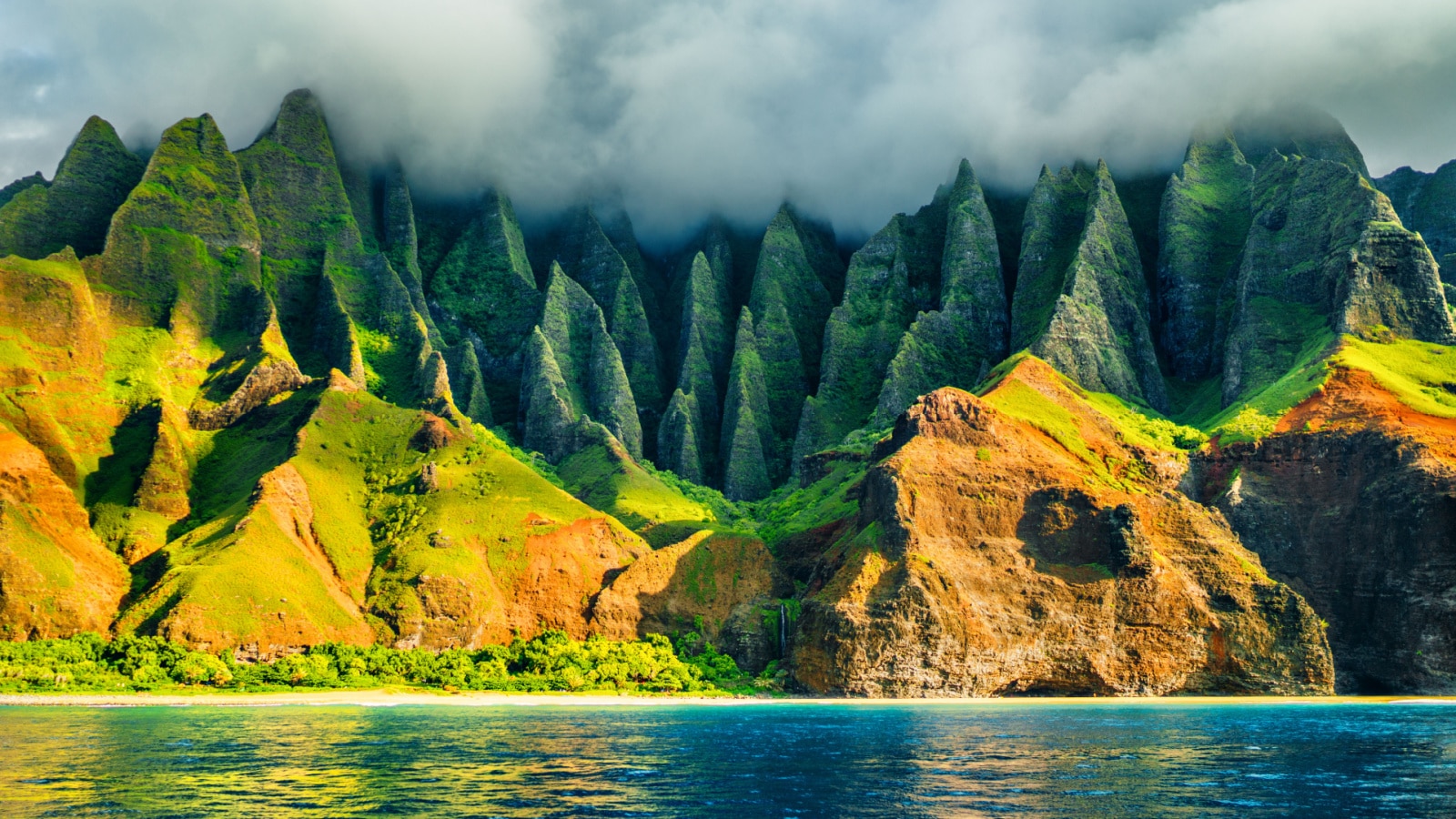 From the lush forests of Oregon to the majestic peaks of Colorado and the idyllic beaches of Florida, each of the 50 states boasts its own array of extraordinary destinations.
Read more: The Most Beautiful Places to Visit in Each of the 50 U.S. States, According to Travelers
The Weirdest Tourist Attractions in Each of the 50 U.S. States, According to Travelers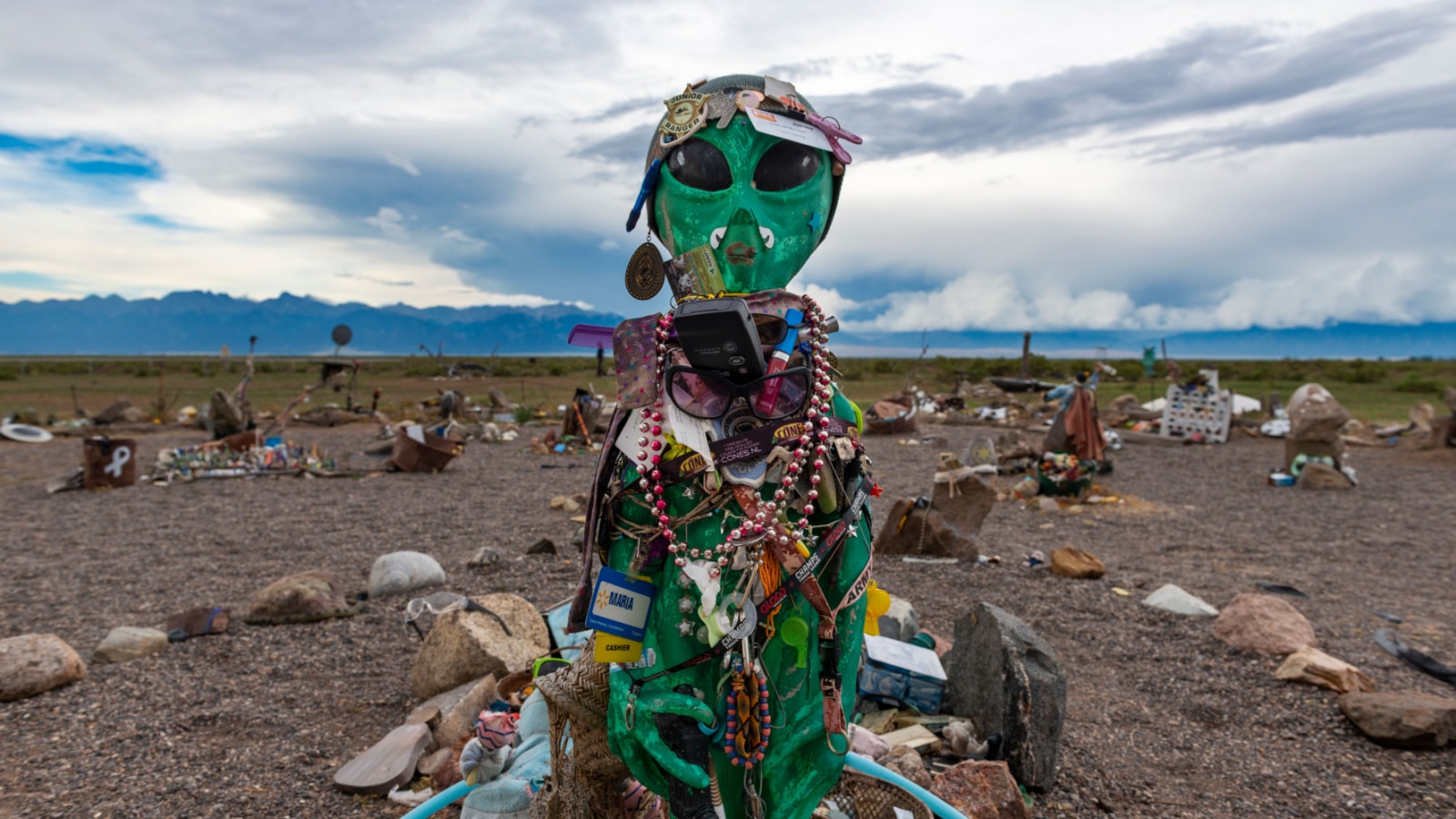 From colossal balls of twine to peculiar museums, the 50 states that make up this diverse nation are home to an array of strange and offbeat tourist attractions.
Read more: The Weirdest Tourist Attractions in Each of the 50 U.S. States, According to Travelers
15 of the Most Expensive Hotels in The World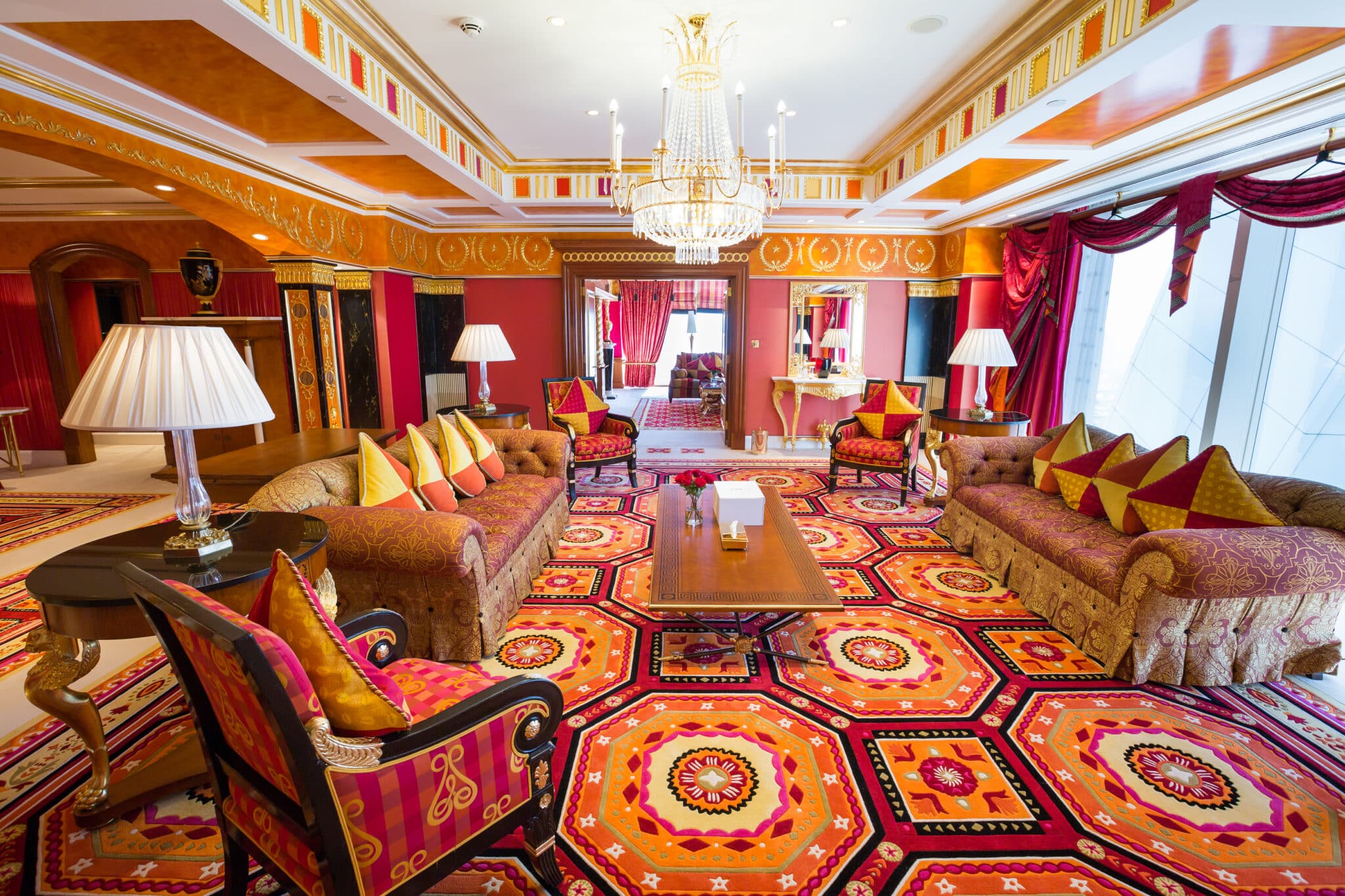 These hotels go to considerable lengths to provide their guests with the most luxurious accommodations and conveniences, from private islands to penthouse apartments. Let's have a look at the top 15 most expensive hotels in the world, each of which provides a one-of-a-kind and amazing experience that will leave an everlasting mark.
Read more: 15 of the Most Expensive Hotels in The World