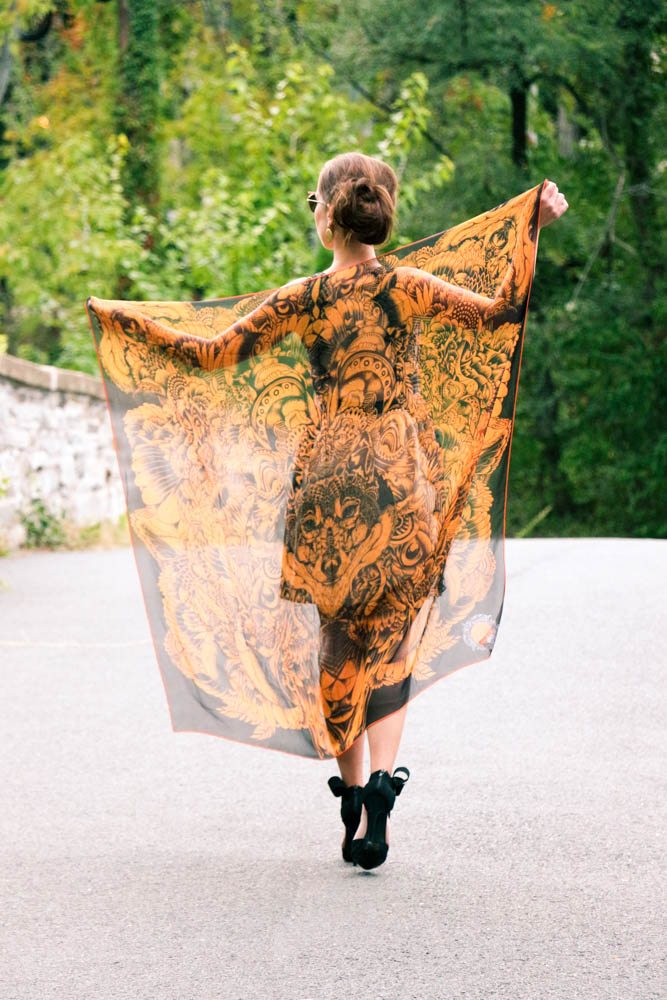 Can you tell how much fun I was having while wearing this scarf? From the moment I put it on I felt the need to pretend I was a butterfly, and also make airplane sounds because it seemed appropriate. Haha. (And what sounds do butterflies make anyways?)
The detail that is on this Demon TZ scarf is astonishing. The name of the scarf is "Husky in Mirror," which is appropriately named considering the husky faces woven into it. Did you notice them? When I took it out of the package, I didn't initially notice the husky faces on it. However, after looking at these photos, there are several of them..depending on the part of the scarf you are looking at and how long you stare at it (the second from the last photo shows this off the best). It's like those inkblot paintings, where some people will see one husky face and someone will see another husky face. It's incredible.. and so unique!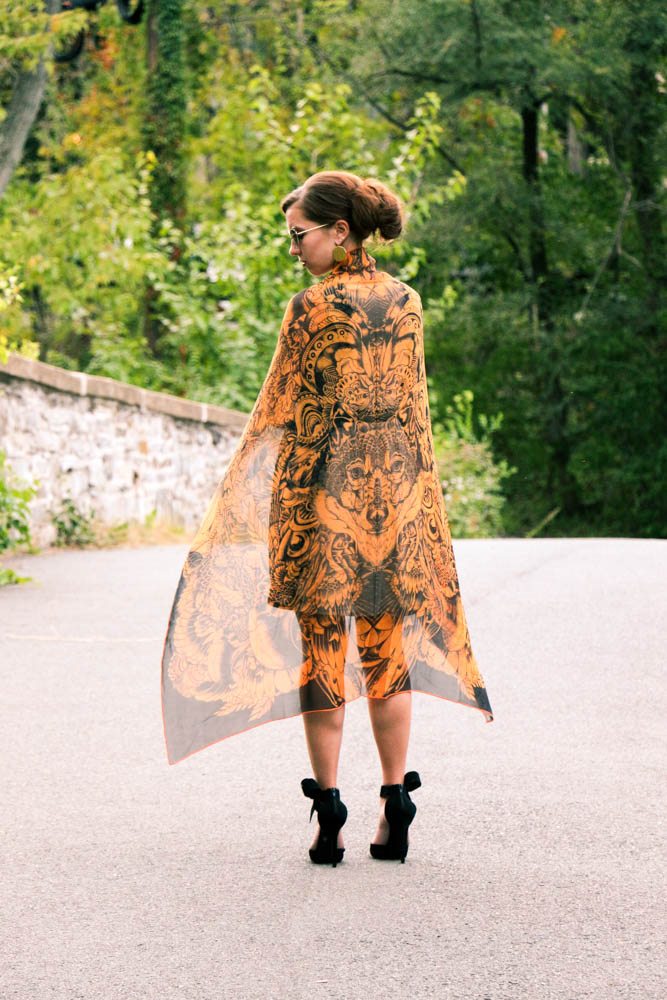 There are so many ways to wear this scarf, I could've had my husband taking photos of just this scarf for hours. Alas though, we had dinner reservations and time was not on our side. So, I settled for opening the scarf up to show off its beautiful print (and running around pretending I was a butterfly, or a superhero wearing a cape..or maybe both). I had initially planned on just wrapping the scarf around my neck. However, the evening took an unexpected turn into fall-like temperatures and I ended up using the scarf as a shawl. I just love the versatility of it!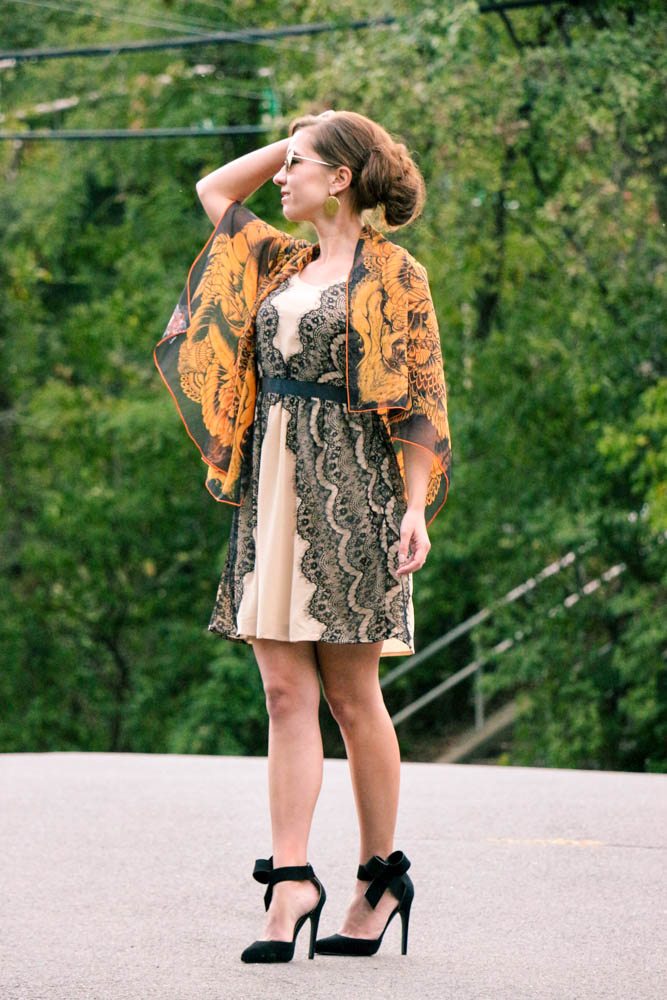 The dress I am wearing is actually my Stylish Surprise dress from the most recent ModCloth shopping event! I would say this one was indeed another success. I love this dress and how perfectly it went with my scarf. If you haven't heard of the ModCloth Stylish Surprise, click here to learn more (it's so much fun!).
These heels also are a new favorite wardrobe staple of mine. I mean, seriously, could they get any cuter? And they are incredibly affordable – only $30 from PinkBasis! For that price, I was expecting them to just be OK quality and the chances of me walking in them were slim…however, I was completely wrong. When I tried them on I was blown away by how well-made they are.. and the suede-like material is beautiful. The most incredible part, though, is that I am actually able to walk in them! And these are the tallest heels I own, coming in at about 4.75 inches. (Holy cow!) I couldn't believe with that height that they were actually not too difficult to walk in, and my feet weren't screaming in pain at the end of the night. Don't get me wrong, I won't be breaking any speed records in them..but as far as heels go, these are pretty comfortable.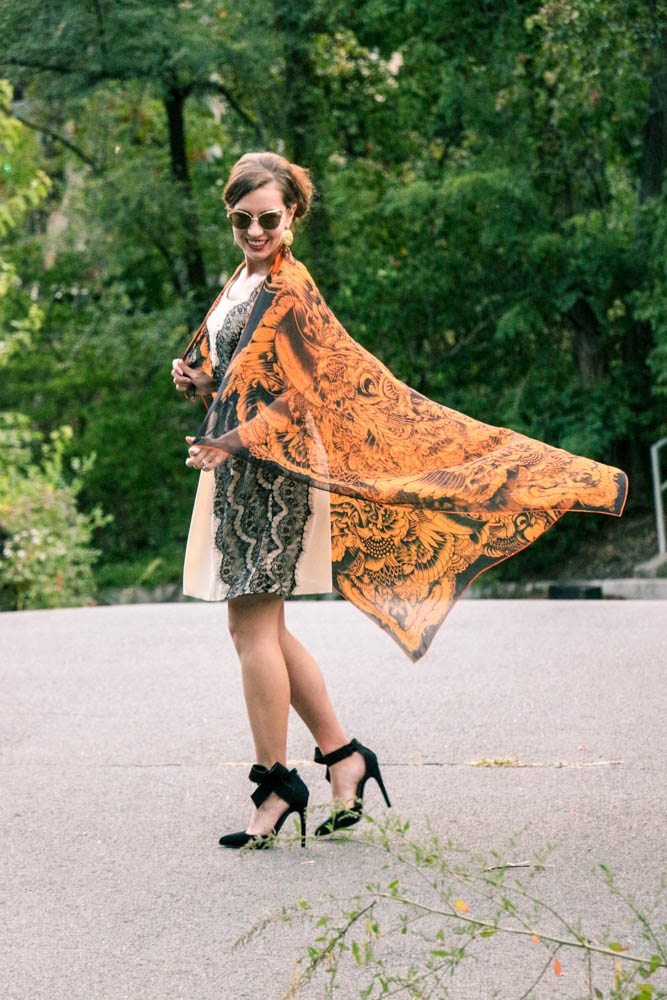 Usually, with this type of heel (one with an ankle strap), I have all kinds of sizing issues..because I have weirdly small ankles and really wide feet. Granted, these heels are more narrow than my enormous feet would like..but the ankle strap is genius! You can't see it in the photos, but it's stretchy! It's so comfortable, and it fits my ankles (a first for me!).
Wow, this turned into a bigger rant than expected..but I had so many things I had to proclaim my love for in this post! And I didn't even talk about my sunglasses (which my husband has pointed out I wear too often in my outfit photos! Whoops! But I love them, haha.)
Does anyone else have an outfit where every single part of it is just perfection? Let me know in the comments!
Where to find it:
Scarf: c/o* Demon TZ (Similar options here)
Dress: ModCloth Stylish Surprise (similar here)
Heels: c/o* Pink Basis (Sold out. Similar here.)
Sunglasses: Old (Similar here)
*c/o = courtesy of, meaning the company gave me this item to be used on my blog, and I did not pay for it. All opinions are my own, and I am not being compensated for a positive review of the product.