The Perfect, Vintage-Inspired Dress for Spring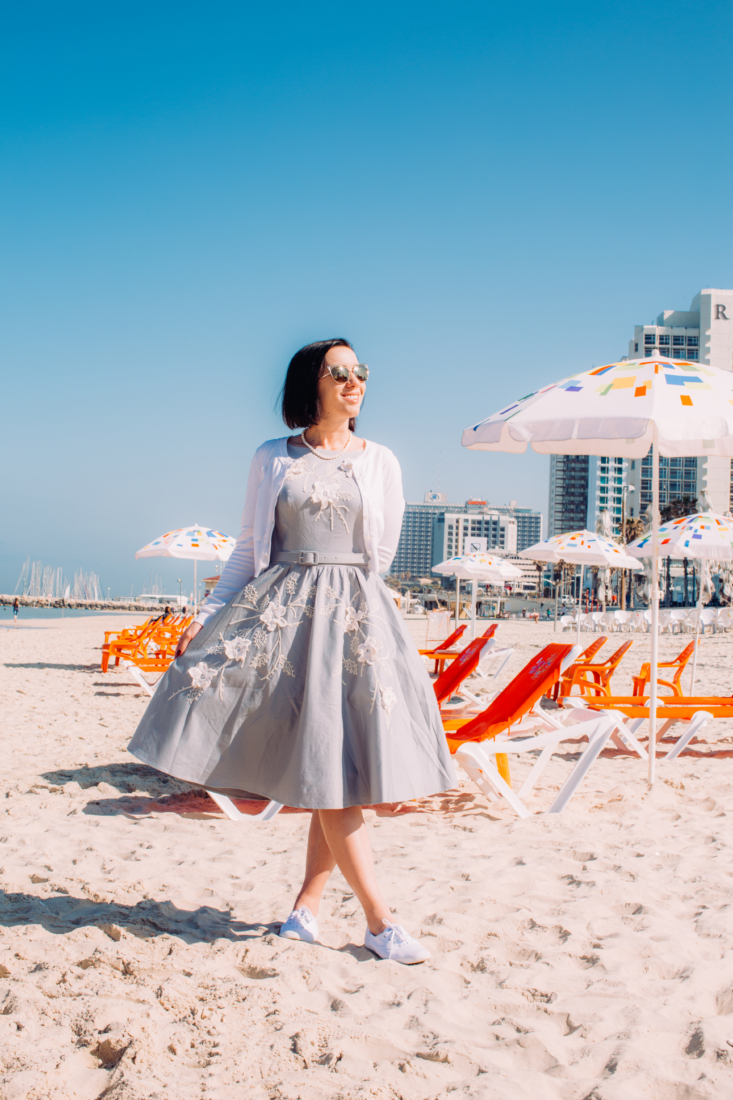 Dress c/o* | Cardigan | Keds | Necklace | Earrings | Sunglasses (Similar)
I'm taking a little break from heavy sweaters, coats and boots to feature the most perfect, vintage-inspired dress for spring! Thanks to my little weekend getaway to Tel Aviv, Israel…I was actually able to experience some amazing, spring weather. It was glorious!
The trip to Tel Aviv itself was a cool, yet complicated experience to say the least, though. Some parts were amazing, while others will go down as some of the worst travel experiences of my life (not as bad as the time my hotel caught on fire, but still really bad). None of this had to do with Israel itself, though. This country is so beautiful (look at that beach)! However, I'll get into all the details in my travel posts. We're here to talk about an amazing dress from my friends over at Tatyana Boutique today!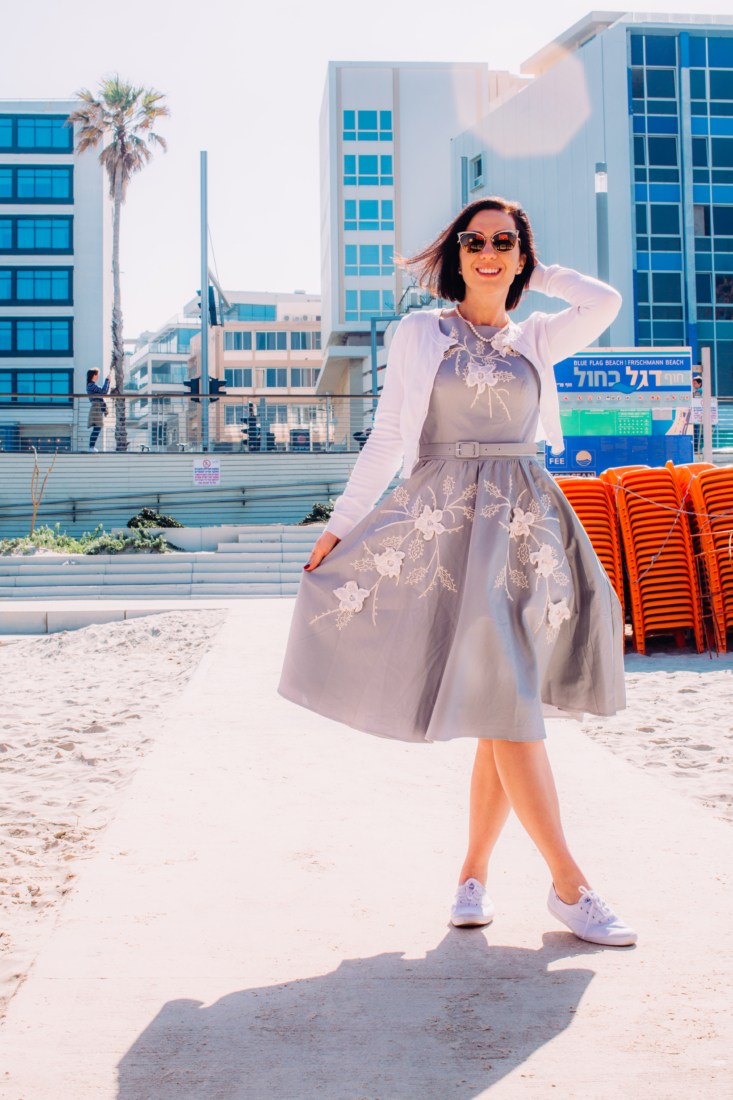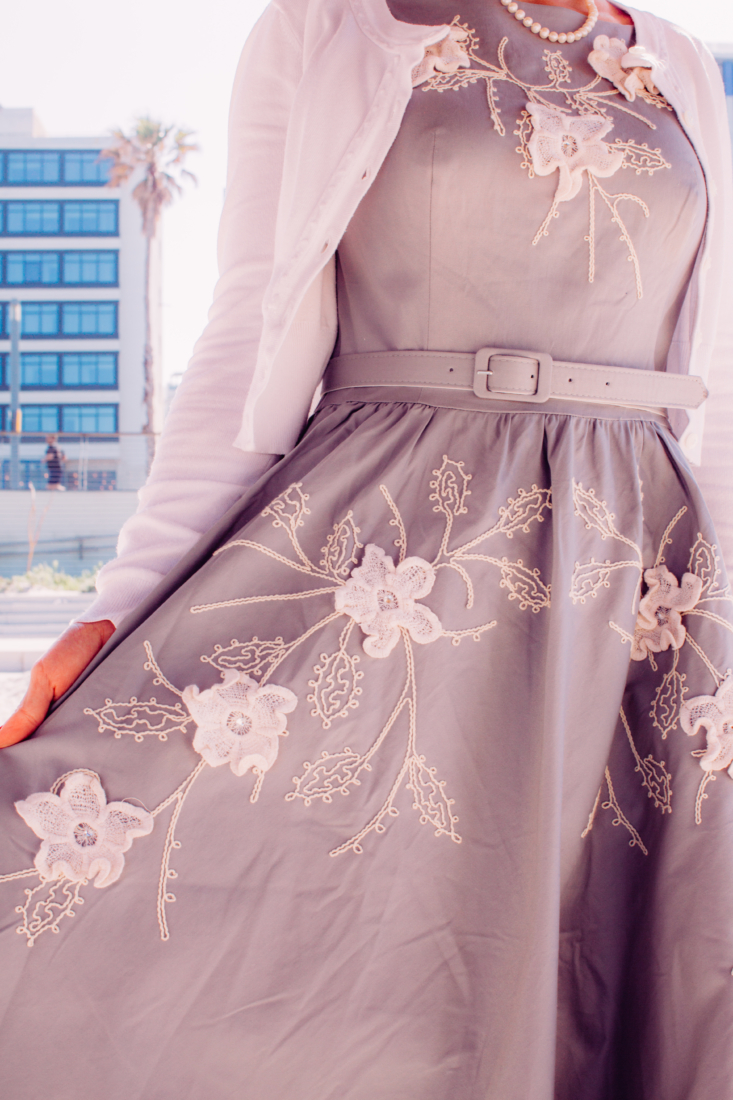 How fun is that embroidered lace design? I love it! And it's been a while since I've had a dress that fit me this well. It honestly feels as though it was made just for me. I went with my normal size medium, but the sizing chart did give me a bit of a heart attack, as it didn't look like any of the sizes would be a good fit for my measurements. However, the medium proved to PERFECT.
This dress is also sleeveless and the back dips down into a V that stops just above my bra. It's incredible because this dress does not show my bra at all! Usually, dresses of this design will have my bra slipping out the sides or peeking out the back. Not the case with this one! Sorry, I'm not showing it in this post, though. It was beautiful in Tel Aviv, but not warm enough to go sans cardigan…especially in the morning (when I took these photos). You can click here to see it on their website, though.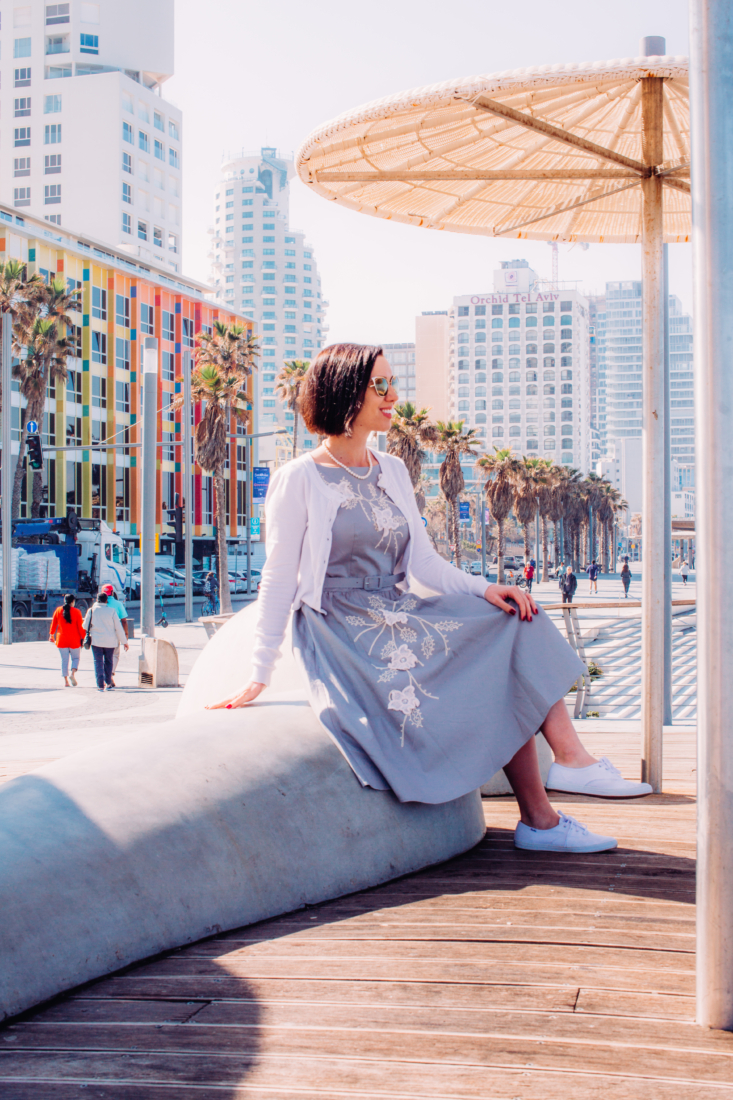 The shape is fantastic as well. It has a built-in tulle slip, so it keeps its full shape without a petticoat.
As I'm sure you can tell in the photos, though, it does wrinkle rather easily. Neither my steamer nor the hotel's iron were up for the task either, as they hardly got out any of the wrinkles from being packed in my suitcase. I'm thinking it'll look a lot better once I get it dry cleaned.
I also had originally planned to style this dress with a cute pair of heels, not sneakers. However, then I wouldn't have been able to wear it on this trip because there was A LOT of walking involved! My Keds were the only shoes I packed for this trip, and they were perfect for the nonstop walking. I can walk all day in these, and still be comfortable. I kind of want a pair in every color, haha. (Although, the white ones go with everything!)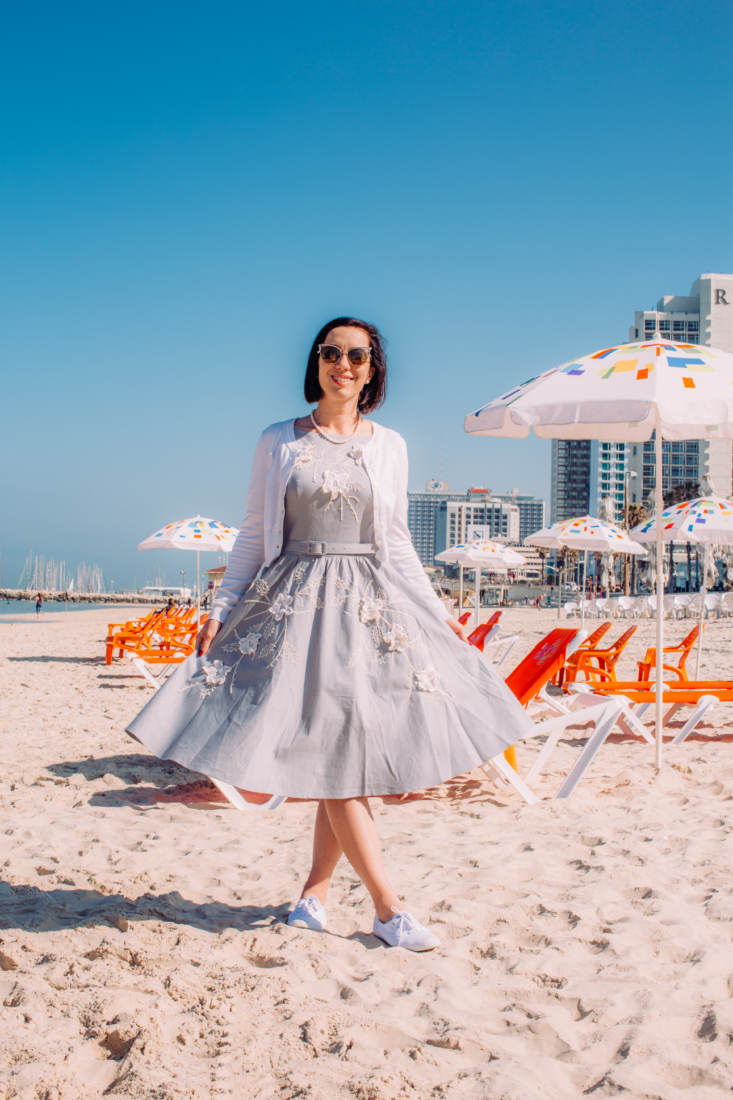 What are your thoughts on this vintage-inspired dress for spring? Yay or nay? And does anyone else wear Keds when traveling? Let me know in the comments!
Where to find it:
Dress: c/o* Tatyana Boutique
Cardigan: Old (Similar here)
Shoes: Keds
Necklace: Gift (Similar here)
Earrings: Amazon
Sunglasses: Quay (Sold out. Similar here.)

*Disclosure: some of these links are affiliate links. Meaning, if you click a link and make a purchase, Have Clothes, Will Travel gets a very small commission at no extra cost to you. Thank you for supporting the brands that make this blog possible! I am also a participant in the Amazon Services LLC Associates Program, an affiliate advertising program designed to provide a means for us to earn fees by linking to Amazon.com and affiliated sites.
*c/o = courtesy of, meaning the company gave me the product to be used on my blog, and I did not pay for it. All opinions are my own, and I am not being compensated for a positive review.