My Worst Hotel Experience Ever (DON'T Stay Here if You're Going to New Zealand!)
I had waited a bit before I wrote this post for two reasons. The first one was I wanted to give myself a little time to calm down before I wrote it, so this post wouldn't be too emotionally charged. And the second reason was I was honestly hoping to just forget about it and not write the post at all! However, I do feel it's important to let people know just how bad my experience was here, so they can take this into consideration when choosing their hotel. I really hate being negative, but sometimes it's necessary…especially in this case!
So, here goes! The worst hotel experience I've ever had happened when I was in New Zealand (back in April, told you I waited awhile). We were staying at the Rydges Lakeland Resort in Queenstown, New Zealand. This hotel is very reasonably priced and has outstanding views of Lake Wakatipu. It would've been a fine enough place to stay for the price until one particular incident happened our last night there…. the hotel, honest-to-goodness, caught on fire!
Now, let me be clear, I'm not upset about the fire. These things happen. I'm upset about the way MULTIPLE members of the staff responded to said fire. It was appalling!
What Happened at the Rydges Lakeland Resort
A new restaurant/bar had just opened on the top of the hotel. (I did really like the bar and the views were amazing.) And a wedding or party of sorts had thrown lit paper lanterns from the outdoor area of this bar. Well, there was an inbound wind coming off the lake. So, these paper lanterns came right back at the hotel…and the fire danger was HIGH that day. The paper lanterns proceeded to start the very dry landscaping in front of the hotel on fire. I had actually taken a few outfit photos (from this here post) in front of the areas before they caught on fire. (See photos below.)
That grassy area even looks dry in the photos. And this was right outside our room.
Why I'm Mad
Once we saw the fire, my husband called the front desk. The front desk said they were aware of the fire… and then hung up. Ok?
We waited a few minutes and watched the fire grow. We were obviously getting a bit panicked at this point, as were all the people staying in rooms around us (who, curiously, hadn't been evacuated either). So, we called downstairs again. Same thing. "We're aware." CLICK.
So, my husband started filling up the trash cans in our room with water and I called down to the front desk, again…they said they were aware of the fire and had called the fire department and hung up, again.
At no point did the hotel staff ask questions about the fire or our well-being. They also never said we should evacuate just…"ok, we know…there's a fire." Seriously!
Now, my husband and I are both adults and knew how to behave in this situation. We knew we could take ourselves down the stairs and wait outside and potentially watch this place burn to the ground. But, the fire was still contained to these landscaping spots in the front of our room (although the flames were starting to shoot several feet high, now)…. so, my husband decided to douse them with water from trash buckets and wet towels.
When this happened my husband and I were packing up our stuff in preparation for leaving the next day. And at this time, the things we had with weren't simply for our trip to New Zealand, it was everything we would need for several months in Argentina as well (until our boxes could be shipped to our new apartment). So, this stuff was rather important to us. And we would rather it not get burned to a crisp, and have nothing at all when we arrived in Argentina. (Also, we were repacking because we were taking a different airline that had different weight restrictions, so carry on, etc. needed to be moved around.)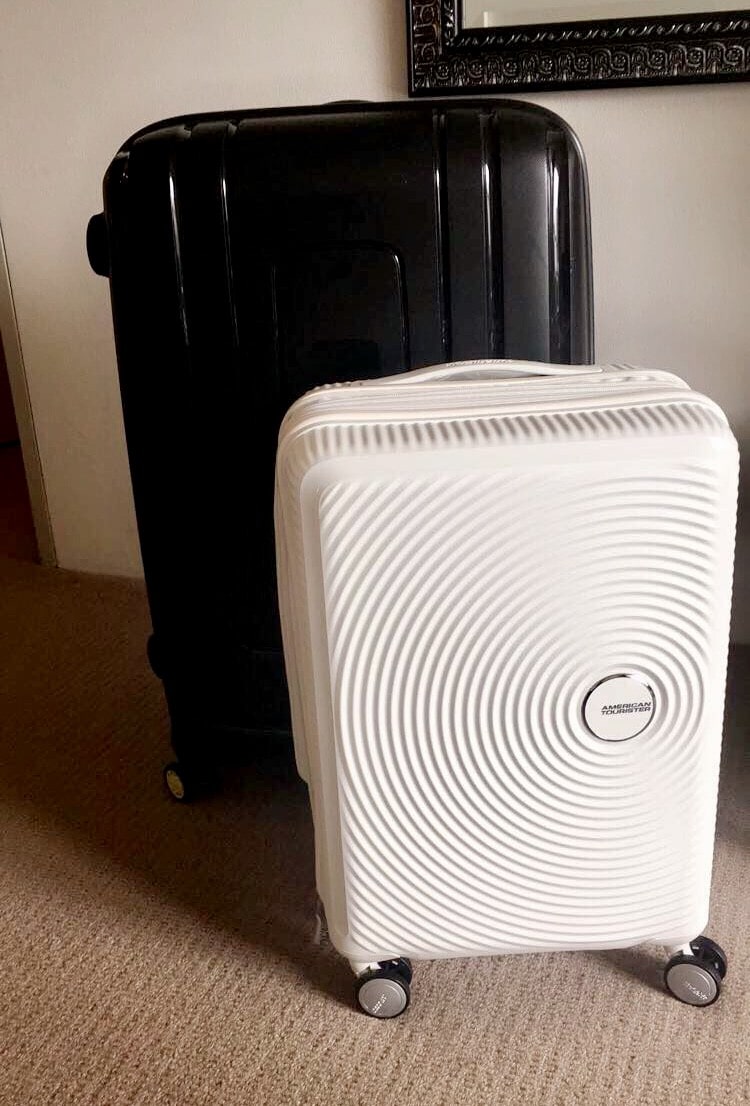 I don't honestly know how long it took us (it felt like forever), but we were able to put the fire out in front of our room. (At this point, there was one other small fire a ways down from our room and then the trees in front of the hotel were starting to catch fire from another set of the paper lanterns.)
Also, we had our patio door open to run the buckets of water back and forth. So, our room had filled with smoke. And not a single fire alarm went off! Oh, and now all the clothing and things we needed for Argentina and the rest of our trip reeked of smoke.
After we put the fire out we watched the fire department arrive to deal with the trees that were starting to catch fire. And then they came and barged through our room to inspect the fire. Just to be clear, I am not upset with the fire department. They were simply doing their job. However, a hotel manager was with the fire department and at no point did she even speak to my husband and I or acknowledge our presence. (My blood pressure is through the roof writing this right now.) The firefighters were the ones who actually apologized to us for the incident! (Which was very nice of them, but was not necessary… as they were just doing their job and had no control over what had happened.) But not a peep from the hotel staff that was present.
After the fire department left our room, my husband and I were a bit in shock and just sat down for a bit. After we snapped out of it, we realized our room reeked of smoke and was an absolute disaster after all that had happened. Neither of us were feeling that great after breathing in the smoke in the room either.
So, we finished packing our things and went down to the front desk to request a new room. Again, NO apologies, NO questions about our well-being…just a cold, almost annoyed attitude at having to switch our room. At first, they had actually told us they didn't have any rooms to put us in!
But they did "find" a room. And we ended up in a very, ah, run down, old room. It was certainly a downgrade from what we had paid for. At this point, though, we didn't care. We had to get up really early to go skydiving the next morning and just wanted to get a few hours of sleep.
…but that didn't exactly happen. We were moved right next to the party that had thrown the lanterns, and they were VERY loud that night. So, sleep did not come easy.
…Oh, and It Gets Even Better
In the morning I also realized in all the confusion and rushing my Kindle had been broken and my glasses were missing…which was a real bummer. However, I didn't have too much time to dwell on it as we were about to jump out of a plane at 15,000 feet! (Despite all this happening the night before, our skydiving experience was awesome!)
We put out fires and jumped out of planes all in about a 12 hour time span. Haha.
Once we returned to the Rydges Lakeland Resort to get our luggage, we asked to speak to a manager about the night before. The manager was obviously aware of the situation and asked how we were. This was the first time any member of the hotel staff asked about our well-being. He then apologized for the fire department coming through our room…which really hadn't upset us at all. They were just doing their job. We were upset about the response from the staff the previous night, which this manager refused to acknowledge.
My husband was getting pretty upset at this point. So, the manager offered to cover the drink bill portion of our stay. (We had grabbed drinks up at that bar a couple times while we were there. And my husband doesn't drink alcohol, so, we're talking a couple beers for me and a couple glasses of Pepsi for him.) Frankly, after what happened, catching our drinks was really not going to cut it, in my opinion.
Again, my husband got upset. So, the manager went and got another manager (with apparently more authority). This guy was quite the, ah how do I put this delicately… he was a snake. My husband explained our frustrations to him and at no point did he apologize on behalf of the hotel. He actually said well, that was your prerogative not to leave your room. (Which, ok, fair enough. But seriously? That's what you're going to say to someone who is upset about your service?) And insisted that covering our drinks was more than fair, and we should be grateful.
It took my husband getting to another level of upsetness in order to get our night of the fire to be covered. To be honest, we were so mad about all of this we didn't want to pay for any portion of this stay. However, we were getting nowhere, and we had a flight to catch to Rotorua, New Zealand. (Oh, and that lovely manager threatened to call the cops if my husband didn't stop raising his voice.) So, we got the heck out of this crazy awful hotel and went to catch our flight to Rotorua.
Moral of the Story.
There are a lot of hotels and hostels to choose from in Queenstown, despite its small size. Stay at any one of them other than the Rydges Lakeland Resort. I know that's harsh, and I've had it pointed out to me that there are a lot of staff working at this hotel who are good at their jobs. However, to have that many people employed in managerial positions who are that awful at their jobs leads me to believe you would be better off at literally any other hotel/hostel in Queenstown. (We dealt with a grand total of 3 incompetent managers, and 1 incompetent employee in this fire ordeal. That is 4 people too many, in my opinion.)
But, to be clear, not all Rydges are bad hotels. I had wonderful experiences staying at Rydges in Australia, and they are very reasonably priced! (I especially liked the Rydges in Cairns.) I'm simply advising to not stay at the Rydges in Queenstown, New Zealand.
Phew, sorry for the very long negative post! However, I thought it would be worth getting the whole story out there to give everyone a little information if you are planning or know someone who is planning a trip to Queenstown.
Would you have been as upset as I was about this ordeal? Or do you think I'm over-reacting? Let me know in the comments!
Disclosure: some of the links in this post are affiliate links. Meaning, if you click a link and make a purchase, Have Clothes, Will Travel gets a very small commission. Thank you for supporting the brands that make this blog possible!