The Saks Fifth Avenue Online Sale You HAVE to Take Advantage Of
Saks Fifth Avenue is hosting an AMAZING online sale that is just too good to pass up. This current promo gets you a gift card (up to $700) just for shopping on the Saks website. Here's how it works.
From 9.15-9.17, you will get a Saks gift card with your purchase if you spent at least $250.
This is the breakdown:
spend $250, get $35
spend $500, get $75
spend $1k, get $150
spend $2k, get $450
spend $3k, get $700
*Includes Beauty
Need some help deciding what to buy? I've rounded up a few of my favorite items from Saks Fifth Avenue, below. Happy shopping!
This post is sponsored by Shoplooks. All comments and opinions are my own. Some of these links are also affiliate links. Meaning, if you click a link and make a purchase, Have Clothes, Will Travel gets a very small commission at no extra cost to you. Thank you for supporting the brands that make this blog possible!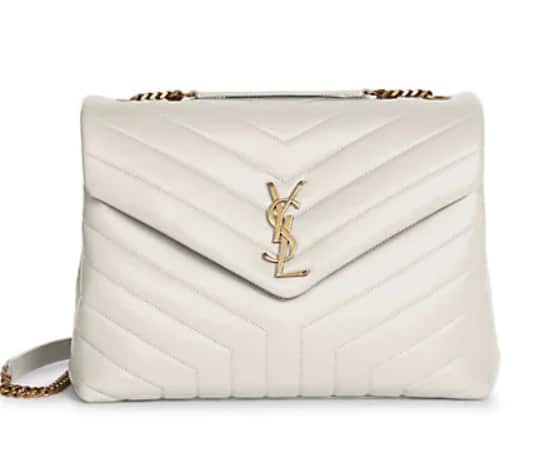 Saint Laurent Loulou Matelassé Leather Shoulder Bag
I bought my Saint Laurent Loulou earlier this year, and have been using it nonstop. It's such a decadent and functional bag! However, I'm kicking myself for not waiting until an online sale like this SAKS promo to purchase it. As someone who had been looking at this bag for years, I am here to tell you it never goes on sale. If you're thinking about getting it – this SAKS sale is the perfect time!
Valmont Prime Renewing Pack Radiance And Fatigue-Eraser Mask
This is, personally, what I am going to be stocking up on during this SAKS online sale! Valmont's Prime Renewing Pack has become my secret weapon to save my skin during traveling. It instantly erases fine lines and brightens my tired-looking skin after a long flight. Plus, it's super moisturizing (which has been a life-saver this last week while I've been in Denver's dry air!).
Read next: My HONEST Review of Valmont Skincare
La Mer The Moisturizing Cream
Another beauty item I'll be stocking up on during this promo! There is no better moisturizer on earth than La Mer's moisturizing cream! I switch to this moisturizer in the winter months (it's a bit too much for my combo skin in the summer), and love how well it moisturizes my skin and reduces fine lines. Using it in combination with Valmont's mask (above), and also the La Mer Treatment Lotion and La Mer Cleansing Foam is an incredible fall/winter skincare routine that I swear by.
Zimmermann Kaleidoscope Bell-Sleeve Gown
If you've been following my blog over the last few years, you likely already know I am obsessed with Zimmermann's dresses. The designs are incredible! Nicky Zimmermann's latest collection features astrology-inspired designs that I can't get enough of. I also love how this gown features a ruffled high neck and dramatic bell sleeves for a romantic and unique look. This SAKS sale is the perfect time to get a discount on one of these beautiful dresses!
Zimmermann Kaleidoscope Belted Midi-Dress
However, if you're looking for a more versatile dress to add to your fall wardrobe – this belted midi dress by Zimmermann is just the thing! It will look great with a variety of different shoes, and can easily go from day to night. The belt on this dress is also removable, lending itself to more styling options.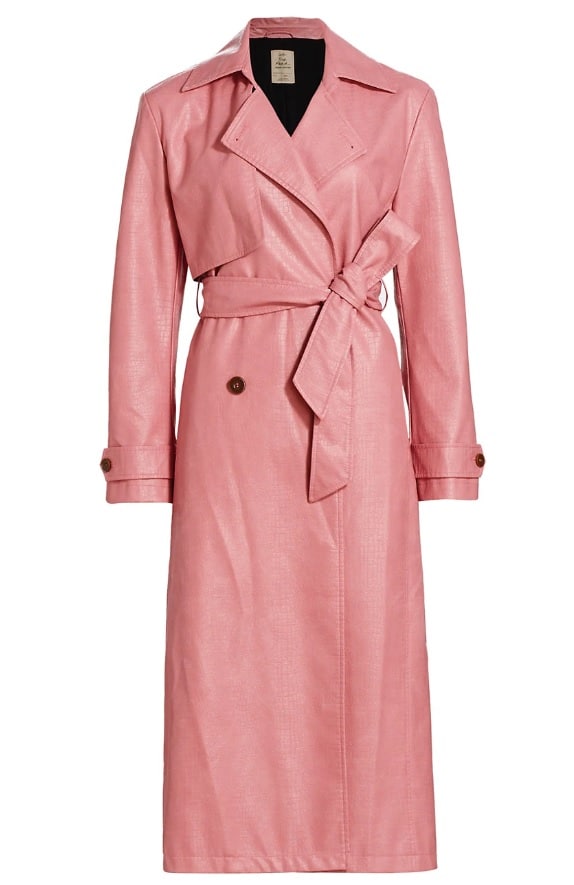 Free People Morrison Faux Leather Trench Coat
Coats are my kryptonite. I have entirely too many of them, but gosh, this pink Free People trench coat is calling my name. It's such a beautiful color, that would also transition well into spring.
From 9.15-9.17, you will get a Saks gift card with your purchase if you spent at least $250.
This is the breakdown:
spend $250, get $35
spend $500, get $75
spend $1k, get $150
spend $2k, get $450
spend $3k, get $700
*Includes Beauty