Visiting Boston & A Red Sox Game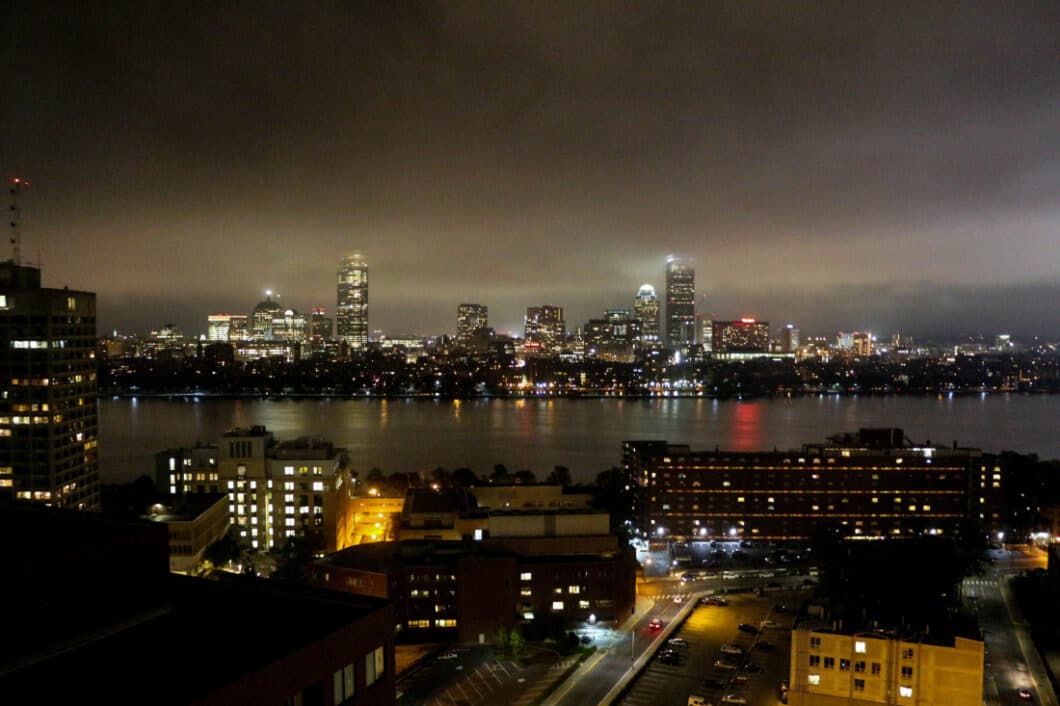 Boston is my new favorite city. I know I said that when I visited Philly – but seriously Boston is my favorite, without a doubt. I want to pack up and move there immediately!
My husband and I were only there for a couple days and sorry, I wasn't a very good blogger while I was there. This post will not do Boston nearly the justice it deserves. I didn't take nearly as many photos as I should've, or keep track of exactly every spot we visited, and we had no tours planned.
See, Boston is a great city to just walk and admire.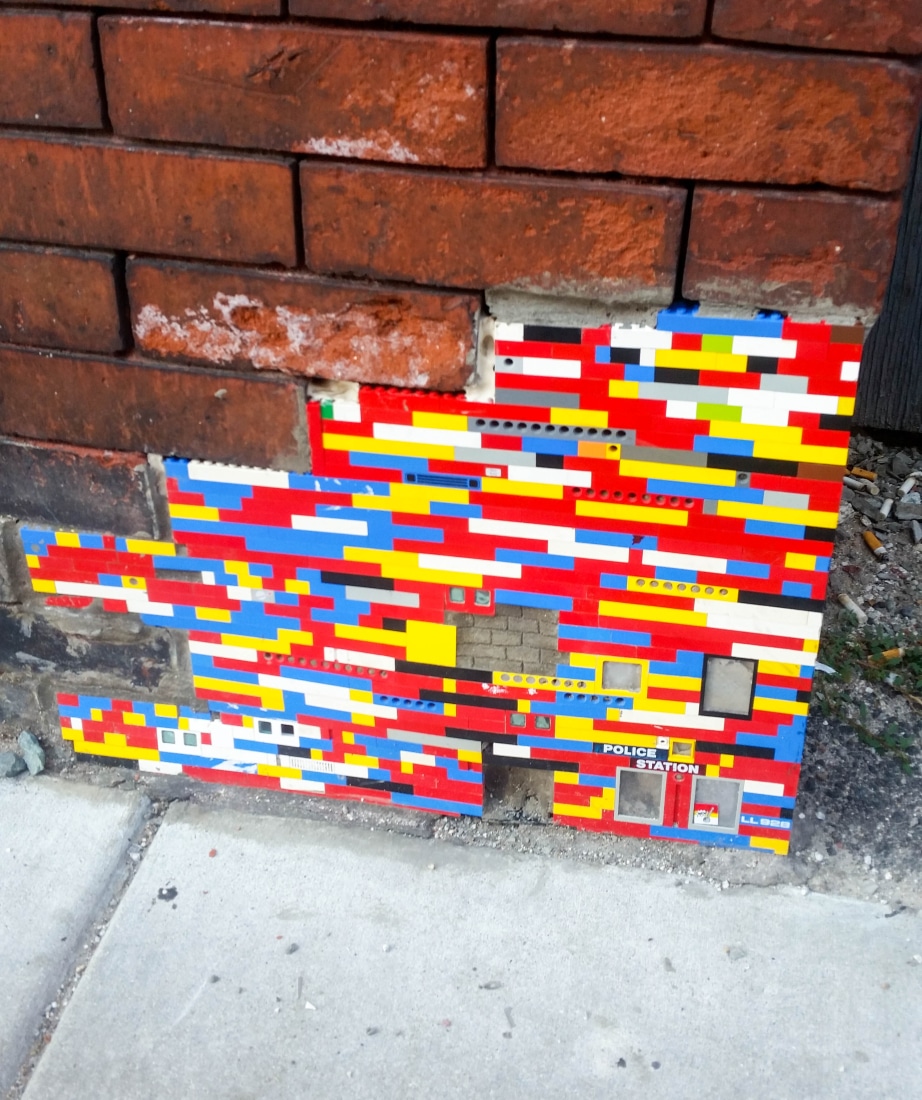 I think the most touristy thing we did was wander past the location of the Boston Tea Party. We debated doing the tour at the Boston Tea Party Museum, but in the end, decided to continue our journey of wandering aimlessly through the city. (We did watch some little kids through "boxes of tea" over the edge of the ship, though. Haha.)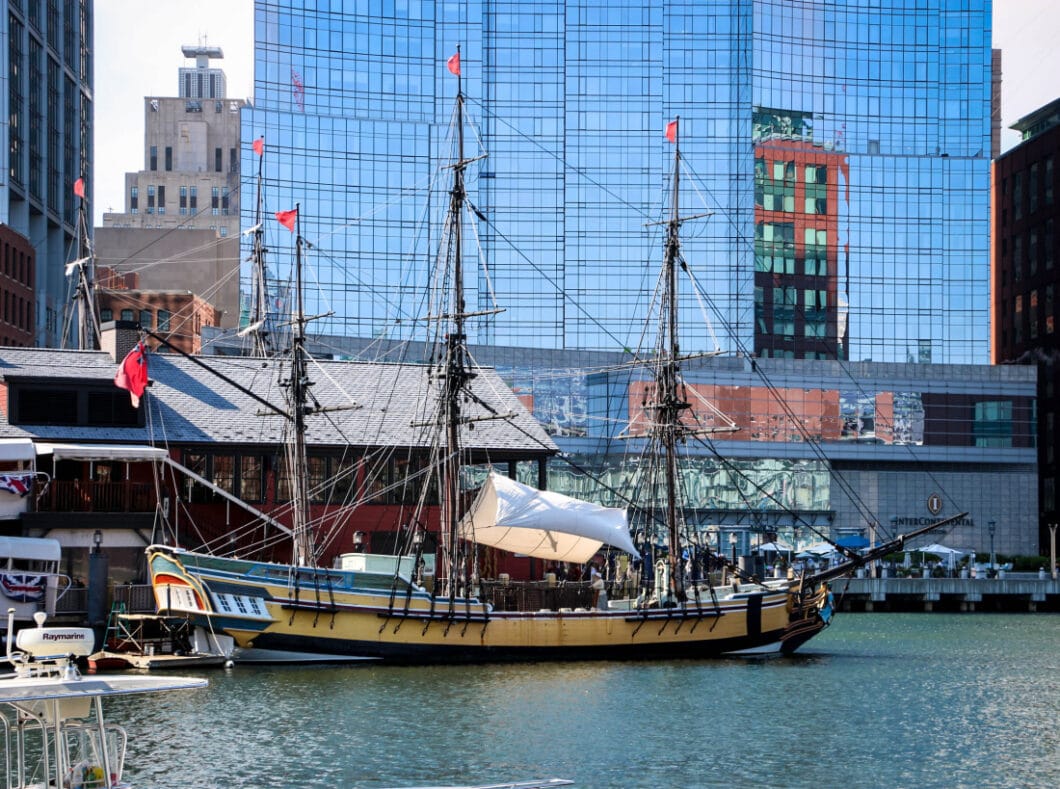 So, what did we do in Boston? We managed to walk part of The Freedom Trail and explored Quincy Market and walked along Massachusetts Ave. and The Harvard Bridge.
We visited a bunch of restaurants and bars – all amazing. My favorites were Meadhall in Cambridge (loved the huge selection of craft beer there), The Hawthorne (super awesome bar with a very unique atmosphere – thanks to Jen of Dressing With Class for the recommendation!), Scollay Square (great food, service and a wonderful atmosphere).
We also did quite a bit of shopping, and fortunately didn't buy too much! My favorite store was Newbury Comics (thanks again to Jen for the recommendation!) I did the most damage there, with a few new comic books and the most amazing Star Wars shirt ever…don't worry it'll be appearing in an outfit post soon!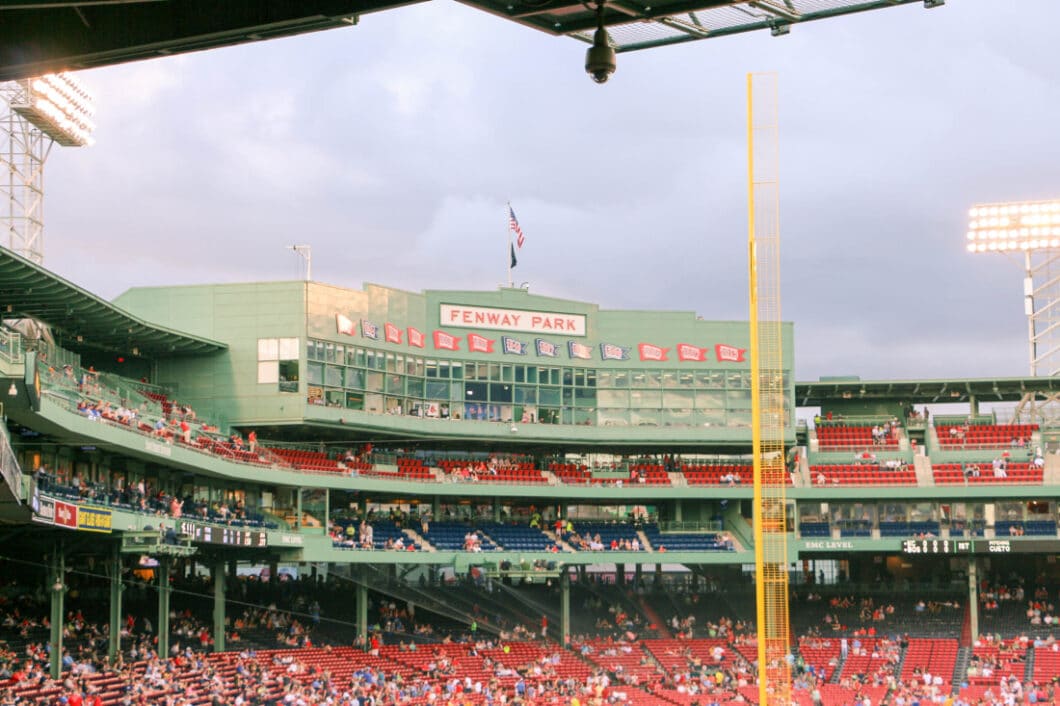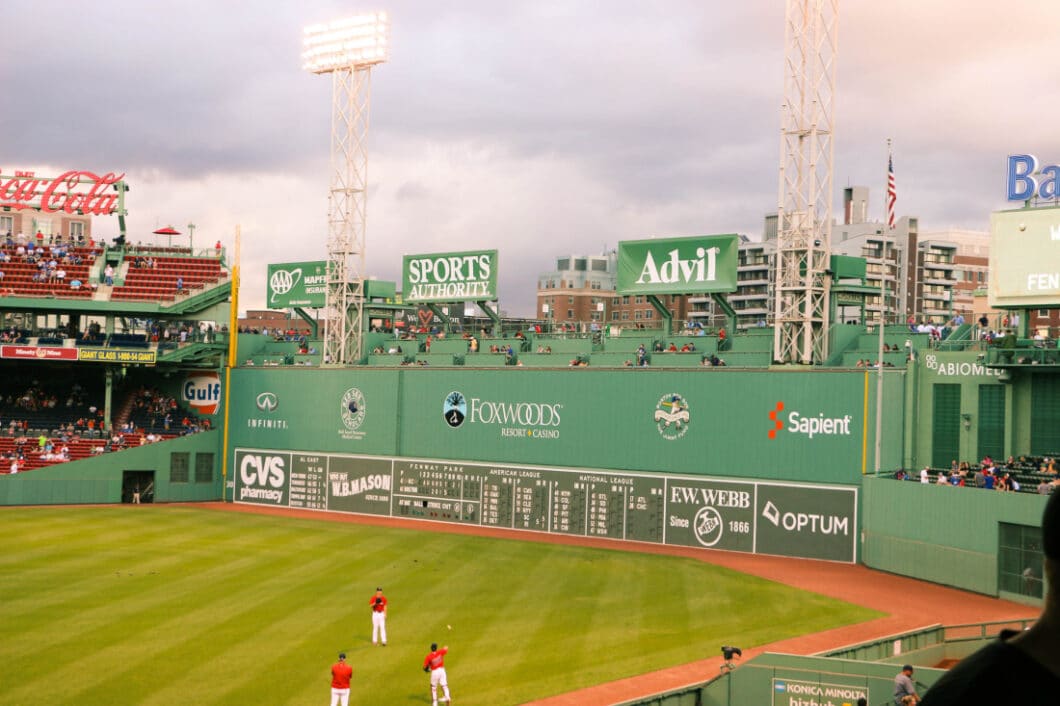 We also went to Fenway Park for a Boston Red Sox game, which was an absolute blast! Being from Wisconsin, I know my team of choice is supposed to be the Brewers..and they are, kind of (they make it a bit hard, unlike the Packers!). But for the night I figured it would be fine to switch teams. The Red Sox played the Royals and won 7-2. We had hot dogs and beer, and sang Sweet Caroline before the bottom of the 8th inning, and got excited every time Big Papi came up to bat (a.k.a. David Ortiz) – it was a wonderful way to spend a Friday night.
If you're in Boston, though, and don't have tickets to the game, you can also watch it right from The Bleacher Bar! It's super cool. This bar is located right beneath the bleachers of Fenway and has a great view of center field.
We did take quite a few photos at Fenway. I even managed to put together a mini outfit post at Fenway. (Priorities, haha).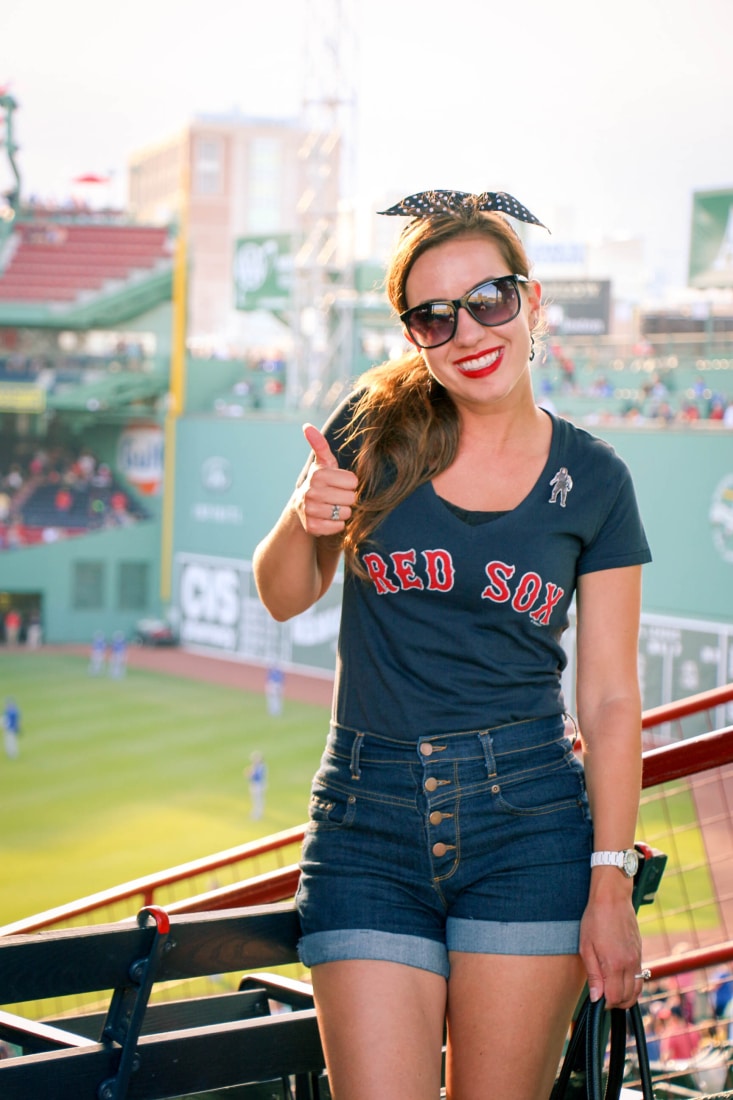 Red Sox Mini Outfit Post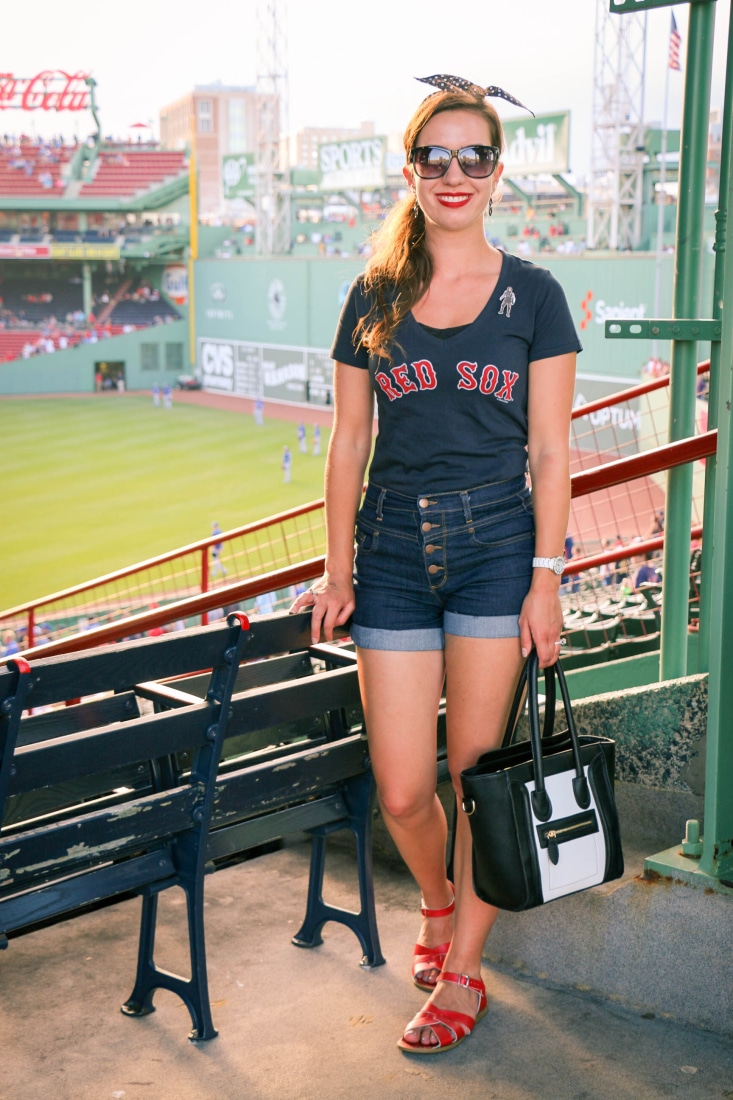 Where to find it:
Shirt: Store in Boston (Sorry, can't remember the name.)
Shorts: ModCloth
Purse: c/o AMI Clubwear
Headband: ModCloth
Sandals: ModCloth
Amazing Winter Soldier Pin: Made by Jen (More on that soon)

While we were in Boston we also met up with this month's Featured Fashionista, Jen! I'm going to save that awesome experience for a separate post on Monday. Jen has a ton of awesome recommendations for things to do in Boston and places to eat, if you would like to check out her post by clicking here. You can also enter to win a gorgeous watercolor painting by Jen in that post – and there's only a little over a day left to enter!
Who else has been to Boston? And what were some of your favorite spots in the city? Let me know in the comments!