The Coolest VRBO Rentals in Hayward, WI Featuring Cabins & Lakefront Homes With Hot Tubs, Pools & More!
Searching for the coolest VRBO in Hayward, WI? This is the post for you!
Life is better outside when you're in Hayward, Wisconsin! Next to the Namekagon River, you'll find this famous city in Sawyer County known for its scenic hiking trails, Chequamegon-Nicolet National Forest, camping grounds, and cozy cabins. It's also home to many lakes and a unique selection of shops and attractions for a much-needed R&R.
Even with limited access to explore globally, you can still experience travel euphoria by staying in one of these awesome VRBO rentals in Hayward, Wisconsin! They range from charming cabins to luxury lakefront homes with private pools and hot tubs and more!
*Disclosure: some of these links are affiliate links. Meaning, if you click a link and make a purchase, Have Clothes, Will Travel gets a very small commission at no extra cost to you. Thank you for supporting the brands that make this blog possible!
The Coolest VRBO Rentals in Hayward, WI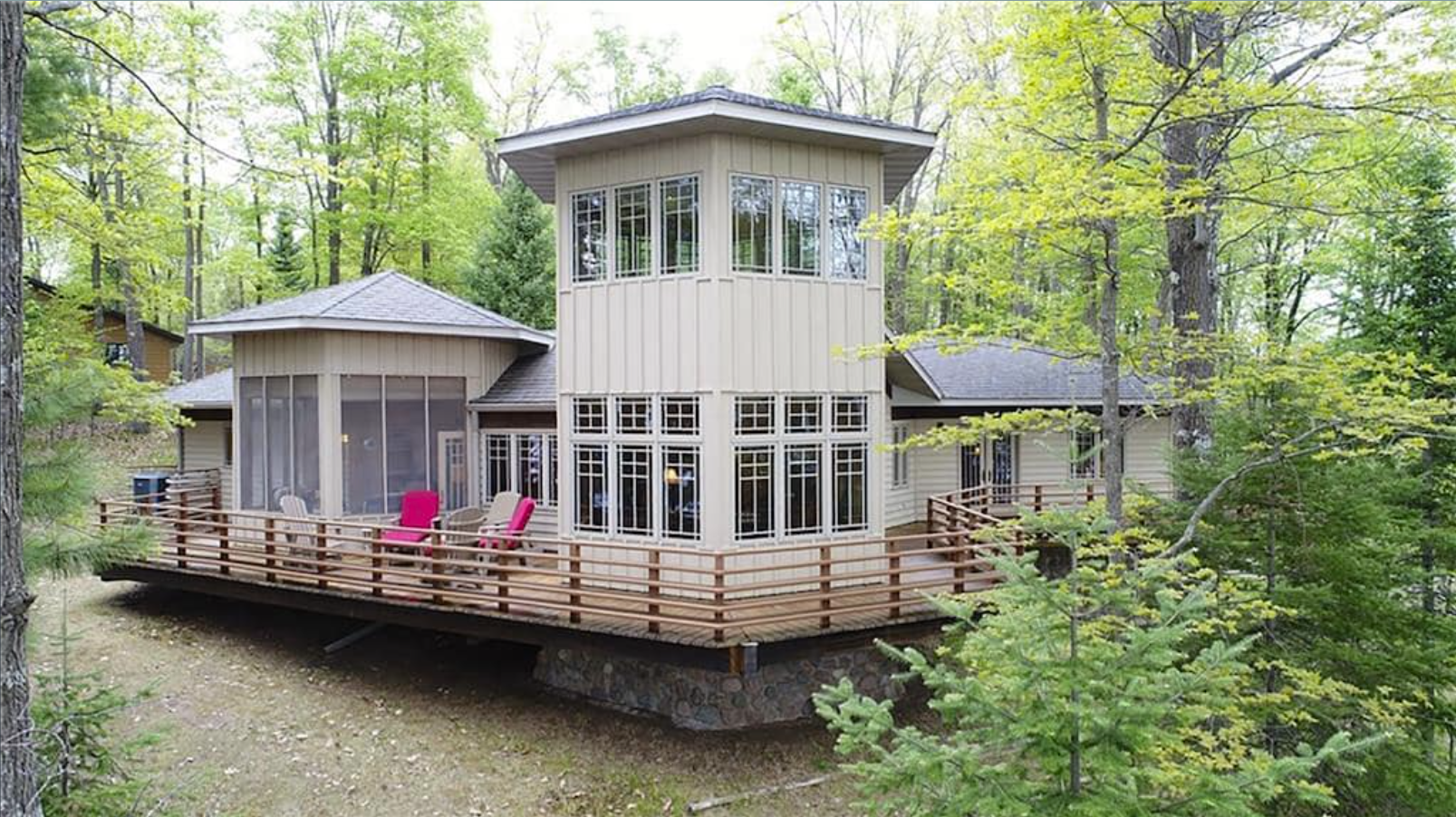 Lakefront home with 180-degree views
A unique and well-built 3-bedroom lake home with a 180-degree view of the surrounding forest. Originally built by an architect, this cozy and private property features a screened porch overlooking the lake, two private docks, full kitchen with amenities, and the 2-story octagonal viewing/sitting room fondly called the "Tower Room" for a full view of the lake frontage.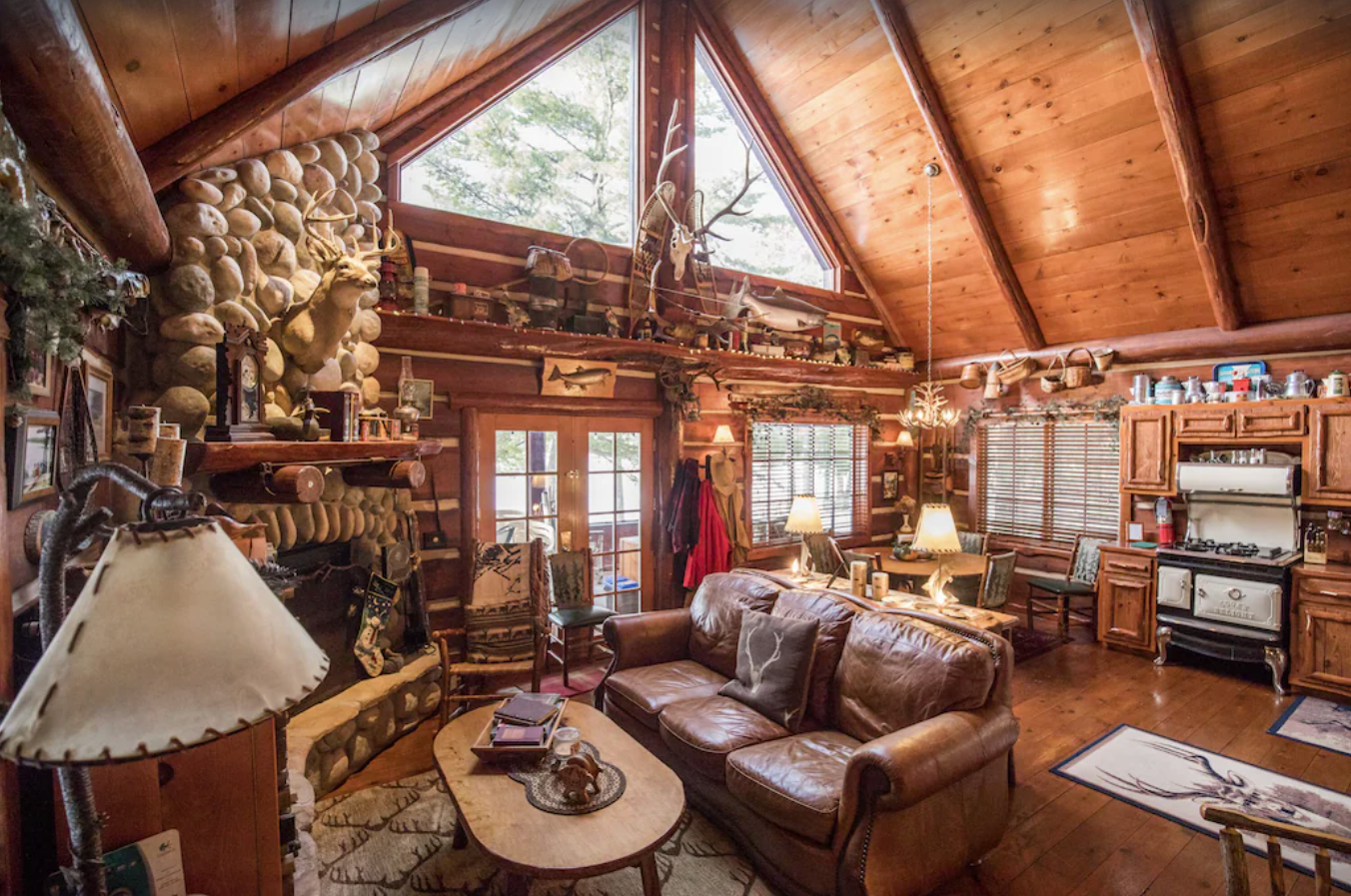 Rustic and charming cabin on Round Lake
Spend a quiet weekend in this rustic 3-bedroom cabin nestled in Richardson Bay on Round Lake. The property is fully furnished and the kitchen is well stocked. It features two bathrooms with a jacuzzi tub in the loft bedroom, two gas fireplaces, and a porch with a fire pit for an outdoor picnic.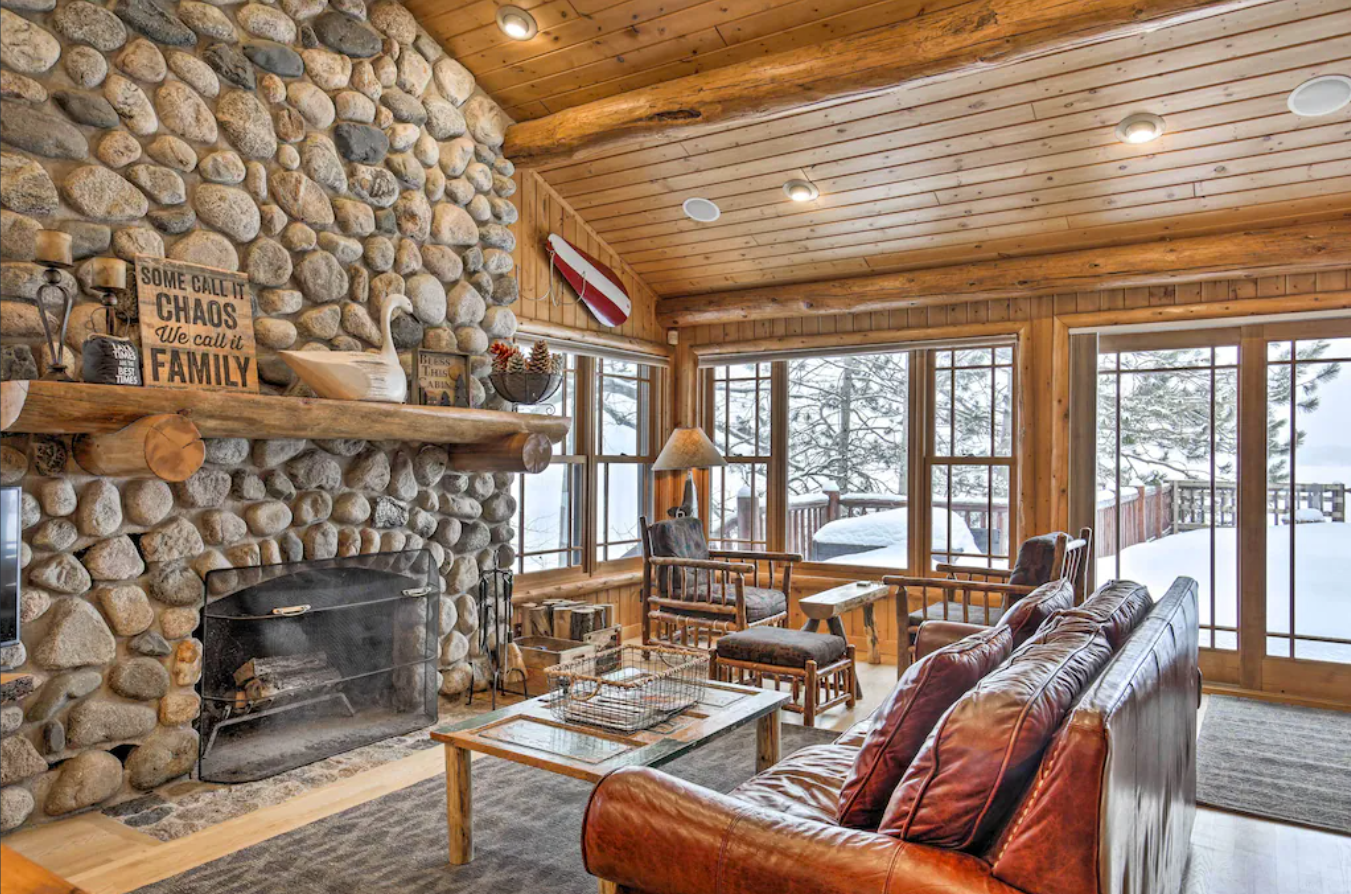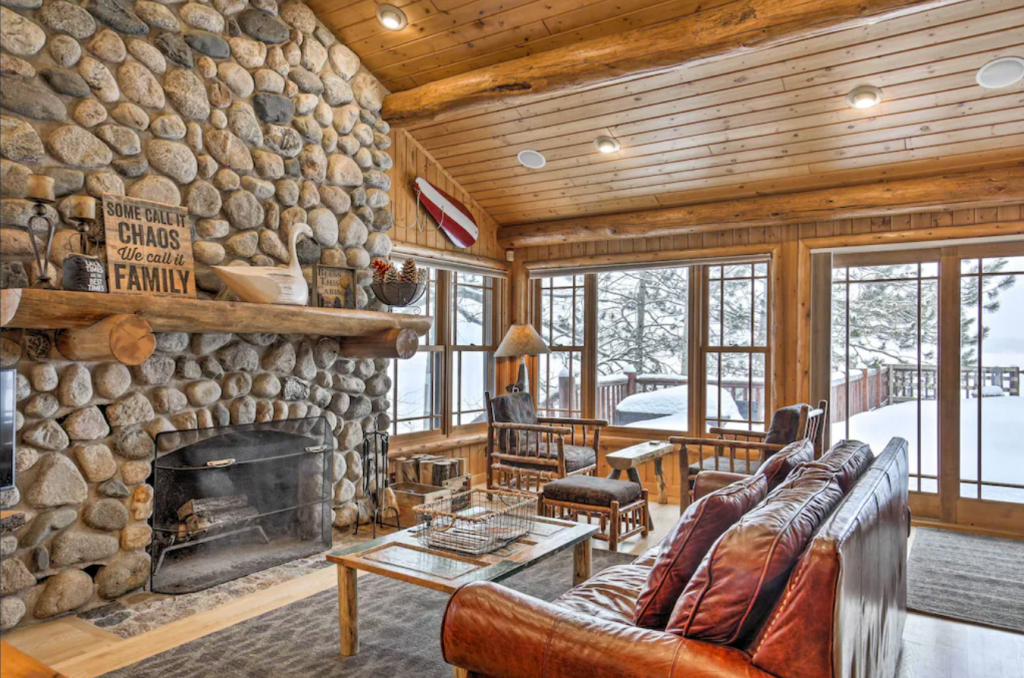 Lakefront cabin at Lac Courte Oreilles Lake
This 3-bedroom, 2-bathroom vacation rental welcomes guests to its wooded interior, river rock fireplace, and cozy beds that are idyllic during winter. The cabin's backyard is only steps to the Lac Courte Oreilles Lake, a welcome invitation to go fishing or simply frolic in the waters in the summer.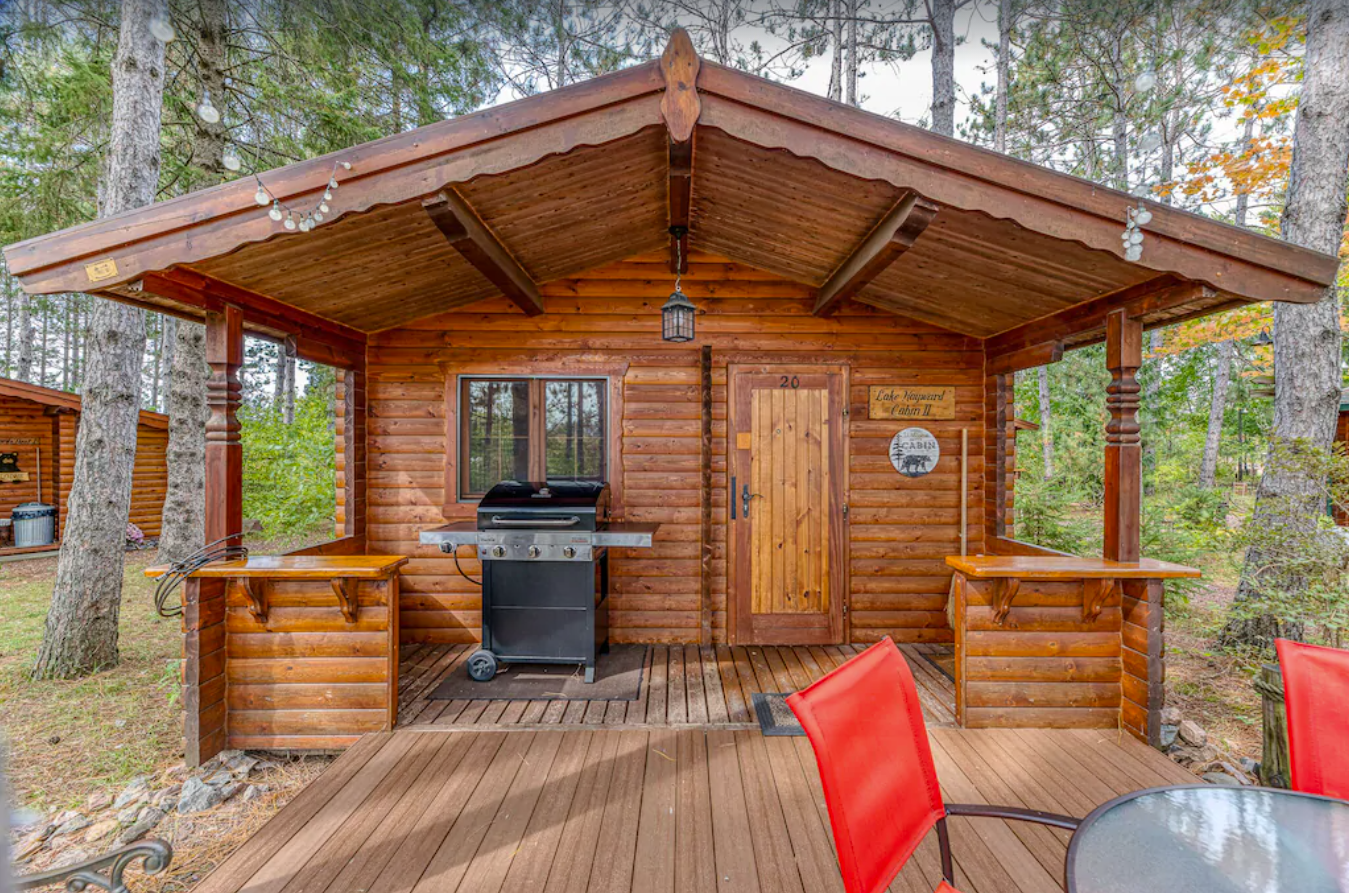 Quaint German log cabin
This charming studio-sized log cabin may appear small in size but makes up for in comfort and privacy for up to four persons. The cabin was hand-built in Germany originally but is now nestled in a quiet and scenic wooded area. It's also accessible to restaurants, shops, and nightlife.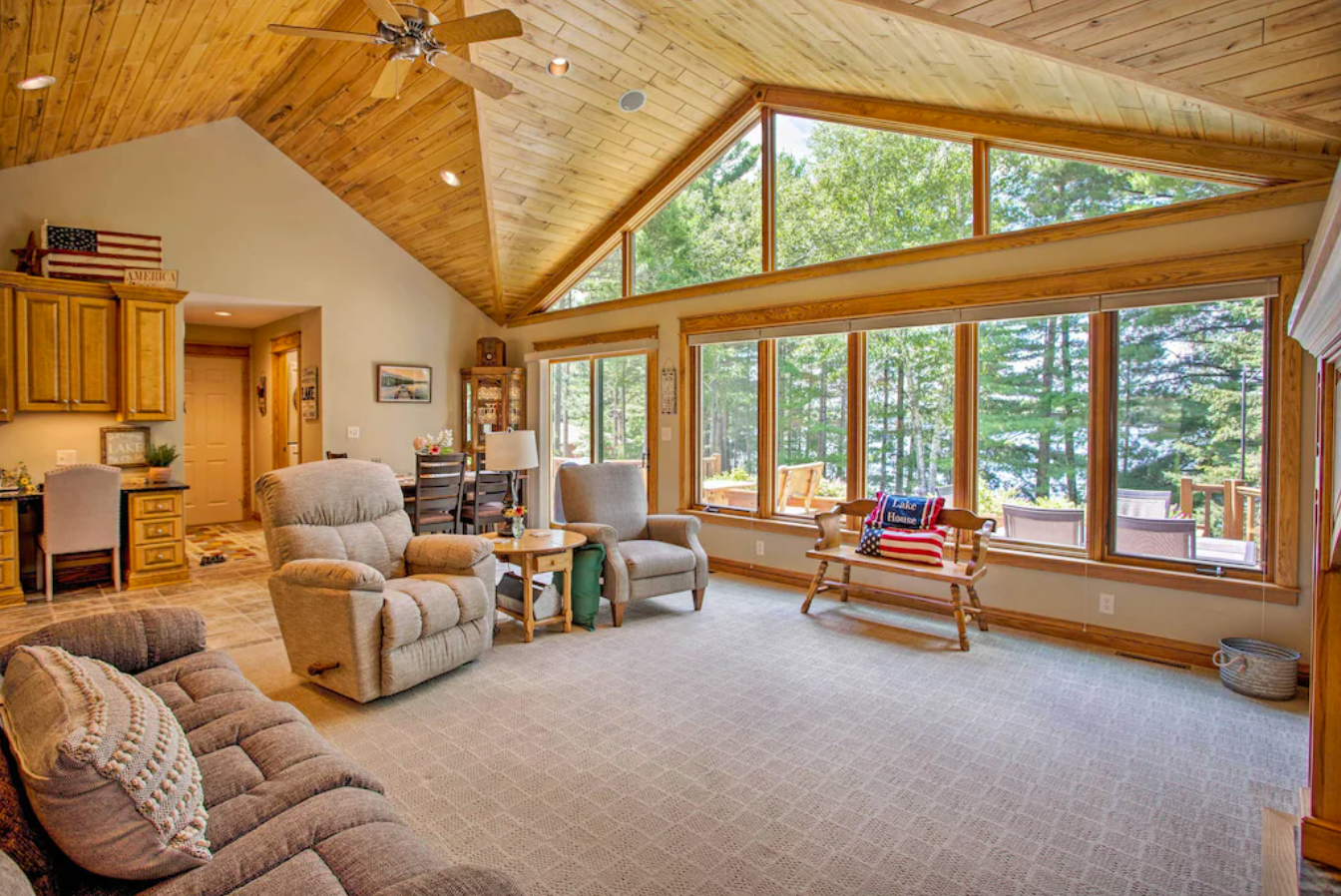 Private retreat with dock
A perfect oasis where guests can relax during weekends. The spacious cabin features 3 bedrooms and 3 bathrooms along with a fire pit, multi-level furnished deck, and on-site amenities. There are plenty of outdoor attractions to keep guests entertained as well.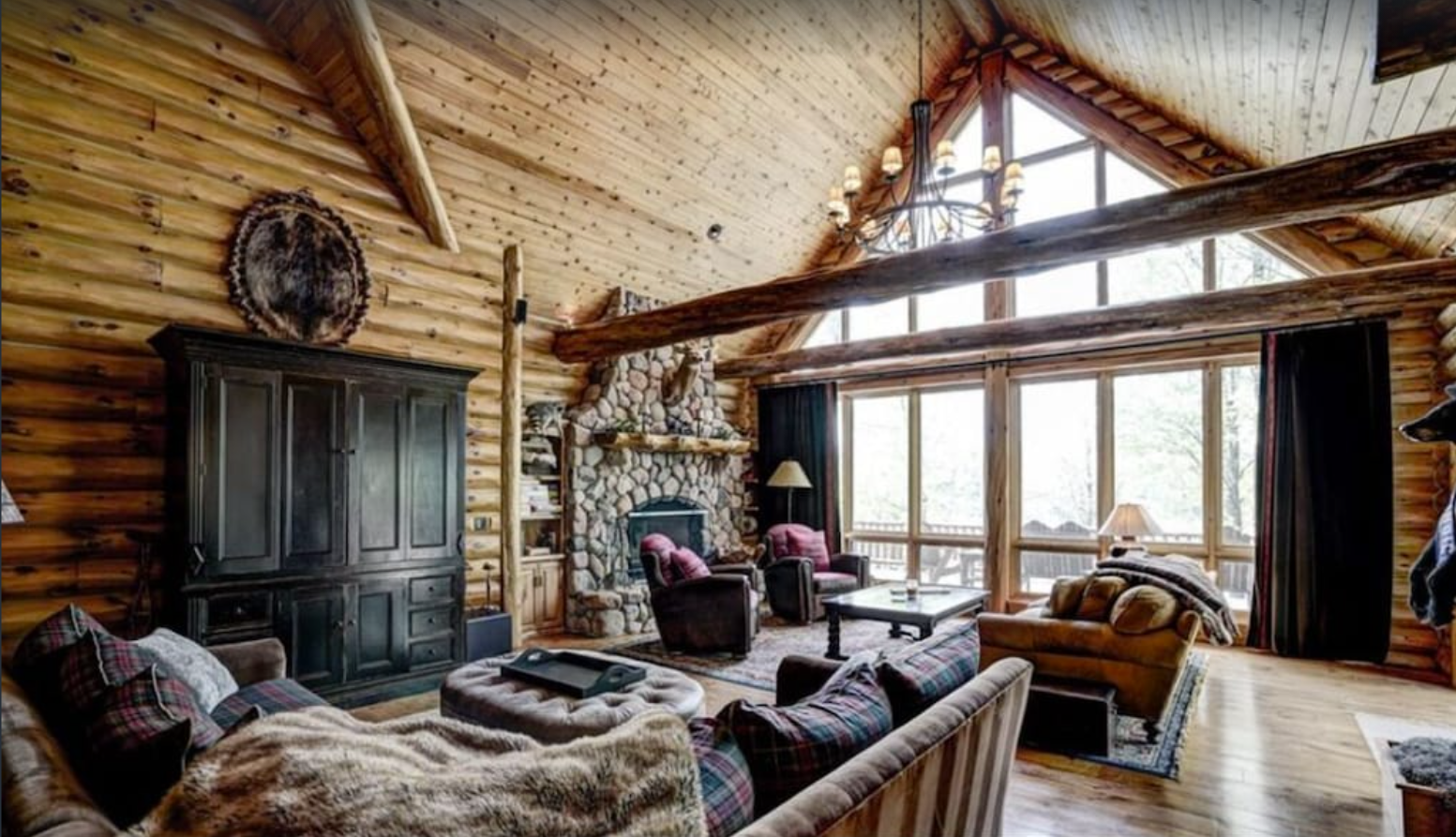 Vacation cabin rental on Little Round Lake
This stately property is the perfect lodge for entertaining large family gatherings, corporate retreats, or reunions. A custom-built log home with over 7,500 sq. ft. of space, it features over-sized 6 bedrooms, 4 full bathrooms, and a gourmet kitchen. There's also access to a log bar in the basement, a large deck, and a screened-in porch.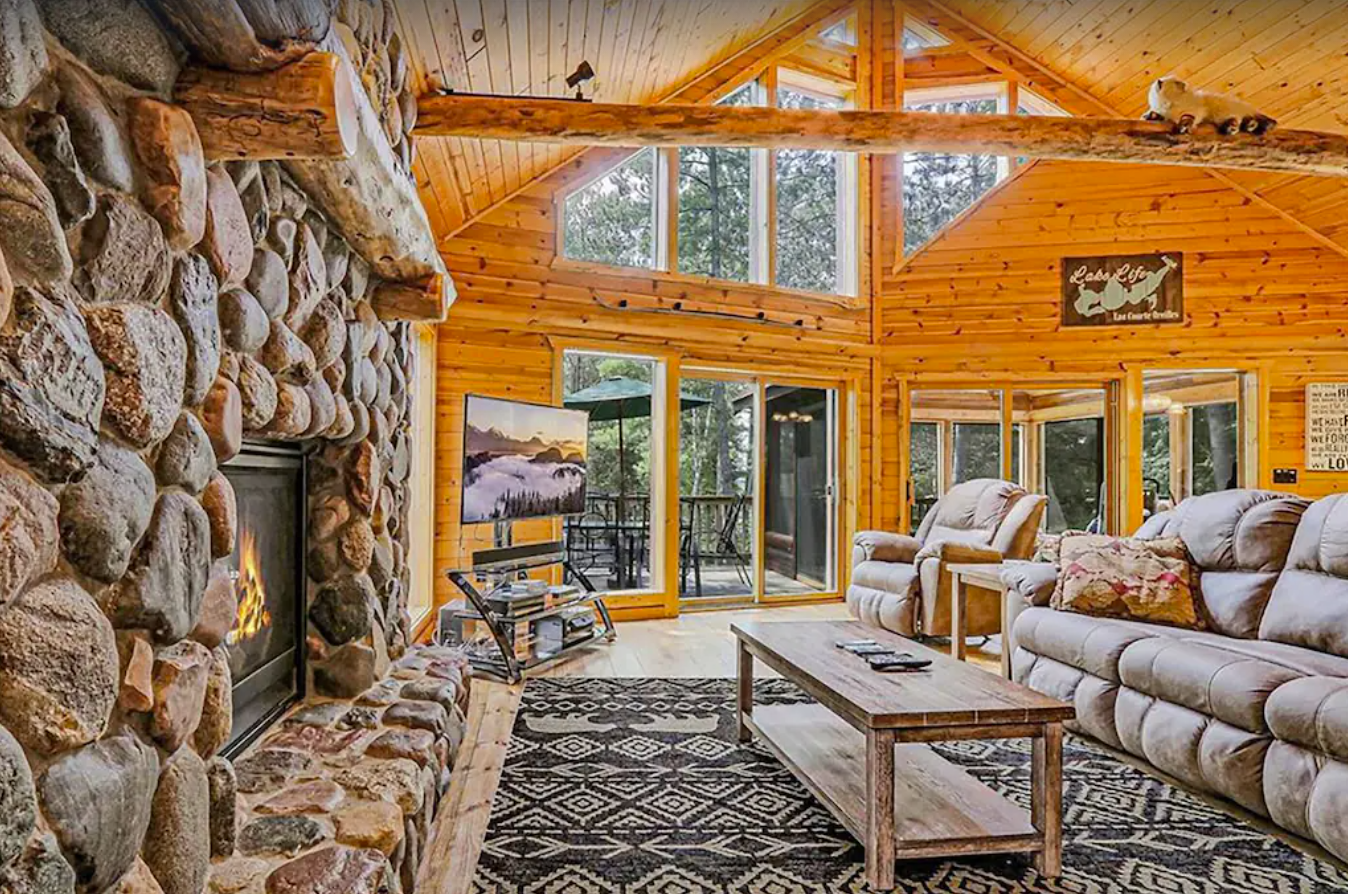 Cozy lake home with beach and private dock
A 4-bedroom, 3-bathroom lake home on a 5,000-acre property that's ripe for bass fishing and recreational water sports. Guests can set up at the outdoor grill for a sumptuous evening meal or relax at the lawn chairs by the lake. There's a dock that is also accessible to restaurants, bars, and entertainment.
Spacious lake home with modern amenities
Lake life gets better in this spacious 4-bedroom, 3-bathroom property at Lake Lac Courte Oreilles. A new dock has been installed along with two kayaks and stand-up paddleboards for the summer. Guests get to relax out on the large deck or over the fire pit with plenty of wood and seating.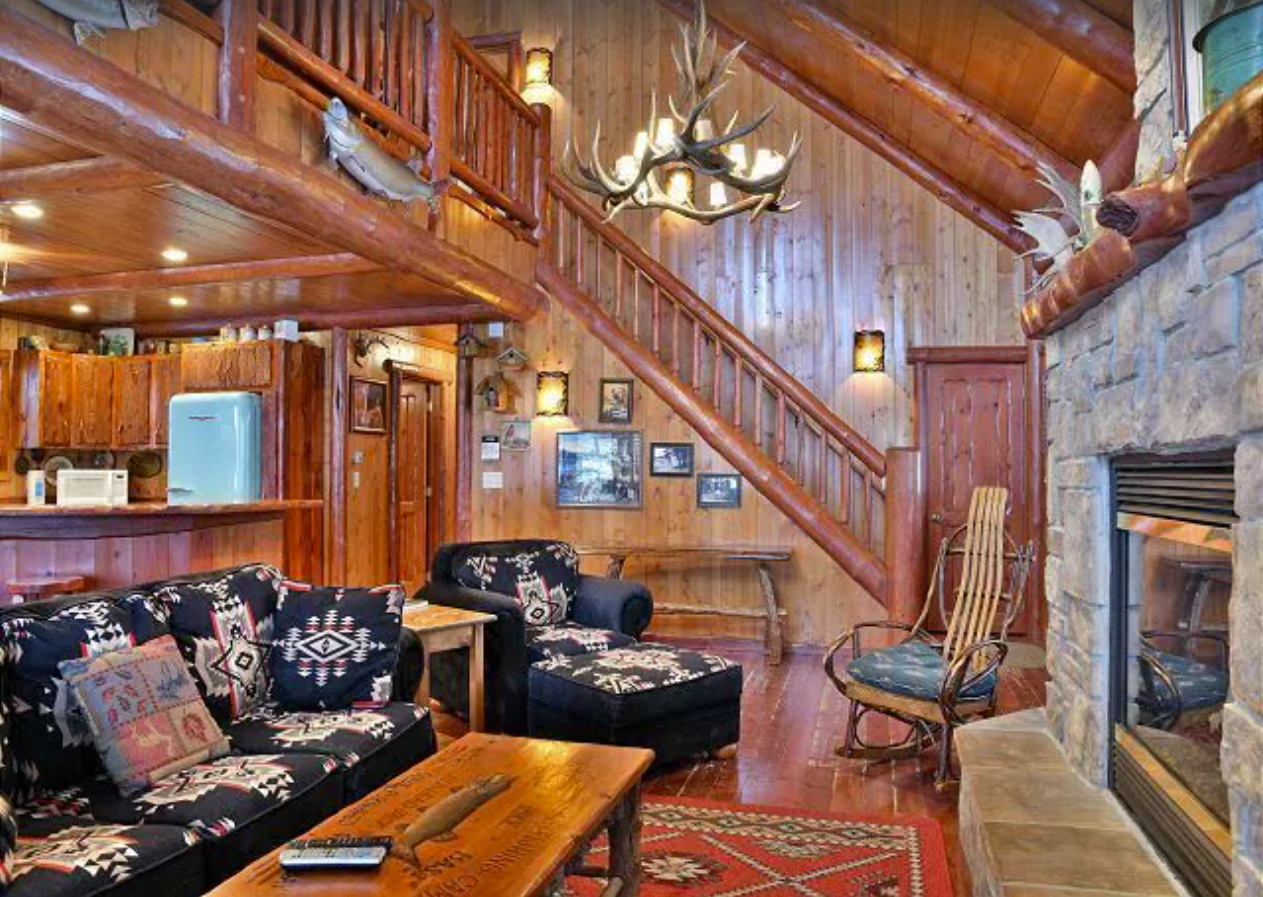 Presidential cabin on Little Round Lake (with hot tub)
A two-story presidential cabin on Little Round Lake with 3 bedrooms and 2 bathrooms. It has a screened-in porch, a balcony, and a fireplace to relax in. Better yet, the jacuzzi tub in one of the lofts is a better way to pass the time.
Lakefront cabin with indoor hot tub
A calming and relaxing vacation awaits guests in this 3-bedroom, 2-bathroom cabin with an indoor hot tub. Full amenities including a stocked kitchen and Wi-Fi are available at guests' disposal. It's the ideal home for a party of eight or for solo travelers out for a lake escapade.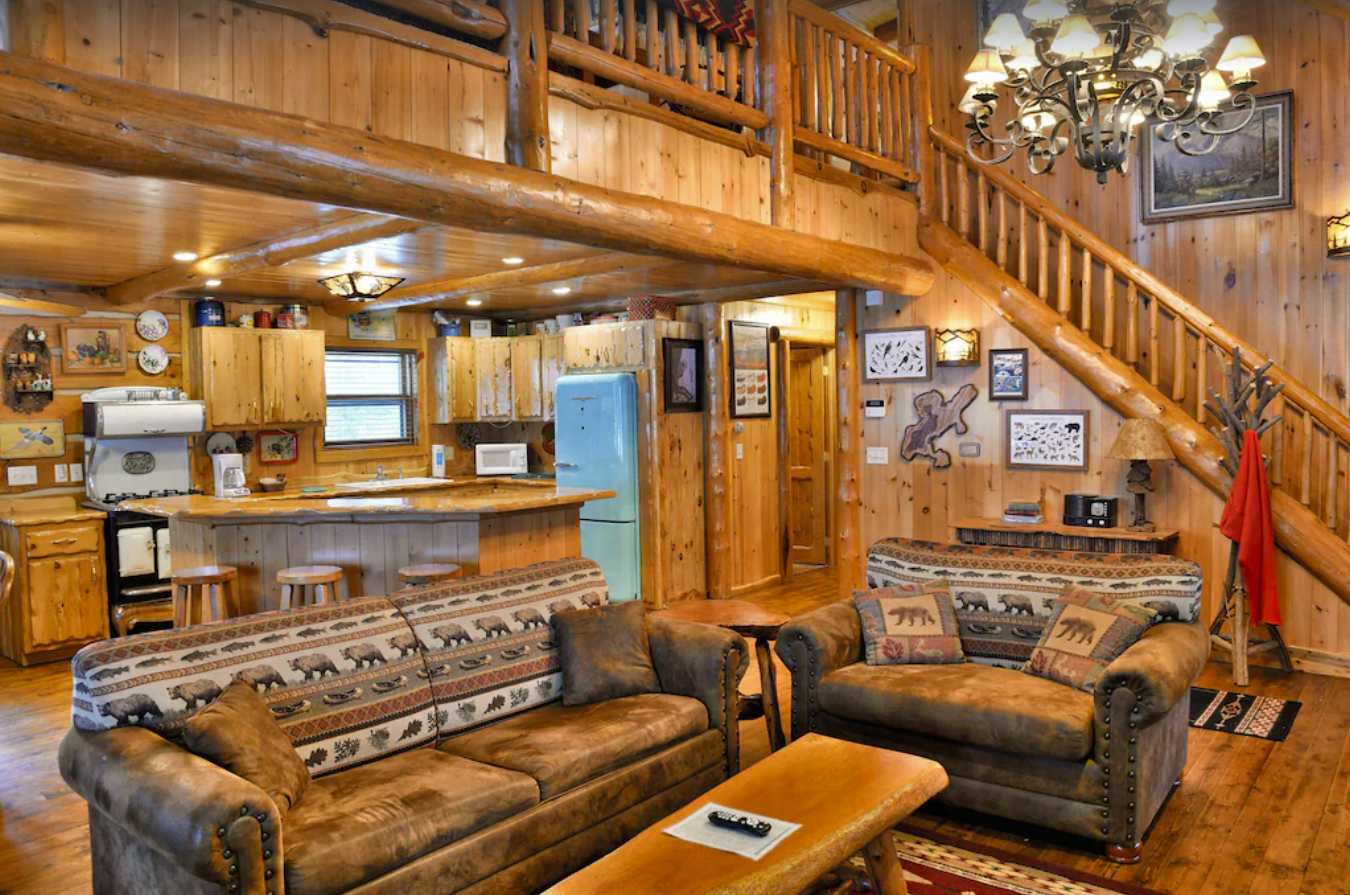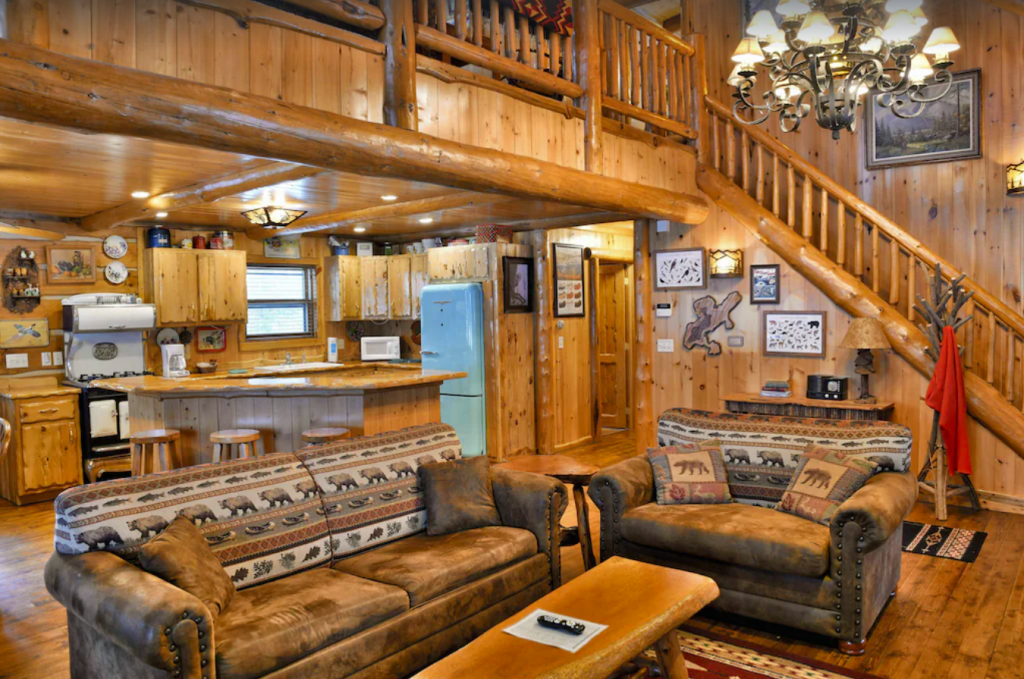 Cozy 3-bedroom cabin with indoor hot tub
Book a relaxing stay in this clean and cozy 3-bedroom cabin with an indoor hot tub. Amenities include a vintage oven, fridge, and a picnic area for some outdoor dining or drinks with friends and family. There's also a pontoon boat at guests' disposal to explore Little Round Lake.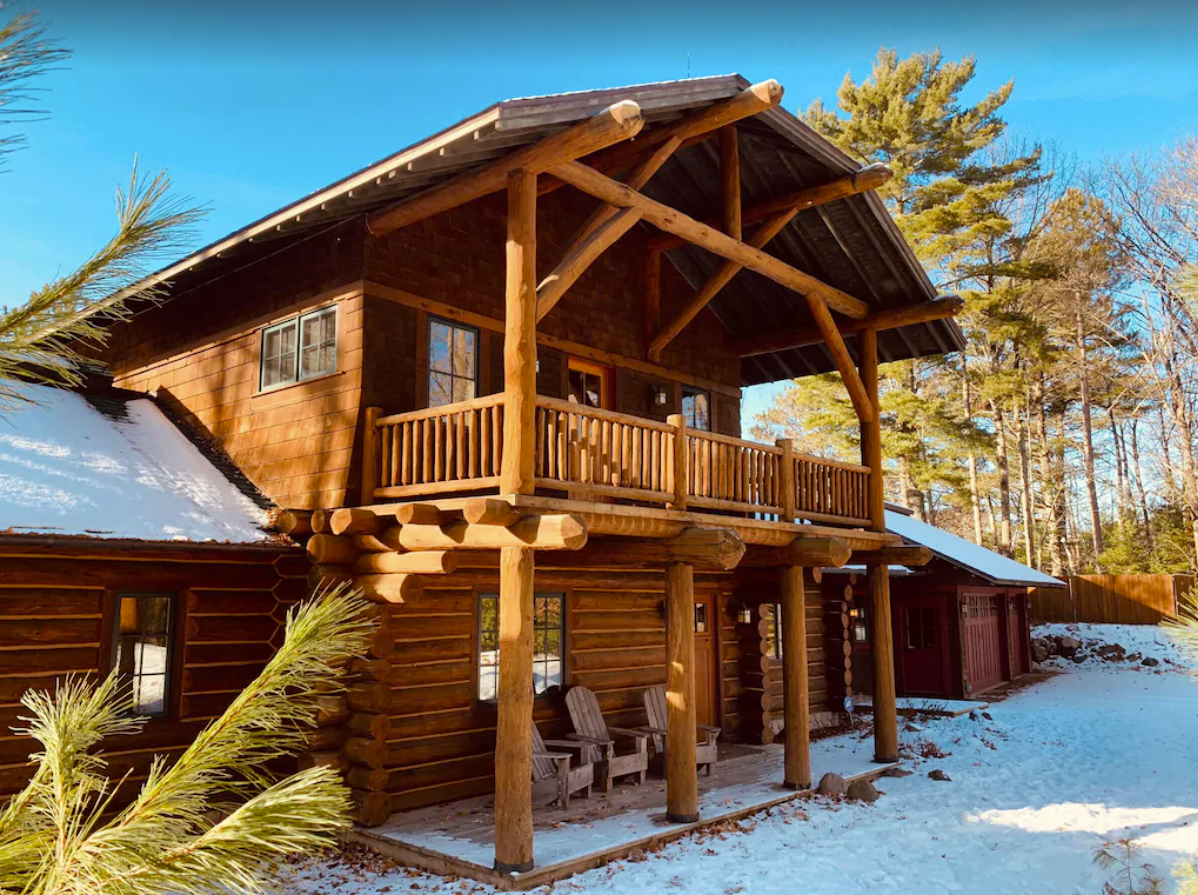 Architect-designed cabin with stunning views and hot tub
This 4-bedroom, 4-bathroom architecture-designed cabin lends a unique setting to an unforgettable North Woods getaway. The design is an eclectic mix of National Park structures and Scandinavian style while still retaining its old-world charm. The property is not without modern amenities and guests are treated to stunning lake views and sunsets throughout their stay.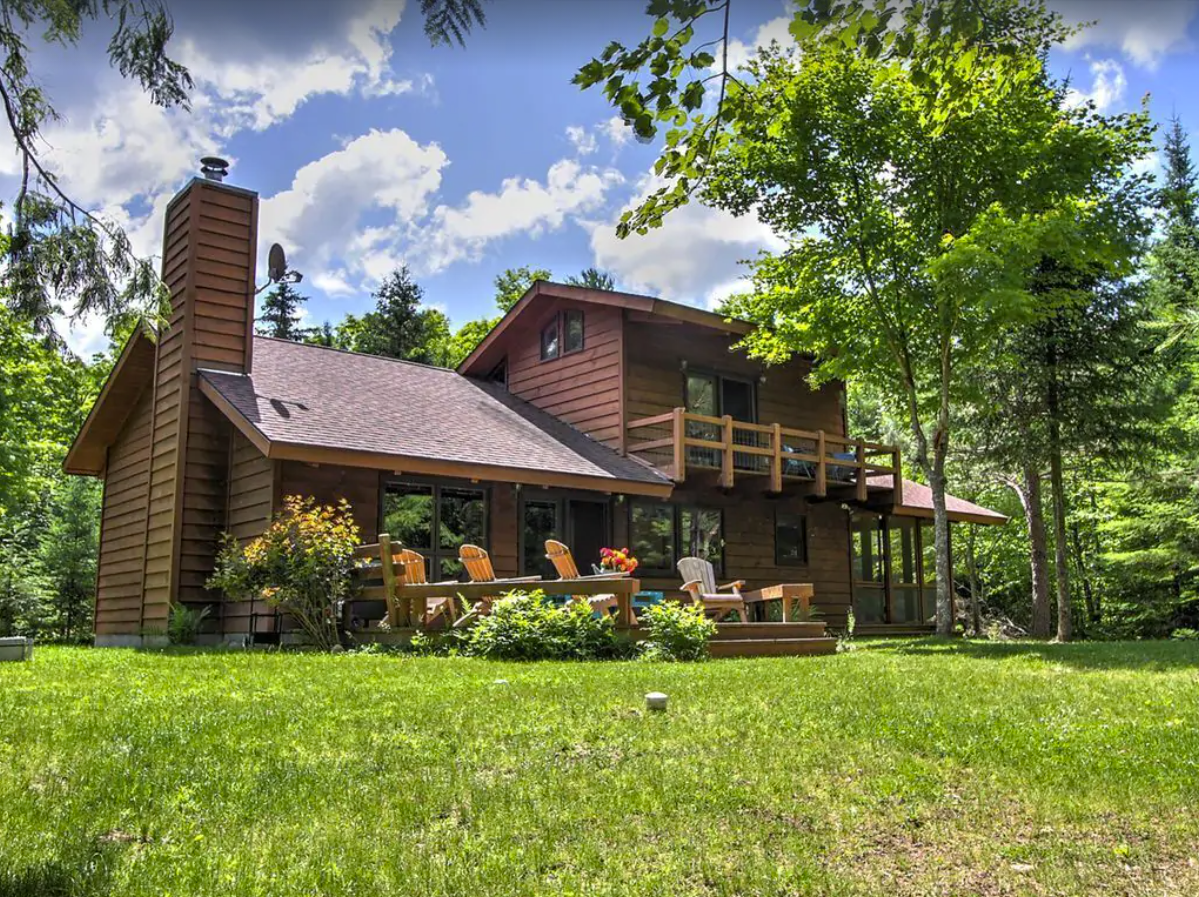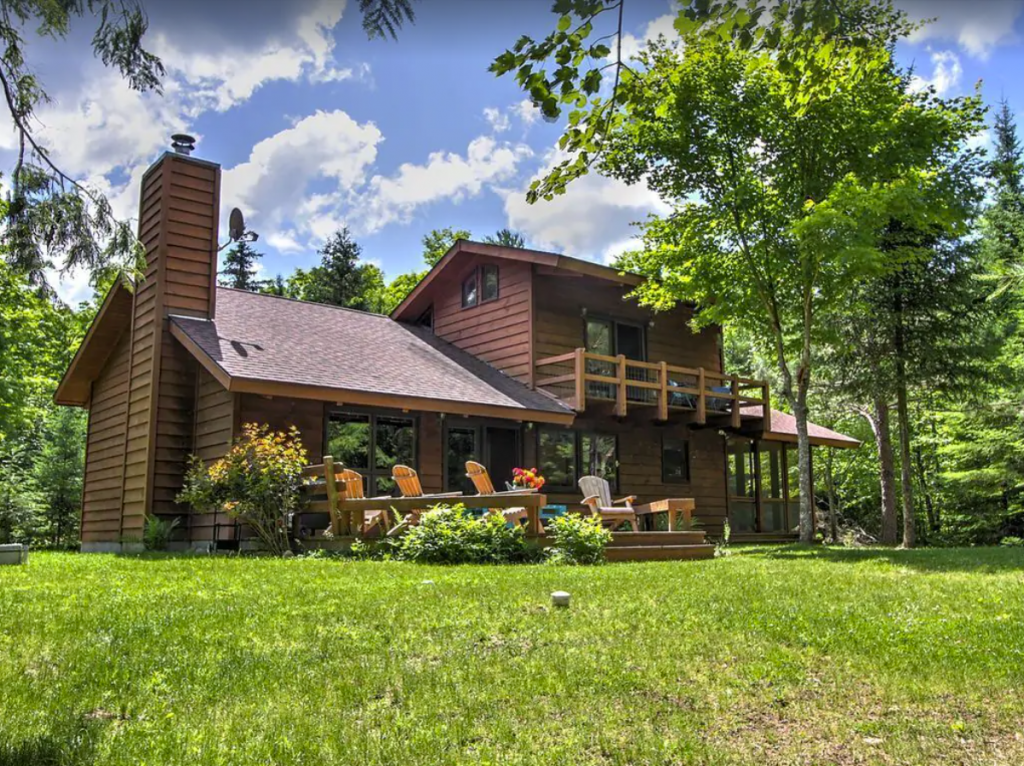 Secluded private cabin on Moose Lake
Spend the weekend in solitude in this vintage 4-bedroom lodge on Hayward's scenic Moose Lake. It's tastefully decorated to highlight the interior's cedar beams, stone fireplace, and 14 ft. ceilings. It also features a large vaulted screen porch and the property's very own secluded cove.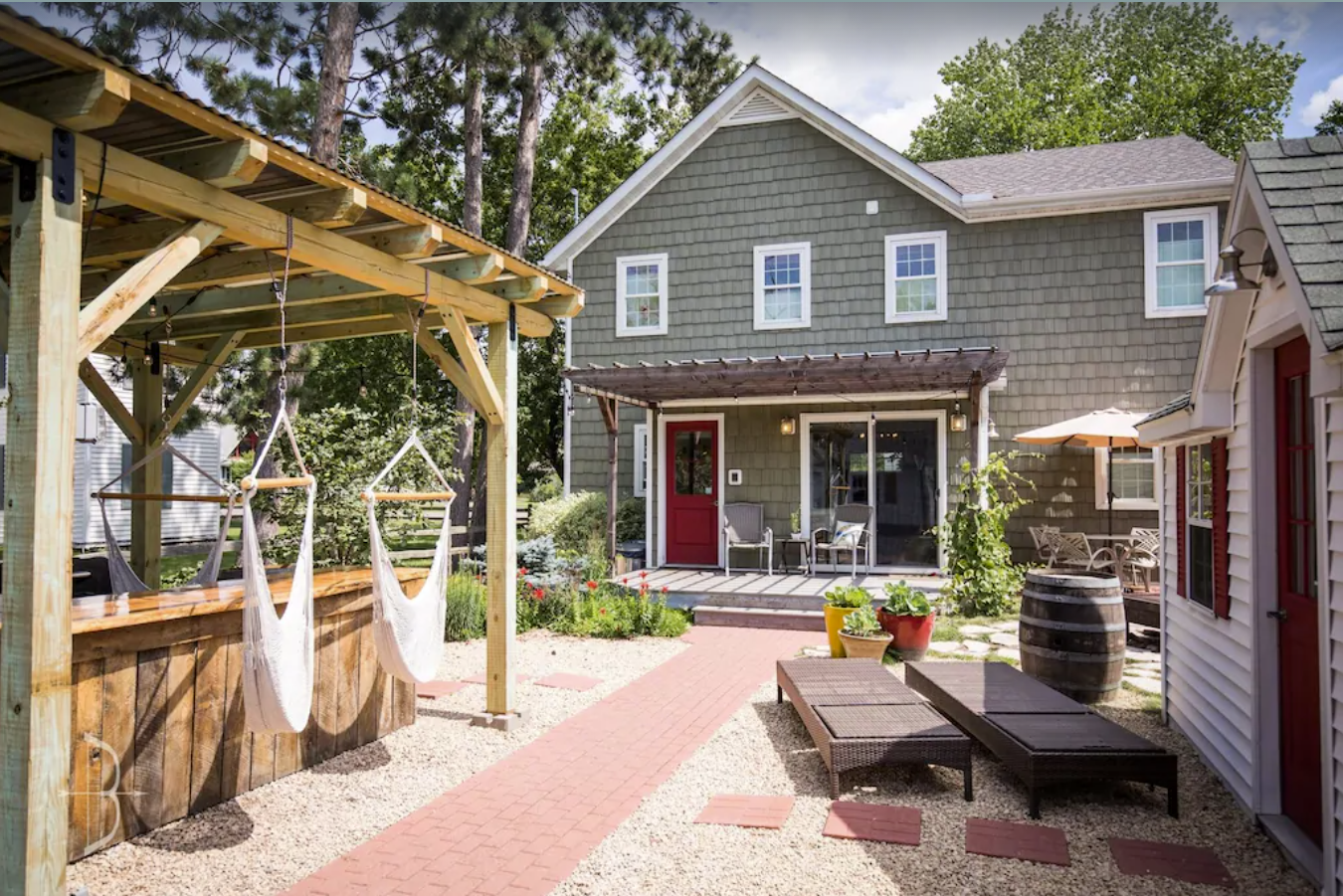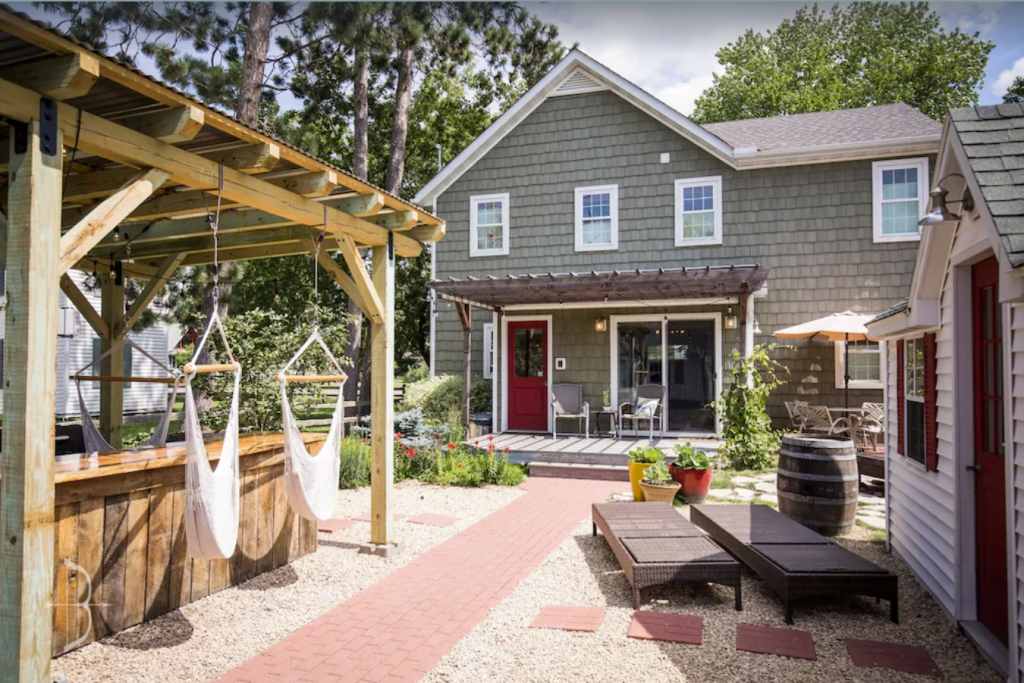 5-bedroom lakefront home
An elegant 5-bedroom, 4.5-bathroom house rental with a fully-equipped kitchen and lots of space for everyone to spread out and prep meals for the family. The backyard features a spacious outdoor bar with a wood-fired pizza oven. Also included for guests' use are two mountain bikes, four kayaks, and paddle-boards.
Renovated lake home in National Forest
Nestled within lush pines on the shores of Lost Land Lake is this striking 4-bedroom cabin that promises complete privacy. It highlights floor-to-ceiling windows and a wood-burning fireplace as the focal point of the living room. It's also newly renovated to include new furnishings and cedar-plank walls. Enjoy a nice meal at the dining table that fits 10-12 people or check out the shore located just steps from the cabin.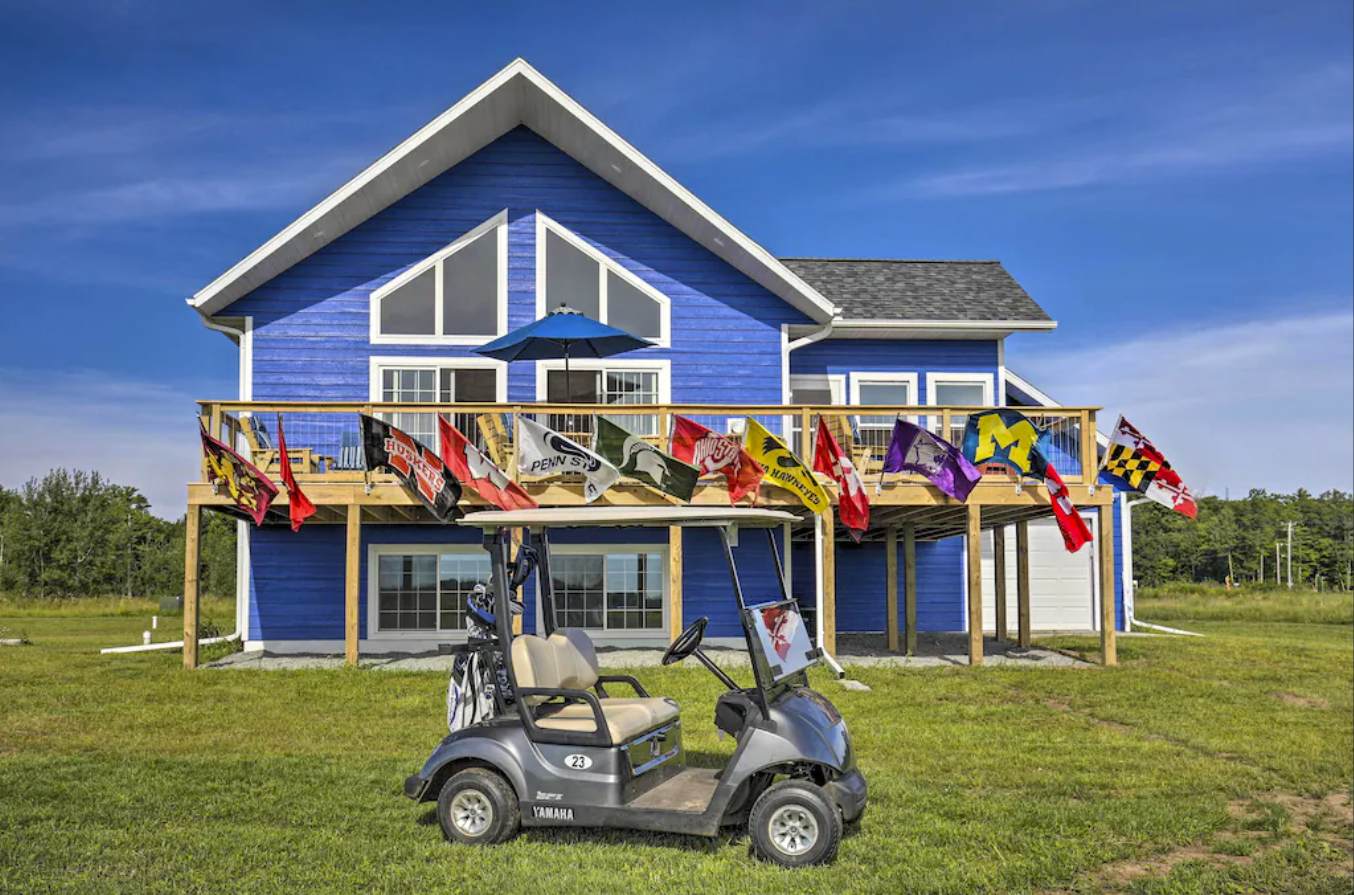 Hayward house on the Big Fish Golf Course
A friendly homestay for guests wanting to try golf. The interior space is updated with wood-beam ceilings, gas fireplace, three flat-screen TVs, reclining chairs, and an enclosed sunroom. Its 4-bedroom set up sleeps up to 16 persons and the property is also close to local attractions including Big Fish Golf Club (on-site), Round Lake (2.5 miles), Hatchery Creek Trail (4.8 miles), Hayward City Beach (4.8 miles), and Kissick Alkaline Bog Lake (7.7 miles).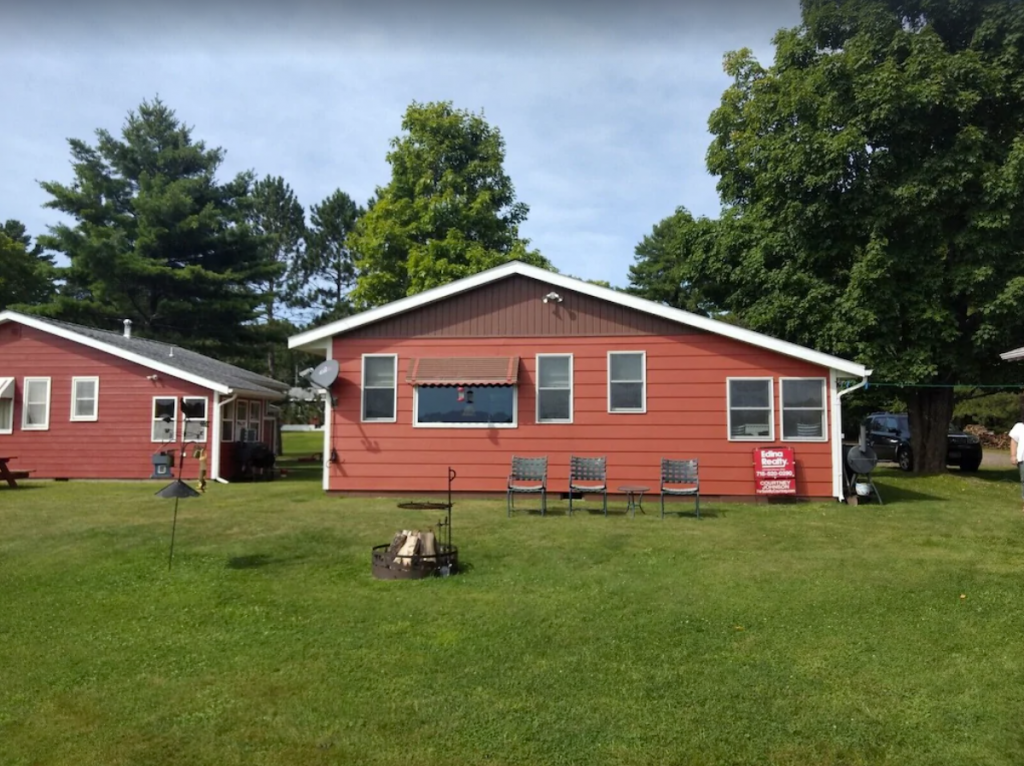 Comfy home with pool and guest boats
A clean and comfortable 2-bedroom house with a heated pool and boats for guests to use. There are also free amenities for fishing and water sports activities including a 14 ft. fishing boat with trolling motor, paddle boat with boards, and folding chairs. A 16 ft. Jon Boat is also available for rent to maximize the experience.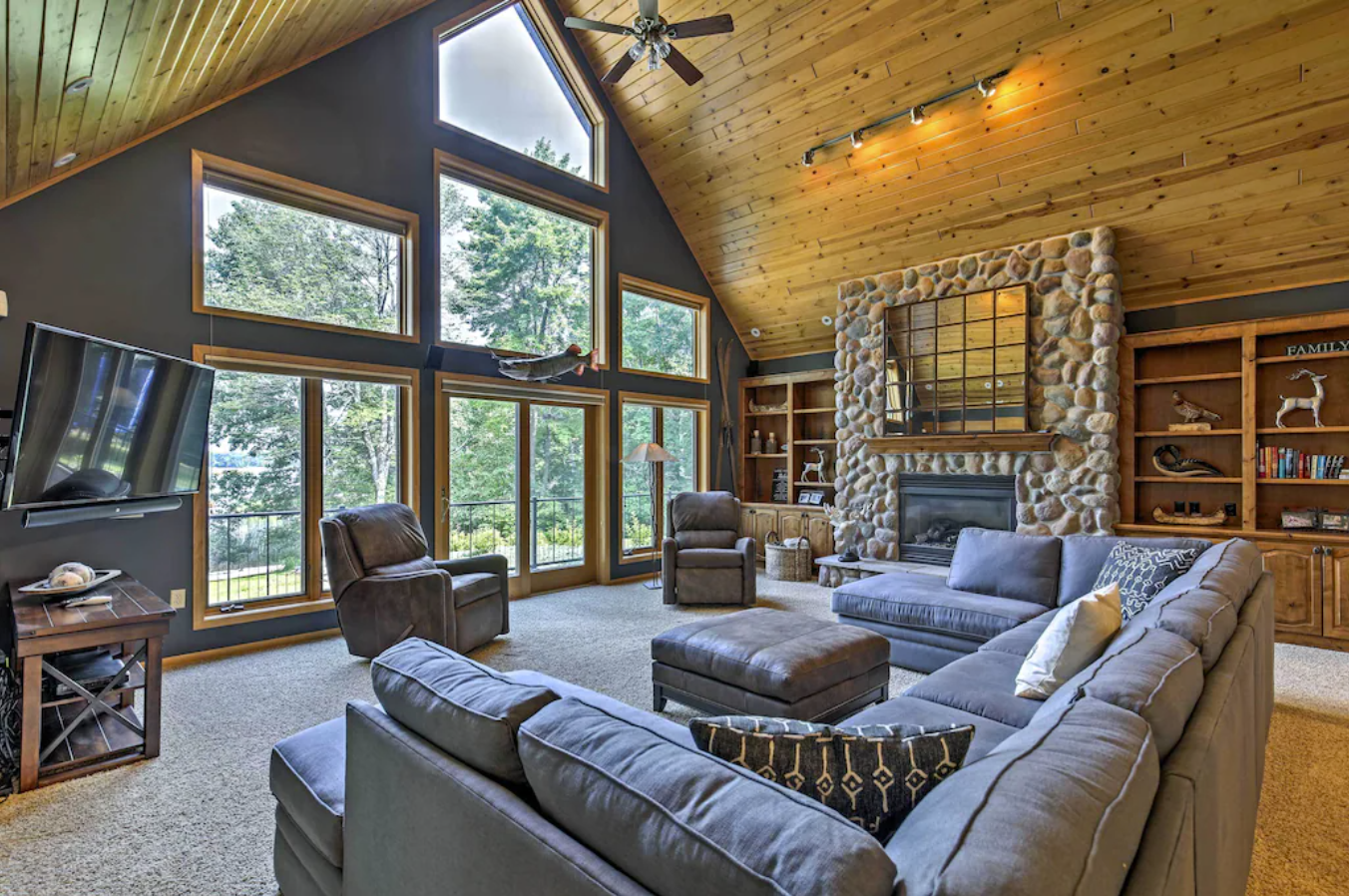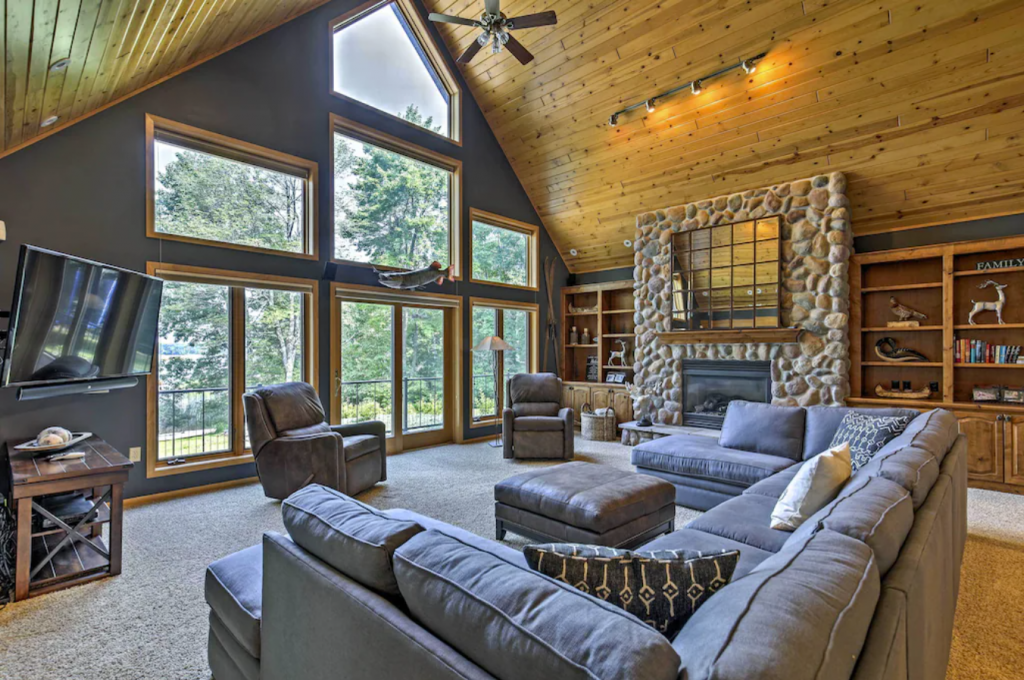 Lakefront home with fire pit
A hidden gem in the Gold Coast featuring 3 bedrooms and 3.5 bathrooms. Its interior exudes a charming yet modern set up with floor-to-ceiling windows and a cozy gas fireplace. This 3-story home is also accessible to skiing and snowmobiling trails and only a few steps away to the beautiful waters of Lake Chippewa.
Lakefront home with hot tub and sauna
Previously a Bed and Breakfast lodge, this cozy 6-bedroom, 4-bathroom property is now a holiday stay for guests any season. Unwind in the newly remodeled 26 ft. sunroom or in the large screened porch. There's also a barbecue grill with a picnic table on the deck for some outdoor dining and an anchored aqua patio to relax in while relishing the wonderful views of the lake.
Which of these VRBO Rentals in Hayward, WI is your favorite? Let me know in the comments!