20+ AMAZING VRBO Rentals in Michigan for 2023
Searching for the best VRBO rentals in Michigan? This post has you covered. From beautiful lakefront homes with pools to cozy cabins, there's a VRBO rental in here for everyone.
From the vibrant and historic Mackinac Island to exploring the majestic shores of the Great Lakes region, Michigan is home to some incredible attractions. It's a state filled with unspoiled natural surroundings including lush forests and pristine lakes, with friendly locals to show you around.
Getting into the culture is a thrilling mix of both natural and modern wonders; you'll find yourself eagerly hiking the trails along Sleeping Bear Dunes National Lakeshore and Lake Michigan one day and surveying the vast collection of art found in Detroit Institute of Arts the next, with a visit to wineries and eclectic shops in between. The possibilities for adventure are endless in Michigan, and lucky for you, we've got the scoop on the best VRBO rentals in Michigan!
*Disclosure: some of these links are affiliate links. Meaning, if you click a link and make a purchase, Have Clothes, Will Travel gets a very small commission at no extra cost to you. Thank you for supporting the brands that make this blog possible!
The Best VRBO Rentals in Michigan
Unique VRBOs in Michigan
---

4-bedroom Beach Glass Cottage in North Beach – South Haven, Michigan
A spacious 4-bedroom, 4.5-bathroom beachfront home that has front row seats to the best North Beach sunsets. It also has unparalleled panoramic views of the surrounding beach, lighthouses, and the majestic Lake Michigan from every room. Moreover, this three-decker property has a hot tub, outdoor fireplaces, gas grill, and plenty of outdoor sitting areas to enjoy morning coffee and breakfast.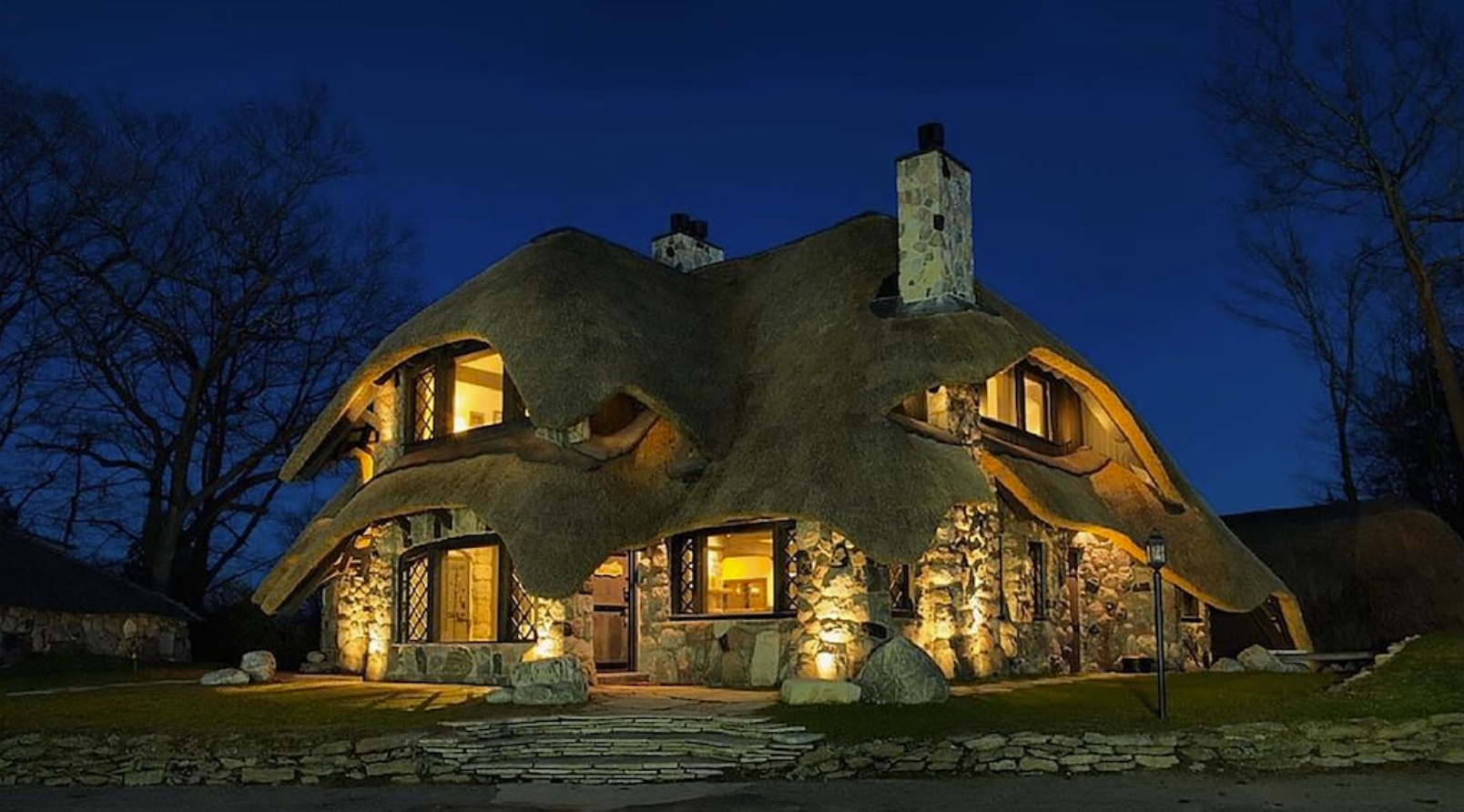 Charlevoix Mushroom Thatch House – Charlevoix, Michigan
A re-imagining of a hobbit-home is evident in this unique but comfy 6-bedroom, 5-bathroom mushroom thatch house originally conceived by Earl Young starting in 1918. Its fairy tale design and fine craftsmanship of hand-reaped thatch make the home an iconic stay for family retreats, wedding parties, and events of all kinds.
Luxury VRBOs in Michigan
---

3-story Luxury Home with Pool, Hot Tub, and Waterfall with Koi Fish – Battle Creek, Michigan
A 3-level luxury home nestled on 2 acres of beautiful private grounds, complete with an outdoor pool and a waterfall landscape with koi fish to add to that peaceful but opulent ambiance. The 7-bedroom, 4-bathroom property accommodates up to 16 persons and has a fully equipped and well-stocked kitchen for hosting parties and dinners.

Private 6-bedroom Luxury Home with Pool – Fennville, Michigan
Relax in this spacious and secluded 6-bedroom property that's also a short drive away to beach towns and local attractions. It has a sunny fenced in-ground swimming pool with umbrellas and chaise lounge chairs for pool parties. Also, just across the property is a lakefront nature preserve with trails leading to Lake Michigan beach.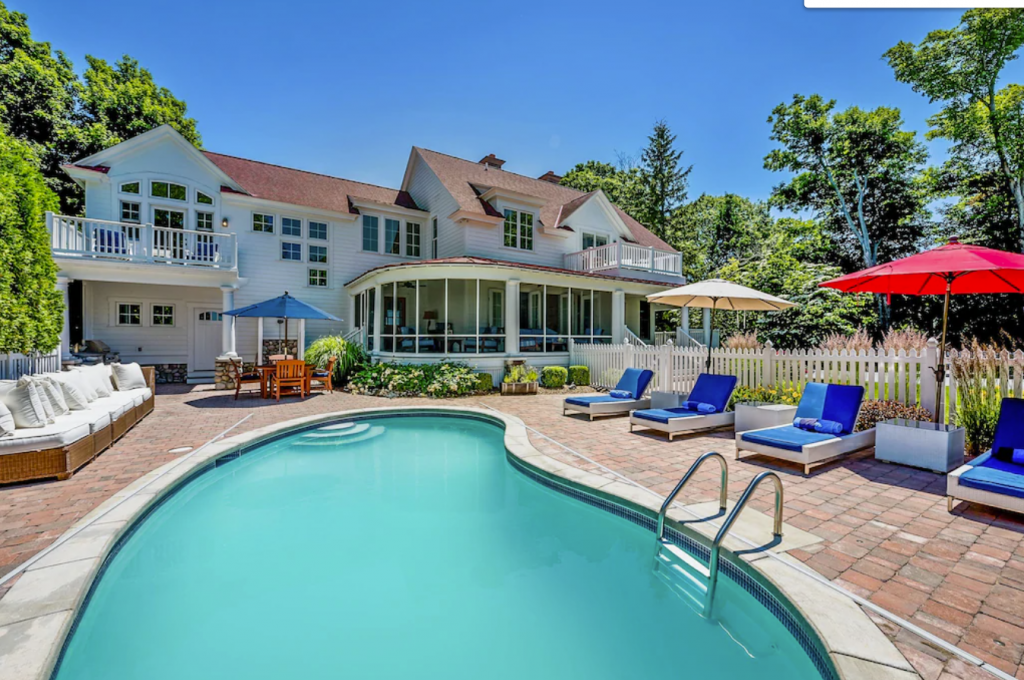 Lakefront Retreat with Private Beach – South Haven
Locally awarded for having the best exterior, this 5-bedroom lakefront property is one of a handful of properties in South Haven with a community private beach and kayak launch. There are two rooftop decks with screened-in porch and firepit where guests can enjoy sunsets, as well as a full chef's kitchen overlooking the spacious porch, private pool, and beach.

Premier Luxury Vacation Lamb Guest House – South Haven
A holiday favorite for guests wanting a clean and spacious 7-bedroom property. It has a well-appointed kitchen and comfortable beds with premium linens. Groups will love the private swimming pool, hot tub, and the sun room, or they can gather around the cozy indoor fireplace when the night gets chilly. Aside from being kid-friendly, the place is a short walk or bicycle to the beach.

Spectacular Lakefront Living with Fire Pit on North Beach – South Haven
Watch the sails go by with spectacular sunset and beach views as backdrop in this 4-bedroom, 5-bathroom lakefront property. The 3-story home is tastefully ornamented with nautical décors further adding to the property's decadence. The top most floor features a wet bar and an outdoor living area for that picturesque rooftop party.

4-bedroom Private Alpine House with Hot Tub in Boyne Mountain – Boyne Falls
A scenic view of the alpines awaits guests in this spacious 4-bedroom lodge located in a gated community in Boyne Mountain. It's only steps away to the alpine chairlift where guests can see the chairlifts all empty where the Alpine, Disciples I, and Disciples II are. It's a unique and scenic visual treat, with Avalanche Bay nearby should the whole family decide to explore the best indoor water park in Michigan.
Luxury Lakefront Home with Hot Tub and Outdoor Kitchen – South Haven
Relax and take in the serene atmosphere of the lake in this 5-bedroom luxury property overlooking South Beach and South Haven's Lighthouse. It's clean, fresh, and spacious, with a gourmet kitchen, private balconies with panoramic views of Lake Michigan, and a kid's corner park just across the street. There's a hot tub for when guests want to have a relaxing dip during chilly nights.

Cozy 4-bedroom Lake Trail Treehouse Cottage with Heated Pool and Hot Tub – Saugatuck
A cozy 4-bedroom cottage with a heated pool and hot tub surrounded by nature. Out front is a large screened-in porch where the family can gather and have meaningful conversations. There's an outdoor fire pit where kids can make s'mores and share stories, while the indoor fireplace keeps the family cozy during winter. Right after is to head on over to Saugatuck's Silver Lake or simply explore the natural beauty of the Kalamazoo River and preserve.

7-bedroom Luxury Designer Home Near Hiking Trails – Shorewood Hills
A homely 7-bedroom luxury designer home that's near hiking trails including the Warren Dunes, Deer Creek, Robinson Woods, Grand Mere State Park, and Chikaming Park and Preserves. Guests will enjoy spending much of their time outdoors due to the vast recreational activities (kayaking, biking, fishing, and hiking) available in the area and will sleep soundly in the home's cozy bedroom suites after.

Apple Blossom 3-home Luxury Rental Estate – New Buffalo, Michigan
A sprawling 3-home estate with rustic charm and contemporary design on a private 18-acre estate in Michigan's Harbor Country. Guests will love the homey feel set in a luxury boutique setting; the property features 12 bedrooms, 14 bathrooms, a large heated pool, two hot tubs, a pergola lounge, an outdoor dining area, multiple chaise lounge chairs, and two fire pits. There's also a basketball/tennis court adjacent to a 6,000 square foot Astroturf area meant for enjoying outdoor activities.

Private 5-bedroom Beachfront with Landscaped Yard and Jacuzzi – Grand Haven
A private 5-bedroom retreat nestled in Grand Haven—a scenic location named as America's Happiest Seaside Town in 2017 by Coastal Living Magazine. Panoramic views of Lake Michigan can be seen in its lake-to-wall windows and greets guests upon arrival. A gourmet kitchen is available for guests to use along with the master suite with fireplace, sitting room, and soaking jacuzzi tub. The property is close to a biking/walking path to downtown Grand Haven and Holland.
Modern 9-bedroom Lakefront Mansion with Heated Pool – Union Pier, Michigan
This refined and exclusive 9-bedroom, 11-bathroom lakefront mansion is modern yet cozy. Take a relaxing dip into the heated pool overlooking the sunset and beach. The property is over 7,000 sq. ft. and can accommodate up to 18 persons. Watch the surf and enjoy the sunset in the screened porch or relax in the shaded gazebo close to the beach.

Charming 5-bedroom Royal Oak Home with Gardens – Royal Oak
Exuding old-world charm straight from a fairytale book is this idyllic 5-bedroom home in the Northwood subdivision. A dramatic foyer with a beautiful staircase greets guests upon arrival, and it opens up to the grand living room with coffered ceilings and a cozy fireplace. Lounge in the sunroom with heated floors and floor-to-ceiling glass doors and fall in love with the property's extensive gardens just right outside.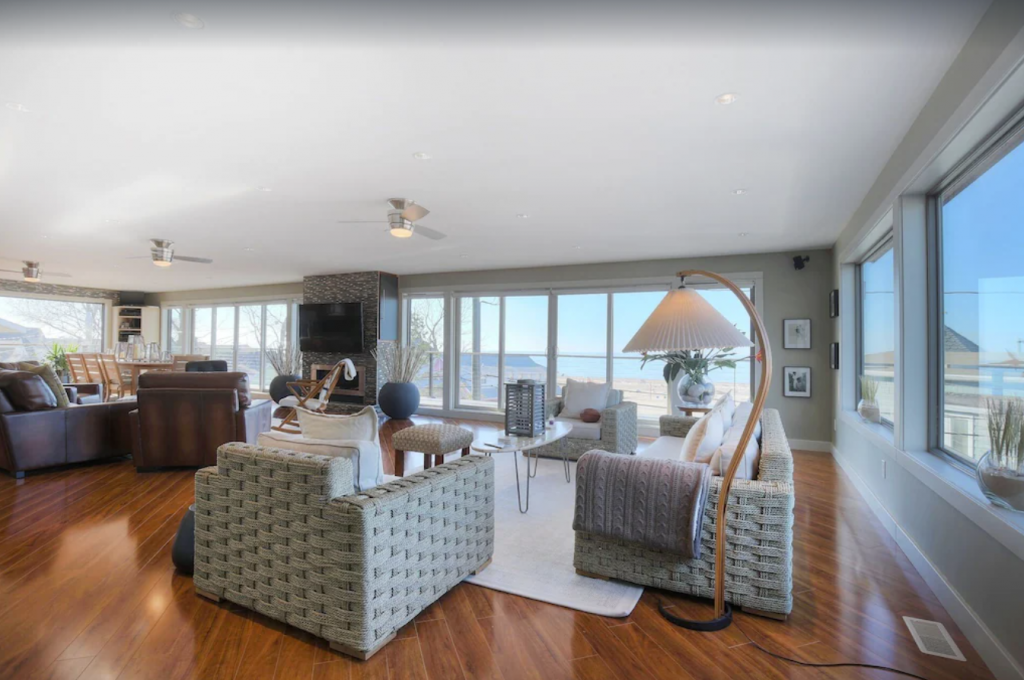 3-story Luxury Beach Front Home Close to North Beach – South Haven
Spectacular sunsets and beach views set the mood in this 5-bedroom luxury beachfront property in South Haven. The second floor has a gourmet kitchen and an open floor plan with floor-to-ceiling windows overlooking Lake Michigan. Both the second and third level feature an outside deck where guests can host a dinner or cocktail party.

Contemporary 3-bedroom, 2-bathroom Rental Home on the Narrows of Lake Leelanau
Dreamy, cozy, and spacious describe this contemporary 3-bedroom rental home on the Narrows of Lake Leelanau, perfectly styled with hardwood flooring, modern fireplace, and a large outdoor deck. Guests have the option to bring or rent a boat from the Lake Leelanau Yacht Club and explore the beach, wineries, breweries, and hiking trails.

Luxury 6-bedroom Lake Michigan Beach House – Holland
A 4-level luxury beach house with a hybrid timber-frame design. Every room offers a wonderful view of Lake Michigan and the surrounding forest, natural bluff, and beach. It sleeps up to 10 persons in its 6-bedroom, 7-bathroom setting and is ten minutes away to shops, galleries, and restaurants of popular lakeside communities of Saugatuck/Douglas and Holland.
Cottage/Cabin with Lake
---

Luxury 6-bedroom Cottage with Direct Lake Michigan Access – Muskegon
Nestled in a quiet wooded neighborhood is this 6-bedroom, 4-bathroom luxury cottage with direct access to Lake Michigan. Any area in the property opens up to unobstructed views of the lake. Just outside is a large deck that feels like paradise, one way to cap the day off with a lovely dinner and wine while watching the sunset work its magic over the waters.
Custom 4-bedroom "Wildwood Cabin" on Lake Michigan – Brevort
A private rental paradise available all year round, once featured in Log Home Living Magazine. This 3,000 sq. ft. custom log home with 4 bedrooms and 4 bathrooms can accommodate up to 13 persons and is ideal for family gatherings, company outings, or romantic getaways. It takes only 75 steps to get to the sandy shores of Lake Michigan and just 15 minutes to the Mackinac Bridge and nearby attractions including Les Cheneaux Islands, Tahquamenon Falls, the Soo Locks, Whitefish Point, the Pictured Rocks, Lake Huron, Lake Superior, and Hiawatha National Park.

Kemp's Portage Lake Log Home with Firepit and Pavilion – Houghton
This 4-bedroom lake log home is nestled on a hillside with a main level and a lower walkout level on Portage Lake. The property has over 3,600 sq. ft. of living area and 2,200 sq. ft. of deck area and has a covered pavilion, fire pit, and a dock. It's located next to Sandy Bottom Beach where recreational water sports like fishing or cruising can be done.

5-bedroom Edelweiss Lodge in Exclusive Gated Community – Boyne Falls
A world class property built with technologically advanced features including keyless entry and monitored climate control for the guests' convenience. This 5-bedroom, 5-bathroom lodge also has a gourmet kitchen with granite countertops, stainless steel appliances, and gorgeous slate floors. The dining room is well lit by a custom chandelier adding further to the interior's elegant ambiance.
Which of these VRBO rentals in Michigan is your favorite? Let me know in the comments!