What I Wore to Explore Tel Aviv, Israel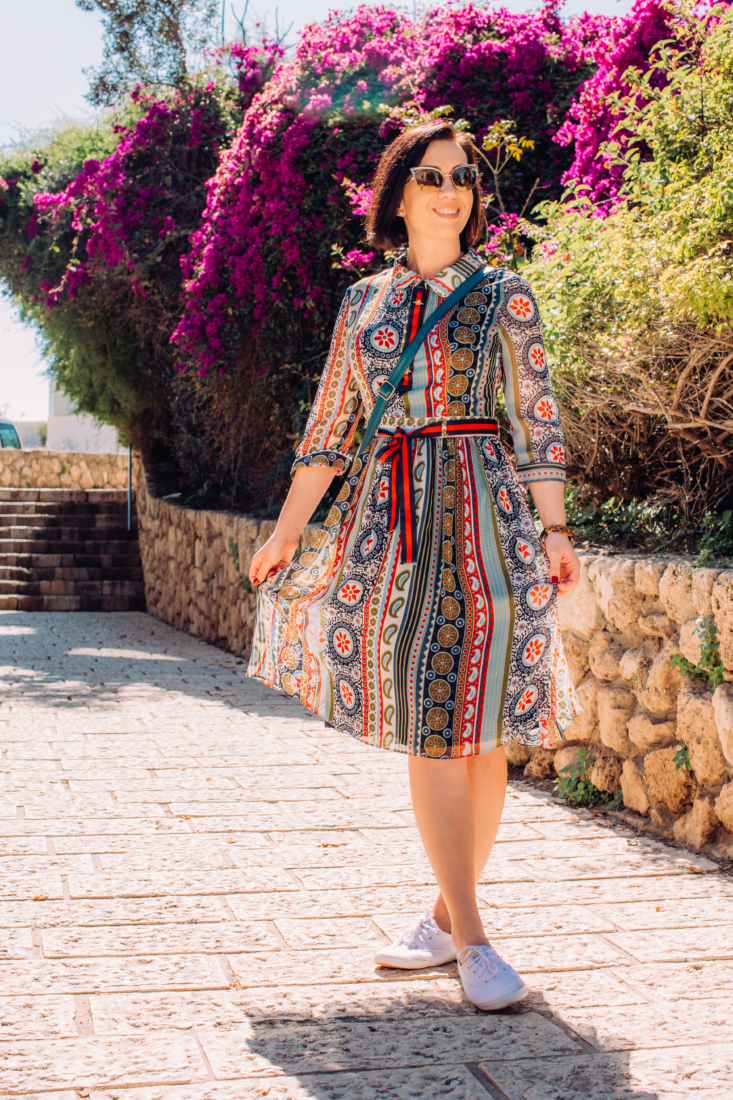 Dress (Similar here) | Bag | Sunglasses (Similar) | Earrings | Watch c/o*
I know my last post about my trip to Israel painted it in a bit of a negative light. However, that was just one day of the trip. My time spent exploring Tel Aviv was relaxing and beautiful. It also included a lot of walking!
We stayed at the Sheraton hotel and then meandered along the cost to Old Jaffa and spent the day exploring the Flea Market and Jaffa Port. (More on that in this Tel Aviv travel post!)
*Note: there are no expectations or requirements for how to dress for women in Israel (like in Jordan, for example) – unless you are visiting religious sites. Then, your shoulders, knees and chest should be covered. I always dress modestly, though, when visiting new countries.
Now, wearing Keds with this dress wouldn't have been my first choice…but it turned out to be so comfortable for all that walking that I didn't care what it looked like! The temps were in about the mid-70s (Fahrenheit), and a lightweight, breathable dress like this was perfect. (This dress is sold out, but Stylewe has a TON of similar options.) And my Keds have become my favorite walking/traveling shoes because they are so darn comfortable. These were the only shoes I had even brought along for this trip.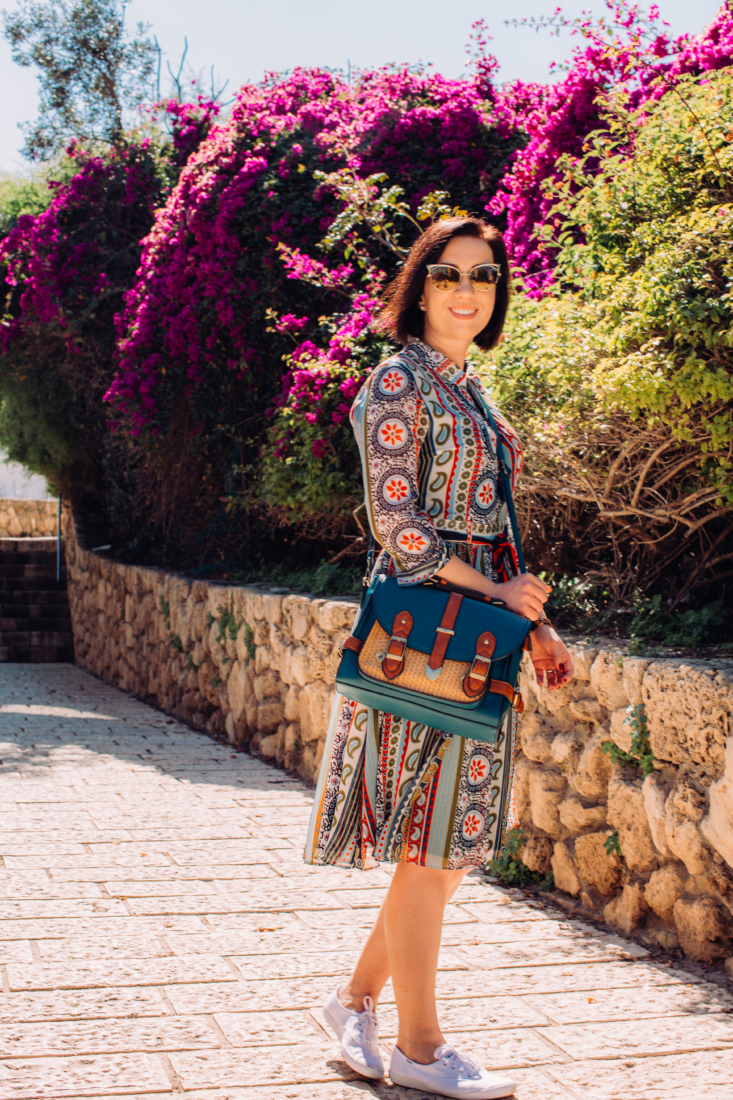 While my Keds have become my favorite travel shoes, this teal crossbody bag has become my favorite travel bag! I've had it for exactly a year now, and use it constantly…and it is still in fantastic condition! I love using a crossbody for traveling not only because it's more comfortable when walking, but it also makes you less of a target for theft. Not that Tel Aviv has a lot of issues with this, but it's always good to be on your guard when traveling to a new place. I like that this crossbody also zips on the inside (making it even more difficult for a pickpocketer).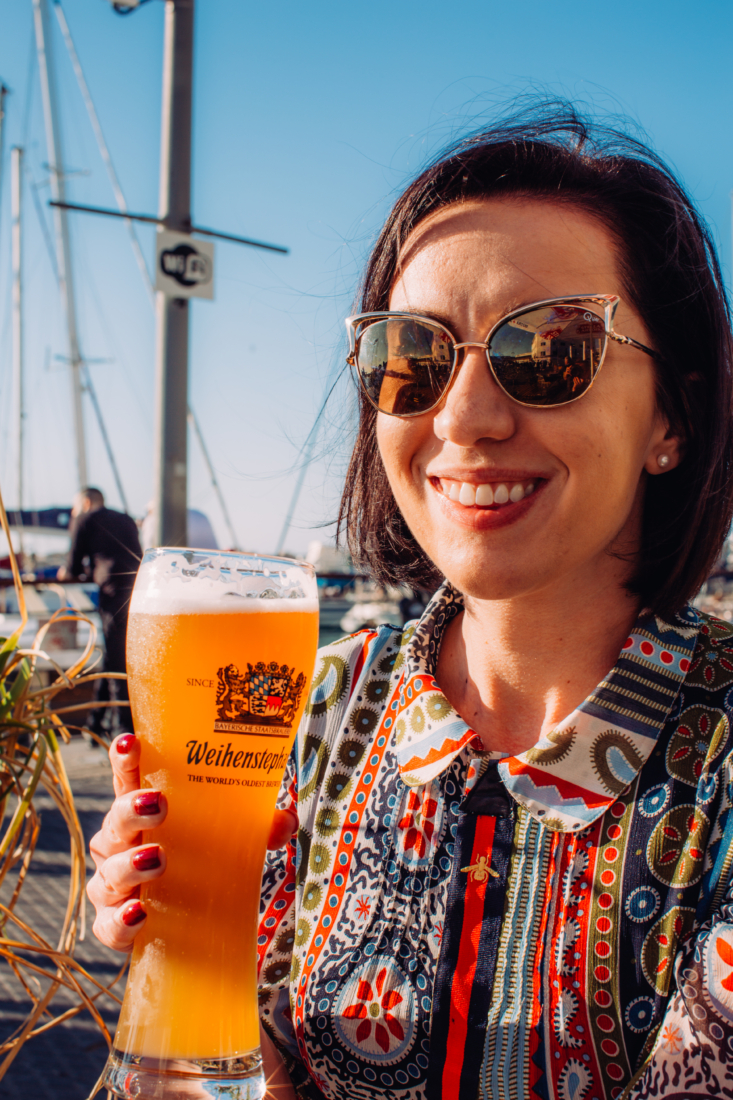 Exploring Tel Aviv also meant eating as much food as I possibly could and hitting up a few happy hours, haha. There are so many lovely, little restaurants, bars and cafes…especially near Jaffa Port. I was really grateful by the end of the day to be wearing a comfortable dress, that put absolutely no pressure on my stomach! Haha.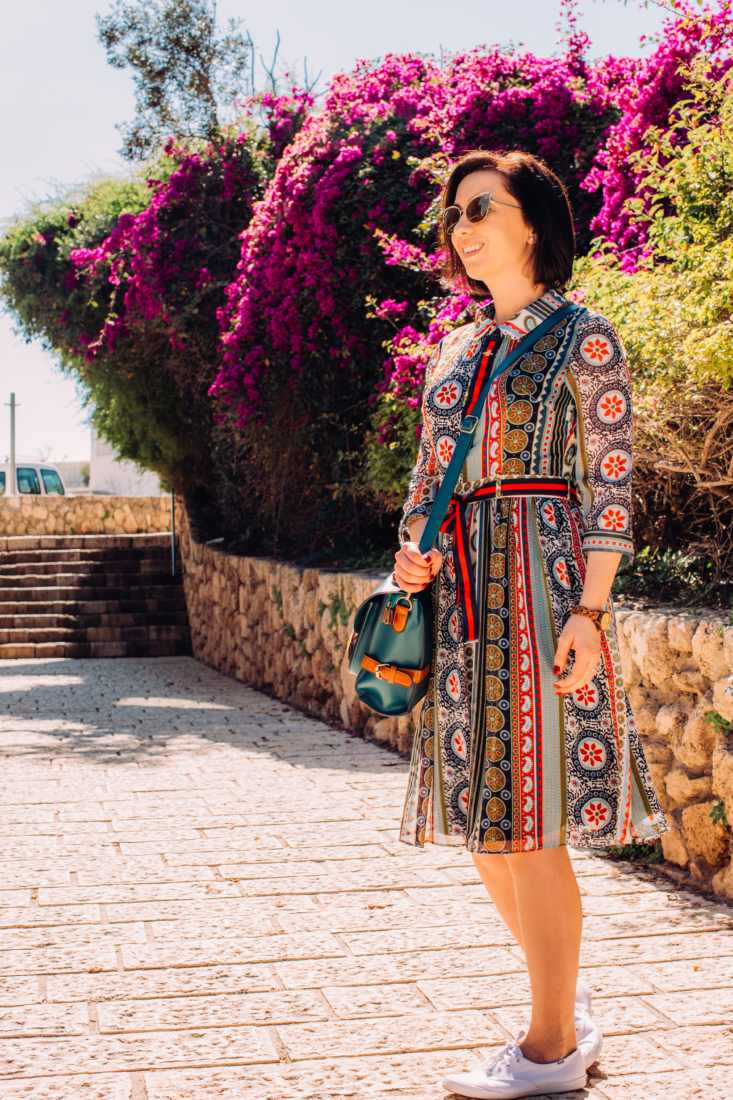 What are some of your favorite travel outfits? Do you use crossbody bags and sneakers on trips? Let me know in the comments!
Where to find it:
Dress: No longer available (Tons of similar options on Stylewe and also in the widget, below.)
Bag: ModCloth
Sneakers: Keds
Earrings: Amazon
Sunglasses: Old (Similar here.)
Watch: c/o* Jord Wood Watches

Travel Insurance
It's a good idea, no matter where your adventure takes you, to have travel insurance. You never know what might happen! Whether you get sick before your trip and can't go, or you become sick or injured while on your adventure – being covered with travel insurance is a must. Some credit card companies do provide this service (check with yours), or you can get a quote from companies such as Squaremouth to find the best plan for you and your adventure. (This is the company I, personally, use. They are even recommended by Forbes!) To get a free quote, click here.
Visa Requirements
To check if your country requires a Visa for traveling to Israel, click here.
*Disclosure: some of these links are affiliate links. Meaning, if you click a link and make a purchase, Have Clothes, Will Travel gets a very small commission at no extra cost to you. Thank you for supporting the brands that make this blog possible! I am also a participant in the Amazon Services LLC Associates Program, an affiliate advertising program designed to provide a means for us to earn fees by linking to Amazon.com and affiliated sites.
*c/o = courtesy of, meaning the company gave me the product to be used on my blog, and I did not pay for it. All opinions are my own, and I am not being compensated for a positive review.