When Life Gives You Lemons…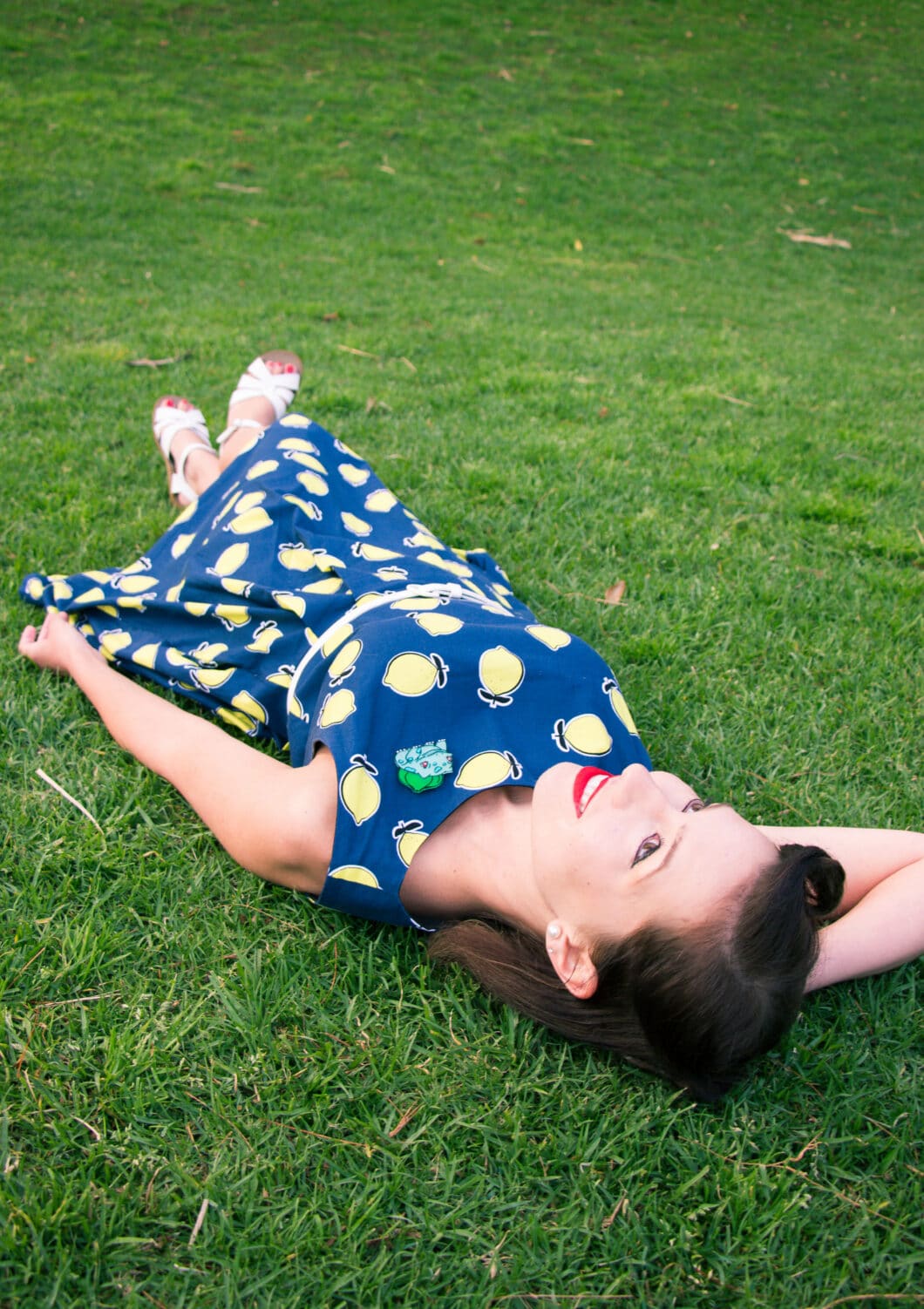 …You make lemonade! I know that it's a rather overused saying, but it is one I do love…as I really strive to be optimistic, even when things are looking a bit sour. Not that there are any particularly bad lemons in my life right now – things are going very well in Sydney!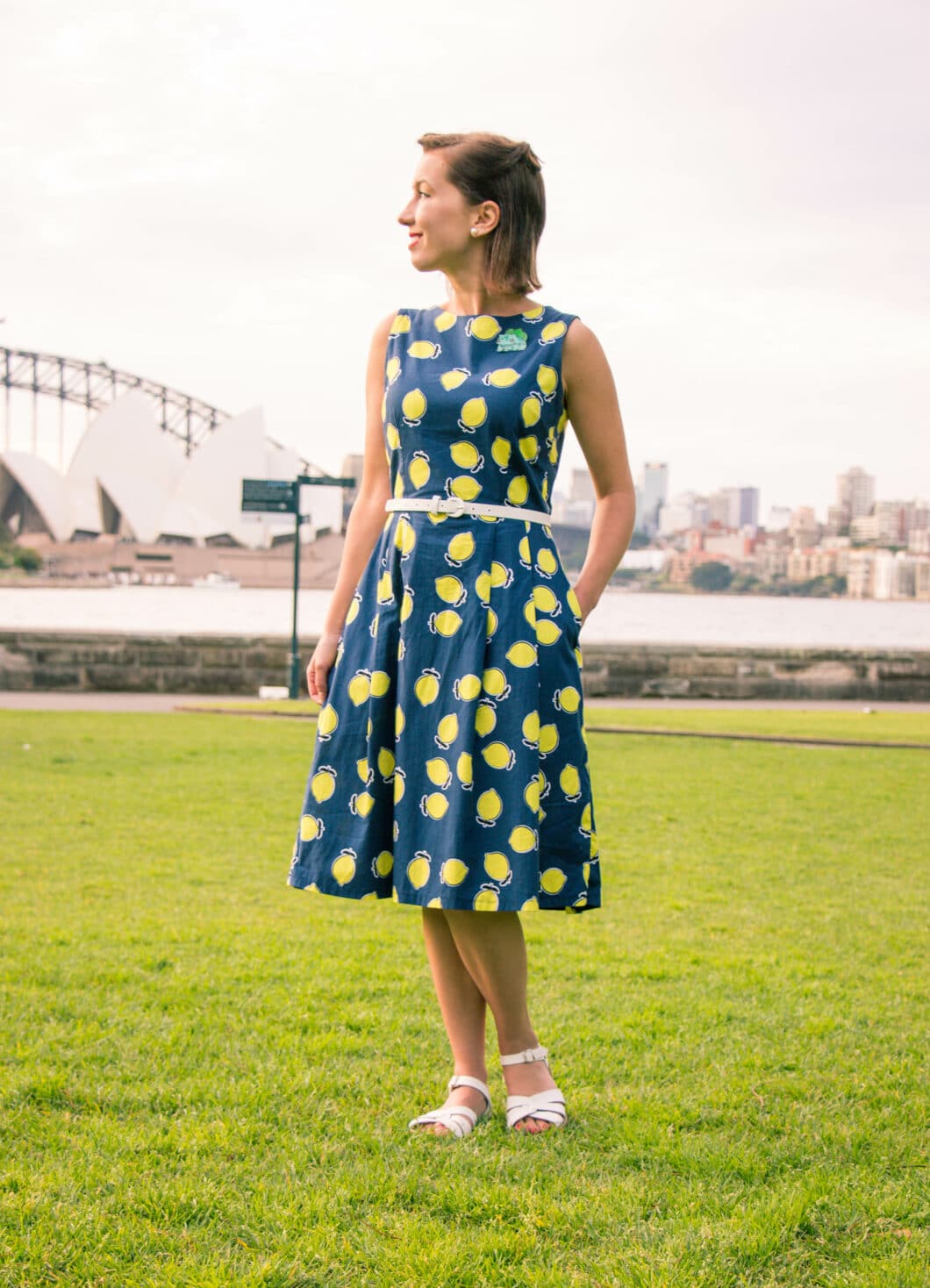 But it is good to be reminded sometimes to be positive. And what better way to remind oneself, than with the most adorable Clema W. lemon dress? Everything about this dress is cheerful and bright, right down to its amazing designer, Erin. She has to be one of the kindest business owners I have ever collaborated with. I, unfortunately, just missed this dress as I left for Japan the same day it arrived in the U.S. But Erin was not upset and wished me the best of luck on my adventure! Fortunately, my mom kept the dress safe for me until I returned to visit (and she and my stepdad loved it because their last name is "Lemmens" which is pronounced the same as lemons, haha).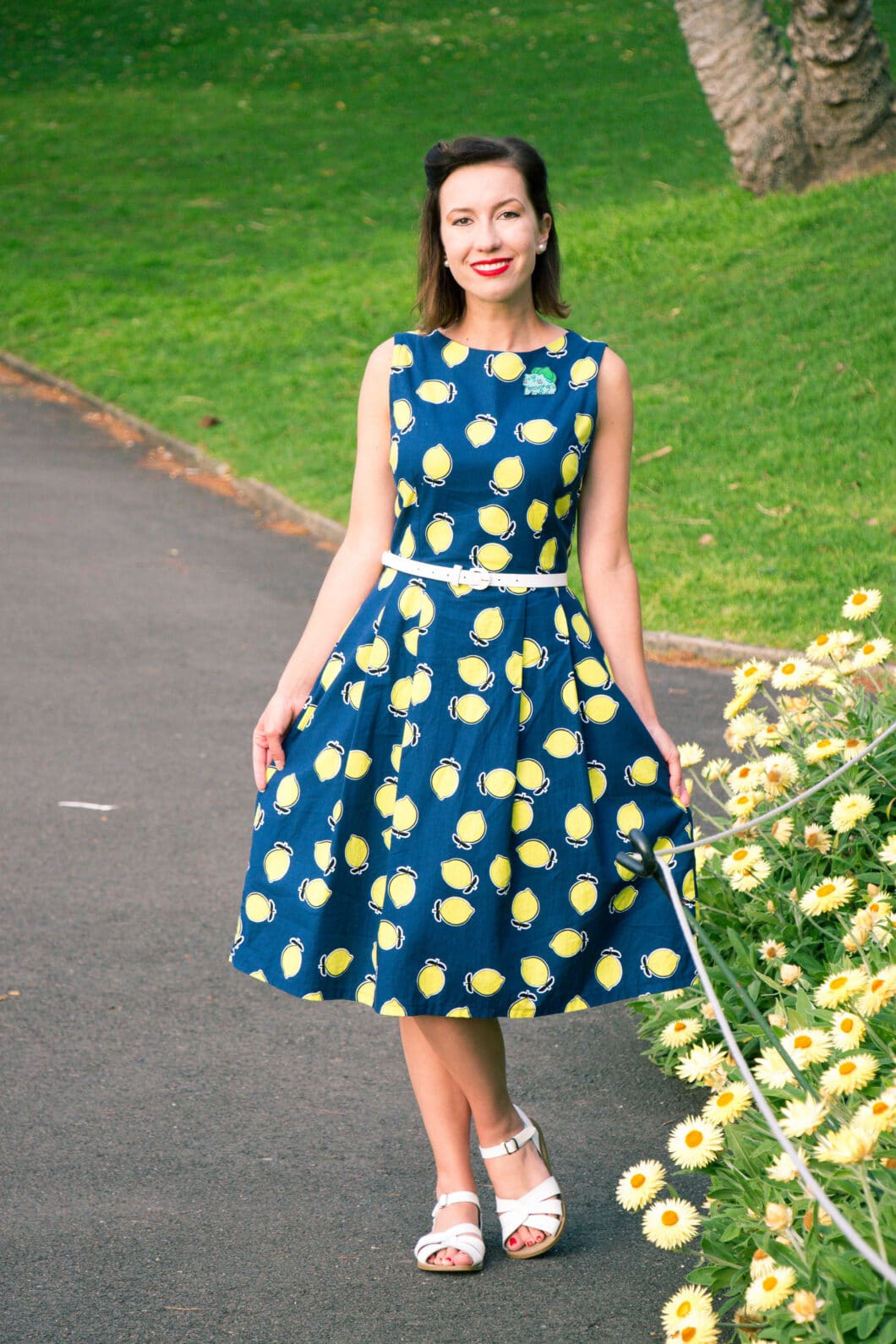 I also love that all of Clema W. dresses are made right in Oregon and Erin named her business "Clema W." after her amazing grandmother, Clema W., who taught her so much in life and the sewing room. I can just feel that this dress was made with love!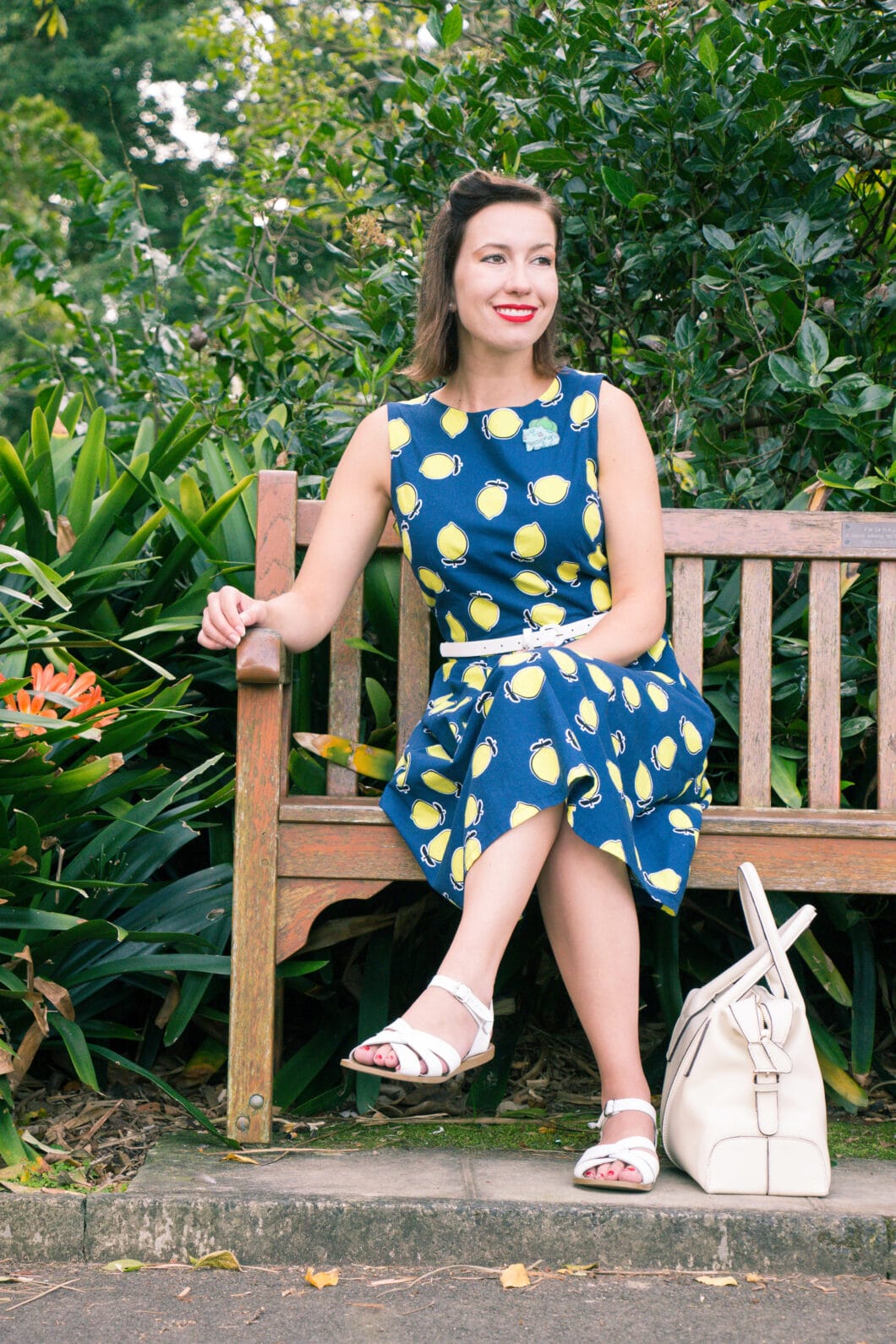 And all of Clema W. dresses have such wonderful and whimsical patterns…they also come in a wide variety of sizes. Oh, and most importantly – this dress has pockets! I repeat, this dress has pockets! It seriously meets my criteria for the perfect dress 100 percent! New favorite dress right here! I'm already trying to decide on another dress to buy from Clema W. (I have it narrowed down to the Haunted House dress and Old School Cassette dress. Decisions, decisions!)
This dress also matched wonderfully with my new Bulbasaur brooch from JollyHollieDay! She makes the cutest custom Pokemon brooches (among many other adorable brooches!) My mom was also keeping this little guy safe for me until I returned home…she was a bit confused by what he was, though, and thought I had ordered a toad pin. Haha. Now, that's all I can think of when I see Bulbasaur, haha. (And I did catch a Bulbasaur that day, in case you wondering. Haha.)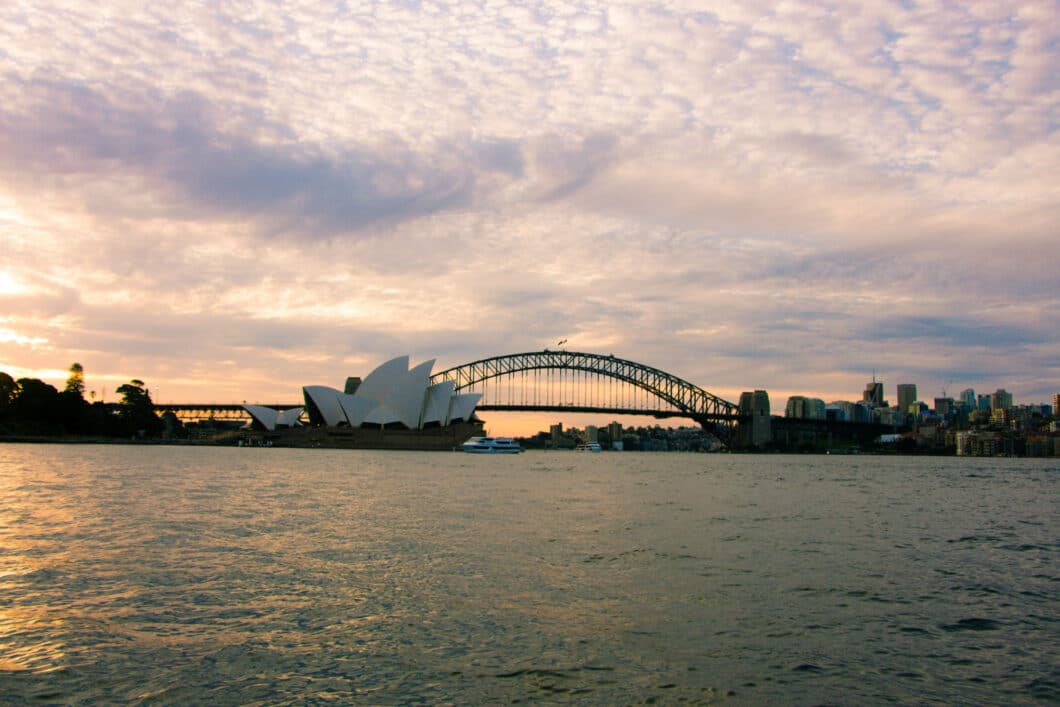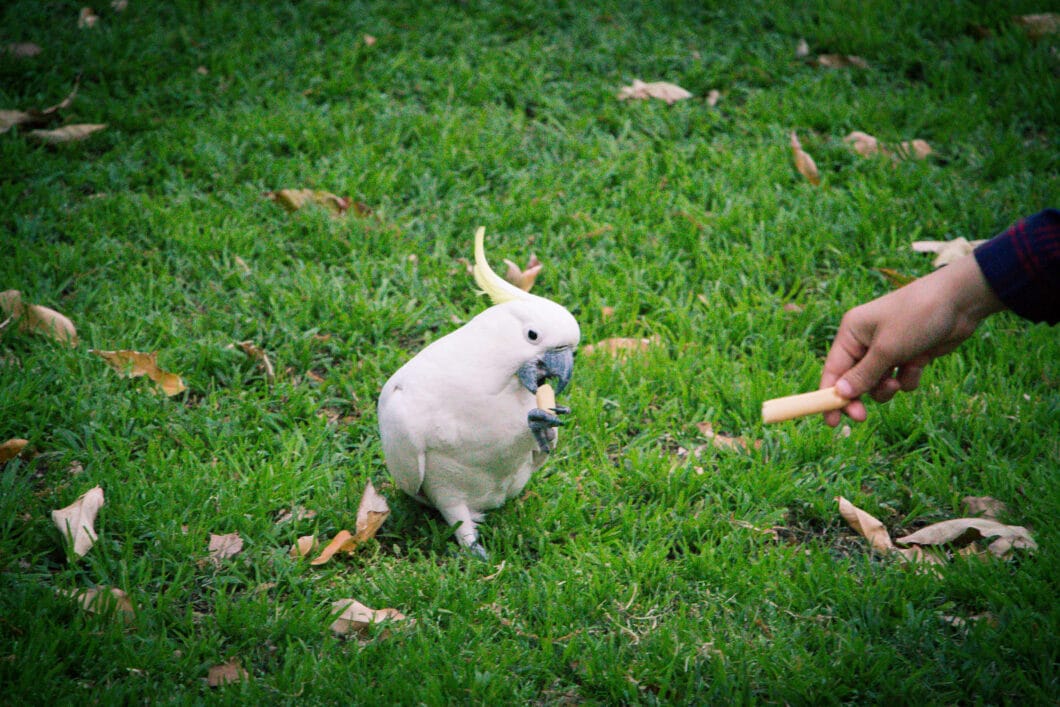 I didn't do quite as much exploring in Sydney this past weekend as I had planned to. Boring stuff like shopping for towels and hangers took longer than expected…and I had quite the ordeal trying to find a coffee pot! Haha. There's apparently only one store in Sydney that sells coffee pots, and it took me all weekend to find it! But I did manage to take some time and walk through the botanical gardens and watch the sunset over the Opera House and Sydney Harbour Bridge! I also discovered while I was in the gardens, that cockatoos are wild birds here (and they beg people for snacks..smart little guys)! I hadn't realized they were a wild bird in Australia but was pleasantly surprised to see flocks of them.
Be sure to check out the Clema W. website by clicking here! And let me know which dress you like best in the comments!
*See how I styled this lemon print dress for cooler weather by clicking here.
*And see my other Clema W. dress I ordered, here.
Where to find it:
Dress: c/o* Clema W.
Bulbasaur brooch: JollyHollieday
Sandals: Salt Water Sandals
Belt: Taken off my polka dot dress
*c/o = courtesy of, meaning the company gave me the product to be used on my blog, and I did not pay for it. All opinions are my own, and I am not being compensated for a positive review.