Wine Tasting & Biking in Mendoza, Argentina – Is It a Good Idea?
If you liked this post, it is now available as a self-guided tour via GPSmyCITY. Click here to download it.

Mendoza, Argentina is world-famous for its amazing wineries. There are many different ways to visit these delicious wineries, and a bus tour is generally the most popular. However, if you've been following my travel posts at all…you'll know that my husband and I like to make these sorts of activities a bit more interesting. So, when I saw we had the option to bike from winery to winery my interest was piqued!
Wine Tasting & Biking in Mendoza – How to Do It
*The first way you can bike from winery to winery is to rent a bike yourself and set off with a map of the area. Some shops (such as Mr. Hugo Wineries and Bikes) will let you rent a bike for just 100 pesos a day.
*And obviously, you can also book a tour. This is what we did as my husband and I are not experienced bikers, and I didn't want to have to worry about directions too much after sampling wine. Haha. Click here for the tour we did with Kahuak Mendoza Turismo.
How the Tour Worked
The tour company came right to our hotel to pick us up and delivered us to our first winery where the bikes were waiting for us. It's a rather long bus ride – about 40 minutes to get to the first winery.
Bodega Kaiken
The first winery (a.k.a. bodega in Spanish) was Kaiken. This one was my favorite. They gave us a very in-depth tour of the vineyard and winery and they had the best wine (in my opinion). I love their Malbec! I also enjoyed that they had geese running around.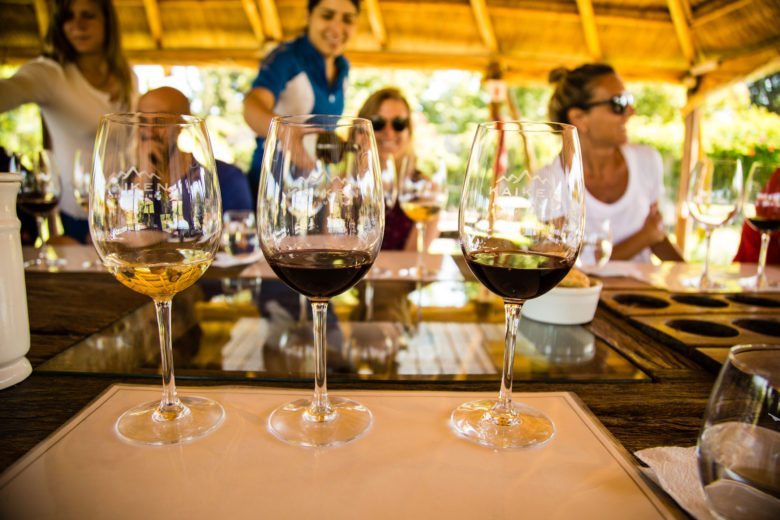 Kaiken had an interesting way of fermenting the wine, too. While the wine is fermenting in the barrels, there are Gregorian chants playing…as this is thought to help with the process, I guess. It must be working though – as I really enjoyed this wine! Haha.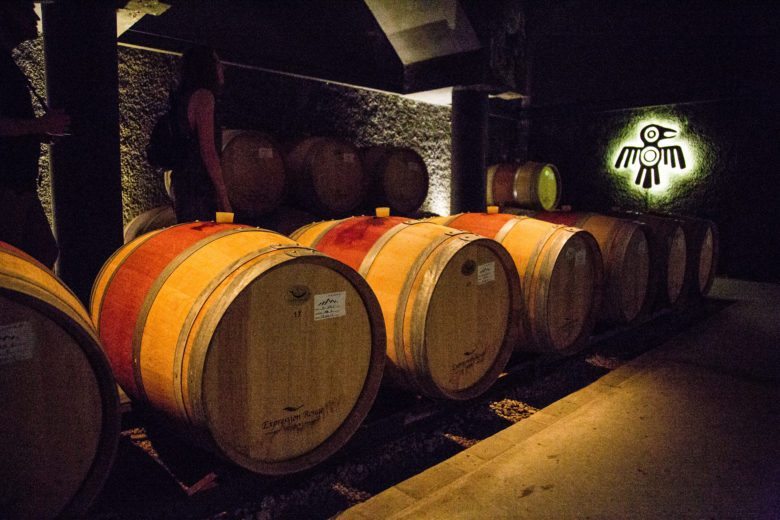 A few more photos from Kaiken. Feel free to click on the photos to make them full-sized and to read their captions.
Bodega Vistalba
Our next stop was Bodega Vistalba. It took us about 20 minutes to bike to and the road to get to this winery was quiet. (The biking was by no means strenuous.) This winery had the best views by far! It was probably my least favorite tasting of the wineries, though. They specialized in lighter and sparkling wines, and I'm all about the dry reds. (I was in the minority for my wine preferences, though. FYI. Most of the tour LOVED this place.)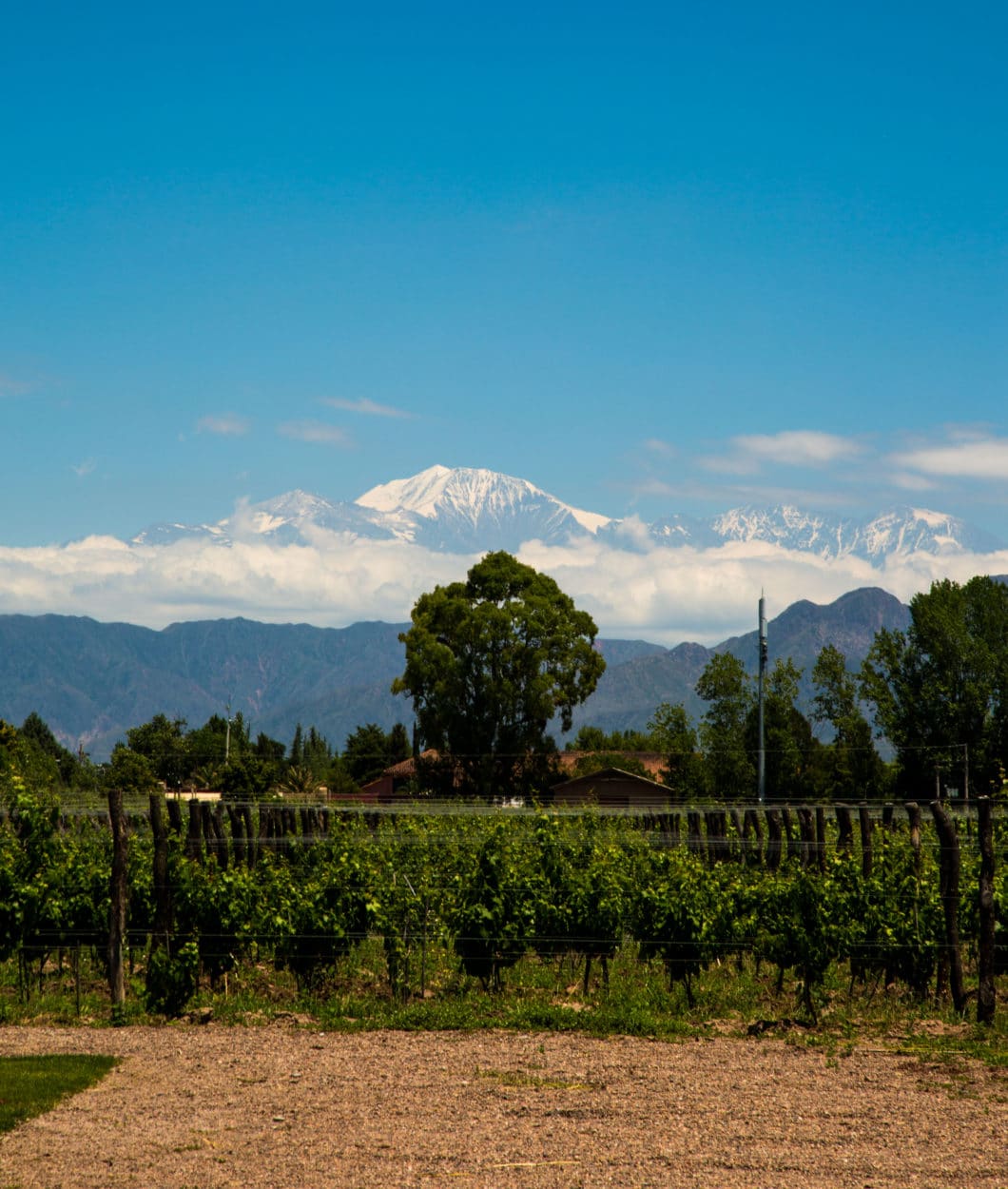 It was also interesting because this winery still used a few of the traditional concrete vaults. (Not all the wine is made this way, though.)
Last stop – Bodegas Nieto Senetiner
This winery, again, was probably only about a 20-minute bike ride away. However, this one was on a busier road at times – so, brush up on your hand signals! This was our last stop, too, and we were also served an absolutely delicious asado (BBQ) with Chimichurri sauce. If you ever see Chimichurri sauce on a menu – get it! It's a sauce typical of Argentina and Uruguay and is used for grilled meat. It's so good.
I do apologize, by this point, the wine was flowing and we were making friends in our tour group from Germany, Australia, Argentina, etc. So, I was terrible about taking photos here and actually skipped the winery tour to stay and chat with our new friends at the lunch table. (The Australian couple was in Argentina to go on an expedition to Antarctica! So, I had many questions, haha. And the German couple had actually been to my hometown and had gone to a Packers game – so, again, many questions. Haha.) There was no more biking after this point either. The bus took us back to our hotels.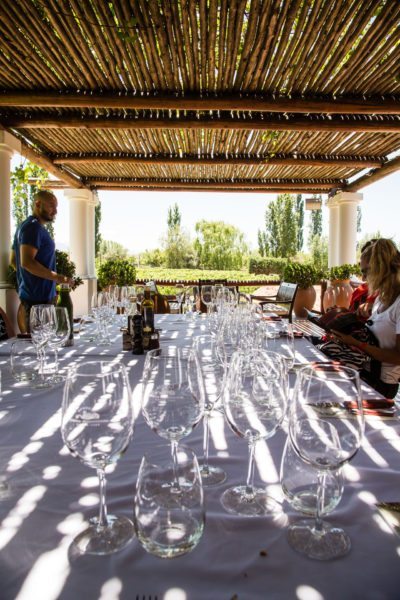 Bottom Line – Is Wine Tasting & Biking in Mendoza a Good Idea?
Yes! I loved biking from winery to winery! It was a fun way to make a wine tour a little more interesting. Whether you choose to bike on your own or go with a tour, I think you'll have a lovely time. (Obviously, don't get too carried away with the wine on your first couple tastings, though! You need to keep your balance!)
I also thought the bikes our tour company provided were very comfortable and each winery we visited was fantastic. I highly recommend the tour we did. Our guides were great and the lunch they took us too was fabulous as well. I really felt we got our money's worth on that tour. (Click here to see the tour we did.)
*We didn't take many photos while on the bikes, sorry! Here are a couple from my phone and a little video. (Helmets and water bottles were also provided on our tour.)
Do you like taking wine tours? And would you ever take a biking/wine tasting tour? Let me know in the comments!
*Click here to read my post, "How to Spend 10 Days in Argentina."
Travel Insurance
It's a good idea, no matter where your adventure takes you, to have travel insurance. You never know what might happen! Whether you get sick before your trip and can't go, or you become sick or injured while on your adventure – being covered with travel insurance is a must. Some credit card companies do provide this service (check with yours), or you can get a quote from companies such as RoamRight. To get a free quote, click here.
Visa Requirements
To check if your country requires a Visa for traveling to Argentina, click here.
Argentina Travel Guide
Are you still looking for more information on traveling to Argentina and prefer a hard copy? Click here to check out an amazing travel guide written by Lonely Planet! It includes budget tips, maps and more.
Want to Learn Spanish Before Your Trip?
Knowing some basics in Spanish can be helpful for your time in Argentina. Try a free 3 day trial of Rosetta Stone (the best way to learn a foreign language) by clicking here.
*Disclosure: some of these links are affiliate links. Meaning, if you click a link and make a purchase, Have Clothes, Will Travel gets a very small commission at no extra cost to you. Thank you for supporting the brands that make this blog possible! I am also a participant in the Amazon Services LLC Associates Program, an affiliate advertising program designed to provide a means for us to earn fees by linking to Amazon.com and affiliated sites.