10 of the Quirkiest, Summer Shoes (Available Online)
Who doesn't love a fun pair of shoes?! And these days, there are so many quirky options just a click away! However, weirdly enough, I've never really indulged in quirky footwear all that much. I have one lonely pair of panda flats, and that's as far as my creativity has stretched in the footwear department.
But for this summer, I'm thinking I want to kick my shoe game up a notch! I've featured a boatload of quirky handbags, printed midi skirts and dresses…and it's time for some fun shoes! I'd love to hear which of these are your favorite in the comments section!
*Disclosure: some of these links are affiliate links. Meaning, if you click a link and make a purchase, Have Clothes, Will Travel gets a very small commission at no extra cost to you. Thank you for supporting the brands that make this blog possible!
10 of the Quirkiest, Summer Shoes (Available Online)
1.)

Someone, please justify my need of these shoes in the comments section. Haha. These octopus flats are what sparked the idea for this post, to be honest. And I cannot stop thinking about them! I have an obsession with octopus clothing and accessories, for an inexplicable reason. These are just SO cute! Hmmm but what would I wear them with?! Help in the comments, again, haha.
Click here to shop the octopus flats.
2.)

Coming in a close second to my octopus obsession would be a lobster obsession. Haha. How cute are these slip-on sandals? Perfect for the beach…or any summer day, really!
Click here to shop the lobster sandals.
3.)

There's no danger of my actually buying these, as I can't afford them. Haha. But they were just too cool not to share! Perhaps there will be an end of summer sale? Here's hoping!
Click here to shop these flower sandals
4.)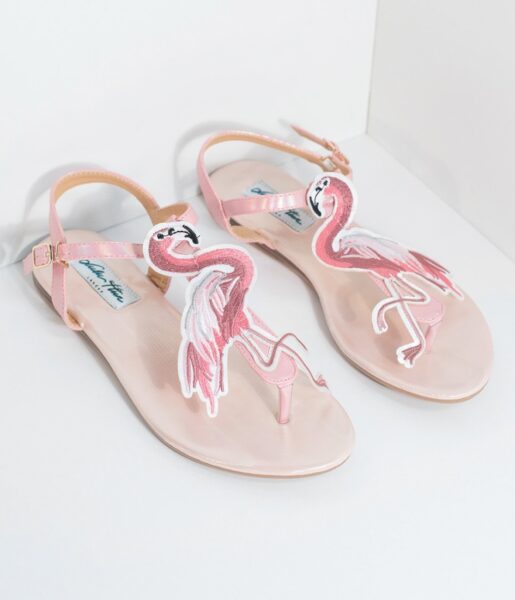 Nothing screams summer like a pair of flamingo sandals! Right? I like the soft pink color of these too.
Click here to shop these flamingo sandals.
5.)

But just incase sandals aren't your thing…how about a pair of flamingo flats? I think I like these more than the sandals!
Click here to shop these flamingo flats.
6.)

It doesn't get much quirkier or summery than a pair of rainbow espadrilles! Love it!
Click here to shop these rainbow espadrilles.
7.)

And since I mentioned them, it's really only fair I also feature my panda flats! These flats are great for my wide feet! But a word of caution, these took awhile to break in. Wear socks or tights with them the first handful of times you wear them. I wore them barefooted right out of the box and ended up with some nasty blisters because the material they're made out of is really stiff. But I've worn them a ton in the 4 years I've had them, and they've held up remarkably well! (They were also a big hit when I worked at an elementary school, haha.)
Click here to shop these panda flats.
8.)
Clearly, I have a bit of thing for sea creature shoes. I love that these goldfish ones actually look like they're in a bowl. Haha.
Click here to shop these goldfish sandals.
9.)

Awww…cactus shoes! The one and only plant I can actually keep alive, haha. I love all of the cactus print clothing that has been coming out for summer as well. It woudln't be too hard to match these flats!
Click here to shop the cactus shoes.
10.)

Last but not least, popcorn sandals! You would now have the perfect pair of shoes for movie night! Oh, and these are currently on sale…which likely means they won't be in stock for very long. FYI!
Click here to shop the popcorn sandals.
Honorable mentions…they didn't make the list, but I still thought they were fun!

Now, I'm curious which pair was your favorite? Let me know in the comments!
I am a participant in the Amazon Services LLC Associates Program, an affiliate advertising program designed to provide a means for us to earn fees by linking to Amazon.com and affiliated sites.