8 Best Day Trips From Buenos Aires by Travel Experts
From enjoying quaint Uruguayan cities to experiencing authentic "gaucho" culture to boating along the Paraná Delta and more – there is no shortage of cool day trips to take from Buenos Aires.
When I lived in Argentina (in Rosario), I was able to spend my weekends in and around Buenos Aires. While I was able to do several of these day trips myself, I've enlisted the help of fellow travel bloggers and Buenos Aires residents to create this list of the best day trips from Buenos Aires! Enjoy, and please let me know if you have any questions in the comments section at the end of the post.
8 Best Day Trips From Buenos Aires and Weekend Getaways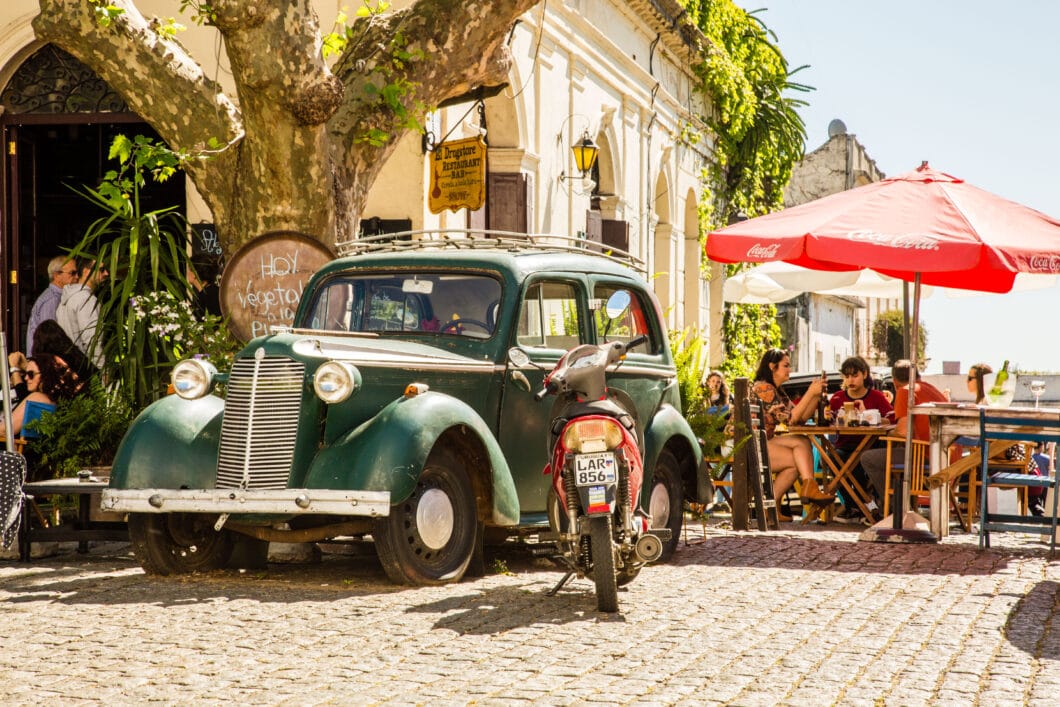 1.) Colonia del Sacramento, Uruguay
Colonia del Sacramento is one of my favorite travel memories of South America. I can't recommend a day trip to Colonia del Sacramento enough!
It's very easy to get to – only an hour ferry ride away from Buenos Aires. There are 3 ferry companies in Buenos Aires you can choose from for your tickets:
1.) Seacat Colonia
2.) Colonia Express
3.) Buquebus
Another option is to book a tour like this one. The website is a little easier to navigate than the ferry websites!
The Barrio Histórico (historic quarter) section of Colonia del Sacramento is a designated World Heritage Site by UNESCO. It was built by the Portuguese in the 17th century and is within walking distance of the ferry terminal. It has cobblestone streets and Portuguese-style houses that are beautiful. You can even rent golf carts and sand buggies to scoot around the city with.
The best thing you can do in Colonia del Sacramento, though, is simply relax, enjoy the beauty and sample as many restaurants, bars and cafes as you can! There are so many wonderful places to dine in this quaint city.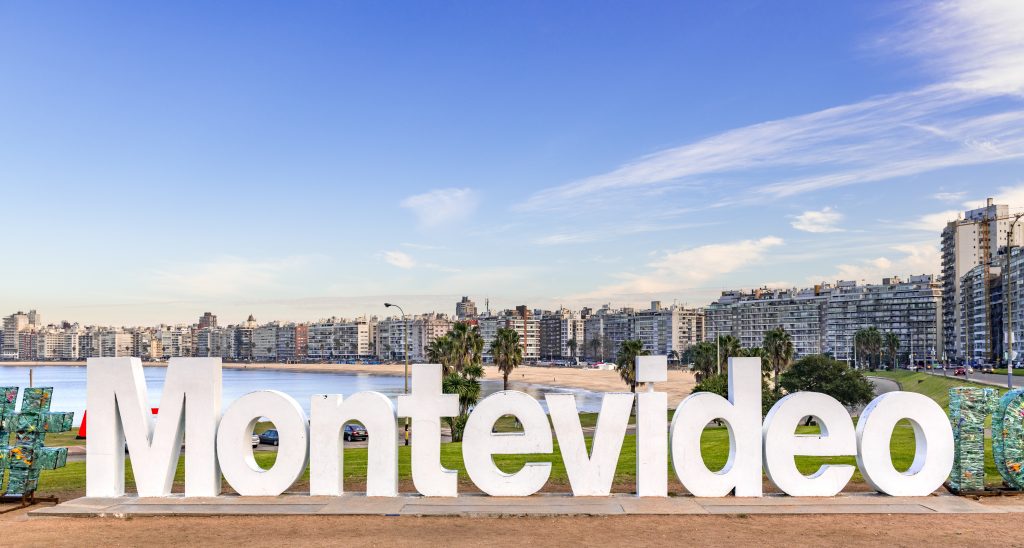 2.) Montevideo, Uruguay
Contributed by Claudia Tavani of My Adventures Across The World
The capital of Uruguay is one of the coolest places to visit on day trips from Buenos Aires. A big city itself, it has a much slower pace of life and vibe, and it's a cool place to visit for a day or two.
Among the places to visit in Montevideo, make sure to stop by Plaza Independencia and Palacio Salvo. The Old City is small but enjoyable, so you should make it a point to spend an hour or so walking around. You should also enjoy a meal at Mercado del Puerto (but avoid it if you are vegan). The Rambla is the best place to go for a walk and a breath of fresh air. You may even want to get a bike to ride along, and if you are visiting in the summer months pack a bikini and stop on one of the many beaches for a quick swim and for a relaxing time.
You can get from Buenos Aires to Montevideo by boat. The fast ferry can be booked on BuqueBus and takes little over 2 hours, and costs around $80 USD if booked well ahead.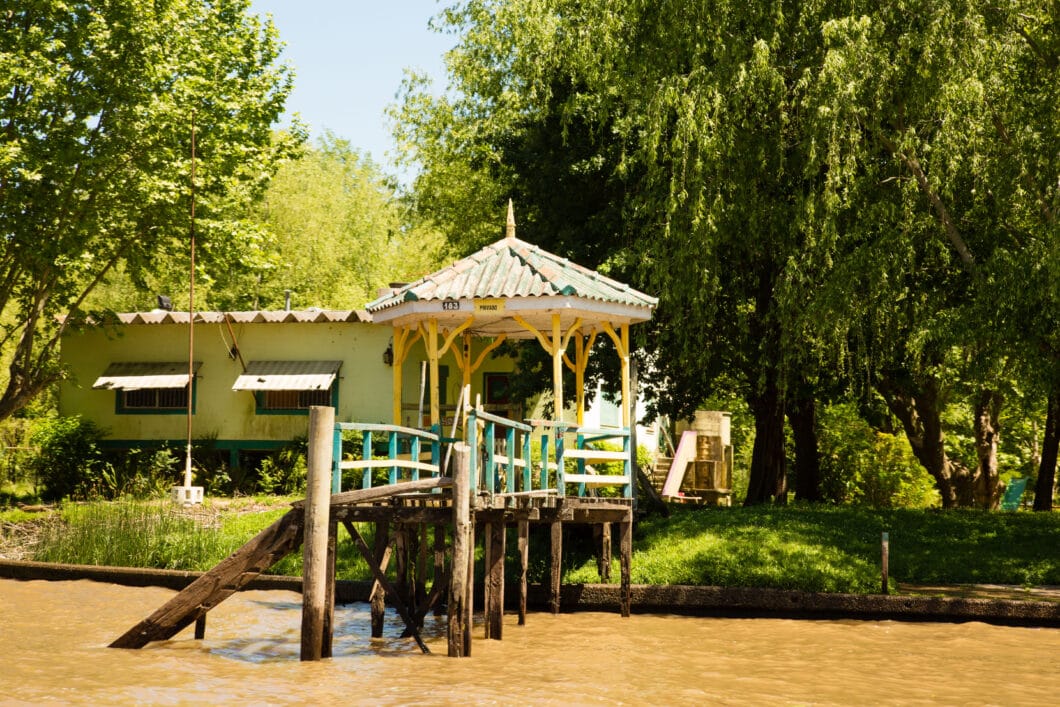 3.) Tigre Delta
Tigre Delta is a unique suburb built around the swampy land and waterways that empty from the Rio Paraná into the Rio de la Plata. These homes are built on islands, and there are no roadways going to them. People travel by boat, and the grocery stores actually will bring a boat full of fruit and different food right to the homes of the residents – so they can buy their groceries!
You can even rent a home in Tigre for the weekend!
There are quite a few different things to see and do in Tigre such as museums, like the Naval Museum and Art Museum. There are nice antique shops, riverside restaurants and pubs and also a casino and an amusement park. The most common thing, though, is to take a boat tour of Tigre and see how folks live on the islands.
There are a few different ways to get to Tigre. The most common way is to take the train. (It's a nice scenic ride right from downtown Buenos Aires to Tigre.) You can also take a tour from Buenos Aires to Tigre. (It takes about an hour to get to Tigre from Buenos Aires.)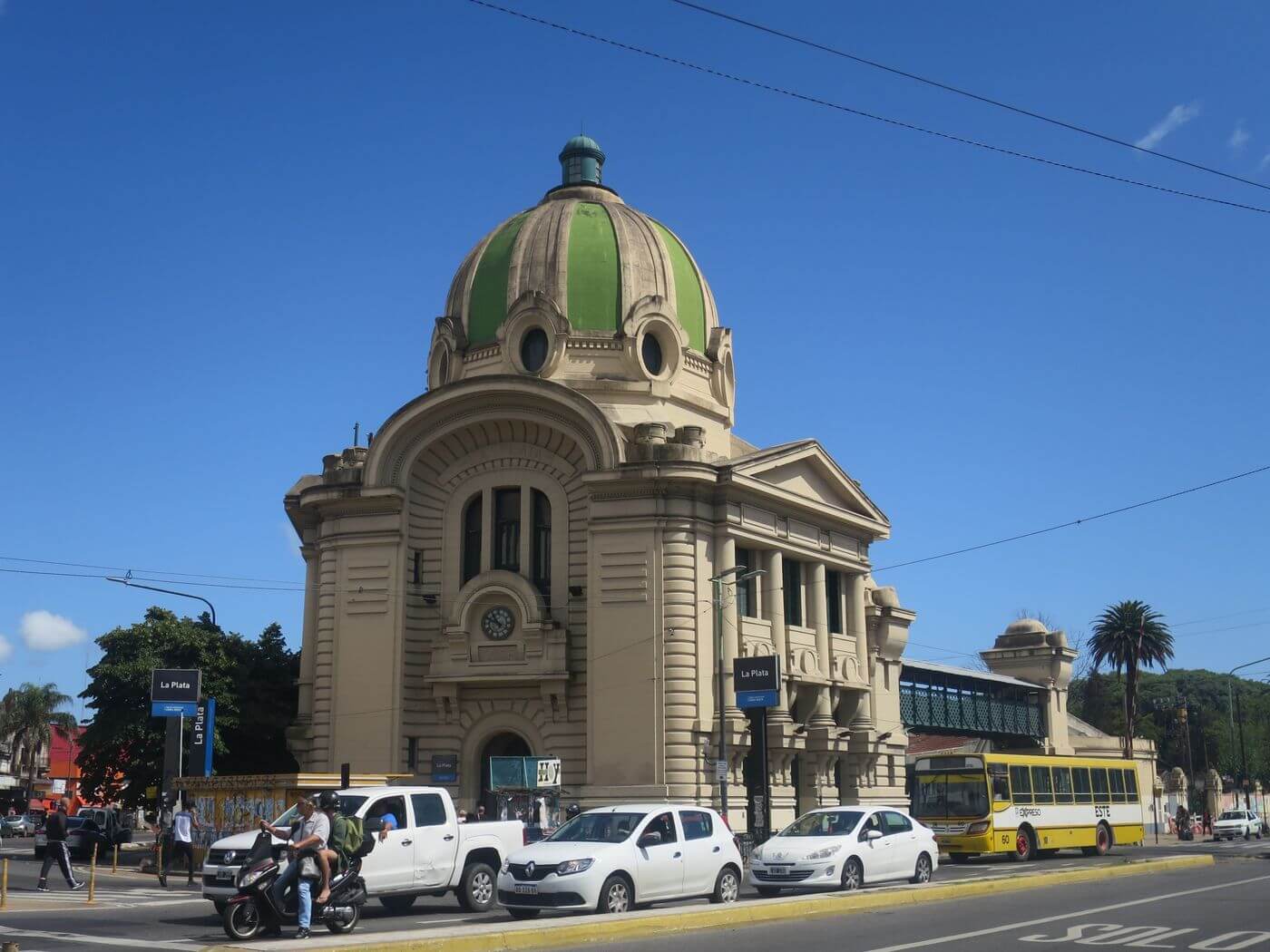 4.) La Plata
Contributed by Ivan of Mind The Travel
La Plata is the capital city of the Province of Buenos Aires, which is renowned for being South America's first completely planned city. It is located some 35 miles (60 km) from Buenos Aires and can be reached by train and bus. With a rational street grid, regular diagonal avenues, and European flavored architecture, La Plata is a straightforward option with attractions that'll keep you busy for a day.
The city is pretty easy to navigate with confidence. There are endless possibilities when it comes to exploring the bustling university city of La Plata. Walk through the streets, visit its emblematic spots and buildings of both great historical and cultural value. Some of the most important attractions in La Plata are the Children's Republic, Pereyra Iraola Park, Museum and Photographic Gallery, Ciudad de La Plata Stadium, Casa Curutchet, Paseo del Bosque, Teatro Argentino, the Municipal Art Museum, just to name a few.
That said, the imposing Cathedral of La Plata is arguably the top-notch attraction in the city. Dedicated to the Immaculate Conception and inspired by cathedrals in Germany and France, this Neo-Gothic cathedral also has an observation deck with great 360-degree views of La Plata. The cathedral is also home to the underground museum and crypt of Dardo Rocha, the founder of the city.
5.) San Antonio de Areco
Contributed by Rebecca of Rebecca and the World
Argentina is known for its gaucho (cowboy) culture, and the small town of San Antonio de Areco, around 130 kilometers from Buenos Aires, is a great place to experience it for yourself.
If you visit Argentina in November, you might be lucky enough to participate in the Día de la Tradición festival, when thousands of gauchos from across Argentina descend upon San Antonio de Areco.
The best way to pass a few hours in San Antonio de Areco is to simply stroll the streets to get a sense of local life. The town was founded in the early 1700s and its history is clearly observable in the plaza and the crumbling building facades. Some sights for your visit are the puente viejo (old bridge) and the Museo Gauchesco Ricardo Güiraldes.
Pick up a souvenir from one of the many shops selling exquisite goods made of silver and leather; San Antonio de Areco is well-known for its artisans. When it's time for lunch, just follow your nose – the smell of an asado (BBQ) underway will guide you. Eating steak is one of the best things to do in Argentina.
A word of warning: this is a small town, and in the afternoon the locals enjoy siesta, so plan your visit accordingly (speaking from experience!).
The best way to get to San Antonio de Areco is by car. You can rent a vehicle or, better yet, leave it up to a remise driver to take you there. Alternatively, you can take a train from Retiro station to Cabred and then take a taxi from there.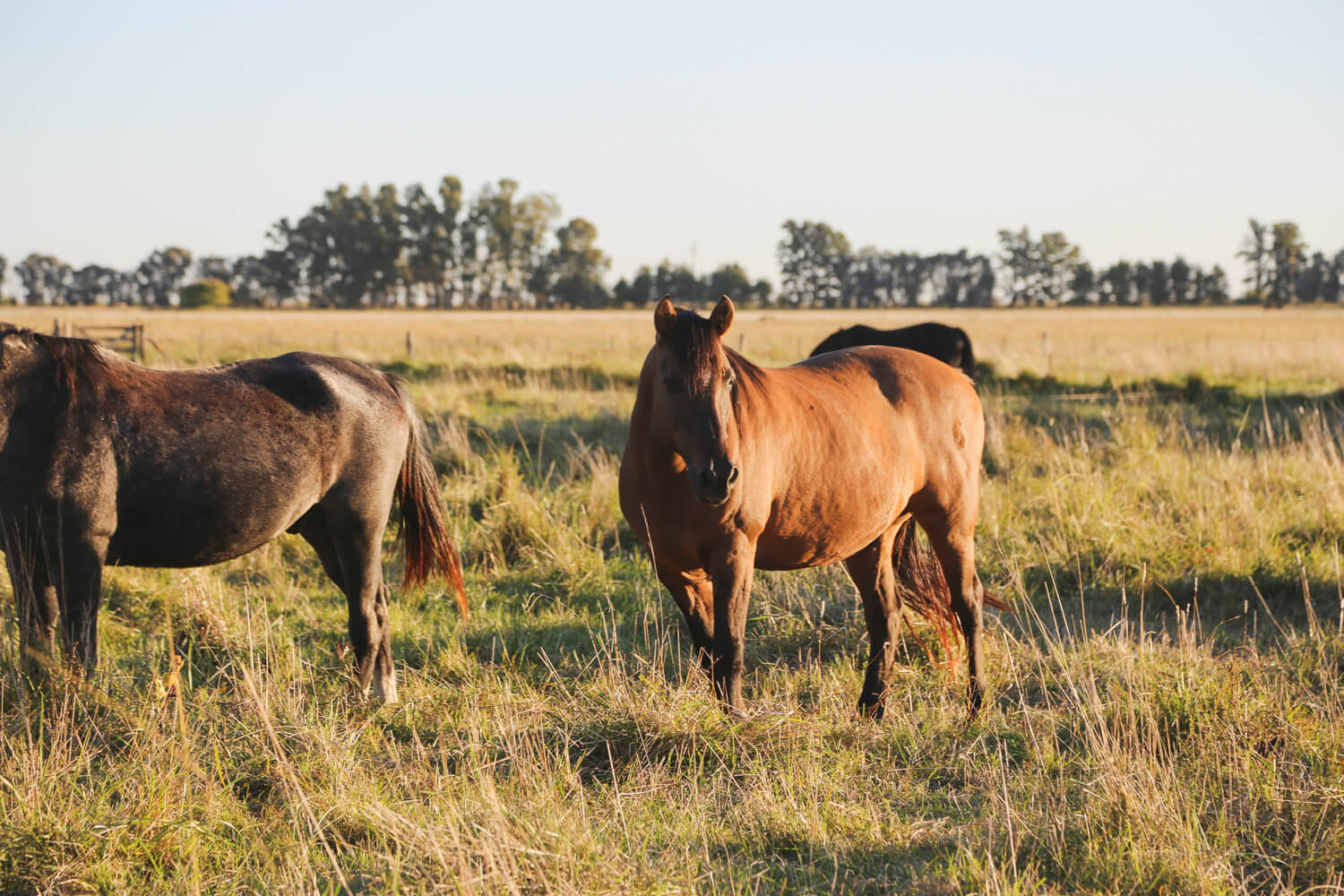 6.) Estancia La Bandada, San Miguel del Monte
Contributed by Erin Mushaway of Sol Salute
While most of the best estancias near Buenos Aires are in San Antonio de Areco, Estancia La Bandada is off the beaten path in San Miguel del Monte. To reach La Bandada you'll need to rent a car or arrange a transfer with the estancia. Being in the countryside public transportation isn't available.
La Bandada is actually a luxury boutique hotel, but like all estancias, they host a classic día de campo experience, the perfect day trip from Buenos Aires.
Spend the day enjoying the ranch's property with a classic Argentine barbecue (asado), horseback rides, or even lay by the pool if the weather is right.
To complete the experience they will arrange a polo match or folkloric music and dance presentations (just be sure to request these additions in advance).
The property is also ideal for birdwatchers. La Bandada will arm you with binoculars and a printout highlighting all of the region's birds to find on the property.
We spent the night at La Bandada and it was the perfect antidote to the busy city that is Buenos Aires. If you want to experience the rural culture of Argentina, you can't go wrong with a day at an estancia.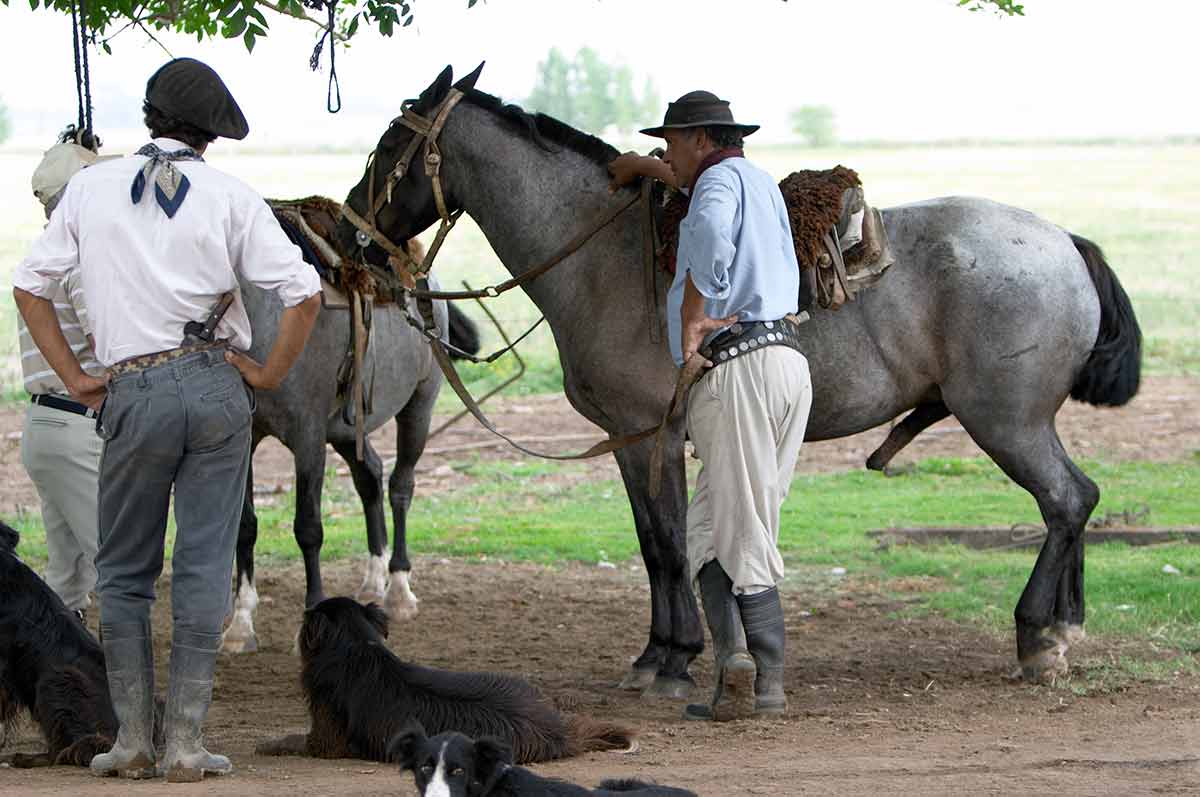 7.) Estancia El Ombu
Contributed by Christina Pfeiffer of Travel2Next
While there are plenty of things to do in Buenos Aires, which is a vibrant and colorful city, if you are looking for an authentic gaucho experience, take a day trip to Estancia El Ombú.
Gauchos are Argentina's version of the cowboy and have roamed the pampas for hundreds of years, earning a living herding cattle for wealthy landowners. So, going horseback riding with a real gaucho is an experience to put on your bucket list while visiting Argentina.
I experienced this as a day trip from Buenos Aires to Estancia El Ombu, which is a ranch that has 70 horses and 350 head of Aberdeen Angus cattle. The Estancia's gaucho riding school caters for all levels of experience, from beginners to experienced riders. You can go horseriding all day if you want or take part in other outdoor activities, such as carriage rides, hiking, bicycling and bird watching.
The gauchos here are also excellent musicians and listening to a gaucho strumming a guitar or singing a soulful folk tune is a treat. Estancia El Ombu also puts on live music, dancing and traditional Argentine horse whispering demonstrations.
What's made this a memorable experience is the gauchos were always there doing everything, from teaching us to ride a horse to serving the meals and entertaining with their music.
Estancia El Ombu de Areco is an hour's drive from Buenos Aires. You can reach it by car (driving yourself or private transfer) or by bus to San Antonio de Areco bus station and a taxi to the Estancia, which is a 15-minute trip from the station. You can also book a tour to Estancia El Ombu.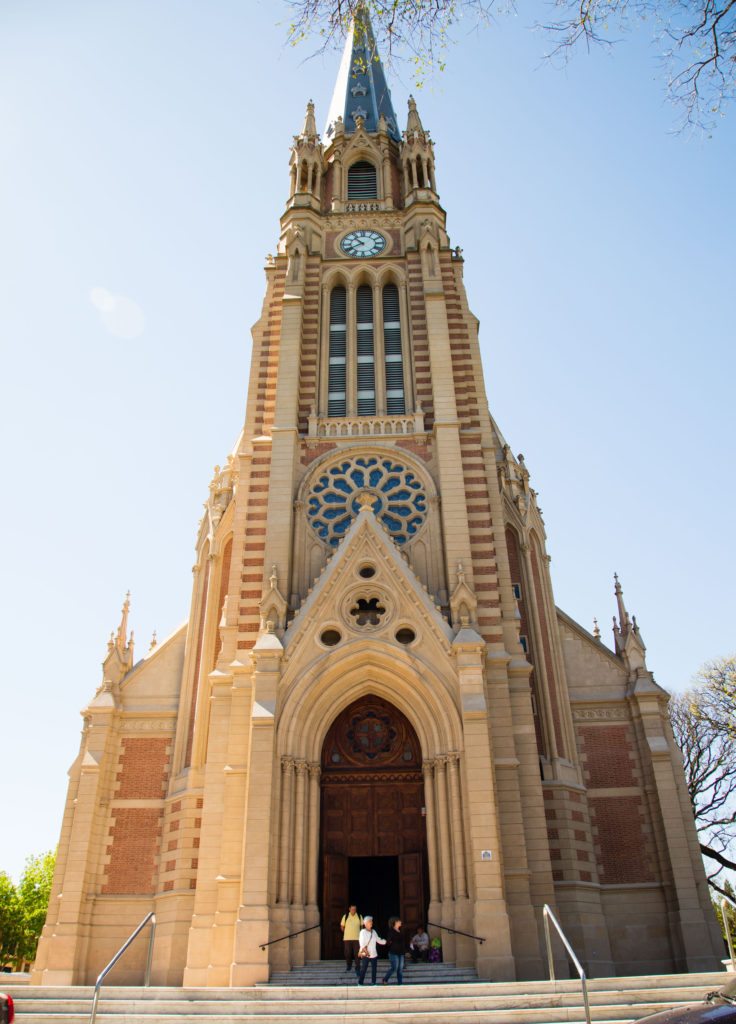 8.) San Isidro Neighborhood
Contributed by Daniel James of Layer Culture
When in Argentina and looking for day trips from Buenos Aires that can be done in the space of a few hours, a trip to the San Isidro neighborhood is a great option.
San Isidro is located in the Northern zone of Buenos Aires and is home to some of the country's wealthiest families. The best way to arrive is via train from the Retiro station which takes around 35 minutes. If you ever felt worried about your own personal safety in Buenos Aires, know that you can travel with confidence to San Isidro.
Upon arrival to this historic area, it was so quiet I felt like I was in a different country. Also refreshing to see the colonial-style buildings mixed with the modern mansions all surround by the most beautiful trees.
For me, however, the milestone on this day trip was arriving at the Cathedral of San Isidro which is located in the main square. This is what stood out to me after not seeing so many Cathedrals of this particular style whilst in the big city.
If you're feeling peckish during the day you'll find a healthy selection of cafés and pastelerias dotted around, so you can grab a spot of lunch or coffee before you end your mini-tour of the area. All in all, San Isidro offers a unique insight into urban Buenos Aires and a chance to see one of the region's most affluent neighborhoods.
Pro tip: San Isidro is on your way to Tigre. You can stop here either before or after Tigre to maximize your time!
Please note, I have noticed other posts mentioning Iguazu Falls and Mendoza as day trips from Buenos Aires. I really do not recommend this! You need a minimum of 2 days in each of these areas to fully enjoy them. They are both nearly 2-hour flights from Buenos Aires. Flying to these destinations and then flying back to Buenos Aires would be A LOT of hassle.
I am happy to answer any questions any one has about these day trips and traveling in Argentina in the comments at the end. Thank you for reading!
Travel Insurance
It's a good idea, no matter where your adventure takes you, to have travel insurance. You never know what might happen! Whether you get sick before your trip and can't go, or you become sick or injured while on your adventure – being covered with travel insurance is a must. Some credit card companies do provide this service (check with yours), or you can get a quote from companies such as Squaremouth to find the best plan for you and your adventure. (This is the company I, personally use. They are even recommended by Forbes!) To get a free quote, click here.
Want to Learn Spanish Before Your Trip?
Knowing some basics in Spanish can be helpful for your time in Argentina. Try a free 3 day trial of Rosetta Stone (the best way to learn a foreign language) by clicking here.
If you liked it – Pin it!
*Disclosure: some of these links are affiliate links. Meaning, if you click a link and make a purchase, Have Clothes, Will Travel gets a very small commission at no extra cost to you. Thank you for supporting the brands that make this blog possible! I am also a participant in the Amazon Services LLC Associates Program, an affiliate advertising program designed to provide a means for us to earn fees by linking to Amazon.com and affiliated sites.