Campsites in the Caribbean (A Complete List)
It's oddly difficult to find campsites in the Caribbean by Googling. Though not the most popular camping destination in the world, I did find with a lot of digging, a good number of proper campsites where you can pitch a tent.

The focus is on both dedicated and unofficial campsites where you can bring your own tent. Many of the same spots also have tents that you can rent. I did not include glamping in this post, as that is a whole other topic!
Thank you to Corinne Segura of My Chemical-Free House for contributing this post!
This post contains affiliate links. Upon purchase, I earn a small commission at no extra cost to you.
Camping in the Caribbean – Alternative Ideas if Campsites Aren't Available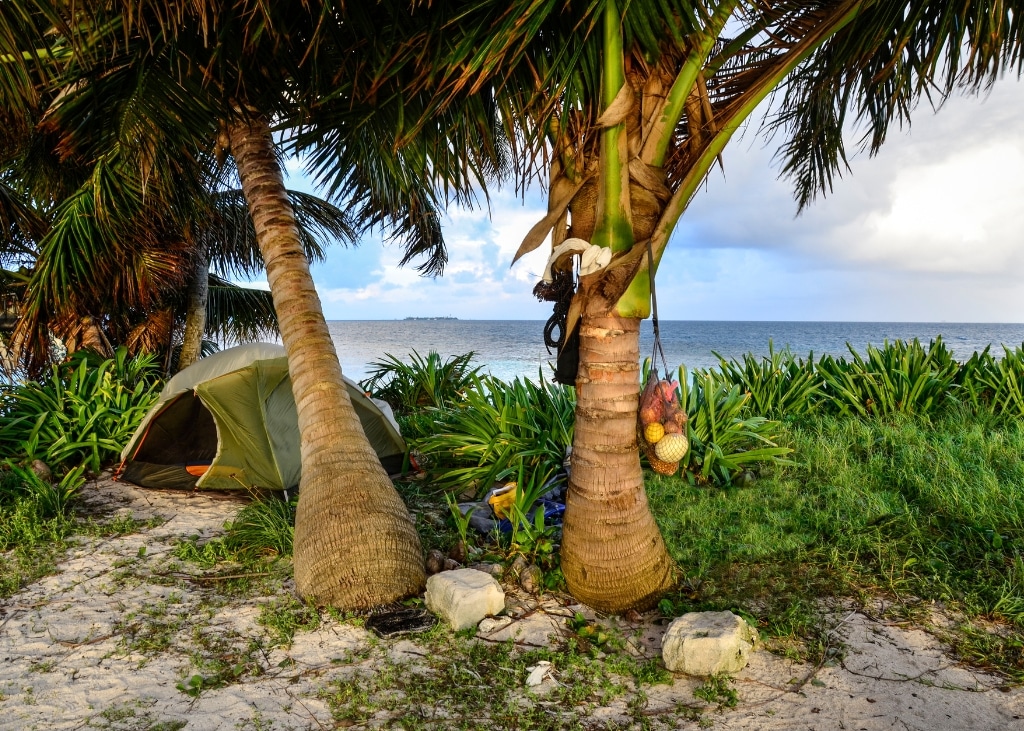 Camp in a Yard
Of course, you don't have to have a dedicated campsite to camp. In some countries, it's perfectly acceptable to camp in a yard, on a balcony, or roof. (Of course, you will need permission from the owner first.)
I did this in Cuba, a country that does not have any official campsites. I set up my casita de campaña in all sorts of places at BnBs.
You can do this just about anywhere, especially if you rent a yard that is big enough to stealth camp.
WWOOFING
WWOOFING is a work trade website. You can find farms or ecovillages where you can volunteer your time in exchange for usually a free stay (lodging and usually food too).
Very often the lodging provided is a spot to tent camp.
The labor required is most often physical labor, but it can be administrative labor too.
I have also contacted many farms (both WWOOFING and other private organic farms) to ask them if I can pay a monthly fee to camp there – many said yes.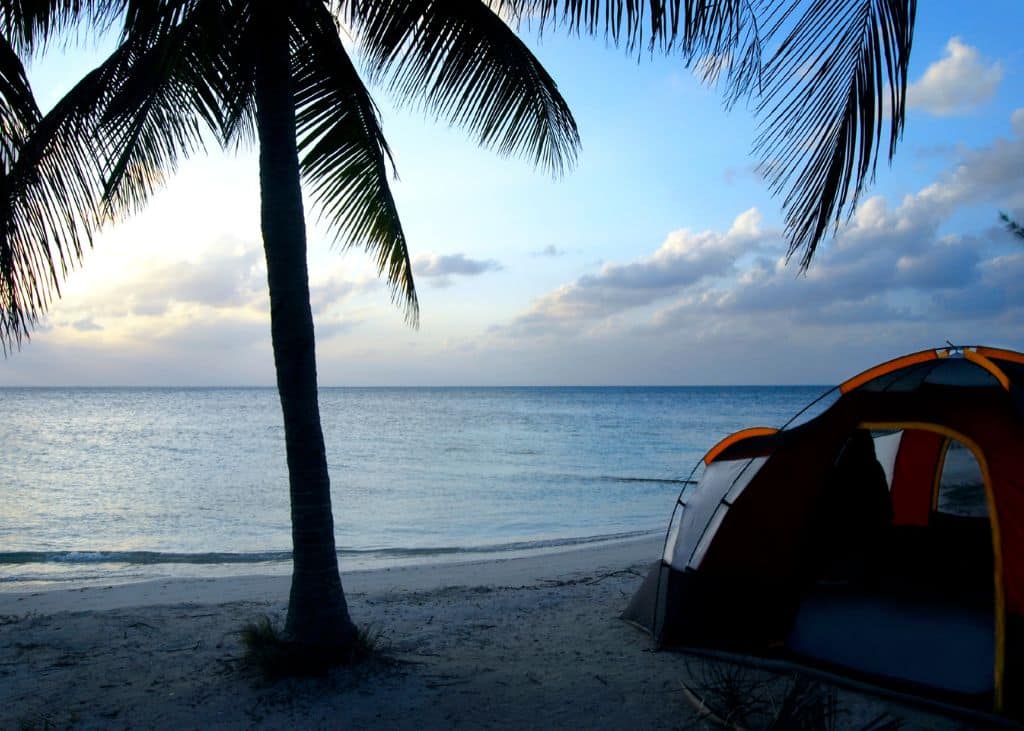 HipCamp and Airbnb
HipCamp is a site offering private spots to camp, and since the pandemic, Airbnb hosts have also listed more private properties on which you can camp.
You can get $10 off Hipcamp with this link.
What you NEED to know before heading to the Caribbean to camp!
Confirm everything – if they are open, what are the rates, do they have wifi, etc. before going with the campsite! Things could change between asking and when you get there too! Don't depend on the website being accurate. Everything is less official in the Caribbean.
Flexibility on where you can camp – Along with changes for the worse, you are also likely to find flexibility with camping at places that offer simple cabins or anywhere not too formal. Just ask!
Ask for direct pricing (not through the hotel booking apps).
You can't buy camping gear in most of these areas (though many sites rent it out). Come prepared!
There is a lot you need to know! Get the Lonely Planet book for each country you are considering and do your research. It's a must! Things are different than in The West/Global North.
Now, here are some great campsites throughout the Caribbean, organized by country!
Campsites in Puerto Rico
Because Puerto Rico is an American Territory it has more campsite options than most islands in the Caribbean.
You can also buy camping gear locally, something that cannot be said in most parts of the Caribbean – they have Walmart, Kmart, Sears, Sams, and Costco.
They also are the only island I know of with RV parks.
There are 11 private campsites on HipCamp for Puerto Rico ranging from $12-200 a night.
1. Vieques Island
There is a campsite on Sun Bay Vieques, a beautiful island off the south coast of the big island, in a National Park (Compañía De Parques Nacionales).
The campsite has a cafe for food and drinks. Tent sites are in a flat, grassy, fenced area just off the beach.
The campsite has bathrooms and outdoor showers. They have security overnight.
$10 per night per site.
2. Culebra Island
The only campground on Culebra is right on Playa Flamenco. It is managed by the Department of Natural and Environmental Resources.
This spot looks quite pristine and the beaches are really pretty.
$30 per tent per night. ($20 for senior citizens and people with disabilities).
3. Caguas
Mi Casa Eco Camping is a private camping "resort" inland in central PR. They have tents set up that you can rent.
They have bathrooms, showers, a shared kitchen, wifi, and community activities.
This is a well-set-up place to camp, and I like all the communal activities.
$55 a night.
4. El Yunque National Forest
El Yunque National Forest a USDA Forest Service park has dispersed and group camping sites. Camping is permitted at designated campsites only.
Campfires are only permitted at Molindero and Old Nursery, in designated fire rings. Cookstoves fueled by butane or propane are permitted.
There is limited cellular service in the forest (don't count on it working), and there are no washrooms.
Some have reported very difficult camping conditions (like severe mud).
Camping is free, but you do need a permit. There are stay limits.
5. Seven Seas Beach in Fajardo
The calm water turquoise Seven Seas Beach allows camping and has washrooms and showers.
The beach has shelters and camping spots (you need a permit prior to arrival). The local police act as security for the beach.
Call first for sure to check up on if they are in operation.
$10 a night.
6. The Toro Negro Forest Reserve
A State Forest, Toro Negro offers camping.
You can only get here in your own rental car and you need to make prior reservations. You can get a permit in the capital city.
Camping facilities include bathrooms and waste disposal.
$4 a night.
7. Isla de Mona
You can also check for WOOFING and other volunteer opportunities where you can camp, like Las Maria's Project Farm on Isla de Mona.
Campsites in Mexico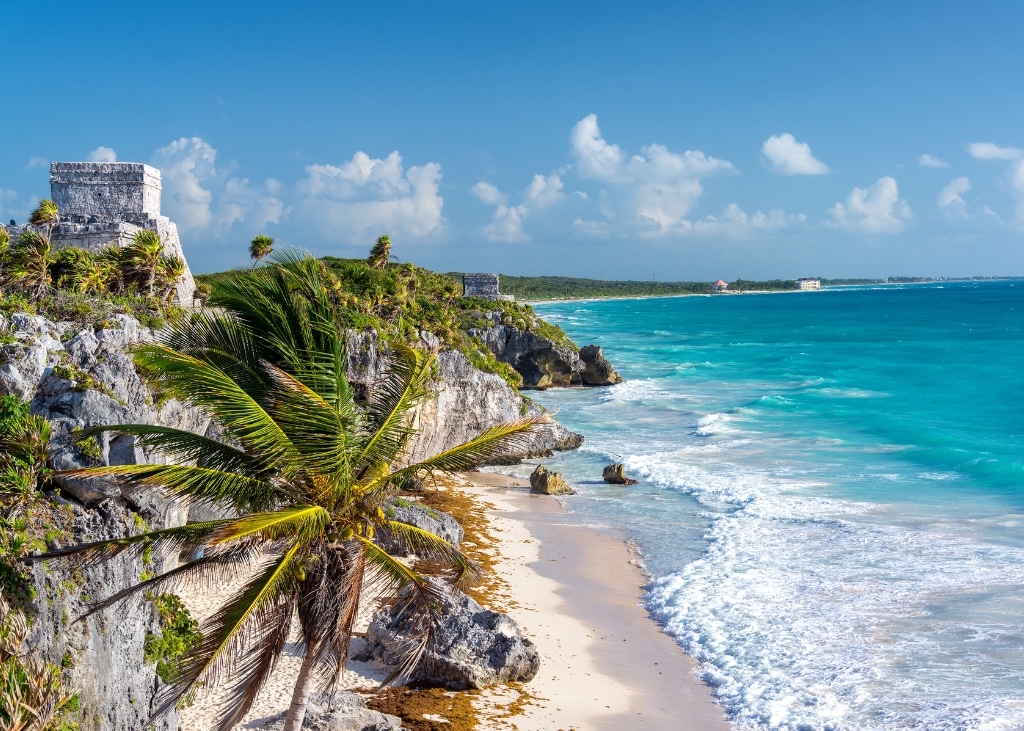 1. Holbox Island
Balam Eco Camping is a cute little campsite with spots to pitch a tent and little simple cabins. They have shared spaces like picnic tables, an outdoor kitchen, and simple bathrooms.
On google listings, it is showing that they do have wifi.
It's not clear if the rates are for renting a tent or for bringing your own tent.
$17 a night for one person (as indicated on Booking.com)
One Love Camp is another nearby campsite, very similar to Balam Eco Camping. They have tents for rent, and I would think that you can bring your own too.
They have little basic cabins, shared kitchenettes, and shared bathrooms.
Aldea Camping, like the two above, has tents to rent and little cabins as well as shared spaces. This one is very close to the beach.
Kin Camping is similar to the others. This site has tents already set up, it doesn't look like they have space for extra tents.
Glamping Holbox sunset, similar to the others but reviews say it's particularly loud. (All of these packed in campsites in Mexico should be assumed to be fairly noisy at best).
Message them for the prices. (All these spots on Holbox are probably similarly priced).
2. Yucatan
Just across the water from Holbox on the mainland is a campsite Camping del Ritmo.
A site close to the beach. They have a campfire area, shade palapas that you can put your tent under, a well-equipped kitchen with 2 bathrooms, hammocks, tables and chairs, and wi.fi.
Contact them for the costs and for booking.
3. Cancun
There is a full-service RV park west of Cancun if you are traveling in a van or RV. It's a basic site, but they offer full hook-ups, wifi, a small pool, restaurant, cabins and it seems tent sites as well, an outdoor grill, simple dishwashing area.
The rates are not listed.
4. Xpu-Ha, North of Tulum
North of Tulum in Xpu-Ha there is a full service RV park. It's also possible to camp on the beach there.
For full hook ups it's 15 USD a night. Contact them for tent camping costs.
5. Tulum, Playa Roca
If you want to camp right next to the beach, Playa Roca is a good spot. This is a lot more spacious than the sites on Holbox, but it is simple.
It is quieter than the spots on Holbox too which are quite packed. At this site you can definitely bring your own tent, though they do rent them out as well.
They have shared showers and bathrooms and a kitchen. There is no electricity and no wifi.
100 pesos per person per night ($5 US)
Arena camping next door sounds like they share the bathrooms with Playa Roca and they don't have their own kitchen. Though they do have large tents that are already set up for you to rent.
Rates are not listed.
6. Tulum, Camping Chavez
Camping Chavez south of town is a great spot to camp on the beach. A little more established than the other sites they have a shared outdoor kitchen, bathrooms with hot showers, and electricity in the common areas. The little shelters, and cabanas that look very simple and clean to me. They also have wifi!
Booking.com is showing the price at 41 USD for a single tent (which looks like renting their tents and bedding).
7. South Tulum, Sian Ka'an Ecological Reserve
Lastly, a bit of a hidden gem, El último Maya, is remote, secluded, and beautiful. It's within a nature reserve so you can expect to get away from the usual pollution in Tulum.
Personally (for the Locations Effect) I would want to get out of Tulum.
They don't have a website and there isn't a ton of info on them but the photos are beautiful and you can camp there. There is a restaurant, showers, and bathrooms.
Reviews say they do not have electricity.
You can't cook your own food here so you would be relying on their restaurant which sounds pricey (at least some items). One reviewer says it costs 50 pesos for cold beer, 35 pesos for soft drinks, and 250-300 pesos for a meal.
No bonfires are allowed.
350 pesos a night (around 18 USD) if you bring your own tent.
8. Mahahual (Southern Caribbean Coast)
Eco Camping La Mar is a sweet little campsite in this more remote area.
They use solar energy and collect rainwater. There is a common kitchen in a concrete building, storage area, and bathrooms.
They have a little cabin but most spots are tent spots.
Further south there is another campsite called El Xahuayxol. Their website is also down but they do have very recent reviews. Contact them for more info and rates.
It was listed on Booking.com as $25 a night.
9. Lake Bacalar (Southern Mexico)
There are number of campsites in this area including Gris Monkey campground in Xul-Ha, Ecocamping Yaxche, DelMar Camping, Camping Bacalar/Magic Bacalar.
At Magic Bacalar they have cabins and tent spots. You can rent camping gear or bring your own.
This is a well developed site with common spaces, palapas, a kitchen, lockers and wifi.
If you bring your own tent it's 180 pesos per night. (Currently that's 9 USD)
What to Know About Mexico:
It's best to know some Spanish outside of high tourist areas.
Life is more flexible, be sure to confirm all the details with the site first. You can bargain on rates.
Look into health (food and water can make you sick) , mosquito-borne illness and COVID restrictions, sourcing specialty foods and medications.
The Lonely Planet has a main Mexico book and one for the Yucatan.
HipCamp has 3 sites in Mexico starting from $2 a night.
Campsites in Belize
1. Sarteneja Village, Northern Belize
Backpackers Paradise is a cool organic farm with some great little cabins, a communal kitchen, wifi, lockers, and a communal room with hammocks.
I think this spot looks lovely.
You can bring your own tent to camp or rent a little cabin.
It's a 5 minute walk from the ocean, and is very close to the border with Mexico.
Camping is listed at 10 USD.
2. South Water Caye (45 min off the Mainland)
Private island alert! Bamboo Belize is on it's own 15-acre caye. While you don't get the island to yourself (unless you are a party of 12), it's still pretty cool.
A fairly remote island, there is no wifi, no hot water, they say to bring solar chargers.
Camping is 25 USD a night.
3. Saddle Caye South
Another private island! Kayak Belize operates off Saddle Caye South. They can arrange for camping on other islands.
While clearly this is focused on kayaking they do offer campsites for tents.
Camping with no gear rental is $5 per night. Be sure to check in on other charges.
Those are the Belize campsites that are on the Caribbean sea. There are other campsites in the jungle as well like Chateau De Pradines, and quite a few others that don't have much of an online presence. Belize is a good country to find little simple cabins for rent.
What to Know about Belize:
English is the main language in Belize.
It's more expensive than Mexico and Guatemala.
Be sure to look out for the same safety and illness concerns as in Mexico.
Belize City is notorious for crime, be aware of your surroundings.
Campsites in USVI
1. St John Camp
On St John island in the US Virgin Islands, Camp St John is a beautiful campground up the hill looking over Caneel Bay.
The campground has a community power source, bathrooms with running water, an outdoor camp shower (not heated) stocked with toiletries, a stocked coffee station, an electric griddle, silverware, and dishwashing supplies, potable water, and a cooler for community use.
This is USVI, nothing there is going to be cheap. But if you want an American Territory and a more economically developed island (and everything that comes with that from less disease to safety) this is the cost of that.
$55 per night if you bring your own tent.
2. Cinnamon Bay Resort & Campground, St John
In St John, this campsite is still be rebuilt from the last hurricane (as of winter 2021).
They used to offer simple cabins and tent spots.
3. Mt Victory Camp on St Croix
An 8 min drive up the hill from Rainbow beach is Mt Victory Eco Camp. They offer bungalows and tent camping.
For the tent camping option, you bring your own gear. Tent sites are in the open air and within the forest.
Campers can have access to open-air showers (with hot water), bathrooms, an outdoor kitchen with a fridge, gas stove, sink, dishes, and cookware, outdoor areas like a campfire pit and shaded picnic tables.
Wifi is available (and included in the price).
They also offer workshops that look interesting.
$30 per night
This US territory has three main islands – St John, St Thomas, and St Croix.
There isn't much camping in the USVI so don't count on having many backup options.
If you want a safer location and are willing to pay more, this is one of the only more upscale islands with camping.
Apart from the options above, there is one camping spot (with no amenities) on HipCamp.
Campsites in The Dominican Republic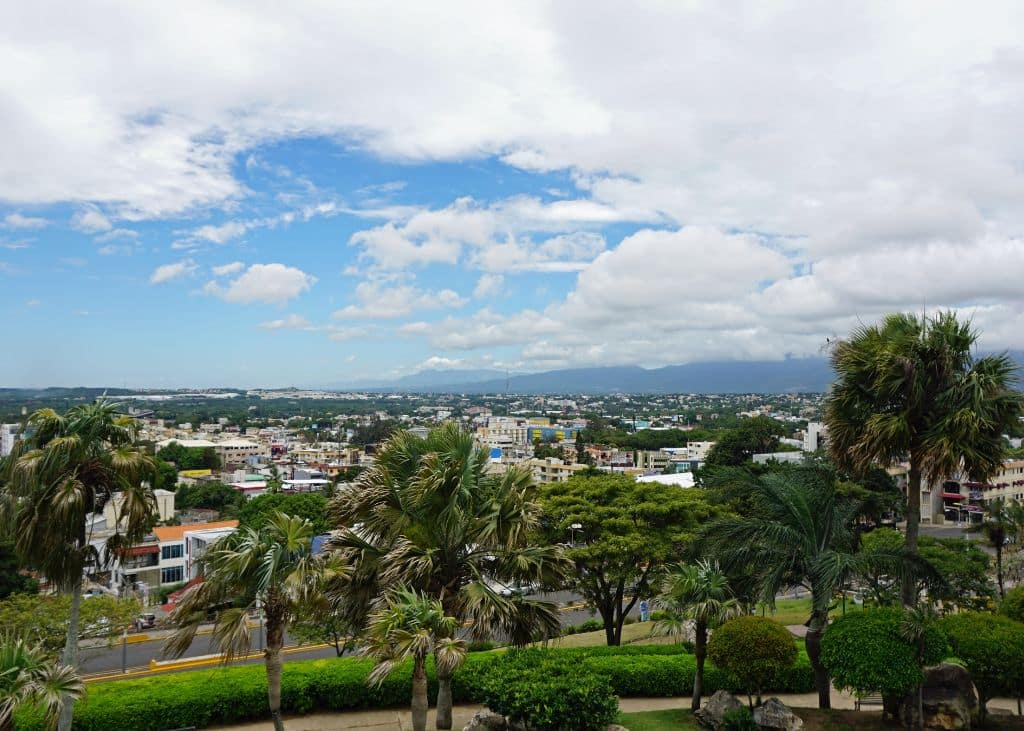 1. Barahona (South Coast)
Near Barahona, there is a campsite for surfers called Camping surf Bahoruco. They don't have a website but they do list a phone number. Use Whatsapp to message them.
2. Jaragua National Park (South Coast)
This national park nature reserve has an exceptional true turquoise beach. This is likely the most spectacular beach that you can camp on in the Caribbean.
There isn't much official information about camping there but many photos and google reviews of folks camping there.
I imagine there are no services, this is camping in the wild. They have a phone number.
The prices (and stay limits) are not clear but one reviewer said it's $3.
3. Close to Jaragua
If you need to escape to somewhere more comfortable close by, Glamping Cueva De Las Águilas is near the national park.
They only have tents that are already set up, and this makes it a much pricier option than most campsites.
The tents have electrical outlets, washrooms are shared, there is a restaurant (you can't cook your own food). It doesn't say if they have wifi but I would expect so.
$53 per night for the least expensive tent.
3. Parque Nacional Francis Caamaño
Further east on the south coast towards the capital, Francis Caamaño National Park does appear to have campsites but there is no further information online.
Call them, contact local people or check guide books for more info.
4. Samana (North Coast)
This is a thatched dome that is already set up on a 4 acre mountain property in Samama overlooking the ocean. Just 5-10 minutes from Playa Coson.
You get the property to yourself other than the owners who live downhill.
There is a camping toilet as well as a outdoor camping shower. No kitchen. There is electricity for charging your devices and for lights inside the dome. There is cell service. Wifi is available only down near the owner's house.
$33 USD a night.
5. West of Semana on the North Coast
There are a couple of other sites on the north coast that might have camping but it's not very clear and they don't have websites. Afuera Camping Club, and River and Woods (which isn't that close to the beach) are two. You would have to contact them to see what they offer.
6. In the Interior Forest
There is a campsite at Spirit Mountain, an organic coffee farm in the interior of the country. It's secluded and beautiful.
It has a few shelters, outhouses, potable water, sleeping pergolas, and a kitchen with a wood-fired bread oven.
It looks like the pandemic might have been a hit to this campsite but you should contact them to find out if you can still camp there.
There are a lot of similarities to Mexico here.
Spanish is needed outsidee of tourist areas.
The DR is a very popular tourist destination, tourist and expat areas are well developed, that means you can find many of your North American products.
Campsites in The Bahamas
The Bahamas don't have any official campgrounds and you can't camp on public land but one place you can camp is at a yoga retreat.
Ashram Yoga Retreat, Paradise Island
The Yoga Vacation program is included in their all-inclusive accommodation rates.
This includes vegetarian meals, yoga classes, satsangs, and daily workshops, as well as access to the beautiful beach, ashram grounds and amenities like shared washrooms.
For tent space only: bring your own tent, bedding, and towels.
$65 a night for the tent camping rate.
Campsites in Antigua and Barbuda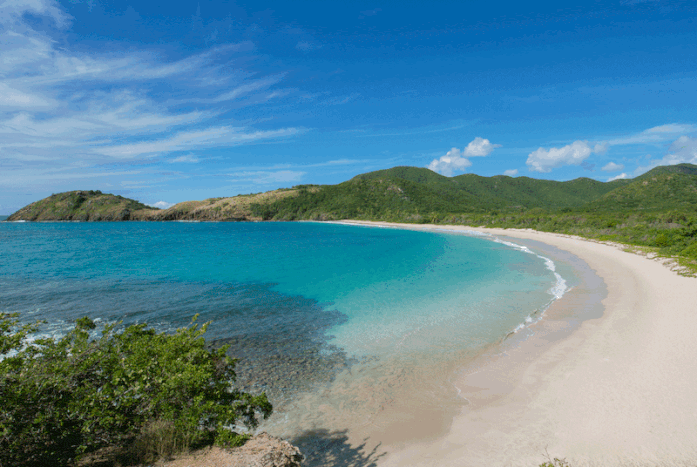 1. Rendezvous Bay Beach, Antigua
Not an official campsite, Rendezvous bay is part private estate (under development) and part of the Antigua and Barbuda National park.
The 330-acre park is difficult to access either by a long hike or 4 wheel drive vehicle, but it sounds like it's well worth it.
Locals camp here and there are a few other mentions of camping here. You should connect with the National Park or local people to find out the rules and norms before camping here.
There are no services at the park for camping, but as you can see from the above photo it's beautiful and looks pristine.
I do not believe there is a fee to enter.
2. Frangipani, Barbuda
This camping and glamping site has one little cabin and spots to tent camp.
You can bring your own tent or rent equipment there (tents, camp beds, ice box, and sheets).
The site has running water and an outdoor toilet.
They have reopened after the pandemic shut down.
Message them for rates.
Campsites in Jamaica
Holywell Park
In the highlands of Jamaica, Holywell Park is part of the Blue and John Crow Mountains National Park.
Campsites feature BBQ grills, water, shower and toilet facilities. You can bring your own tent or rent one of theirs.
At this higher elevation you will have more pleasant temperatures.
$10 per night
Campsites in Barbados
Camping Barbados
Camping Barbados operates 3 campsites throughout the island.
They operate one campsite on the south coast near Silver Sands, one in a tropical forest site in the heart of Barbados (St Thomas), and one east coast site near Tent Bay.
They also have urban camping spots around the island, ideal for solo travelers and small groups.
All but their Tent Bay site have a live-in host on the property.
You can bring your own tent, rent a ready pitched one, or rent a tent to use off site.
Sites with private bathrooms available. They have on-site security and 24/7 on-site personnel. Meal plans are available.
$15 per night
Campsites in Guadeloupe
Hamac Camp
Hamac Camp Guadeloupe is five minutes up the hill from the beach La plage de Malendure. This place looks so cool!
They provide the little shelters that have hammocks, duvets, and sheets and tables, and chairs.
They also have a little stove, dishes, and coffee maker.
Shared spaces include a campfire area, outdoor toilets and showers.
This is a French overseas territory.
25 Euros per night