Best Places to Stay in Jamaica According to Travel Experts
For today's post, I'm sharing a few of my personal recommendations for the best places to stay in Jamaica. I have also enlisted the help of fellow travel experts and bloggers to share where they think the best places to stay in Jamaica are and why!
These places range from all-inclusive luxury resorts to off-the-beaten-path hotels and this post even ends with some of the best hostels. We're happy to answer any questions anyone has in the comments section as well.
The Best Places to Stay in Jamaica – Resorts, Hotels, and Hostels
*Disclosure: some of these links are affiliate links. Meaning, if you click a link and make a purchase, Have Clothes, Will Travel gets a very small commission at no extra cost to you. Thank you for supporting the brands that make this blog possible!
The Best All-Inclusive Resorts in Jamaica
Sandals Montego Bay in Montego Bay
Sandals Montego Bay is a luxury all-inclusive beach resort with a private white-sand beach. It features 12 onsite restaurants, fantastic snorkeling and scuba diving, and free rentals of Hobie Cats, paddleboards, and kayaks. Plus, Sandals Resorts are all adults-only.
My personal favorite place to stay in Jamaica is at Sandals Montego Bay! This is one of the most luxurious travel experiences I have ever had. At Sandals Montego Bay, my husband and I stayed in a Beachfront Honeymoon Butler Suite with a Balcony + Soaking Tub.
Read next: A Full and Honest Review of Sandals Montego Bay
A few reasons why this stay was amazing for us:
This is a big resort with a lot of different activities and restaurants. You never felt as though you were "on top of" the other people staying at this resort. There is plenty of space!
Stay at 1 play at 2 resorts. Staying here meant we could also enjoy free transfers, dining options, and hanging out at Sandals Royal Caribbean.
Our room was brand new! Sandals Montego Bay has undergone some huge renovations in the last year, which makes it feel as though it's a new resort (despite being the first Sandals Resort ever). It also had a soaking tub and a personal butler – which made for an unforgettable experience!
I can't recommend staying here enough! I also recommend booking a week-long vacation to Sandals Montego Bay to properly relax and get the best resort rates.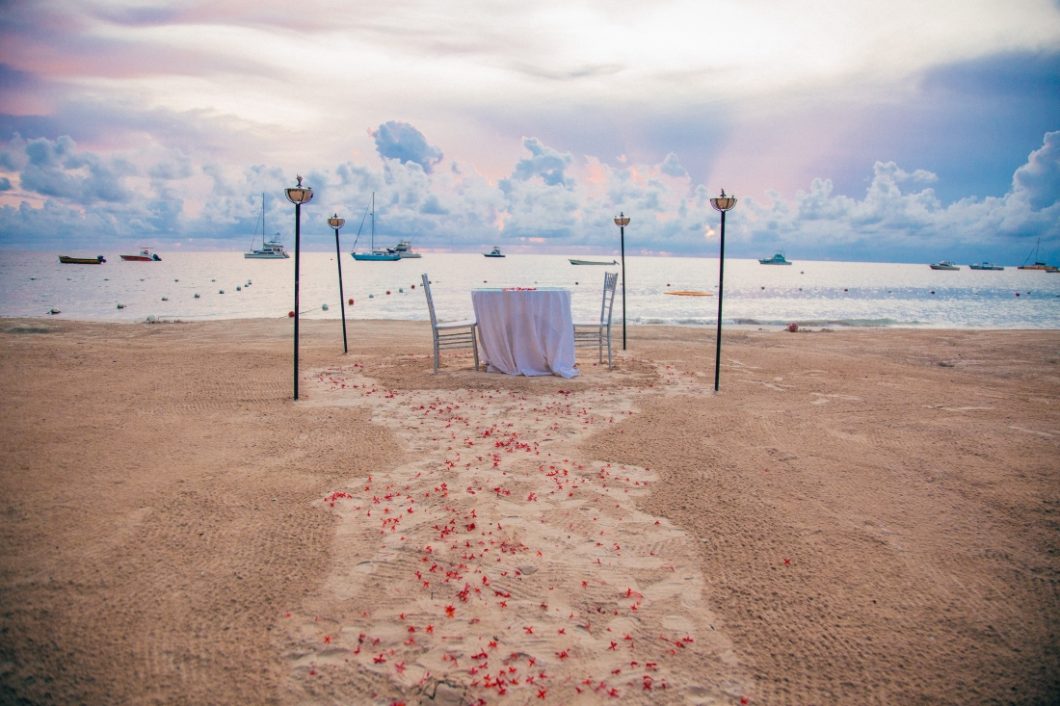 Sandals Negril Beach Resort in Negril
Sandals Negril is situated on Negril's 7-mile beach and is home to some incredibly calm waters! It's the perfect spot for swimming, snorkeling, water skiing, and lounging by the beach. While it's not as large as Sandals Montego Bay, I still had a great time staying here with my husband. Sandals Negril has less of a "party" atmosphere and was a bit more romantic… which was nice for a change!
Many of the rooms also have direct access to the beach, as you can see below.
Read next: A Detailed and Honest Sandals Negril Review
I like the intimate atmosphere at Sandals Negril. While this beach is not private (like Montego Bay's), it is still absolutely stunning, and the water here is so calm! I, personally, think this would be a great resort to have a wedding at, given its more intimate and relaxed atmosphere. (We do have friends who were married here, and recommend it 100%.)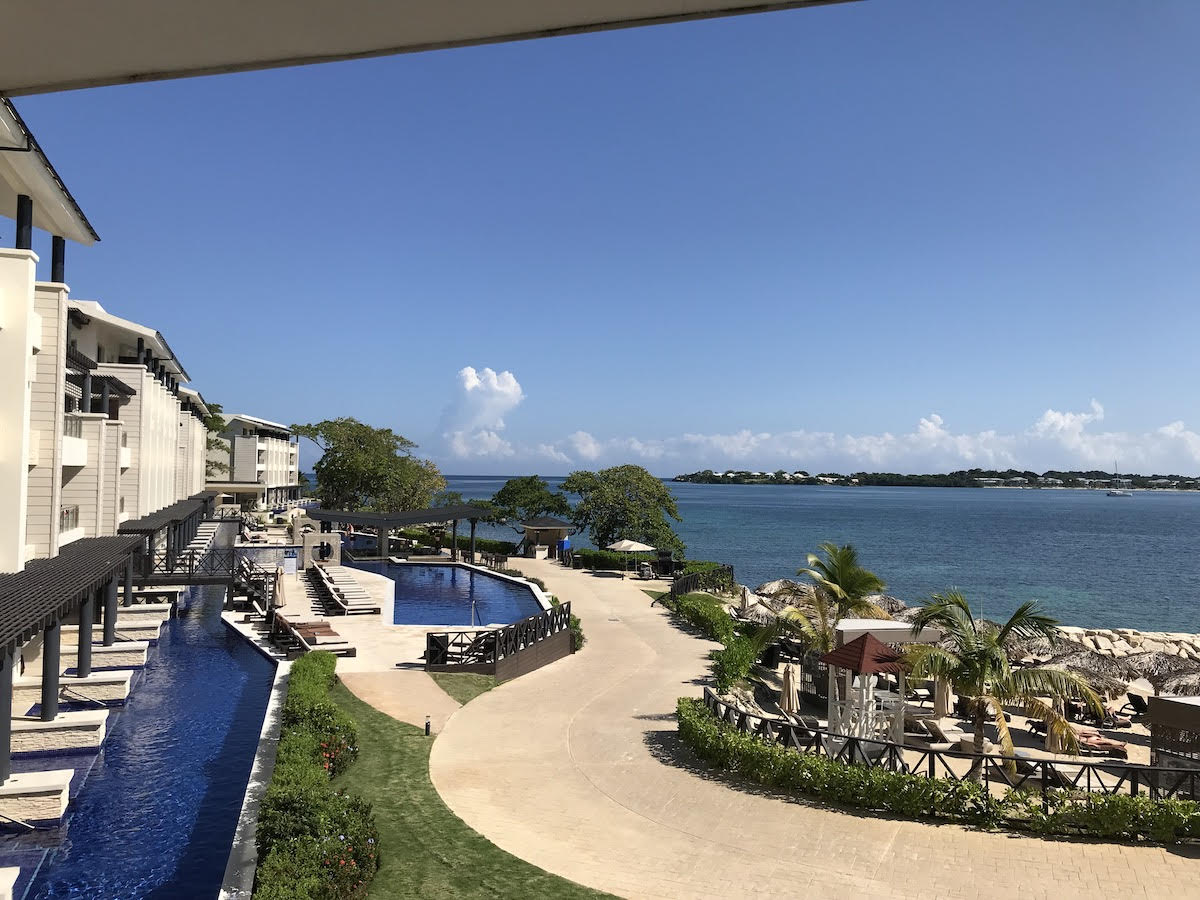 The Royalton Hideaway in Negril
Recommended by Angela Price of Where Angie Wanders
The Royalton Hideaway all-inclusive resort in Negril sits on a sprawling expanse of sand along the southern section of Bloody Bay in Jamaica. It offers a beach holiday destination with three distinct areas, families over 18 only, and the recent addition of a nudist section.
The quieter exclusive Royalton Hideaway section that we chose had a private beach, private dining restaurants, and ultra-lux apartment rooms complete with an in-room rainfall tub. Balcony views of the azure Caribbean Sea were perfect for watching sunrise and sunset. I might add we were not in the nudist section!
If you are looking for complete unadulterated luxury, then this resort is for you. Daily activities are offered in the Hideaway pool ranging from aerobics to party games, all made more fun with the addition of the all-inclusive cocktails at the swim-up bar.
We stayed for 10 days and felt it was long enough. Negril is a lot further away from much of Jamaica's wonderful natural sights, and therefore we didn't get out as much as we had wanted during our stay, although diving off the rocks at Rick's cafe was a true experience.
I would add that tipping is expected, if not demanded, from all staff. Having been all over the Caribbean, I had not encountered this kind of expectancy before and found the service in the resort to fluctuate depending on tip values.
To conclude, I would say that if you want a relaxing beach holiday with first-class accommodation, then The Royalton Hideaway will suit you down to the ground. However, if you want to explore the island, then a base in Montego Bay will work out better.
Bahia Principe Grand Jamaica in Runway Bay
Recommended by Sarah from In Search of Sarah
Bahia Principe Grand Jamaica is an expansive, all-inclusive resort in Runaway Bay, an hour from Montego Bay airport. It hugs the shoreline of a stunning coastline with powder-soft sand and azul blue waters. This resort caters to everyone, from families to couples, and is the perfect place for rest and relaxation, but there are also endless activities to partake in.
I traveled with my husband and another couple, and we were never bored! There was entertainment throughout the day, like culinary and mixology workshops, dance lessons, sports, and beach parties to themed events in the evening ranging from a silent disco (SO fun!), burlesque shows, and DJ.
With bars throughout the resort and 6 restaurants to choose from, there is no shortage of options to try.
If you're traveling with kids, there is a new waterpark to entertain them! If you're traveling as a couple, you have the option of staying on their exclusive Adults-Only side, Bahia Principe Luxury, where you'll have access to adults-only dining, pools, and beachfront.
What made this stay really memorable for me was the snorkeling. Just a few feet offshore along the coast are incredible corals with brightly colored fish swimming around you. You can rent snorkels (I suggest bringing your own!).
There are also plenty of activities nearby, such as Dunns River, horseback riding on the beach, zip-lining, and more!
We stayed for a week, and it was the perfect amount of time to feel rested and allowed us to explore some off-site activities too.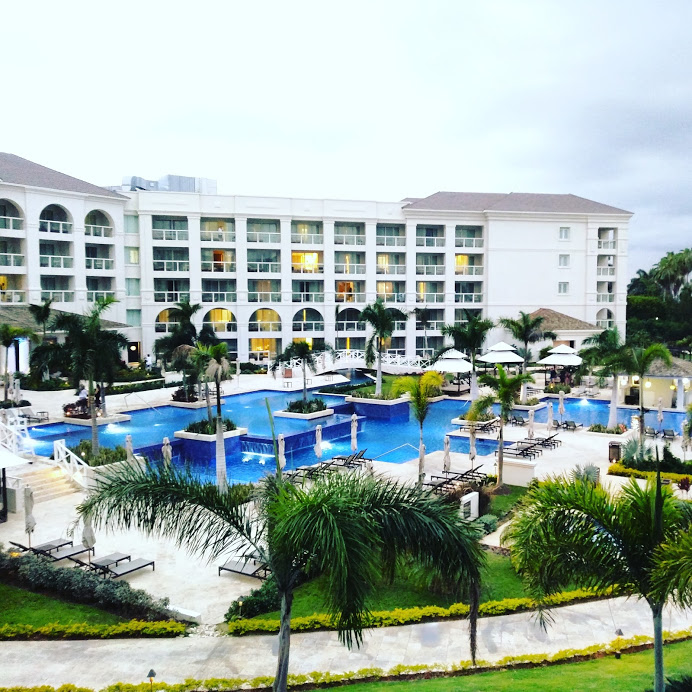 Hyatt Zilara in Montego Bay
Recommended by Ruby Escalona of A Journey We Love
Hyatt Zilara is an all-inclusive beachfront resort in Montego Bay. We loved our stay there because everything is included, from alcohol, certain specialty restaurants, cappuccinos in the coffee shop, and even non-motorized water sports.
Since it's beachfront, there are also plenty of places to hang out by the beach or the pool. We traveled as a couple and stayed at the all-adult Hyatt Ziva side, which includes access to the Zilara.
We would definitely recommend a stay there, especially for travel hackers, as our entire budget trip to Montego Bay costs less than $500! We would recommend a three-day, two-night stay. That will be enough to try a few of the restaurants for lunch and dinner, as well as the different pool bars available.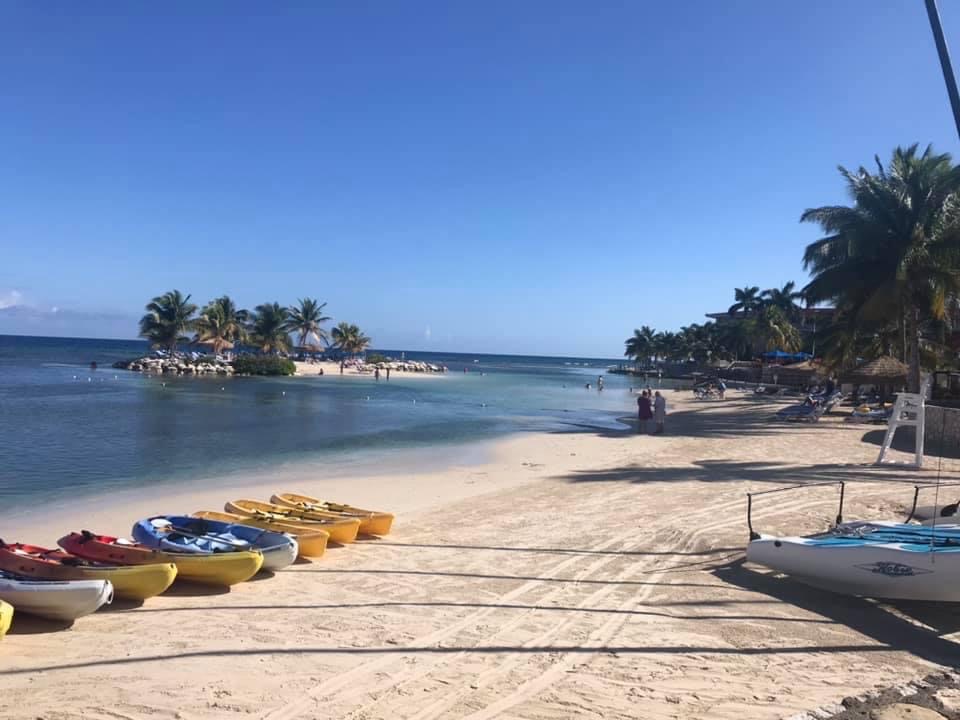 Holiday Inn Jamaica in Montego Bay
Recommended by Nicole from AffordableFamilyTravel.com
The Holiday Inn Jamaica in Montego Bay is the perfect resort for families. It's extremely budget-friendly but provides great service and numerous activities, making it a wonderful value. Rates start as low as $150 per night for 2 adults and 2 children under 12 free.
A very short shuttle or ride from Montego Bay Airport will take you to the resort. The activities are the best part of this resort for families. The resort offers a kids club with daily activities. In addition, they offer games every afternoon on the poolside stage that the kids are sure to love. The resort offers Hobbie Catboat rides, as well as paddleboats, kayaks, and snorkel gear you can check out at no cost from the beachside hut. Tennis lessons are available at their onsite tennis courts. They also have basketball courts, a mini-golf course, pool tables, table tennis and more. The large gated play area is perfect for younger children to freely run around.
While this is a wonderful family resort, it's also great for singles and couples. The resort offers an adult-only building which is located next to the adult-only pool with a swim-up bar and the adult-only beach area. The resort provides a free shuttle to Margaritaville on select evenings if you are looking for a change in the atmosphere.
The resort offers several options for sit-down dinners, and their jerk hut serves up delicious jerk chicken and pork. A 4 to 5-day stay is the perfect amount of time at the resort, but if you are interested in venturing off-site to explore the area, you could spend a week enjoying both the island and the resort.
Best Jamaican Resorts and Hotels That Are Not All-Inclusive
Tensing Pen Resort in Negril
Recommended by Lori Sorrentino of Travelinmad
When it comes to chillin' in Jamaica, there are so many places to stay, but the one place that continues to embody the Irie vibe of Jamaica is Tensing Pen, a boutique hotel located on the West End cliffs that's truly one-of-a-kind. The eco-luxe feel is evident in everything from the chic treehouse-style cabanas and elegantly prepared local Jamaican cuisine to its enviable location in a quiet neighborhood on the sea.
Perched above the cliffs overlooking the crystalline turquoise waters of the Caribbean Sea, the cabanas at Tensing Pen provide everyone with a variety of unique accommodations, from private cottages tucked amidst lush vegetation to treehouses set high above the canopy with stunning views of the water. Larger houses are perfect for small families — or a combination of both would offer a perfect fit for a larger multi-generational gathering.
During the day, relax on hammocks or chaise lounges overlooking the sea, walk to the famous Rick's Cafe just down the street, or catch the water taxi to the beach or for a fun day of snorkeling the reef. Guests can dine at the excellent on-site restaurant, try a local place within walking distance, or grab a taxi to explore the many beach restaurants a short drive away.
Plan on a week's stay at Tensing Pen to explore all there is to see in Negril and the surrounding countryside. It's a side of Jamaica that will grab your heart and never let go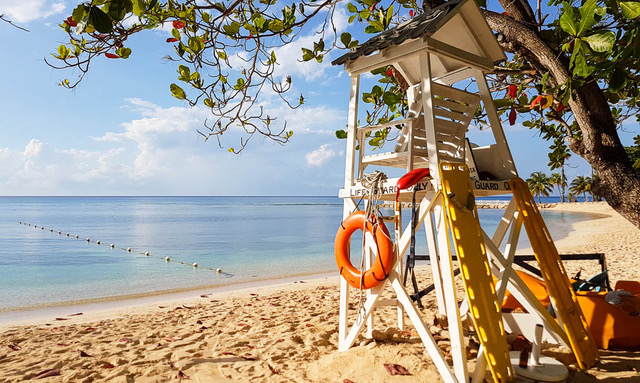 Half Moon Resort in Montego Bay
Recommended by Eric Hoffman from Food and Drink Destinations
Half Moon Resort near Jamaica's famous Montego Bay has been hosting celebrities, royalty, and vacationers on one of the most breathtaking stretches of the Caribbean Sea. A family-run hotel to this day, Half Moon Resort features something for everyone. With a world-class golf course, an equestrian center, and a luxury spa, guests can keep busy or simply relax on the white sand beach.
As a couple, the star of Half Moon was their Fern Tree Spa. The spa offers a wide range of relaxing massages, including a couples massage. Fern Tree uses local Jamaican ingredients and traditional healing techniques to relax and reinvigorate its guests.
or food lovers, Half Moon is a culinary paradise. Their four different dining venues focus on using fresh, locally sourced ingredients to bring the tastes and smells of traditional Jamaican food to their guests. Half Moon's Sugar Mill Restaurant is one of the top-rated restaurants on the island. It alone is worth booking at Half Moon!
The property features several types of rooms, including private or semi-private villas. Each villa is uniquely designed and decorated, making them exclusive, quiet, and romantic. Over the years, Half Moon has welcomed the likes of President John F. Kennedy and Queen Elizabeth. But you don't need to be famous to be treated like a President or a Queen. Whether it's a long weekend getaway or a week-long holiday in Jamaica, you won't run out of things to do at Half Moon Resort.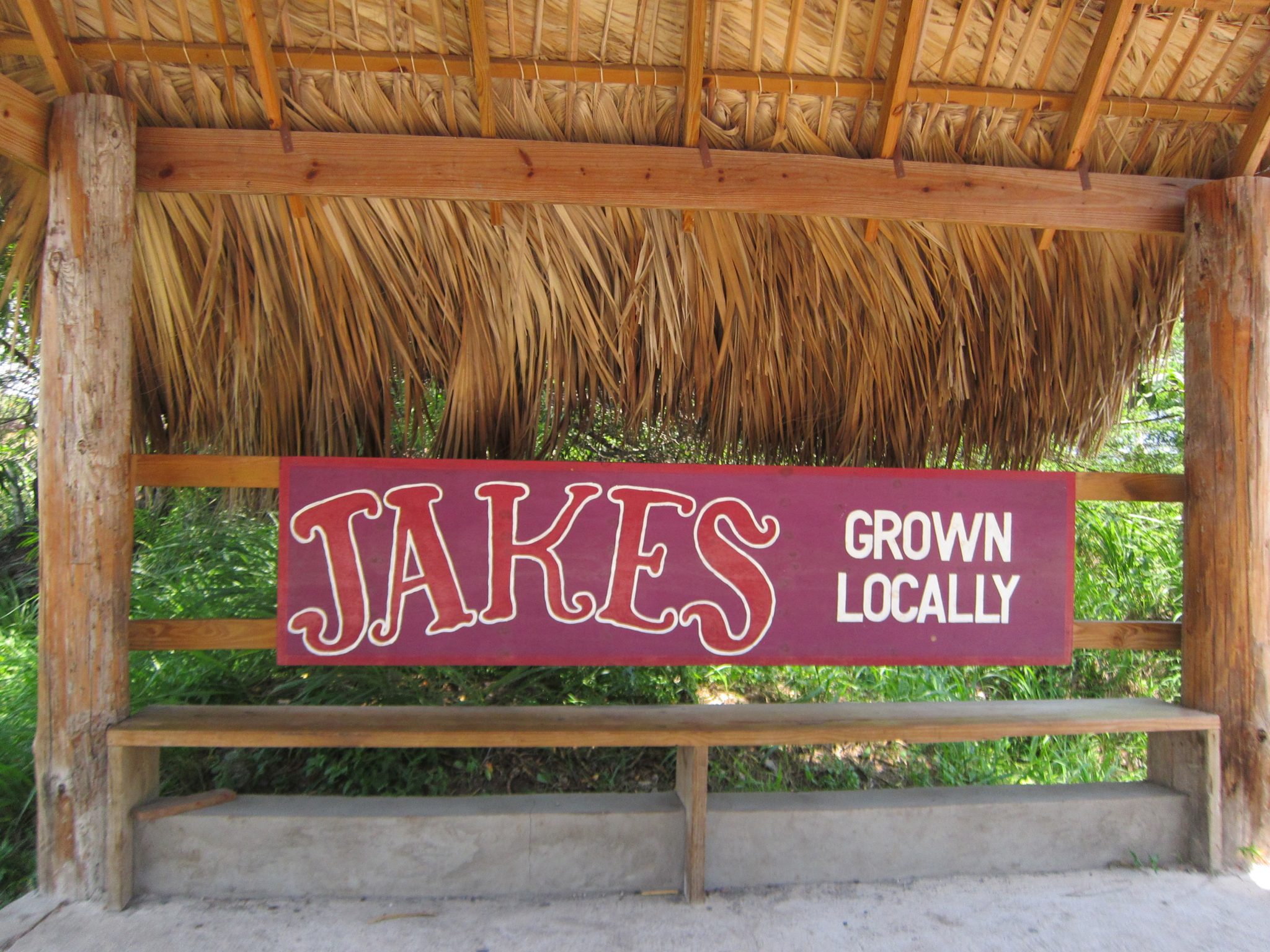 Jakes Treasure Beach Jamaica Hotel in St. Elizabeth (South Coast)
Recommended by Michelle C. of Intentional Travelers
Tucked away on Jamaica's dry South Coast, Jake's bohemian-inspired rooms, bungalows, cottages, and villas are the place to get away from it all. Though there's not a sandy beach on the property, some cottages have decks right on the ocean, where waves crash up to the rocks.
Nearby amenities are limited, but you can dine in at the on-site restaurant and bar, which support local producers in the community. For a truly low-key vacation, you could stay here for a week. They even have work-action packages for longer stays since the pandemic started.
Allow for at least a half-day transit time when visiting Jake's from other Jamaican destinations, like Negril or Montego Bay. It is truly off the beaten path!
We stayed at Jake's once on vacation with another couple and also visited for the annual Jake's Off-Road Triathlon in the Spring. From personal experience, this is one of the island's most laid-back and authentic properties.
Great Huts Eco Resort in Port Antonio
Recommended by Ashley Jansen of Jetset Jansen
If you are looking for a unique place to stay in Jamaica, Great Huts Eco Resort is an awesome option. It's located near Port-Antonio, right on the coast. The accommodations are actually tree houses or huts. They have a variety of different rooms, so no treehouse is the same. They are designed with modern amenities while still putting nature as the main focus. You'll see African décor throughout the property, and eco touches like bamboo utensils.
The property also lies on the edge of a cliff, so you have beautiful views of the bay below. A stairway leads you right down to the water, where you have your own private beach and plenty of hammocks and hidden spots to relax.
The property is quiet and peaceful, with exotic plants all around you. There are several larger gathering areas where you can hang out, browse the bookshelves, or connect to wifi in the lounge. You can also enjoy a tasty breakfast in front of a large birdcage that houses several colorful birds. It truly is unique and a great place for a tropical escape.
The Best Hostels in Jamaica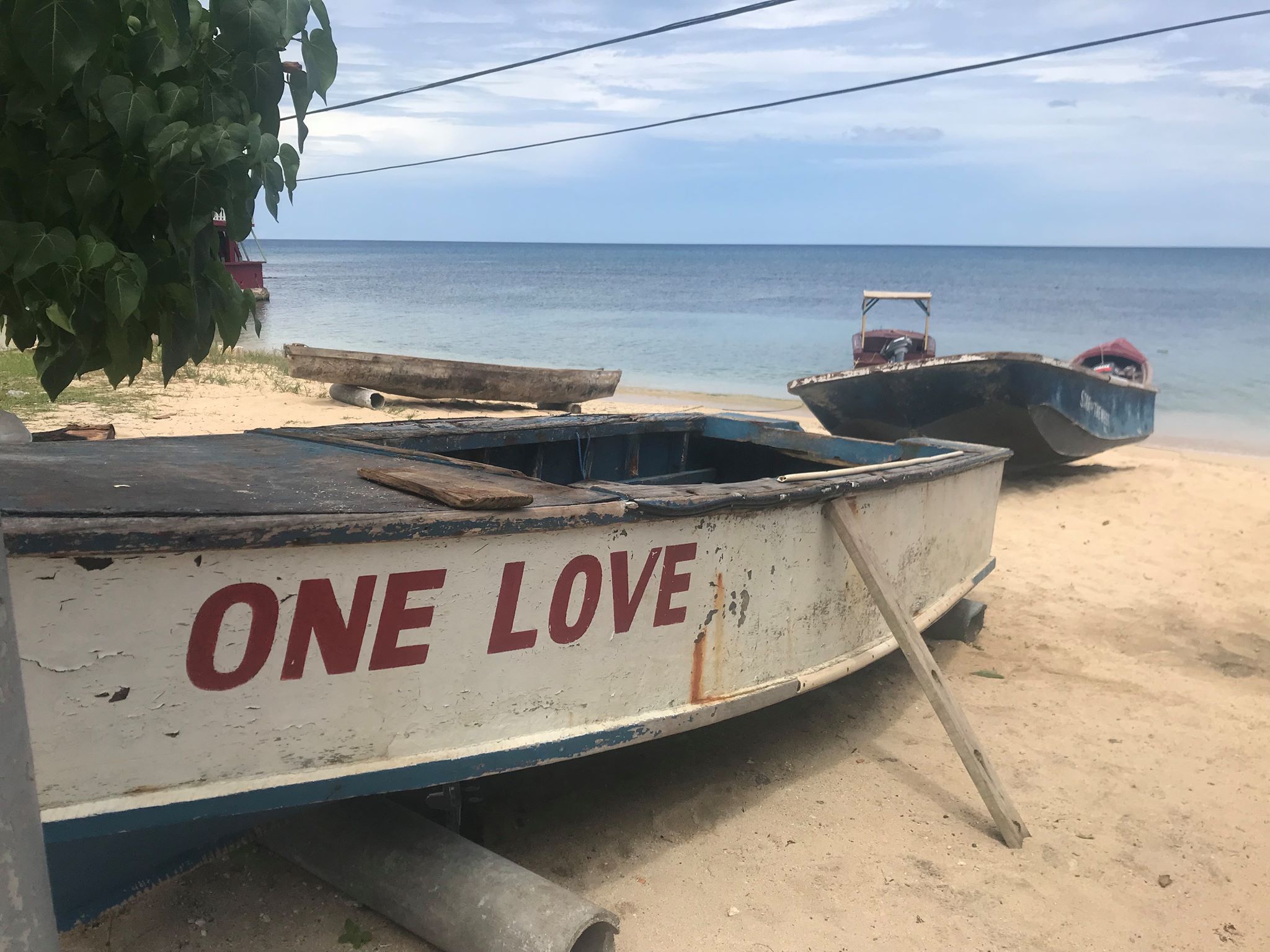 Judy's House in Negril
Recommended by Lora Pope of Explore With Lora
Negril is one of the best places to go while visiting the tropical island paradise of Jamaica, and Judy's House is the perfect place to stay while there. This locally owned guesthouse is made up of several cottages, with gorgeous lush gardens around the property. There are both shared and private cottages, so it's a great place for budget travelers.
The cottages are in a small community just ten minutes away from the ocean. It's a great location to be based in Negril as you are minutes from restaurants, bars, supermarkets, gift shops, banks, and of course, gorgeous white sand beaches.
Judy's Place is a great place to stay in Jamaica if you are traveling solo and looking to connect with other travelers. I was there as a solo traveler, and staying at this hostel really contributed to my positive experiences in Jamaica, as I was able to make friends quickly there to explore Negril with. The staff are friendly and there to answer any questions you have about the area! Plan to spend at least two nights here, as Negril has such a friendly, laid-back atmosphere that you won't want to leave!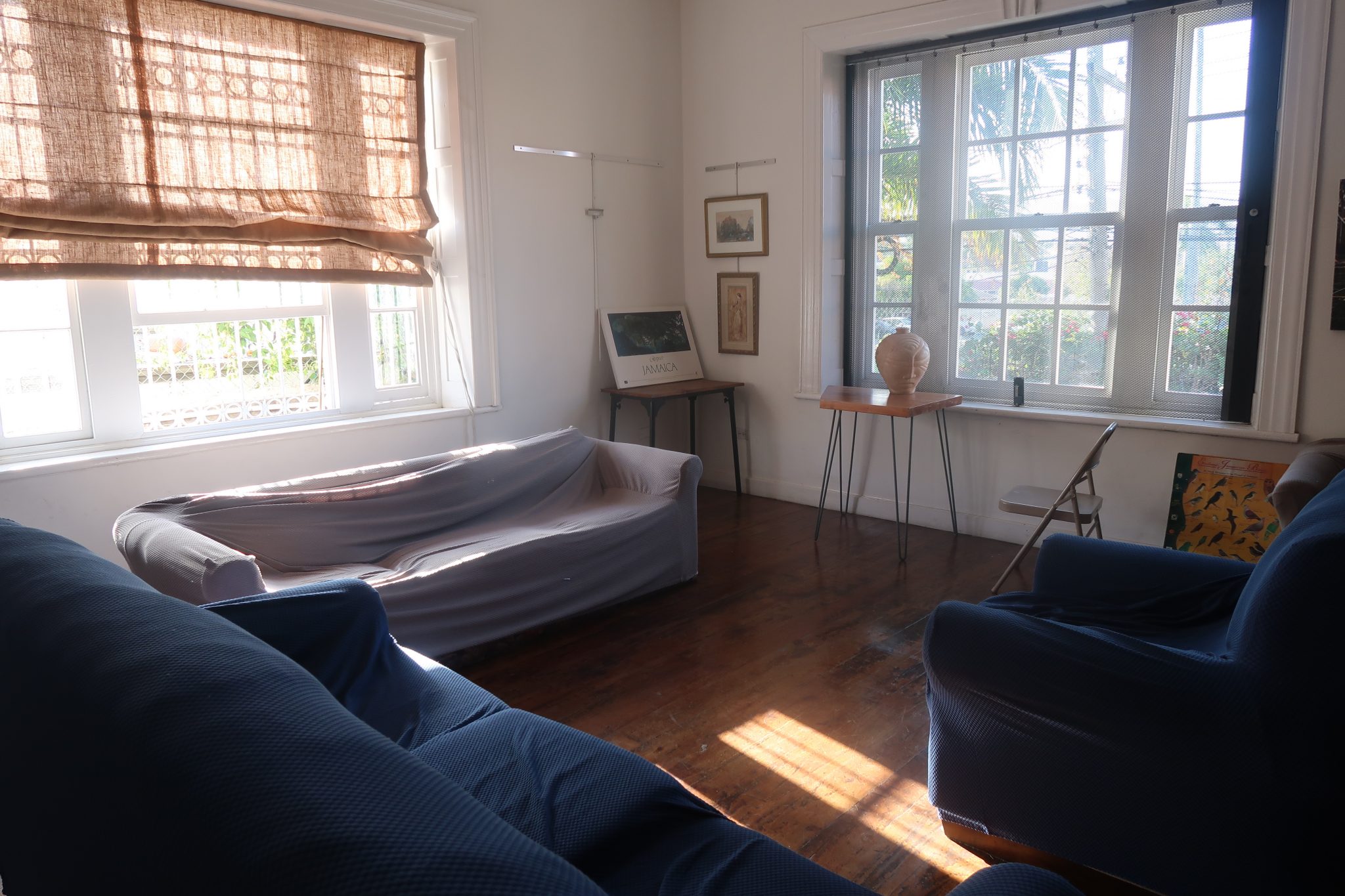 Mobay Kotch in Montego Bay
Recommended by Daniel James of Layer Culture
When looking for the best place to stay in Montego Bay and whilst on a budget, be sure to check out Mobay Kotch. Located just a few blocks from downtown Montego Bay, you'll find a big old British-style house that has been very well preserved and makes the perfect guest house. This is your home away from home and great for those travelers who find themselves in transit to parishes in Jamaica.
A 2-3 night stay at Mobay Kotch gives you the perfect opportunity to get acquainted with the main attractions in the Montego Bay area as well as meet other travelers. I find February or March the best time to go to Jamaica, and whenever I fly Into Montego Bay, I stay at Mobay Kotch as my go-to place to stay. Not only will you feel safe, but the house is welcoming to the point you'll find yourself wanting to return.
Vanessa, the young lady who works at the hostel, will make sure all your questions about travel in Jamaica are answered and has a wealth of knowledge about getting around the island.
Where is your favorite place to stay in Jamaica? Let us know in the comments!
Read next: Best Overwater Bungalows Around the World According to Travel Bloggers
Read next: Unique Hotels Around the World for Adventure Lovers
Read next: Staying at the Treehouse Lodge in Peru's Amazon Rainforest
Read next: Mazayen Rum Camp a Luxury Desert Camp with Marian Tents!
Read next: Wake up Next to the Pyramids of Giza at This Luxury Hotel
Read next: Sandals Montego Bay Resort Review – All-Inclusive Luxury Stay With Butler Service
If you liked it – Pin it!