20+ Cool House Rentals for EAA AirVenture Oshkosh
If you're looking for a house to rent for EAA, fret not. There are still plenty of home rentals available, and I've rounded up 20+ of the coolest rentals for this post.
EAA AirVenture Oshkosh is an amazing annual air show in Oshkosh, WI that lasts an entire week. It features a wide variety of planes you can see on display as well as in action – from show planes to home-builds, vintage, aerobatic, warbirds, ultralights, lightplanes, rotorcraft, and seaplanes. There are also more than 1 million square feet of commercial exhibits, displays, and information from 800+ exhibitors. It's a huge deal for our area that even attracts celebrities such as George Lucas and Harrison Ford.
Visit the EAA Airventure website here!
This year's event takes place July 25-July 31. Typically, by this time of year, most of the area homes are all rented. Even my husband and I have been debating renting out our home for EAA. (We live about 30 minutes from where EAA takes place, but homes do get rented this far out!) If you live near Oshkosh, Wisconsin, learn how much you could earn by renting out your home!
We're going to hold off until next year on that, but this year, please enjoy this list of some awesome home rentals near EAA AirVenture Oshkosh! And if you're heading to EAA this year, let me know in the comments (we might run into each other)!
20+ Cool House Rentals for EAA AirVenture in Oshkosh, WI (2022)
*Disclosure: some of these links are affiliate links. Meaning, if you click a link and make a purchase, Have Clothes, Will Travel gets a very small commission at no extra cost to you. Thank you for supporting the brands that make this blog possible!
---
Lakefront Homes Near EAA in Oshkosh
---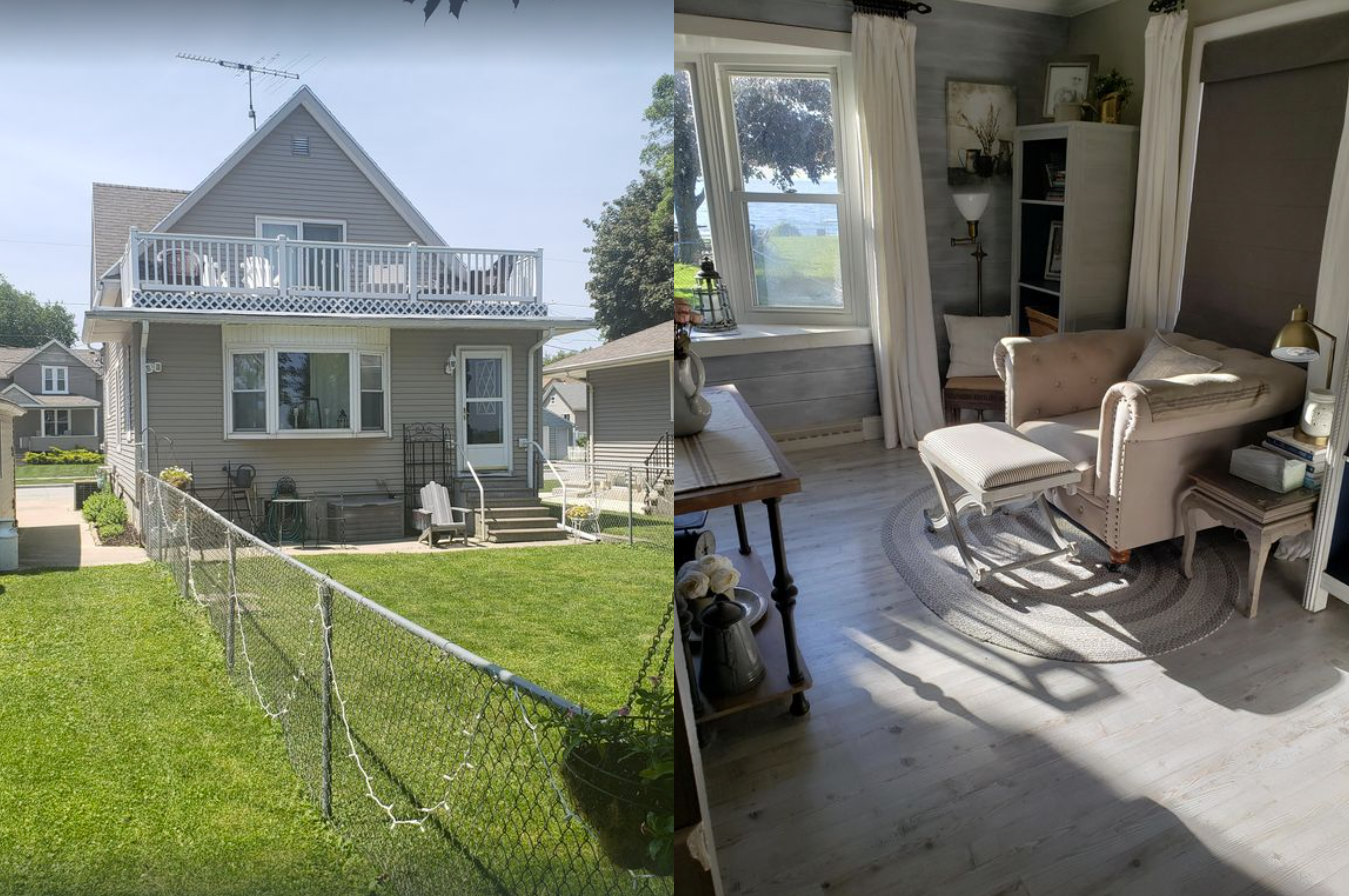 Cozy 4-bedroom Lakefront Home on Lake Winnebago – Oshkosh
Comfy, spacious, and clean perfectly describe this 4-bedroom lakefront home on the shores of Lake Winnebago. The property is ideally located within 5 miles of EAA grounds, shops, and parks and is also fully furnished with additional WiFi and air-conditioning. Relax on the upper deck or patio after touring the EAA grounds or take a relaxing dip in the lake.
---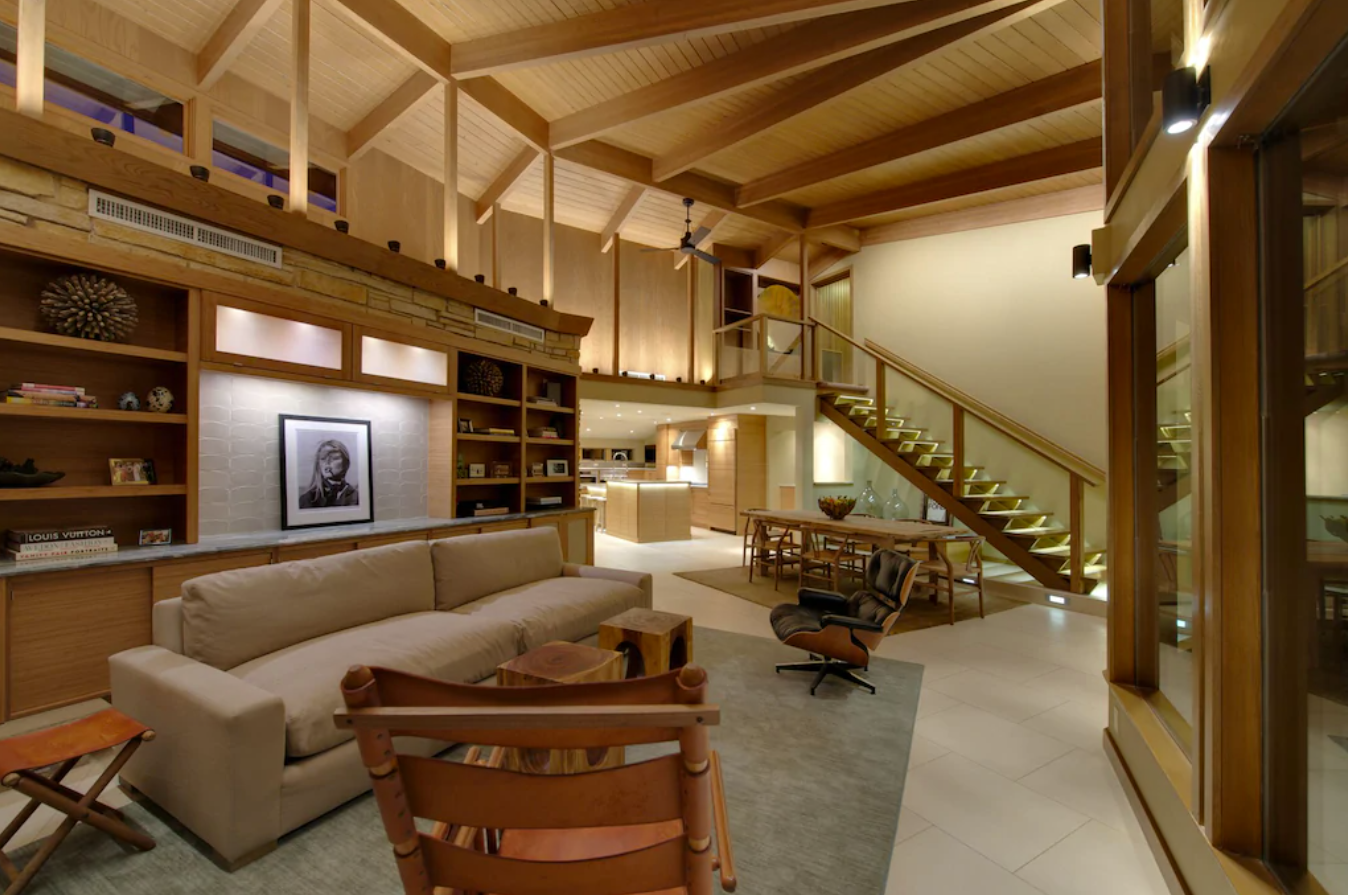 3-bedroom Modern Lakefront Home with Easy Access to EAA Grounds
Guests wanting to book a charming property close to the EAA grounds may find this 5000 sq. ft. modern home the ideal spot; with some of the air shows even viewable from the yard! It has three bedrooms, four bathrooms, a full kitchen, and a deck/patio. The 6.75 private acres of land can also hold large corporate events or family gatherings and has a space for RV parking as well.
---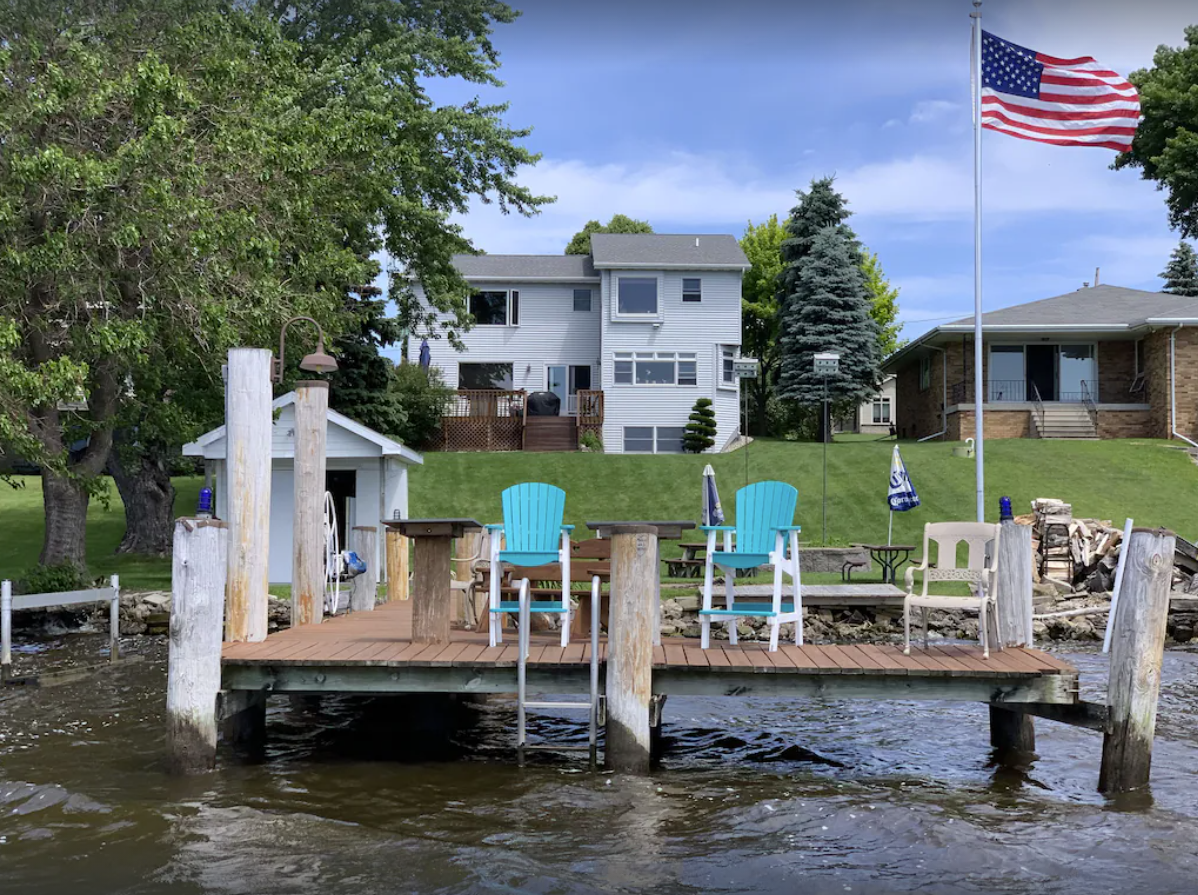 Charming 3-bedroom Lake House on Lake Butte des Morts – Oshkosh
A roomy 3-bedroom house right on Lake Butte des Morts and is only a 10-minute drive into Oshkosh. Fully stocked and equipped with an Italian kitchen with granite countertops. Relax at the outdoor deck with a fire pit on cool nights or soak in the tub overlooking the majestic lake. Better yet, go fishing off the dock or ride the pontoon on a sunny day.
---

5-bedroom Waterfront House in Prime Neighborhood – Oshkosh
A stately 7700 sq. ft. of property with five bedrooms and seven bathrooms located in a prime neighborhood in Oshkosh. The stunning views of Lake Butte de Morts are the highlight of guests' stay. There's a nice long dock extending from shore to the water, furnished with a sitting bench and wooden swing for sunset or sunrise watching.
---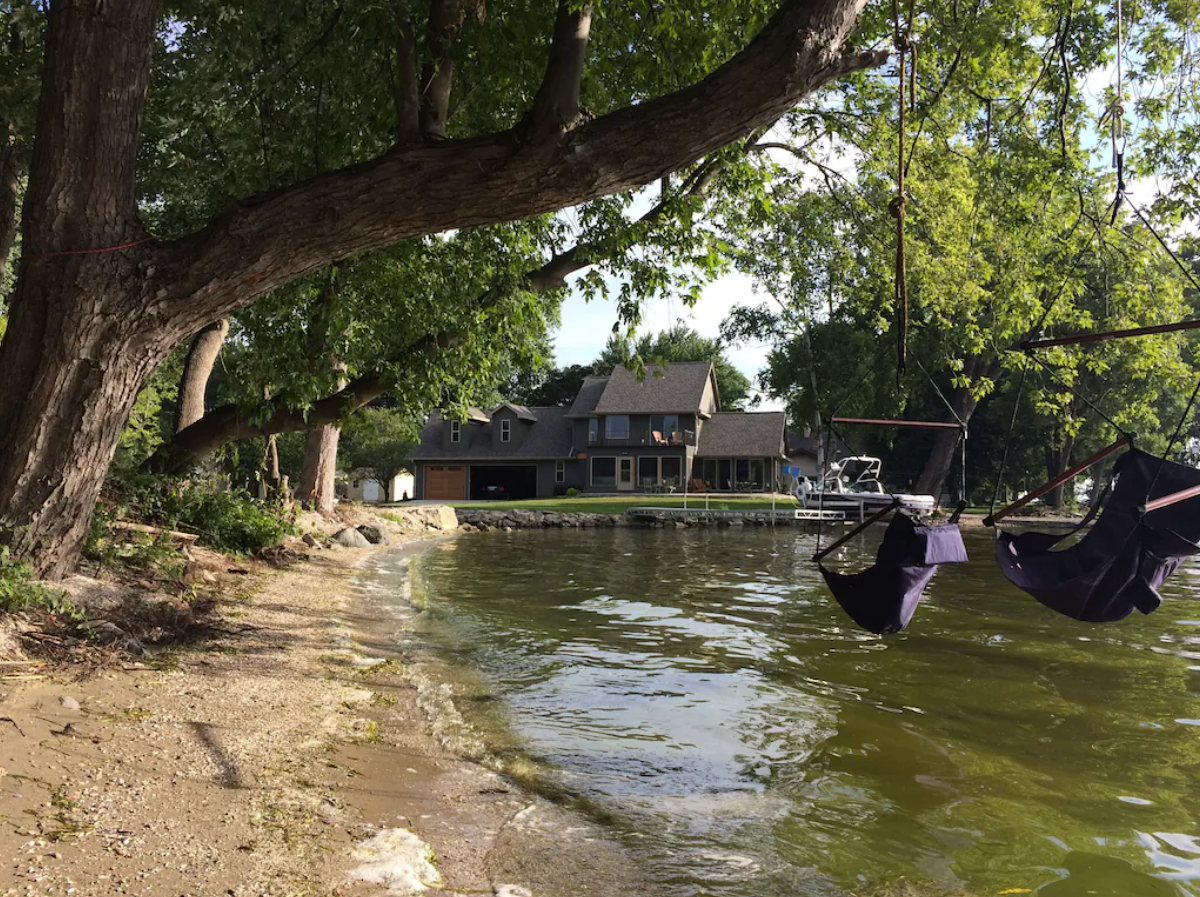 New 3-bedroom House on Lake Winnebago with Private Resort
Just southeast of EAA grounds is this 3-bedroom, 3-bathroom property with a private resort on Lake Winnebago. There's also a protected cove where guests can park their seaplane. The home is built with a sauna and there's a private sandy bay for swimming, fishing, kayaking, and paddleboarding. At night, roast s'mores by the fire or just chill in the hammock or have breakfast on the screened porch watching the sunset come into view.
---

5-bedroom Lakehouse with Sunset Views – Oshkosh
A 5-bedroom, 4-bathroom lakefront property with spectacular sunset views and a spacious backyard for outdoor activities; three of the bedrooms are facing the lake. This 3500 sq. ft. of cozy space has a large and open kitchen, sunroom, fireplace, and a dock to watch the peaceful views. The property is close to Highway 41, just on the north end of the Butte des Morts bridge.
---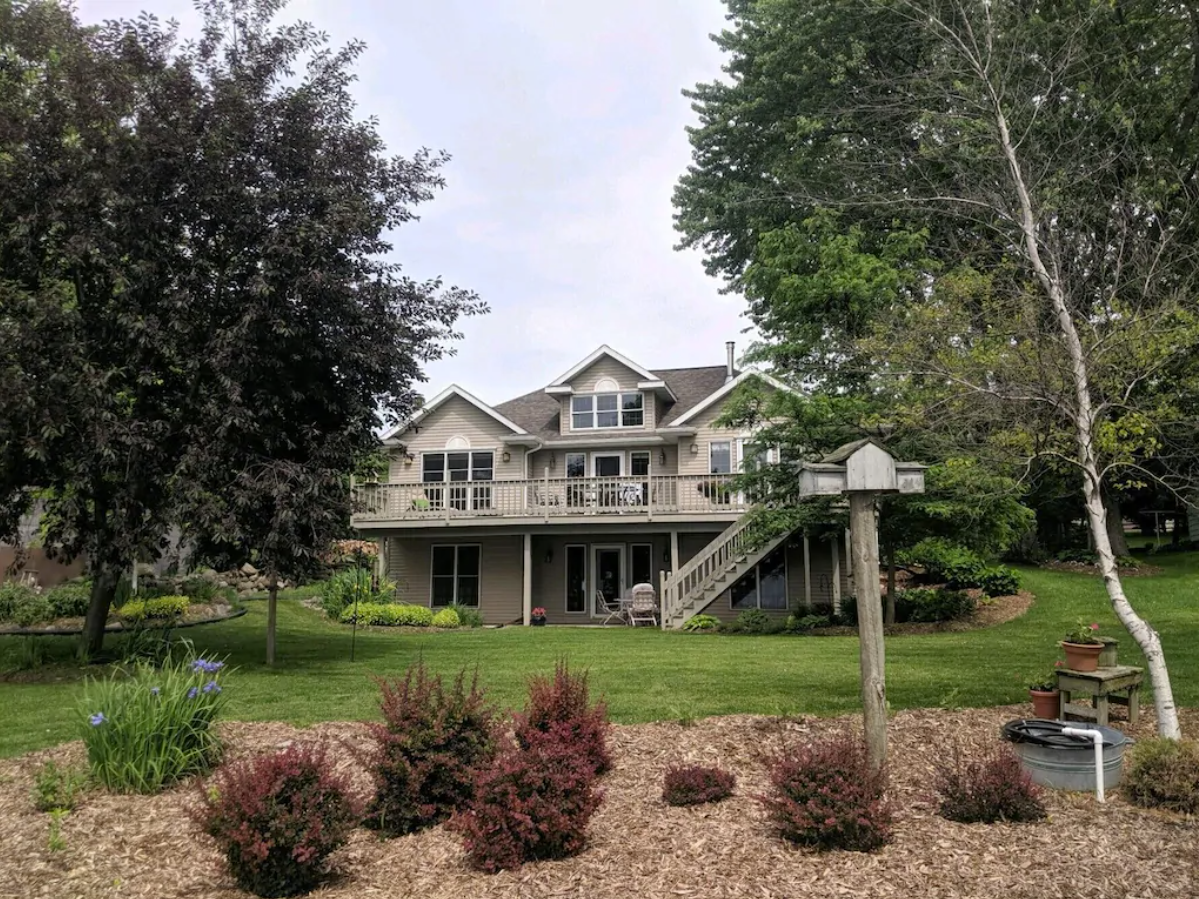 3-bedroom Lakeside Estate on Lake Winnebago – Stockbridge
Nothing beats the gorgeous sunset views on this almost new 3-bedroom multi-level lakeside property on Lake Winnebago. Inside is a full kitchen with a snack bar and dining area. There's also a large swimming beach with a sandbar and dock for kayaking, fishing, and paddleboarding. The estate is not far from Calumet and High Cliff State Parks, with orchards and wineries to explore in between.
---

Premier 4-bedroom Rental on Lake Winnebago – Neenah
A premier rental property located between Neenah and Oshkosh, ideal for travelers wanting a home base during busy days at the grounds. It features four bedrooms, three bathrooms, a full kitchen, as well as a spacious lawn for those wanting to host an outdoor barbecue. Guests are treated to amazing views of Lake Winnebago accessible via the home's deck.
---
Unique EAA House Rentals Near Oshkosh, WI
---

6-bedroom Barn Turned Dream Home with Large Koi Pond – Oshkosh
A unique staycation awaits guests in this 6-bedroom barn-turned-cozy home that can accommodate up to 17 persons. It's beautifully rustic and decorated to let the natural light in, complete with furnishing and amenities including a koi pond in the backyard where guests can swim, as well. There are two remodeled silos, one has a unique spiral staircase. There's also an outdoor facility where families can host a family barbecue.
---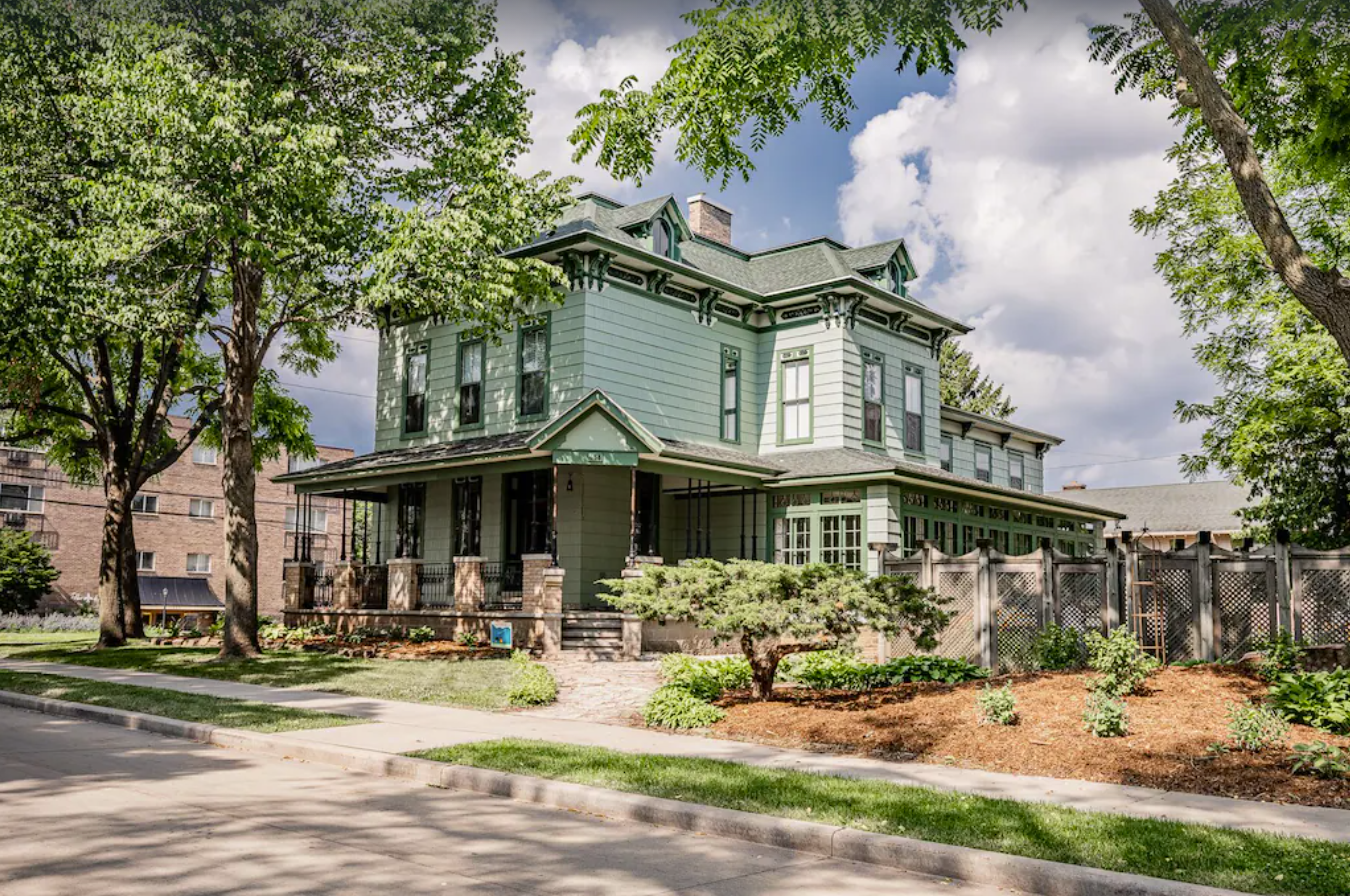 Luxury 4-bedroom Victorian Mansion with Boutique Lodging Experience – Oshkosh
It's not every day one gets to stay in a romantic and historic Victorian mansion, but this 4-bedroom, 5-bathroom property is opening its doors to guests wanting to experience a unique stay. This 4700 sq. ft. home has a ballroom-sized living area with 11 ft. ceiling, a fully equipped kitchen, dining room, and a sun porch. The south side of the property also has a shaded garden with outdoor furniture, a truly dreamy setting.
---
More Home Rentals Near EAA Grounds or Shuttle
---

Newly-constructed and Spacious 4-bedroom Rental – Oshkosh
Just in time for EAA is this newly-constructed modern rental that features four bedrooms and two bathrooms. The home can accommodate a family of 12; it has a king bed, two double beds, and a twin bed with a bonus room at the garage area that can fit an air mattress, should guests request it. Going to and from the EAA grounds is only 12 minutes away.
---
Beautiful 5-bedroom, 6,000 square-foot home – Neenah
This spacious home is just 20 minutes from the EAA grounds and features 5 bedrooms with 4 full baths. It can sleep up to 12 guests. Other great amenities include a pool table, ping pong table, private patio, fire pit, trampoline, and theater room!
---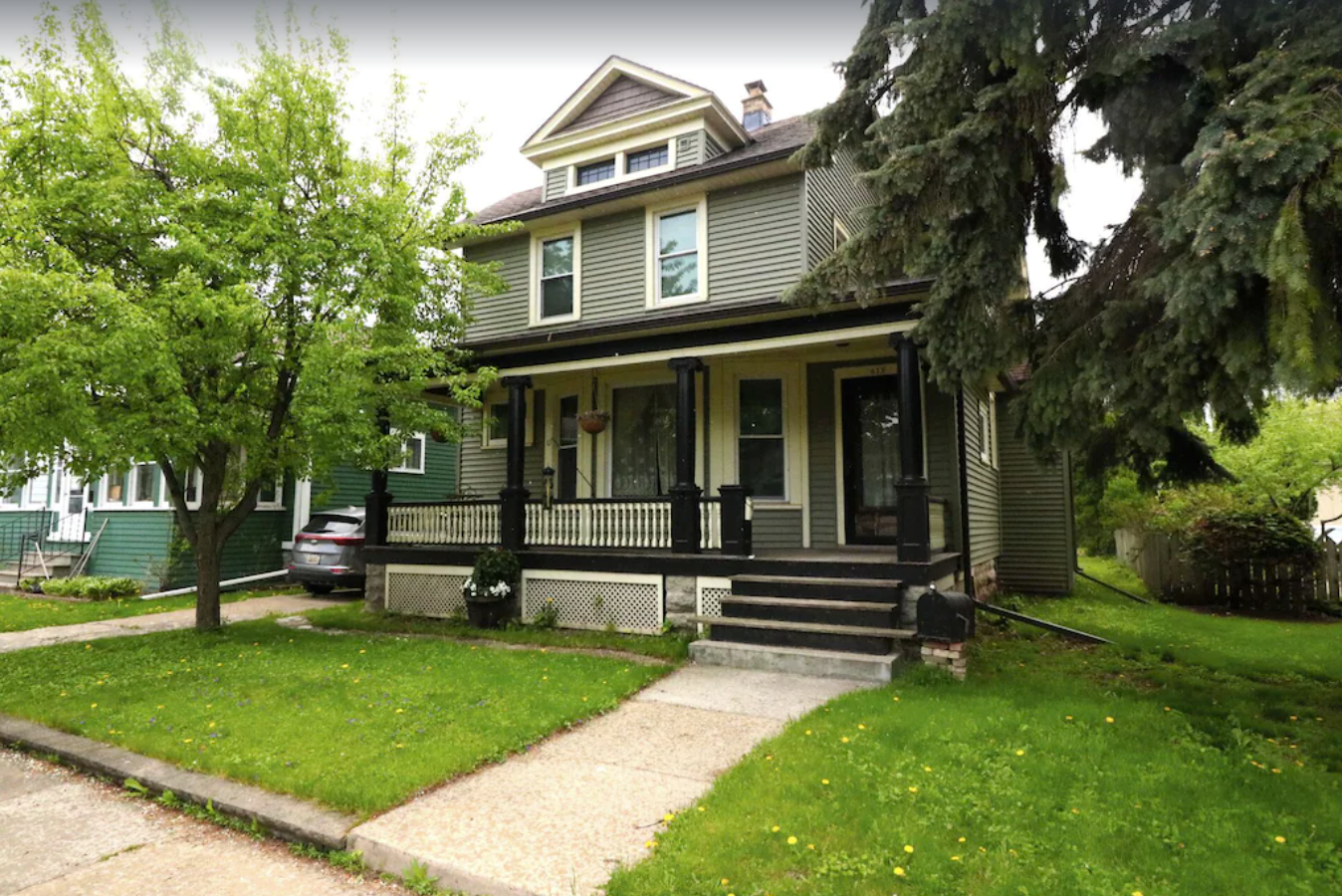 Spacious 4-bedroom Home Built in the Early 1900s – Oshkosh
A 2200 sq. ft. home built in the early 1900s that exudes a charming and cozy character. The 4-bedroom, 2-bathroom setup accommodates up to 8 persons. The living area has one sofa and queen-sized air mattress available; there's also a study room, dining area, and full kitchen. Outside the property is a spacious backyard with a grill, fire pit, and private driveway.
---

Spacious 3-bedroom Private Home with Backyard – Neenah
Nestled in a quiet and secluded area for total privacy is this 3-bedroom, 3-bathroom property with a spacious backyard. Access to EAA grounds and other attractions is via the highway or backroads while the grocery store and gas station are only three minutes away. Amenities like laundry, WiFi, and TV are available, as well as a large deck with a gas grill and in-ground fire pit.
---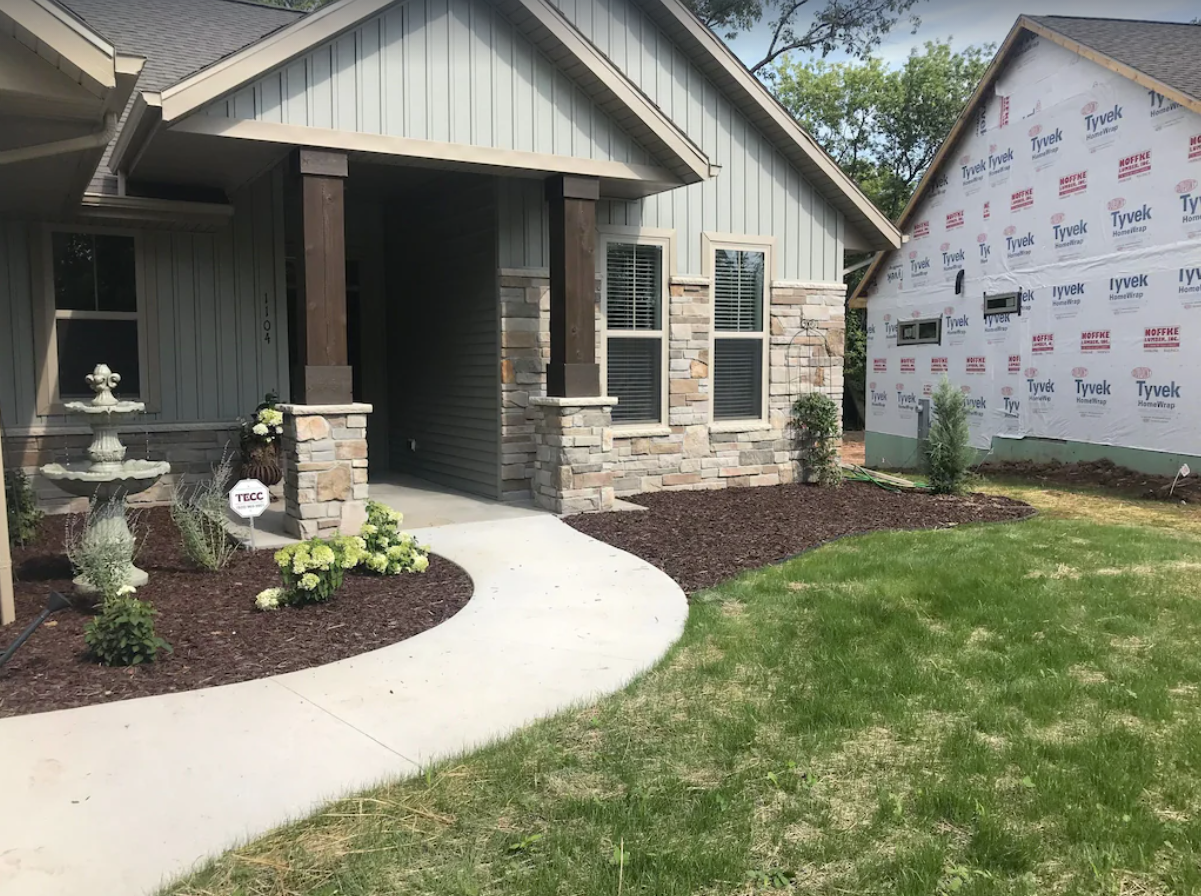 Cozy and Newly Constructed Custom-built 3-bedroom Home – Appleton
A cozy 3-bedroom, 3-bathroom custom-built home two miles from the shuttle service to EAA grounds—one way of beating traffic and parking during the event. It has a private backyard with a patio for entertaining guests, as well as a gourmet kitchen fully stocked with everything the guests would need for a comfortable stay.
---

3-bedroom Ranch Home in a Quiet Rural Subdivision – Appleton
A perfect home base during EAA festivities, as this 3-bedroom, 3-bathroom property is only 25 minutes away from the grounds. It's nestled in a quiet rural subdivision and guests will have ample space for outdoor activities in the backyard. Access to the outdoor patio, grill and two-car garage is also available for usage.
---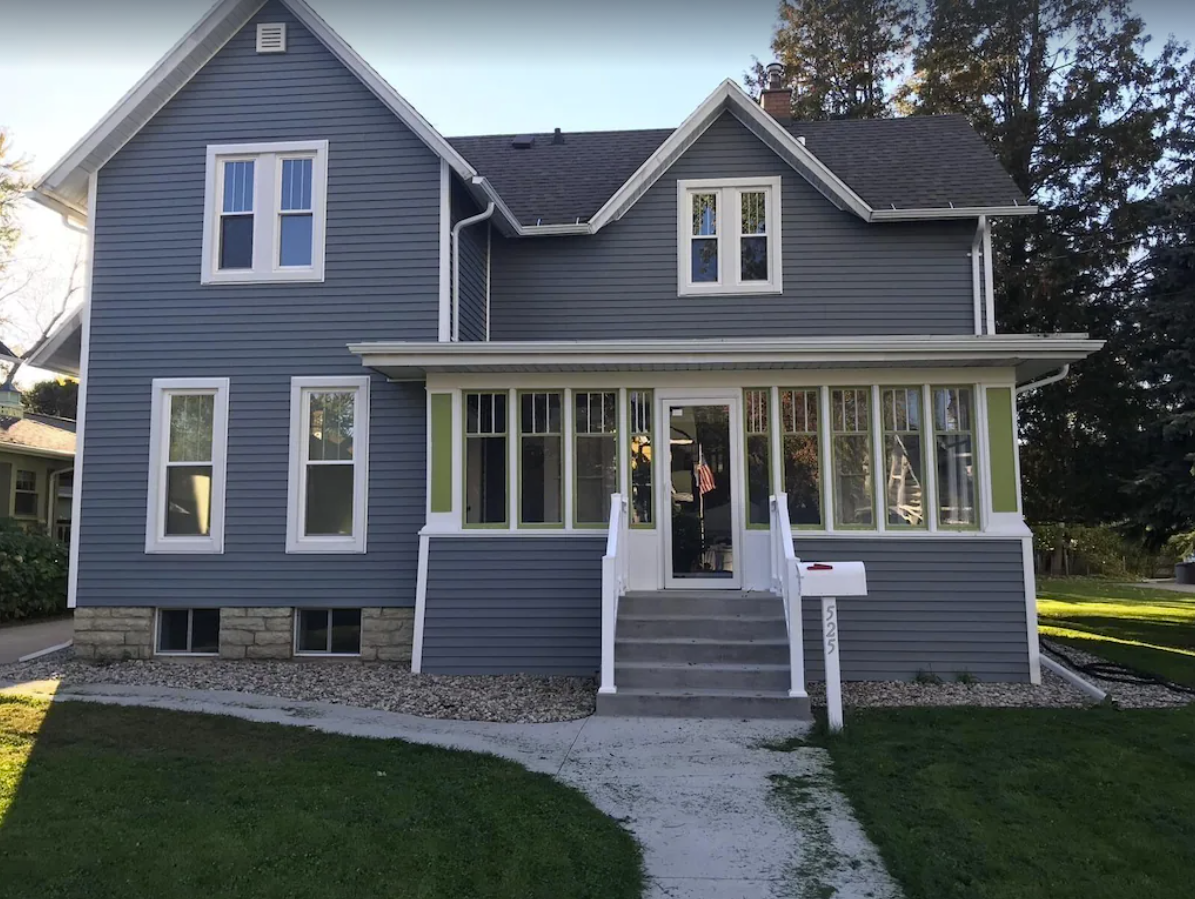 1895 Fully Renovated 4-bedroom Farmhouse – Appleton
Built in 1895, the property is a 4-bedroom, 3-bathroom rental that's fully renovated into a farmhouse, complete with a designer kitchen and front and back porches. It's within walking distance to Lawrence University, as well as City Park and Peabody Park, and is only two blocks from the Fox River. The home still retains its timeworn character in its hardwood floors and wood moldings and is vetted as one of Appleton's Top 100 Best Places to Live in 2019.
---

5-Bedroom Corner Lot Home Across Private Golf Country Club – Appleton
Feel right at home in this 5-bedroom, 5-bathroom property that's also across a private golf country club. It's strategically located just 30 minutes to Green Bay Packer Lambeau Field and only 15 minutes to EAA grounds. The living room has a piano and gas fireplace, while the full kitchen has a dining area that sits up to eight persons. The home's U-shaped parking provides ample space for guests' vehicles.
---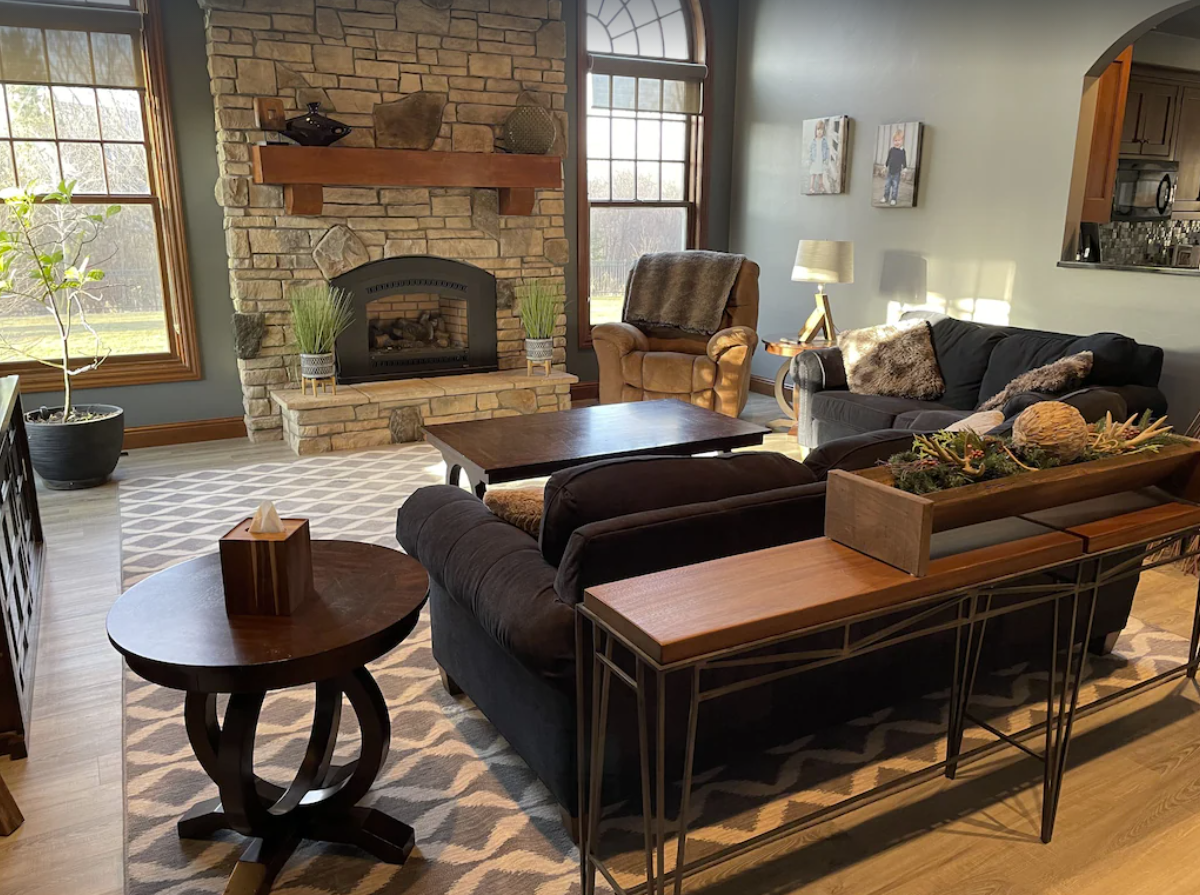 4-bedroom Home in Quiet Neighborhood – Oshkosh
A cozy 4-bedroom, 5-bathroom property located in a quiet neighborhood. Find peace and relaxation inside or outside the property. It features an entertainment space with a full bar, kitchen, and movie theatre screen. There's also a workout room with a Peloton bike and treadmill, as well as free weights and a weight rack for those who want to catch up on their exercise routine.
---

5-bedroom Home with Above-ground Pool + Near Park and Zoo – Oshkosh
A spacious 5-bedroom, 2-bathroom home built in 1904 with lots of amenities for guests to enjoy. This 2300 sq. ft. home has a living room with a gas fireplace, dining room, and full kitchen. Outside is a fenced-in lot where the private patio, grill, as well as the above-ground pool and hot tub are all set up. Just across the street are the Menominee Park and Zoo where guests can check out the animals and miles of jogging paths.
---

Newly-built 4-bedroom House Near Jones Park – Oshkosh
A rental just for EAA guests, this 4-bedroom, 4-bathroom newly-built home accommodates up to 10 persons. The property is over 4000 sq. ft., built with an open concept layout letting in a lot of natural light, as well as a full kitchen. It's strategically located in a quiet neighborhood near Jones Park and is seven miles to the EAA museum. Recent additions like tables, rocking chairs, a couch, and a tabletop firepit are found on the outdoor patio in the backyard.
---

Modern 5-bedroom Custom New Home in Peaceful Country Setting – Winneconne
Newly built in 2020, this custom home lets guests enjoy total privacy in a peaceful country setting. It features five bedrooms with three full bathrooms, a gourmet kitchen, a gas fireplace, and a spacious deck to entertain guests. The home is conveniently located just 15 minutes from EAA grounds and only three minutes to Lake Breeze Golf Course.
---

Family-friendly 3-bedroom Rental for Sporting Tournaments and Events – Appleton
A great family-friendly property with over 2200 sq. ft. of space to rest and relax during EAA week. The home is nestled on a half-acre of private, quiet property but is close to malls, highways, restaurants, and downtown Appleton. It features three bedrooms, three bathrooms, a 3-season porch, and a large backyard.
---
Is anyone else planning to attend EAA Airventure in Oshkosh this year? Let me know in the comments!