20+ Fun Things to Do in Oshkosh, WI by a Local
Oshkosh is a charming city in Winnebago County that is close to where I live! There are many exciting things to do in Oshkosh, thanks to its abundance of lakes, rivers, and trails as well as the city's many historic sites, art galleries, educational centers, and even a waterpark.
From annual events such as the EAA AirVenture, the world's largest aviation event, to exploring unique shops and gardens, there's something for everyone to enjoy in Oshkosh.
If I missed one of your favorite things to do in Oshkosh – let me know in the comments! I would love to check it out and add it to this post.
20+ Fun Things to Do + Place to Visit in Oshkosh, WI
1.) Watch the Famous EAA AirVenture Air Show and Visit the EAA Aviation Museum
EAA AirVenture Oshkosh is an amazing annual air show in Oshkosh, WI that lasts an entire week (the last week in July). It features a wide variety of planes you can see on display as well as in action – from show planes to home-builds, vintage, aerobatic, warbirds, ultralights, lightplanes, rotorcraft, and seaplanes.
There are also more than 1 million square feet of commercial exhibits, displays, and information from 800+ exhibitors. It's a huge deal for our area that even attracts celebrities such as George Lucas and Harrison Ford. Many folks camp right on the grounds, but you can also check out some cool home rentals for EAA too!
You can book a ticket to see the fantastic performance from day 'til night, and then take a trip to the nearby EAA Aviation Museum which houses more than 200 aircraft —from antiques, and warplanes, as well as interactive aviation exhibits for the kids. (Going to this museum as a kid was one of our best field trips EVER.)
The EAA also has an incredible program called the Young Eagles program. This is where kids ages 8-17 can get a free ride in an airplane + take free 'learn to fly' online lessons as well as an actual flight lesson in a plane. It's such a neat program for the kiddos!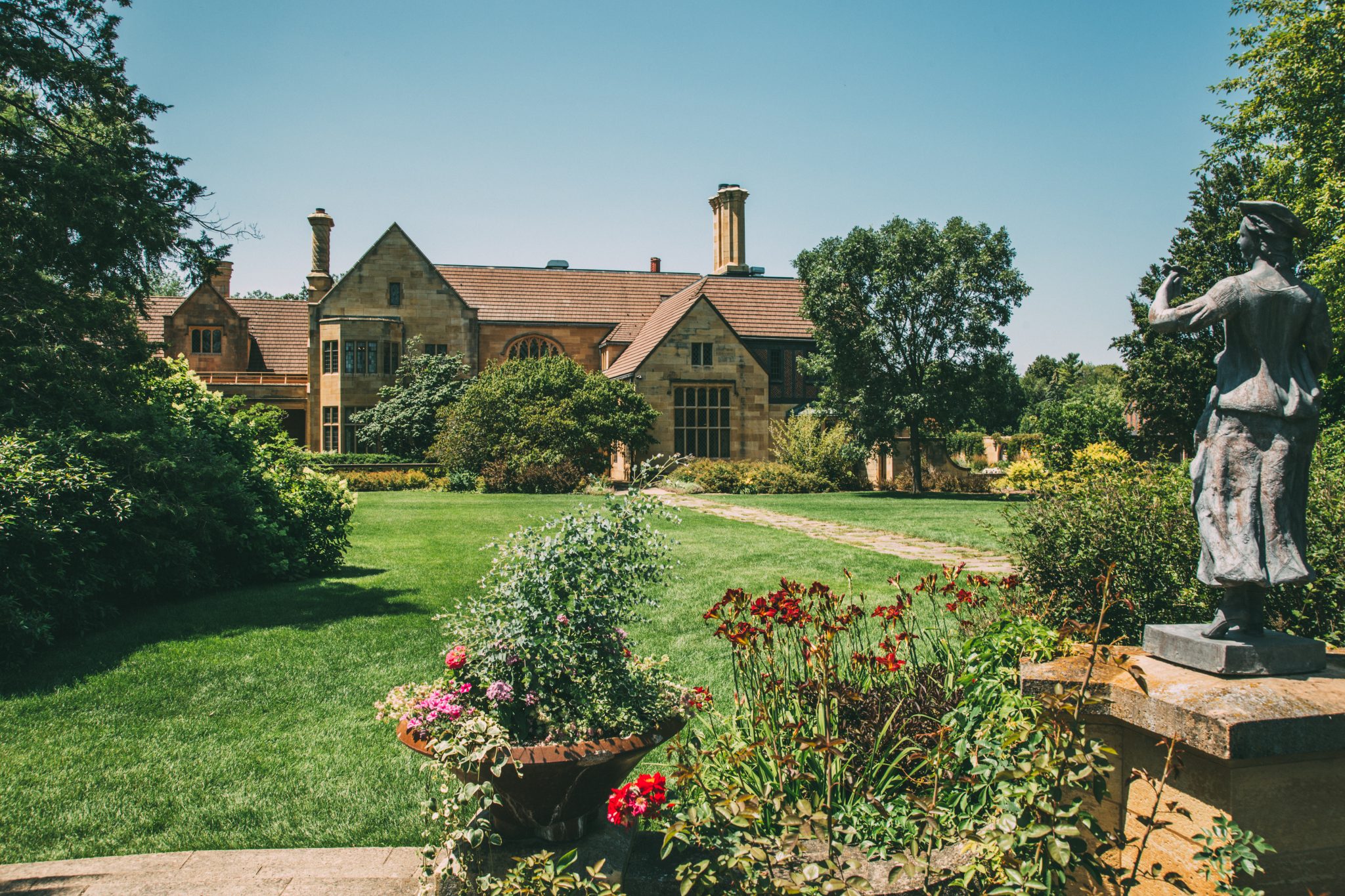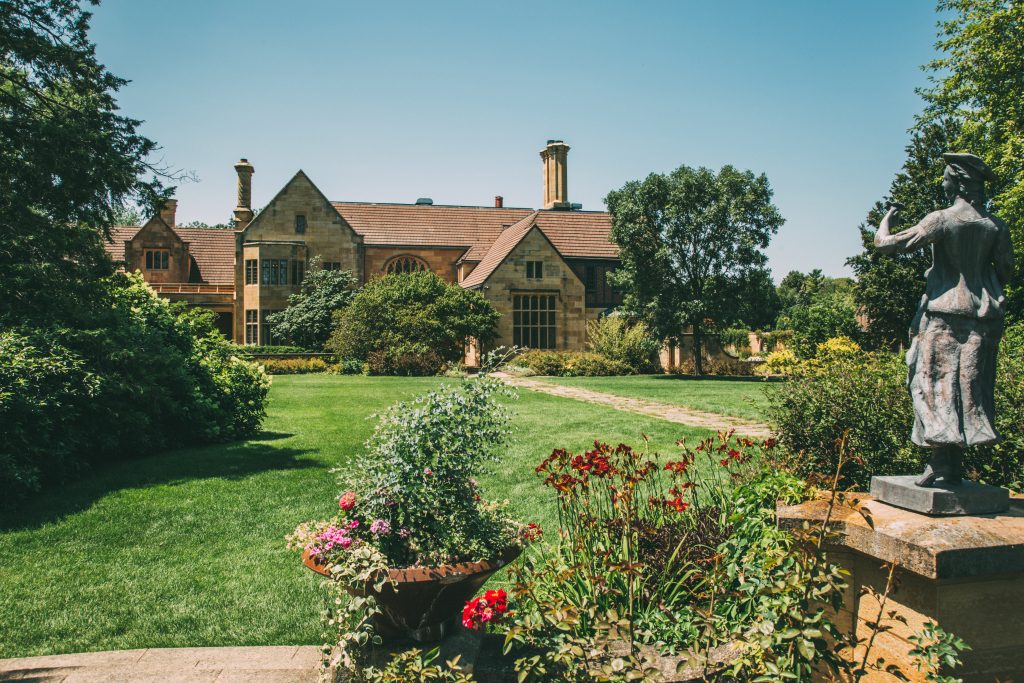 2.) Visit the Paine Art Center and Gardens
The Paine Art Center and Gardens is my personal favorite place to visit in Oshkosh. It is a beautifully preserved 1920s mansion with manicured grounds and botanical gardens and is included in the National Register of Historic Places. There are over 20 stunning gardens on display!
The Paine hosts a variety of traveling exhibits, as well as an annual display of fabulous Christmas decor and trees themed to the Nutcracker! (See my photos of that exhibit, here.)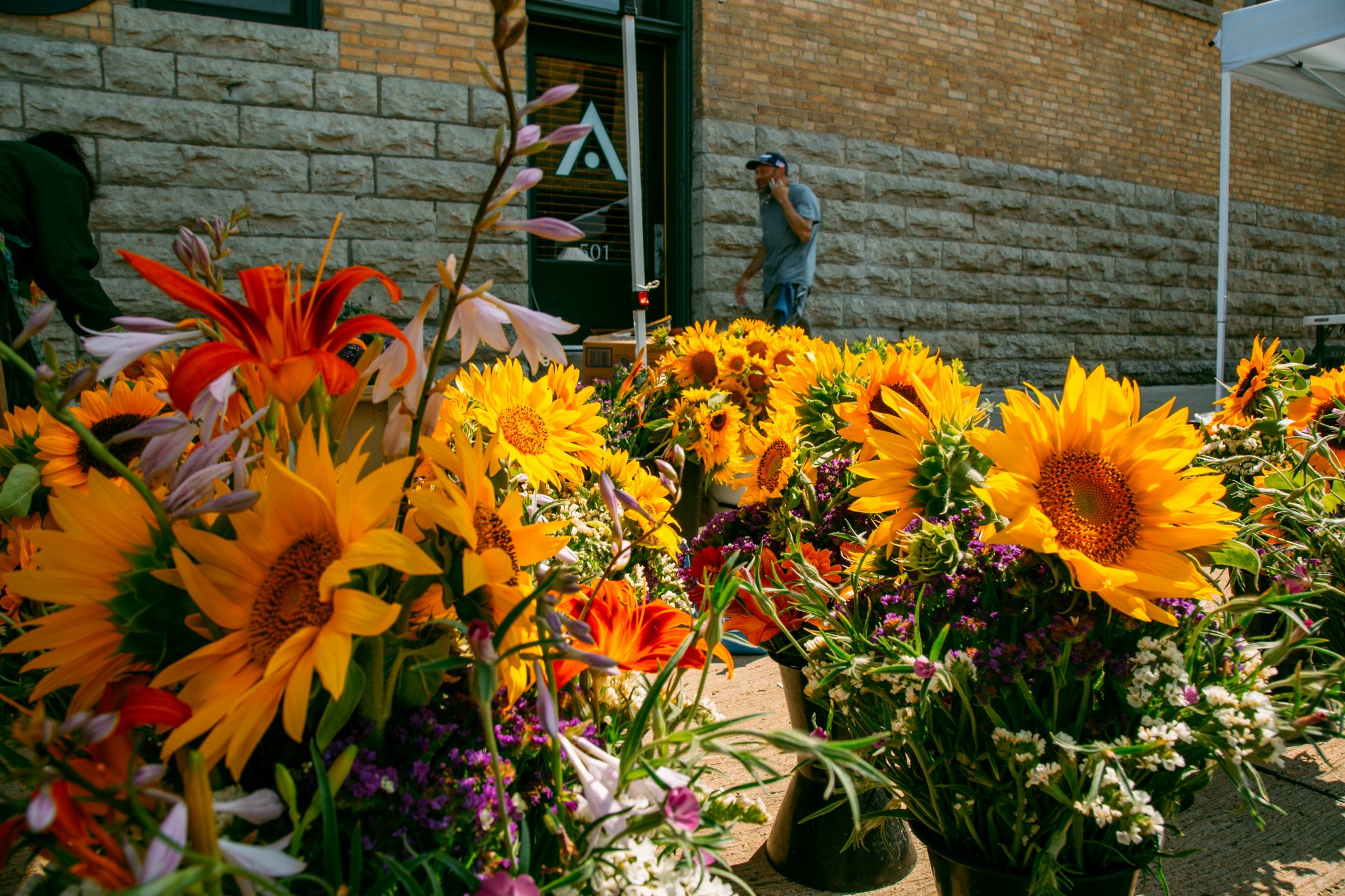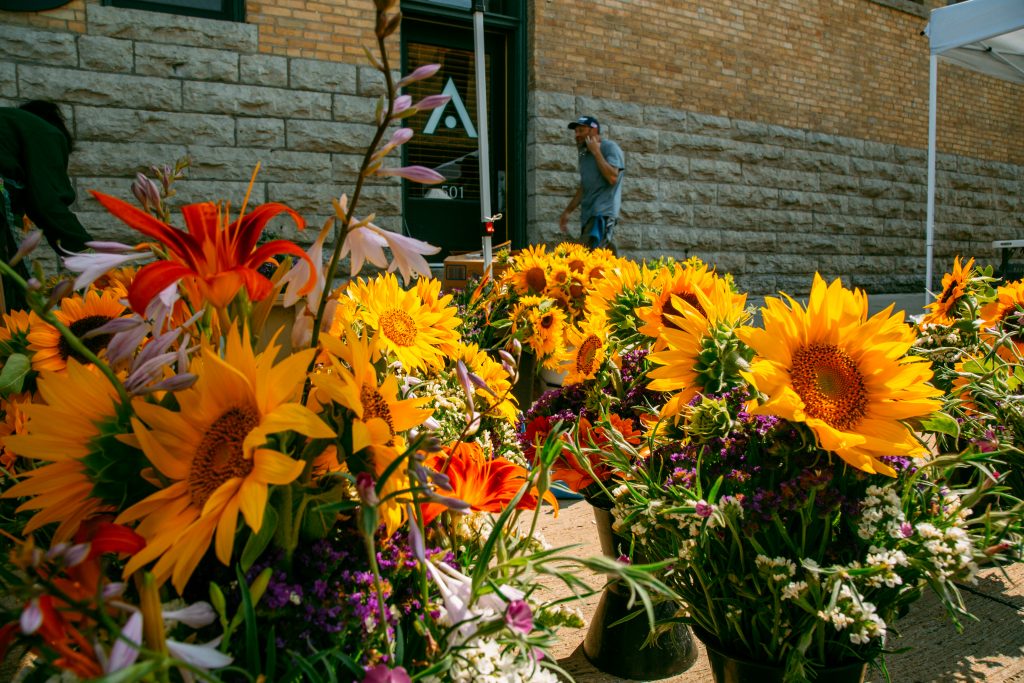 3.) Shop the Oshkosh Farmers Market
Local vendors gather every Saturday morning to sell in-season fruits, vegetables, flowers, local artisanal foods, and other must-try goodies. (Currently, the Wednesday market is not being held.) From ​June 5 thru October 30, the market is on the 400 & 500 Blocks of N Main St
& 100 Block of Church Avenue, pictured above. And during the winter it is held at the Menominee Nation Arena. Make sure to come hungry – the food trucks here are AMAZING, they range from Thai to Jamaican to Mexican food. (My breakfast here last weekend was a dozen egg rolls from Lee's – so good!)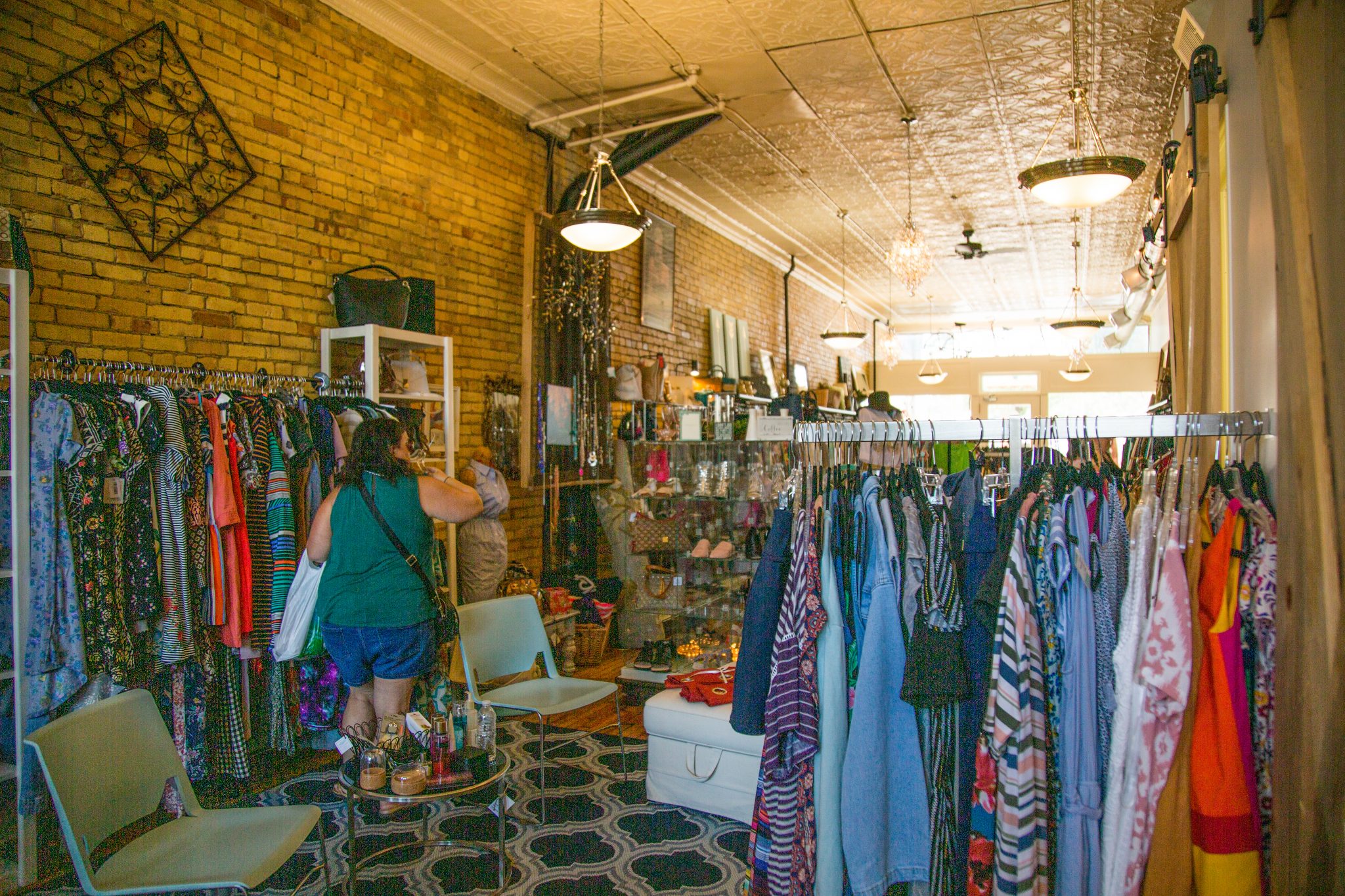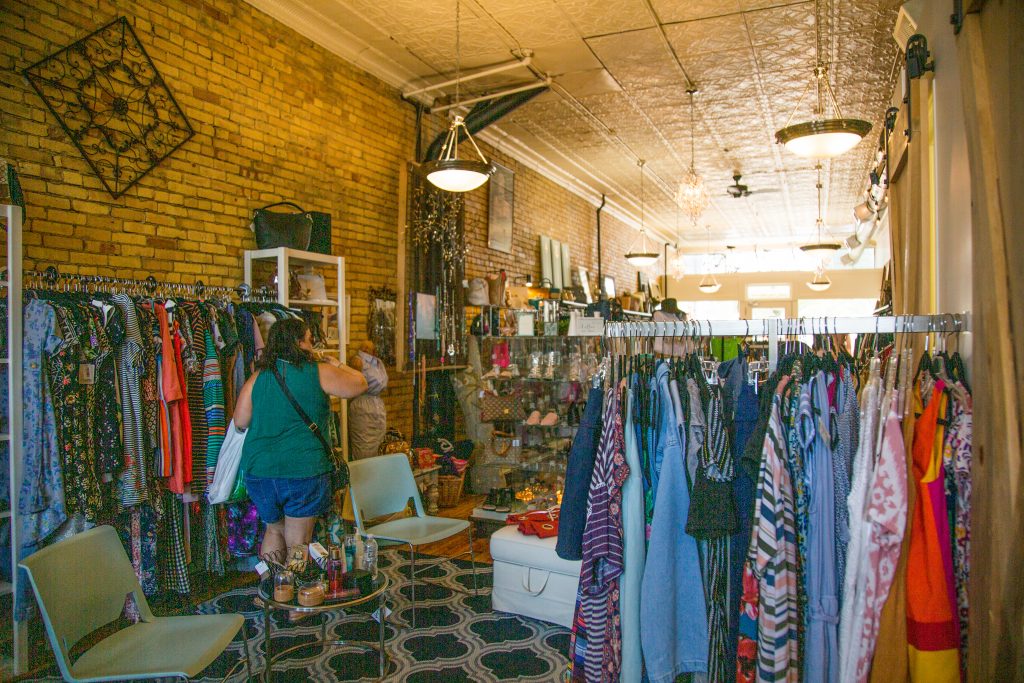 4.) Go Vintage Shop Hopping
Whether visiting during the farmers market or during the week, you'll find everything that's vintage and antique in Oshkosh—from upcycled décor to custom furniture. Oshkosh has plenty of eclectic and vintage boutiques to fill your old soul with wonderful and unique finds. Start with Fabulous Finds LLC, then head to The Turquoise Door (pictured above) and AtomicKatz. Be sure to take a drive to Bowenstreet Repeats and Originals Mall of Antiques, too!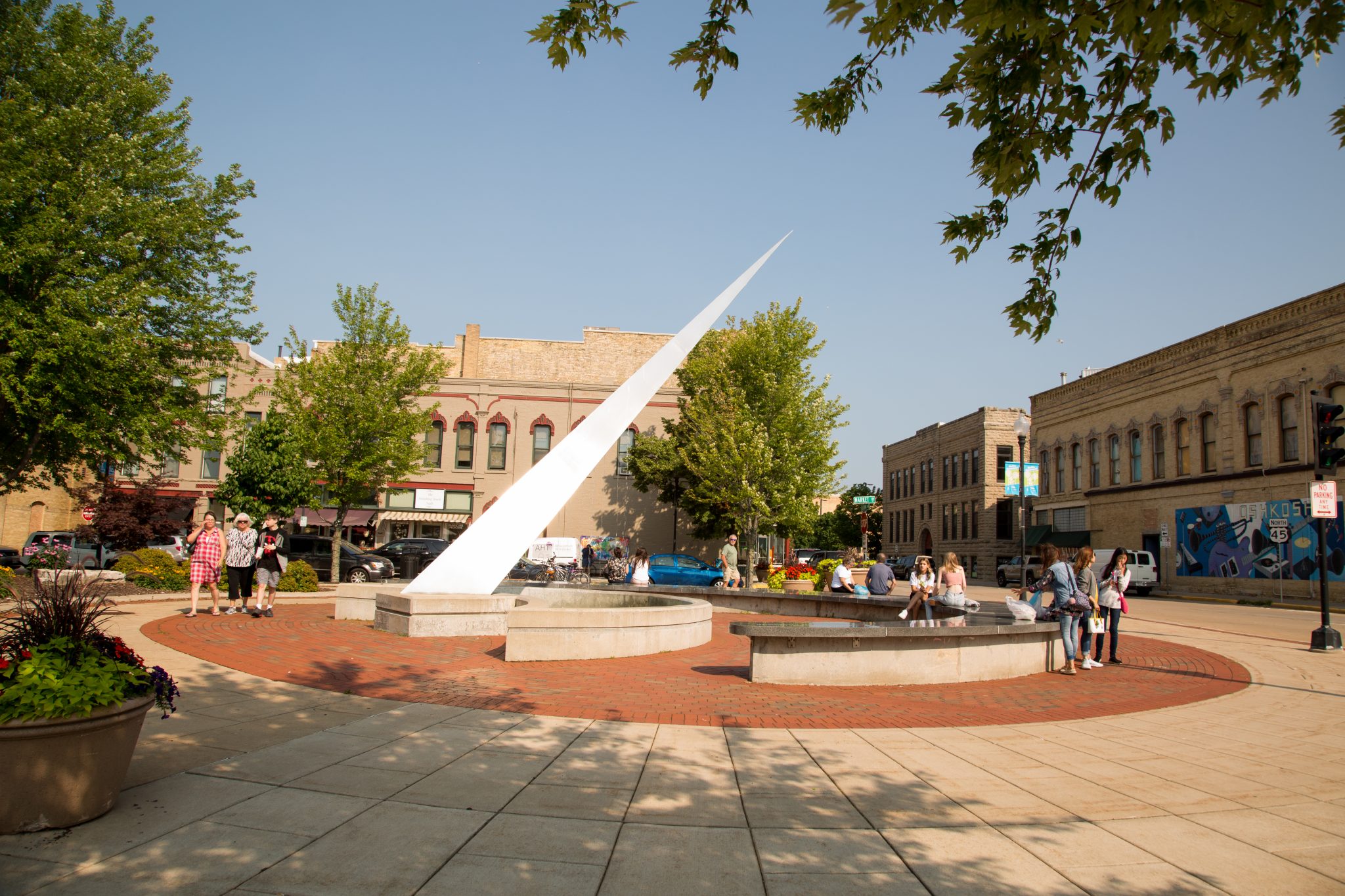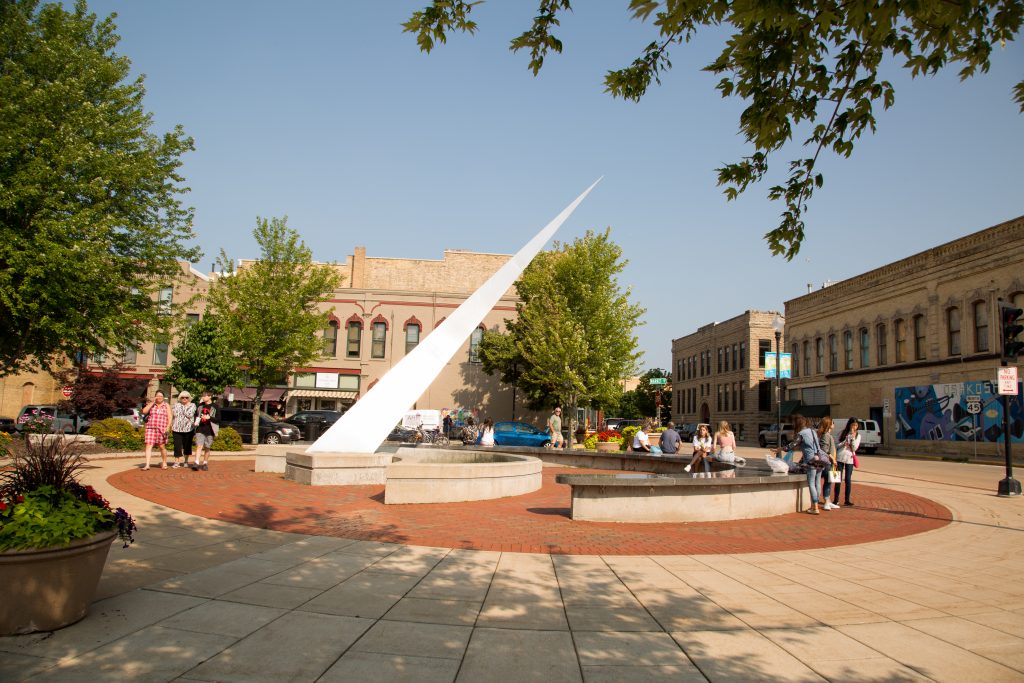 5.) See Opera House Square
Right in the heart of Downtown Oshkosh is the county's Opera House Square, a unique event space and heritage site. At its base is a fountain and a 30-foot-long indicator making it one of the largest sundials in the country. Take an afternoon stroll by the fountain and learn more about the county's rich history etched in the granites. (Can also be visited while you are at the farmers market!)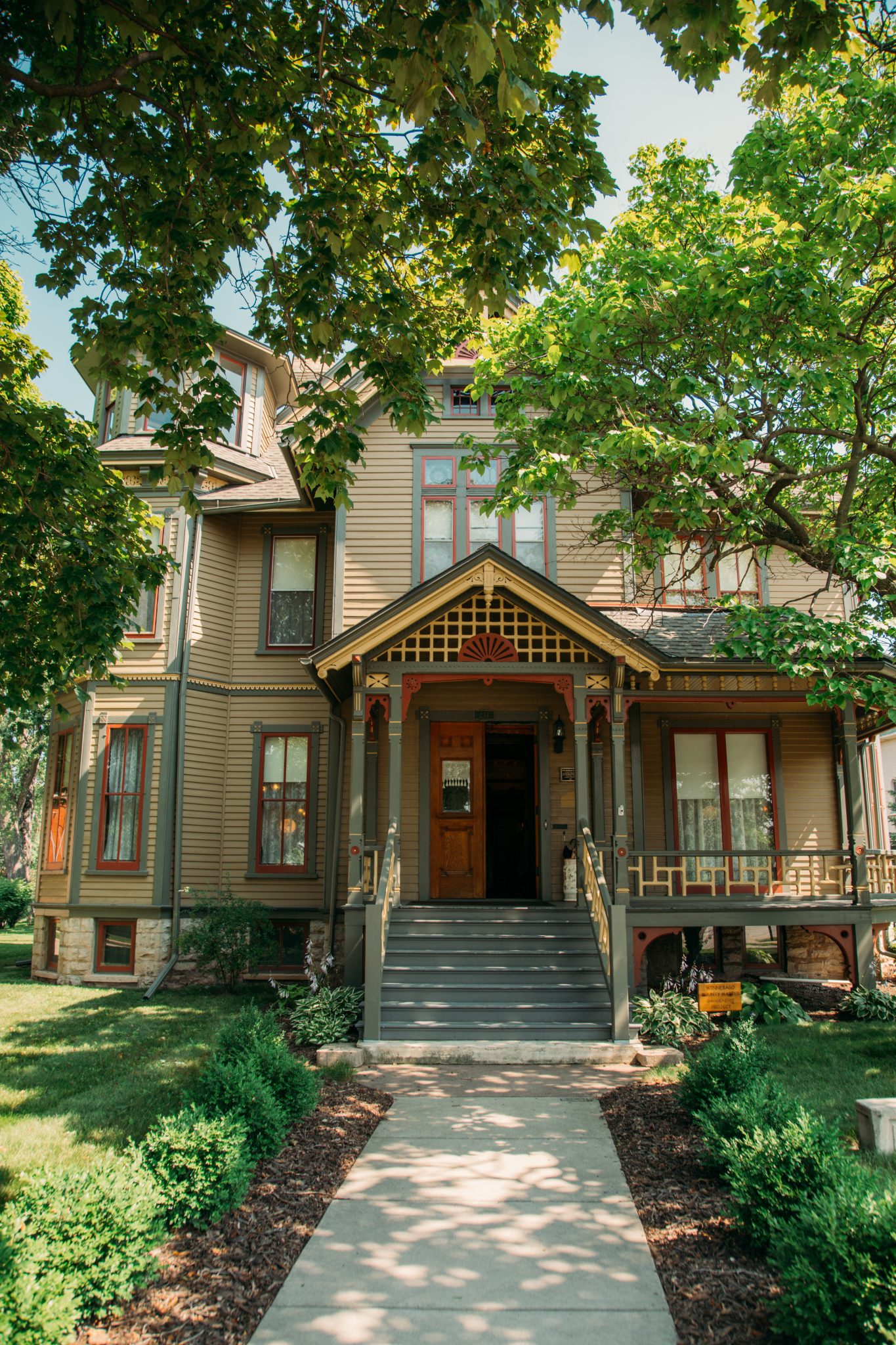 6.) Relive the Victorian Era at Morgan House
A stunning piece of history that's beautifully preserved is found on 234 Church Avenue. Morgan House, as it's fondly called, is a Queen Anne-style Victorian home built in 1884. It embodies the typical upper-middle-class Victorian living, with visually stunning woodwork, embossed wallpapers, high ceilings, wall stencils, and charming fireplaces—all in their original condition. It is open every Saturday from 10 am to 1 pm with free guided tours (the tour guides are the best too – so passionate!). It's worth 20 minutes of your time and can be combined with a stroll through the farmers market, as they are within walking distance of each other!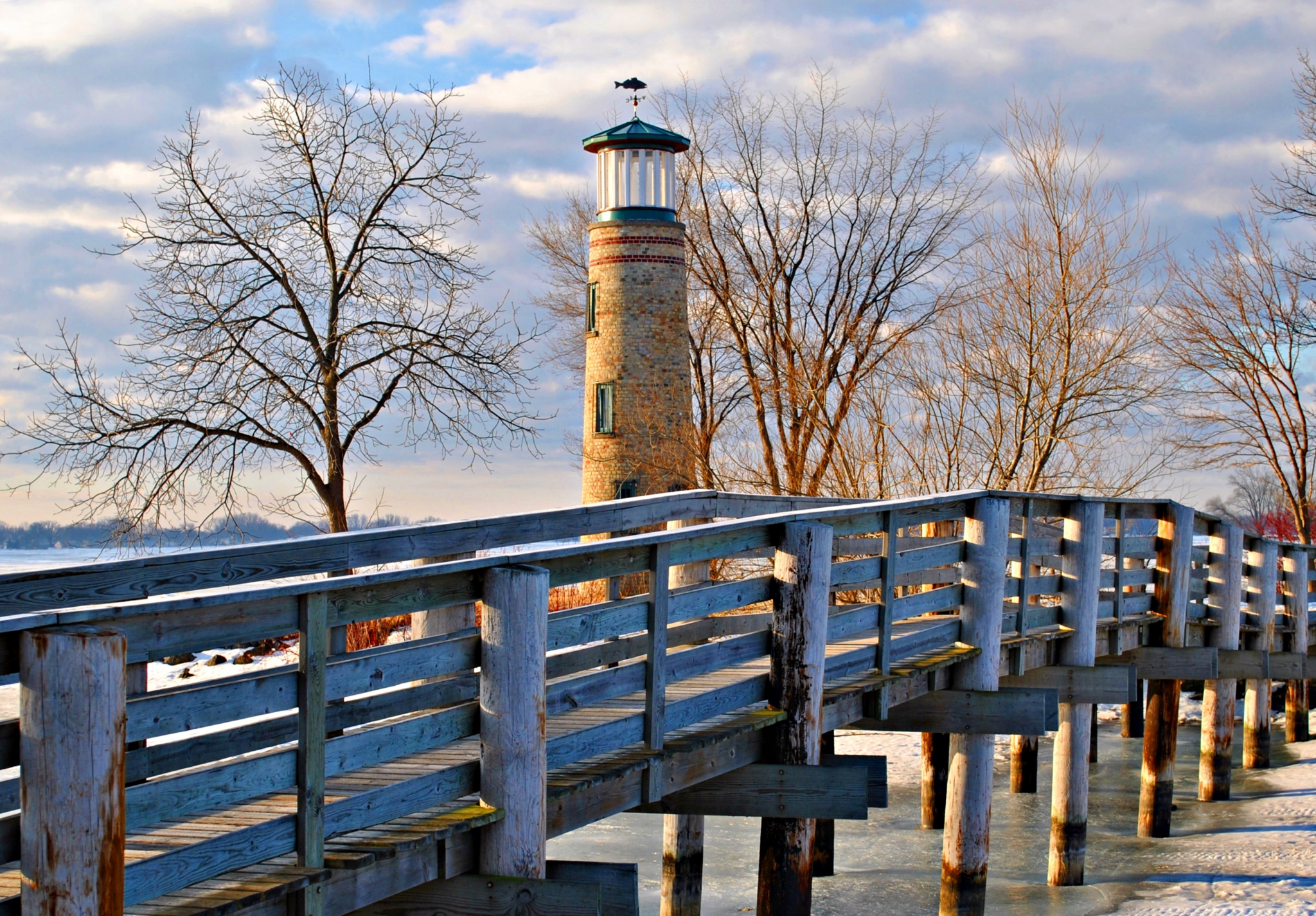 7.) Visit Asylum Point Lighthouse
One of Winnebago County's historic landmarks is the Asylum Point Lighthouse, which was built in 1937. It can be accessed through a wooden bridge. While the site is not open for tours at the moment, visitors can spend a quiet afternoon fishing on the man-made island next to the lighthouse or go on a picnic overlooking the stunning views of Lake Winnebago.
8.) Stroll Through Menominee Park and Zoo
Menominee Park is one of Oshkosh's largest parks and recreational event areas. It hosts events like fishing tournaments, 5Ks, and the Polar Plunge is held yearly here. There are also over 4 miles of paved trails for biking and walking, as well as boat launching facilities on Miller's Bay. Here you one can also rent a canoe, paddleboat, or kayak.
Be sure to also check out the impressive collection of critters at the Menominee Zoo while you're at it! The Zoo is about 8 acres and has around 50 animals. It is open seasonally and admission is currently free.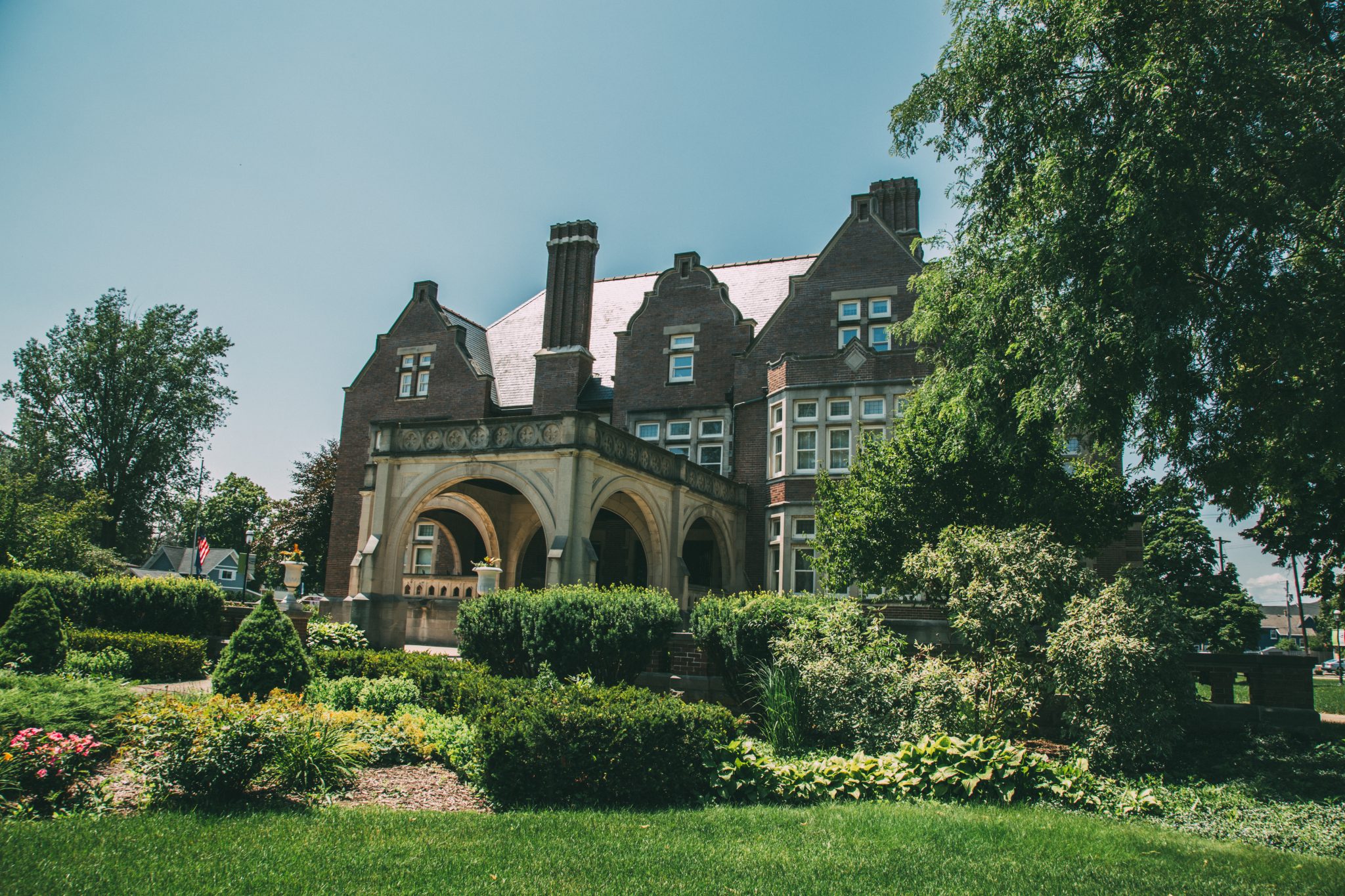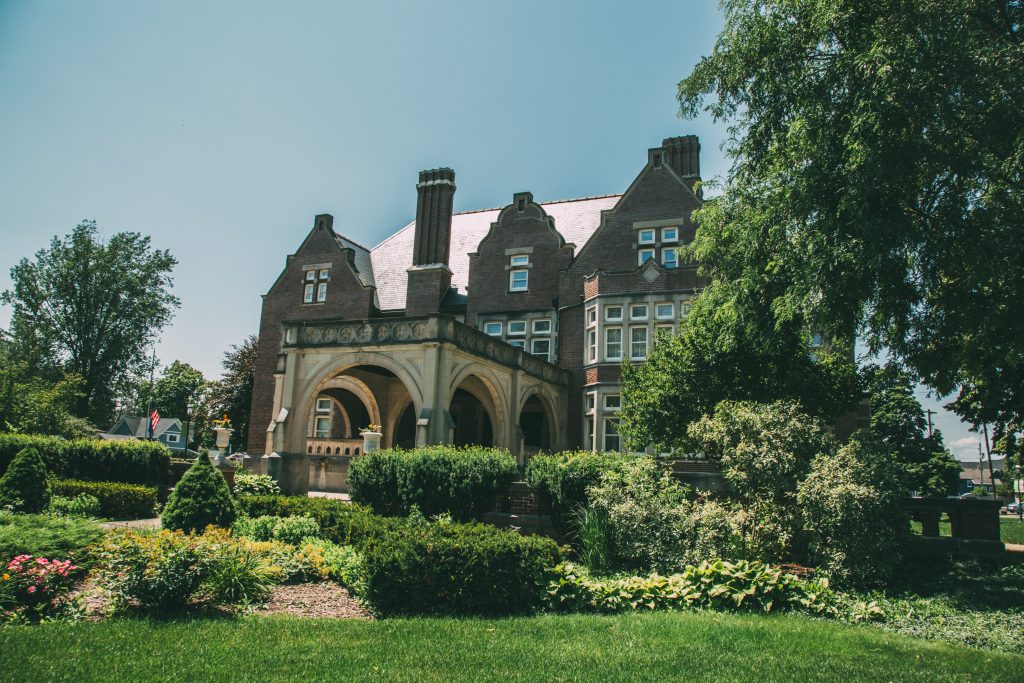 9.) Visit the Oshkosh Public Museum
Marvel at Wisconsin's prehistoric past displayed at the Oshkosh Public Museum. It was built on the site of Edgar and Mary Jewell Sawyer House, which was then donated to the City of Oshkosh in 1922 where the museum formally opened in 1924. Here, you can learn about the Native American culture and pioneer life back in the days, as well as the hardships of the Civil War.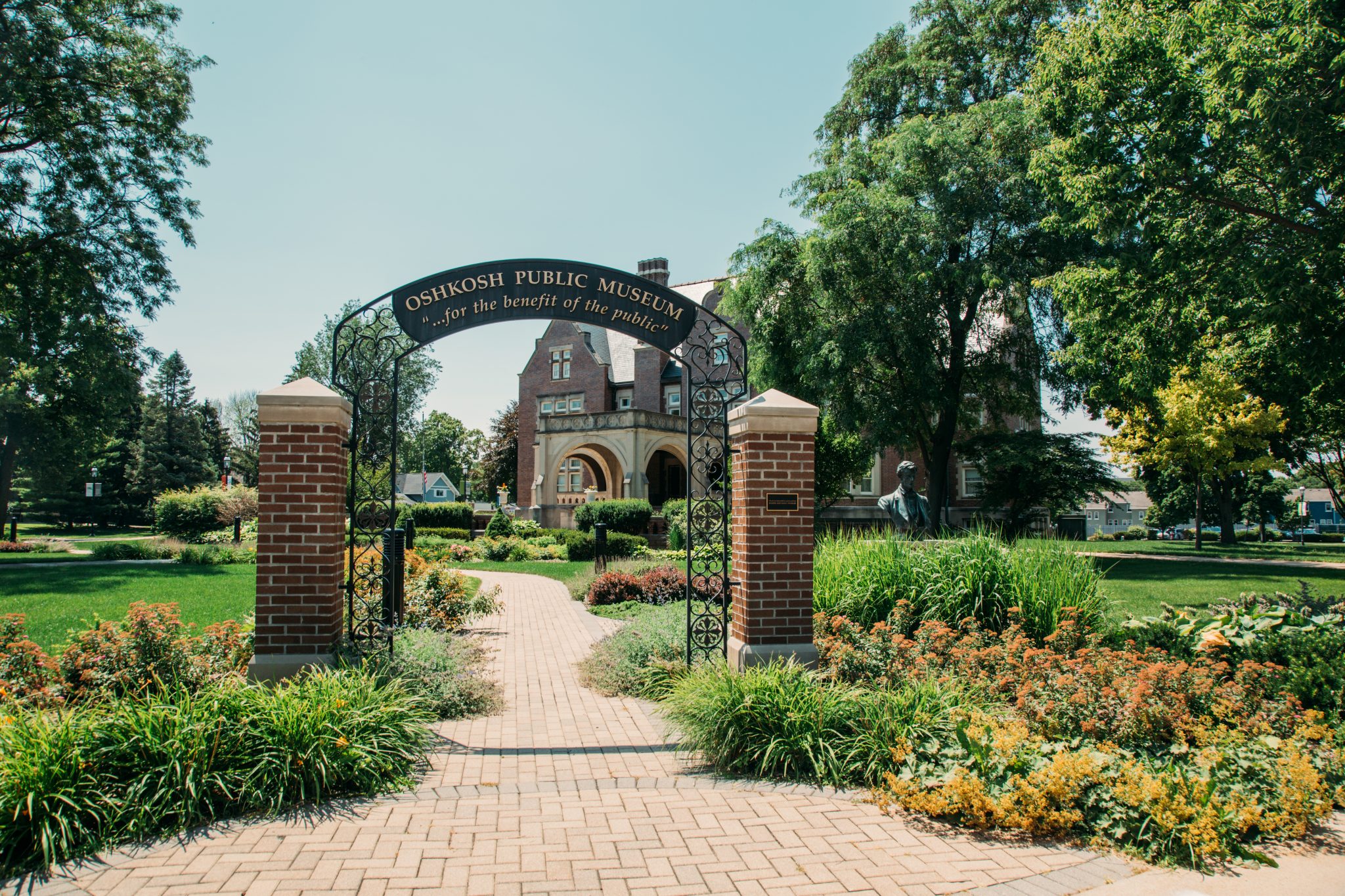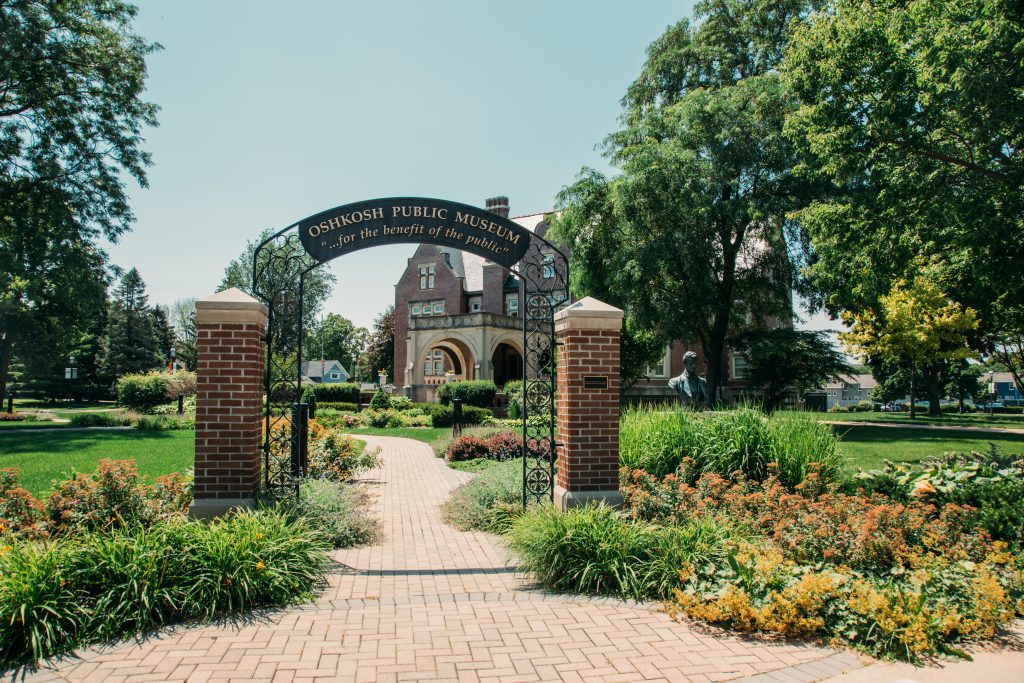 The home is as stunning as its collection, too, with beautifully carved woodwork, fine glass and ceramics, Tiffany treasures, and impressive artworks. There are also artifacts unique to Oshkosh like the Apostle's Clock and Regina music box.
10.) Get Inspired thru Art Space Collective
Ensuring the art scene in Oshkosh is thriving is Art Space Collective, a cooperative gallery where members can conduct shows and exhibits yearly. It's a safe haven for artists to materialize their passion for art, collaborate with peers, and showcase it to the masses. Visitors can always find inspiration from the gallery since it features new works in every exhibit.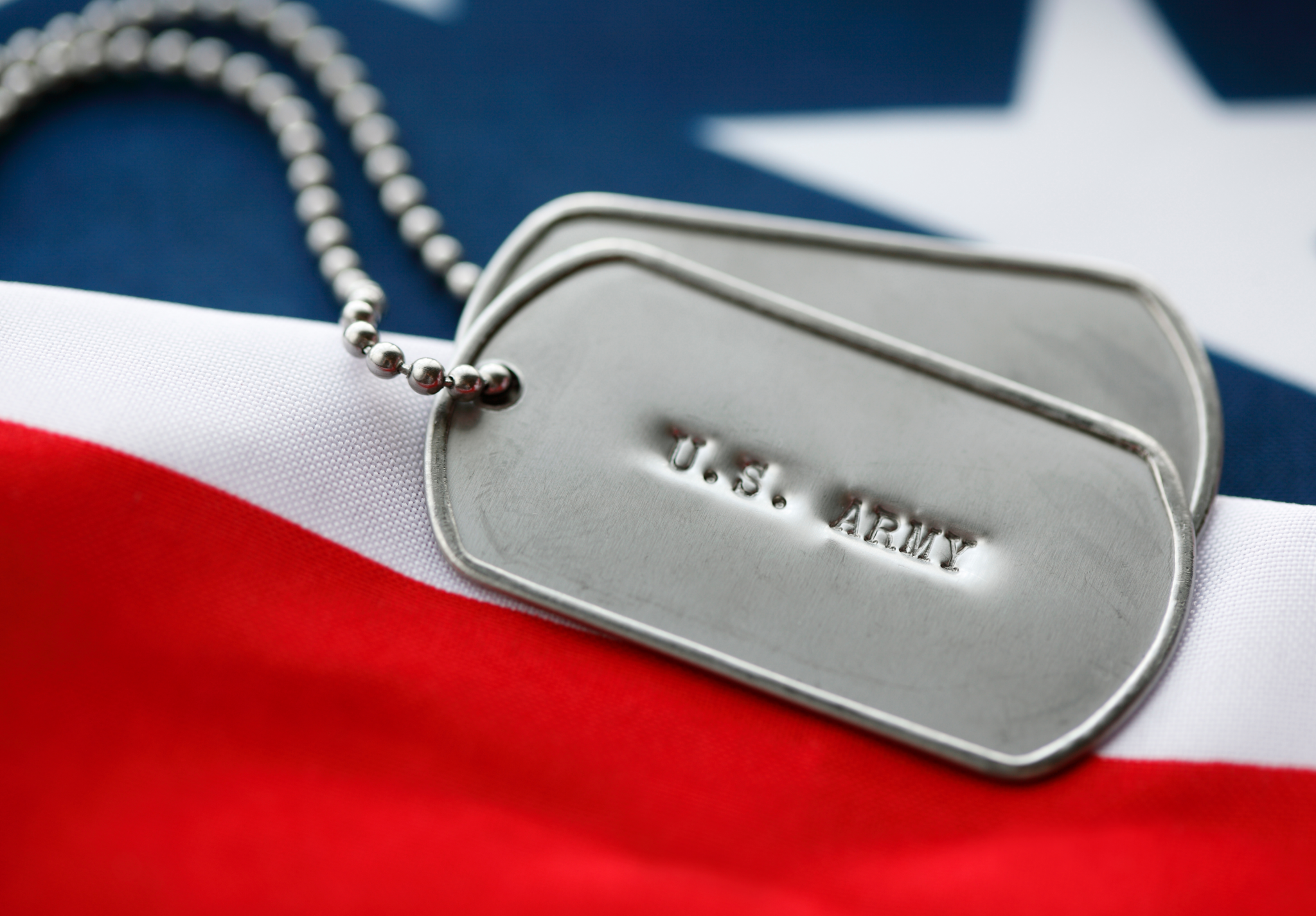 11.) Visit the Military Veterans Museum and Education Center
Visitors wanting to learn more about WWII can visit the Military Veterans Museum and Education Center, a museum established by veterans in 1991 to preserve the nation's military history and share the tales of its soldiers. The museum's collection includes photographs, artworks, artifacts, books, documents, and other personal items of veterans.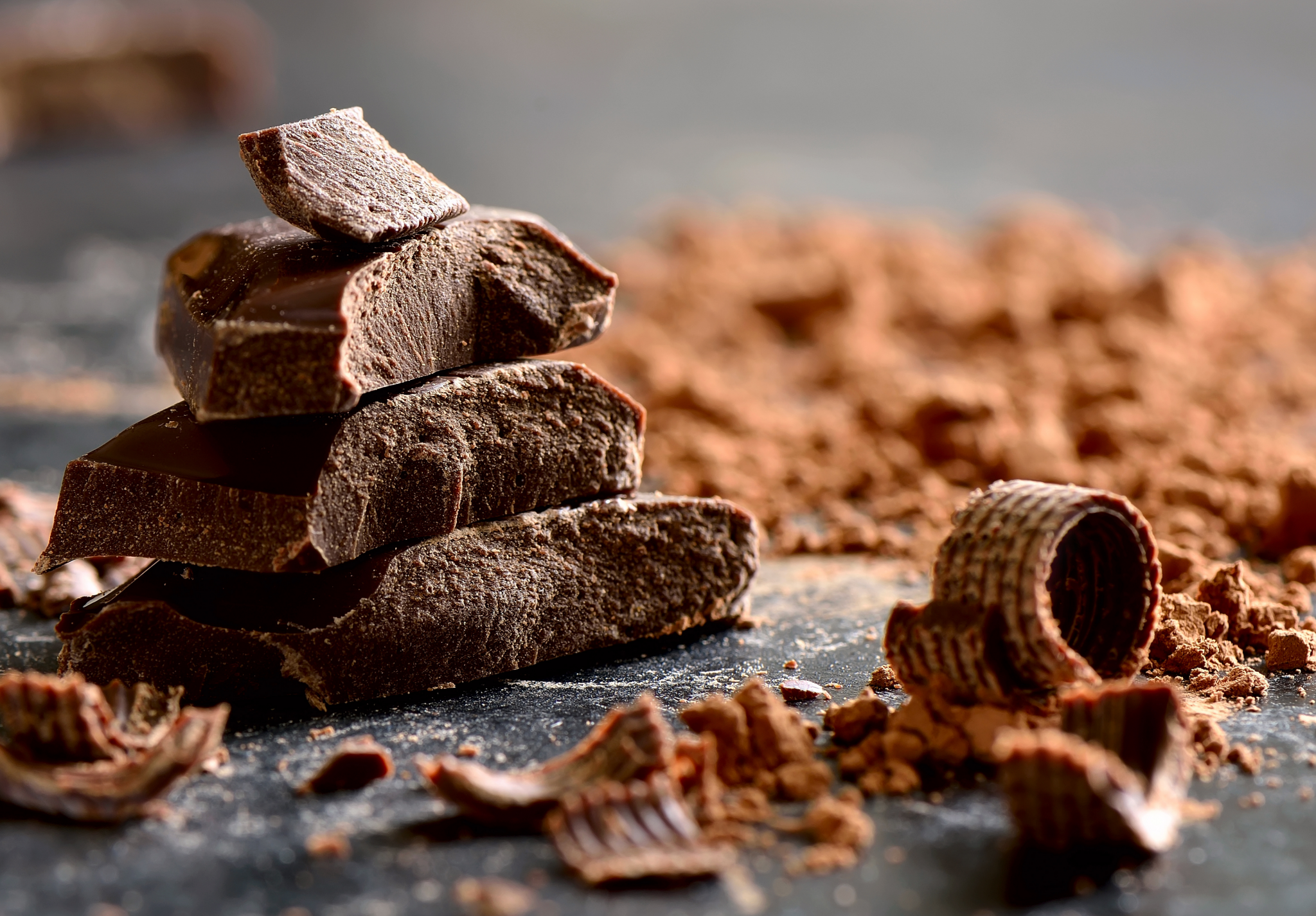 12.) Try Hughes' Home Maid Chocolates
An inconspicuous yet cozy home on 1823 Doty Street harbors a decadent secret in its basement. Hughes' Home Maid Chocolates, established in 1940, has been hand-crafting some of the best chocolates made from locally sourced ingredients. Expect nothing less from the shop's luscious selections of sweet treats to try—from dark, milk, Easter egg treats, cherry cordials, to white chocolates.
13.) Enjoy the Wiouwash State Trail
Used to be a former rail corridor, the Wiouwash State Trail's unique name is after the 4 counties it passes through: Winnebago, Outagamie, Waupaca, and Shawano. Scaling the trail is a scenic mix of prairies, farmlands, and wildlife areas. It's also a popular nature spot among cyclist, runners, and joggers due to its leveled limestone surface.
14.) Enjoy the New Moon Cafe
An artsy and trendy restaurant serving locally sourced ingredients for its delectable menu. A must-try is the restaurant's vegetarian cuisine, desserts, gourmet coffee, and Wisconsin-made beers and wines. There's live music, spoken poetry, and an open mic for entertainment—a great place for friends to hang back and imbibe in the local scene. New Moon Cafe is open for breakfast, lunch, and dinner.
15.) Visit the Allen Priebe Gallery
Named after Allen Priebe, an esteemed faculty member at UW Oshkosh, the gallery features fresh and distinct artworks from artists of different cultural backgrounds making each piece unique and impactful to viewers. The gallery is located at the Arts and Communication Center on the University of Wisconsin-Oshkosh campus since its opening in 1971 where solo, group, and themed exhibitions are being hosted regularly.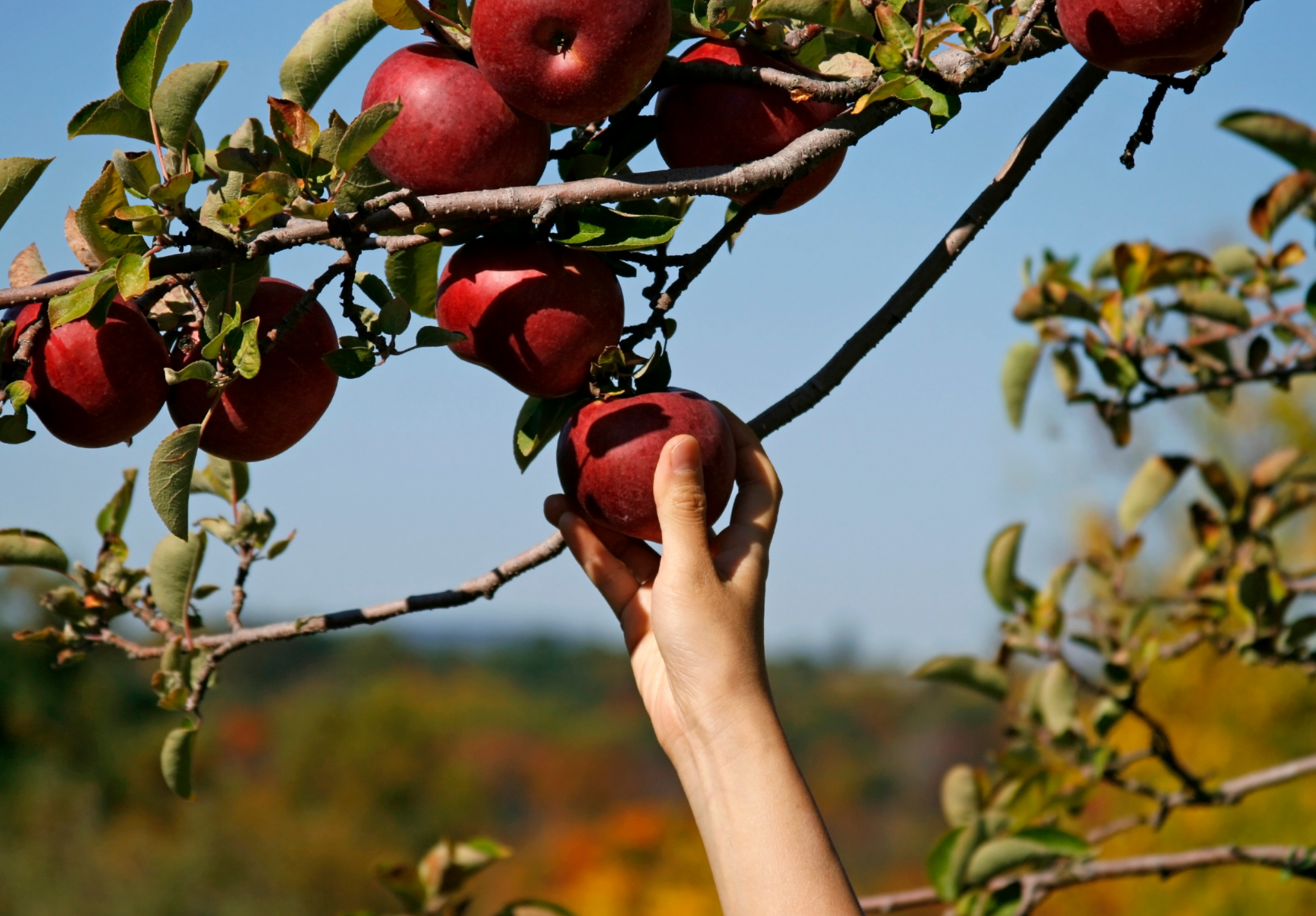 16.) Go Apple Picking at Rasmussen's Apple Acres
Nothing like picking your own fresh apples to make pies and desserts. Located on State Highway 21, the apple orchard is open for picking at 1PM until 4PM from late August until October. The apple trees are low enough that even kids can pick their own apples, too. It's important to wear sneakers or boots and sweaters while doing so for a comfortable apple picking experience.
17.) Swim at Pollock Community Water Park
An additional side trip when in Oshkosh is the Pollock Community Water Park operating since 2006. It features 3,500 sq. ft. of water playground and over 16,500 sq. ft. of swimming pool complete with sun decks, chairs, and shaded area. The real fun starts when you slide down the Lazy River, complete with water curtains and silly sprays in its 3.24-acre tract.
18.) Dine and Bowl at The Howard
The Howard is an upscale event venue in Downtown Oshkosh. From the intimate Tea Room to the historic Great Hall or Grand Ballroom and even an upscale boutique bowling alley & bar – having an event here is sure to be memorable!
If you're looking to try it out before you host an event here, stop by The Café for coffee and breakfast or compete in a social bowling league on Thursdays and Fridays at The Lanes.
19.) Take a Boat Tour With "On the Loos Cruises"
A family-owned business operating a paddlewheel riverboat since 1989. Take a relaxing cruise and watch the sunset work its magic on Lake Winnebago, Lake Butte des Morts, and the Fox River. Relax on the spacious upper or lower deck completely furnished with seating areas, a modern bathroom, and a full-service bar with snacks as well.
20.) Go Fishing on Lake Winnebago
Lake Winnebago is Wisconsin's largest 138,000-acre inland lake and its most vital fishery system. The lake covers a maximum depth of about 21 feet where species of Largemouth Bass, Smallmouth Bass, Walleye, Sturgeon, Panfish, Northern Pike, and Catfish abound. There's nearly an endless supply of water coming from Lake Butte des Morts, Lake Winneconne, and Lake Poygan, as well as the Wolf and Fox rivers where guests can take advantage of public boat landings.
21.) Indulge at Caramel Crisp Corner Café
All things sweet and good can be found at the Caramel Crisp Corner serving only the best homemade cookies, gourmet popcorn, pies, and deli-style sandwiches and salads since 1993. The business expanded to include a kids' book store, gift shop, and an ice cream shop. While it's mostly a haven for sweet treat lovers, the café also hosts events like DIY craft nights, trivia nights, pet-friendly events, and carnivals.
22.) Take a sunset Tiki Cruise!
A new addition to The Oshkosh area, Crusin Tikis offers private tiki-themed boat charters for up to 6 people, and their Captain will cruise you around! I haven't personally tried this yet (it just came to Oshkosh this summer), but it looks like a blast.
Things to Do Just Outside of Oshkosh
23.) Get Some Cheese at Union Star Cheese Factory – Fremont, WI
A family-owned cheese factory that produces the freshest handcrafted cheeses, each more flavorful than the last. Each batch made has a distinct richness, aroma, and texture unique to Wisconsin flavor. Union Star makes use of local dairies sourced daily to make hard to semi-soft spreads. Guided tours are also available every Monday, Tuesday, Thursday, Friday, and Saturday for visitors wanting to know its history and production.
24.) Sample Wine at Vines & Rushes Winery – Ripon, WI
Sip a glass of wine at the Vines & Rushes Winery located on a family farm in Ripon. Current owners Ryan and Megan Prellwitz oversee the operations of the 5-acre farm, growing grape varieties like Marquette, St. Pepin, and Petite Pearl. Sample the winery's finest red and white, as well as hard ciders and pair it with a wood-fired pizza and live music.
need a place to stay in Oshkosh?
Click below to see the top hotels in Oshkosh!
What are some of your favorite things to do in Oshkosh? Let me know in the comments!