Best Louis Vuitton Dupe Bags: The Ultimate LV Dupe Guide
If you've always wanted to buy a Louis Vuitton bag, but just can't justify the price, this ultimate Louis Vuitton Dupe guide is perfect for you!
Listen, I get it. You've got your eye on that gorgeous Louis Vuitton bag, but dropping a couple of grand on a handbag just isn't in the cards right now. I've been there! But don't worry, you can still rock that designer look without emptying your bank account. I've hunted down some beautiful LV dupes that you're going to love.
Now don't get me wrong, I adore my real designer pieces. But between rent, bills, and trying to actually have a social life I can't always rationalize spending half my paycheck on a single accessory. And even though I might lust after a flashy monogrammed satchel, my practical side wins out. Luckily, there are options for fashionable ladies on a budget!
*Disclosure: some of these links are affiliate links. Meaning, that if you click a link and make a purchase, Have Clothes, Will Travel gets a very small commission at no extra cost to you. Thank you for supporting the brands that make this blog possible! HCWT is also an Amazon Influencer, meaning I earn from qualifying Amazon purchases.
After lots of research, I've found eight Louis Vuitton dupes that capture the essence of the coveted styles we all crave minus the jaw-dropping price tag. We're talking crisp canvas, classic silhouettes, and just enough quality hardware to make these dupes look like the real deal. I know you'll find one that complements your personal style.
So go ahead, and get your Louis Vuitton fix without buyer's remorse. These inspired bags prove you can be sensible and stylish at the same time.
Here are the right best Louis Vuitton dupes for a fraction of the price. Let me know which one ends up in your closet!
1. Louis Vuitton Neverfull Dupe: Walmart Brown Checkered Tote
The Louis Vuitton Neverfull MM Damier Ebene bag is on everyone's wishlist. It's a popular choice that sells for a whopping $2,030 straight from LV. This bag is known for its signature red interior, and I managed to find a dupe that has the same bold red fabric lining!
Check out the Brown Checkered Tote Shoulder Bag from Walmart that features the same brown and tan checkered pattern and gold hardware as the Neverfull, but is only $26 instead of over two grand.
This LV Neverfull dupe has a hidden zipper inner pouch just like the Neverfull and the best part is the interior is that same bright red shade, too! And as if the price wasn't already amazing enough, Walmart even includes a matching wristlet with the tote bag for that $26 price tag.
I was seriously shocked when I stumbled upon this spot-on Louis Vuitton Neverfull bag dupe with the red interior at Walmart, of all places. The price and iconic design are just too good to pass up if you love the look of the Neverfull but not the hefty price tag. This bag is the stuff LV dupe dreams are made of!
2. LV OnTheGo Tote Dupe: Mila Kate Top Handle Satchel Bag
The Louis Vuitton OnTheGo Tote is marketed as the perfect bag that can transition from work to a night out, holding everything from your laptop to makeup to a change of clothes after work.
It currently costs a whopping $3,500! I love the black OnTheGo with its classic textured design, but I needed to find a way to get that style without spending so much! Luckily I found a great designer dupe at Walmart – the Mila Kate Top Handle Satchel Bag.
While not genuine leather, this LV-inspired bag has the same gold hardware and pocket style as the pricey original. Walmart even sells the Mila Kate satchel in medium and large sizes, so you can choose which fits your needs. And the price? Just $49.95. Now that's a steal!
3. LV Bucket Bag Dupe: NEONOE Bucket Shoulder Bag
Listen, I'm head over heels for the Louis Vuitton Bucket bag, but dropping over two grand on a purse is something you have to really consider.
LV was one of the first prominent designers to make bucket-style handbags popular, and their versions are super chic. I love how practical the drawstring design is – just pull the strings, and everything inside is secured.
But the Hot Luxury Designers NEONOE Bucket Shoulder Bags are the perfect look-alikes for the LV NeoNeo Small Crossbody Bucket Bag. The dupe has that classic monogram pattern, a drawstring top, and a shoulder strap just like the LV.
The listing even has multiple colors that match LV's options, like white/nude and brown. For just $24, this LV dupe replicates the iconic bucket almost perfectly.
4. Louis Vuitton Pochette Metis Bag Dupe: Mila Kate Crossbody Bag
The Louis Vuitton Pochette Metis bag is an iconic LV design and comes in different materials. I absolutely love the reverse monogram print, but it comes at a hefty cost of $2,570. So I knew I had to find a designer LV dupe that didn't break the bank.
That's when I found the Mila Kate crossbody bag at Walmart. It looks nearly identical and costs only $49.95! It has the two-tone colors, gold hardware, a black handle, and the clasp in front, just like the Pochette Metis. Highly recommend you check out this LV alternative.
5. Louis Vuitton Speedy Dupe: DHGate Crossbody Shoulder Bag
Looking to save big on a designer bag dupe? This crossbody shoulder bag is a spot-on dupe of the iconic Louis Vuitton Speedy bag for a fraction of the price.
Retailing at $1,550, the Speedy 30 is known for its small, rounded shape that LV has maintained its iconic look since the 1930s. It comes in the signature monogram canvas print with brown leather details.
The dupe bag nails the Speedy 30's classic style with a near-identical structured shape, rolled leather handles, removable strap, and trim. It comes in the monogram print in three colors – white grid, brown grid, and old flower.
At only $47, this insanely affordable dupe lets you get the Speedy 30 look without the luxury price tag. With glowing positive reviews, it's a great solution for bringing LV style into your wardrobe. It even comes with adjustable straps~
If you love the Speedy 30 but aren't ready to splurge, this cute crossbody bag is a smart buy for making a major fashion statement on a budget. It's also the perfect size to hold all your everyday essentials!
6. LV Neverfull Azure Dupe: Sexy Dance White Checkered Tote Shoulder Bag
I was looking around for dupes of the Louis Vuitton Neverfull in Azure, and I stumbled upon this white and nude checkered bag. It has that same crisp white and tan checkerboard pattern as the Louis Vuitton bag, just minus the designer logo. Plus, the checkers on this dupe are so close to the LV monogram's Damier Azur canvas that I did a double-take.
For way less, this bag nails the iconic white checkered style of Louis Vuitton. If you love the checkered style and the designer look but don't want to drop thousands, this affordable $30 dupe bag is a terrific option.
7. LV Sac Polochon Bag Dupe: Checkered Travel Weekender Bag
I'm sure we've all seen those iconic LV luggage sets rolling through the airport, with that classic Louis Vuitton Sac Polochon bag being one of the most recognizable. Well, Walmart has the perfect dupe of it!
This weekender bag has that same chic black and white checkered pattern and size, even down to the red-trimmed shoulder strap.
While the original LV bag will cost you a whopping $2,570, this dupe is just $34! Practically identical to the pricey original but a fraction of the cost. Definitely a steal if you ask me!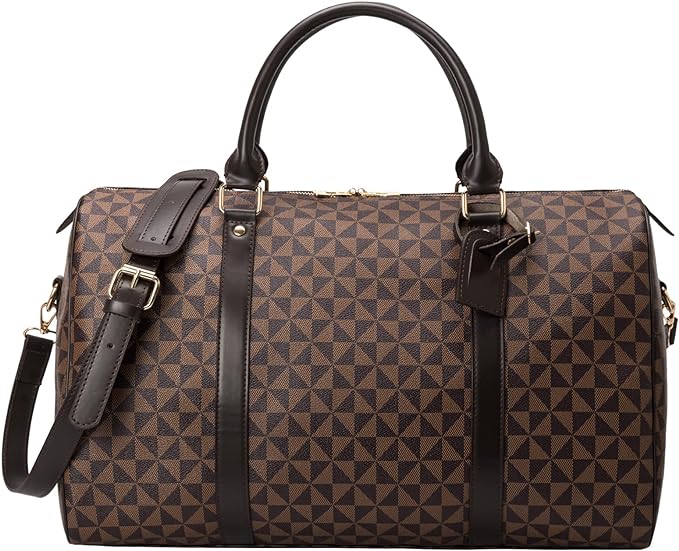 8. LV Keepall Bandouliére Luggage Bag Dupe – CHENFANS Leather Large Capacity Weekend Bag
This Keepall Bandouliére bag seems great for traveling or quick trips. I absolutely love the Damier Ebene style. Not only is it popular but it goes with just about every outfit.
So, if you want to jet set in style without spending thousands, check out this dupe. It looks similar to the original that costs over two grand, but it's only 43 bucks!
Whether you're flying somewhere or just packing for a weekend getaway, this affordable luxury luggage lets you strut through the airport looking stylish without breaking the bank.