The Best Marc Jacobs Tote Bag Dupes (7 Different Styles!)
The iconic Marc Jacobs Tote Bag is definitely on everyone's wish list by now, but before you empty your wallet on the real designer version, check out these Marc Jacobs Tote Bag Dupes that could totally pass as the real deal.
In this article, I'll share dupes for the classic Marc Jacobs Tote Bag that you're going to love! I've included dupes for seven different styles so you can get the one you've been eyeing this whole time.
*Disclosure: some of these links are affiliate links. Meaning, that if you click a link and make a purchase, Have Clothes, Will Travel gets a very small commission at no extra cost to you. Thank you for supporting the brands that make this blog possible! HCWT is also an Amazon Influencer, meaning I earn from qualifying Amazon purchases.
Who Wears the Marc Jacobs Tote Bag?
From A-listers struttin' down Rodeo Drive to influencers dominating your Instagram feed, these bags are on the arms of style icons worldwide. Kendall Jenner, Gigi Hadid, and even Rihanna have all been snapped accessorizing with a Marc Jacobs tote.
The Marc Jacobs tote proves the brand's commitment to practicality without sacrificing style, embodying a contemporary chic look that can easily match your daily outfits. Trust me, this is the perfect bag for everyday use and even looks great as a work bag or travel bag.
This Marc Jacobs bag has a large capacity that makes it ideal for daily use! There is a secure top zipper closure on this tote, and you can carry it by the top handles or a detachable shoulder strap.
It also comes in a range of sizes, colors, and materials, offering something to suit every style and mood. It's definitely a must-have if you're looking for a bag that offers a stylish look.
But with the hefty price tag attached to this luxurious tote bag, not everyone can think of buying it. Don't worry – I have some great affordable alternatives you need to check out!
1. Marc Jacobs Leather Tote Bag Dupe: SHEIN Letter Graphic Tote Bag
If you're looking to save some cash but still want a designer bag, any smart shopper knows SHEIN is the place to find dupes of luxury brands that look almost identical. One of my favorites is their Letter Graphic Tote Bag.
This tote was made to look just like that iconic Marc Jacobs style, except instead of the designer name, it just says Tote Bag in big letters on the front. The structured shape makes it perfect for lugging all your daily essentials – sunglasses, cell phone, wallet, keys, etc.
SHEIN really nailed it with this graphic letter tote. It looks so similar to the pricey original but costs less than 30 bucks. Now that's a steal! Whether you're treating yourself or just want a cute bag without blowing your budget, this is a great find.
2. Marc Jacobs Canvas Tote Bag Dupe: Topio Canvas Tote Bag
Walmart is another great place to find cheap bag options. I only spent a minute browsing before I found and fell for this Topio canvas tote bag.
You can totally see the similarities between this canvas bag and that Marc Jacobs cotton canvas tote. But the Topio one's just $20!
The Topio zipper canvas tote has a big main compartment, inside zipper pockets, and two top handles, so it's all about comfort and style all day. This nylon canvas handbag is perfect when you want something durable but don't want to spend a lot.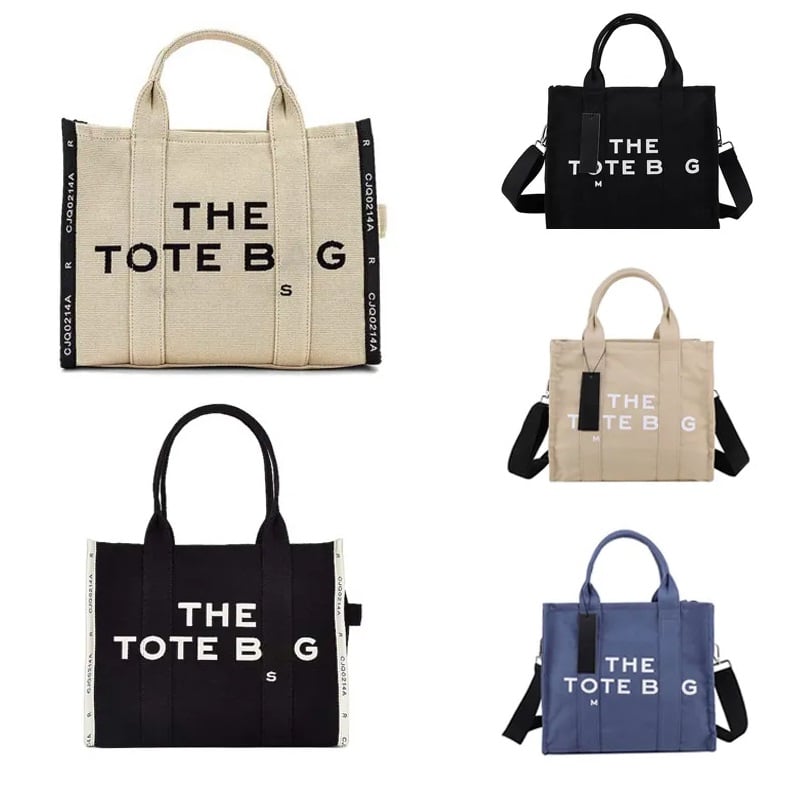 This Marc Jacobs high-end tote has a pretty spot-on dupe available on DHgate called The Tote Bag. The bold lettering on the front looks so similar to the pricey original; it's crazy. I'm obsessed with the classic square shape of this mini handle bag – it's totally timeless, so you'll get a ton of use out of it.
Another thing I love is that DHgate gives you 14 different colors to choose from if you can't decide on just one. At less than 20 bucks each, you could get a few and rotate them out for a fraction of the price. I'm all about stocking up on budget-friendly bags that look way more expensive!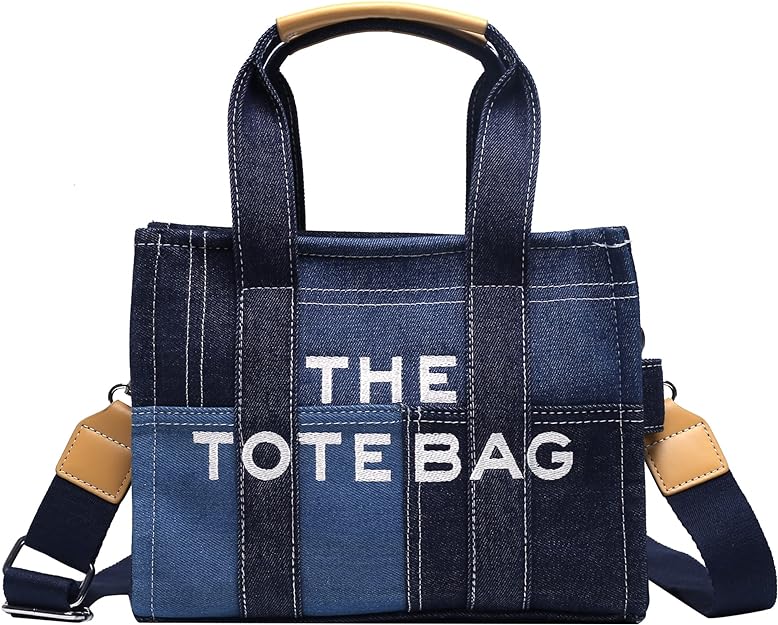 4. Marc Jacobs Denim Tote Bag Dupe: Woyiyaan Tote Bag
This Denim Medium Tote Bag from Marc Jacobs is such a classic. I'm obsessed with the denim and colorblock look, and the short leather handles are so chic. But let's be honest, $325 is way too much!
Fortunately, I found a similar option that's just as adorable for only $36. It has the same vibe as the Marc Jacobs with the denim, and it also has an adjustable strap you can wear over your shoulder or carry by hand.
I love finding stuff like this that looks designer but won't break the bank. Definitely recommend this as a great dupe if you love the Marc Jacobs tote!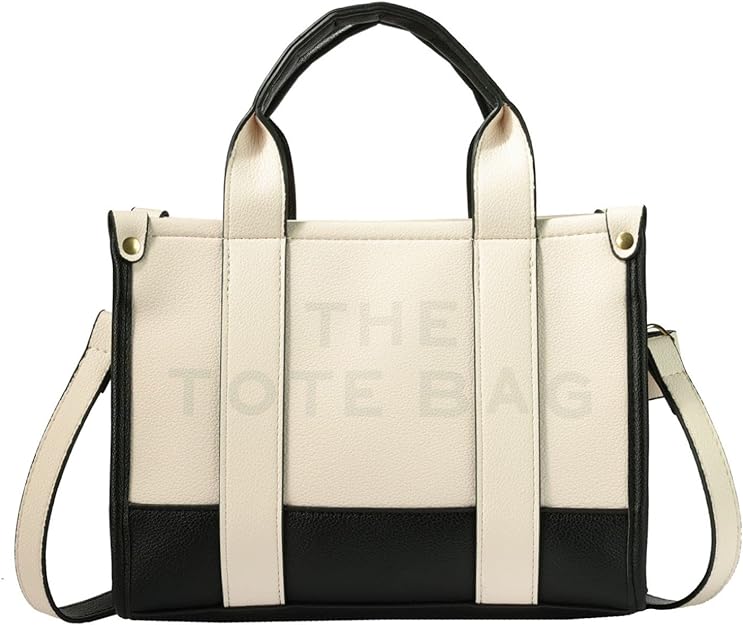 5. Marc Jacobs Colorblock Tote Bag Dupe: HAOBOYO Tote Bag
This color block tote bag has a fancy yet timeless two-tone look. It's very similar to a $495 Marc Jacobs tote but only costs $30, making it a fantastic dupe option that seems high-end without the shocking price tag.
The classic, never-going-out-of-style design means you'll love carrying this tote for years to come.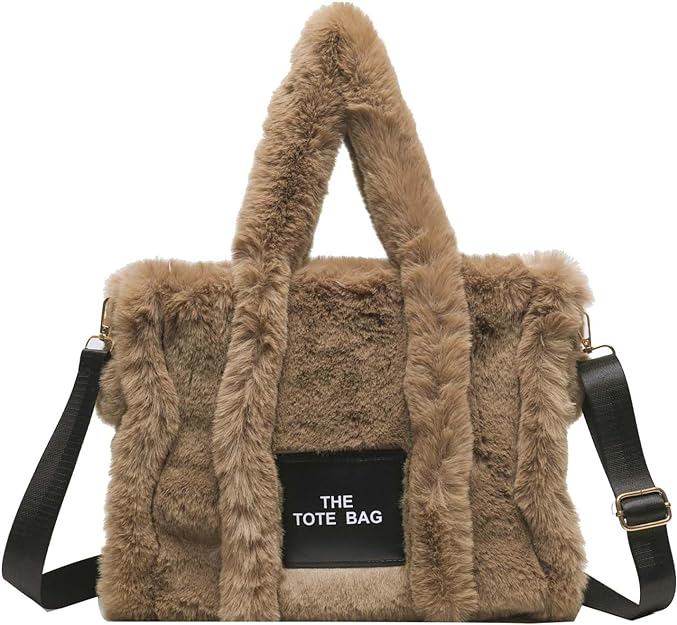 6. Marc Jacobs Teddy Tote Bag Dupe: Dezesas Tote Bag
This Teddy Tote Bag, with its furry shearling exterior, is one of my favorite versions of the classic tote silhouette. It has such a fun, funky vibe, but the nearly $300 price tag is hard to swallow!
Luckily, I found a similar fluffy faux fur tote on Amazon called the Dezesas Tote for only $23! It has that same plush texture in some beautiful colors, like the bright green that I love.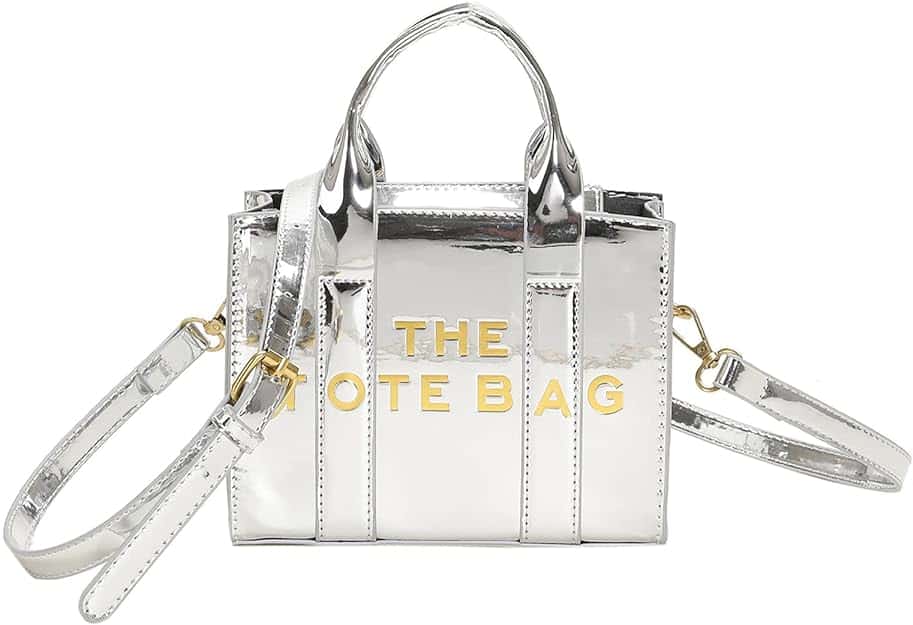 Looking for a tote that'll turn heads? There's a new bag in the FW23 collection that's got to be one of the most fashionable Marc Jacobs totes yet.
This funky silver tote is made of super soft metallic leather with trendy double handles and a simple logo patch; it's fabulous but costs a whopping $515! If you love the look but not the price tag, check out this similar stylish tote on Amazon for just $26.