Making a Summer Swing Dress Cold Weather Appropriate
Click to Shop:
Dress c/o* | Petticoat | Cardigan | Scarf (similar) | Bag (similar) | Tights | Heels
I am on a mission to style as many of my summer dresses as I can for winter! I'm a firm believer that these dresses can be worn all year long. It just takes a (cropped) cardigan, tights and sometimes a scarf!
After all, it would really be a shame to only wear this fun, comic book, swing dress in the summer! It's my first one from Unique Vintage, but I just ordered a couple more that I can't wait to get. They have sooooo many fun dresses and skirts. UV has been a nice replacement for me, as I just haven't been having much luck on ModCloth lately. Does anyone else feel that way? Or is it just me?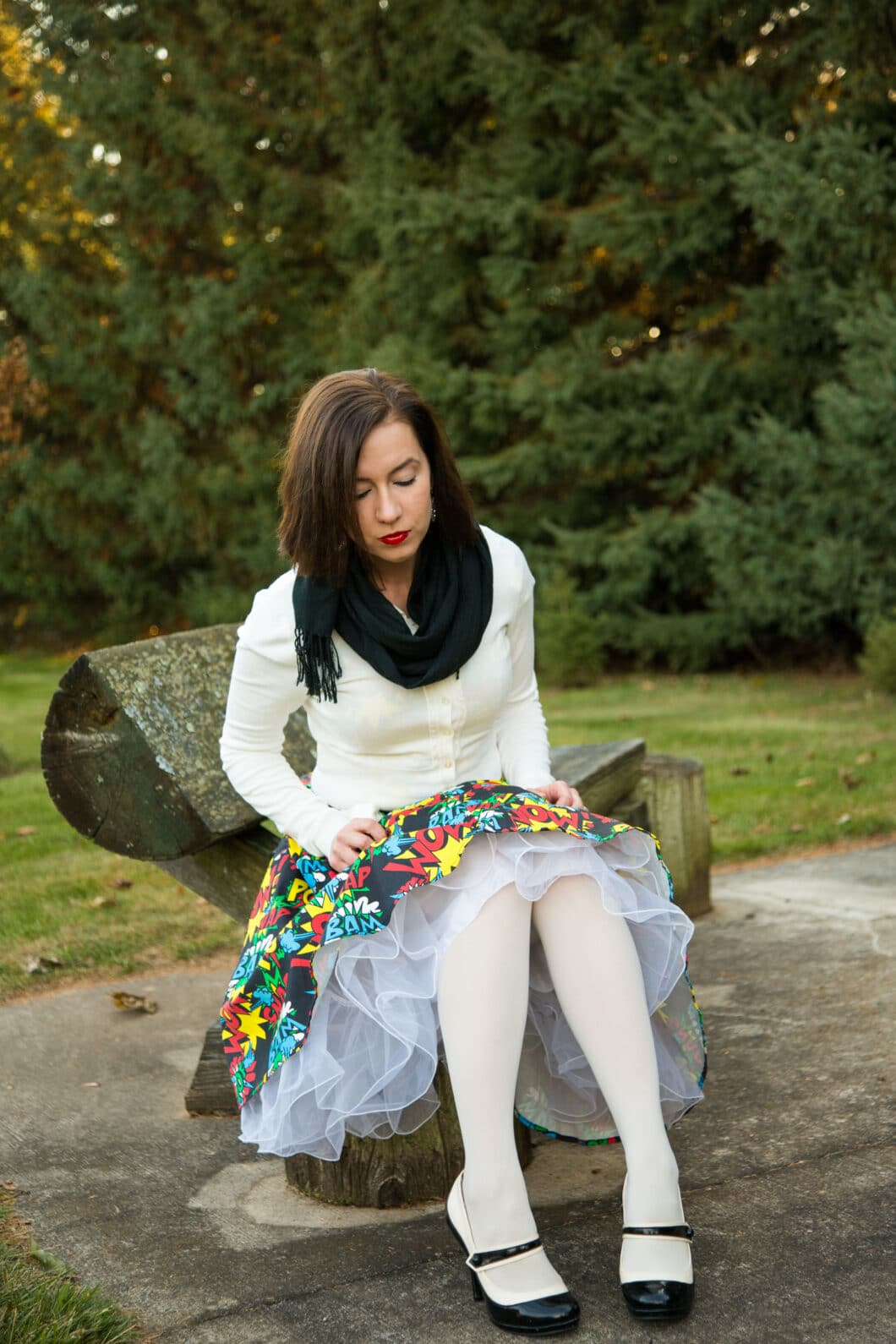 I also really wanted to see what this dress would look like with a petticoat. When I wore it over the summer it was just too darn warm to pair with one. But now, my petticoats are adding another layer of warmth! Haha. I'm addicted to them! (If you missed my summer post featuring this dress, click here.)
And sorry, these tights and heels have been on repeat – but the last time I was home (in Wisconsin) these were the only tights and heels I had along because they're so versatile.
Also, for my regular readers – sorry for the confusion, I've been in Rosario the past few weeks, but it has been too hot to do much of any type of outfit post. So, I shot a bunch of outfits when I was in Wisconsin for Thanksgiving that I've been sharing (except for my Star Wars, birthday outfit, that one was in Rosario). I'll be heading back to Wisconsin tomorrow for Christmas, too! It sounds like I will be greeted with a fresh foot of snow too. Haha.
Do you try to wear your summer dresses in winter? And is everyone getting excited for Christmas? Let me know in the comments!
Where to find it:
Dress: c/o* Unique Vintage
Cardigan: Review Australia (Sold Out. Similar here)
Tights: Amazon
Bag: Kate Spade (similar)
Heels: Amazon
Scarf: Borrowed from my mom (similar here)
Petticoat: Amazon
And this poofy skirt channels a youthful 1980's style.
*Click here for the latest deals on contemporary curtains.
*Disclosure: some of these links are affiliate links. Meaning, if you click a link and make a purchase, Have Clothes, Will Travel gets a very small commission at no extra cost to you. Thank you for supporting the brands that make this blog possible! I am also a participant in the Amazon Services LLC Associates Program, an affiliate advertising program designed to provide a means for us to earn fees by linking to Amazon.com and affiliated sites.
*c/o = courtesy of, meaning the company gave me the product to be used on my blog, and I did not pay for it. All opinions are my own, and I am not being compensated for a positive review.