My (Entire) Spring Capsule Wardrobe
Happy Friday! We made it through the week, which means this is the day I get to show you all the items used in my Spring Capsule Wardrobe Week with thredUP! And surprisingly, there really are not too many pieces.
Thank you to everyone who read the posts this whole week – I had a ton of fun putting everything together for it. To be completely honest, this week is generally what my week looks like for outfits…Not these exact pieces, necessarily, but the whole mixing and matching of pieces is what I mean. This is why I am not one of those all-star bloggers who posts every day. If I were to put every outfit I wore during the week up on the blog, you guys would probably get a bit tired of seeing the same pieces over and over again. I'm constantly re-wearing my skirts, jeans, dresses and tops..but styled in different ways. And I do show this on the blog, but I try to space it out a bit. 🙂 (I can't exactly have a gigantic wardrobe because of the way my husband and I pick up and move at a moment's notice, click here to read more on that.)
But anywho, let's talk about all these lovely versatile pieces you saw this week! This is what my entire spring capsule wardrobe consisted of:
My Spring Capsule Wardrobe:
1 cardigan, 1 dress, 1 scarf, 1 necklace and set of earrings, 1 pin, 1 watch, 1 skirt, 1 pair of capris, 3 pairs of shoes (whoops!), 1 purse

Just a reminder of what a capsule wardrobe is…a capsule wardrobe is made up of versatile pieces you can wear for just about any occasion. And as I had also mentioned throughout the week, the majority of clothing items in my spring version were from the awesome second-hand site, thredUP! I was able to get a cardigan, dress, silk scarf and a designer maxi skirt (which I'll be featuring at a later date)..for $50! Isn't that awesome? $50 for essentially an entire spring wardrobe!
The key to this spring capsule wardrobe was having a solid colored cardigan that went with many items I already owned. I had also selected this dress from thredUP for my capsule wardrobe because I knew it was a fit and print that I would want to wear and would also be easy enough to mix and match. I know that sounds obvious, but I do find myself accumulating dresses that I like, but I don't necessarily want to wear them all the time. Being aware of the types of clothing you are comfortable in is also key to building a lasting capsule wardrobe. As is selecting solid-colored items or patterns that are not too overpowering. I prefer to go a little crazy in the accessory department, so I that's why I would personally keep my capsule clothing pieces a bit more muted. I could have gotten away with just using my nude pumps too for all of these outfits, but I just couldn't help myself from using some of the crazy shoes I own. (Whoops!)
And the photo below is my favorite combination of these pieces. Again, I just love novelty accessories! Haha.
To see this outfit's post, click here.

If you would like to see the entire outfit posts from this week click on these links: Day 1, Day 2, Day 3, Day 4.
Do you have any tips for building a capsule wardrobe? And which was your favorite looks from this week? Let me know in the comments!

Where to find it:
Cardigan: c/o* thredUP
Scarf: c/o* thredUP
Dress: c/o* thredUP
Skirt: Chicwish (similar)
Capris: Buckle(similar)
Necklace: Etsy (similar)
Jon Snow Pin: MightyPop
Purse: c/o* NewChic (Similar here)
Floral heels: c/o* Machi Footwear (Similar here)
Pumps: Amazon (similar)
Panda Flats: ModCloth
Watch: c/o* Pink Basis (Sold out. Similar here.)
Or shop these similar items: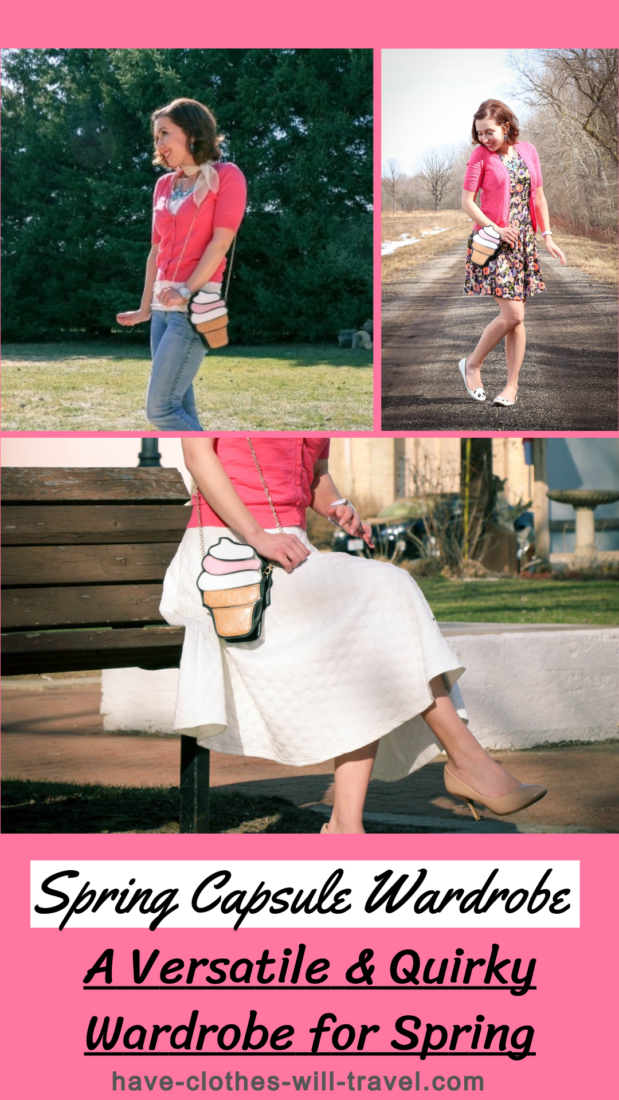 *c/o = courtesy of, meaning the company gave me the product to be used on my blog, and I did not pay for it. All opinions are my own, and I am not being compensated for a positive review.