Passion Lilie Organic Wrap Dress – The Perfect Summer Wrap Dress
If you're on the hunt for the perfect summer wrap dress, look no further! One of my favorite brands, Passion Lilie, has knocked it out of the park with their Lata Organic Wrap Dress. It's perfect to wear with a variety of footwear and accessories and works for everything from fancy dinners to running errands.
If you've been following my blog for a while, you hear about Passion Lilie pretty frequently on here. This a brand I have loved for years and have featured on my blog many times. I've been living in Passion Lilie dresses since 2016!
Passion Lilie is a fair trade fashion brand that is based in New Orleans. They blend classic silhouettes with playful block prints to create pieces that are both timeless and effortless. Their clothing is designed with comfort in mind, plus each item is ethically handmade in small batches by craftspeople who are dedicated to preserving heritage techniques.
Below, are a few of the Passion Lilie dresses I've featured on my blog over the years (and still wear!).
Passion Lilie's latest addition to my wardrobe is their new Lata Organic Wrap Dress. If anyone has seen me the last month when the weather was above freezing, I've been wearing this dress. This will be my most-worn summer dress of 2023, guaranteed. It is SO comfortable and cute!
*Disclosure: Have Clothes, Will Travel uses affiliate links. Meaning, if you click a link and make a purchase, Have Clothes, Will Travel gets a very small commission at no extra cost to you. Thank you for supporting the brands that make this blog possible!
Passion Lilie Lata Organic Wrap Dress – Why I Love It
I love that Passion Lilie's wrap dresses have a hook n' eye closure at the bust, so the chance of having a wardrobe malfunction is greatly reduced. My favorite part of this dress, though, is its adorable sleeves. They're so feminine and fun and pair perfectly with the cute floral design!
Wrap dresses in general are fantastic too, as they flatter ALL body types. Think of them as the jeans from The Sisterhood of the Traveling pants.
While this isn't something I, personally, need this dress for, it's also a great dress for mothers who are nursing and pumping. In fact, Passion Lilie dresses were recently featured in Forbes, for this exact reason!
Passion Lilie wrap dresses also feature deep pockets that can easily fit a phone and keys and lip gloss. There's nothing better than a comfortable dress with pockets.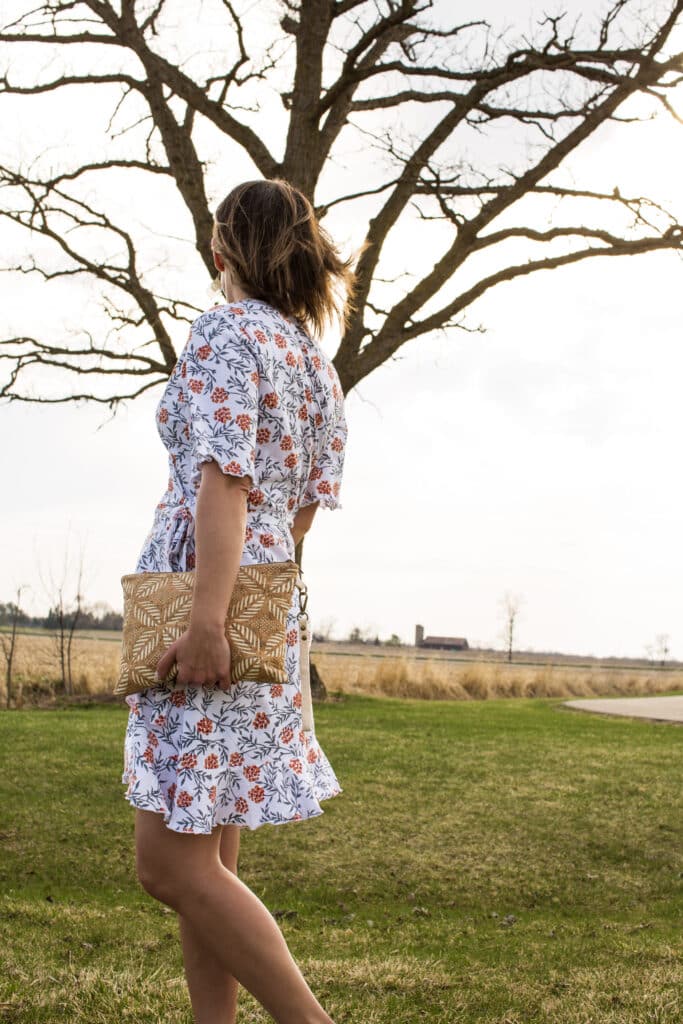 I've had a few opportunities to wear this dress so far this "spring" in Wisconsin and am really excited for summer to arrive. The weather in Wisconsin has been WILD even by our standards lately. We went from 90-degree Fahrenheit temps to below-freezing and snowing within a few days. It was in the 60s again last week, so I was able to wear this dress out to dinner and paired it with a jean jacket for a little extra warmth. But now, today… it's snowing again!
Passion Lilie Wrap Dress Sizing
According to the Passion Lilie size chart, I am a size small. However, I have a few of Passion Lilie's wrap dresses, and I can fit into both small and medium sizes in them. This will really come down to your personal preference for how you like your dresses to fit. I prefer looser-fitting dresses, as this is far more comfortable for me when I am traveling or simply out and about during the summer.
Washing Passion Lilie Dresses
Passion Lilie dresses can be washed in your washing machine. I wash mine on gentle cycle in cold water with a gentle detergent that I love. I will then stick them in the dryer for a couple of minutes to get the wrinkles out, then I hang dry them. I never fully dry my dresses.
Shopping Sustainably
Passion Lilie dresses are very much my personal style and they are fantastic quality (my first dress from 2016, still looks just as good as it did when I first put it on 7 years ago). However, I also love Passion Lilie because of their commitment to producing clothing that is ethically and sustainably made.
The owner of Passion Lilie, Katie Schmidt, was kind enough to help me with putting together a blog post a couple of years ago that explains in-depth, how to shop for ethical fashion. I highly recommend giving it a read and then shopping the new Passion Lilie arrivals for spring and summer!
How to Shop for Sustainable & Ethical Fashion – Expert Tips by Passion Lilie
If you're wondering what exactly sustainable and ethical fashion is, how to shop for sustainable and ethical fashion, and what "greenwashing" is + how to avoid it – this post is here to explain!
*Thank you to Passion Lilie for partnering with me for this post. As always, all opinions are my own, and I am never compensated for a positive review.