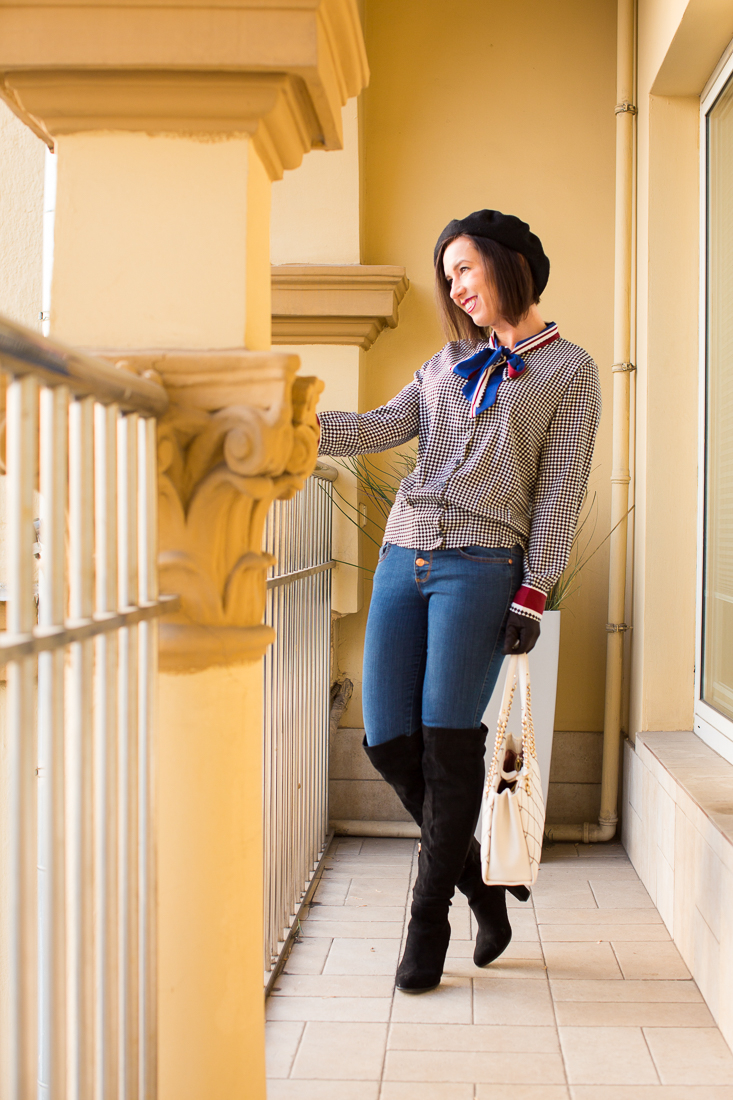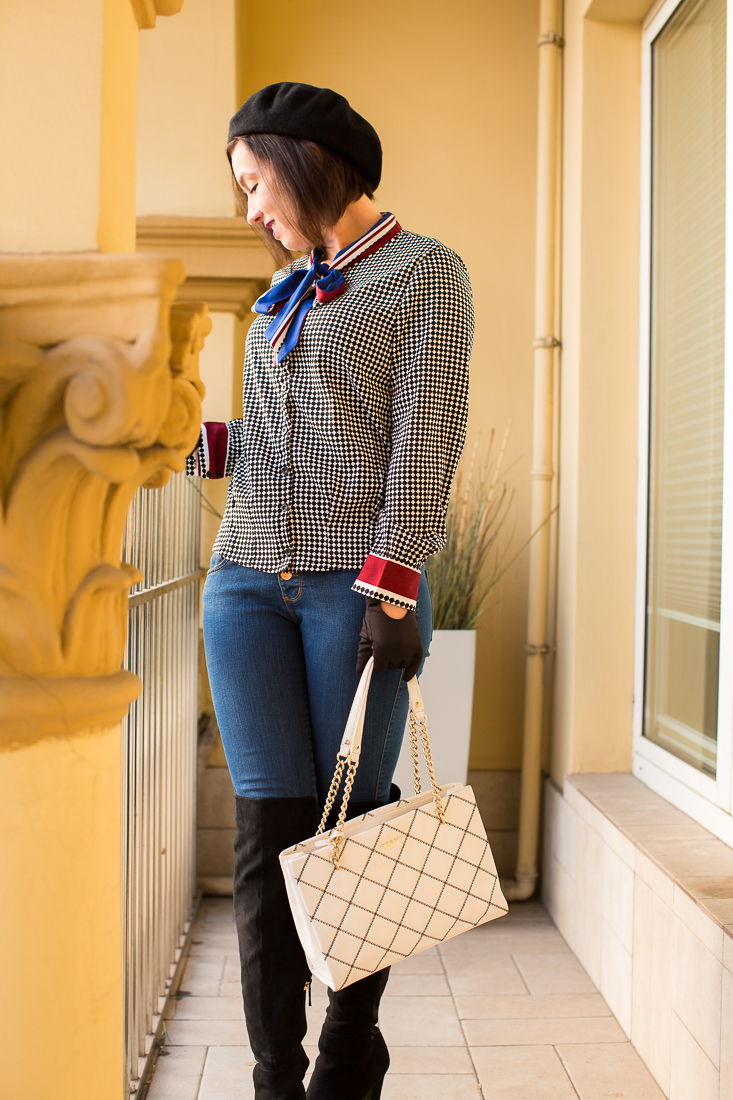 Beret c/o* (Identical here) | Top c/o* | Boots c/o* (Similar) | Jeans | Gloves c/o* (Similar here) | Bag
It's that time of year again…beret season! Berets are an interesting accessory, in my opinion. Most people seem to like the way they look. However, they always vehemently exclaim, "I could NEVER pull off a beret." I was one of those people up until last year when Unique Vintage sent me beret as part of my Christmas present. Now, I'm addicted…and realized I've been missing out on a fun accessory all these years!
I have to admit, though…I'm never 100 percent sure if I'm wearing my berets correctly when I put them on. The first few times I wore a beret last year, I was fortunately at my mom's house for Christmas. So, she was able to help me put it on. Haha. Now, I'm on my own and just crossing my fingers that this is the appropriate way to wear this beret. At the very least, it felt comfortable on my head and helped keep me warm in the frigid Moscow temps! It was only 14 degrees Farenheit when I took these photos…I wasn't planning on wearing gloves and a beret, but it was necessary so I wouldn't completely turn into an ice cube!
The real star of this outfit was supposed to be this top, though! Isn't it a fun piece? And it's only $18. It's also not see through, which I like. It means I'll be able to get away with wearing it longer in the summer because I don't need to wear anything under it. It does run big, though. I sized down an entire size. (So be sure to check the size guide before you purchase.) Use code "puls15" for an extra 15% off this top + your entire purchase – including sale items!! (Valid until January 1st, 2019.)
I know it was meant to be a shirt that is tucked into your pants or a skirt…but I couldn't help myself – I really liked the way this top looked untucked too! I had originally planned to wear it with my black and white skirt, but again, the temps were just too chilly for tights and a skirt in my opinion. So, jeans and OTK boots were a must! It's weird to think I'm passing up wearing ankle boots because OTK and knee high boots provide more protection, haha. City living in the cold means I'm getting more exposure to the chilly temps than I'm used to! (We drive everywhere in Wisconsin…but not here in Moscow.)
The pic above is taking a break inside my apartment to let my fingers warm up, haha. I like that our windows in our apartment have a little sitting area, and we have some cushions to curl up and watch out the windows. 🙂
What are your thoughts on berets? Do you wear them? Let me know in the comments!
Where to find it:
Beret: c/o* ModCloth (Black version is sold out, but this one is almost identical.)
Top: c/o* Shein Use code "puls15" for an extra 15% off this top + your entire purchase – including sale items!! (Valid until January 1st, 2019.)
Jeans: ModCloth
Boots: c/o* DSW (similar)
Gloves: c/o* Unique Vintage (Sold out. Similar here, here & here)
Bag: Kate Spade

*Disclosure: some of these links are affiliate links. Meaning, if you click a link and make a purchase, Have Clothes, Will Travel gets a very small commission at no extra cost to you. Thank you for supporting the brands that make this blog possible! I am also a participant in the Amazon Services LLC Associates Program, an affiliate advertising program designed to provide a means for us to earn fees by linking to Amazon.com and affiliated sites.
*c/o = courtesy of, meaning the company gave me the product to be used on my blog, and I did not pay for it. All opinions are my own, and I am not being compensated for a positive review.