10 Things to Know Before Swimming with Horses in Florida
"Go swimming with horses in Florida!" When I first saw this tour option with C Ponies while planning my recent trip to Florida, I assumed it would consist of riding horses along the beach, and I might get splashed a little as the horses walked along the water.
I even looked at the photos of past riders on Tripadvisor to see just how much "swimming" this tour entailed. It looked like some of the horses went up to about their bellies but that was about it. I figured I'd maybe get my knees wet if the ride got especially crazy. Let me tell you, I was dead wrong!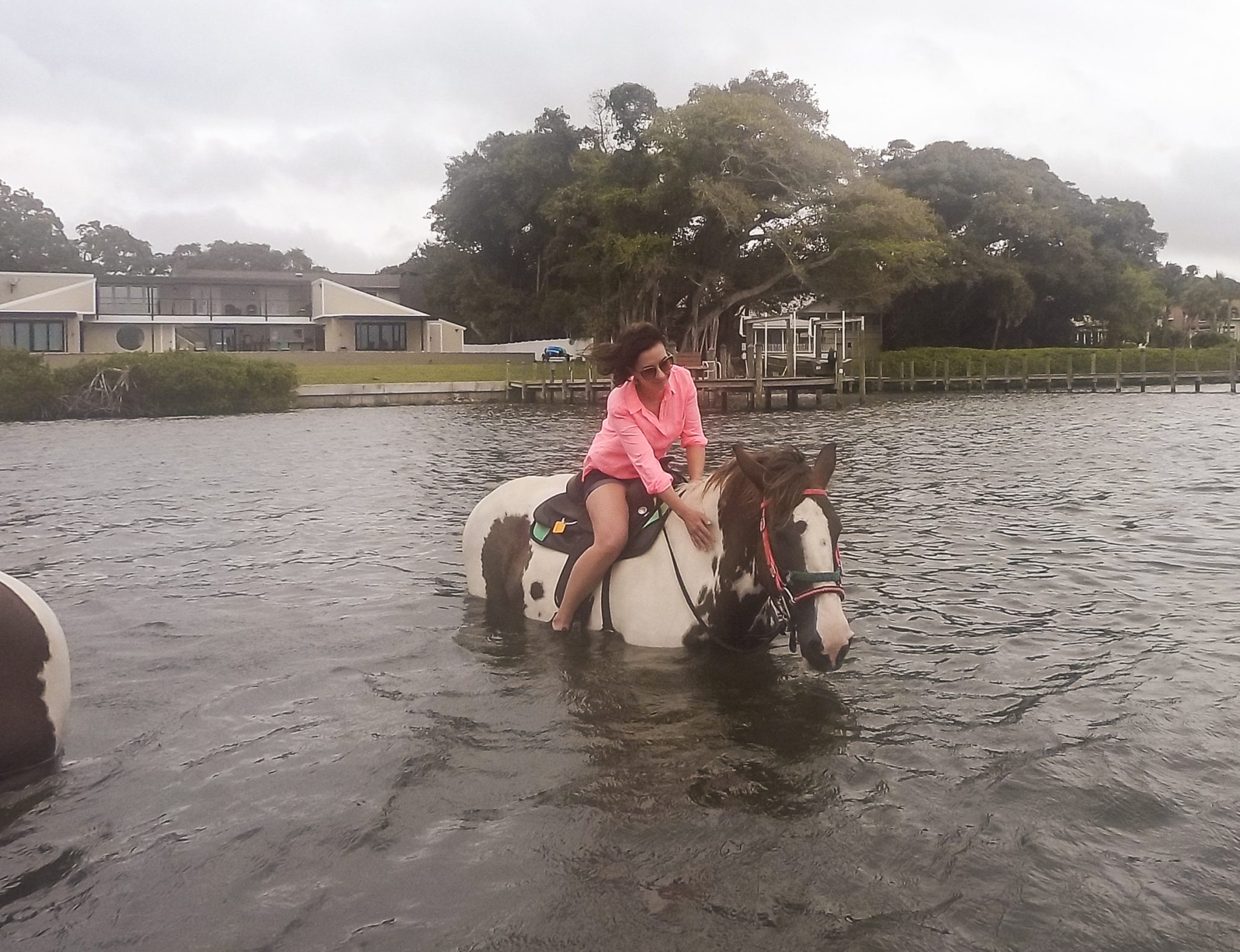 Can horses swim?
The main reason I didn't think this type of tour would actually consist of "swimming" is because I didn't realize horses could swim. (Doh!) I always assumed when I saw them crossing rivers they were just pushing off the bottom or off rocks. Again, I was wrong!
Horses CAN swim. They're actually quite good at it too! The horses I swam with seemed like they enjoyed swimming more than walking (and my horse was even quite competitive and didn't want anyone to pass her while she was swimming)!
So, now that we all know horses can indeed swim! I figured putting together this post about what to expect when swimming with horses might be useful to other newbie horse riders/swimmers out there.
Note: I did this swimming with horses tour in Bradenton Beach, Florida on the C Ponies Bradenton Platinum Excursion.
What to Know Before Swimming with Horses on a Tour
1.) Horses make weird sounds as they swim
Our guide had warned us about this before we set off on our swimming excursion, but I was still surprised by all the different sounds my horse made as she adjusted to being in the water. She seemed to breathe a little deeper and almost sounded like she had bad gas. The guide explained this was normal, as the horses adjusted to the pressure and temperature changes of being in the water.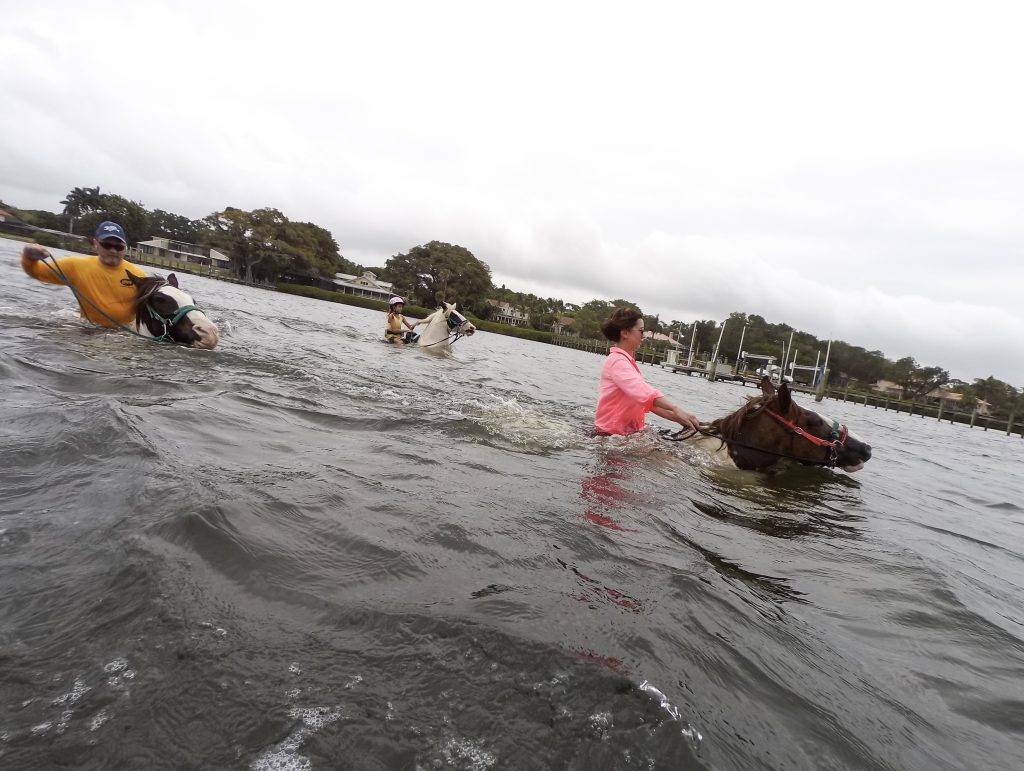 2.) There will be poop in the water…
As the horses slowly adjusted to being in the water quite a few of them went ahead and pooped too! This, again, was normal. Just be prepared for this.. so you're not surprised when horse poo floats by you on your swim!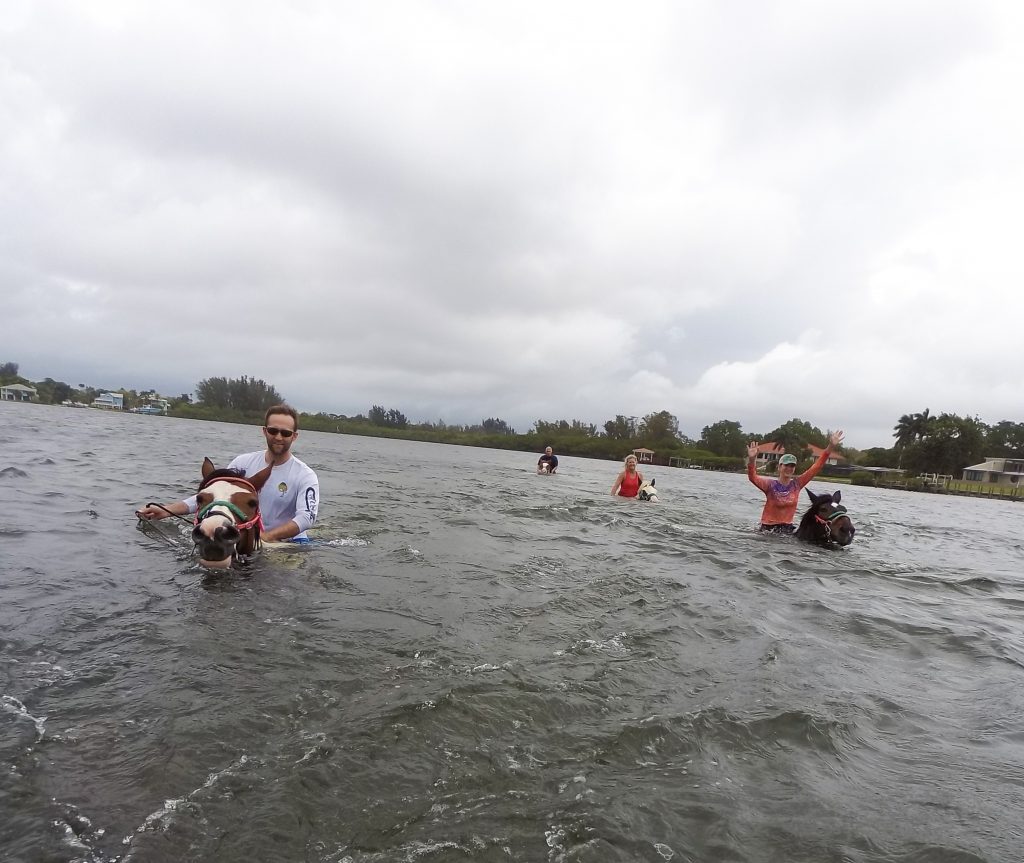 3.) It's important to listen to the instructor and not impede the horse in any way
Your guide will give you a set of instructions on how to best manage your horse while riding and swimming. It is very important that you heed their instructions. The most important thing you should listen to is to NOT impede your horse in any way while they are swimming. Let them do their thing and gently guide them… don't be yanking hard on their reins, or doing anything else that may disrupt their swimming.
4.) Your horse won't be swimming the entire time on a tour like this
Your horse will likely only be swimming with you on its back for short spurts of a few minutes, and then they'll rest in shallower water. At least this is how my tour worked, and it seemed to work very well for the horses… they weren't exhausted, and actually seemed to enjoy their little jaunts out into the water.
While the horses rested, our guide would then take some time to take our photos and give us back stories about the horses we were riding. Almost all of them were rescues, and they have some heartbreaking tales of the conditions they were living in before they came to live at C Ponies.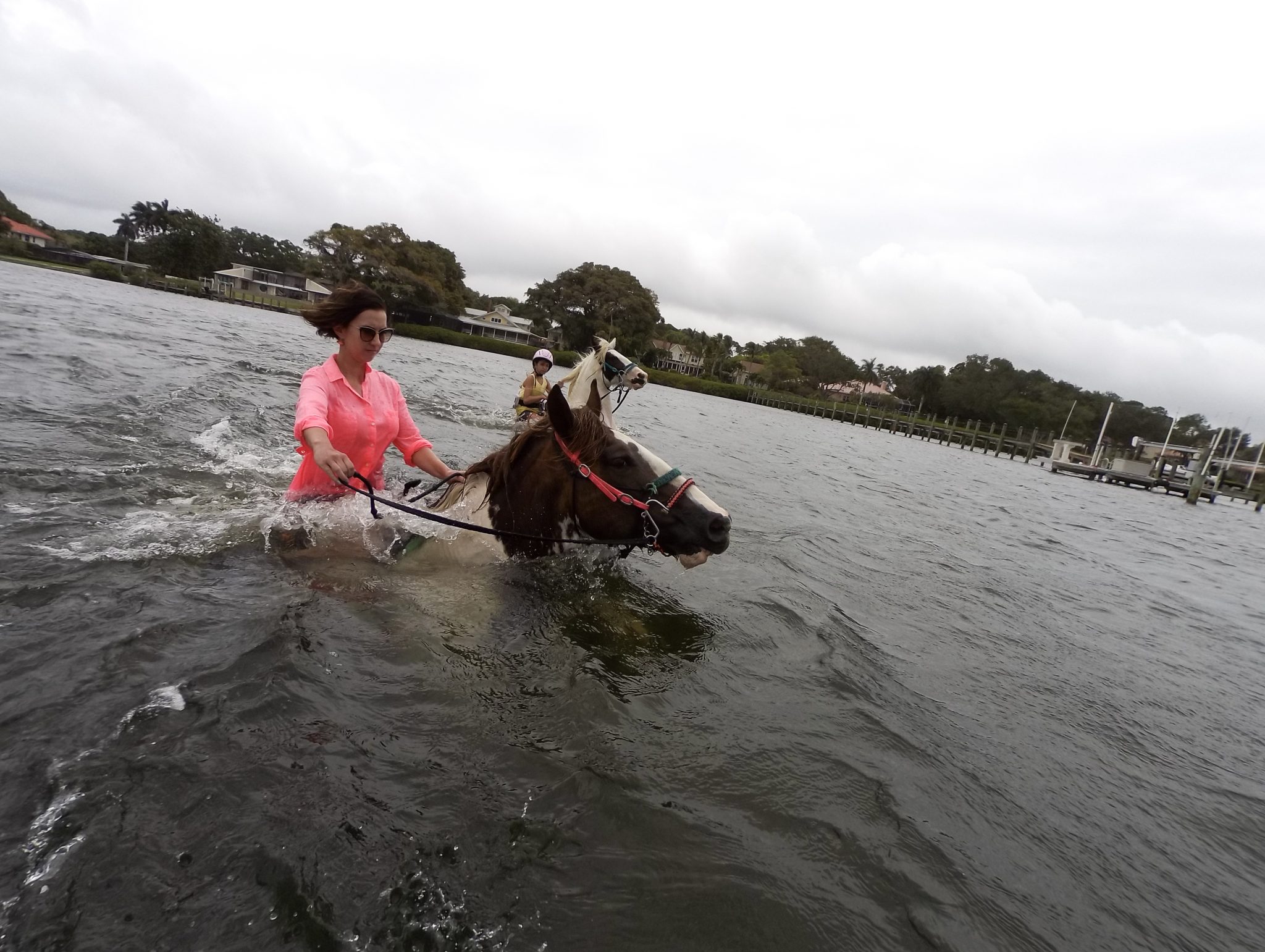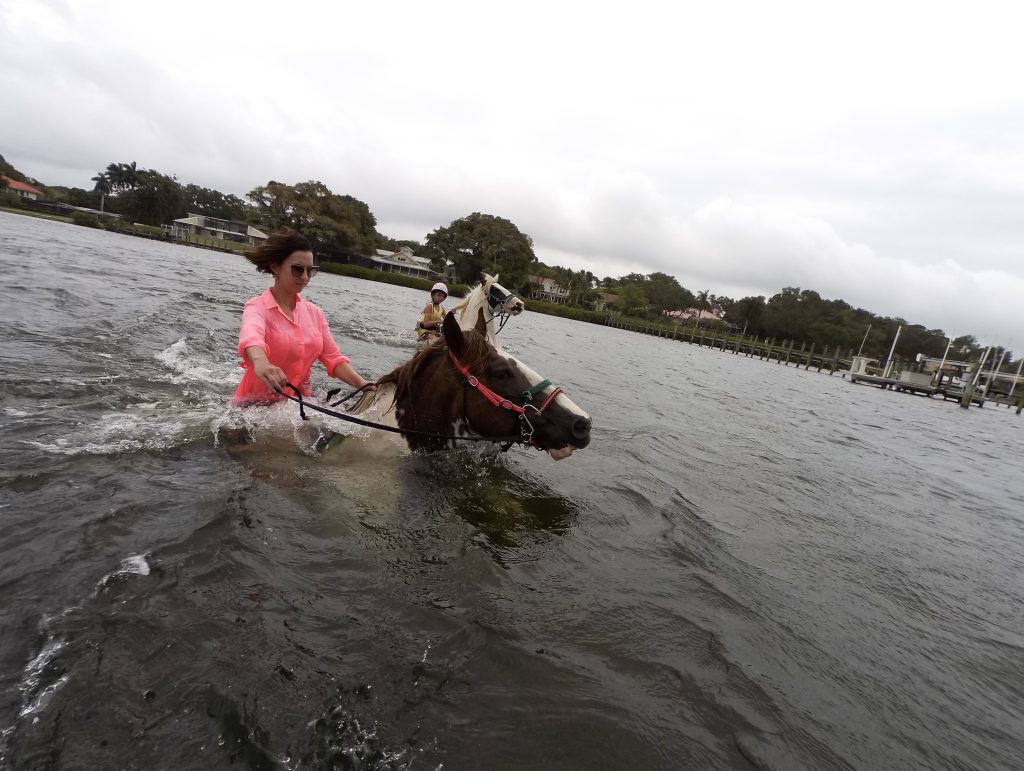 5.) Be sure you wear fast-drying clothing + water shoes
So, I did not dress appropriately for this excursion as I did not realize I would literally be swimming! I wore jean shorts, a regular bra, and my new linen shirt. Ha!
Fortunately, my shirt dried quickly and worked fine for this tour, but jean shorts and a regular bra were so not a good idea! I should have opted for a pair of running shorts, paired with a swim top or sports bra and a rashguard-type shirt would have also been perfect for this!
The one thing I did do right, though, was wearing water socks! (This was thanks to my mom, she had read the fine print of the email received from C Ponies after our booking.)
You can't wear flip-flops or sandals on a tour like this (they would likely fall off anyway), and sneakers would take a while to dry afterward. Investing in a pair of water socks is worth it if you're planning on doing a swimming with horses tour. Plus, these came in handy for the rest of our Florida vacation (and I like using them for boating back home during the summer!)
For guys, my husband wore his fishing shirt, swimming shorts, and water socks – and that was perfectly comfortable, he said.
These are the water socks we used and liked.
6.) Not all tours will allow you to bring a GoPro (so don't be disappointed)
I assume this will vary from tour to tour, but our tour with C Ponies did not allow us to bring a GoPro along. At first, I was kind of bummed (I wanted to take a video of this!), however, when it was all said and done, I was relieved I had left the GoPro on shore. It would NOT have been easy to hang onto it, and also hang onto my horse as we were swimming. Just hanging onto my horse was plenty of work for me!
7.) You don't have to have experience with horses for most tours like this
If this sounds like a cool thing to do in Florida, but you're worried because you don't have any experience – fret not! Experience with horses is not required if you book with C Ponies. The horses and the guides are there to help us newbies get used to riding and swimming!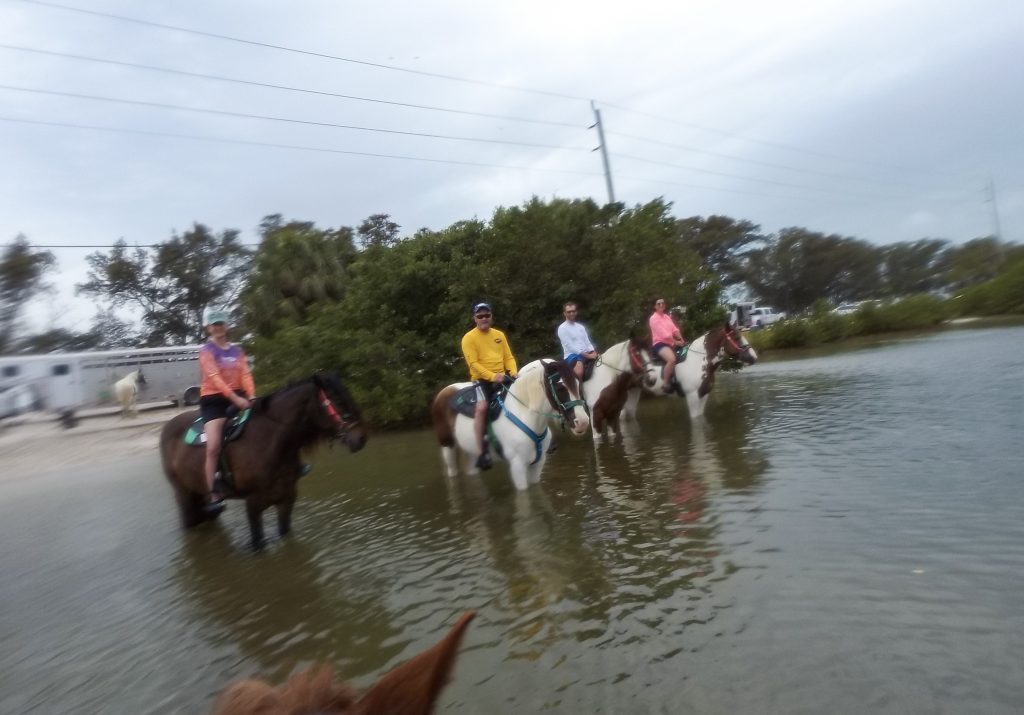 8.) Your tour will go on – rain or shine! (At least with C Ponies)
This shocked us a bit, so I'm including it in my list of things to be aware of. The weather on the day we did our horse swimming tour was less than ideal. Where we were staying Ruskin actually had a tornado warning that morning, and the whole day had rain in the forecast. However, our tour operator let us know they only canceled if there was lightning. Rain will not stop you from going out swimming! (I mean you're going to be wet anyway.)
We weren't worried about getting rained on, but we were worried that it would start lightning and then our tour would be canceled once we got out there. And we were driving 40+ minutes to get to Bradenton. So, that was a little stressful…. but fortunately, we never had more than a few sprinkles on our ride/swim.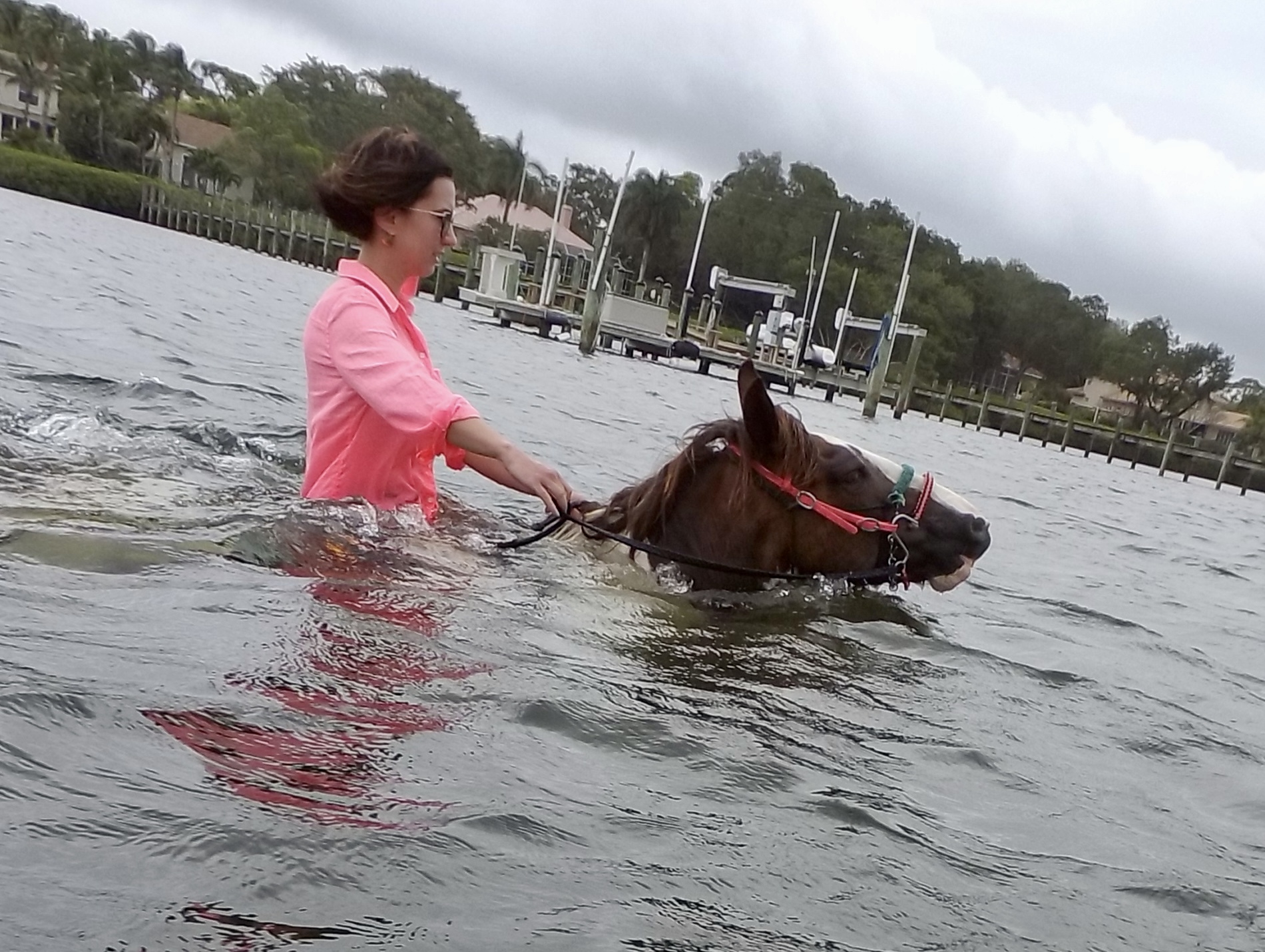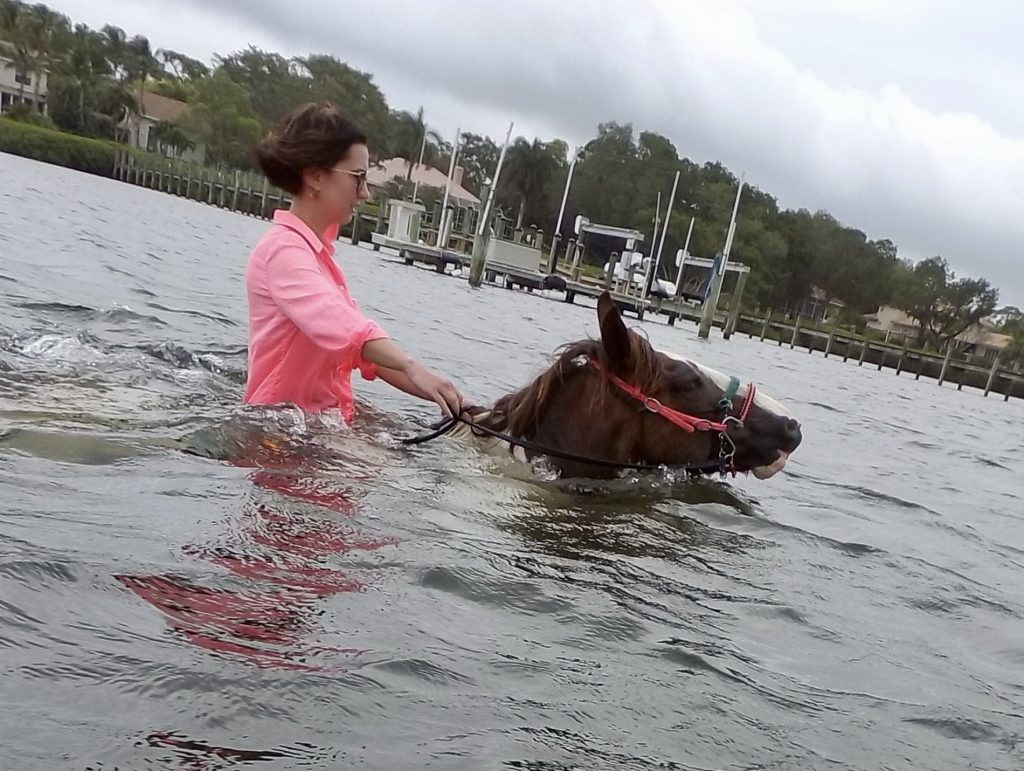 9.) It's a lot of fun!
Getting the chance to swim with a horse is an experience I will never forget! It was thrilling for both the kiddos and adults in our group, and I'm so glad we did it. If you are in the Bradenton, Florida area I highly recommend booking their Bradenton Platinum Excursion. (This made for a great day trip from Ruskin for us!)
10.) Bring cash for your tour guide & carrots for your horse
If you had a good experience, be sure to tip your guide with cash after your ride. (We had a good time, so we tipped 20% of our tour price.) C Ponies also lets you give your horses treats to say thank you too! You can bring your own carrots or purchase some treats from the guides before or after your ride.
You will also have the option to purchase your photos from the day after your ride. Bring extra cash for this if you're interested. (Photo prices start at $25. As I'm sure you can see from this post, though, the photos are not the greatest quality.)
If anyone has any questions about our experience swimming with horses in Bradenton, Florida, please feel free to reach out in the comments section at the end of this post.
*Disclosure: some of these links are affiliate links. Meaning, if you click a link and make a purchase, Have Clothes, Will Travel gets a very small commission at no extra cost to you. Thank you for supporting the brands that make this blog possible!