20+ Fun Things to Do in Ruskin, Florida + Day Trips from Ruskin
Just nearby Tampa is the lovely town of Ruskin, Florida. It's a great place to visit if you're looking to get away from the tourist crowds and enjoy a slower-paced vacation in Florida. (Our family has a place down here and is planning to retire here they love it so much!)
I recently visited Ruskin for a family vacation and loved my time spent on the beach, as well as fishing, boating, sampling the local restaurants, and taking some fun day trips from Ruskin. Ruskin has a little something for everyone!
To help you plan your time here, I've put together a list of some great things to do in Ruskin, Florida… along with some fun day trip ideas from Ruskin! Enjoy, and please let me know if you have any questions about traveling to Ruskin in the comments section at the end of the post.
Fun Places to Visit in Ruskin and Things to Do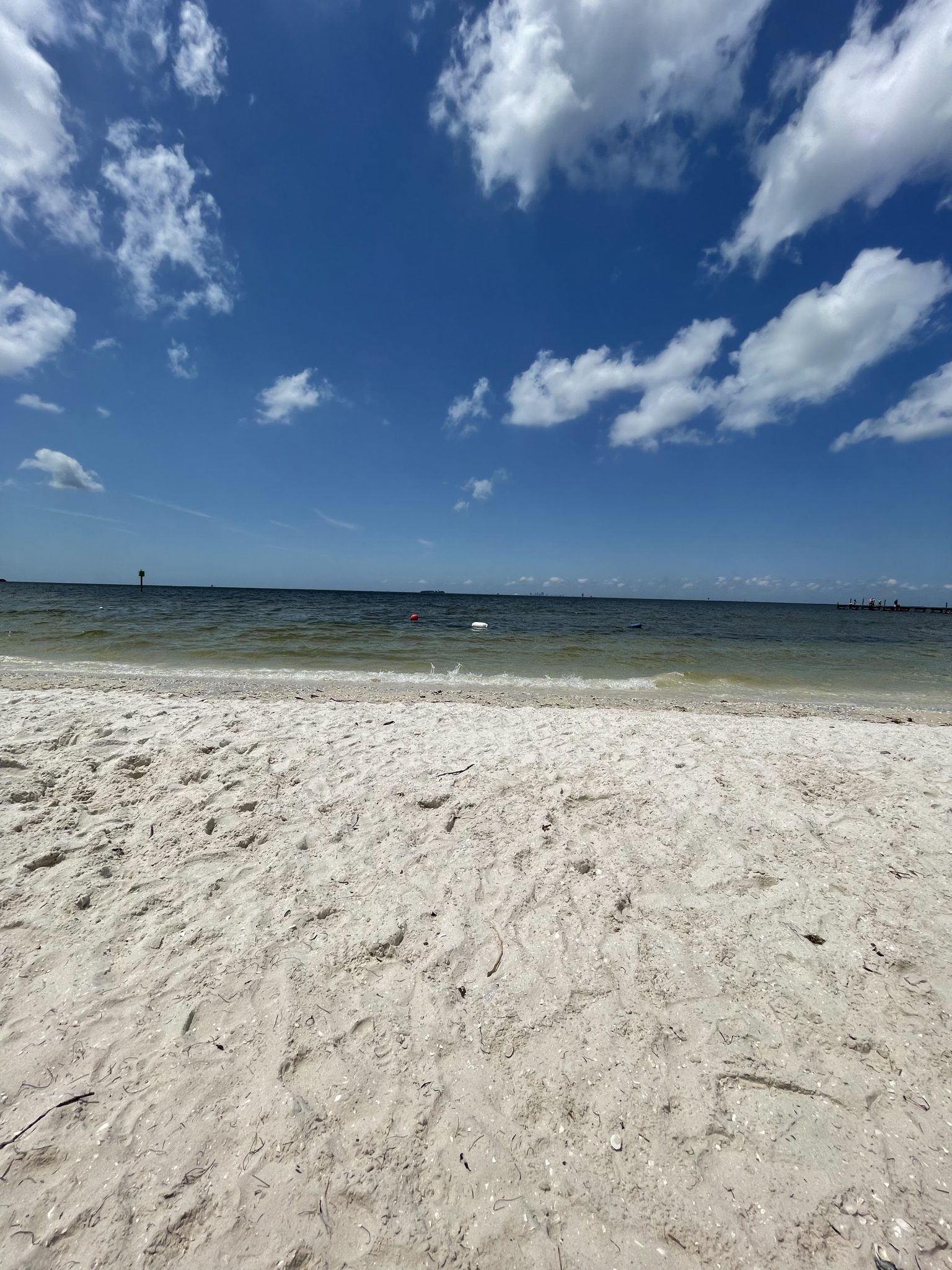 Hang Out at Bahia Beach
Bahia Beach is back to being a public beach (although there is a small private section for Little Harbor Resort residents). Here, you can relax, enjoy the water, and rent a chair and umbrella from the Sunset Grill Waterfront Restaurant & Tiki Bar. Better yet, grab some drinks and food from the Sunset Grill while you're here. (I highly recommend their coconut shrimp and also peel and eat shrimp.) This beach is family-friendly, and the perfect way to spend a warm, sunny day in Ruskin!
Note: We stayed in this vacation rental in Little Harbor Resort. So, Bahia Beach was within walking distance of our rental! (You can also see dolphins and manatees swimming through the canal from the living room window.)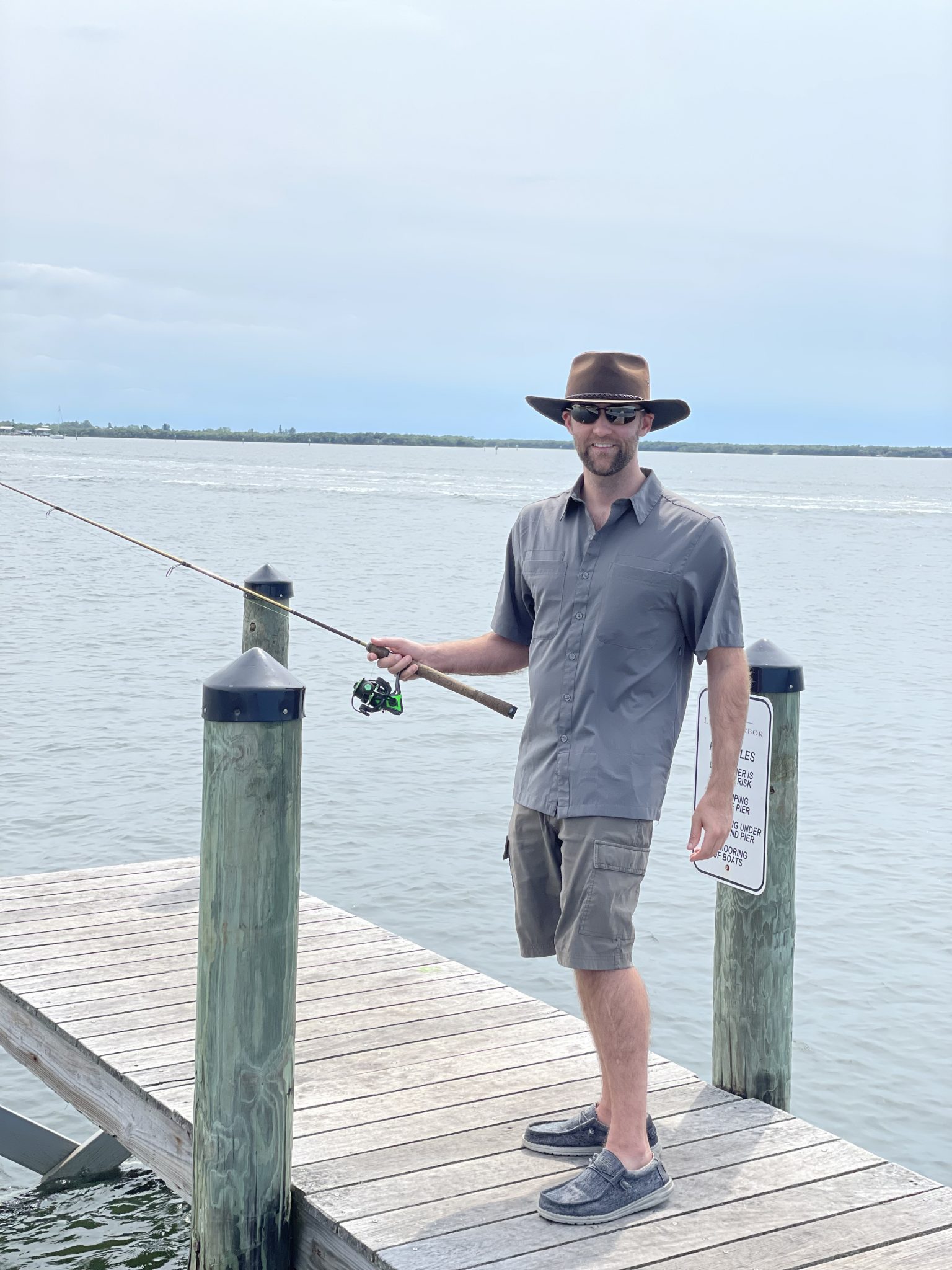 Go Fishing Off the Pier Near Bahia Beach
The boardwalk with a pier by Bahia Beach is a popular spot for fishing. You'll also be treated to stunning panoramic views of the sunset and St. Petersburg in the distance. There are opportunities for kayaking and shelling too. Plus, the parking is free! (Get your bait at 5 Boys Bait and Tackle on HWY 41 – they're very helpful!)
Take a Charter Fishing Trip
Behind Bahia Beach is a marina that adjoins Tampa Bay. Here visitors can go on fishing charters and dolphin tours. (It's worth taking a walk along the marina to talk to the captains about what they're catching…plus, watching them feed the pelicans their scraps is fun!) The waters on these parts are teeming with tropical and marine wildlife; some of the species you can catch are mangrove snappers, trout, mackerels, flounders, and kingfish. Whether you're an experienced fisher or not, the charter staff will gladly show you the ropes of this well-loved outdoor recreation.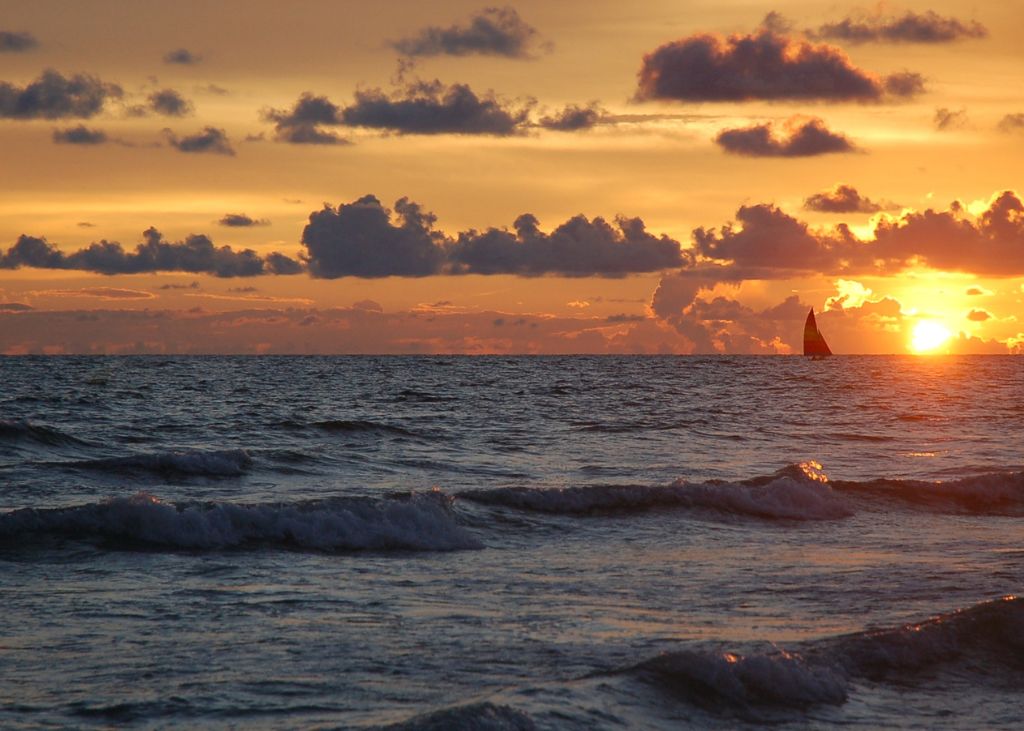 Enjoy A Sunset Boat Cruise
One of the most romantic things to experience in Ruskin is to set sail and explore the calm waters during sunset. Take in the vibrant colors of the majestic horizon setting before you while sipping on your favorite beverage. On cooler seasons, cozy up with your loved one under a blanket and enjoy a decadent cup of hot cocoa provided during the two-hour cruise—don't forget to snap a few photos as a souvenir.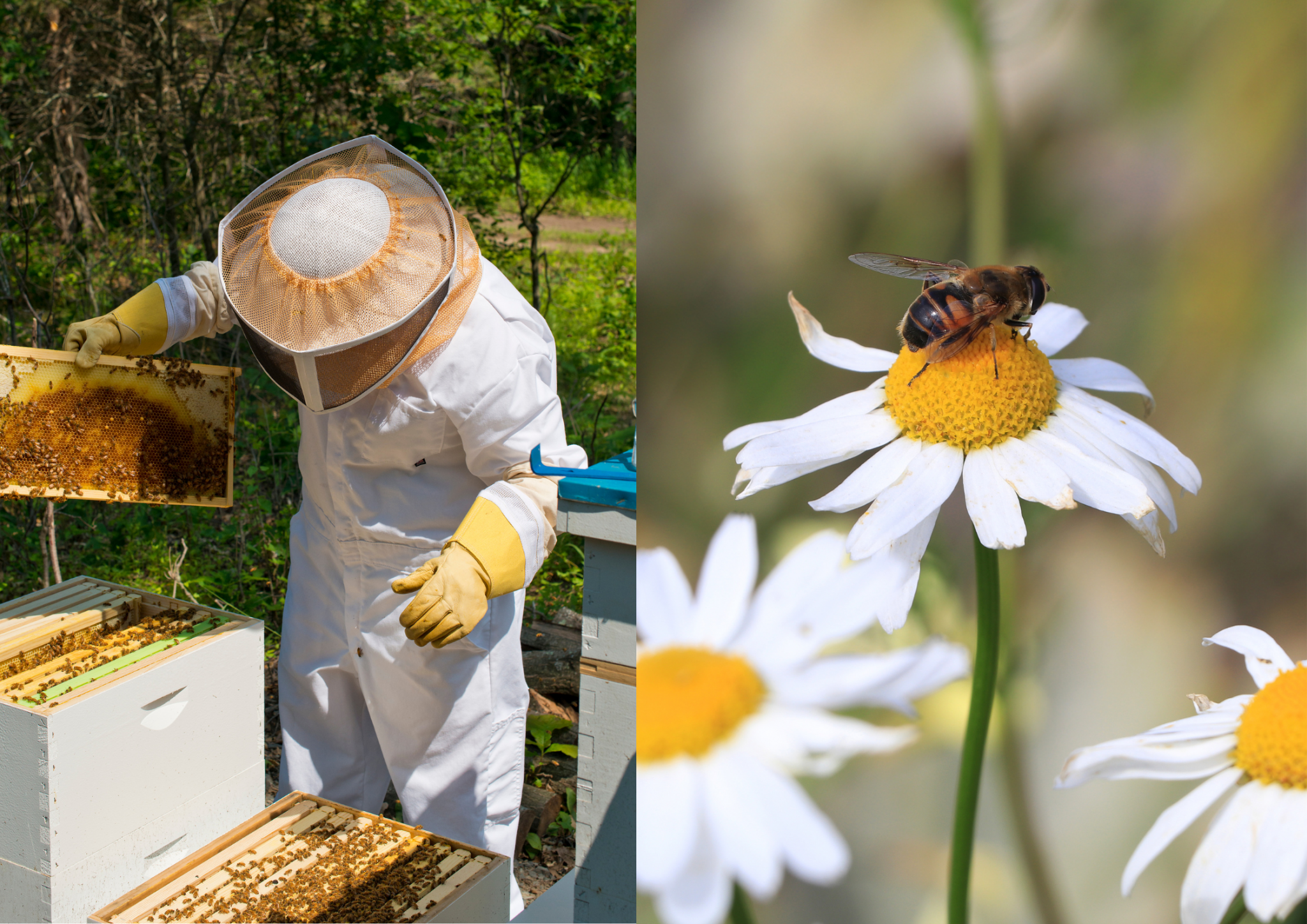 Take a Honey Bee Tour
Learn all about honey bees and the whole honey harvesting process in this highly recommended and educational outdoor tour. Get a good look inside a working bee hive and taste different kinds of honey straight from the comb; visitors will also get the chance to tour the extracting room where they can thoroughly see how the honey is prepped organically for daily use.
Get Dinner at the Lazy Gator
Lazy Gator offers great seafood at great prices; you can also sample some of their specialty must-tries including fried green tomatoes, sandwiches, tasty steaks, and delicious selection of beers. Whether you're coming in for lunch or dinner service, you'll appreciate the homey coastal ambiance of the place and the relaxing tunes from the local bands playing outdoors.
I'm a big fan of the lobster tails here, and sitting outside listening to bands play on the old pontoon boat that serves as a stage! Sorry, I never took any pics while I was here because I was enjoying the food and drinks too much!
Visit the Wolf Branch Creek Nature Preserve
This is one of Ruskin's beautiful natural parks where you can go on a trail walk, recharge, and be one with nature. Wolf Branch Creek Nature Preserve has over 1,400 acres of flourishing flora and coastal habitat, including cabbage palm hammocks, sea grass beds, and mangroves along its shorelines. Frequent sightings of manatees and other marine animals can be seen in the area as well.
Go Camping at E.G. Simmons Regional Park
This campsite is Ruskin's largest outdoor space for rest and recreation. The E.G. Simmons Regional Park features more than a hundred camping sites where you can spend the night, as well as picnic facilities and opportunities for kayaking, swimming, canoeing, and wildlife watching. You'll have access to hiking trails and canopies surrounded by scenic blue waters.
See a Movie at the Ruskin Drive-in Theatre
One of the go-to spots to spend quiet evenings in Ruskin is at the family-owned classic drive-in movie theatre. You'll appreciate the retro feel of the drive-in while watching a Hollywood blockbuster. Pair it with a classic hamburger and hotdog from the snack bar to complete the traditional and nostalgic movie viewing experience!
Go Bird Watching at Cockroach Bay Aquatic Preserve
Ruskin's sprawling landscape and wetlands make it an ideal attraction to immerse yourself in the sights and sounds of nature. Cockroach Bay Aquatic Preserve, with over 4,800 acres of submerged lands (one of Tampa Bay's chain of islands), is the perfect avenue for just that… especially when it comes to bird watching. You can hike the majestic trails, go kayaking, or canoe on its waterways.
Explore Camp Bayou Outdoor Learning Center
Camp Bayou is the place to be to explore the untamed yet stunning wilderness of Florida. The camp's location in the south of Hillsborough County in the Little Manatee River Watershed has a well-preserved habitat allowing visitors to learn more about its local history, culture, and natural resources. Take a hike in one of the relaxing trails and check out the Uzita Native Camp and Paleo Preserve Fossil Museum.
Fun Day Trips from Ruskin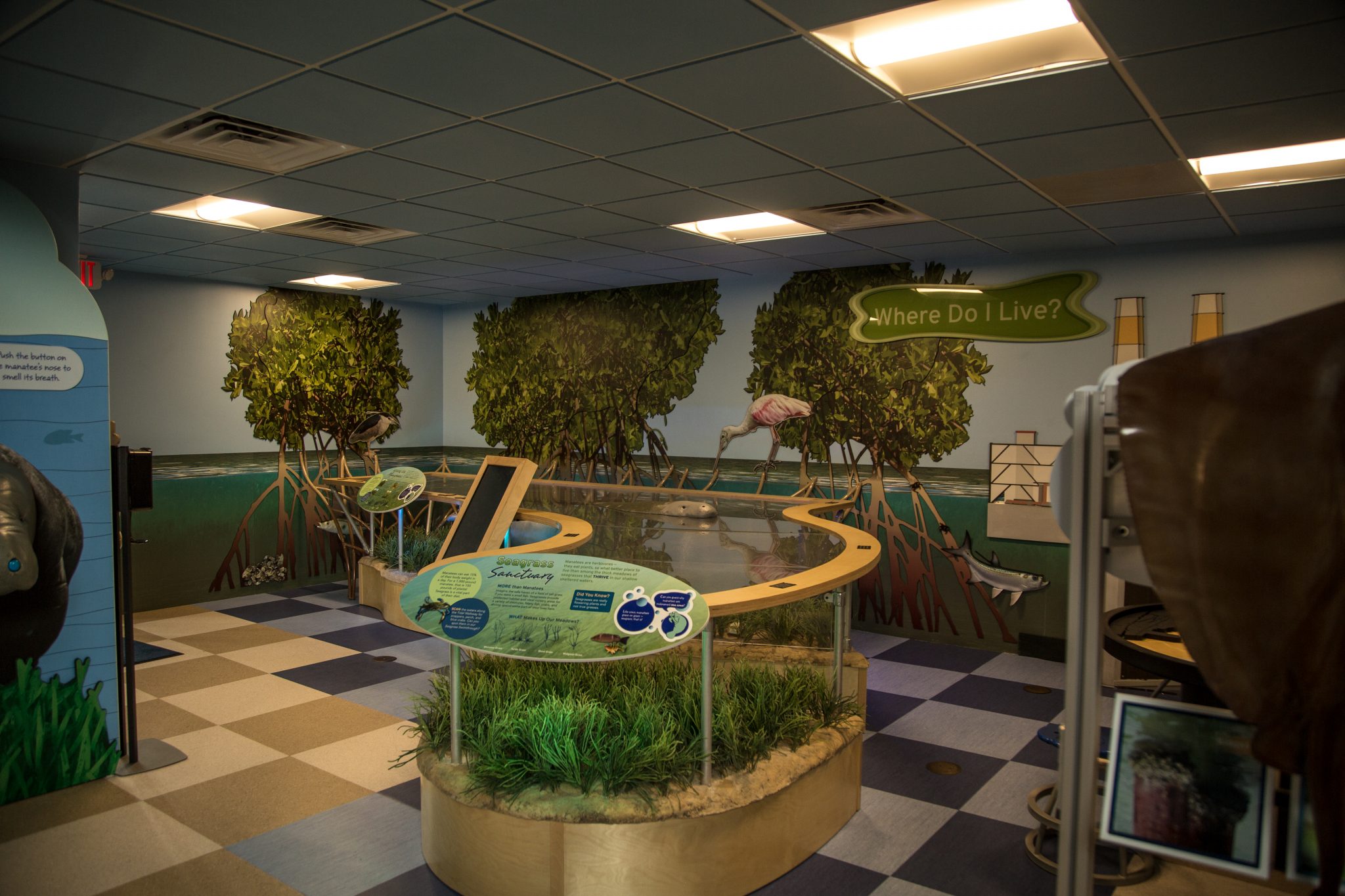 Visit the Manatee Viewing Center in Apollo Beach
Apollo Beach is just six miles from Ruskin. Here you'll find some great restaurants and beaches (like Clearwater Beach). However, one of the main draws to Apollo Beach is to see the Manatee Viewing Center. Here you can see wild manatees swimming and drifting about through the bay, and there is also a manta ray tank and indoor museum. (Note: the manatees are not at the viewing center all the time – when waters are particularly warm, they venture out to the bay to search for food.) Admission to the center and parking are free!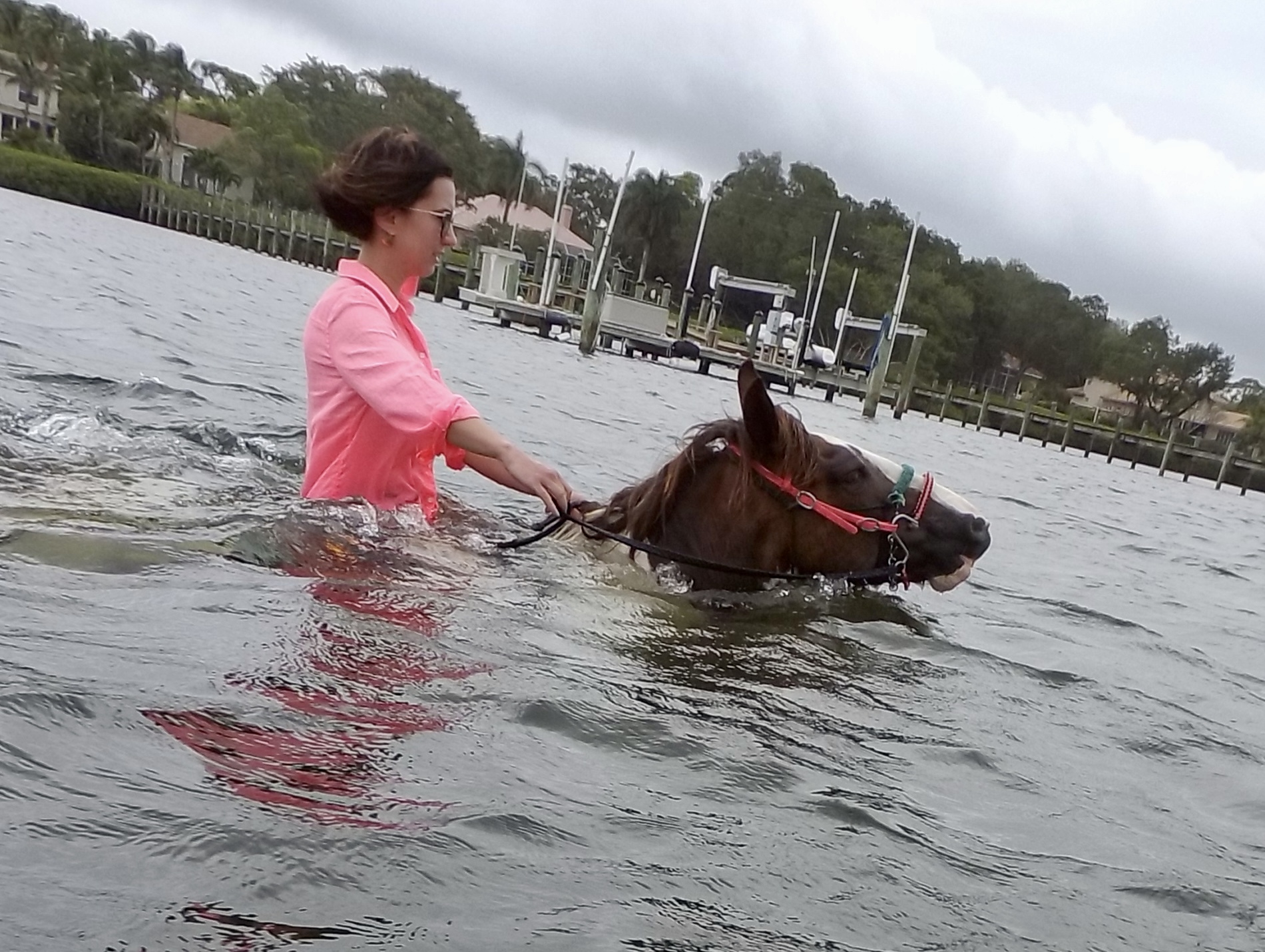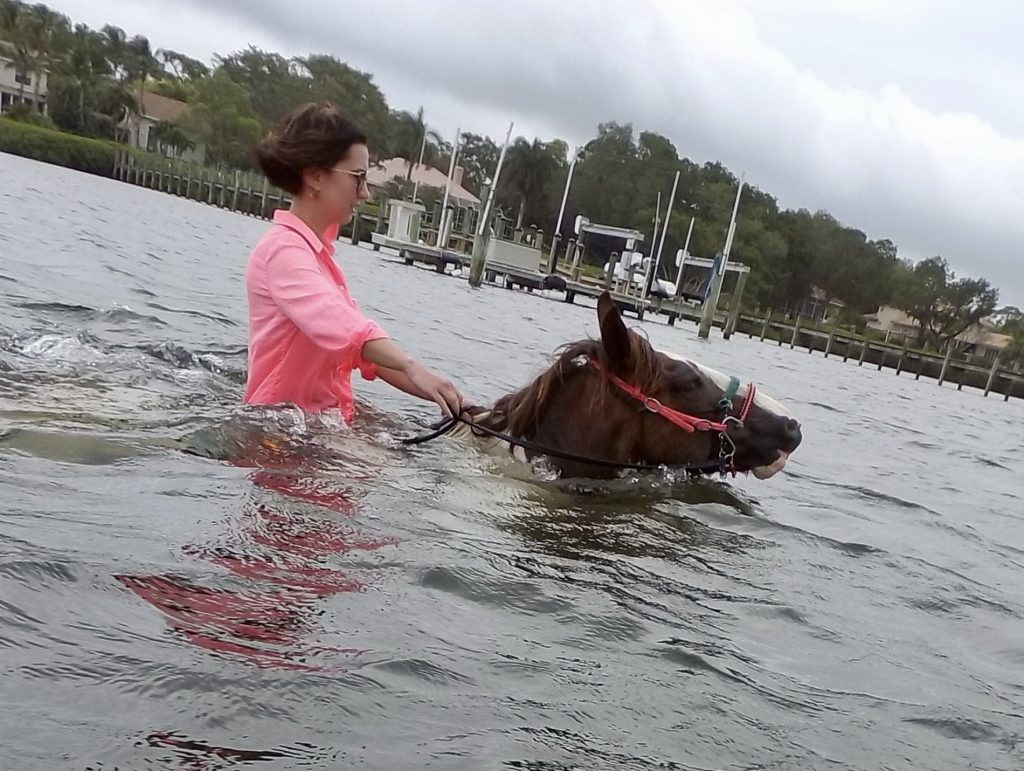 Swimming with Horses in Bradenton, Florida
Yes, you read that right! You can go SWIMMING with horses in Bradenton (just outside of Anna Maria Island). I'm not going to lie… when I signed up to do this trip… I really thought this was just a leisurely horseback ride along the beach. However, these horses will actually take you swimming, and they love doing it! (Be sure to wear fast-drying clothing and also water socks! Flip-flops are not allowed. These are the water socks that my family and I ordered – they worked great.)
About 95% of these horses are rescues so you get to share in their experience at a second chance in life. In addition to the unique experience of swimming on horseback, you'll enjoy stunning bay views and maybe even some wildlife sightings of dolphins, stingrays, and manatees.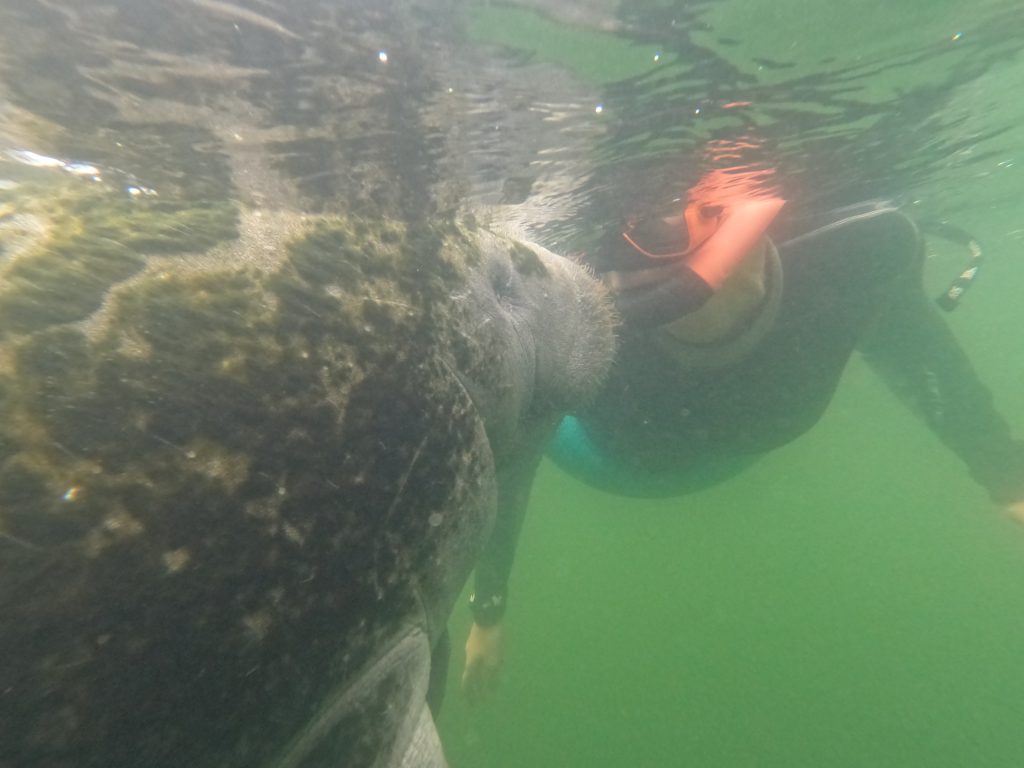 Snorkeling with Manatees in Crystal River
Known as the Home of the Manatees, Crystal River, FL is the only place where it's legal to swim with these gentle creatures in their natural habitat. Crystal River also has the largest concentration of these mild-natured "sea cows" than anywhere else in the world. We had a fantastic time doing a private boat tour with Fun 2 Dive, and couldn't get over how friendly and curious the manatees are. Fun 2 Dive can take you on an unforgettable manatee encounter in the Crystal River National Wildlife Refuge via guided boat tours, kayaking, and snorkeling.
Note: after you swim with the manatees, head to Cajun Jimmy's Seafood Seller and Cafe for AMAZING seafood and prices (pictured below).
Go on the Ybor City Food and Drink Tour
Just northeast of Tampa's downtown is Ybor City, a National Historic Landmark boasting of Cuban and Latin American culture. The avenue is known for its vintage shops, boutiques, bars, cinema, and indie foods which you can experience via a city food and drink walking tour. You can sample up to six food and beverage tastings while learning about the rich history of Ybor City on foot.
Go Parasailing at Madeira Beach
Those who'd like an exhilarating yet relaxing activity at the same time can try parasailing at Madeira Beach. Take to the skies on a state-of-the-art parasail as it lifts you gently hundreds of feet in the air. Enjoy the breathtaking views of the beach with each flight lasting approximately 10 to 12 minutes. You can fly solo, in tandem, or in triple, plus, there's a GoPro and photo package should you want a keepsake of the incredible experience.
Read next: A First-Timer's Guide to Parasailing – What to Expect, What to Wear + When to Go
Take a Shell Key Island Cruise
One of the most entertaining cruises you can take in the area is the Shell Key Island Cruise from St. Pete Beach.. It's best known for its friendly and playful marine residents—dolphins! There are plenty of opportunities for wildlife watching and snorkeling as well; you can even spot manta rays, turtles, and manatees swimming about. The cruise also offers riding in a clear kayak and a romantic sunset cruise.
Visit the Museum of Fine Arts in St. Petersburg
The Museum of Fine Arts in St. Petersburg features a comprehensive art collection that covers almost 5,000 years of civilization seen in its priceless antiquities and contemporary pieces. Explore the grand sculpture garden and get to see masterpieces from O'Keeffe, Monet, Wiley, as well as the permanent exhibits and photography collection from renowned artists.
Feel the Thrill at Busch Gardens Tampa Bay
A day of thrilling rides and getting up close with exotic animals await visitors of Busch Gardens in Tampa Bay, an African-themed adventure park featuring eight themed areas. It's the perfect attraction for a fun family day out where adults can see live concerts and festivals while the kids can ride the rollercoasters and observe the animals from the Serengeti express train.
Underwater Adventure at the Florida Aquarium
The Florida Aquarium in Tampa features colorful marine ecosystems and aquatic habitats and is one of the best aquariums in the country. Spend an entire day exploring the site where you'll see amazing species like sharks, otters, sea turtles, and lemurs. They also offer a coral reef and stingray beach exhibit, as well as a dolphin cruise.
I'm curious, what are some of your favorite things to do in Ruskin, Florida? Or what is your favorite day trip to take from Ruskin? Let me know in the comments!
We stayed in this vacation rental in Little Harbor Resort in Ruskin.
*Disclosure: some of these links are affiliate links. Meaning, if you click a link and make a purchase, Have Clothes, Will Travel gets a very small commission at no extra cost to you. Thank you for supporting the brands that make this blog possible!