The Ultimate Guide to Swimming with Manatees in Crystal River, Florida
Swimming with manatees in Crystal River, Florida was a dream come true! I'm sharing my experience swimming with them, and everything you need to know before you hop in the water with these gentle giants.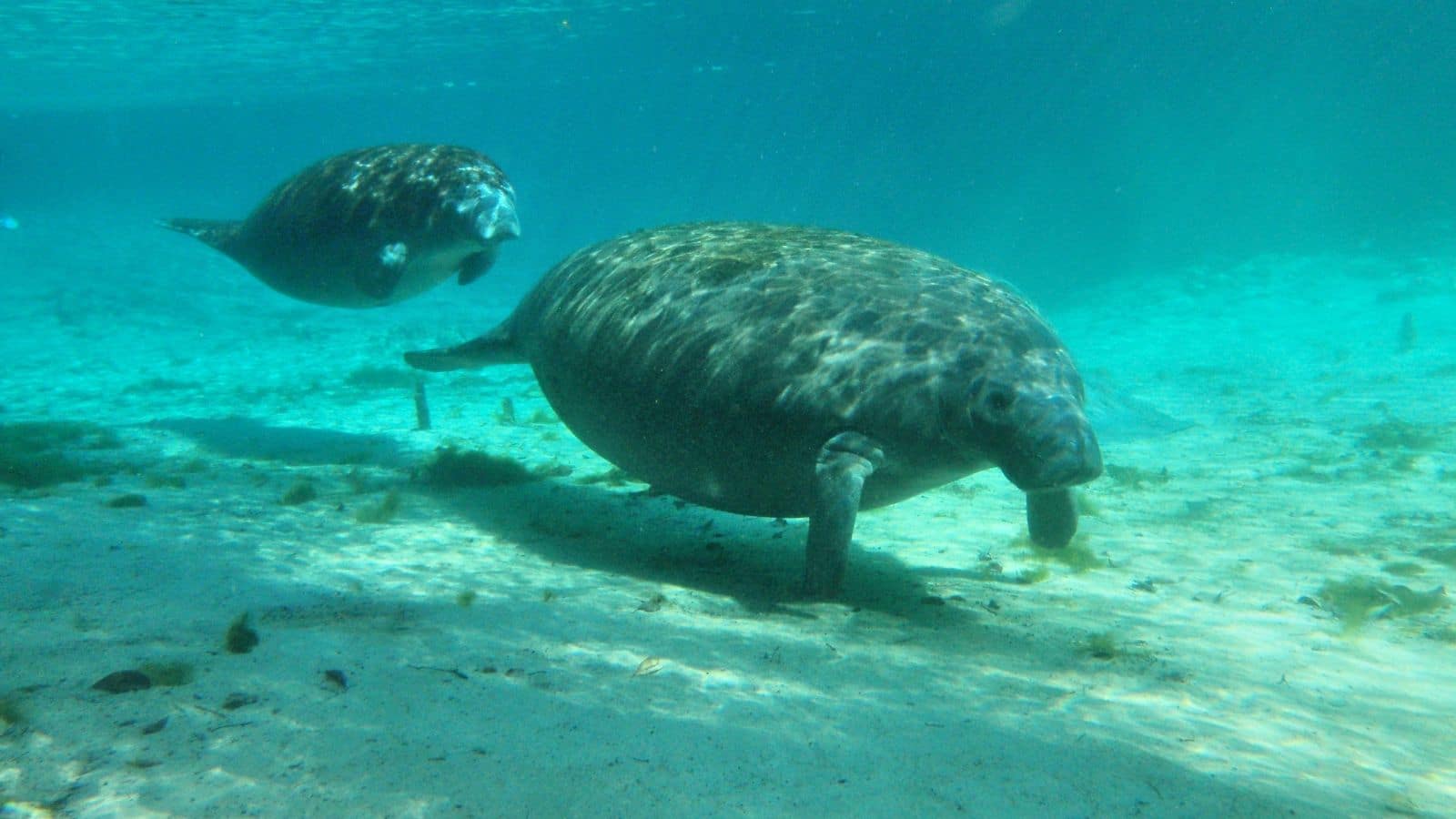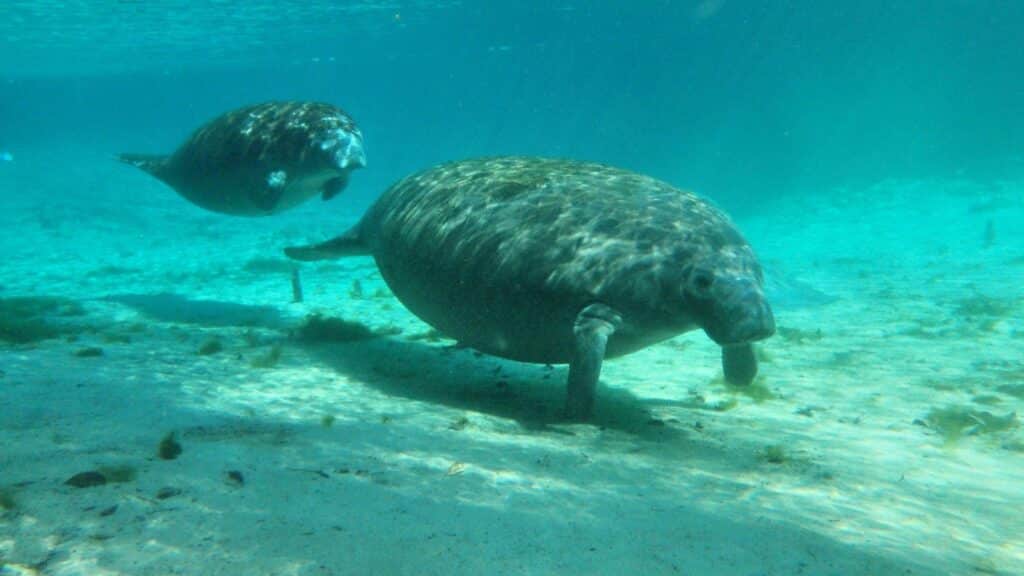 It's hard to believe that there are species of marine animals that are calm and peaceful as they are cute, adorable, and cuddly. Manatees and their lives are always a constant source of fascination to many (myself included). These large and lumbering creatures have egg-shaped heads, round bodies, tiny eyes, wrinkled faces, a flat tail, and two forelimbs that will instantly capture your heart. Swimming alongside them makes for a unique and unforgettable experience of a lifetime!
Manatees are herbivores that tend to gracefully glide through the water, feeding on the aquatic plants that surround them including sea grasses, algae, and mangrove leaves. Their fondness for grazing in shallow rivers and coastal areas made people dub them as "gentle sea cows" that eat almost 10% of their body weight in vegetation daily. They are one of the ocean's largest herbivores that can live up to 65 years old, measure up to 14 feet long, and weigh over 1,000 pounds.
Swimming with manatees will not only leave you with a newfound appreciation for them, but it's also an incredible opportunity to learn about their role in the ecosystem. They prevent local vegetation from becoming overgrown, feed on water hyacinth and other invasive marine species, and fertilize sea grasses resulting in a balanced ecosystem.
Did you know that a large group of manatees is called an aggregation?
Is it OKAY to swim with manatees?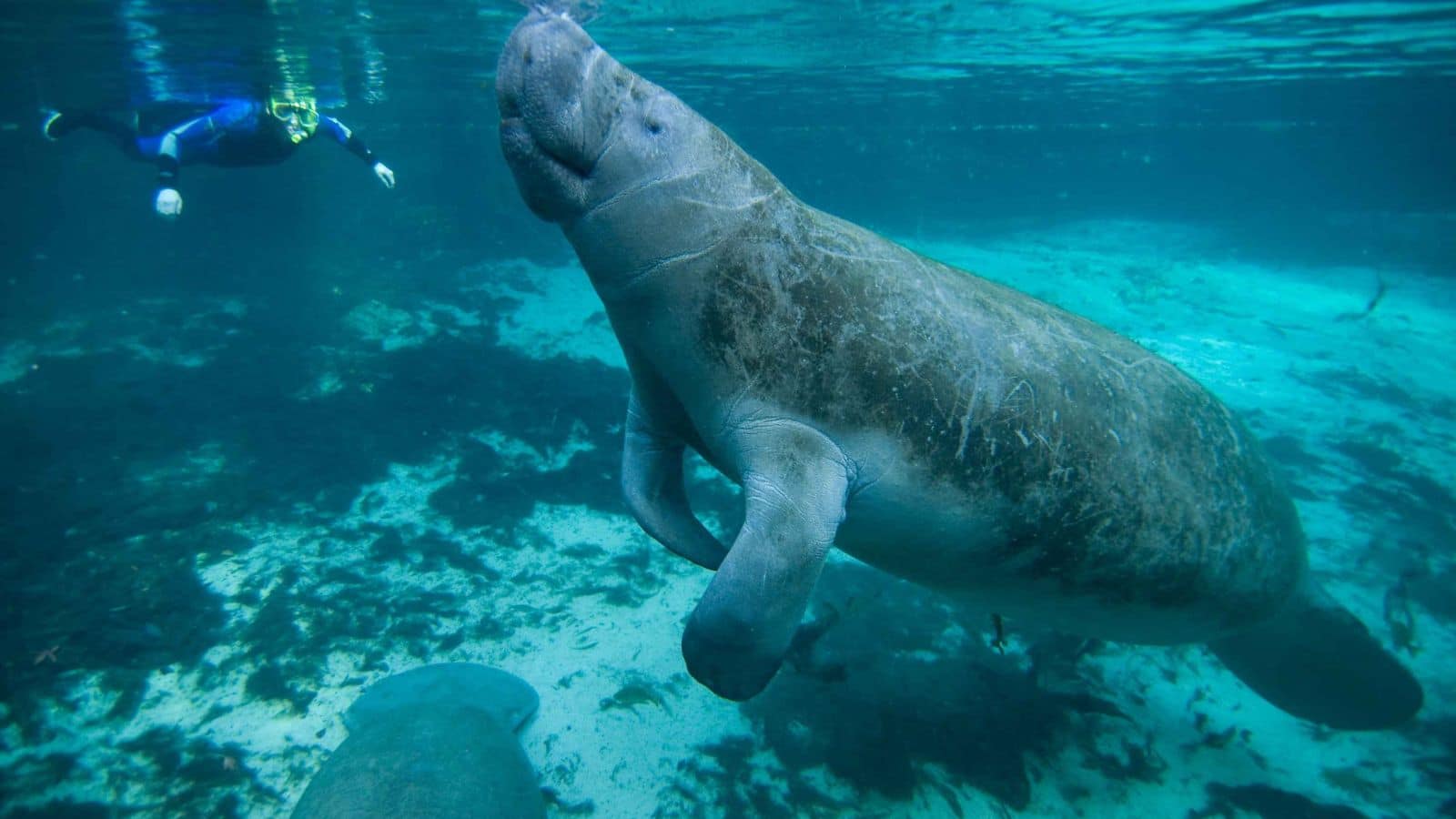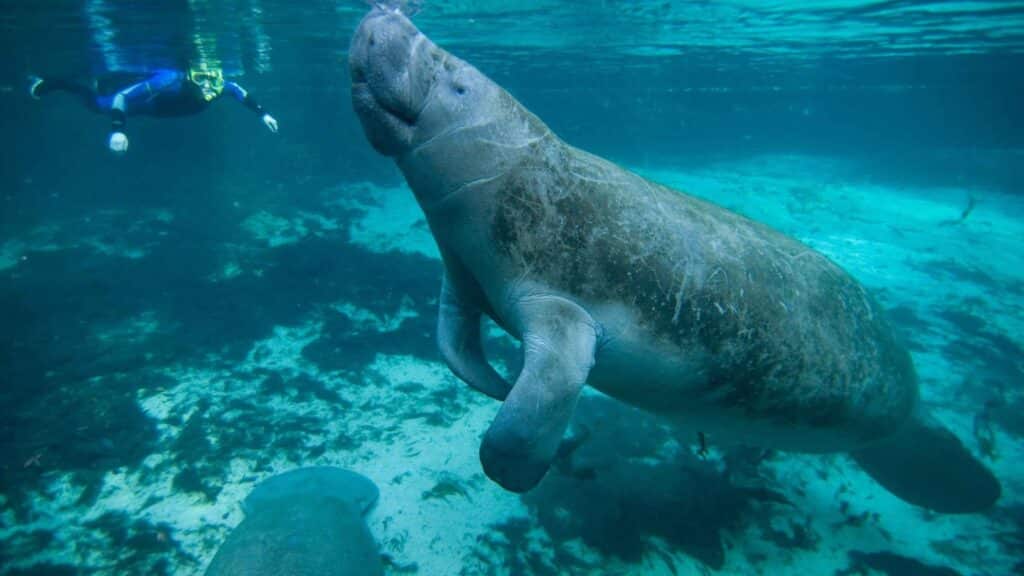 You don't need a tour to swim with manatees, but I HIGHLY recommend it for your safety and the safety of the manatees. Our tour guide from Fun2Dive said there is nothing more dangerous to the manatees than a tourist with a rental… which was said as a rental boat nearly ran over a manatee and its baby. Please, please, just book a tour with a professional if you are not familiar with the area.
These ambling creatures are protected by state and federal laws under the Marine Mammal Protection Act of 1972, Endangered Species Act of 1973, and the Florida Manatee Sanctuary Act of 1978. Manatees are listed under the Threatened category—being more at risk than you realize.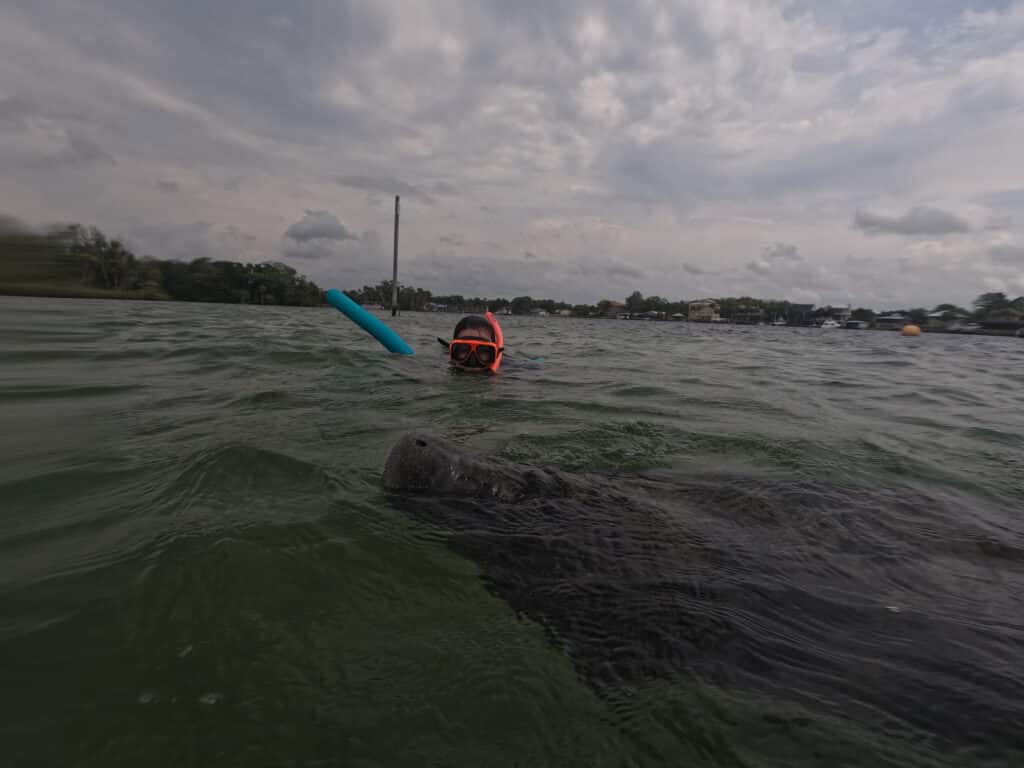 When done responsibly and with respect to their natural habitat, swimming with these gentle creatures can be a safe and incredible experience. Manatees tend to approach swimmers out of curiosity, so it's important to follow the guidelines set by the state, conservation groups, and tour operators to ensure their welfare. Swimmers must keep a respectful distance and avoid touching or harassing the manatees.
Manatees have good visual acuity in medium or long distances but are short-sighted at a close range, and while this makes for a close and adorable interaction when you're swimming alongside them, the first contact must be initiated by the manatee.
If you're respectful of the manatees, they will sense this and want to be near you. I honestly was swimming away from the manatees at first, as they kept bumping into me, and I thought I was breaking the law! My guide laughed and explained it was fine to hold still and let the manatees check me out, and touch me. (I get into the dos and don'ts of swimming with manatees at the end of the post.)
Manatees are also NOT dangerous. They are incredibly docile creatures that pose no threat to humans.
Where can you swim with manatees?
You'd think that their blubbery size and shape would protect them from winter months, but manatees aren't built for the cold. Unlike other mammals like dolphins, manatees don't have blubber to protect them from the harshness of winter and hypothermia. They have low metabolic rates and get easily stressed when the environment drops below 68 degrees, so they seek warmer havens where they can happily swim, relax, and manatee around.
The manatees' favorite home to migrate to when it gets cold is Florida, particularly Crystal River (Kings Bay) on the west coast. They are also spotted in the warm spring-fed waters of Citrus County and Three Sisters Springs, as well as in some parts of Massachusetts, Texas, Alabama, South Carolina, and Georgia.
However, Crystal River, Florida is the only place on the continent where it's legally permitted to swim with manatees in their natural habitat.
There's plenty of opportunity to get up close and personal with these adorable, herbivorous creatures—all at a safe and regulated distance, of course.
What is the best time of year to swim with manatees?
While you can spot manatees all year round in Crystal River, their population tends to swell starting November through April making it the best time of the year to go on swimming and on snorkeling tours. Manatees are at their most active and playful during early mornings, and it's recommended to visit the springs during weekdays, as weekends tend to get a little crowded.
Note: We snorkeled with manatees in Crystal River, Florida in early April. We also went later in the afternoon on a weekday and did see several playful manatees.
There are Semi-Private Manatee Swim tours available year-round with Fun2Dive if you want a more intimate setting. (This is the tour my family and I did, as a private tour, and highly recommend it.) This kind of group snorkel tour only accommodates six guests per boat, so you're assured of an up-close and unhurried experience with these gentle giants.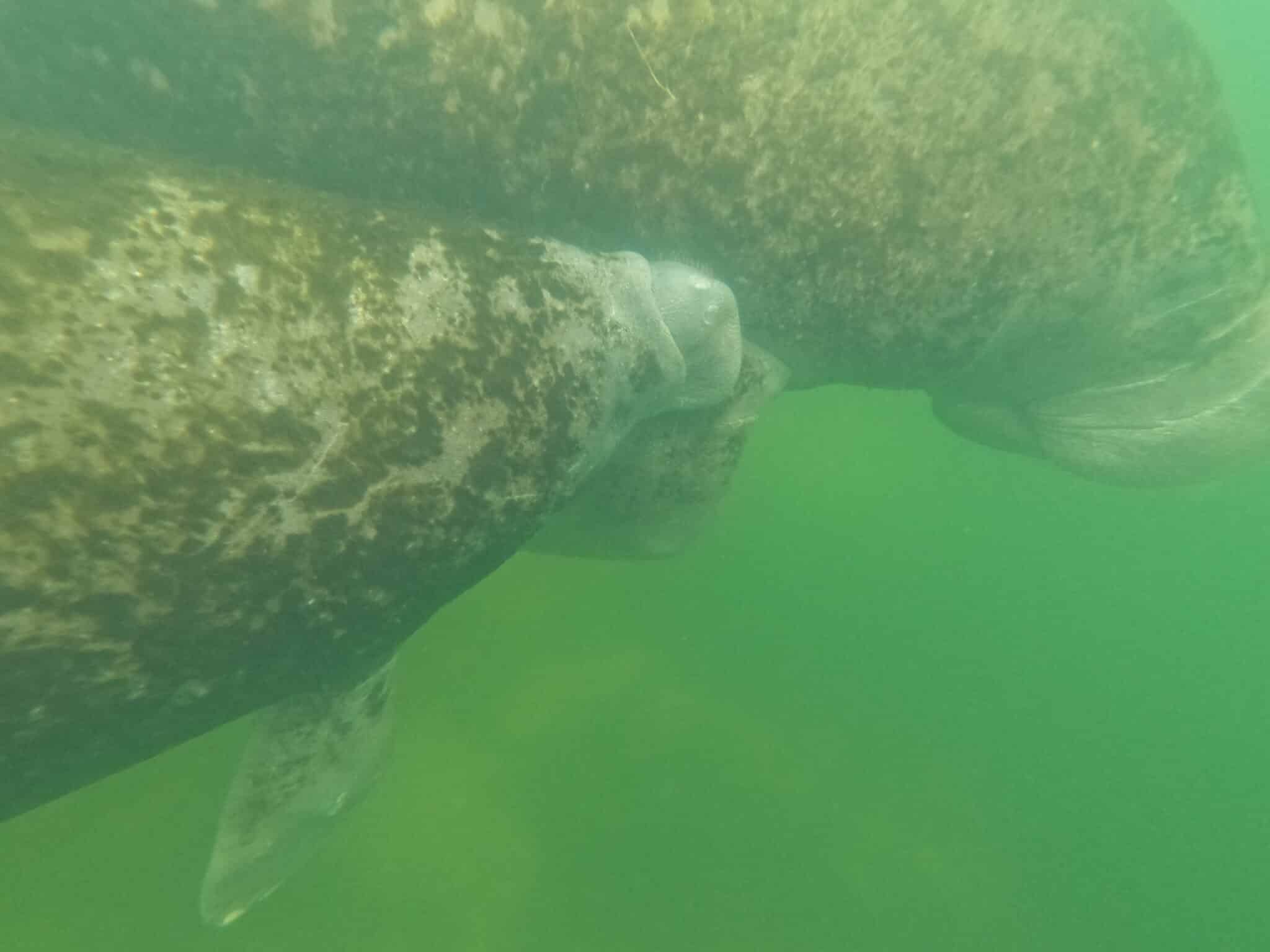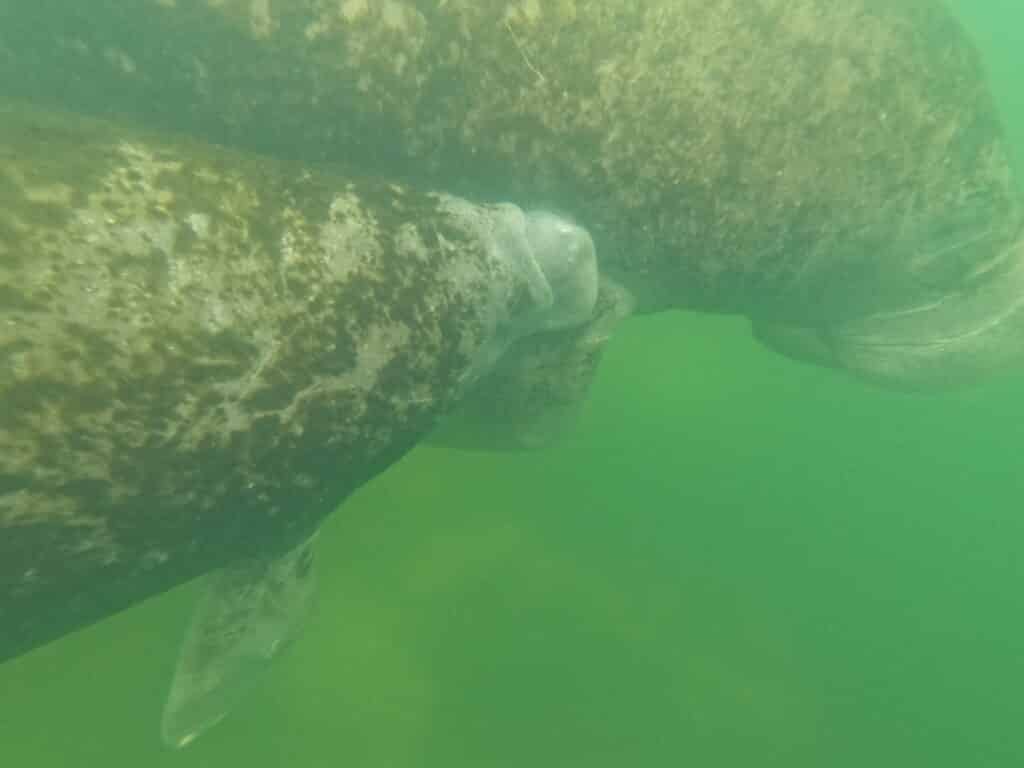 Tour operators and nature guides offer a variety of water-based activities for going on manatee adventures including snorkeling, swimming, paddleboarding, diving, and kayaking.
Is the water cold in Crystal River?
Given that manatees are sensitive to the cold, you can expect the water to be between 68-72 degrees, which is the ideal and comfortable temp range for the manatees to enjoy. While the air temperature is cold for some people, wetsuits and other anti-chill gear are provided by tour operators to keep swimmers warm during their encounters with the manatees. (Fun2Dive did give us wetsuits, and also gave us noodles and snorkel gear to use white we swam!)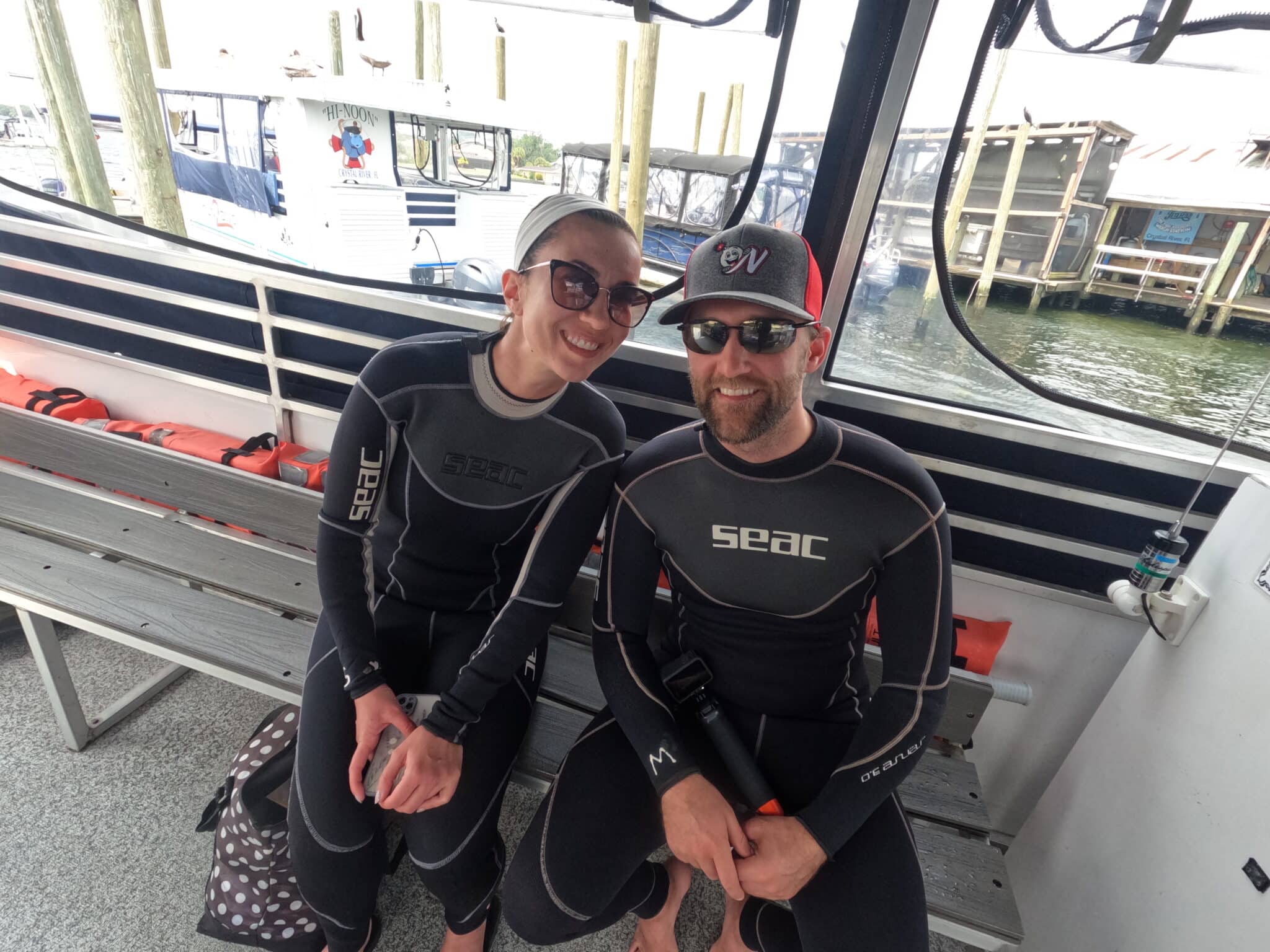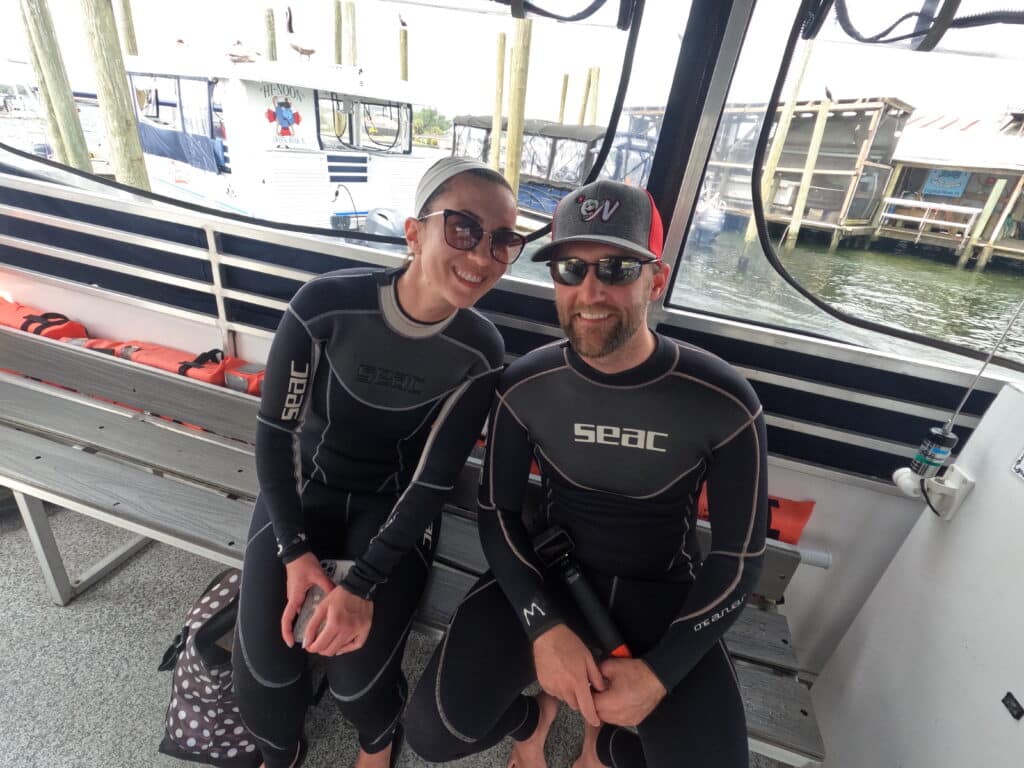 Another way to protect yourself from cold, if you're hypersensitive, is to wear a neoprene hood, gloves, and booties for extra insulation and prevent heat loss. Staying hydrated and eating a nourishing hot meal can boost your energy while drinking a warm beverage like tea and hot chocolate before swimming also helps in keeping your body warm from the inside out.
Note: Personally, we were grateful for the wetsuits, and found that was plenty to keep us warm while we swam with the manatees.
Proper Manatee Manners: Can you touch a manatee?
For the health and safety of the manatees, strict rules and regulations are put in place for visitors to follow. For instance, if the manatee comes up to you, you can gently touch the manatee with one hand, but you must not approach one that's resting or feeding. (Personally, I would say to avoid touching the manatees, for their health and safety.) It's also strictly forbidden to chase, kick, splash, or poke a manatee, and even touch one using two hands. Here are the dos and don'ts when it comes to meeting manatees: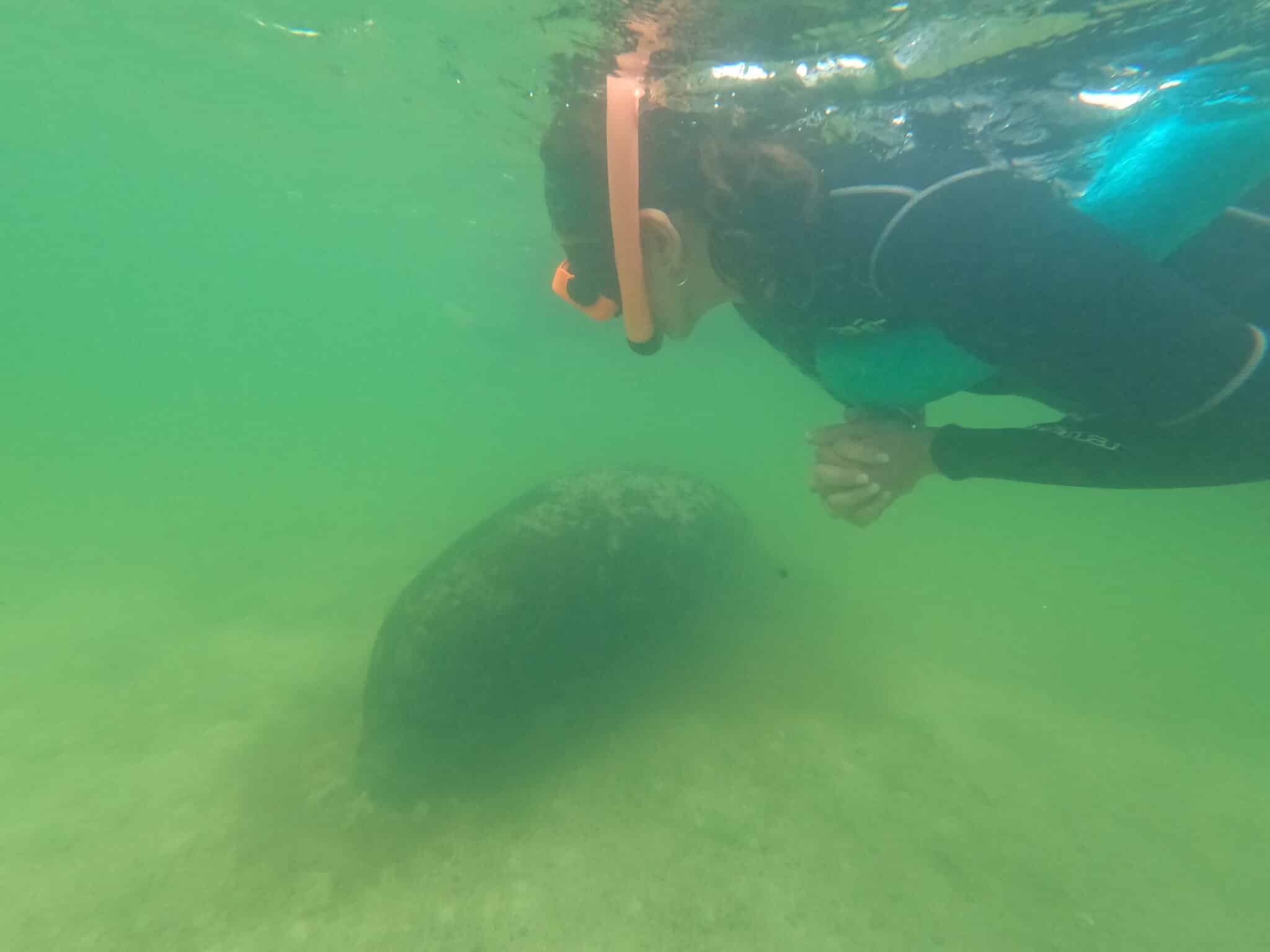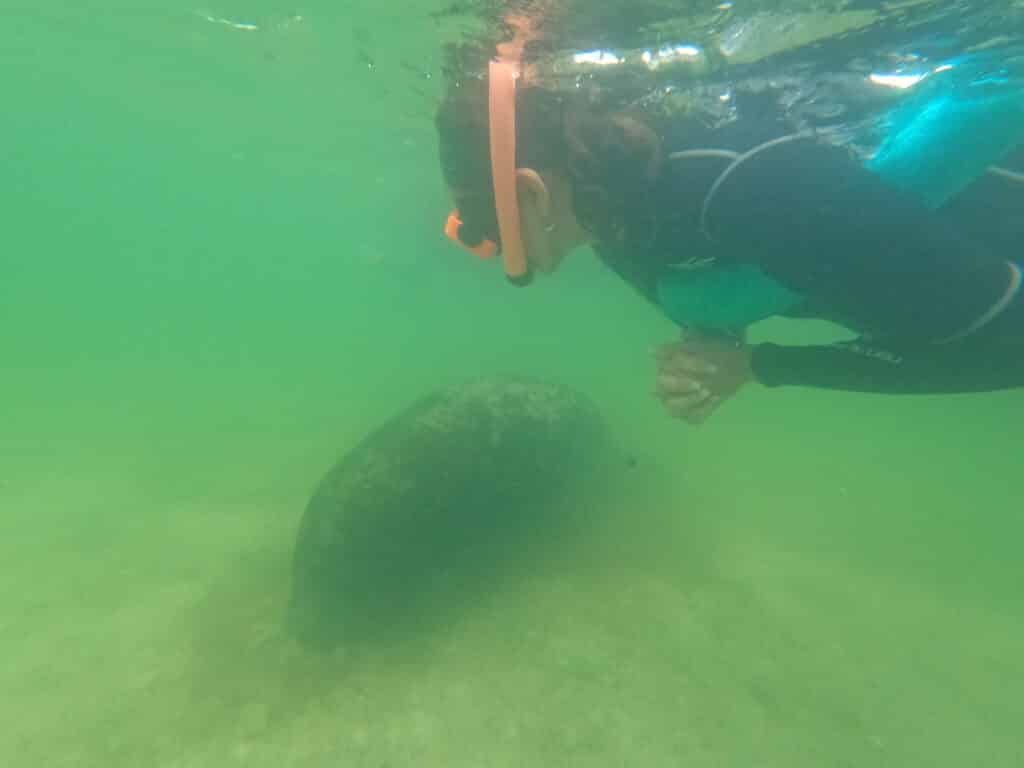 Avoid touching. Keeping your hands to yourself as much as possible is generally the main rule. This is to avoid the manatees being accustomed to people which can alter their behavior making them more susceptible to harm. Given that manatees are naturally curious, they may want to engage with you but only do so when they initiate first contact. You may only touch with one open hand and let the interaction flow naturally. The less you touch these docile sea cows, the longer they will likely want to swim with you.
Passive observation. It's tempting to hug the cuteness out of them, but leave everything up to the manatees. Remember that you're on their turf, and it's a privilege to be with them in the wild. Passive observation means waiting patiently for a manatee to approach you. Never disturb, chase, follow, or wake a sleeping manatee. Should a manatee avoid you, don't chase for a closer view.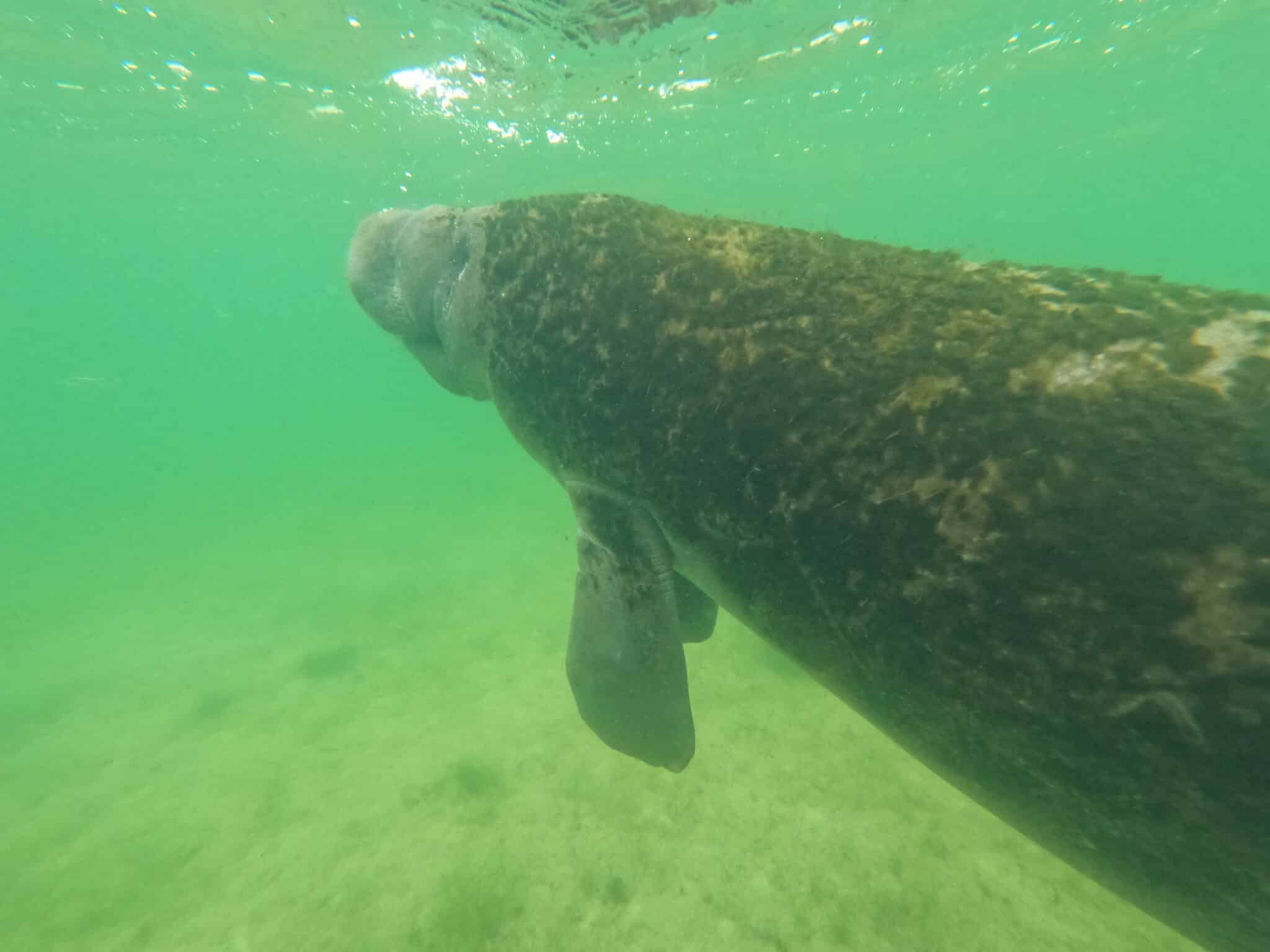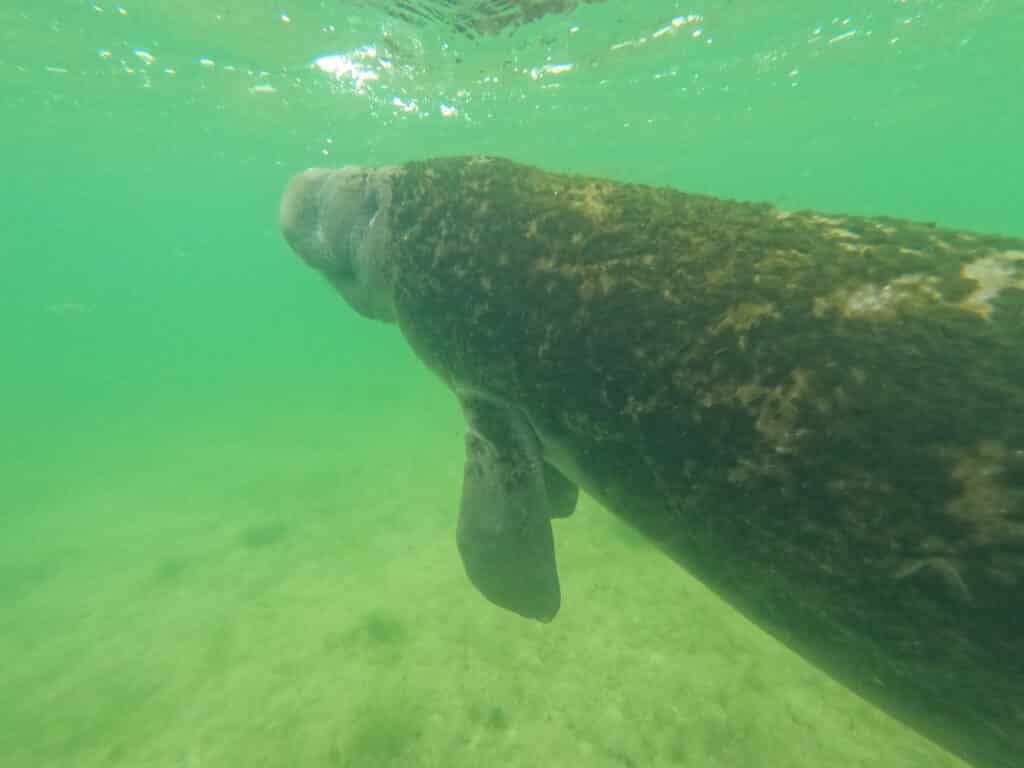 Go in silently. When on a manatee swim tour, go in the waters silently as loud splashing, blowing bubbles, or cannonballing can scare them away. Slowly swim towards the area and make yourself known with a dive flag, try to be mellow in your movements to avoid disrupting resting manatees. They may surface totally unaware of your presence, get startled, and may be placed in harm's way.
Manatees first. No matter how slow-moving they are, manatees will always have the right of way. They were there first and remember that you're in their natural habitat. Give them more space to move around and don't try to chase, single out, corner, or isolate one manatee from its group, especially a calf.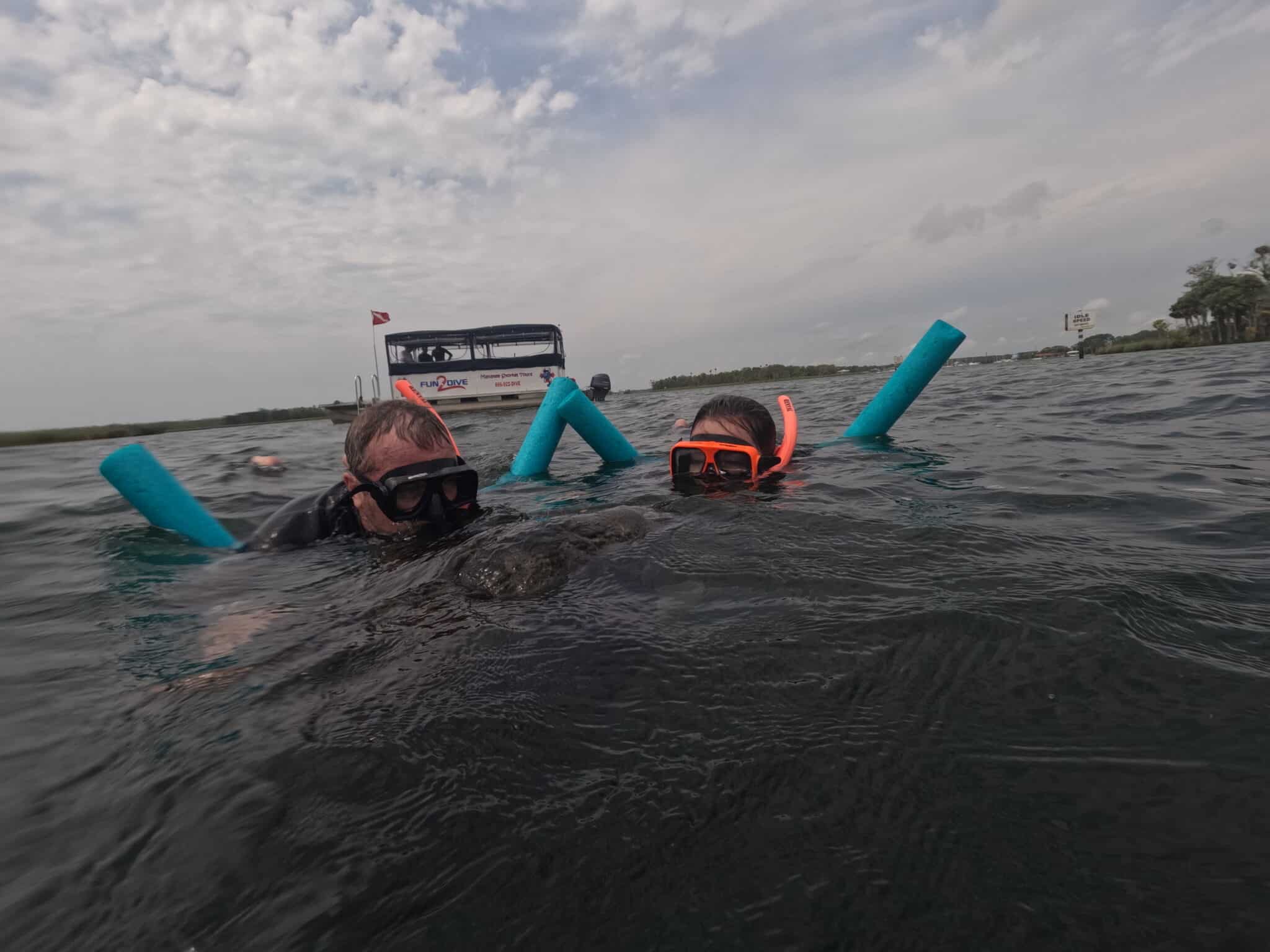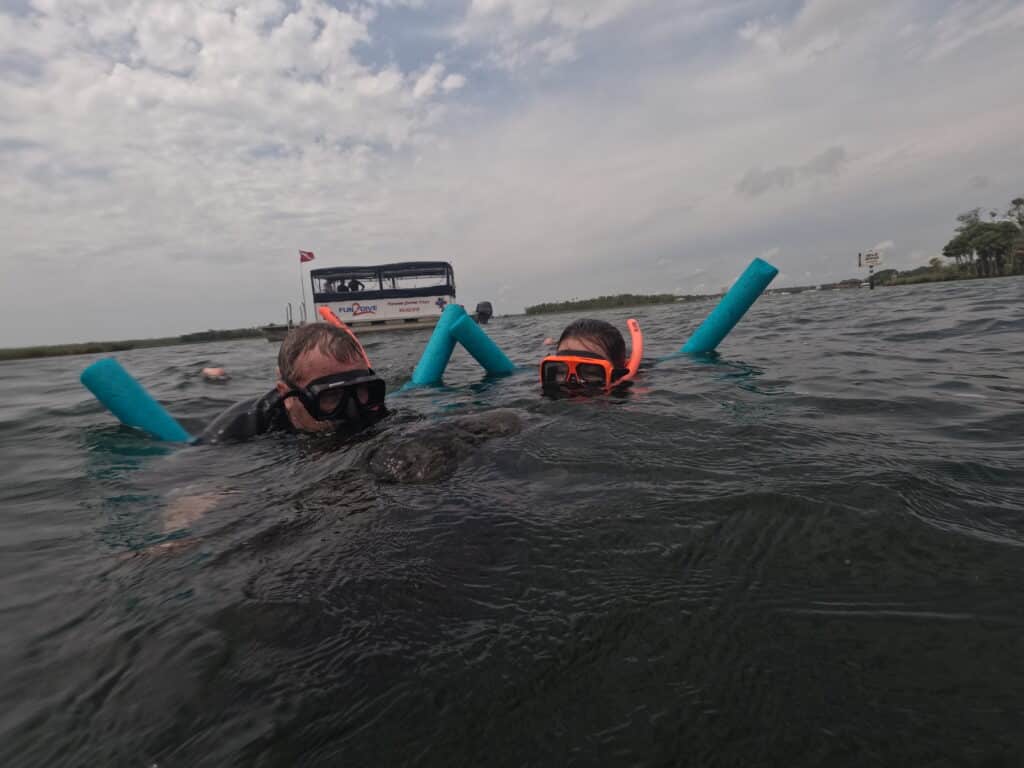 Dress for protection. Tour operators usually provide wetsuits, snorkel masks, and a noodle. You can also wear your own wetsuit and bring your own snorkel gear. The wetsuit and noodle will keep you afloat on the surface and prevent you from bottoming out to where a group of manatees may be resting.
Don't kick your legs. Tour operators will instruct you to not kick your legs while you swim by the manatees – only use your arms. This is to prevent anyone from accidentally kicking a manatee. This also means you are not allowed to wear snorkel fins.
Avoid manatee lawns. Being the largest herbivores in the ocean, there are designated sanctuaries or lawns that are maintained where manatees can graze freely. These areas are off-limits to visitors—they are usually roped off and are not accessible to the public. You will be fined should you cross the barrier, so as a sign of respect to the manatees and their habitat, stay out of designated sanctuaries.
Pay attention. Learn to read manatee footprints. There are usually large circles forming on the surface of the water when there's a close manatee. In this case, slow down or avoid when boating near the area. Boats are one of the biggest threats to manatees accounting for many deaths due to collisions. You wouldn't want to be part of this now, would you? (Again, I HIGHLY recommend booking a tour with a professional, if you are not familiar with the area.)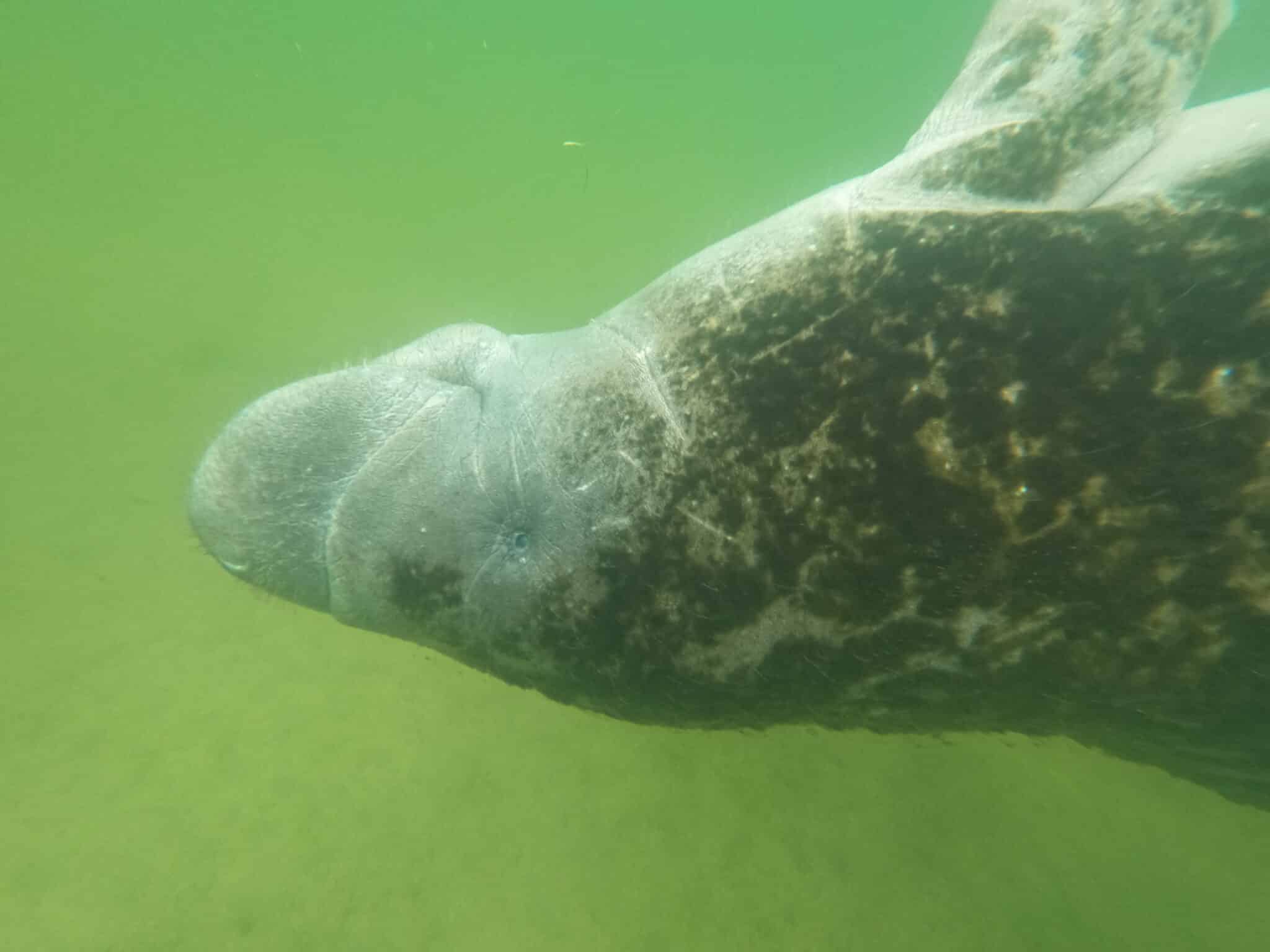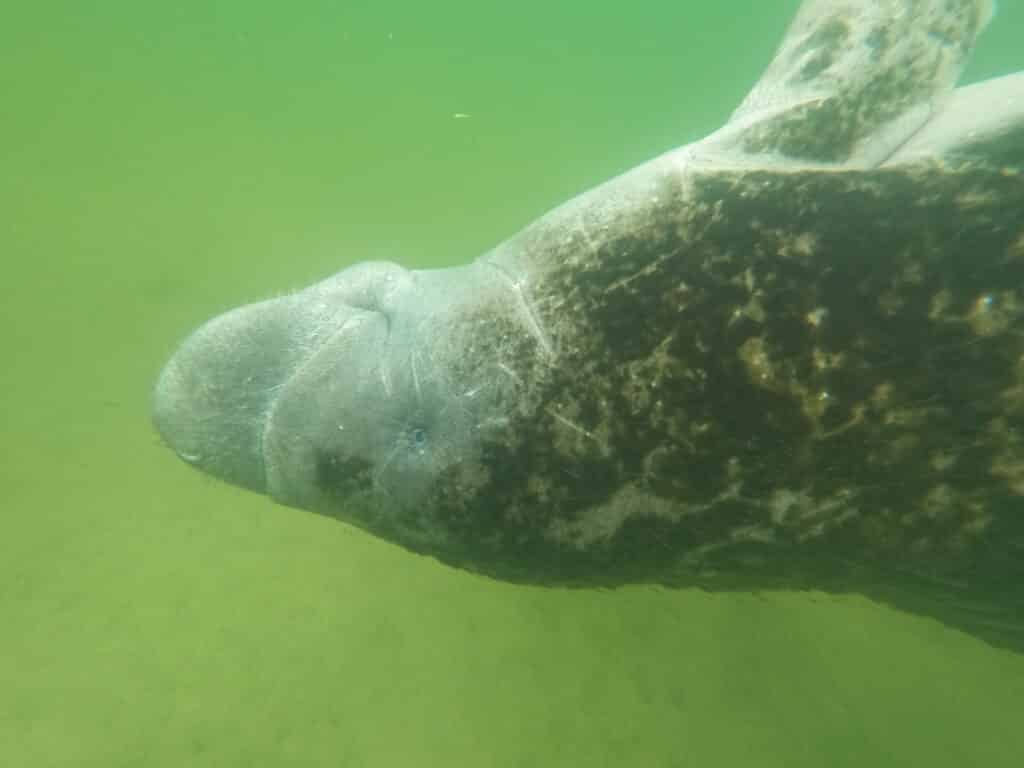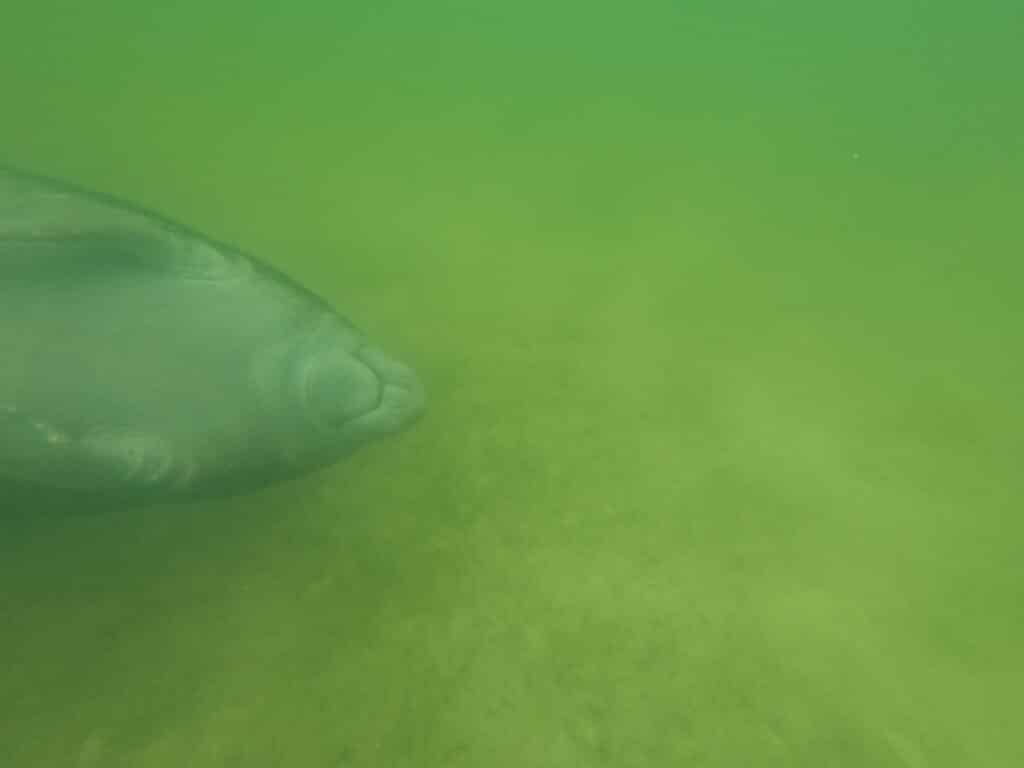 Aside from boat collisions, threats to manatees also include climate change, loss of habitat, poisonous algae bloom, pollution, and developing wetlands for human consumption. The dos and don'ts mentioned above are just the bare minimum when it comes to ensuring that the manatee population survives and thrives.
Responsible manatee interaction also involves following the rules and guidelines set by the state, as anyone convicted of violating the law can be fined a hefty $500 sum or can be imprisoned for up to 60 days. Meanwhile, a federal-level conviction is punishable by up to a $50,000 fine and one-year imprisonment.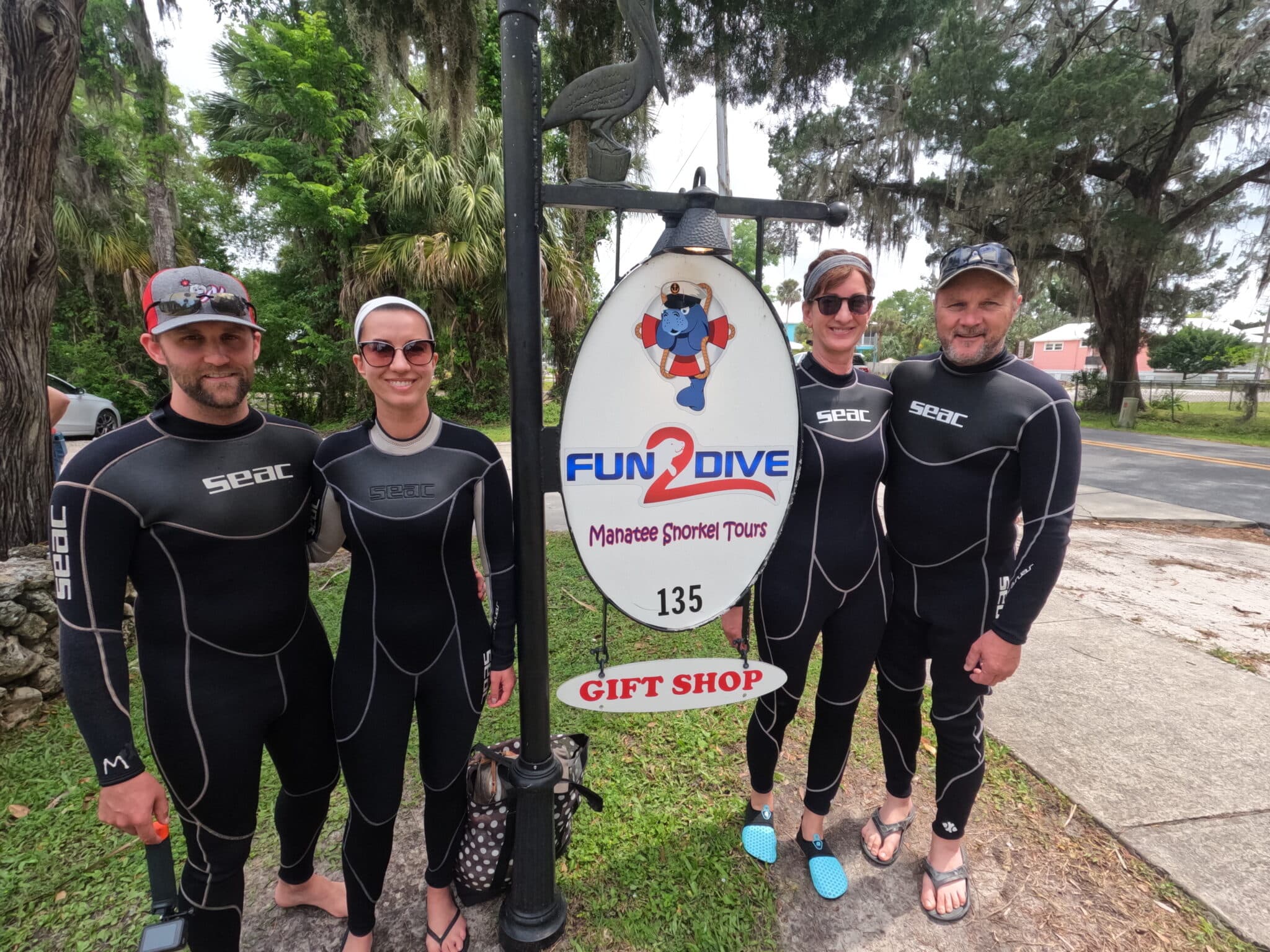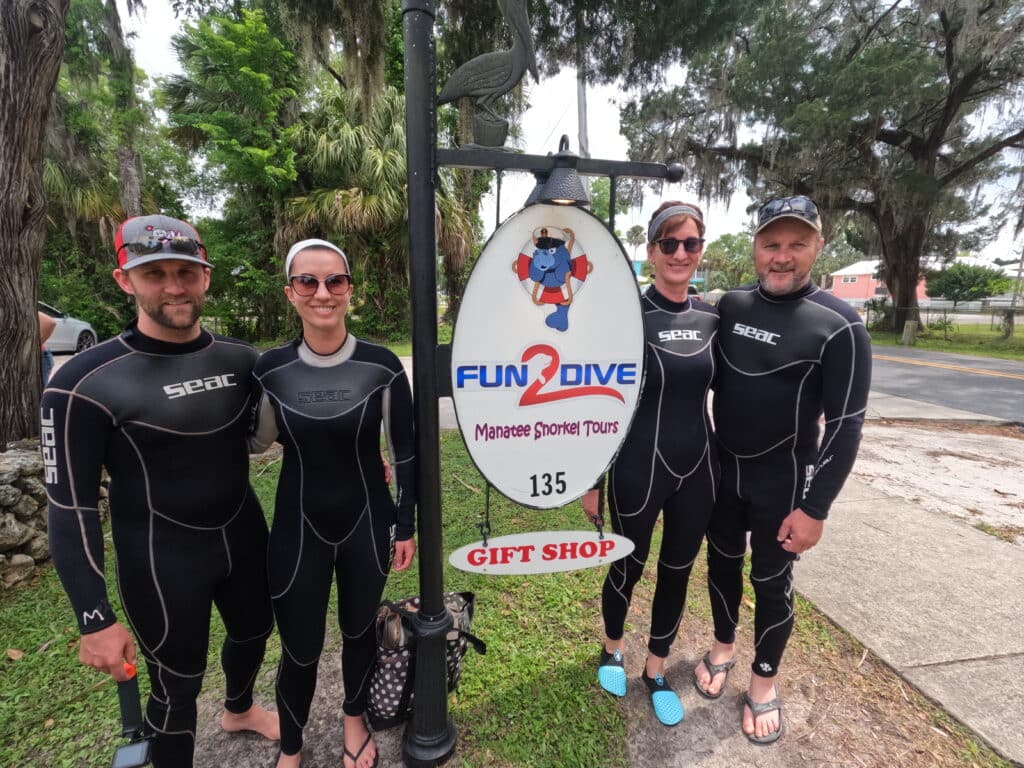 What to Expect on a Manatee Snorkeling Tour
Again, for our tour, we booked with Fun2Dive, as they had amazing reviews. We did their private tour, but even their Classic Manatee Swim only allowed 12 people on a boat at a time. If you see a tour that offers more than that, I would stay clear. That is WAY too many people in the water at a time swimming around a manatee.
Note: You will want to bring swimwear to change into, as well as a towel. And don't forget the sunscreen! That's all you will need to bring along for the tour.
The whole tour with Fun2Dive, was great, from start to finish. There was onsite parking, as well as bathrooms for us to change. We had driven from Ruskin, Florida, and didn't want to be wearing a wet bathing suit the whole drive back! Fun2Dive also has a cute little gift store you can shop at before or after your tour.
How the Fun2Dive Tour Worked:
We had a great time with Fun2Dive! Our guide also made a fantastic food suggestion for us in Crystal River!
Head to Cajun Jimmy's Seafood Seller and Cafe for AMAZING seafood and prices (pictured below).
Note: While we did bring and use our own GoPro, I also recommend purchasing the Fun2Dive photo package. Their photos and videos were WAY better than the ones we took, and they gave us over 100 photos, as well as videos, in the package. To me, this was well worth it. We also only had to purchase one photo package to share for our whole family.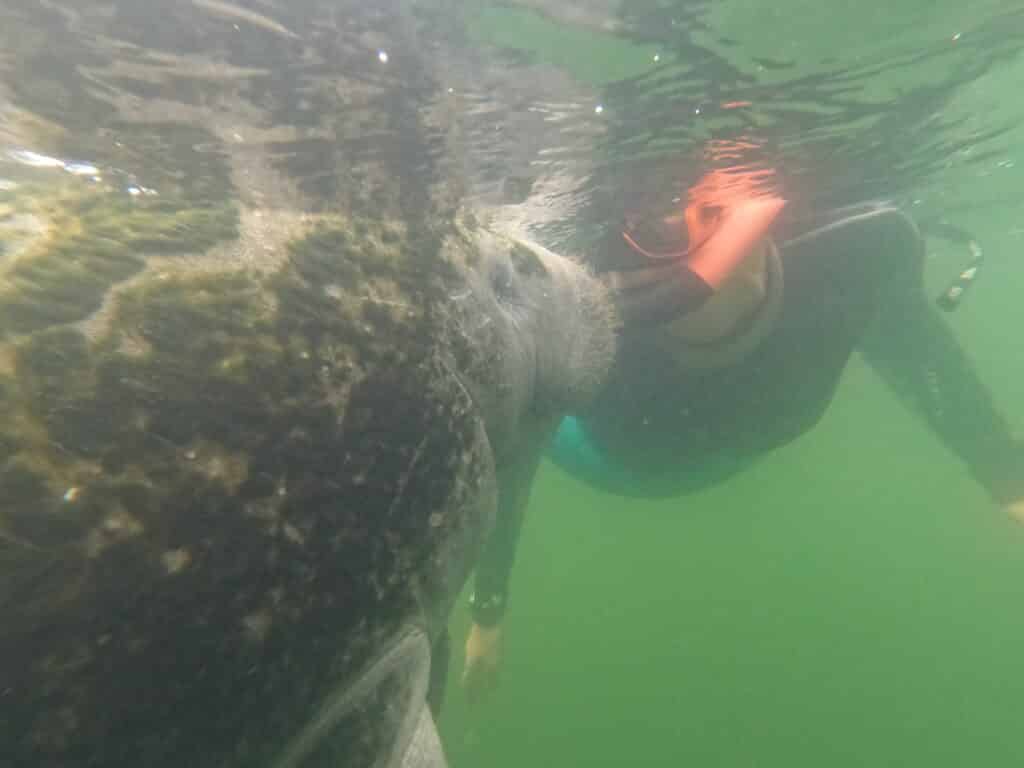 Do I Recommend Swimming With Manatees?
I highly recommend this experience, especially if you go with a professional tour operator like Fun2Dive. (They aren't sponsoring me or anything, I just really enjoyed the tour we booked with them!) I could not get over how curious and sweet the manatees were, and the love the guides had for the manatees.
From getting a "manatee kiss" to watching a baby and its mother swim around us, it's an experience my family and I won't forget.
Need a place to stay in crystal river, Florida?
Click below to see the top hotels!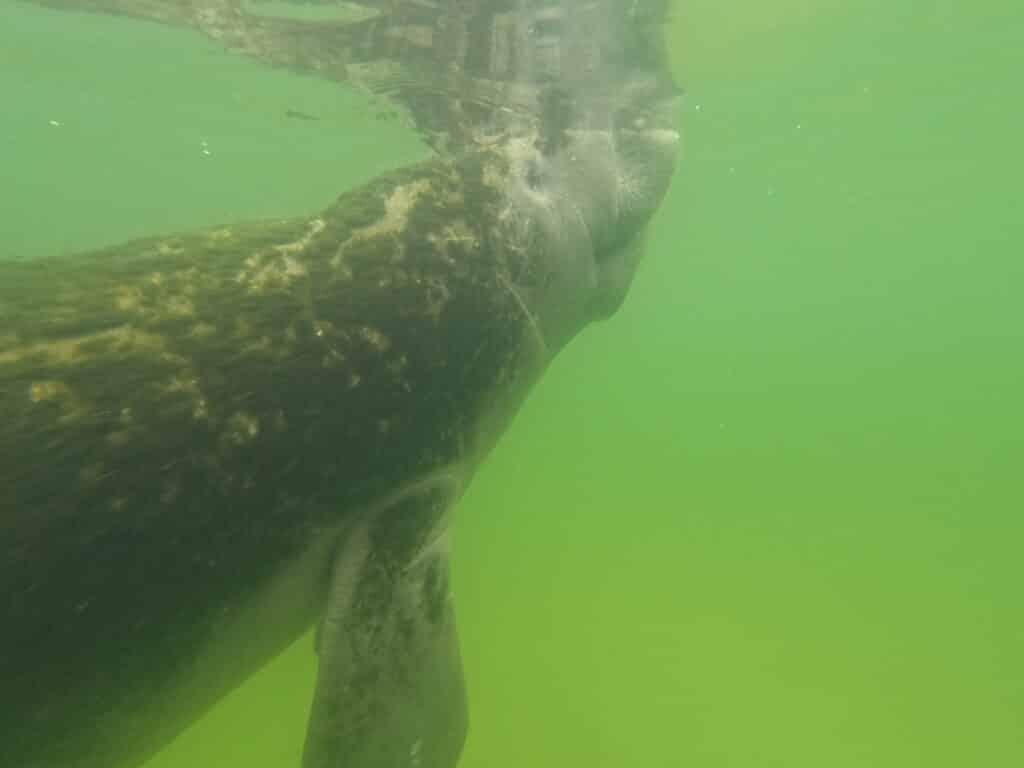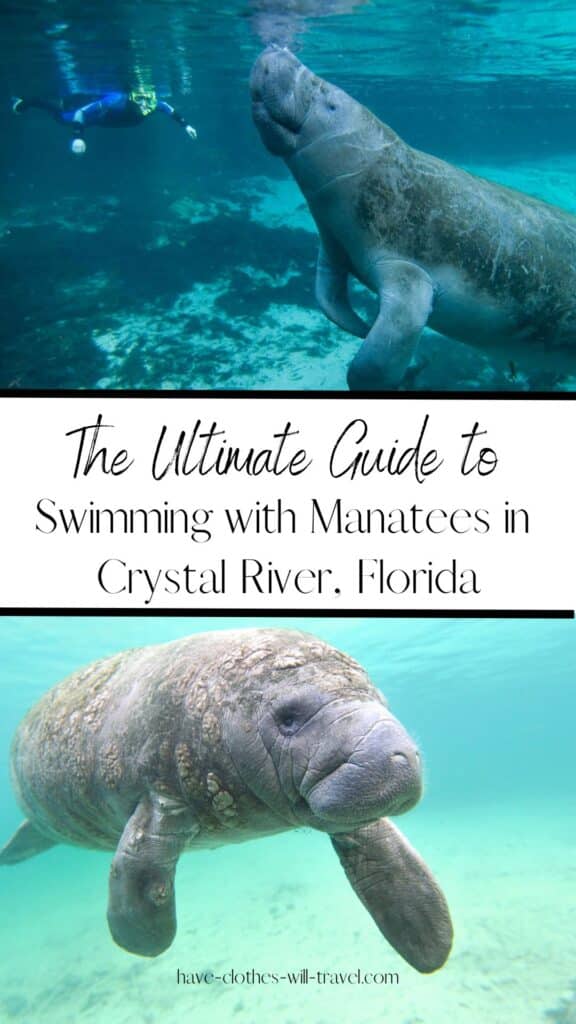 *Disclosure: some of these links are affiliate links. Meaning, if you click a link and make a purchase, Have Clothes, Will Travel gets a very small commission at no extra cost to you. Thank you for supporting the brands that make this blog possible!