The Coolest Airbnbs in Paris With Eiffel Tower Views & More!
Are you searching for the best Airbnb in Paris with Eiffel Tower views, Champs-Élysées views and more? This is the post for you!
I've found some of the coolest Airbnbs in Paris with insane views and incredible amenities. These Airbnbs range from chic studio apartments to luxury villas and everything in between. The post begins with the most extravagant, luxury Airbnbs in Paris with Eiffel Tower views… and ends with more affordable yet stylish options.
Enjoy! And let me know which of these amazing Airbnbs in Paris, France is your favorite in the comments sections at the end of the post.
*Disclosure: some of these links are affiliate links. Meaning, if you click a link and make a purchase, Have Clothes, Will Travel gets a very small commission at no extra cost to you. Thank you for supporting the brands that make this blog possible!
The Coolest Airbnbs in Paris, France
Views of The Eiffel Tower (Luxury Stays)
---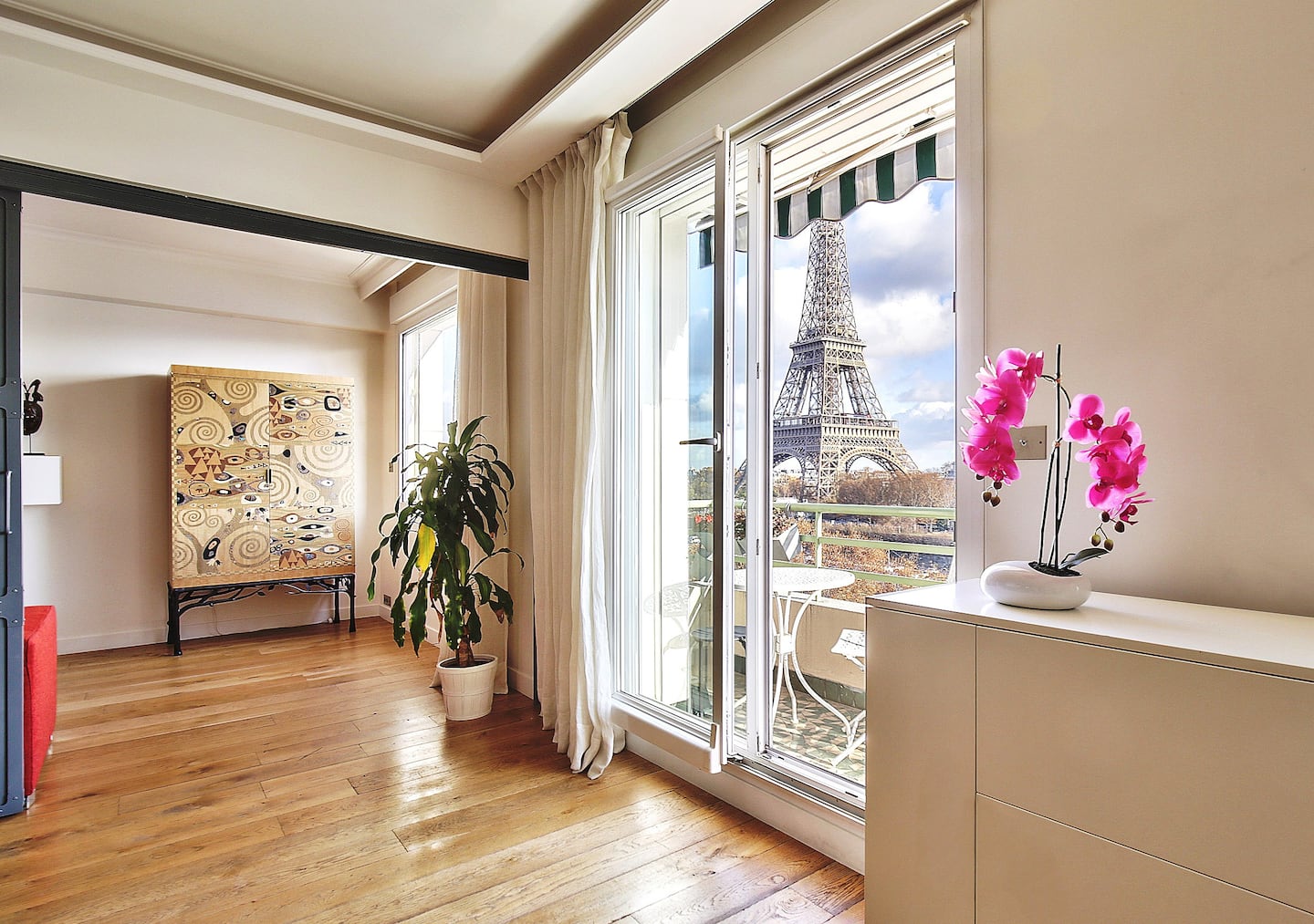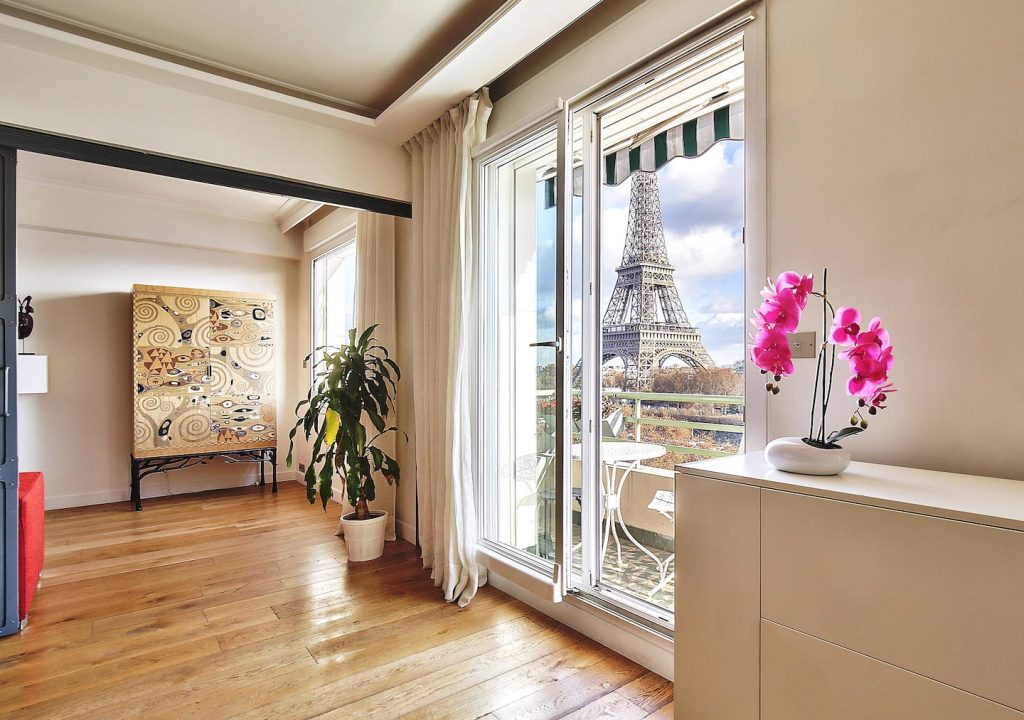 Luxury apartment with Eiffel Tower view
A luxury, 2-bedroom apartment with breathtaking and detailed view of the Eiffel Tower from the balcony. It's almost close enough to touch! The property is located across the Seine River and is 10 minutes to the Bir-Hakeim bridge and other notable tourist spots. If guests are ever in the mood for a romantic candlelit dinner, the apartment has fully-equipped amenities and a balcony with a small dining table to do just that.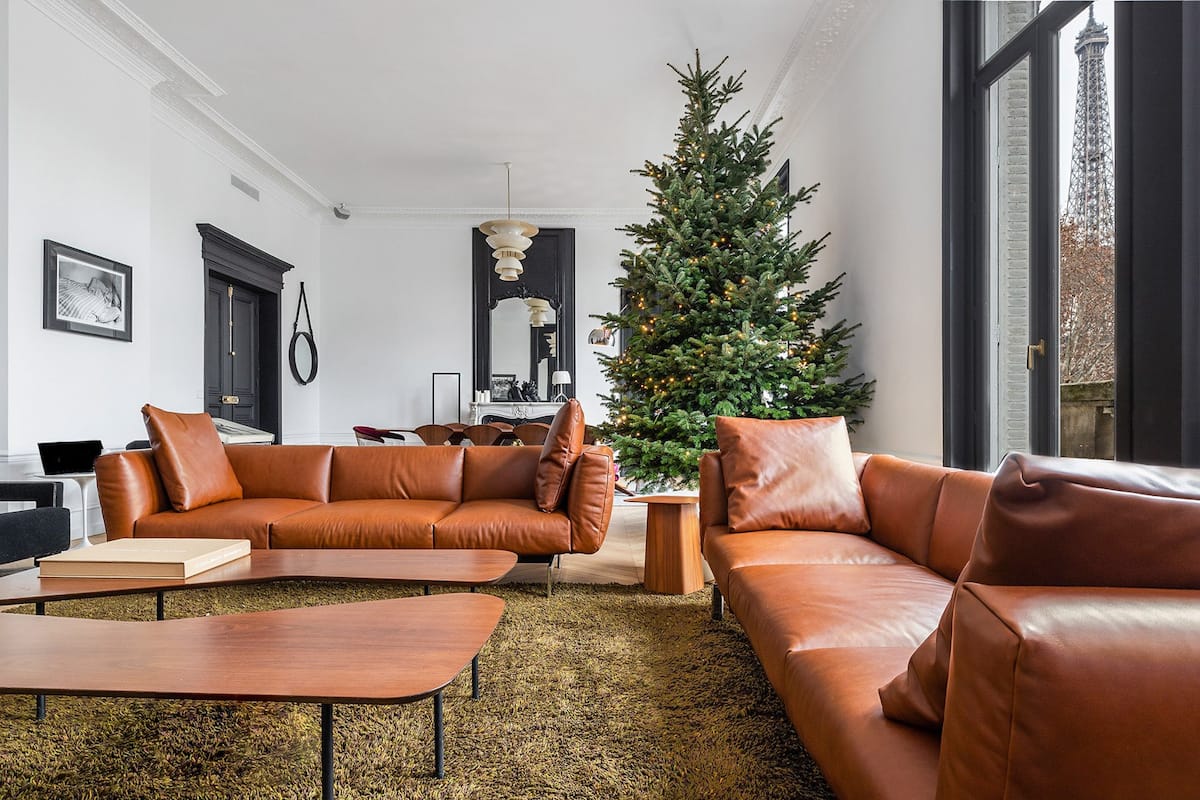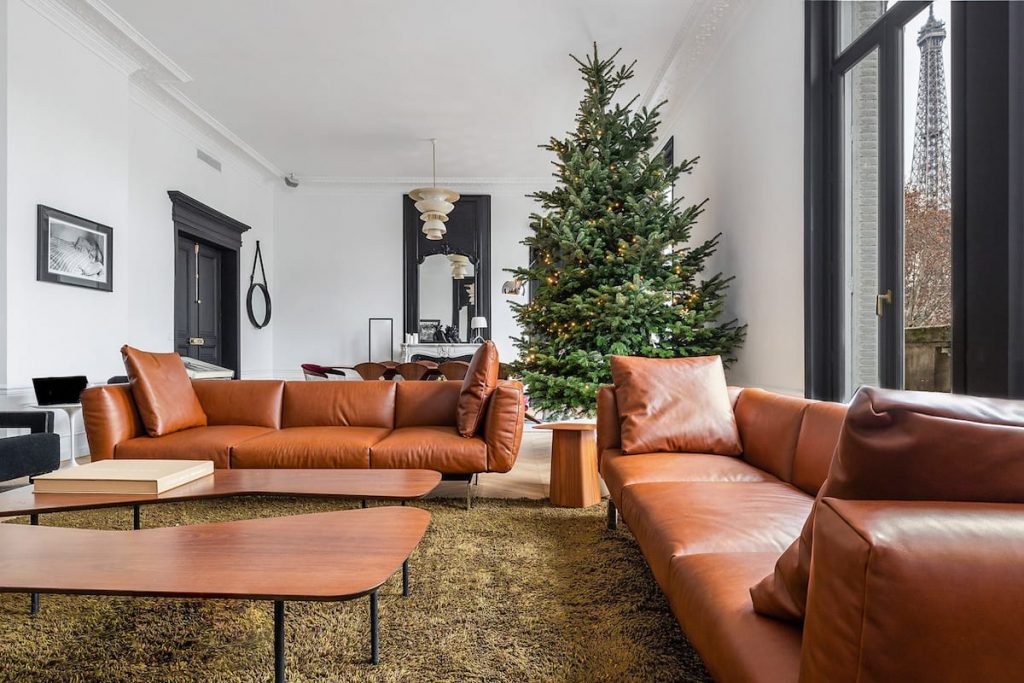 Luxe – Luxury apartment with Eiffel Tower view
This luxury apartment perfectly embodies a Haussman-chic Parisian interior with its 19th-century molding, carved fireplaces, library-like hall, and sculpture nooks. Situated between the Passy and Trocardero areas, guests are treated to amazing views of the Seine and Eiffel Tower and are also just a walk away to world-renowned museums and Michelin-starred restaurants. Take a sip of wine from the apartment's very own wine cellar while watching the tower light up from the private balcony.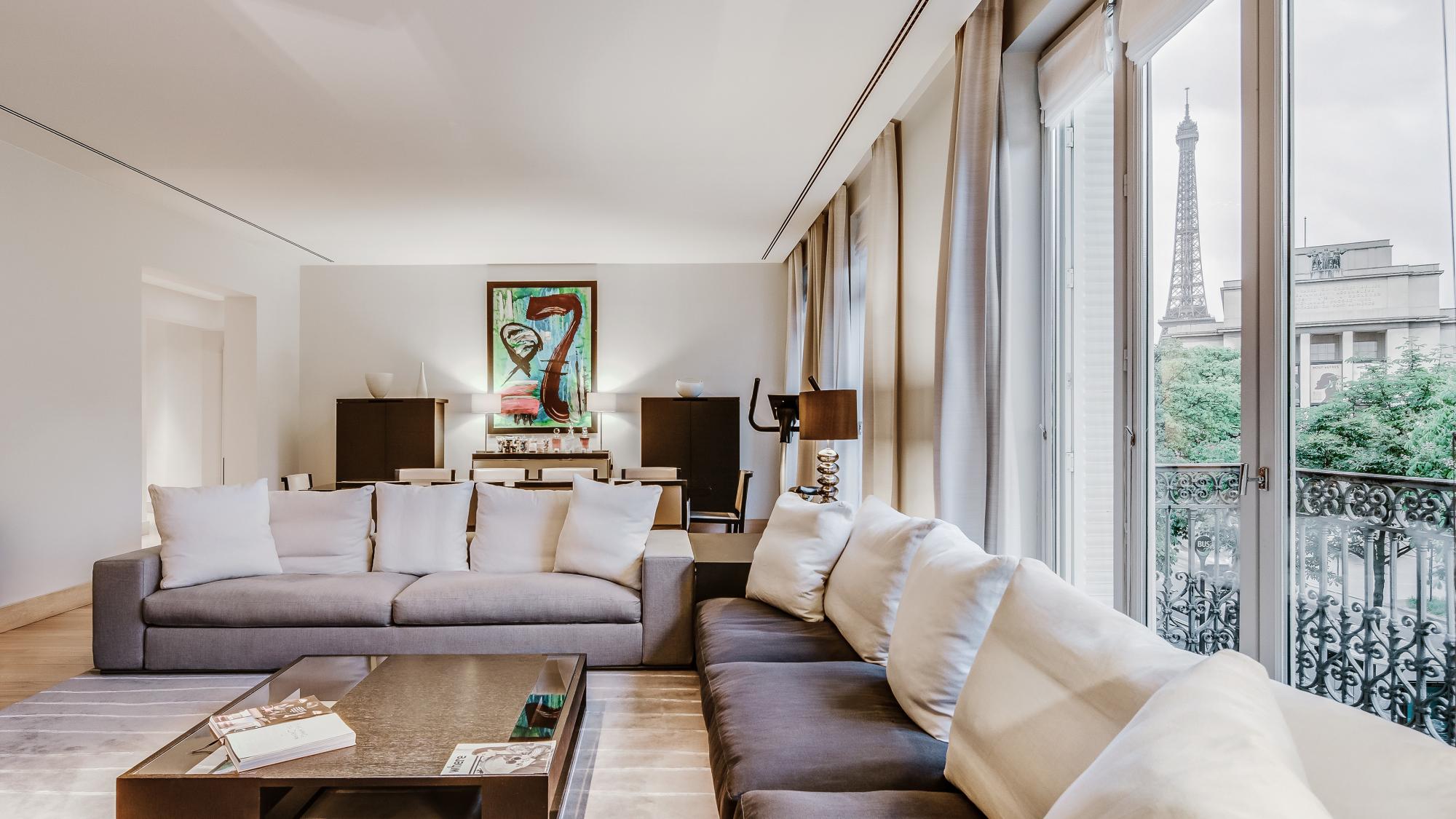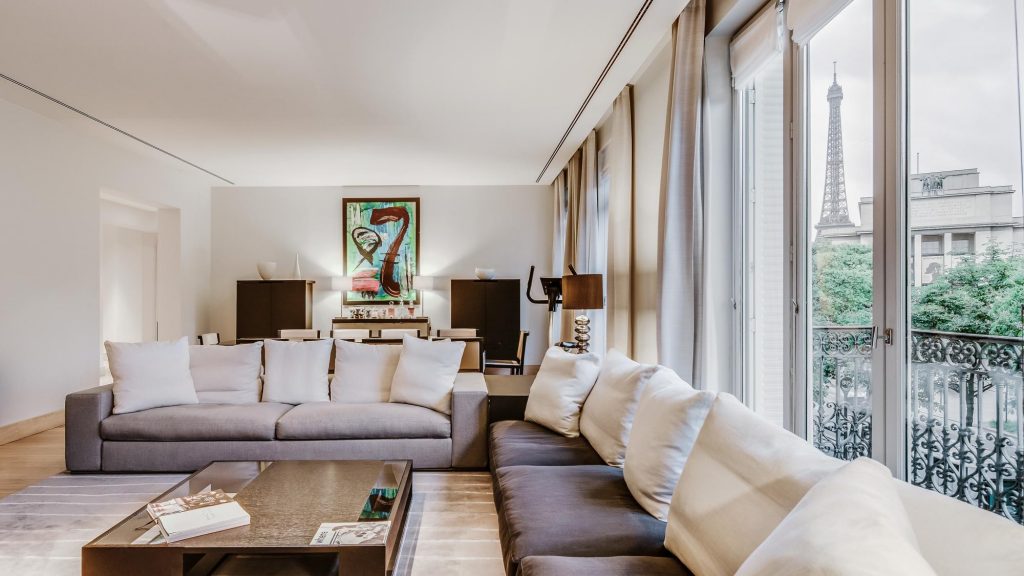 Luxe – Modern suite with balcony view of Eiffel Tower, Trocadero
Set in a classic Haussmann building, this pristine Parisian suite boasts amazing balcony views of the Eiffel tower and is close to the Louvre Museum, Cathédrale Notre-Dame de Paris, and Luxembourg Gardens. After dining out, guests can take a walk to Avenue d'Eylau or stay in and ring in the butler for an afternoon tea. Better yet, linger on the 4-poster bedroom, or relax in the balneotherapy bathtub of the in-suite bathroom.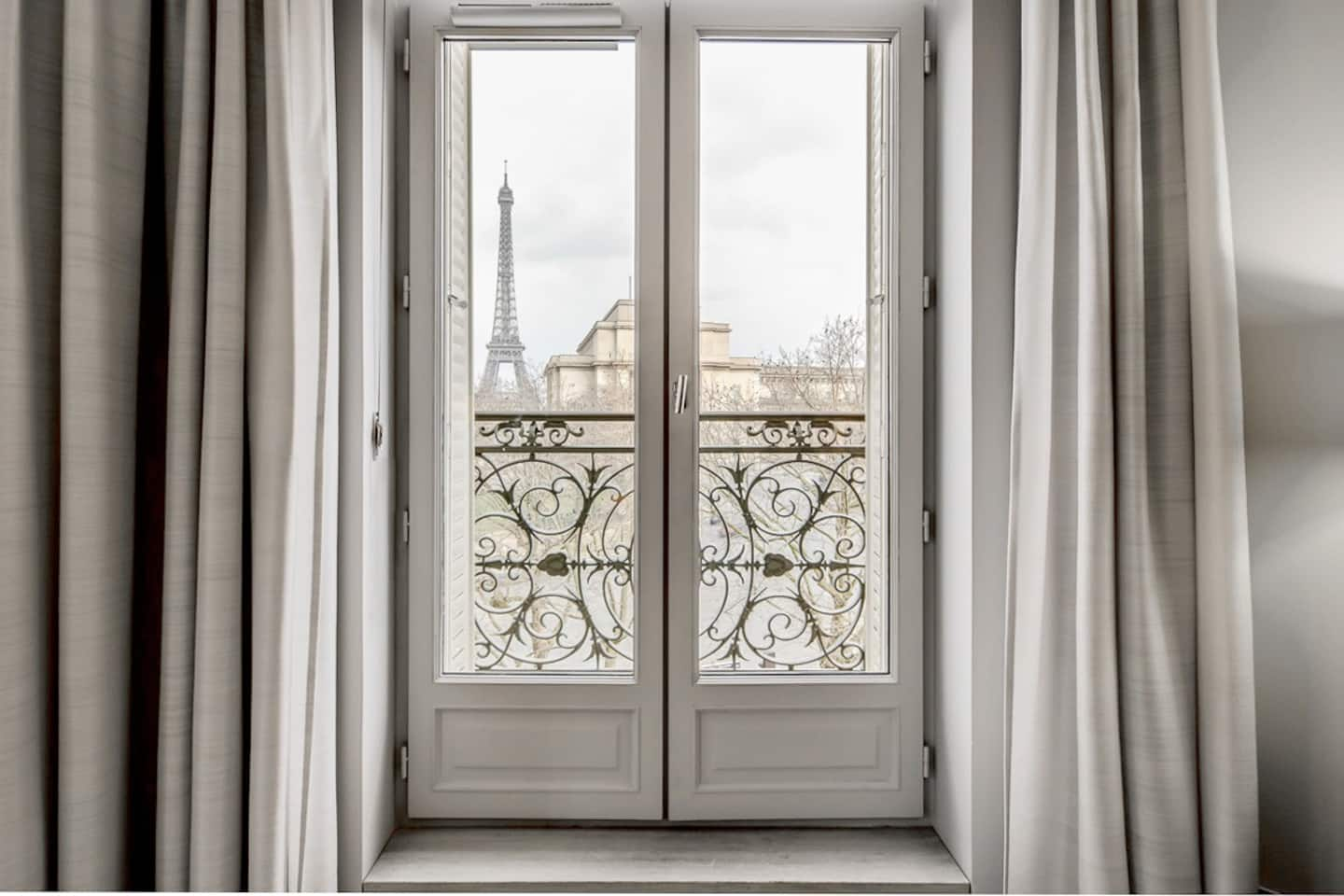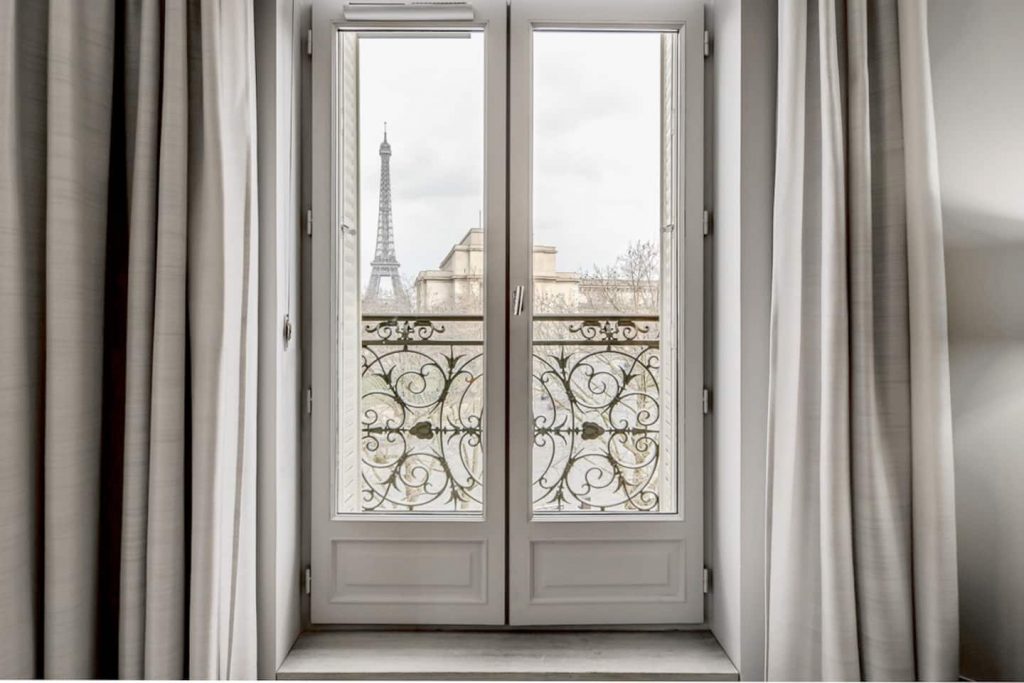 Luxe – Luxury contemporary suite with Eiffel Tower view
The ideal Paris itinerary includes butler, limo service, concierge, and a deluxe Trocadero apartment facing the Eiffel Tower. This contemporary suite in a Haussmann-style building freshly complements the property's centuries-old surroundings. Enjoy an afternoon tea in full view of the iconic Eiffel tower or play a few rounds at the Roland Garros Tennis Courts if not exploring the nearby attractions.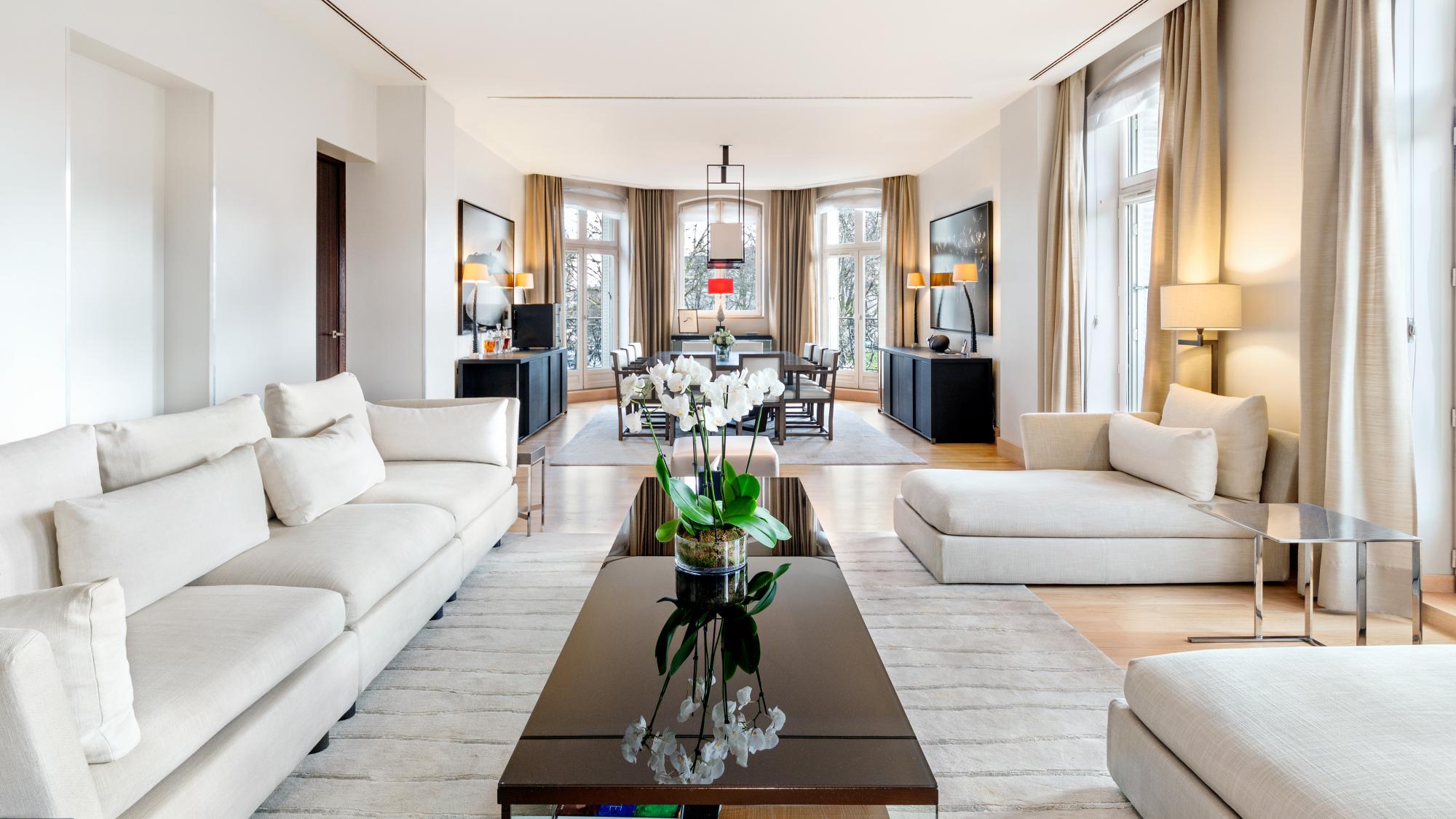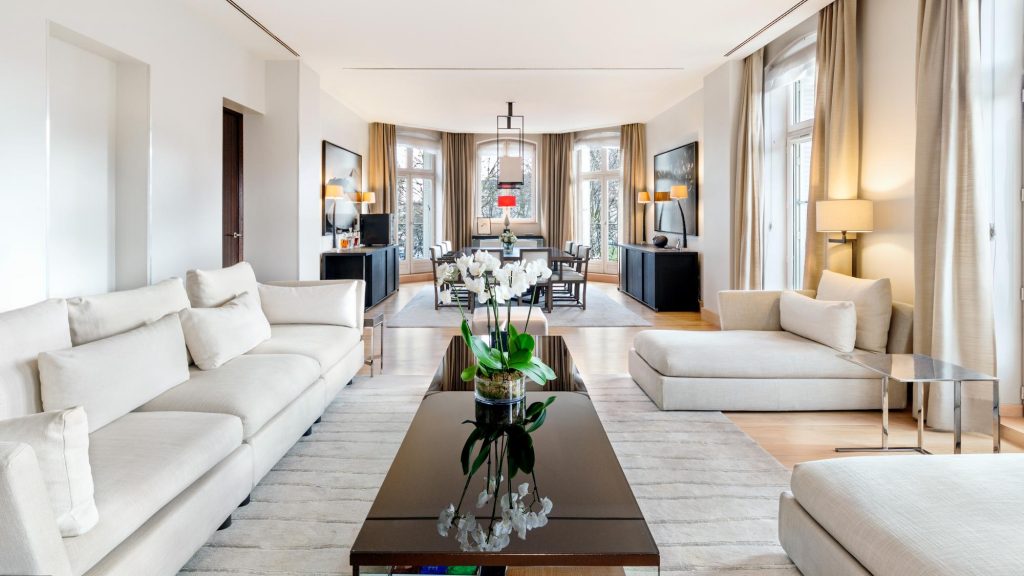 Luxe – Luxury apartment with Eiffel Tower view
This 19th-century apartment is nothing short of opulent with amazing Eiffel Tower views and classic Parisian charm. The apartment is set between two tree-lined broad avenues and is close to Musée du Louvre, Luxembourg Gardens, and Cathédrale Notre-Dame du Havre. Guests can bask in the cream-toned open floor plan to the formal dining set, pull a book from the library, or take advantage of next-level treatment at 5-star hotel La Reserve de Paris.
Luxe – Luxury Trocadero loft with Eiffel Tower View from Balcony
This luxury loft features an unobstructed view of the Eiffel Tower and Palais de Chaillot from the balcony and comes with complimentary access to all hotel services of 5-star La Reserve de Paris. Exquisitely comfortable yet convenient, the loft's crisp white walls and wooden floors are accentuated by sleek black furnishings and Corinthian columns for a touch of class.
Luxury Stays
---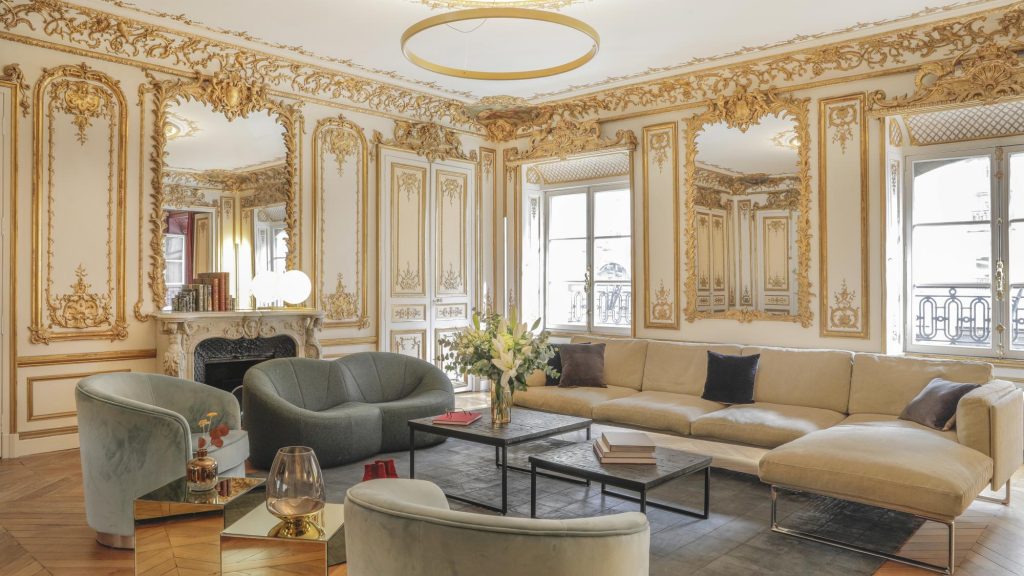 Luxe – Luxury apartment with 19th-century glamour
Lovingly restored apartment with mirrored walls in one of the most sought-after neighborhoods in Paris—right in the heart of the 8th arrondissement—and is a block from the iconic obelisk at the Place de la Concorde. Bask in 19th-century glamour with contemporary comfort and amazing views of the Champs-Élysées and Tuileries gardens that lead to the Louvre Museum.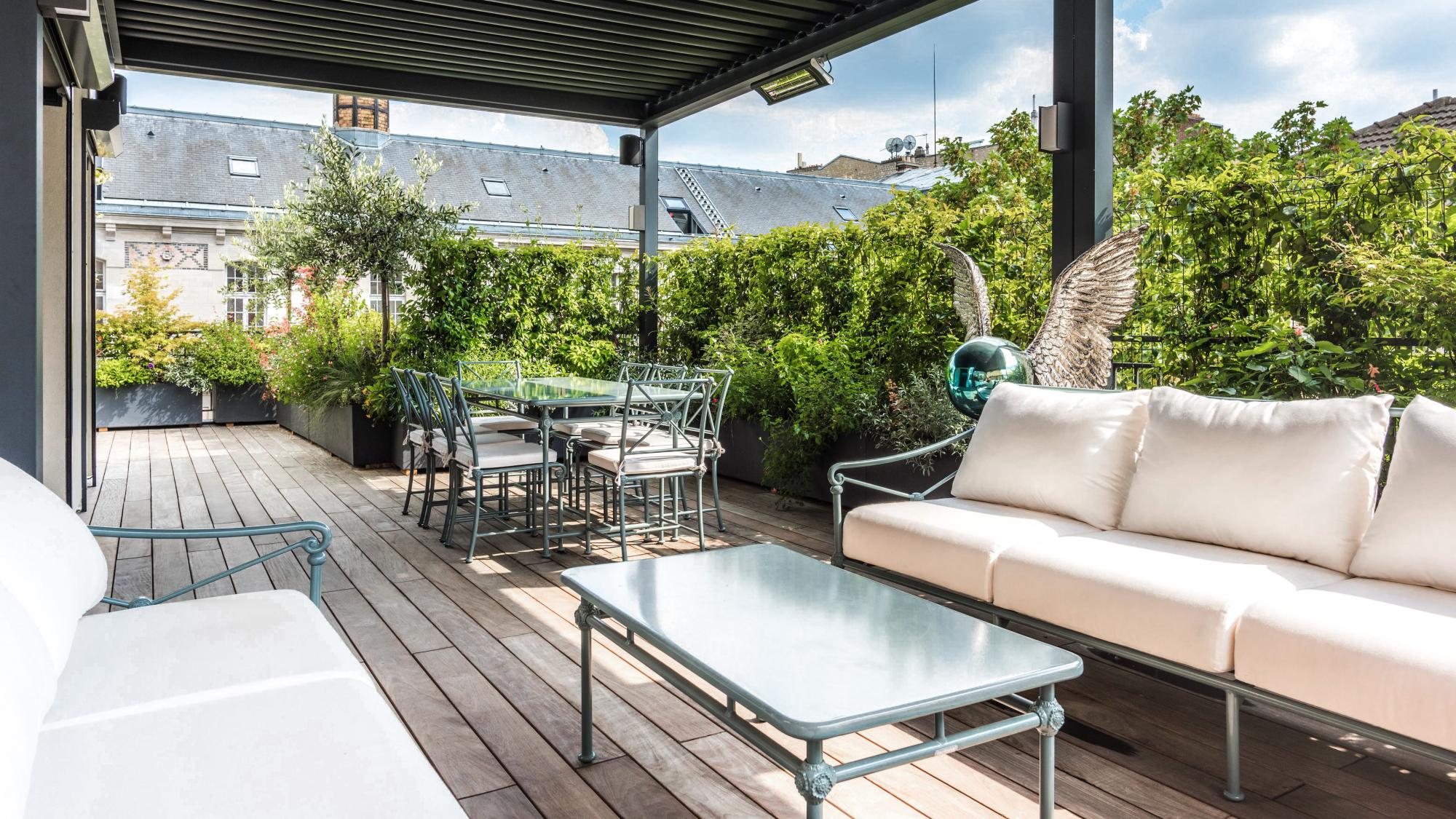 Luxe – Luxury apartment, villa
A luxury stay that's sure to please guests, this 16th-Arrondissement villa not far from the Arc de Triomphe in the heart of the city makes for an elevated Parisian experience. Step out classic French doors to a breezy and spacious balcony where guests can enjoy an alfresco breakfast, or simply to enjoy the flowers on Maison Montespan's expertly decorated garden terrace. It only takes a short walk to explore Avenue Victor Hugo and some of the country's finest architecture.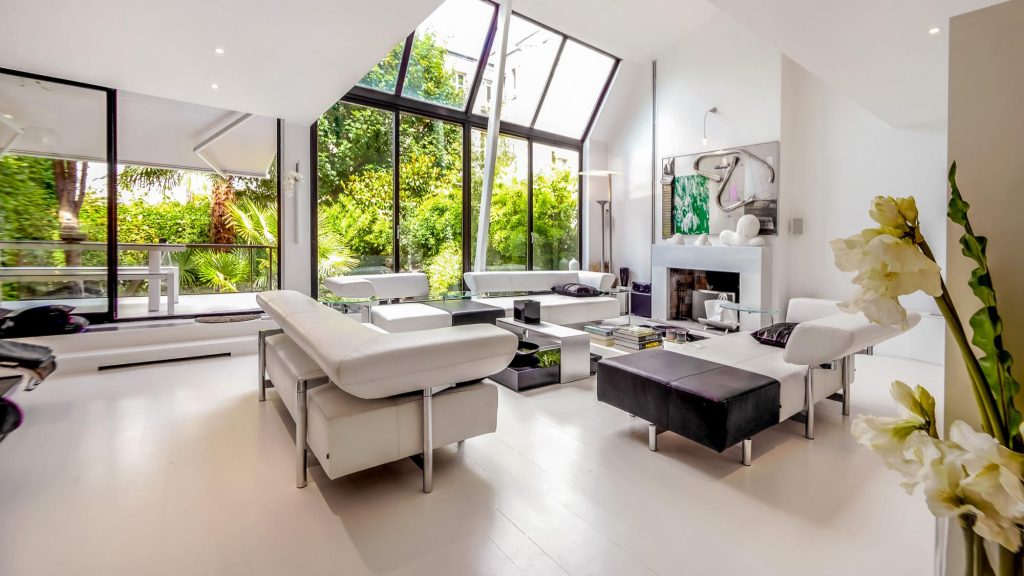 Luxe – Luxury villa
A well-guarded secret right in the heart of the 14th district of the French capital Observatoire is the two-floor luxury villa surrounded by a verdant Japanese-style garden. Inside are stunning collections of art and a veritable gallery of antique Chinese pieces. The villa welcomes guests of ten and are treated to modern amenities, nearby attractions, and the authentic Parisian splendor.
Luxe – Luxury Trocadero apartment
Paris never looked so good, especially in this sophisticated 3-bedroom luxury apartment situated within the coveted walls of La Réserve de Paris. It embodies the romantic spirit of the ultimate Parisian pied-à-terre and is ideal for an extended business or leisure stays in Paris. Daily housekeeping, butler service, daily breakfasts, a welcome package, daily afternoon tea times, laundry service, and valet service are all included in the holiday reservation package.
Luxe – Luxury apartment Art de Vivre Elysée
The epitome of French luxury and sophistication in the heart of the 8th Arrondissement in Paris is captured in this 4-bedroom Haussmannian apartment that's also nestled in an aristocratic 1858 building, complete with wrought iron balcony and collected antiques. The "art of living" à la Française in the 19th century is a treat for epicurean guests who love indoor spaces while being surrounded by the finer things in life, including the Élysée Palace.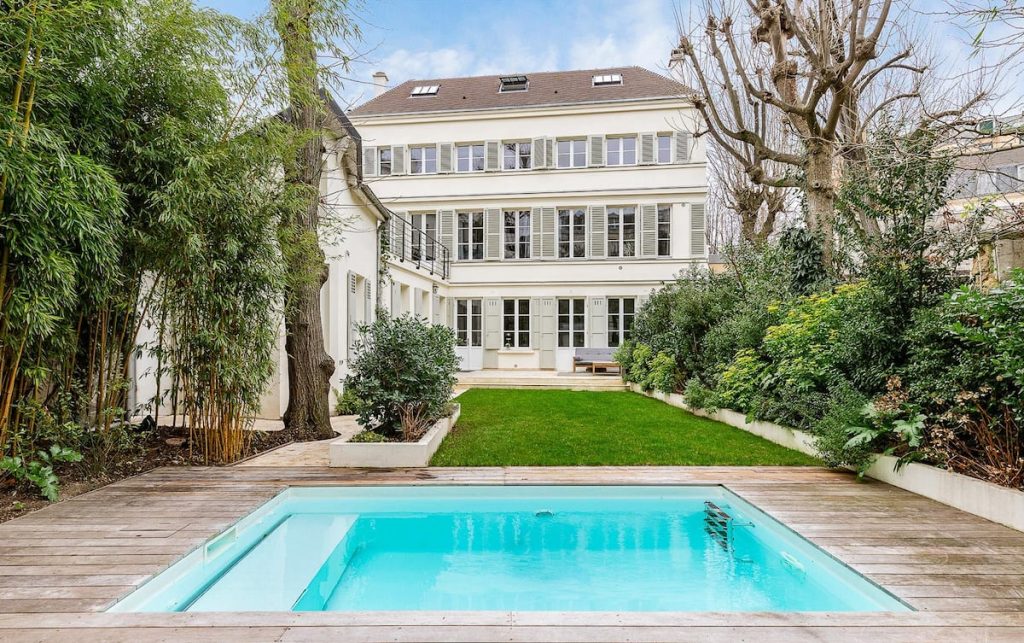 Luxe – Luxury villa
Guests looking for a home away from home can find comfort in this stately 5-bedroom house in Paris with a lovely and expansive backyard. Complete with pool and sun loungers, relax over a cup of Nespresso in anticipation of exploring the city of love. Better yet, prep a hearty meal at the farmhouse kitchen and serve the entire party at the bistro set on the terrace.
More Affordable Airbnbs in Paris With Views of The Eiffel Tower (Less than $500)
---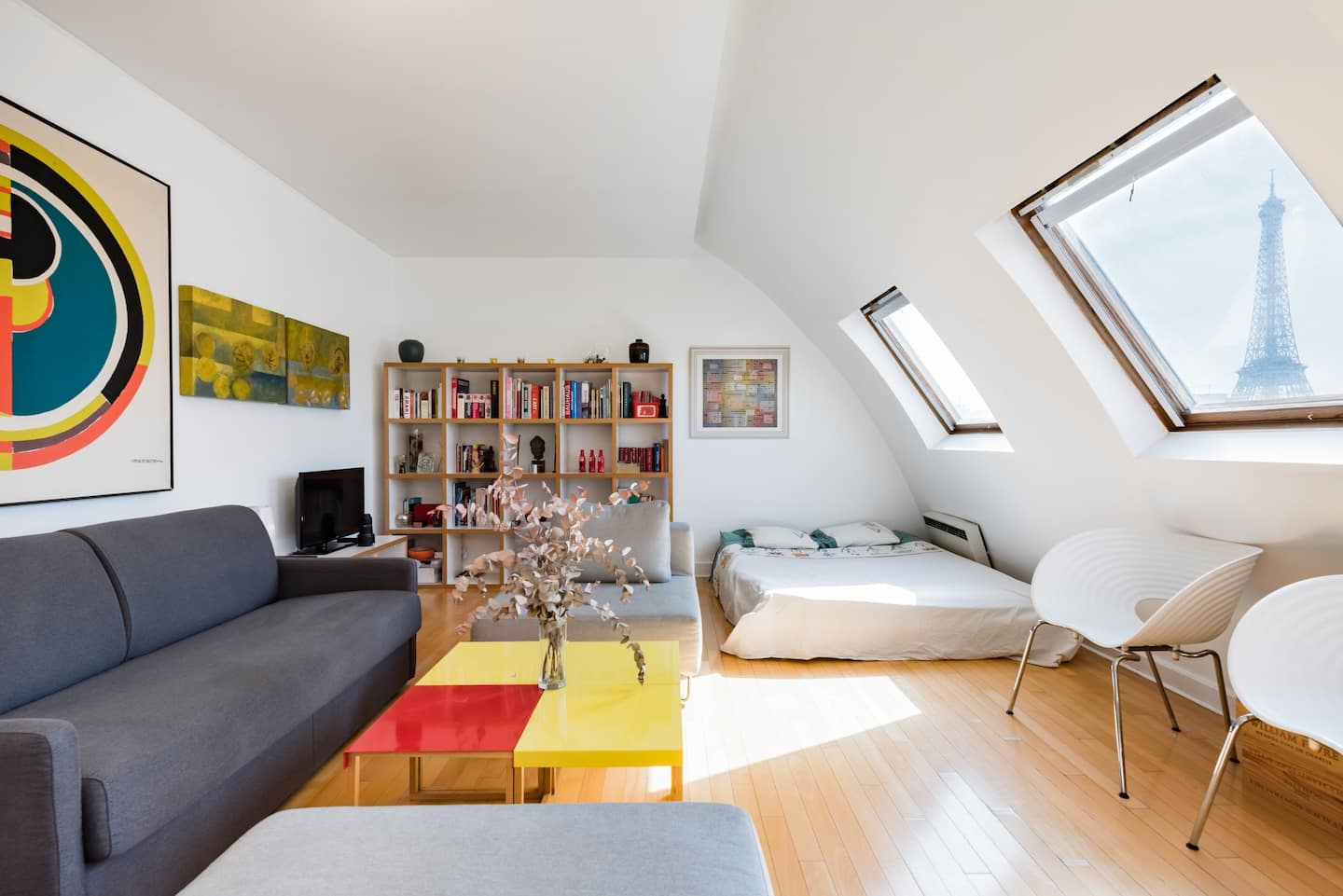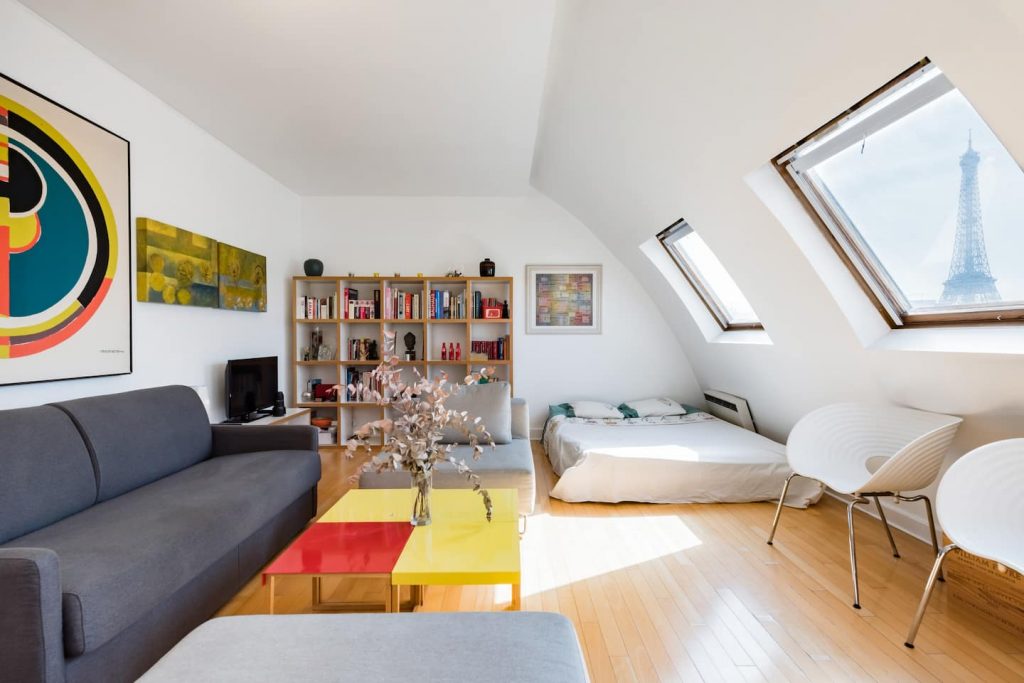 Entire apartment with Eiffel Tower view
A clean, fresh, and modern apartment that's also close to stores, restaurants, and metro—not to mention the stunning view of the Eiffel Tower lit up at night from the bedroom windows. Adding to the property's charm aside from its modern amenities are the parquet flooring, eclectic paintings, objets d'art, and a well-stocked bookcase.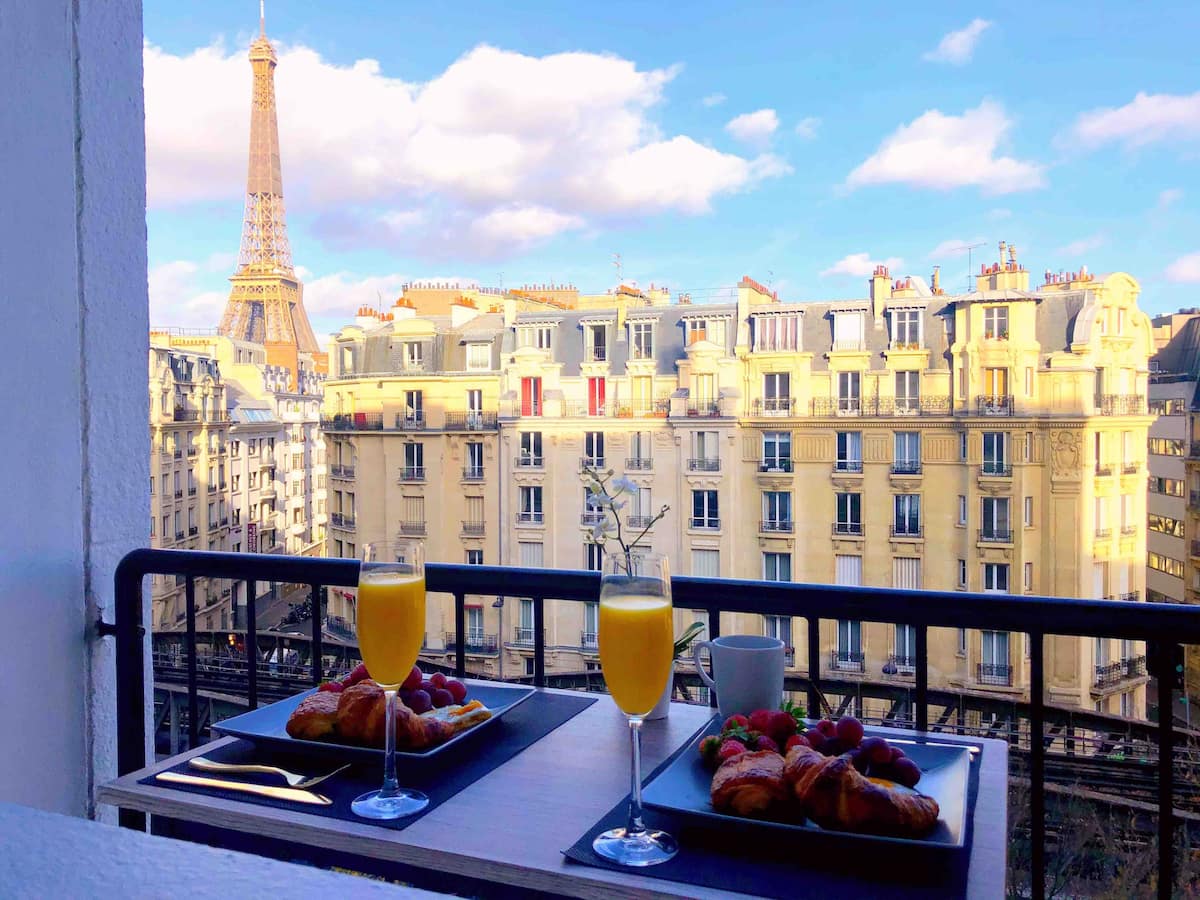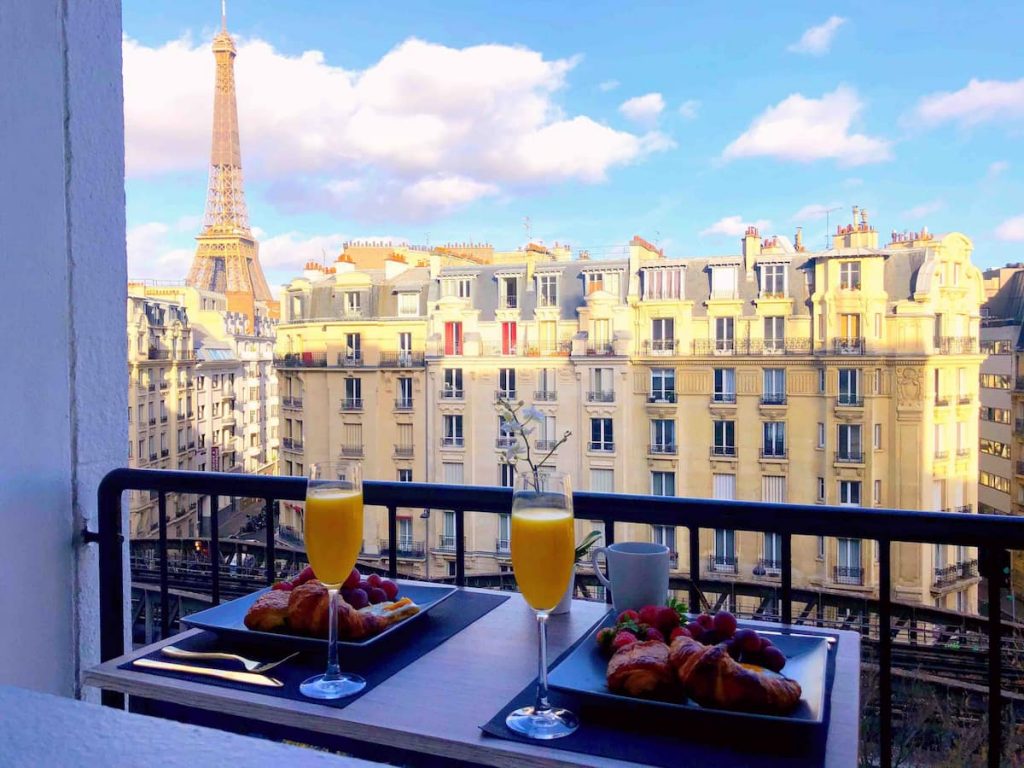 Entire apartment with Eiffel Tower view
This entire apartment features the coveted an unobstructed view of the Eiffel Tower from the balcony, and it's even more stunning at night. Guests get a sense of what living in Paris is like aside from touring nearby attractions as the property is close to local shops, restaurants, and bakeries. The iconic view sets the mood for what is an unforgettable adventure, be it for business or leisure.
Studio apartment with Eiffel Tower views
A pleasant studio apartment that is located right next to the Eiffel Tower and the Champs de Mars. It features an open fitted kitchen with bar, two-person bed, shower, and toilet. It's the ideal home base for guests wanting to see the Eiffel Tower, Trocadero, Quai Branly Jacques Chirac Museum, Invalides, and Rodin Museum or simply walk along the banks of the Seine river to sightsee several monuments.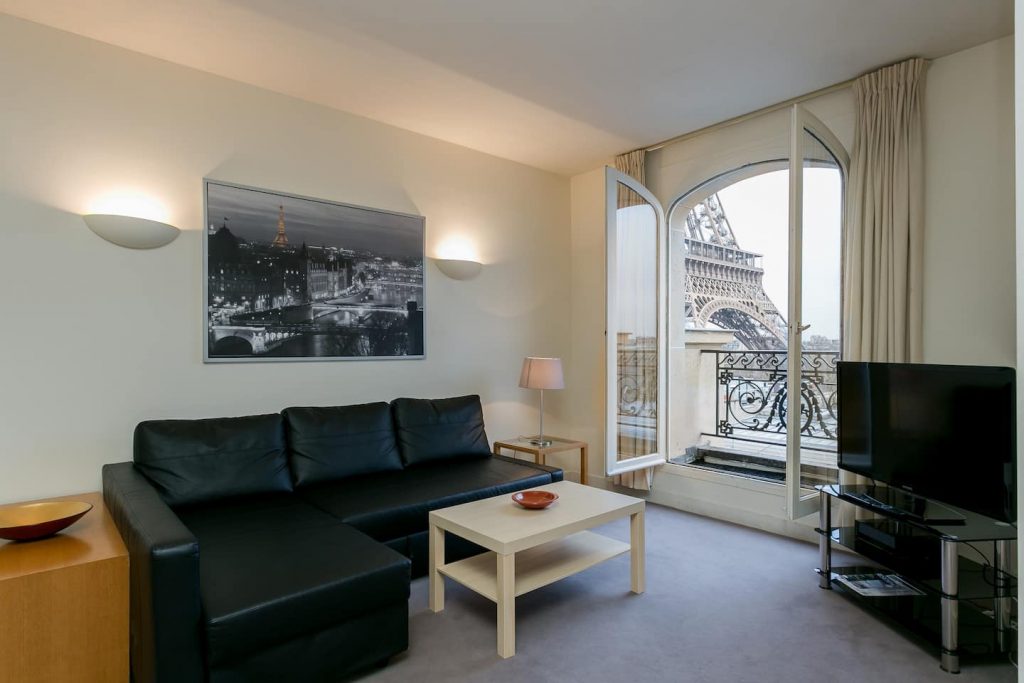 Entire apartment with Up-Close Eiffel Tower view
An exquisite and rare 3-bedroom property in one of the most desirable areas of the city and is the perfect backdrop for a luxurious holiday in Paris. It's spacious enough to accommodate up to eight guests and is great for relaxing after a day of sightseeing. Morning coffees are better with the stunning view of the Eiffel Tower to set the mood.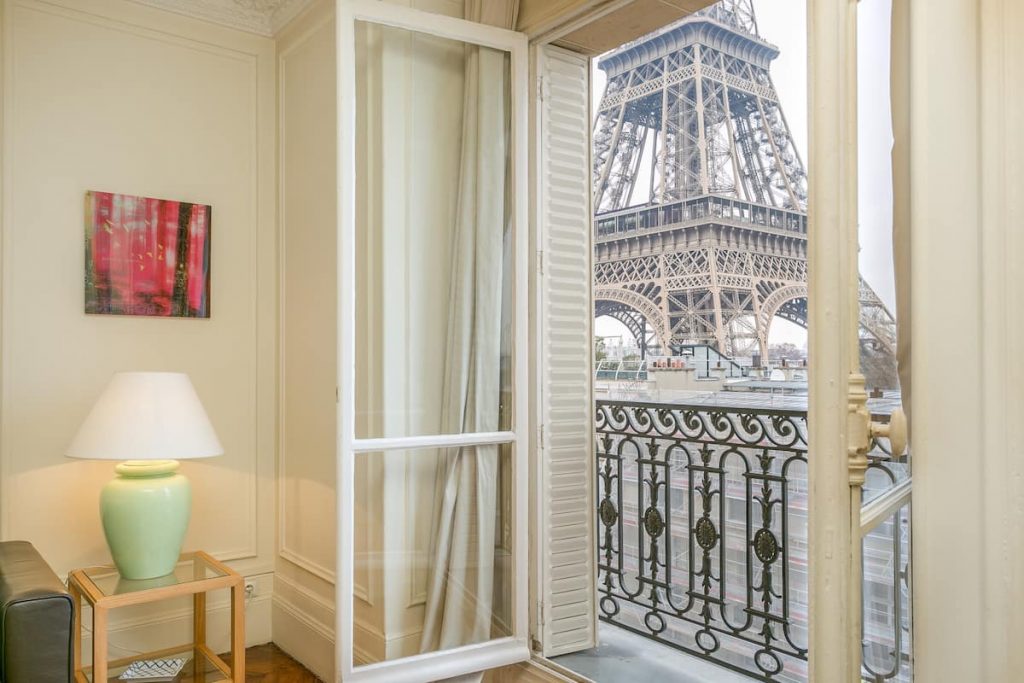 Entire apartment with Eiffel Tower view
A fully furnished 2-bedroom apartment fronting the Eiffel Tower, ideal for a family with kids or friends wanting to discover Paris conveniently. The property includes a full bathroom and a fully stocked kitchen with plenty of space for eating or prep work. The neighborhood also has nice selections of bistros and cafes and is a 10-minute walk to the metro to get to notable Paris attractions.
Stylish Yet More Affordable Airbnbs in Paris (Less Than $300 a Night)
---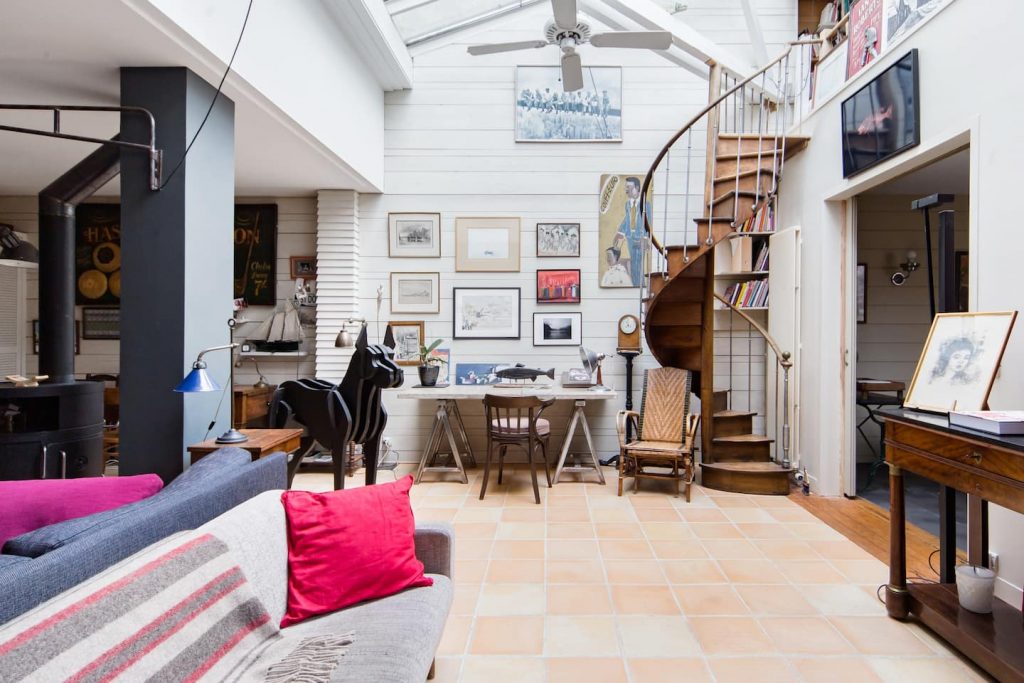 Stylish apartment
This homey 3-bedroom apartment in La Garenne-Colombes features stylish and eclectic interior that's sure to entice guests throughout their stay. Marvel at the many artwork, furniture, and its vintage spiral staircase—the pièce de résistance which gives the home its incomparable personality. Lounge in the small yet dainty flowery garden while sipping on tea.
Romantic Stone Apartment in Paris in the Heart of the Historic Marais
Get ready to imbibe in centuries-old Paris of Esmeralda but still have all of the modern conveniences of today.
Centrally located in the heart of the Marais, this beautiful stone apartment with exposed beams and medieval vaults provides only the best, comfortable stay for guests. À la carte services also include shopping, candlelight dinner, and cleaning for the guests' convenience.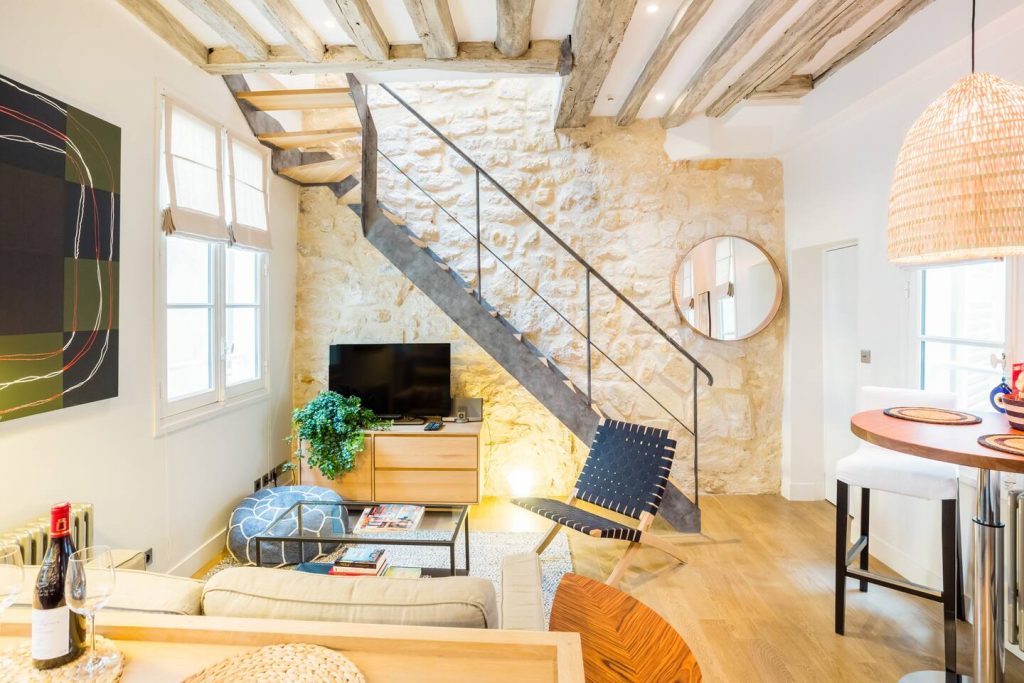 Bohemian Chic Duplex In Saint Germain
A Bohemian, minimalist duplex set in a historic 17th-century building that also features modern design and understated luxury. The rustic stone walls and antique beams have been carefully exposed and restored to give the property its unique, charming appeal. Its full amenities make it an ideal stay for a single person or a romantic couple.
Which of these Airbnbs in Paris, France is your favorite? Let me know in the comments!