20+ of the Coolest VRBO Rentals in Door County, Wisconsin
Door County is home to some of the most scenic parks, lighthouses, and over 300 miles of shoreline featuring pristine beaches, limestone bluffs, and majestic rock formations. It's certainly an outdoor lover's playground, too, as you'll never run out of new activities to try that are great for all skill levels – from hiking, biking, kayaking, fishing, boating, zip-lining, and more!
There are also wineries, specialty shops, orchards, art galleries, and good eats for those wanting to check the county's local scene after exploring the great outdoors. Having the advantage of an endless stretch of shoreline, with Lake Michigan on one side and Green Bay on the other, Door County boasts spectacular waterfront rentals to stay in and relax. Guests can choose from private luxury homes, inns, and condos, to bed and breakfasts. Check out our top picks on where you can stay if you find yourself traveling through the "Cape Cod of the Midwest."
*Disclosure: some of these links are affiliate links. Meaning if you click a link and make a purchase, Have Clothes, Will Travel gets a very small commission at no extra cost to you. Thank you for supporting the brands that make this blog possible!
20+ of the Coolest VRBO Rentals in Door County, Wisconsin
---
Unique VRBO Vacation Rentals in Door County
---
Historic, Renovated Coach House in the Heart of Sturgeon Bay
Right in the middle of Downtown Sturgeon Bay's Third Avenue Historic District is this charming 1-bedroom, 2-bathroom Coach House originally built in 1867. The property is currently registered on the National Register of Historic Places and has been remodeled to fit modern amenities for guests' comfort. It's a must-stay even for history buffs and is close to shops and restaurants.
---
Church Restored to a Beautiful Home Rental in Sister Bay
Maple Manor sits on a beautiful 2-acre estate and is known prominently in the area as a church lovingly restored to a beautiful home. This 8-bedroom, 8-bathroom property has been featured in countless magazines, including Money Magazine and Wisconsin Magazine, as the Best Wisconsin Romantic Getaway. The great room is an awe-inspiring 27′ x 47′ space complete with a cozy fireplace and sitting areas.
---
3-story Lighthouse with Waterfront Adventure
Being the county with countless lighthouses, it's only a must for any guest venturing into Door County to book a stay at "The Lighthouse", a luxury 6-bedroom, 4-bathroom property with over 265 feet of water frontage. There are 3 levels and over 6,000 sq. ft. of living space for large family gatherings to go around. There's also an "Adventure Shed" dedicated to providing the best outdoor entertainment like kayaking, fishing, and biking. (Note: this is technically in Kewaunee County, but it's within a few miles of Door County attractions.)
---
2-bedroom Beechwood A-Frame Cottage in Sister Bay
Live the cozy cottage life in this 2-bedroom, 1-bathroom A-frame cottage surrounded by beechwood trees. It's nestled on a private 1.6 acre wooded lot and is equipped with a kitchen and a deck for a relaxing stay. Its interior has a mid-century modern charm to it, and guests can hang back at the spacious screened-in porch in the back.
Brenner Tower – Ellison Bay, Wisconsin
Enjoy sweeping views from the 365-degree windows of rolling fields, Bay of Green Bay and Washington Island in this Tower. The tower's first floor has a family room and half bath with three separate doors to walk out. The master bedroom is situated on the middle floor with a shower and half bath behind the bed.
Door County Houseboat – Sturgeon Bay, Wisconsin
Door County Houseboat Rentals has a one-of-a-kind lodging experience awaiting you on the edge of the Sturgeon Bay canal in beautiful Door County, WI. Pier Relaxn', a newly constructed floating cottage features all the comforts of home with sleeping accommodations for up to 6 people.
Charming Door County Homes
---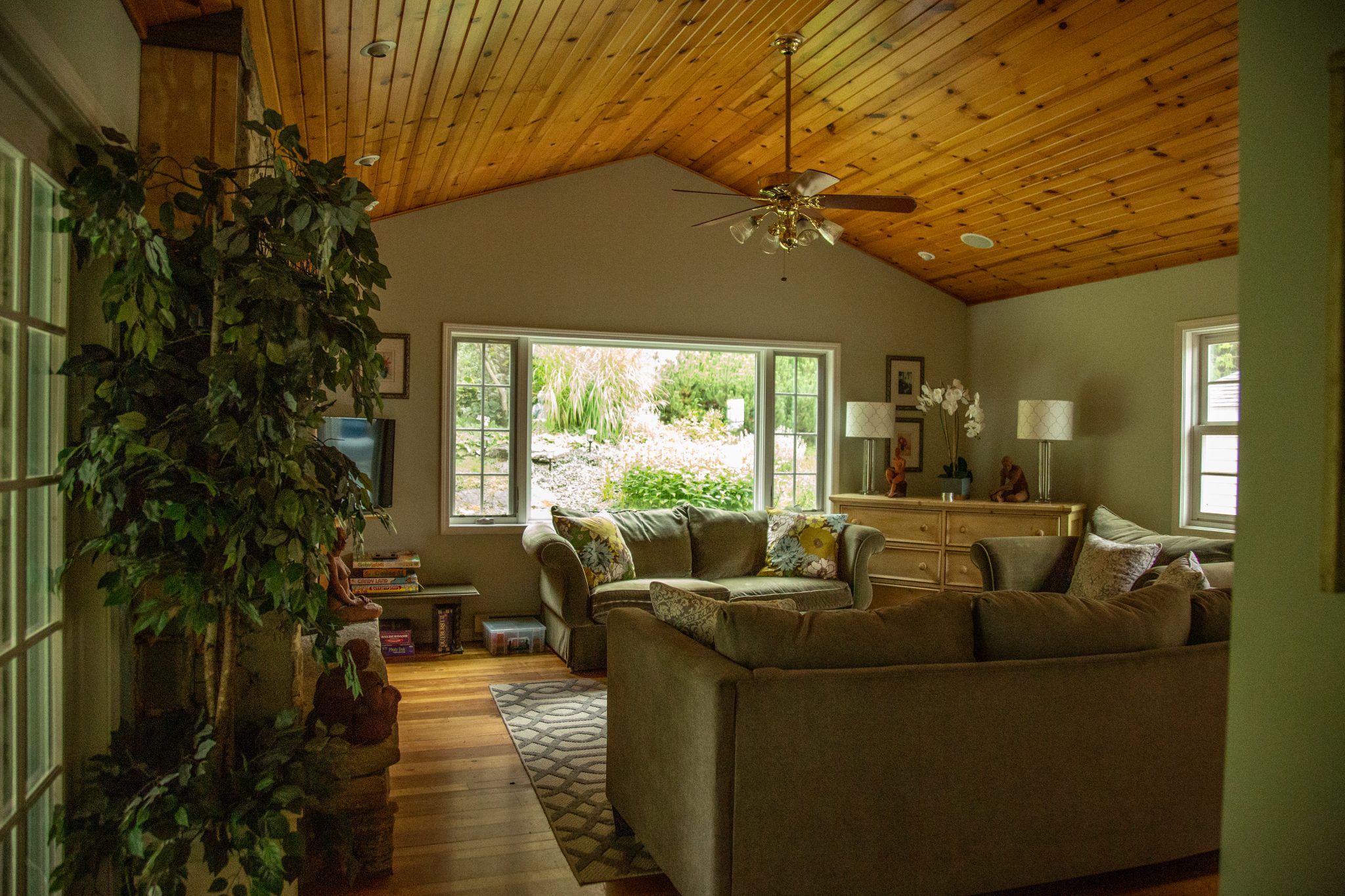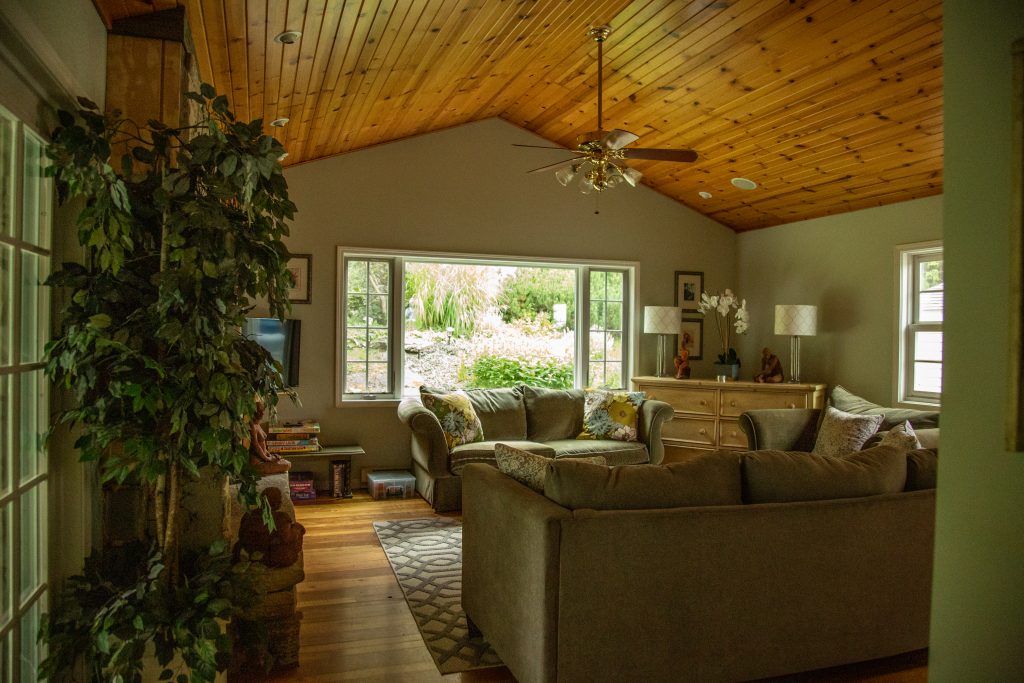 Carraig Mór: Beautiful House, Amazing Garden – Downtown Baileys Harbor
Carraig Mór is one of my favorite places I've stayed in Door County thanks to its perfect location, helpful owners, and stunning garden. It is just a few steps up Bluff Road from Route 57 in Baileys Harbor and sits majestically underneath a beautiful rock bluff that runs the length of its garden.
The house has been completely renovated and features two stories with three bedrooms, two and a half bathrooms, a gorgeous wrap-around porch, and a stunning garden – complete with a tire swing! You'll be within walking distance of downtown Baileys Harbor while enjoying the solitude of this hidden oasis of a home. Carraig Mór is also one of the few rentals in Door County that allows pets! (Extra fee will be charged.)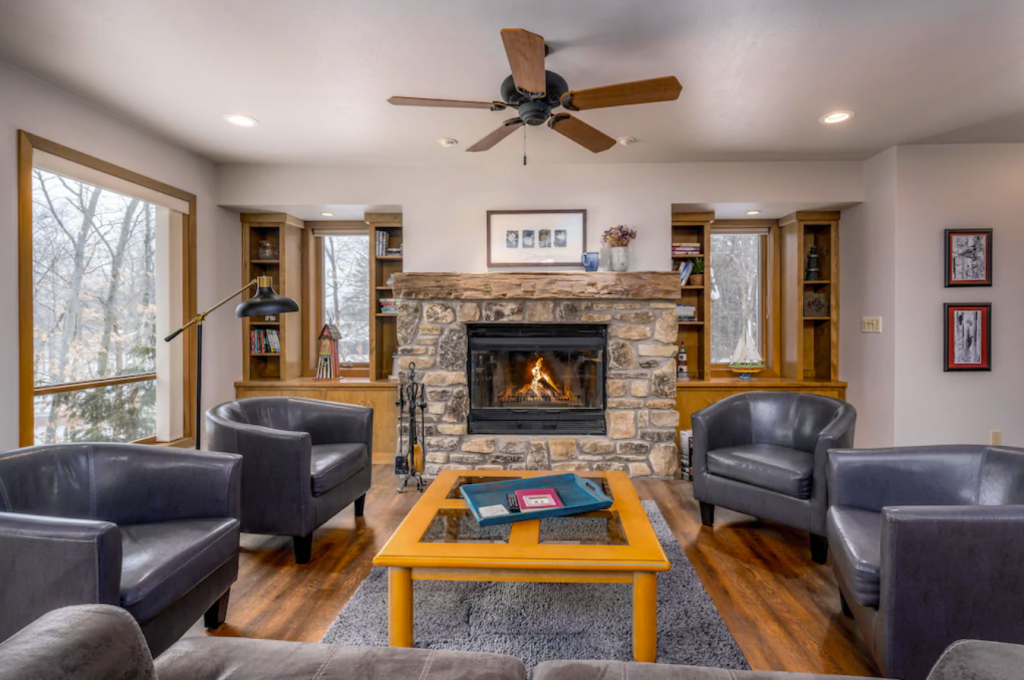 3-story Luxury House on Downtown Sister Bay
A tastefully decorated luxury home nestled on a quiet, wooded hill above downtown Sister Bay. It's fully furnished and equipped with kitchen amenities and is a short walk to the marina, beach, and pavilion. The second level has an outside dining area and deck with nature views should guests want to host a party outside.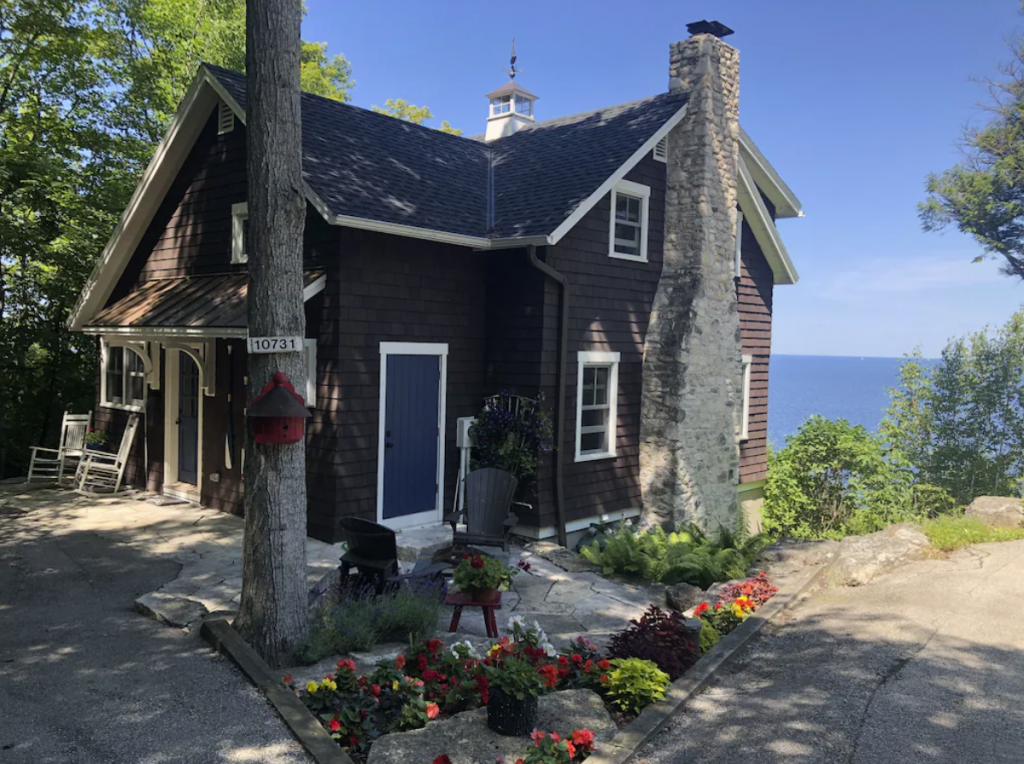 Charming Waterfront Home with Stunning Lake Views in Sister Bay
Sunny Bluff is a 4-bedroom, 2-bathroom waterfront home nestled on a quiet vista neighborhood but is also just a short walk from the heart of Sister Bay. It has an amazing deck, fireplace and firepit, and a new kitchen. The property has three levels of indoor living as well as three levels of deck space outdoors, quite the spacious home for up to eight guests.
Luxury 3-bedroom, 3-bath Vacation Rental Close to Beach in Sister Bay
A custom-built luxury 3-bedroom, 3-bath vacation rental with stunning floor-to-ceiling windows nestled on Sister Bay. It has a fully equipped kitchen, screened porch, and a private pond. Its interiors are topped off with high-end finishes. Go hiking, biking, and kayaking in the summer or ice fishing in the winter.
Professionally Decorated 7-bedroom Home in Ephraim
A clean and spacious 7-bedroom, 4-bathroom luxury home in Ephraim, complete with two full kitchens and appliances. This 4,400 square foot home is ideal for large group gatherings staying in for a week or two as it accommodates up to 24 persons. Included in the rental are professionally laundered and pressed linens, adding to the property's luxurious touch.
Cottages/Cabins
---
Luxury Hand-Hewn Log Cabin in Wooded Setting of Egg Harbor
Rated as one of the top 10 cabins to stay in Door County, this 3-bedroom, 2.5-bathroom luxury cabin features rustic flare with modern décor and amenities. It's nestled within the Lautenbach Woods Nature Preserve and is lovingly adorned with 20 ft. high ceilings, a spacious loft, screened-in porch, and its signature four oversized windows that open to the scenic view of the outdoors.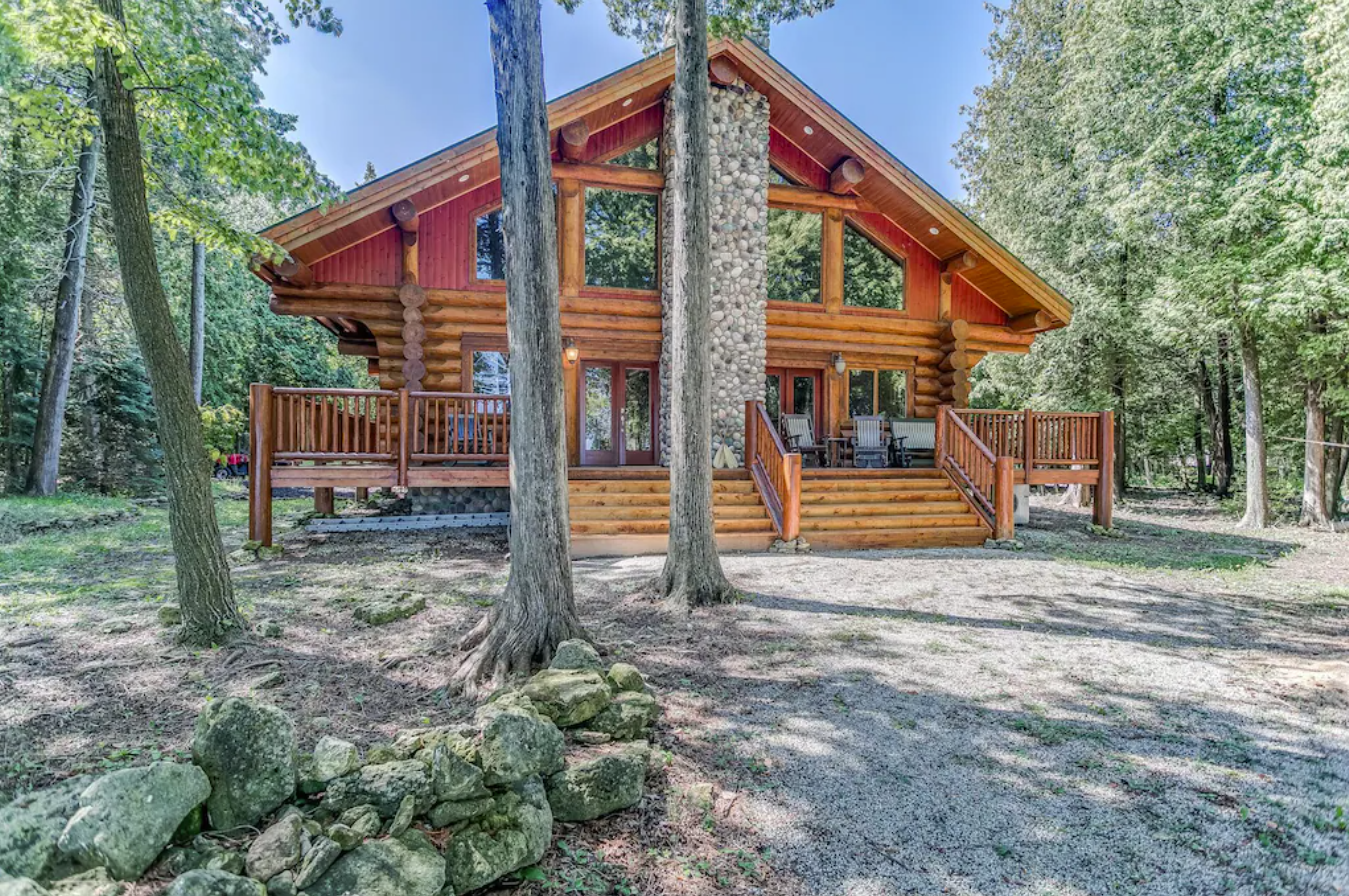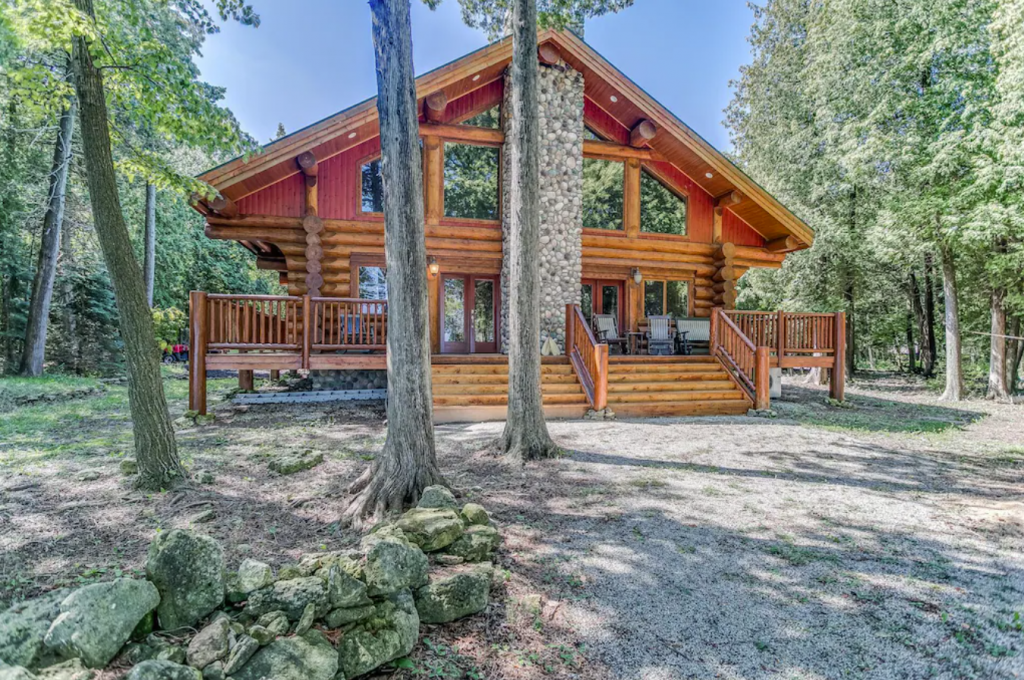 "Sherwood Point Lodge" Luxury Waterfront Log Cabin – Idlewild, Sturgeon Bay
This luxury waterfront log cabin is designed for family fun and sleeps up to 20 persons in its 5-bedroom, 3-bathroom setup. Just a few steps from the cabin is a concrete dock perfect for fishing. The cabin features 3 levels of spacious, open living spaces as well as a rock shelf seating area, a fire pit, a private balcony, and wrap-around decks. Commercial grade windows are installed throughout the cabin for guests to view the scenery outside.
Retro, Cozy Cottage in Peninsula State Park, Fish Creek
A remodeled 2-bedroom, 1-bathroom cottage to reflect the cozy retro 50s style. The property is conveniently located across Peninsula State Park where guests can go hiking and explore off-road biking trails. It also has an open outdoor fire pit for a cozy camp-out and grilling s'mores. Its wooded landscape lets guests have some privacy to enjoy the cottage and its surroundings in peace.
Old Fashioned, 1930s Door County Cottage on Sawyer Harbor – Idlewild, Sturgeon Bay
Welcoming guests since the 1930s is this 3-bedroom, 1-bathroom old-fashioned cottage with a spacious permanent pier (8ft x 120ft) for some watersports activities. The cottage has a large wood deck, a screened-in porch, and a private dock where guests can relax and take in the beautiful scenery by the water. The property is also adorned with interesting antiques including a southern-style breakfast nook overlooking the harbor and woods, as well as a claw-foot tub in the baby blue bathroom.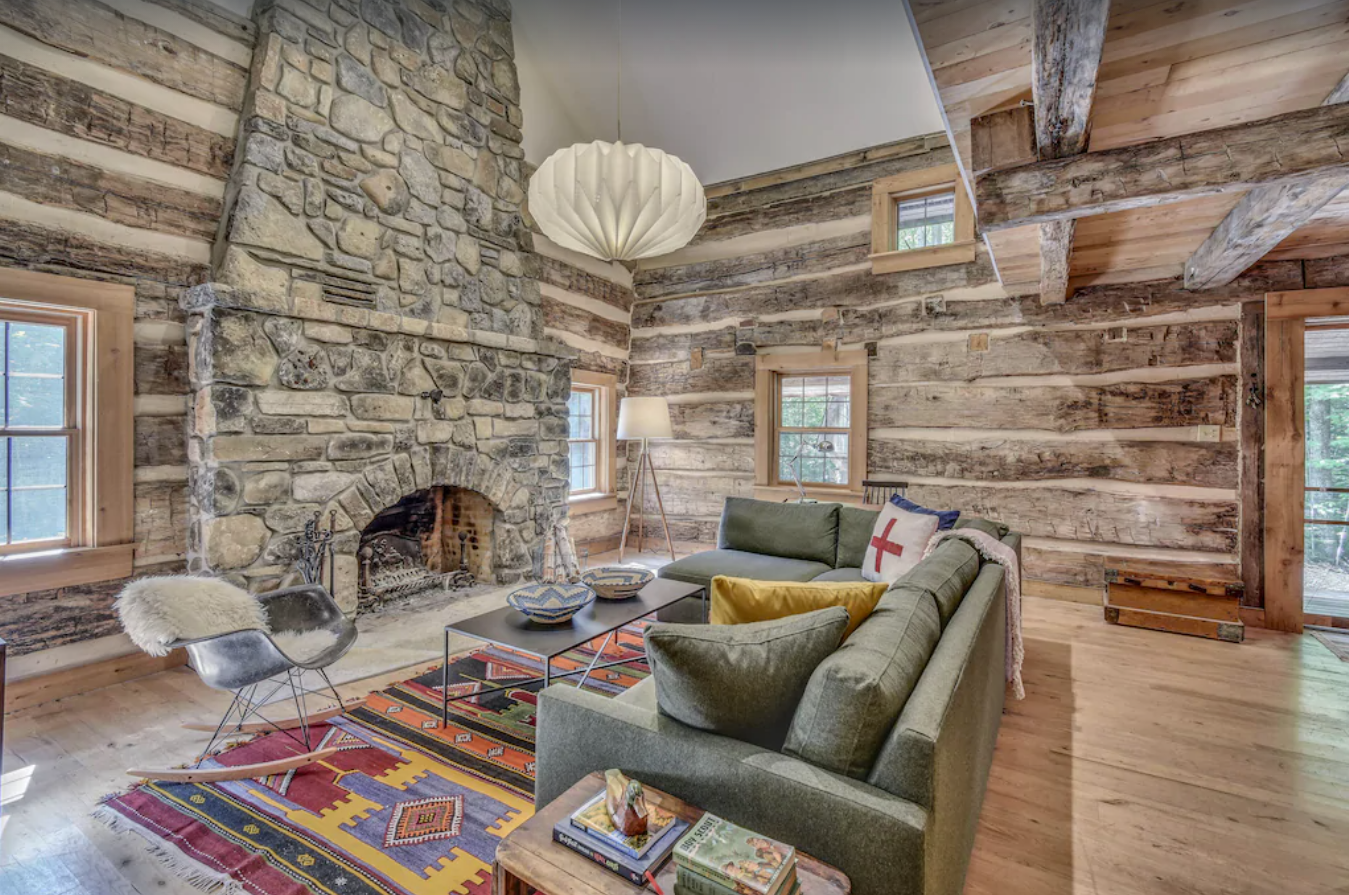 Newly Renovated Vintage Log Cabin with Rustic, Modern Design in Egg Harbor
A secluded 2-bedroom, 2-bathroom vintage log cabin with a rustic yet modern design nestled on a 5-acre private woods. The property is also a five-minute drive to town and the beach. Inside is a living room with a wood-burning fireplace, a fully equipped kitchen, two screened porches, a powder room, and a front porch. There's also a fire pit, gas grill, and ropes course outside where the family can hang out for entertainment.
Luxury Waterfront Cabin with Sunroom in Ellison Bay
A 4-bedroom, 3-bathroom luxury cabin by the lake that accommodates groups either large or small. It used to be an old boathouse but is now remodeled to become an upscale cabin that sleeps up to 12 persons. The cabin rests on a bluff with stairs leading down to the water and has a sunroom where guests can freely take in the majestic views of the surrounding lake and nature.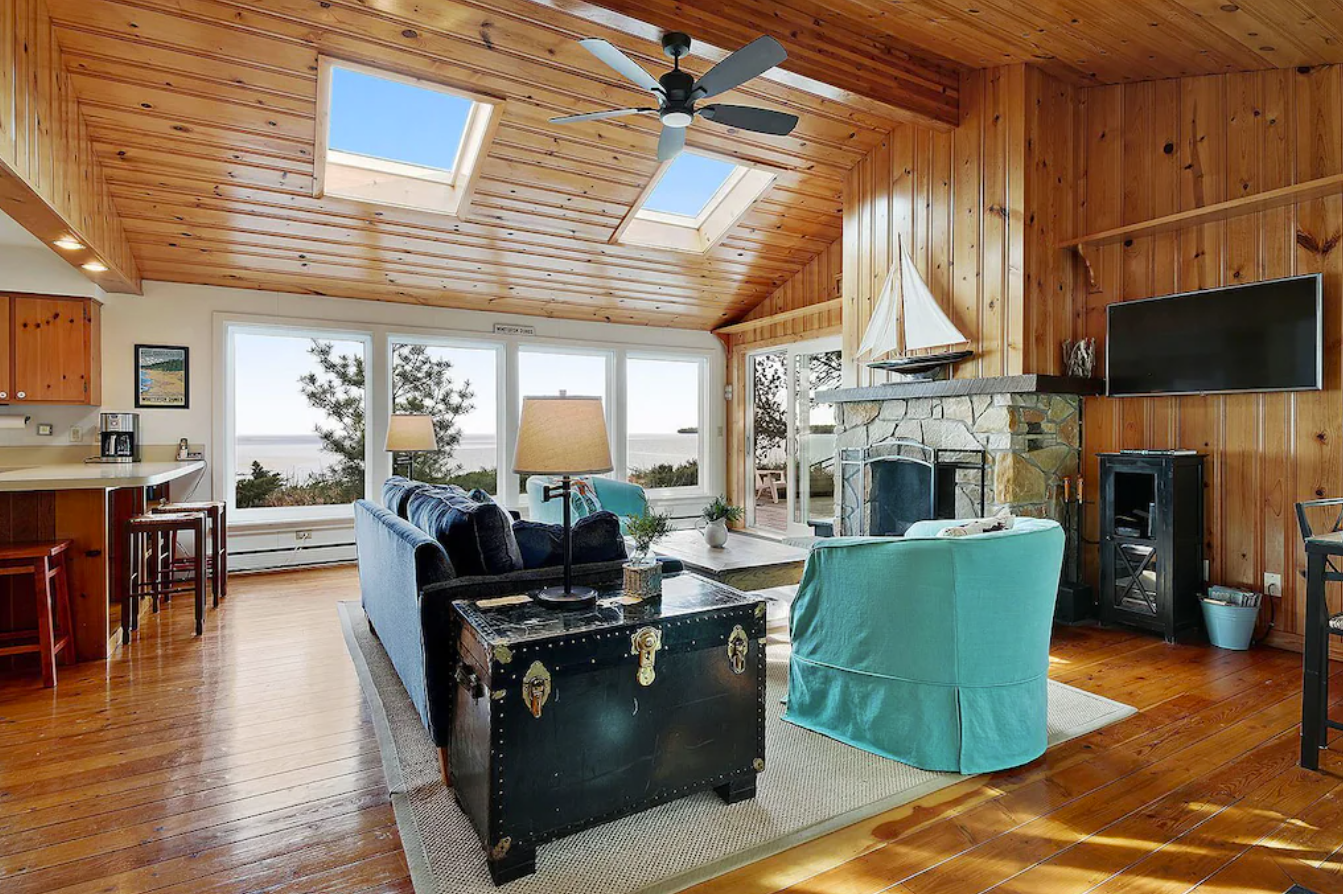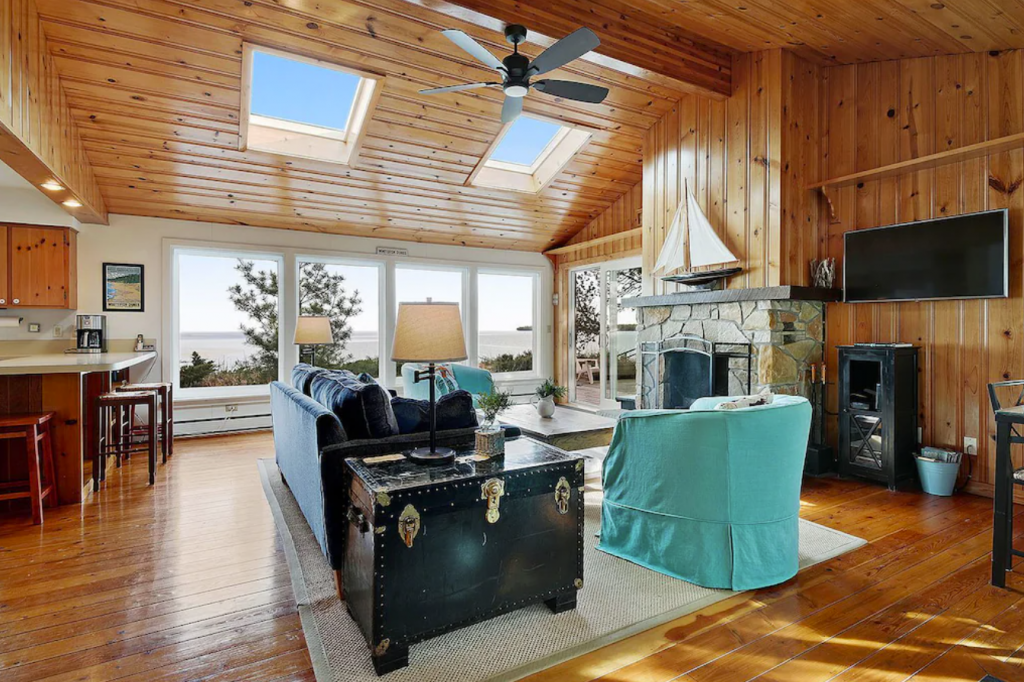 Sand Beach Cottage with 180-degree views of Whitefish Bay
A 3-bedroom, 2-bathroom beach cottage that's recently renovated to lend in unobstructed water and wood views. On one side is a beautiful and lush wooded area while the other features the majestic 180-degree views of Whitefish Bay. It has a full kitchen, a living room, and a large deck just off the living area where guests can enjoy their morning coffee.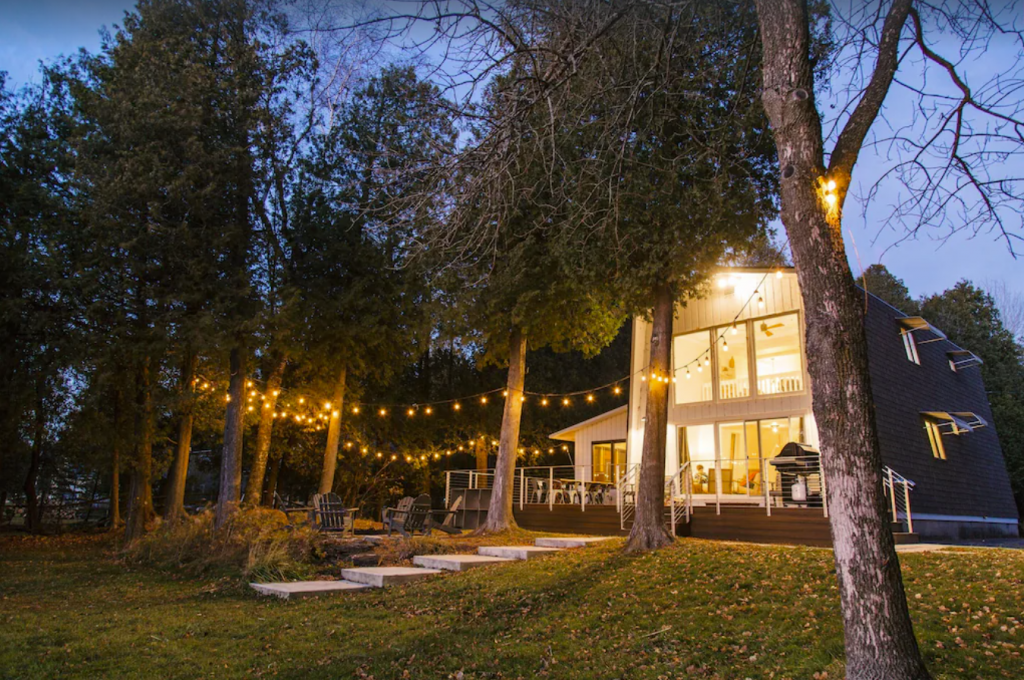 Modern H-frame Waterfront Lake Cabin on Clark Lake
Close to Lake Michigan, Cave Point, and Whitefish Dunes is this cozy 3-bedroom, 2-bathroom H-frame cabin with a modern yet eclectic vibe. The master suite has a balcony and deck with amazing sunset views; guests can also take in the scenery through the cabin's floor-to-ceiling windows. The sunroom, which is also an entertainment hub, has a functioning Edison player from 1916, a perfect item to pair with wine while taking in the views of the lake.
Historic Cabin on the Juddville Riviera in Fish Creek
Once owned by actor Maggy Magerstadt Rosner who moved the cabin in 1955 to its current location from the Peninsula State Park in the 1870s. The cabin is nestled on a 6-acre estate that's densely wooded for total privacy and features over 300 feet of shore along Green Bay. The cabin has 3 bedrooms, 1.5 bathrooms, and a simple kitchenette.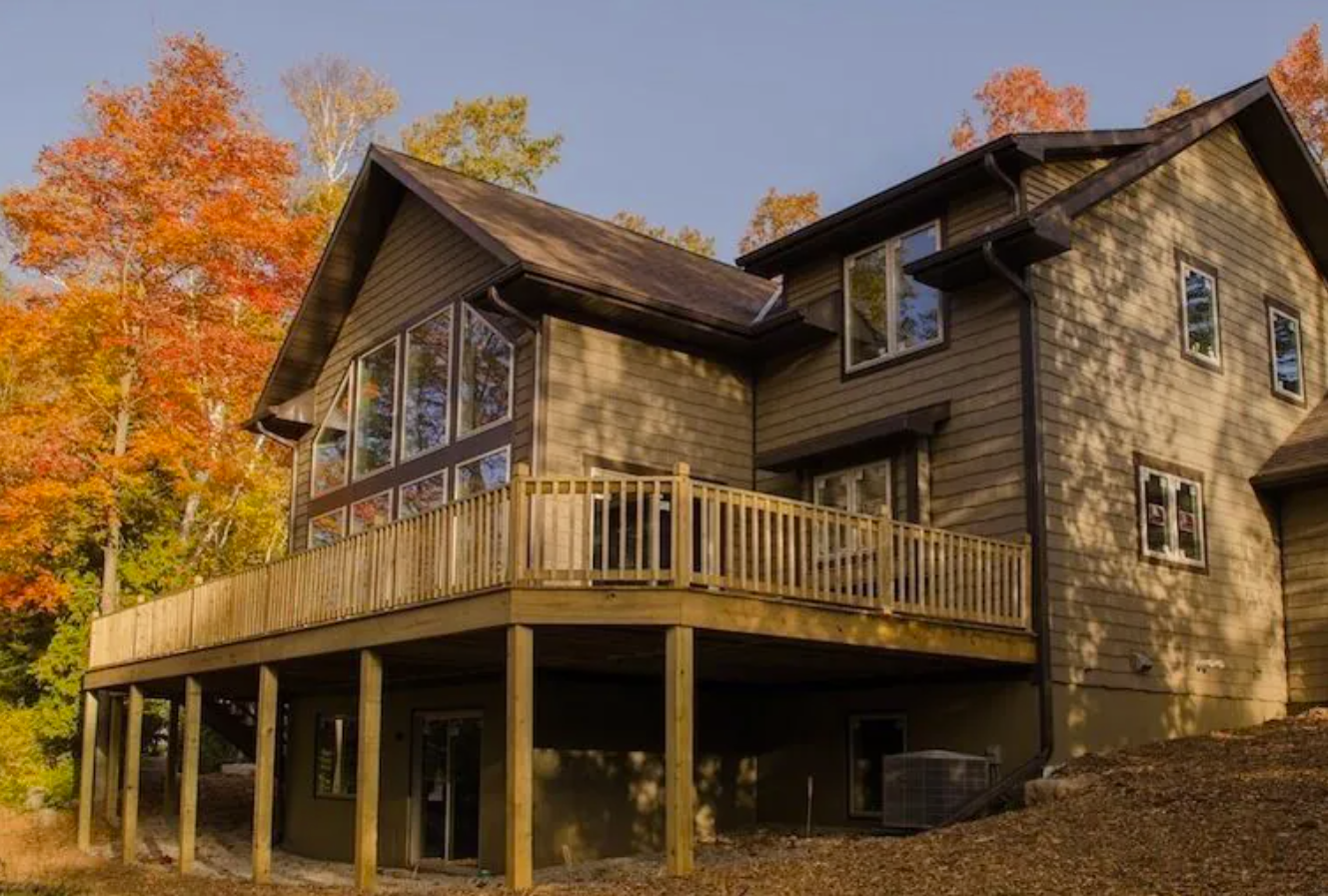 4-bedroom Luxury Five Birches Cabin in Fish Creek
Featured in Door County Magazine is this 4-bedroom, 3-bathroom luxury cabin with over 2,900 square feet of living space. It sleeps up to eight persons and each bedroom features 400 thread count Egyptian cotton sheets. The great room where families and friends can gather has an open design to let the sun in, as well as floor-to-ceiling windows facing the south. There's a stone fireplace (gas), gourmet kitchen, and access to the property's 600 square foot deck.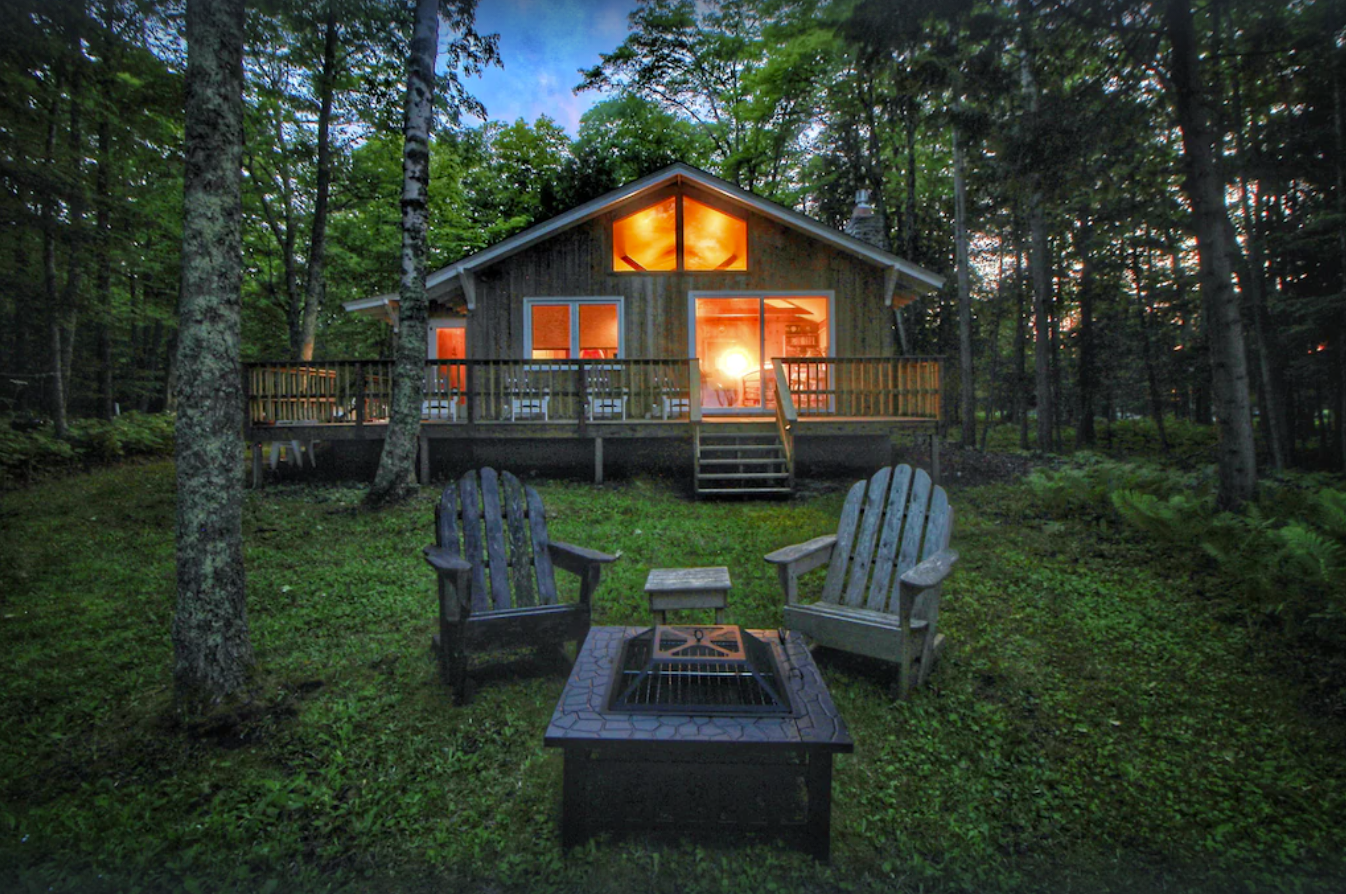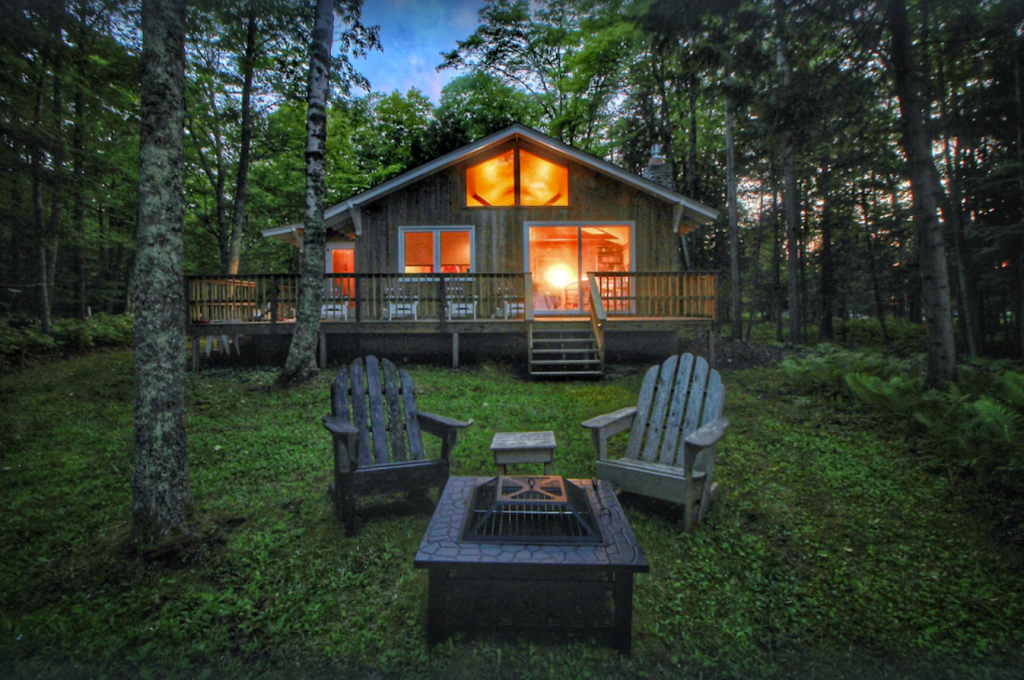 Quintessential Waterfront Cottage on Lake Michigan
A 2-bedroom, 1-bathroom waterfront cottage full of rustic charm. It may be modest in size but it's dubbed as a vintage charmer because of its cozy and welcoming vibe, due in part to the cottage's open floor plan featuring an original stone fireplace (gas), original log furniture, and retro accents. It sits on a private 1.5-acre wooded lot with amazing Lake Michigan views.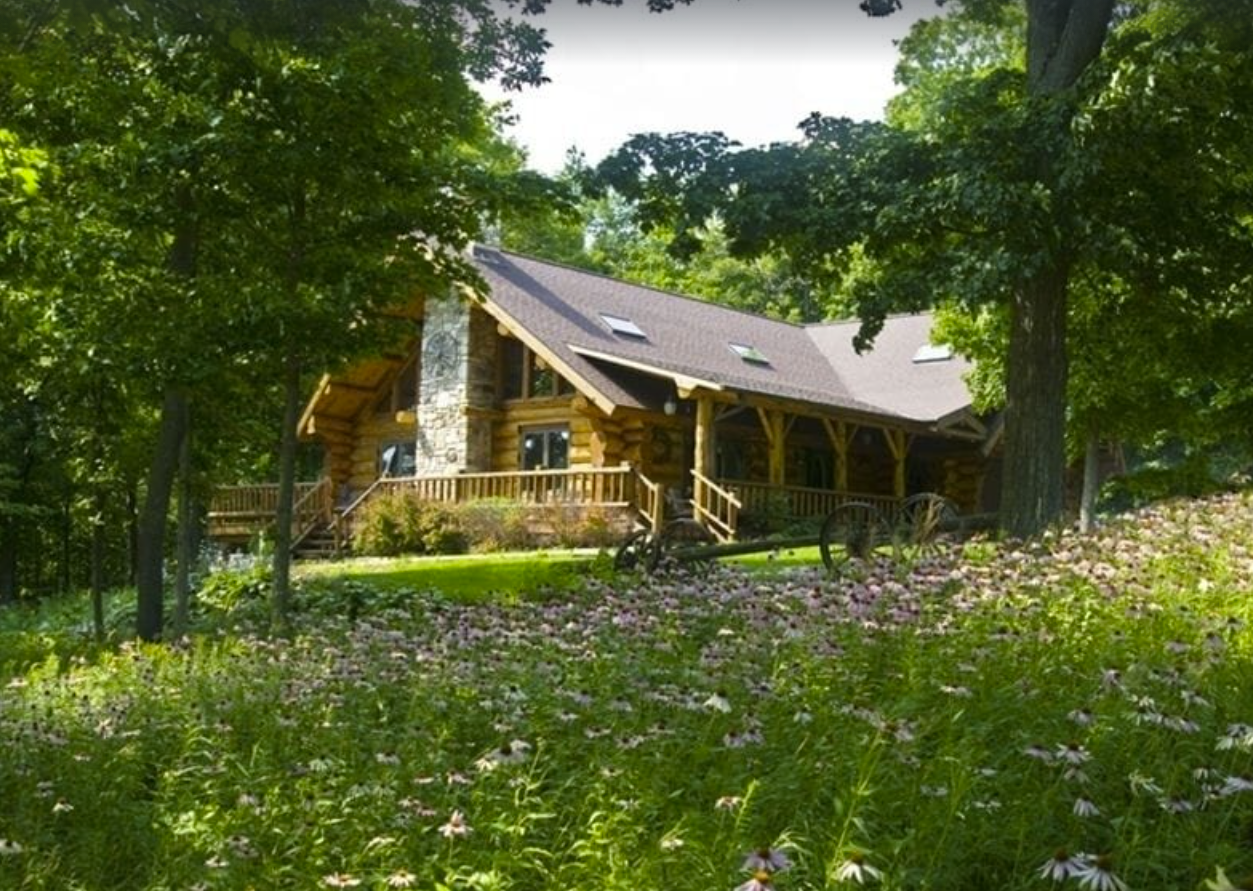 The Honey Dew Log Lodge at Egg Harbor
This 5-bedroom, 4-bathroom log home has over 80 acres of woods to explore, and the property itself has been featured in magazines including Log Home Living, Home and Away, Country, Log Home Illustrated, among others. Experience comfort and luxury inside the lodge, with a fully equipped kitchen, field-stone fireplace, and a wrap-around deck with furniture for entertaining outside.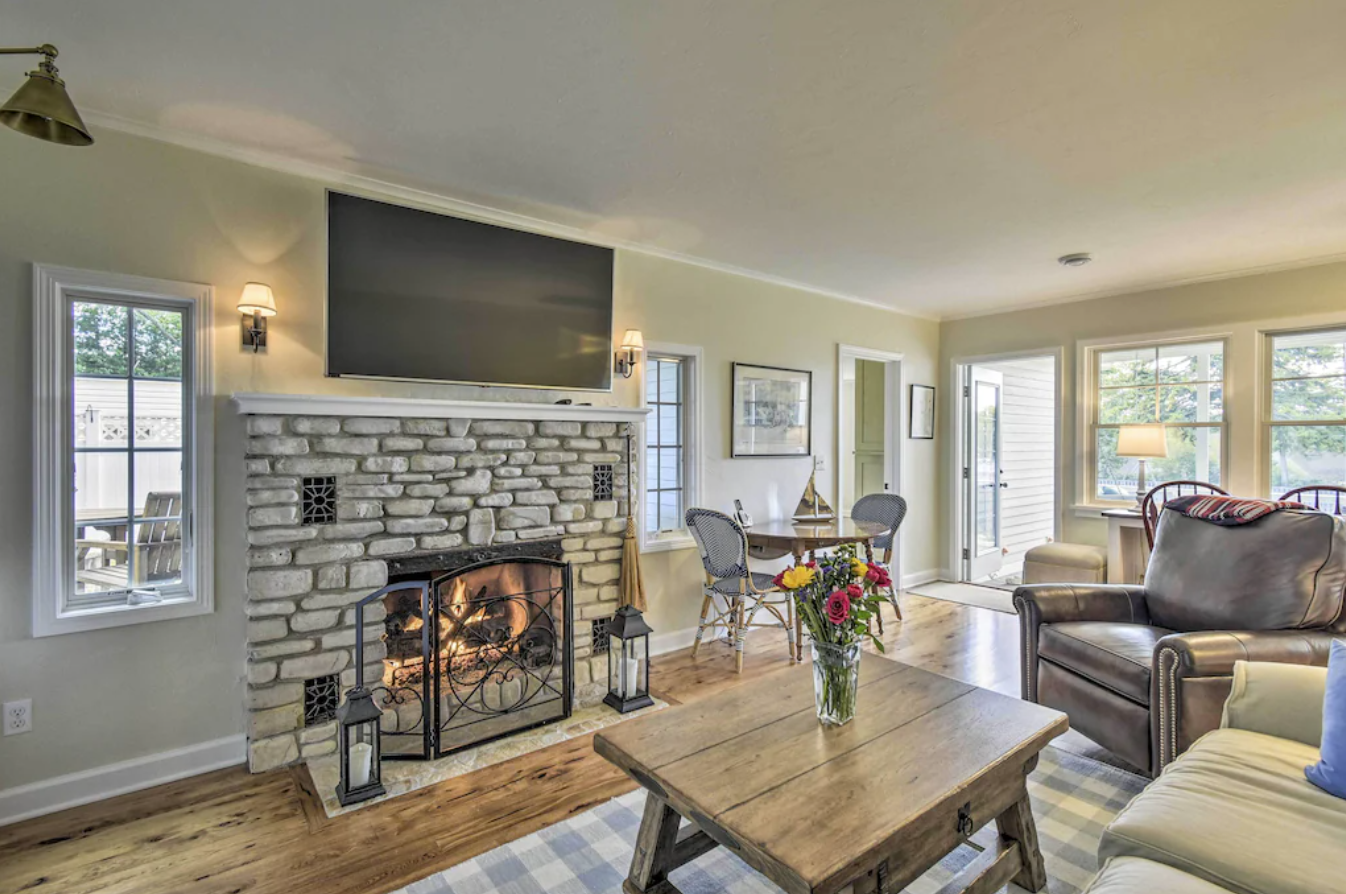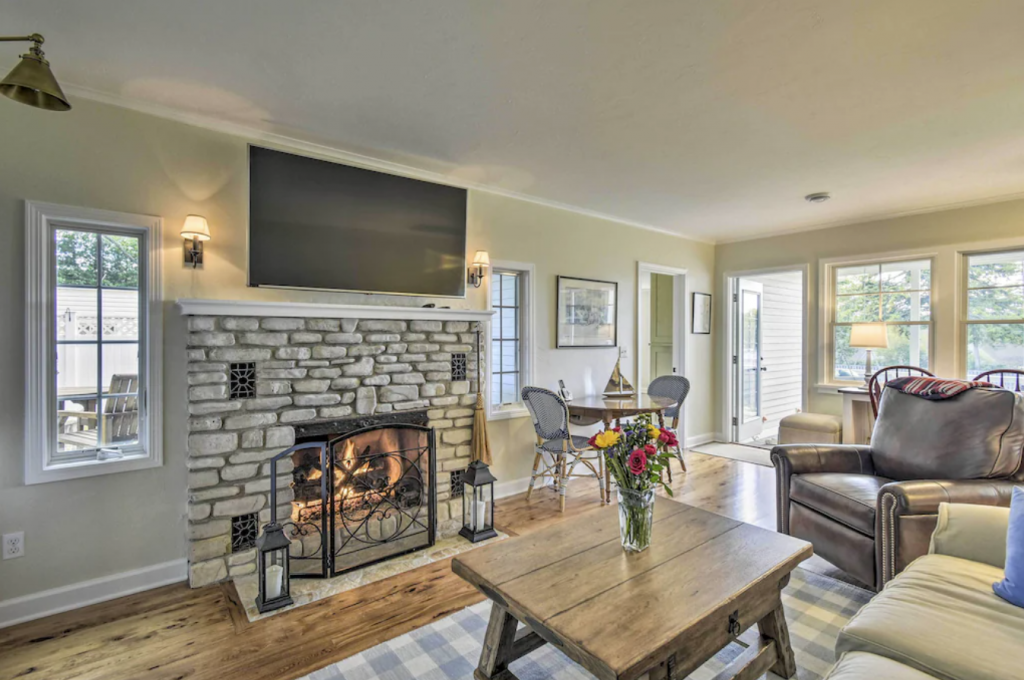 Clean and Cozy 2-bedroom Lakeside Retreat in Ephraim
A pleasant 2-bedroom, 2-bathroom property to come home to after visiting historic sights and lighthouses in Ephraim. It's clean and cozy, with wonderful amenities including a fireplace, shuffleboard court, and a manicured yard where the kids can play. The screened porch is a lovely spot for dinner with the family or for sipping wine bought from the local wineries.
3-bedroom Waterfront Cottage with Magazine Styling and Picturesque Water Frontage in Gardener
Guests are met with a beautiful and expansive view of the waters in this 3-bedroom, 1-bathroom waterfront cottage with magazine-style interiors and décor. The property is located just 15 miles south of Sturgeon Bay, so there's no shortage of waterfront and nature views for guests to enjoy. Inside is a full kitchen, living room, a dining area that seats up to six persons, and a wonderful lawn/garden straight out of a dream.
Which of these VRBO rentals in Door County is your favorite? Let me know in the comments!