Transitioning a Maxi Skirt from Summer to Fall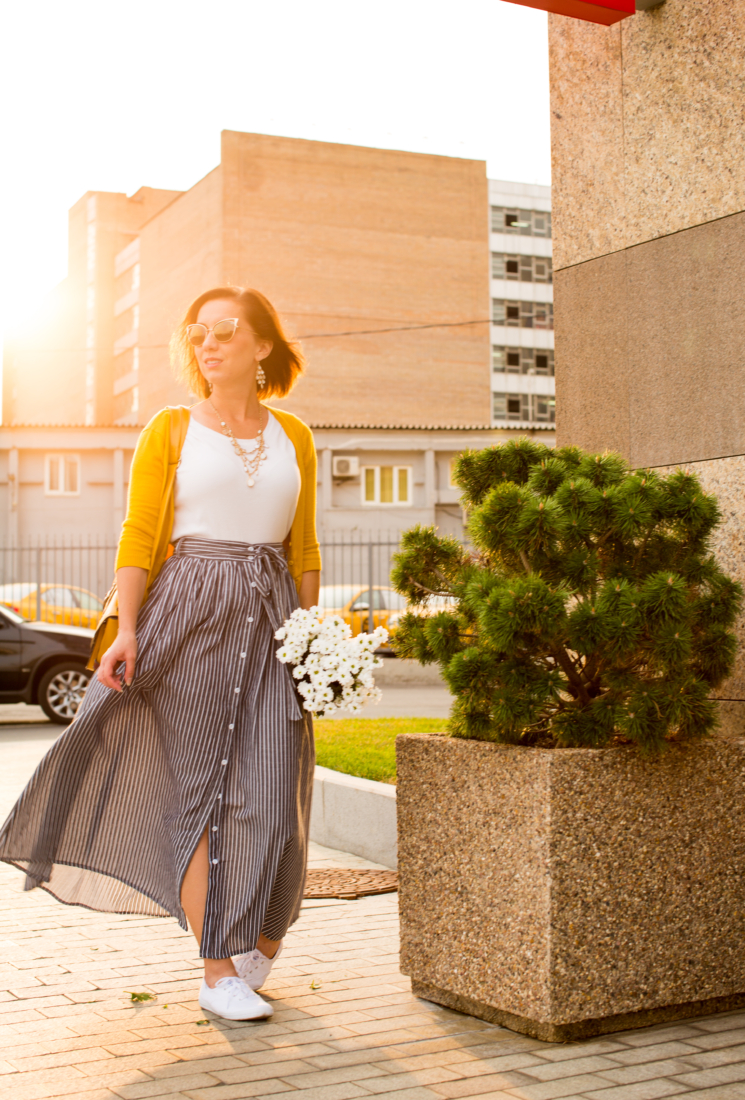 Summer's days are numbered, and there's an ever so slight nip in the air… which of course, I could not be more excited about! In true style blogger fashion, I love fall. It's the best time of year for style and layering is so much fun!
Layering is the key to any good fall outfit. It also means your summer clothes can get a lot of use! Just because it's starting to get chilly, doesn't mean you need to put away your summery dresses or skirts. Just add layers!
Click to shop:
Bag | Cardigan | Skirt c/o* (Similar here & here & here) | Sneakers | Sunglasses | Top | Earrings (similar)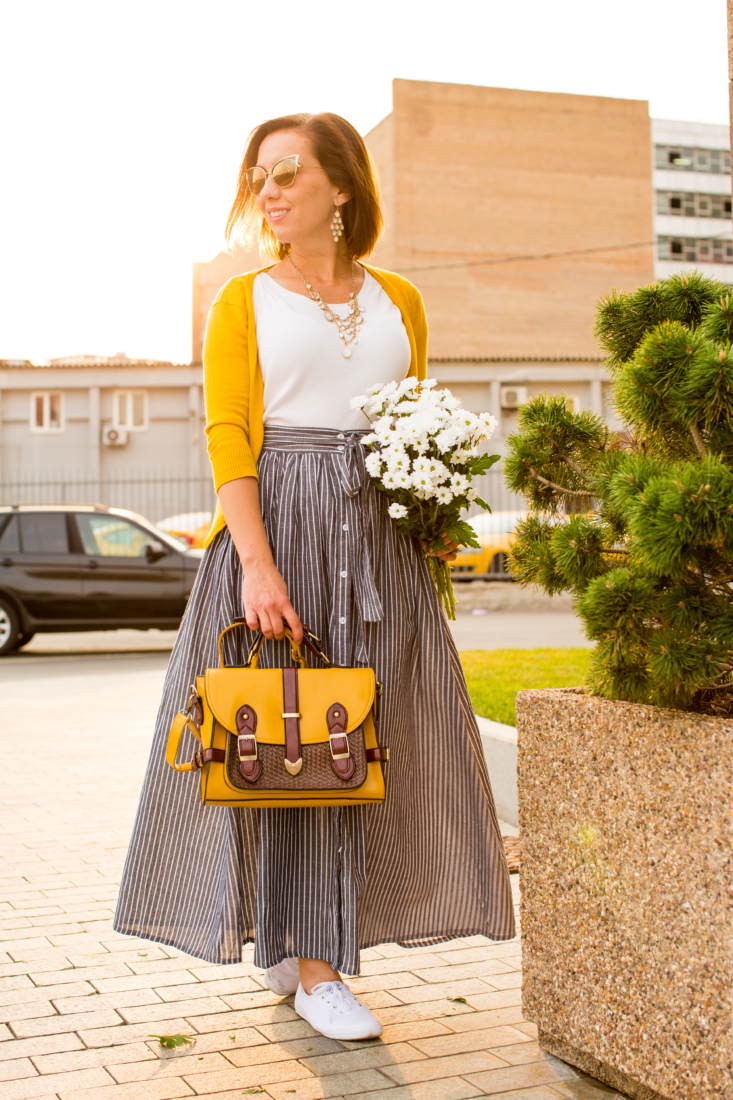 Maxi dresses and maxi skirts are fantastic to transition with, whether you pair them with cardigans, sweaters or jackets. (Click here to see how I transitioned my maxi dress for fall!) Not only can they work for layering, but the one I'm wearing can be worn with sandals, sneakers, boots or heels…and all it still works! If you're feeling extra chilled, put on some boots with thigh-high socks or tights for extra warmth.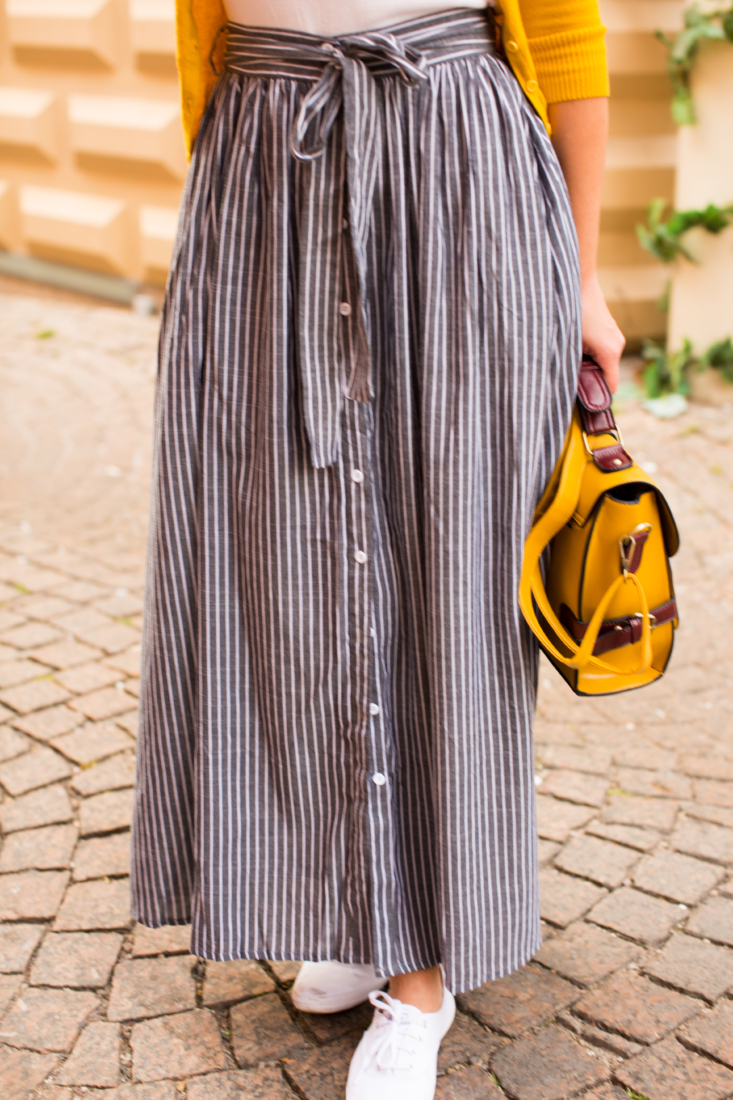 And if you're interested in this maxi skirt, just note that the fabric has absolutely no give. If you're in between sizes, definitely size up. I'm wearing my normal size medium, and it just fits. I would also recommend sizing up if you plan to tuck a top in other than a thin shirt into this maxi skirt. Other than that, though, this is a really fantastic skirt! I love the way it moves when I walk. It's also a great length…not so long that it's dragging on the floor and getting caught in escalators, but not so short that it looks weird either.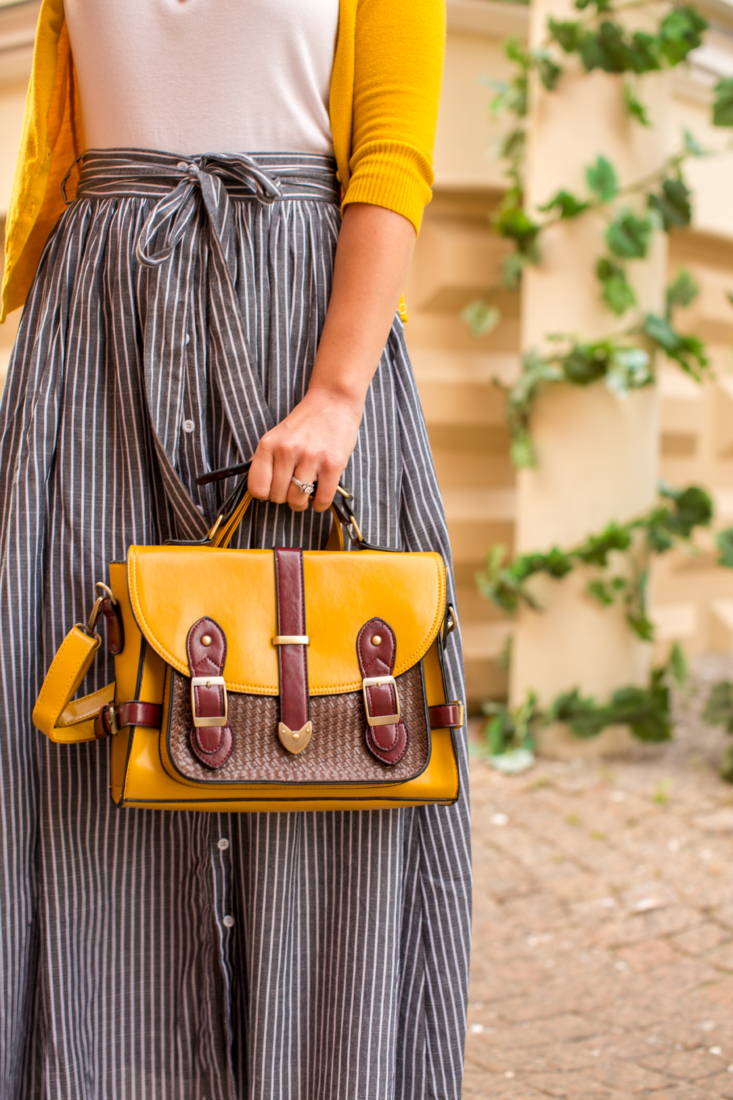 Yep, and totally bought the mustard version of my bag. (Thank you, readers, for all your comments in my previous post about that!) I have the teal version, but when I saw the mustard was back in stock for fall…I could not resist! My husband thinks I'm a little crazy for having the same bag in 2 different colors. But hey, when you find a bag this great…you might as well get it in all the colors…especially if they work for fall. Haha.
How are you transitioning your wardrobes for fall? Let me know in the comments!
Where to find it:
Bag: ModCloth
Maxi Skirt: c/o* Shein (Similar here & here & here)
Cardigan: ModCloth (on sale!)
Sneakers: Keds
Top: ASOS (similar)
Sunglasses: Quay (similar)
Earrings: Nordstrom (similar)

Links à la Mode, Nov 1, 2018
*Disclosure: some of these links are affiliate links. Meaning, if you click a link and make a purchase, Have Clothes, Will Travel gets a very small commission at no extra cost to you. Thank you for supporting the brands that make this blog possible! I am also a participant in the Amazon Services LLC Associates Program, an affiliate advertising program designed to provide a means for us to earn fees by linking to Amazon.com and affiliated sites.
*c/o = courtesy of, meaning the company gave me the product to be used on my blog, and I did not pay for it. All opinions are my own, and I am not being compensated for a positive review.