Celebrating the 4th of July in Philadelphia – What to Expect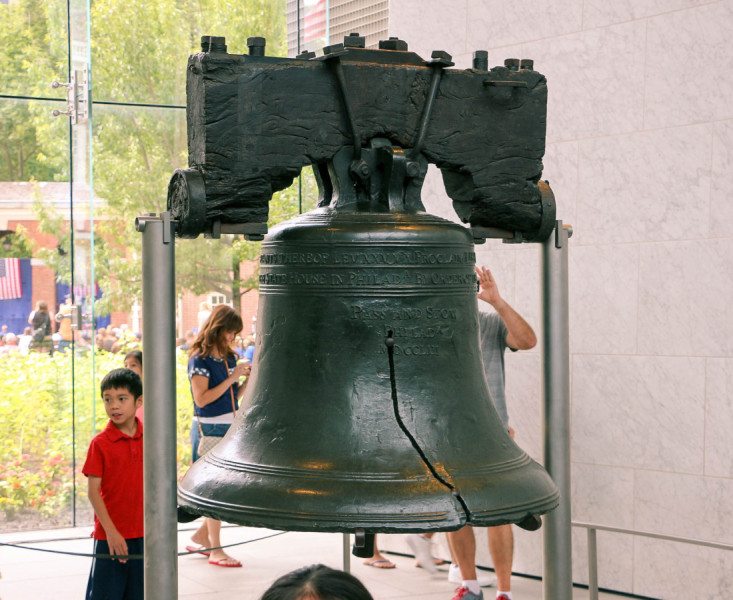 Happy 4th of July! It's weird not being in the United States to watch the fireworks and parades with my friends and family this year, again.

But anywho, 2 years ago, I did get to celebrate America's Independence Day like no other in Philadelphia. So, this post is taking a look back at my 4th of July celebrations in Philadelphia, Pennslyvania 2 years ago! Enjoy!
"Nobody celebrates the 4th like those who did it 1st!" I saw that on a billboard on my drive into Philly and couldn't agree with it more! Philly is the spot to be for the 4th of July.
I know a good chunk of my readers aren't from the US, so I will give you a really quick rundown of some 4th of July history. (If you're up on your US history, jump to the next photo.) The Declaration of Independence was adopted on July 4, 1776. However, historians believe it wasn't actually signed until about a month later. Nonetheless, we celebrate July 4th as the day the 13 colonies became legally separated from Great Britain and made us an independent nation! Oh, and this all went down in Philadelphia at Independence Hall – it's the building in the background of my next photo.
Fun Fact: The Liberty Bell was not actually rung on July 4th, it was rung when the Declaration of Independence returned from the printer on July 8th. This ringing summoned Philadelphia citizens for the first reading of the Declaration of Independence. And the lovely crack had happened during a test ringing of the bell. Whoops!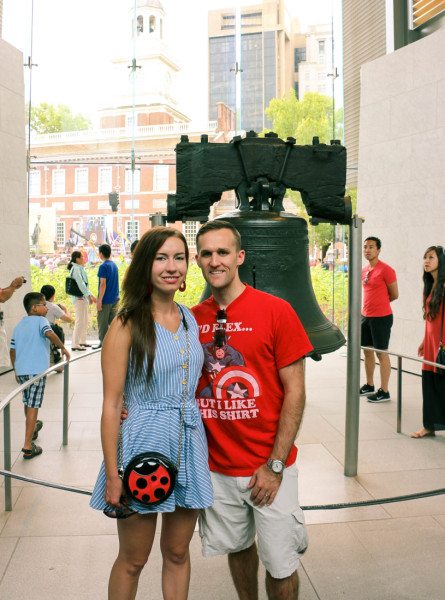 Now that we're all up on our July 4th history, I'll get to explaining just how Philadelphians celebrate the 4th these days!
Liberty Block Party
My husband and I arrived in Philly July 3rd in the afternoon and wandered down by Market & 6th street for their "Liberty Block Party." This was a fun outdoor festival that had all kinds of live entertainment, from bands to dance recitals. There were also a ton of yummy food trucks to eat from. (I was a fan of the crab cakes truck – crab cakes on a great big pretzel is the closest you'll get to heaven. Haha.)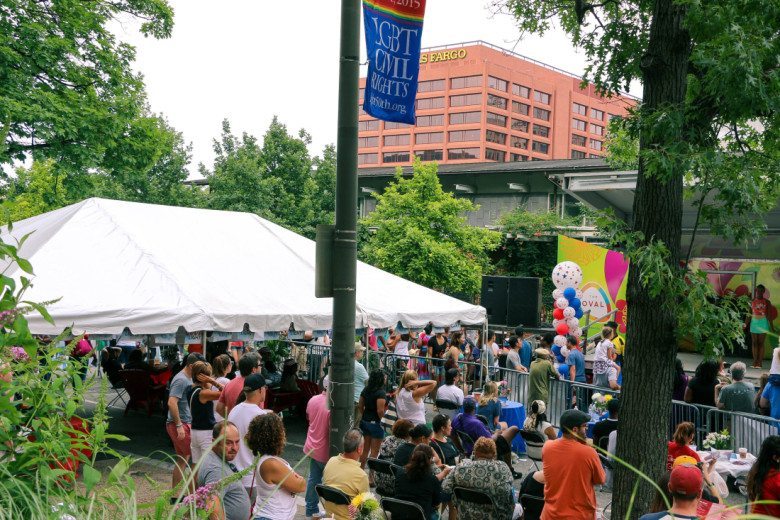 Carpenters' Hall
We enjoyed the food and sights at the Block Party for a while, before wandering over by Carpenters' Hall. We ended up going inside to check it out and were met with a delightful surprise. There were actors in costume playing the parts of interesting folks in our country's history. We "met" Pat Lyon, who was a blacksmith, and was falsely accused of robbing the bank of Pennsylvania. He told us his whole story and was very fun to talk with.
My husband is a man of many questions, and Mr. Lyon was very happy to oblige with factual answers. We were both delighted with the performances.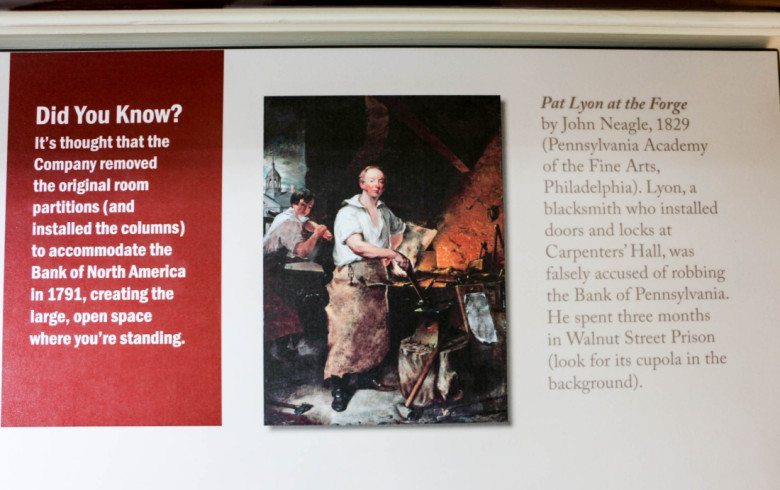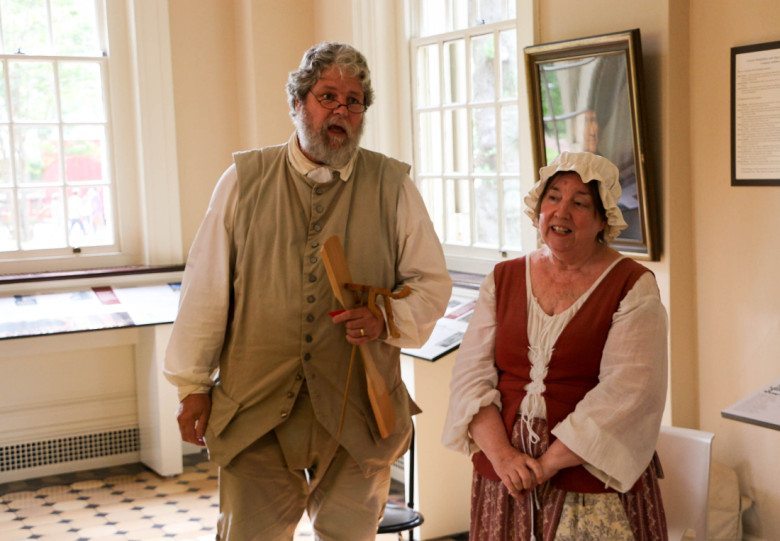 There were other actors singing, as well. It was a super fun atmosphere! And Yards Brewery was handing out free craft beer to enjoy while you listened to the actors.
For the record, I have become a bit of a beer snob over the years…and I really enjoy craft beers (stouts and IPAs in particular). So, having someone hand me a free craft beer, that I had never tried before, really felt like Christmas. My picky beer taste did approve of Yards "Tavern Spruce."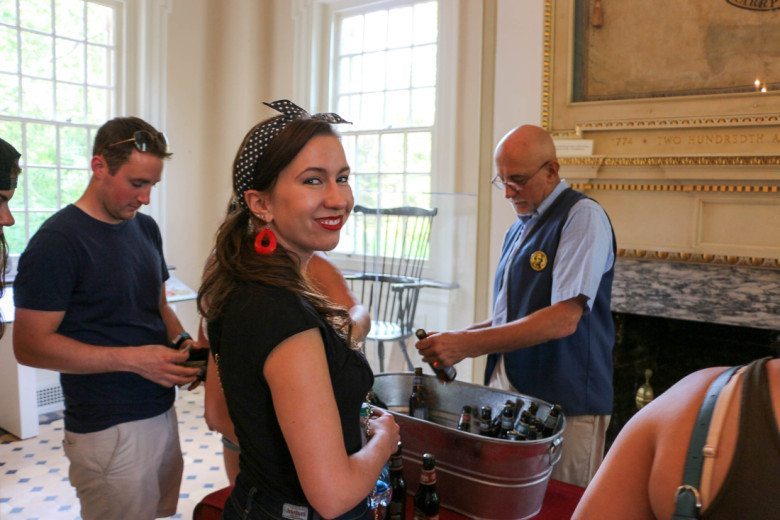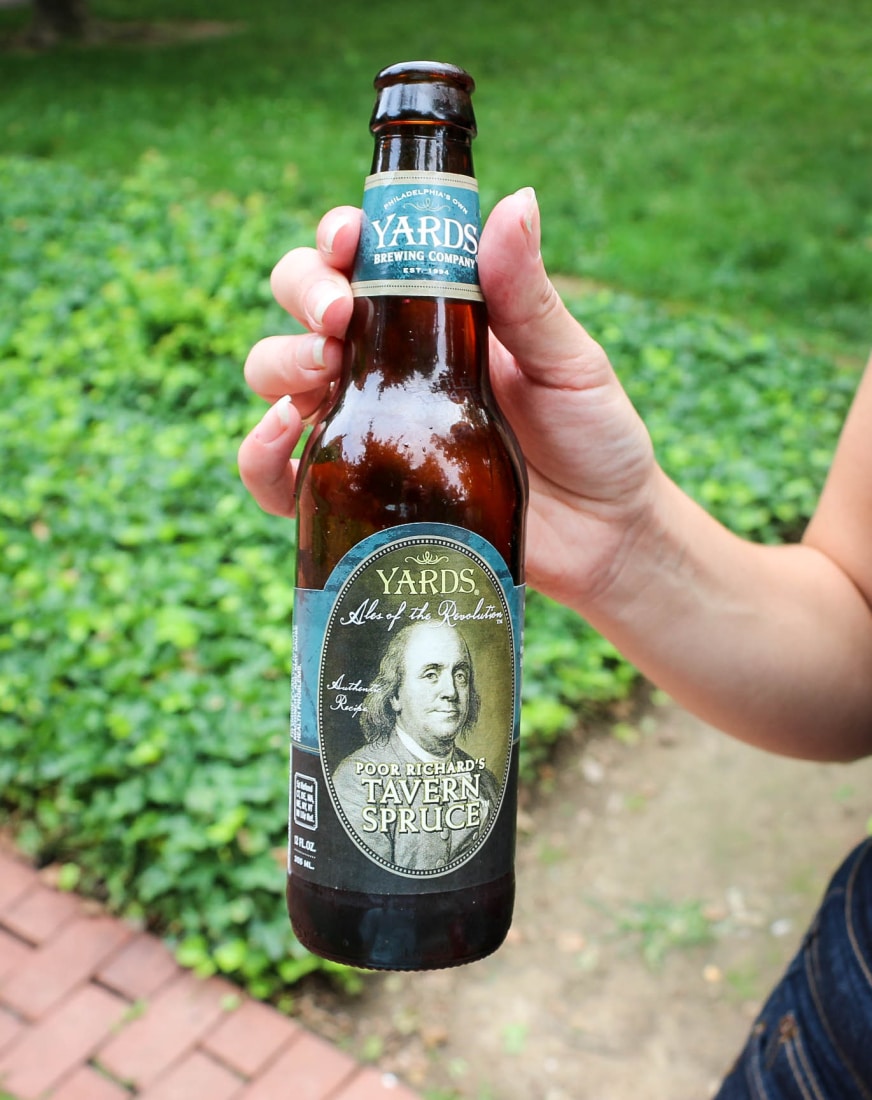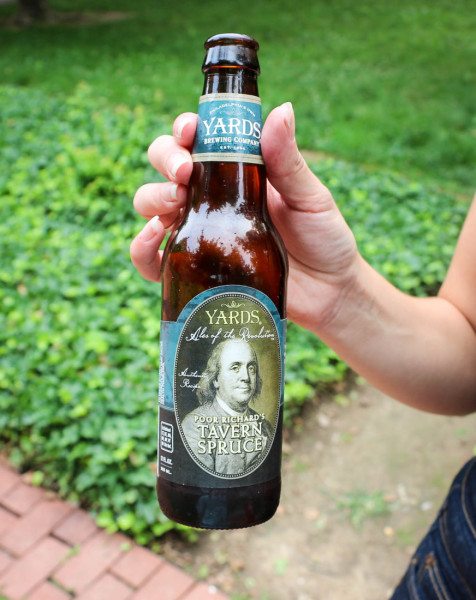 Tippler's Tours
I grabbed a flyer while I was in Carpenters' Hall that was advertising for "Tippler's Tours." I am assuming that was who was putting on this fun little event. Tippler's Tours is a pub crawl that sprinkles in some history while you try beer at different watering holes. Sounds like a blast to me! Click here to check out their site.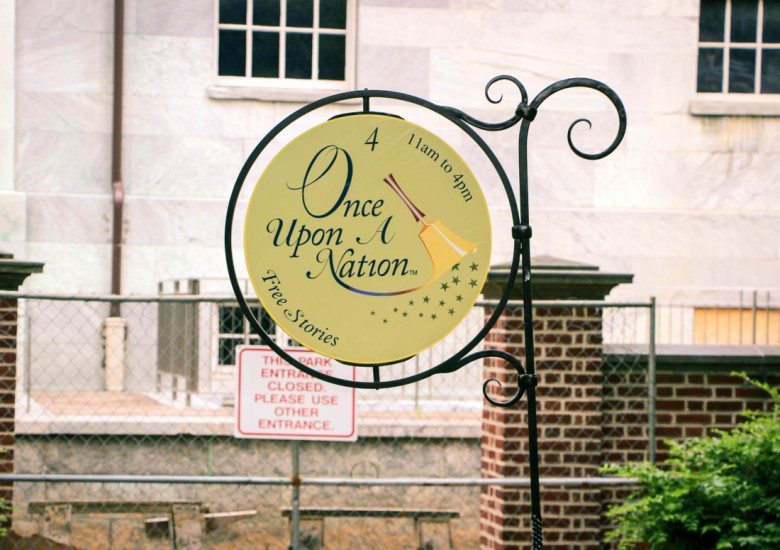 You'll see the signs pictured above, accompanied with benches, all around historic Philly. This is the alcohol-free (and also the money free) version of Tippler's Tours. You'll get to sit on a bench while an actor tells a historical story! Cool stuff! Click here for locations and more info.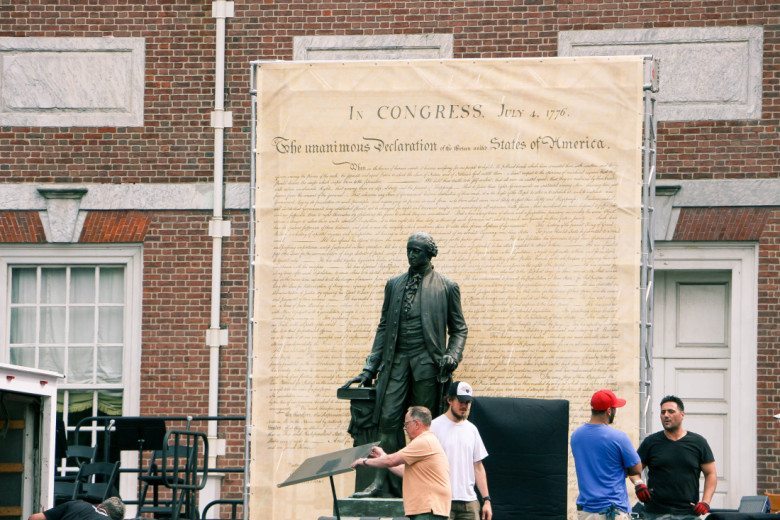 The Capital Grille
My husband and I had dinner reservations at The Capital Grille, and couldn't stick around as long as we would've liked at Carpenters' Hall. However, The Capital Grille was really, really good. They had awesome steaks, and I really enjoyed my tuna steak (I don't eat red meat too often, but my husband assures me the cow steak was delicious). And they're garlic parm fries were so yummy! They also have quite the wine selection, if you know a lot about that stuff (sorry, I don't!).
Philly Pops
After dinner, we wandered back by Independence Hall and watched the free Philly Pops concert. If you ever have the opportunity to see the Philly Pops – be sure to do so! They are an incredible orchestra that plays modern music and are a ton of fun. Capathia Jenkins was one of the singers for the evening, and she was out of this world phenomenal..when she sang, the hairs were standing up on our arms and we nearly had tears in our eyes. I wish I would have taken a video of her singing (all of the batteries in our technology were dead at this point).
The video below is of the Philly Pops at the Kimmel Center to give you an idea of how awesome they sound.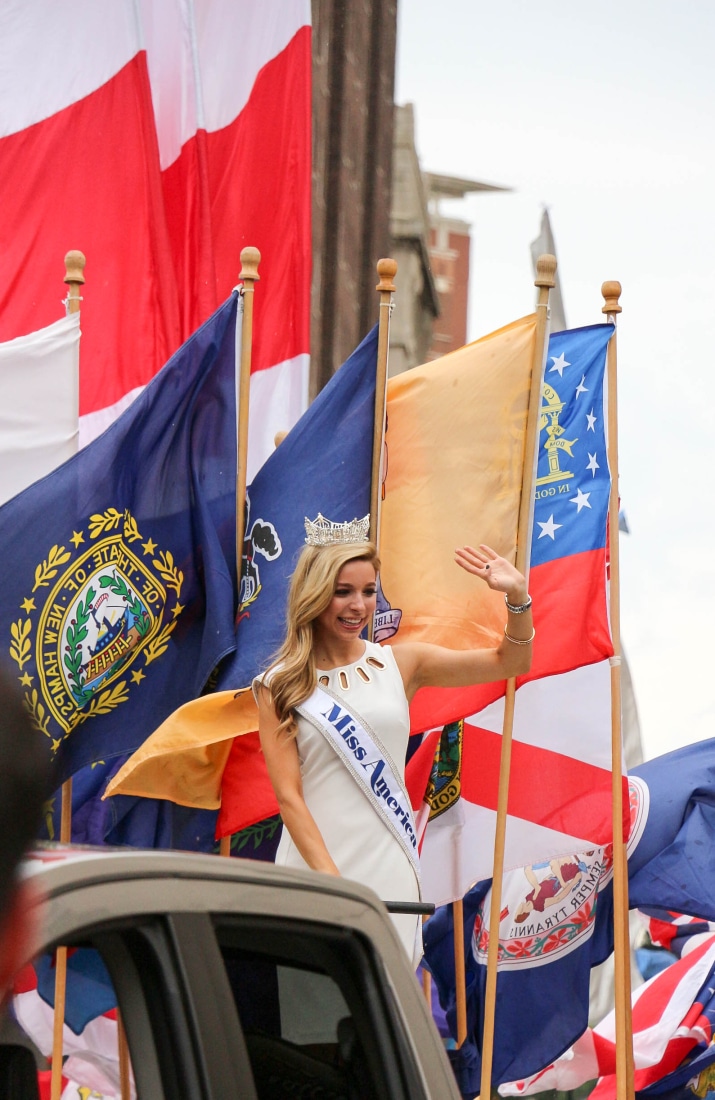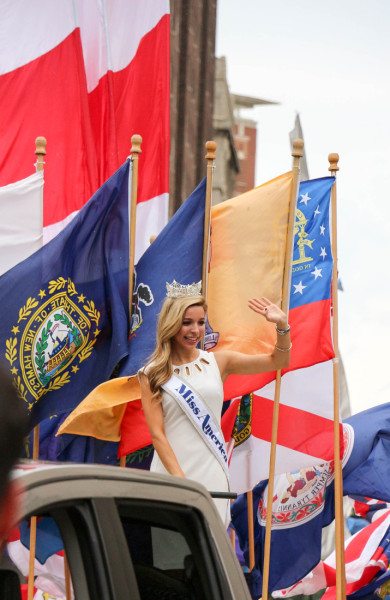 Independence Day Parade
The next morning my husband and I went to the Independence Day Parade. I'm not the biggest fan of parades, but I had a great time at this one! Unfortunately, though, it did start to rain about 15 minutes into the parade. So, I didn't get very many photos (other than of Miss America)…I didn't really want to see just how much water it would take to break my camera! (You can see a few more photos in the gallery below.)
My husband and I had plans back in Jersey with our friends and were not able to stay for the big fireworks celebration at the end of the day. But if you would like to see photos of the fireworks, click here. That website is also what I used to navigate my way around the events while we were in Philly.
Where to Stay
We stayed at the Philadelphia Marriott Downtown, and I loved it! It's in a great location to all the action. (And we're big Marriott fans.)
I am already planning a trip back to Philly to see more of this awesome city. Let me know what I should all see on my next trip in the comments!
Below are more photos from our trip. Click on them to make them larger and to read the descriptions. Enjoy!
Philly Photo Gallery
*To see my outfit post featuring my blue dress, click here
*To see my outfit post featuring my polka dot headband, click here.
Never miss a post! Just enter your email below.
Follow