What to Do in Uluru at Sunset – Camel Rides & Dinners in the Desert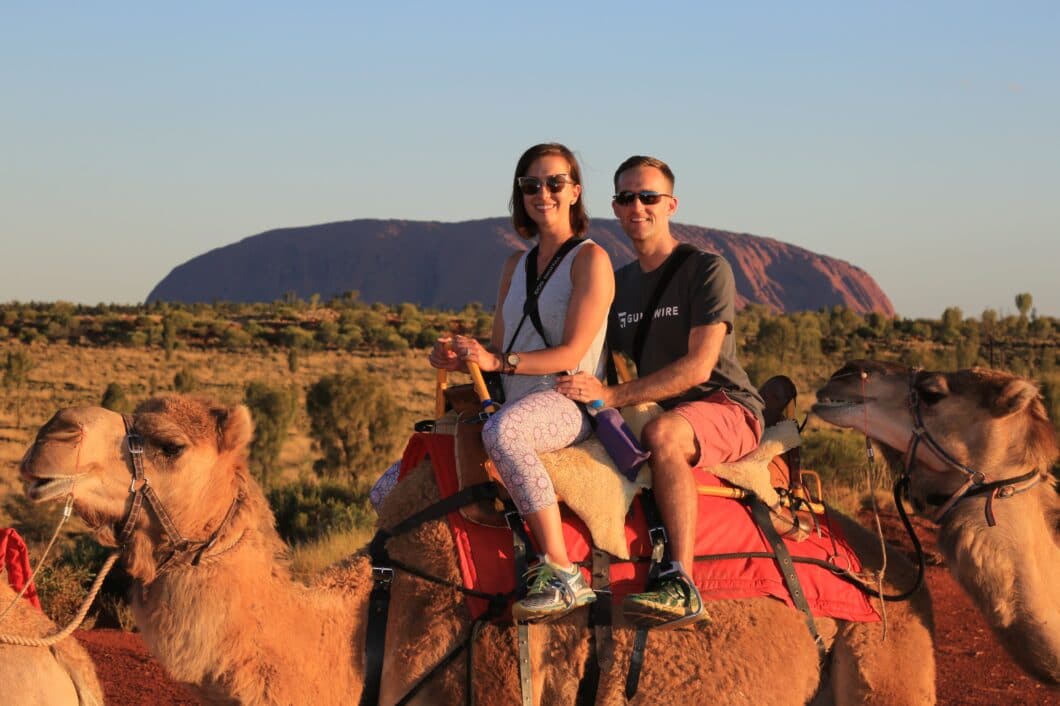 One thing to be aware of before visiting Uluru in Central Australia is your entire trip will be based around sunsets and sunrises. And for me, personally, not being a morning person & needing obscene amounts of caffeine to survive…I find sunsets to be much more enjoyable! So, I really wanted to make our sunset experiences memorable when booking activities.
After a little bit of research, I settled on a sunset camel ride for one night (because who doesn't want to ride a camel?) and a sunset dinner in the desert called "Tali Wiru" for the other. Unfortunately, after I tried to book Tali Wiru, I found out it is not available in the spring and summer months. So, I improvised and booked "A Night at a Field of Lights" instead. (And crossed my fingers, because I wasn't actually sure what it was all about!)
I'll break this post into two brief parts and start with the camels (because they were my favorite!).
Sunset Camel Ride in Uluru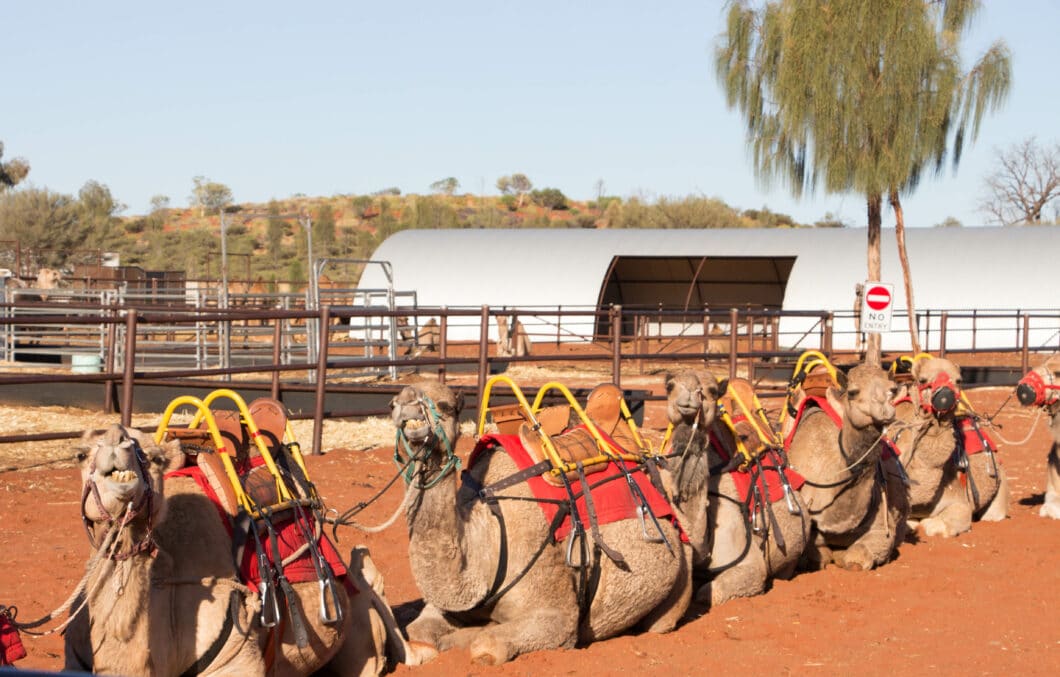 Riding a camel through the desert is always something I hoped to do once I visited Egypt – but I had no idea it was also an option in Australia! I also didn't know that camels are actually wild animals in The Outback. They aren't native to Australia, they were imported way back when Australia was getting settled. And now there are thousands of them running around and thriving in The Outback.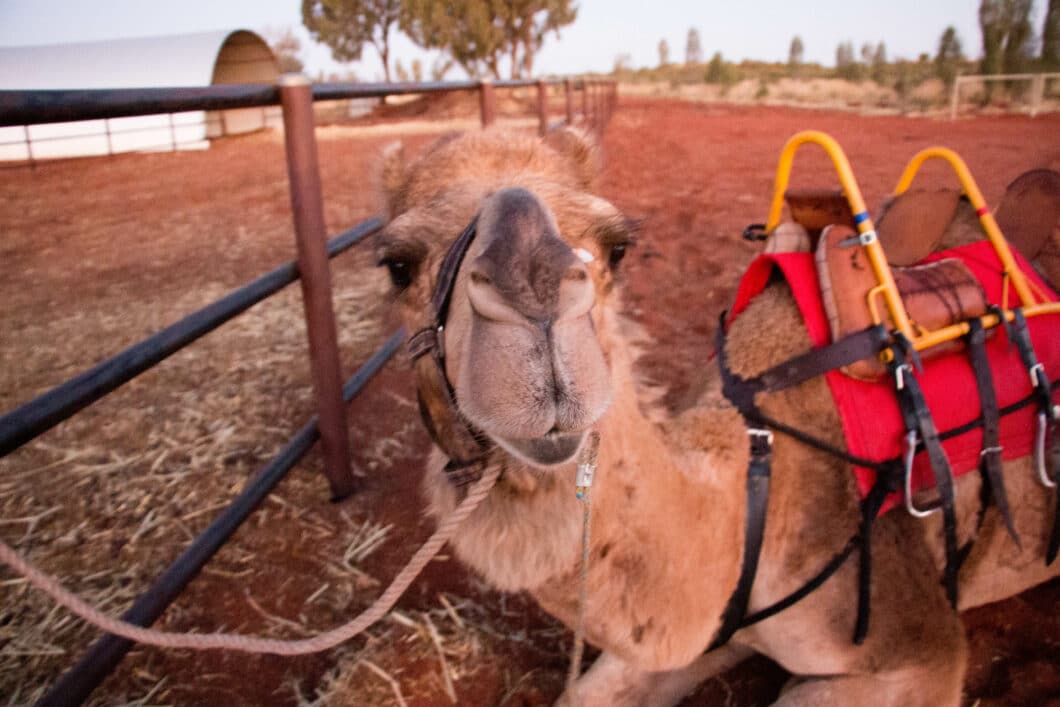 All the camels on the tour, except the one we were riding, were actually captured from the wild and brought to live at the Uluru Camel Farm. See, camels are actually a bit of a problem in The Outback. They eat alllll the vegetation, drink all the water in the watering holes and destroy ranchers' fences. And when a rancher encounters a camel causing problems on his land, instead of killing it, he'll call the folks over at the camel farm to come get it, and it will be trained for camel riding tours.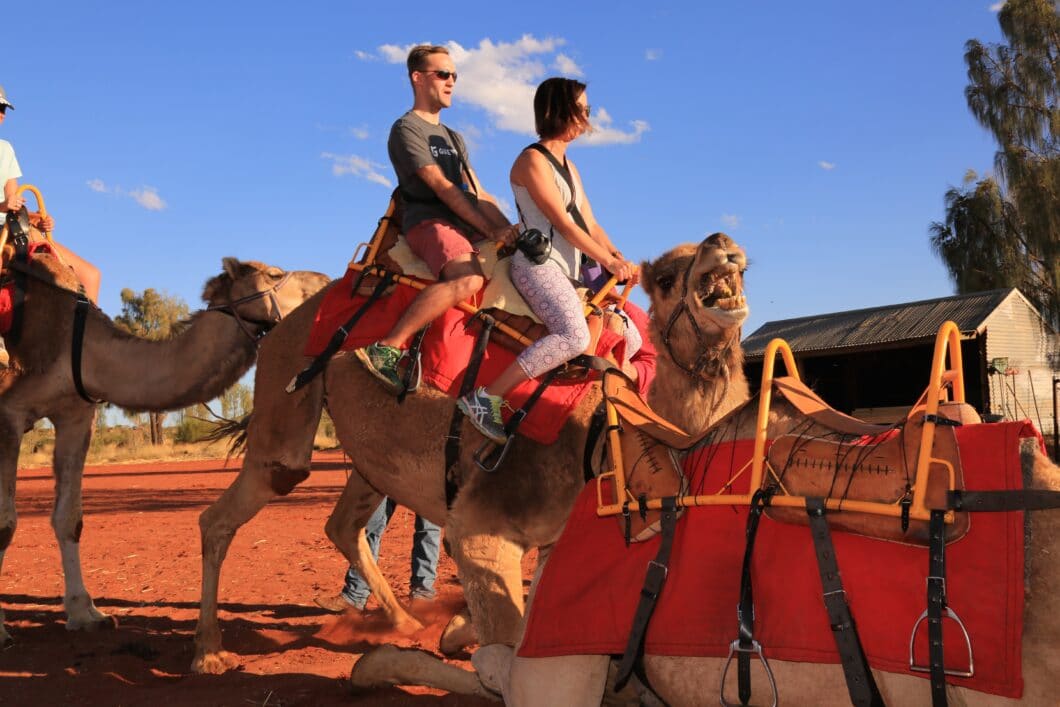 Our camel was a bit of stinker and made all kinds of weird noises throughout the tour, and would stop to eat every bush and tree in sight. Haha.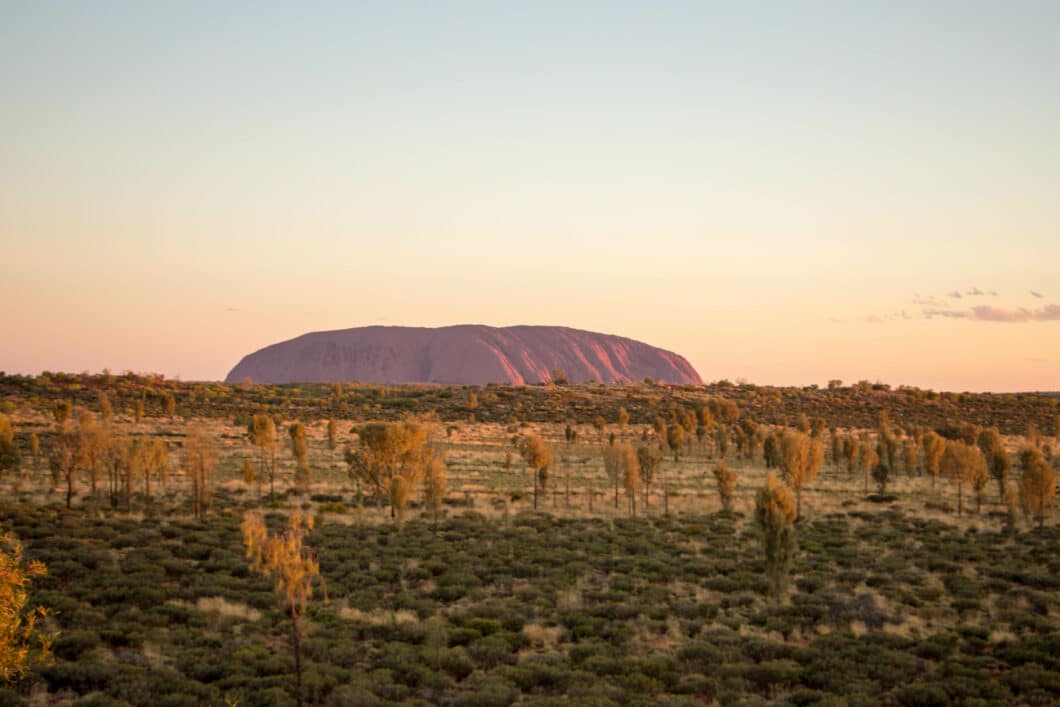 But despite our talkative camel, the ride was actually quite magical! Watching the sunset over Uluru and Kata Tjuta while riding a camel is one of the coolest things I've ever experienced.
And I do believe I captured the next postcard for Australia in the photo below. Haha.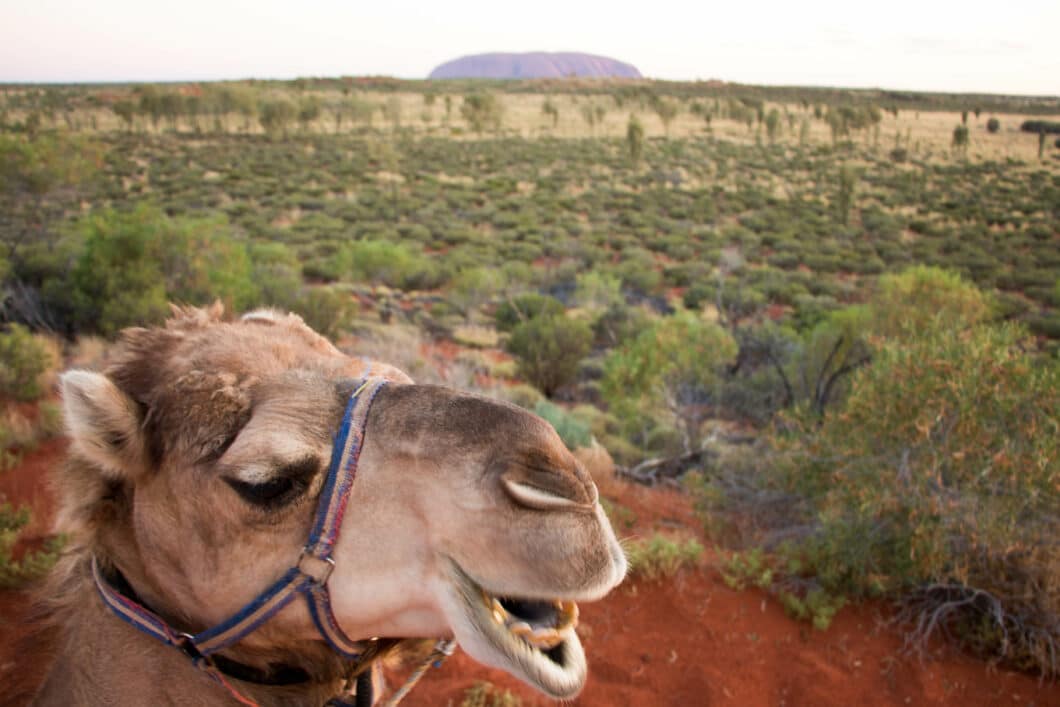 Or maybe this one? Haha.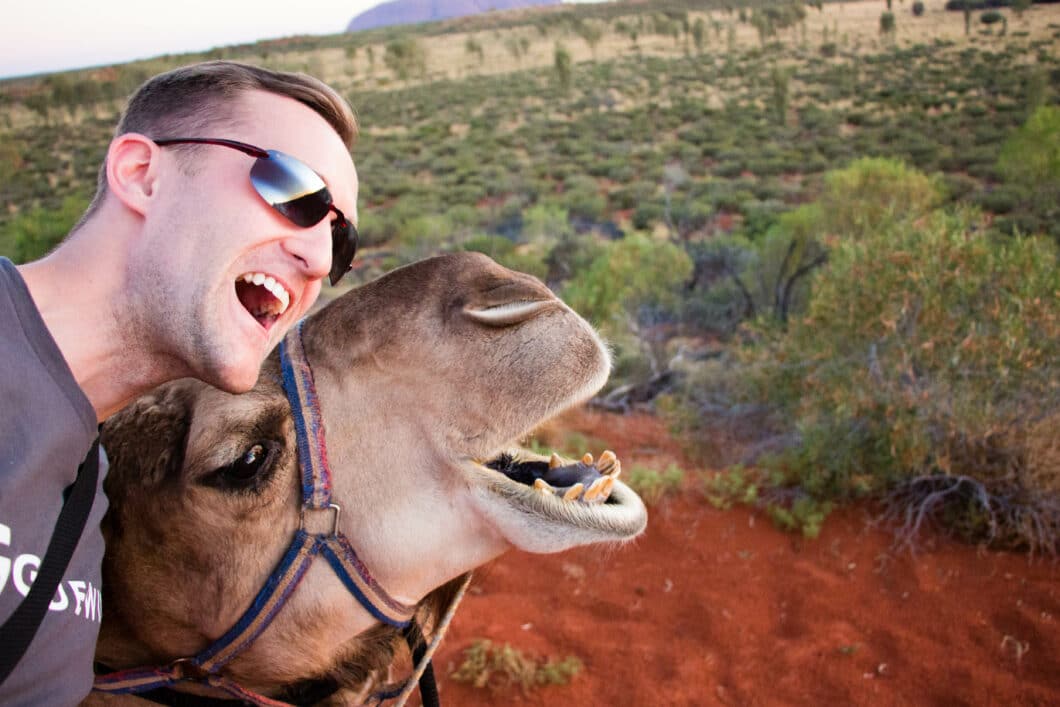 Once we returned to the farm, we were greeted with a wide selection of craft beers, wine & champagne and various homemade snacks (all included in the tour). We also were able to feed a baby camel (who was rescued from being eaten by dingos) and pat a water buffalo (who someone in Australia had received as a wedding gift, but had no idea how to care for – so he now lives on this farm too). It was so much fun!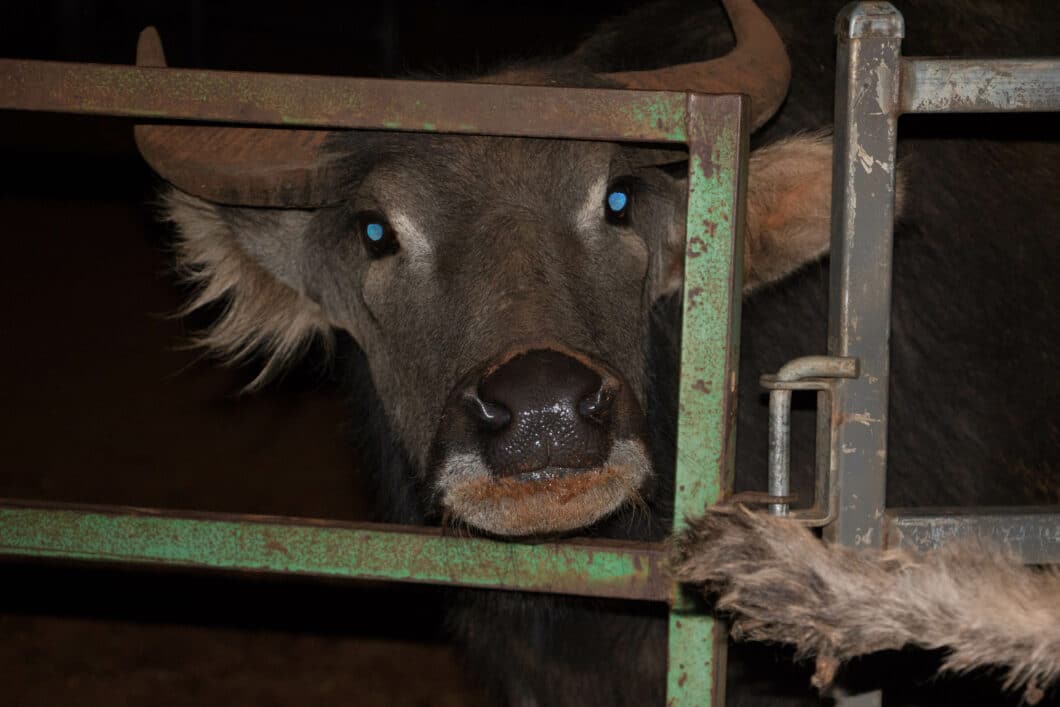 Basically, if you only have time to do one thing while in Uluru, I would say to do the camel tour! This was such a good time and really a unique experience. And all the camels were really gentle and well-behaved…our camel just liked to make weird sounds and eat everything it happened to see (and he was the naughtiest one by far, haha).
Click here for more info on this tour.
A Night at a Field of Light (Dinner)
A Night at a Field of Light is a dinner that takes you out into the middle of the desert just before sunset, so you can sip champagne and watch the sunset over Uluru. You then get unlimited wine and a buffet-style, yet high-end meal of Australian cuisine as you watch Bruce Munro's art installation come to life in the darkness of the night.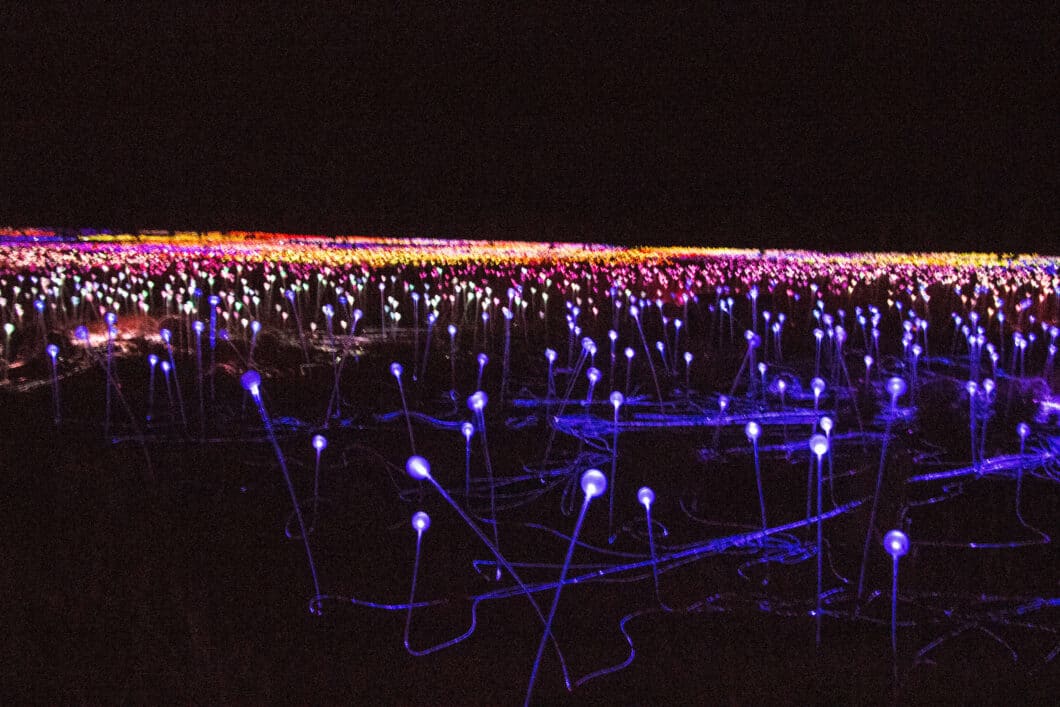 The art installation is made up of more than 50,000 slender stems crowned with frosted-glass spheres that twinkle once darkness settles over the desert. It's pretty neat!
The dinner itself is quite romantic and unlike anything I had ever done before. I mean, a candlelit dinner in the middle of the dessert? You don't get that chance too often. And there was a wide variety of yummy food available (including kangaroo – which tastes like a really tough, chewy steak) and some amazing desserts!
We actually met a lot of really interesting people at this dinner, and as a result, I didn't take many photos because I was too busy eating, drinking and talking… and also listening to a man play the didgeridoo. Haha.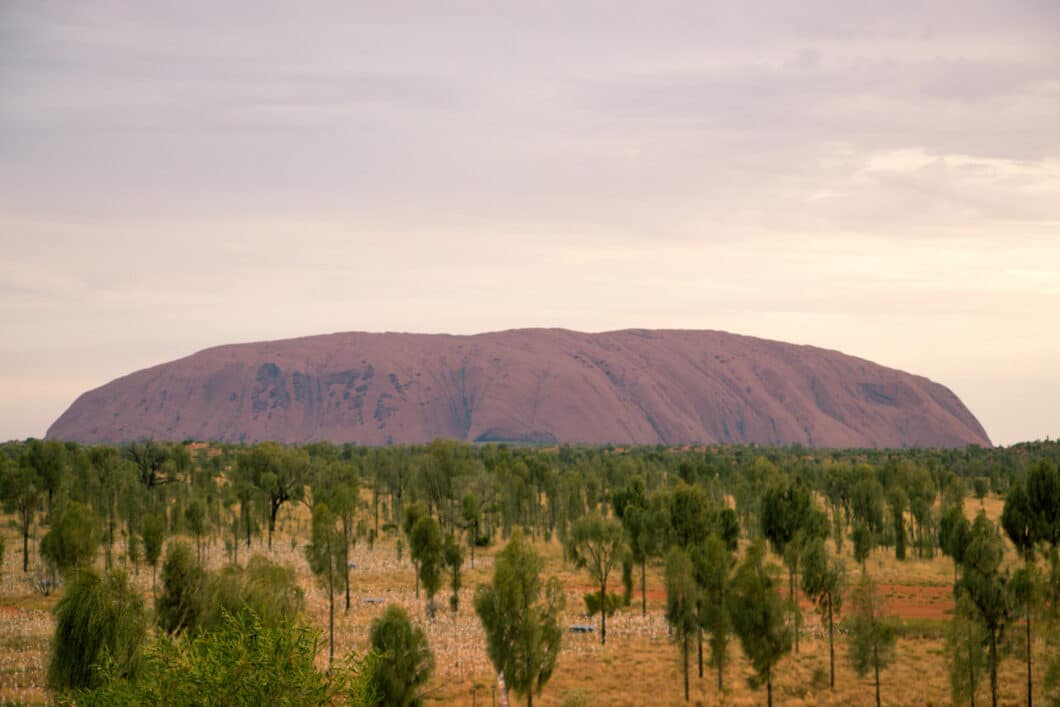 Unfortunately, the night we had our dinner was cloudy, so the sunset wasn't all that great over Uluru. (But the next night with the camels made up for it!) And we didn't get to see the stars, but it was still quite the experience, regardless!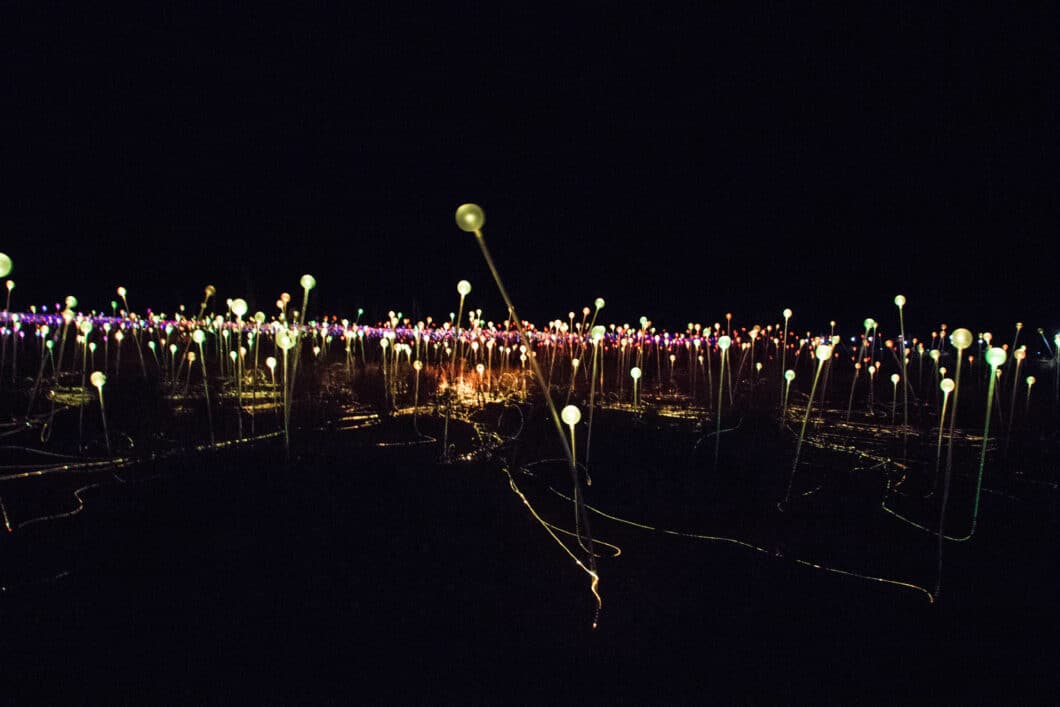 After dinner, we were then free to wander through the art installation that was literally "a field of lights." It was interesting to see something like that in the middle of the desert!
Click here for more information, and if you're interested, there's another desert dinner called "Sounds of Silence" that is a bit less expensive and doesn't include the field of lights. And if anyone is wondering what one wears to this dinner, click here to see my outfit post from it!
Would you try either of these sunset experiences in Uluru? Let me know in the comments!
*Click here for all my posts from Australia.