The Coolest VRBO Rentals in Milwaukee, Wisconsin for the Perfect Getaway
Searching for the coolest VRBO rentals in Milwaukee, Wisconsin? This is the post for you!
Having spent much of our time in our own homes this last year, a change of scenery seems like a fantastic idea right about now! Even if it's in our own backyard… but it in someone else's super cool vacation rental!
Milwaukee is a vibrant and unique city, with exceptional breweries, cultural venues, and is charmingly set on the coast of Lake Michigan. There's no shortage of fun things to do here. But this list of VRBO rentals in Milwaukee just might make you never want to leave your home away from home!
I've rounded up a list of the coolest VRBOs in Milwaukee – from lakefront mansions and downtown penthouses to homes with pools, hot tubs and more!
NOTE: at the end, we've also included BEAUTIFUL rentals just outside Milwaukee if you're looking to get out of the city for a quick weekend.
*Disclosure: some of these links are affiliate links. Meaning, if you click a link and make a purchase, Have Clothes, Will Travel gets a very small commission at no extra cost to you. Thank you for supporting the brands that make this blog possible!
The Coolest VRBO in Rentals in Milwaukee, Wisconsin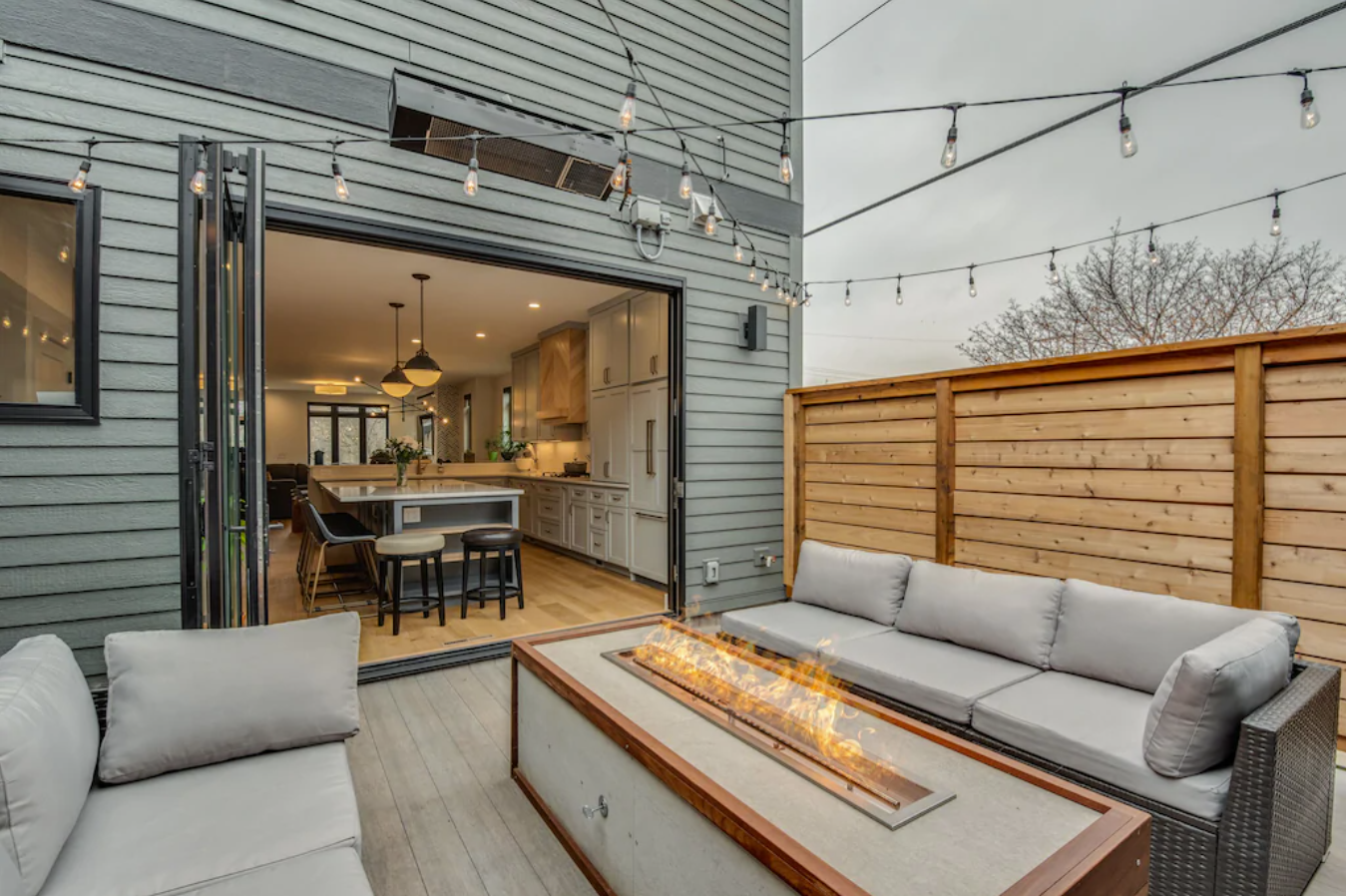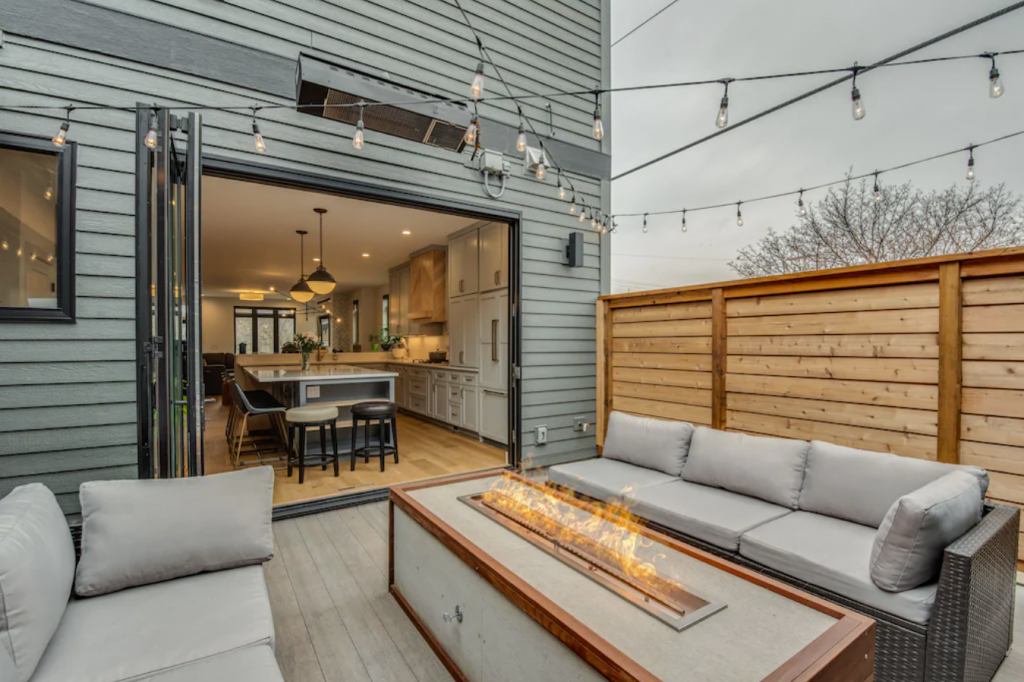 Modern, trendy 3-bedroom house
A modern and trendy 4,000 square foot home in Bay View that's also minutes away to Fiserv Forum, coffee shops, restaurants, and parks. The three-story property with skyline views also features a modern interior design, spacious rooms, and an open-concept living space for up to 14 persons.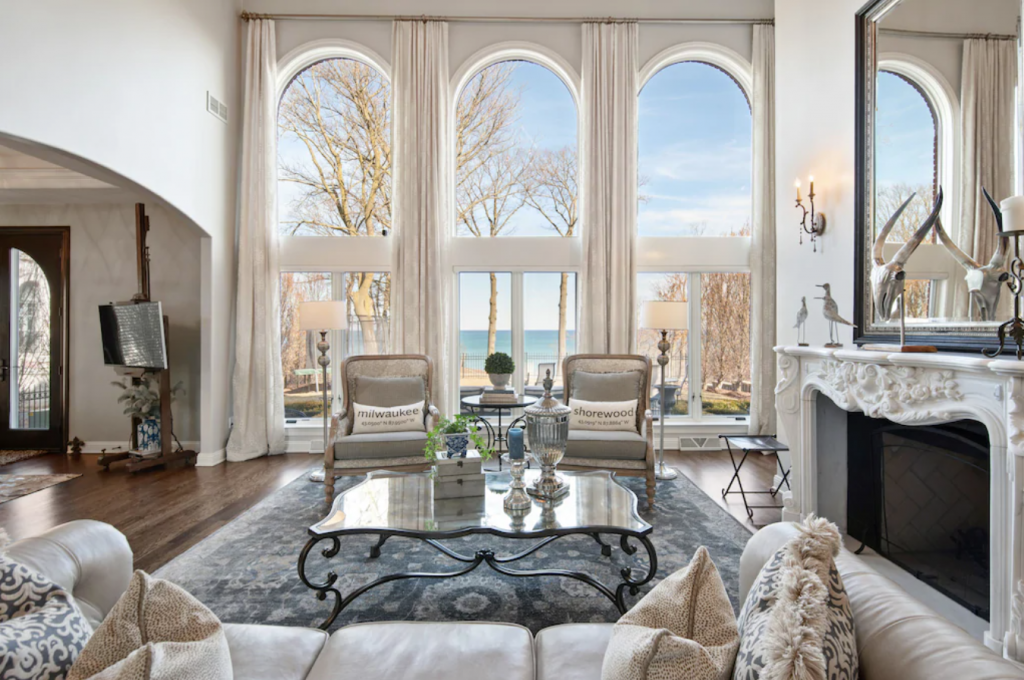 Luxury 5-bedroom home in Lake Michigan Bluff
Experience luxury stay by the lake in this recently renovated 5-bedroom property. The lake is viewable in all of the five bedrooms with in-suite bathrooms. The luxury home has a grand marble foyer, gorgeous moldings, hardwood floors, newly remodeled kitchen, a fireplace, custom cabinetry, quartz counters, tile backsplash, and chef-worthy appliances.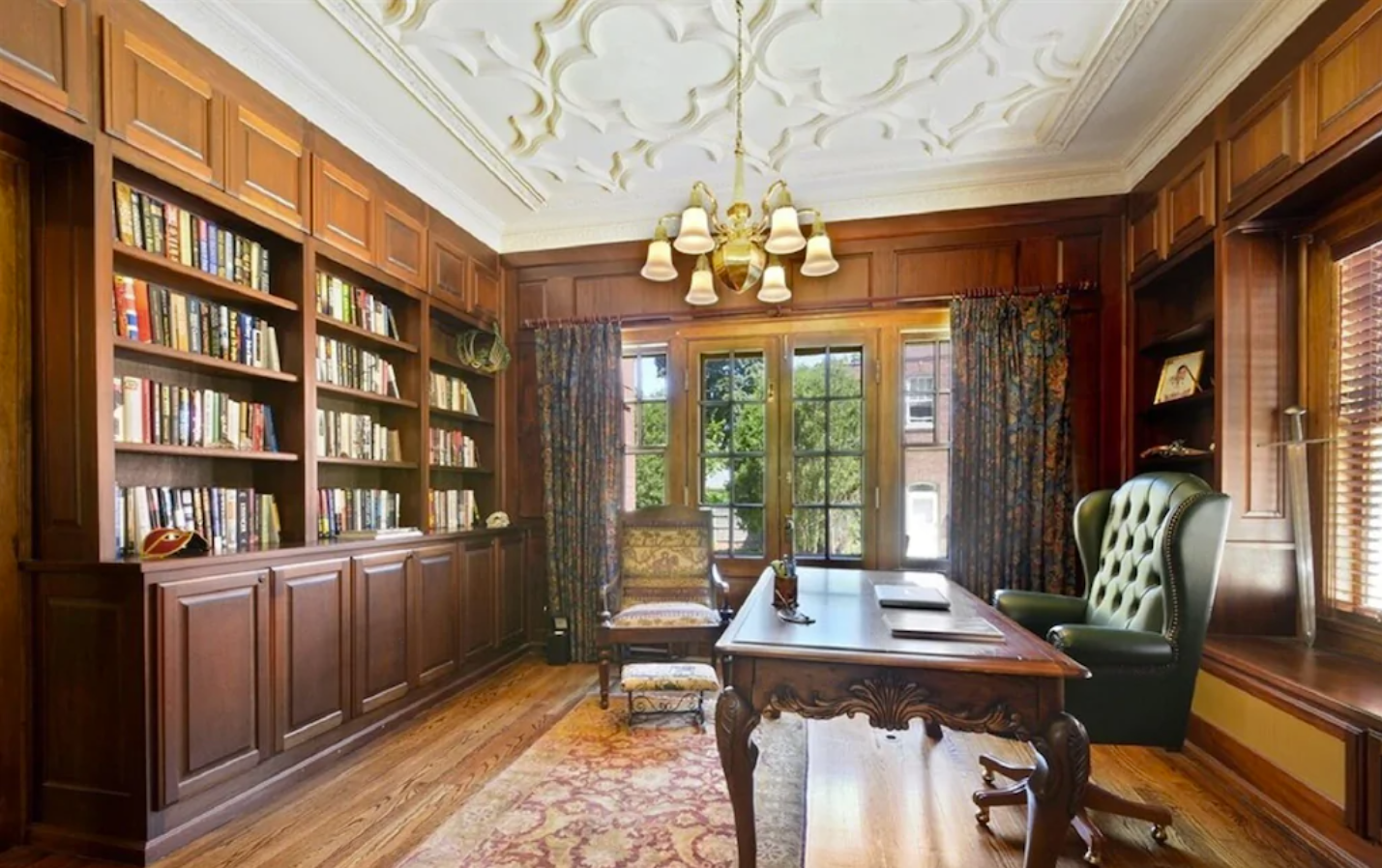 Stately 4-bedroom English mansion
A beautiful, charismatic 4-bedroom English mansion just blocks from Lake Michigan and Lake Park. The place is adorned with beautiful plaster ceilings, handsome woodwork, and hardwood floors. A newly installed 7-person hot tub is also available for guests' use, and there's also a large and open entertaining space in the third floor with a full bathroom.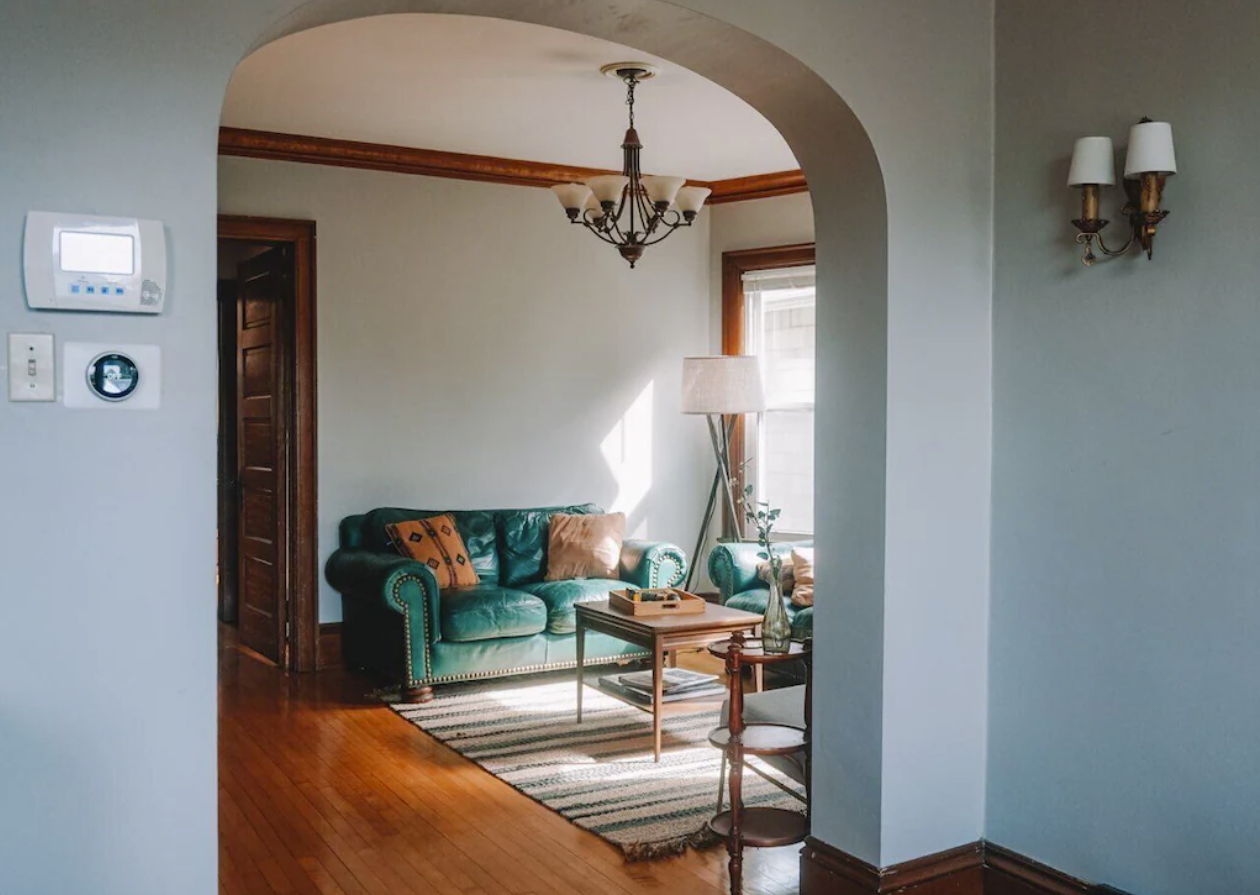 Classic 6-bedroom duplex in Bay View area
A 6-bedroom duplex that looks as lavish as it is cozy in the Bay View area. It has a living room, a dining room, and a full kitchen with a gas range and dishwasher. It can accommodate up to 12 persons and is only minutes away from downtown Milwaukee and some of the most highly rated establishments in town.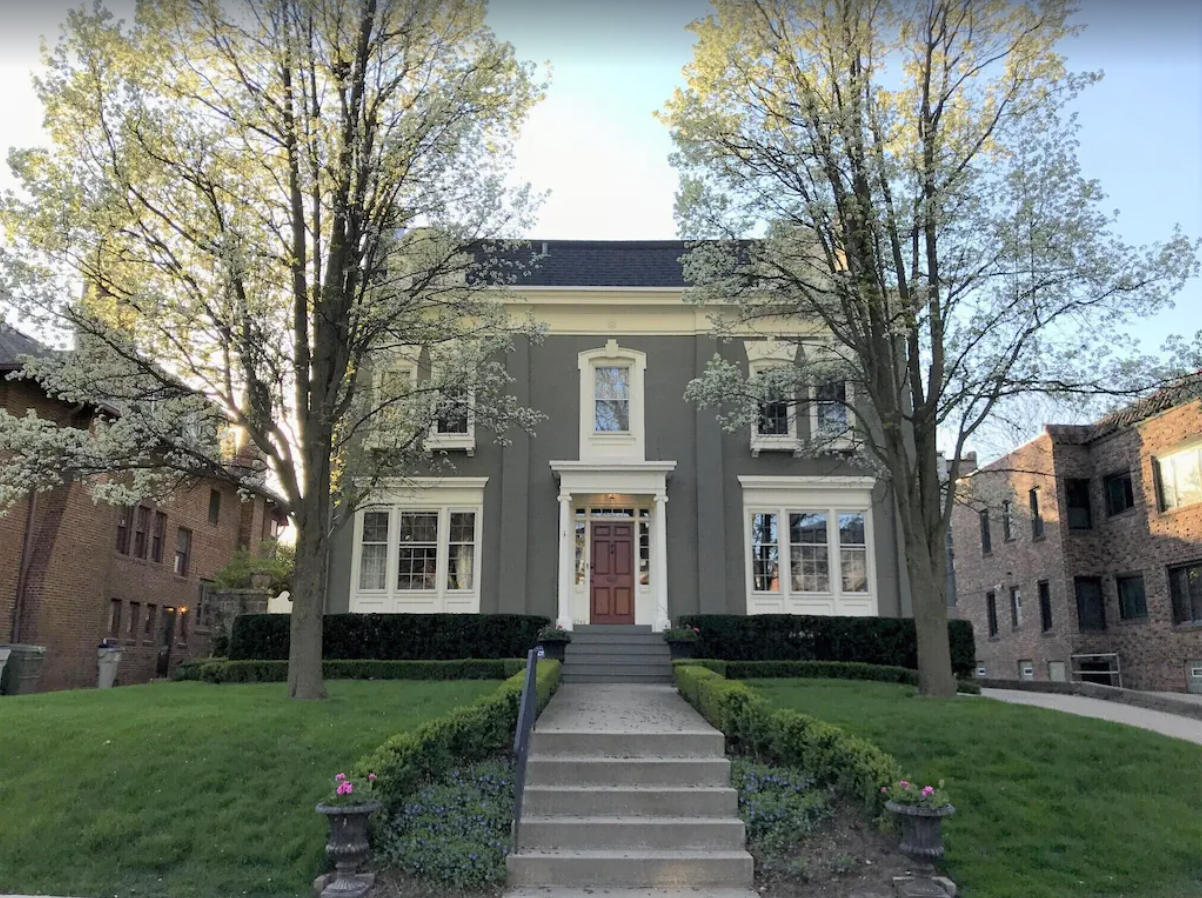 1902 French revival mansion
This 5-bedroom French revival mansion imparts historic vibes to guests looking for a unique stay. It's located in front of beautiful Lake Park, Bradford Beach, and Northpoint Lighthouse and has a private backyard with a large patio for entertaining. It's been lovingly renovated throughout the years to include modern amenities, but still retained its historic old charm.
Mid Century Milwaukee Retreat
This home is an Iconic Mid Century Modern house designed by John Randal McDonald, a follower of Frank Lloyd Wright. The house is a 3 level structure located in a natural ravine in a wooded setting with wrap-around glass walls and natural brick stone walls. It's is located 13 mins from downtown and 3 mins from Lake Michigan, close to nature parks and shopping centers.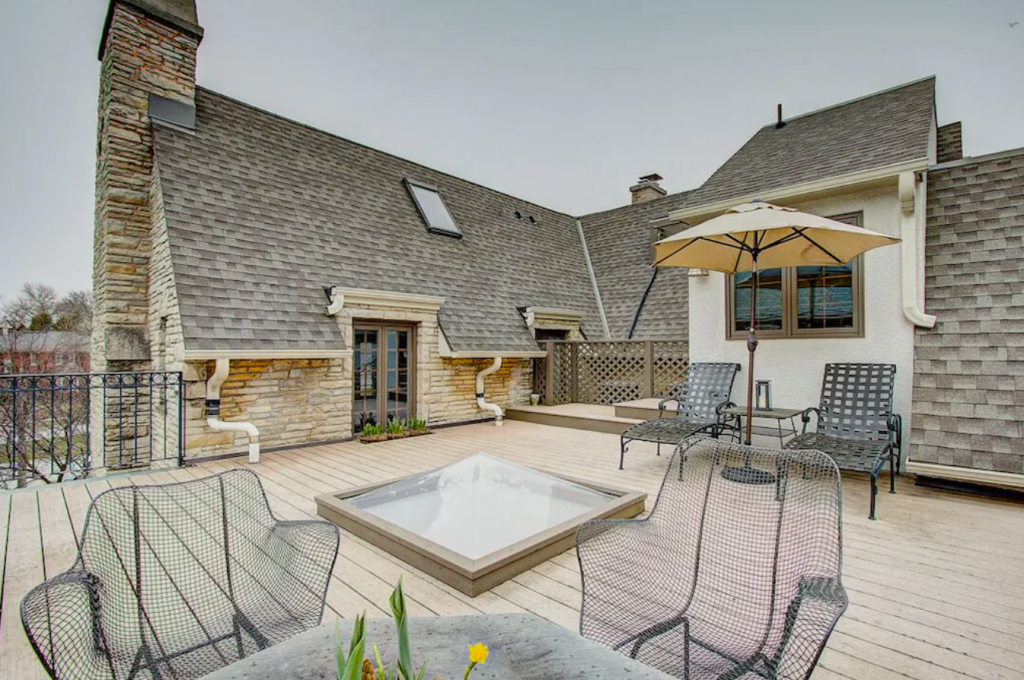 Remodeled English Tudor home
Historical charm mixed in with today's modern luxuries make up this English Tudor. It has 4 bedrooms, 4.5 bathrooms, fenced-in backyard with patio, fire-pit, built-in grill, and a rooftop deck at the second floor. It's also less than a block from Lake Michigan and 3.5 miles to downtown Milwaukee and is close to shops, restaurants, the Art Museum, and lakefront attractions.
Charming 4-bedroom Milwaukee home with pool
Set on a private 5-acre property is this charming 4-bedroom, 2-bathroom modern home. It features an expansive patio with a fire pit, living room, open kitchen, an in-ground pool. Guests can also lounge in the family room with expansive windows to take in the wonderful views of nature.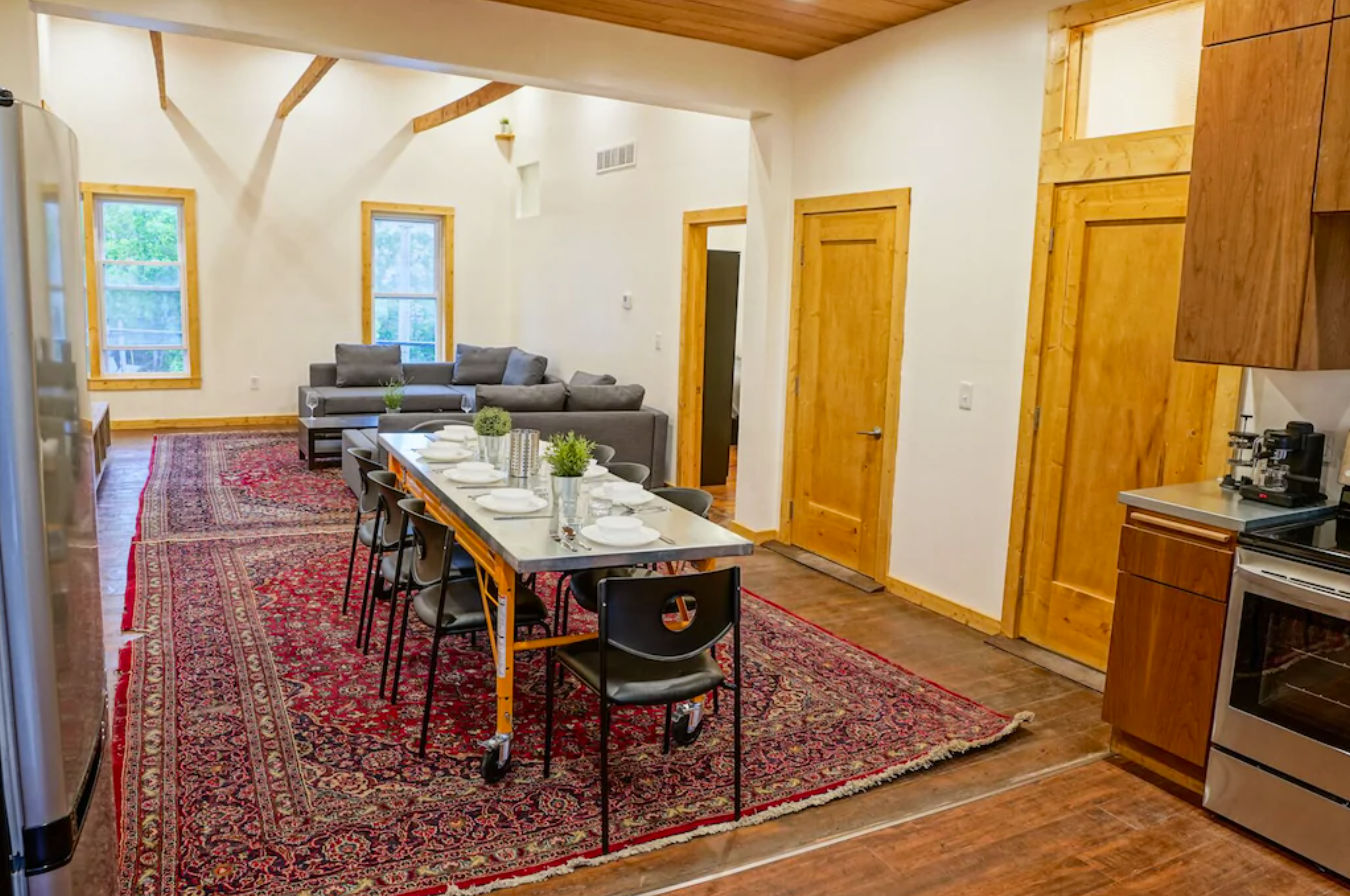 Historic 3-bedroom Cream City brick loft
This historic Cream City brick loft was built in 1866 and welcomes guests for an enjoyable stay. The loft is newly renovated to include modern amenities and design but still kept its historic appeal in its original hardwood floorings and 13 ft. ceilings. The property is right at the center of the food and drink district in Milwaukee.
1897 historic 8-bedroom Victorian home
Surely a must-see for tourists exploring Milwaukee for the first time. This enchanting 8-bedroom Victorian home was built in 1897 and is listed as one of the top three "historically registered" neighborhoods in the nation. It features original woodwork, charming antiques, four fireplaces, 10 ft. ceilings, and a parlor entryway with a grand staircase.
Stunning 6 Bedroom Governor's Manor
This stunning home features 6 bedrooms and 3.5 baths, as well as a fully equipped kitchen.It'ss conveniently located near some of Milwaukee's most eclectic eateries, some of the best live music, warm vibes, and local favorites! This home is a quick 3-minute drive/10-minute walk to the lake, and is a short drive to many other fun attractions.
Penthouse Condo with Amazing Views of Milwaukee
Guests will enjoy 3 bedrooms and 3 baths with plenty of space in this 2 story executive penthouse condo. Fully remodeled, the first floor offers a chef's kitchen with a large island, living area with reclining couches, flat-screen TV, a bar and dining area. The rooftop veranda includes plenty of outdoor seating and sweeping views of downtown Milwaukee.
Michigan lakefront house – 15 mins to downtown
A stunning 3 bedroom/3.5 bathroom beach house with luxurious accommodations, in quiet and elite Fox Point, Milwaukee. Relax in this lakefront retreat with granite countertops in the kitchen and bathrooms, as well as stainless steel appliances. Enjoy breathtaking views, gorgeous sunrises and sunsets over Lake Michigan. It's perfect for families and couples.
Beautiful VRBOs Just Outside Milwaukee
---
Newly renovated 4-bedroom farm retreat in Saukville (25 minutes from Milwaukee)
Nestled in over 17 secluded acres of towering pines is this newly renovated 4-bedroom farmhouse with contemporary décor. This quiet retreat is just 6 miles from the beach and is 25 minutes from Milwaukee. It features a huge private yard with a fire pit and spa lounge chairs, a fully-stocked kitchen, dining room, living room, and private lounge. There are also nature trails to explore and is just minutes away from historic Cedarburg.
Modern home with rustic feel in Mequon (20 minutes from downtown Milwaukee)
This 2018 modern home is luxurious, clean, and spacious that can accommodate up to 12 persons. It has 5 bedrooms, 4 bathrooms, 3-car garage, and a large yard with outdoor patios for entertaining. The property is nestled in the quiet community of Mequon and is 20 minutes north of downtown Milwaukee.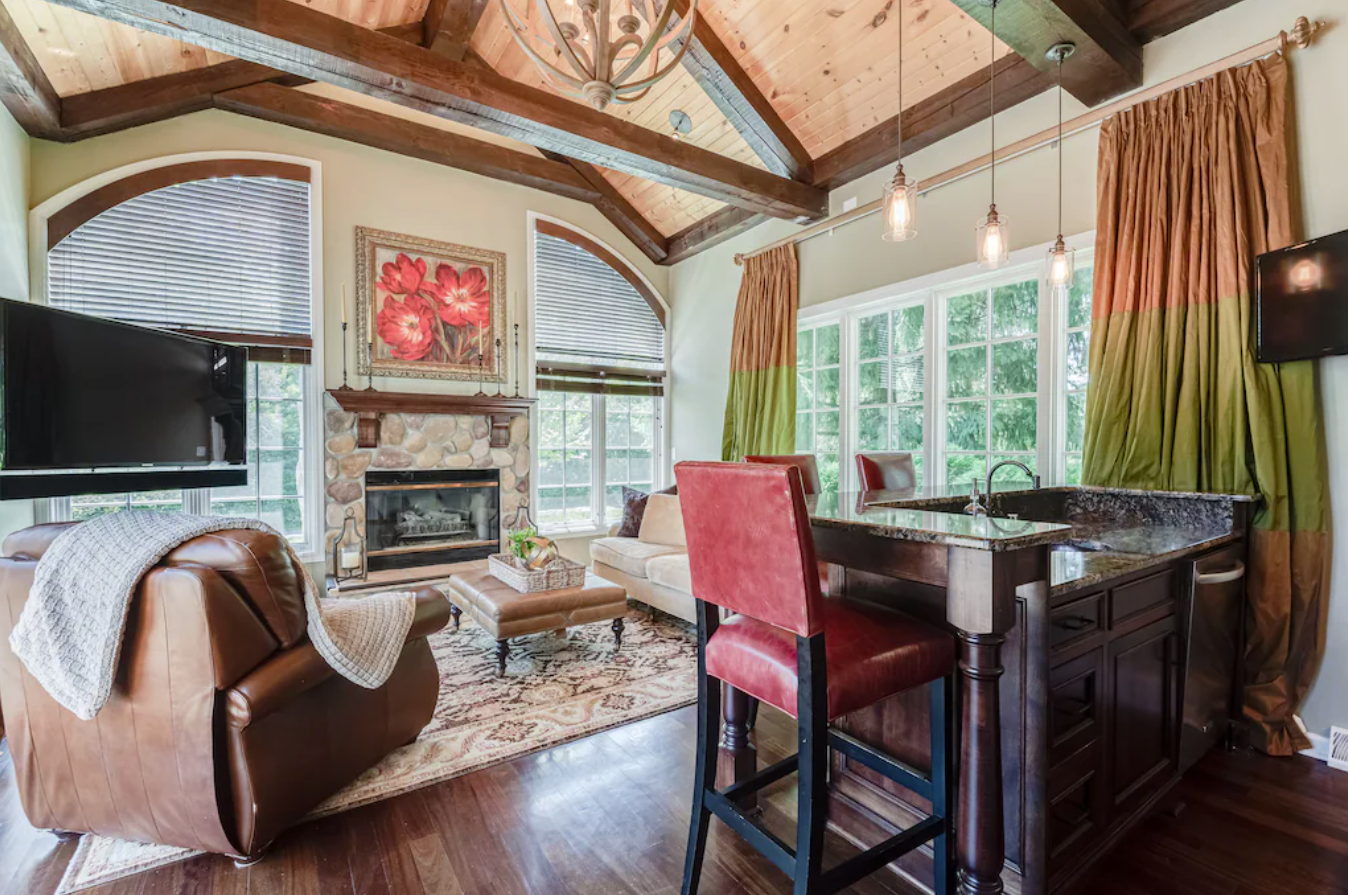 Grace Manor, a 6-bedroom luxury property in Mequon
A royal treatment awaits guests in this palatial 6-bedroom manor complete with modern amenities. Revel in a luxurious stay as the property's interior and outdoor space is impeccably decorated with elegant features including a chef's kitchen, main level bar, sunroom, and a large deck with grill and ample seating. In-home massage services, daily housekeeping, and personal chef services are also available.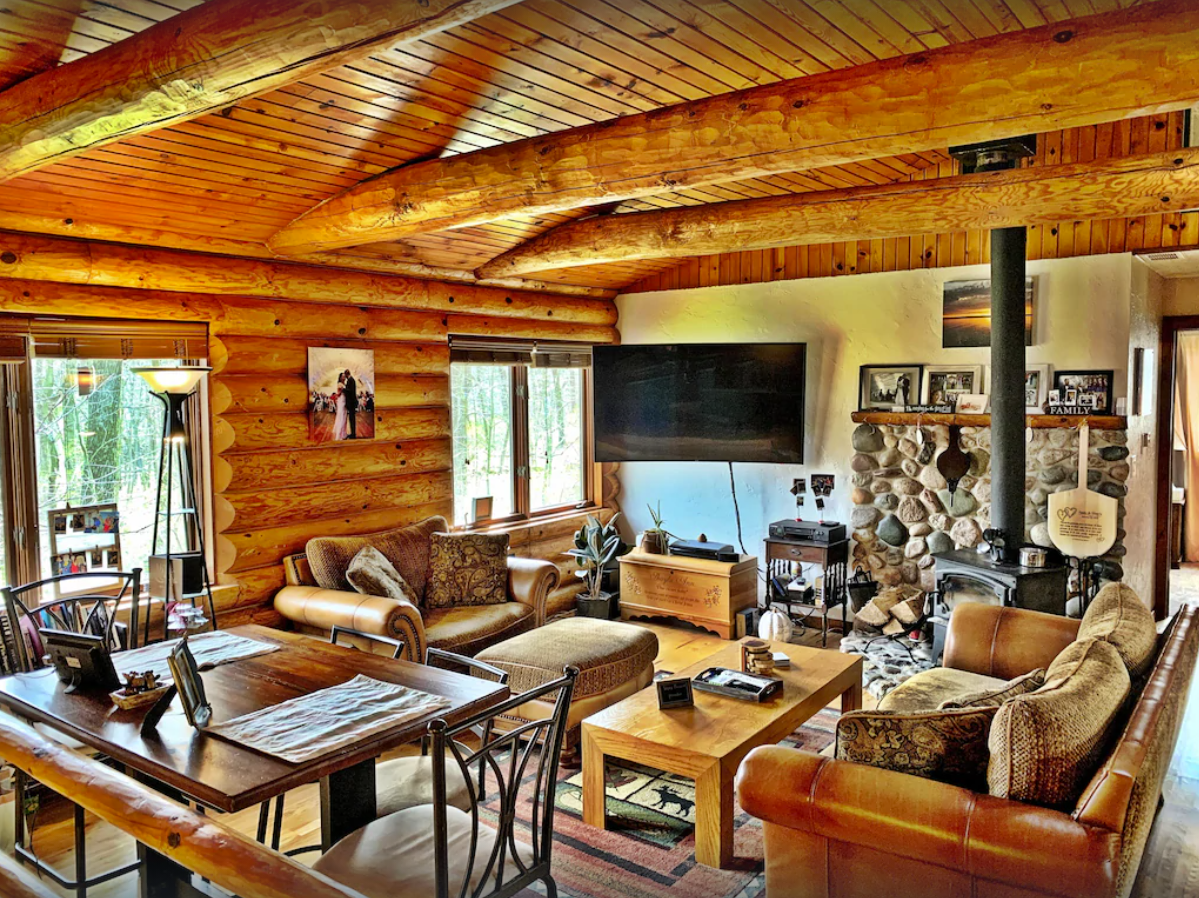 New 3-bedroom secluded log cabin (30 minutes from downtown)
A 3-bedroom rustic log cabin set in a heavily wooded area along a peaceful neighborhood. It's the perfect hideaway for a relaxing weekend. Sit by the cobblestone fireplace viewing nature and the surrounding wildlife. The cabin is also minutes away to local restaurants and stores for guests wanting to shop for amenities.
Elegant lakeside cottage with scenic views and lakeside decks in Waterford
A newly renovated 2-bedroom, 2-bathroom lakeside cottage that's clean, fresh, and exudes an elegant charm. Complete with magazine-quality style furnishings, full kitchen, and amenities. There's also a deck with south-facing views of the lake and a balcony in the master suite. Guests are sure to wake up feeling rejuvenated and well-settled to the lake lifestyle.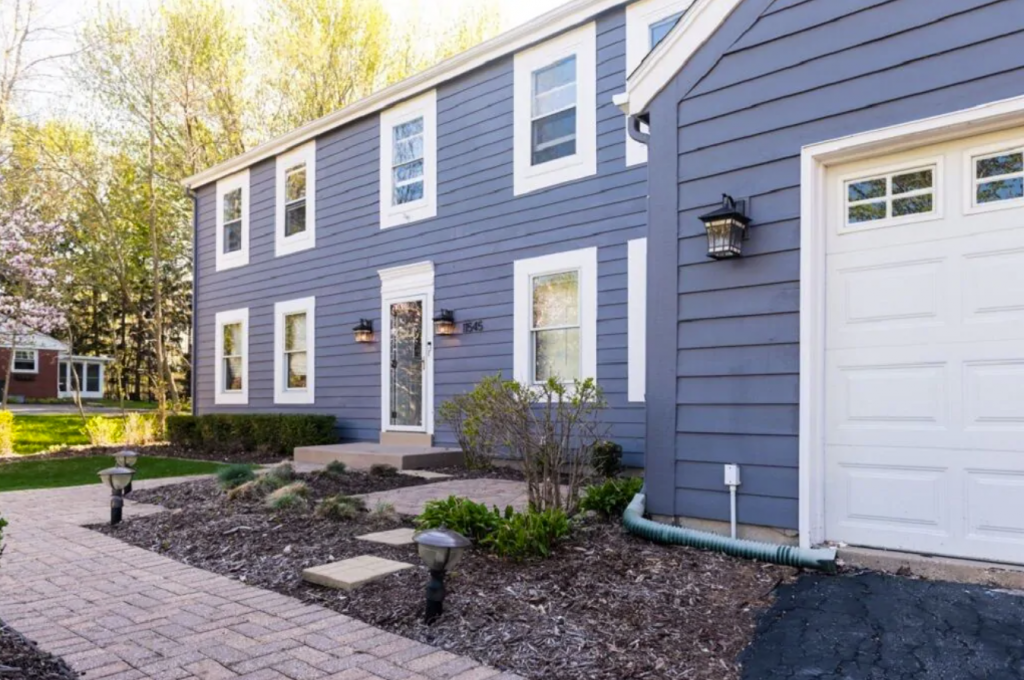 6-bedroom colonial home with heated pool in Mequon
A 6-bedroom modern colonial home that sits on an acre of wooded lot. The property is professionally landscaped featuring an in-ground pool and oversized patio. There's also a newly remodeled full bath with ceramic flooring; the kitchen also has a new center island, stainless appliances, Silestone countertops, and travertine floor.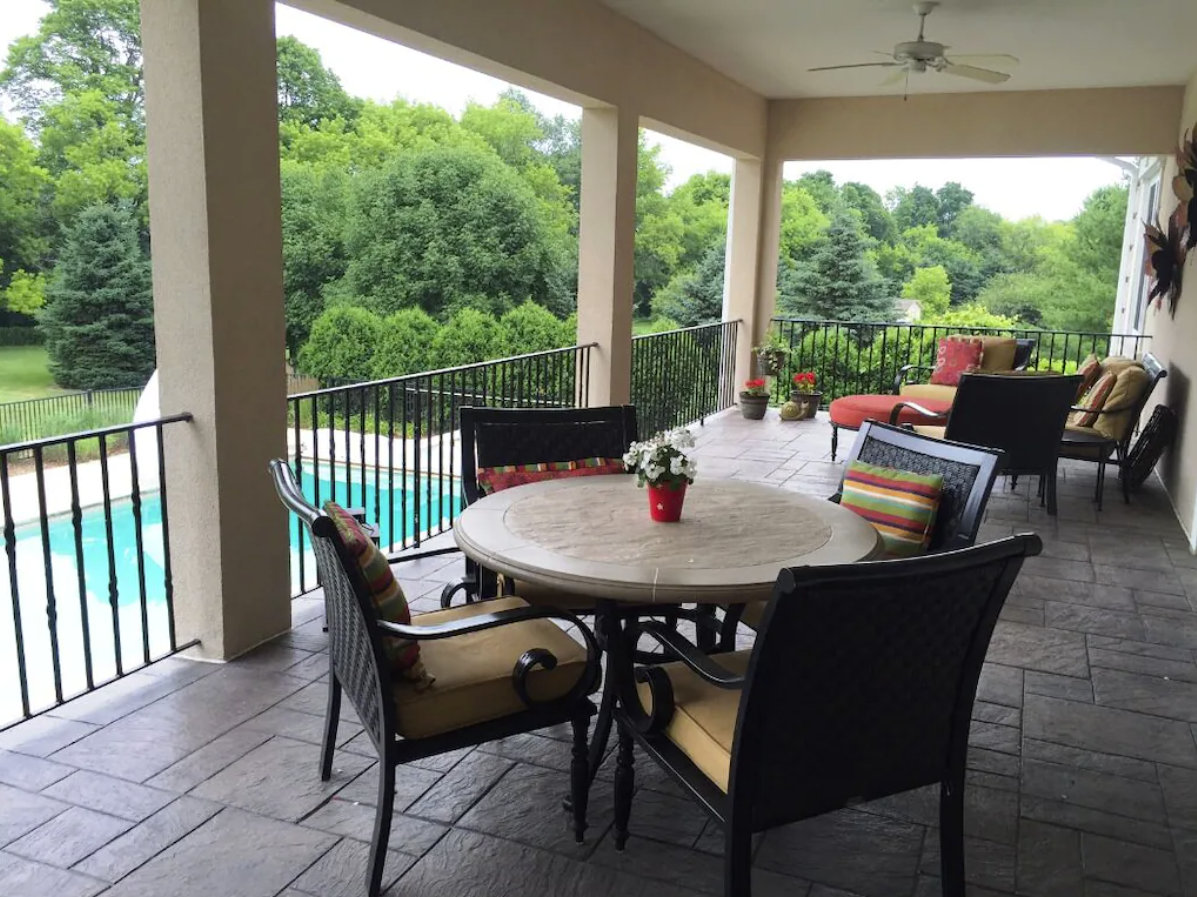 Modern executive 4-bedroom home with pool in Richfield
Guests looking forward to enjoying the summer can settle in nicely in this spacious, 4-bedroom, 3-bathroom home with in-ground pool. The property's always clean and ready for guests' occupancy. There's also a bonfire pit and a 120″ movie theater screen downstairs.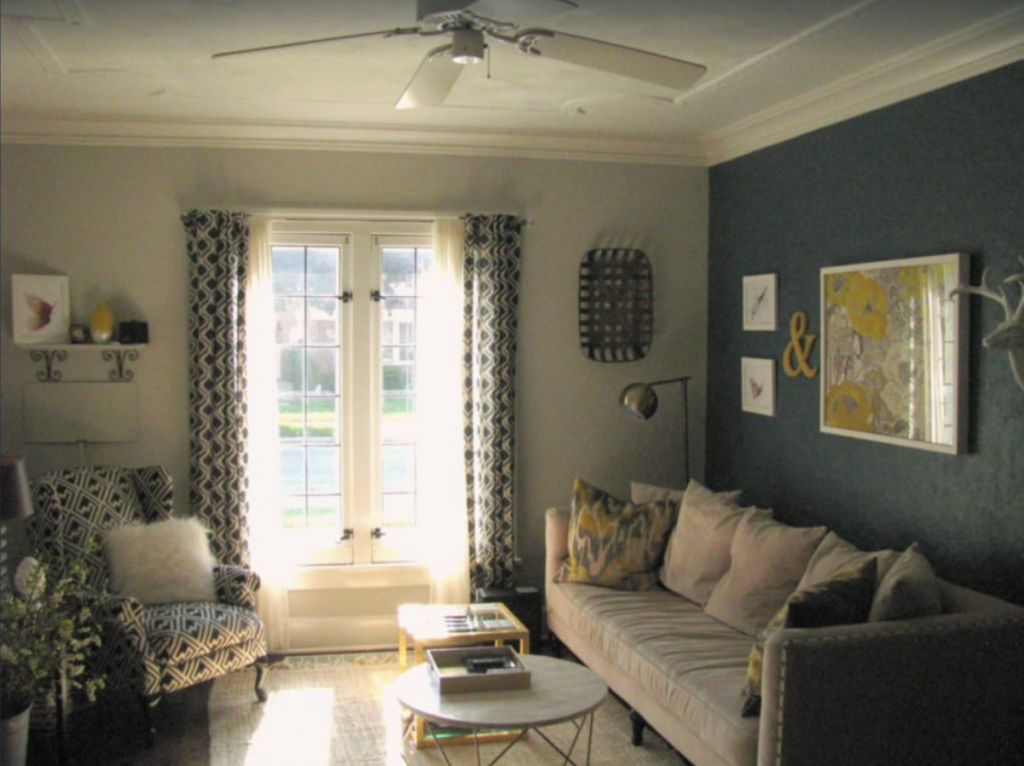 1930s mini-Tudor cottage in Racine
This historic 3-bedroom mini-Tudor cottage welcomes guests to a charming weekend. It still features the original hardwood floors (restored professionally), full kitchen, and cozy living room. The property is also close to biking trails, parks, Racine Marina, Racine Museum, Wind Point lighthouse, farmers' market, and downtown Racine.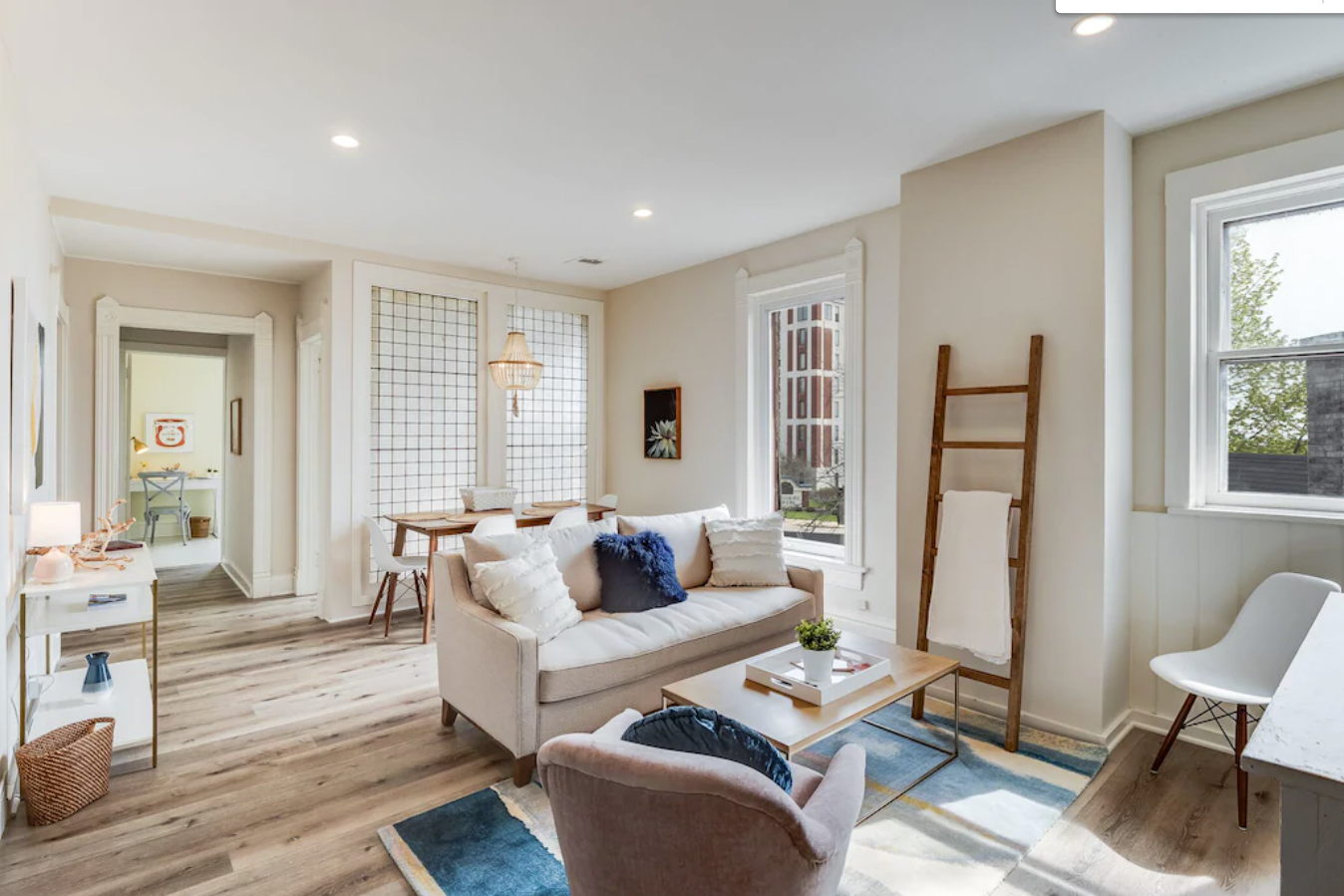 Cozy and modern 3-bedroom apartment in Racine
This plush and modern 3-bedroom, 2-bathroom apartment is the perfect home base should guests find themselves in downtown Racine. Wake up to excellent harbor views and enjoy the property's full amenities including free onsite parking, private deck, and office. Best for solo travelers or with group of friends or family.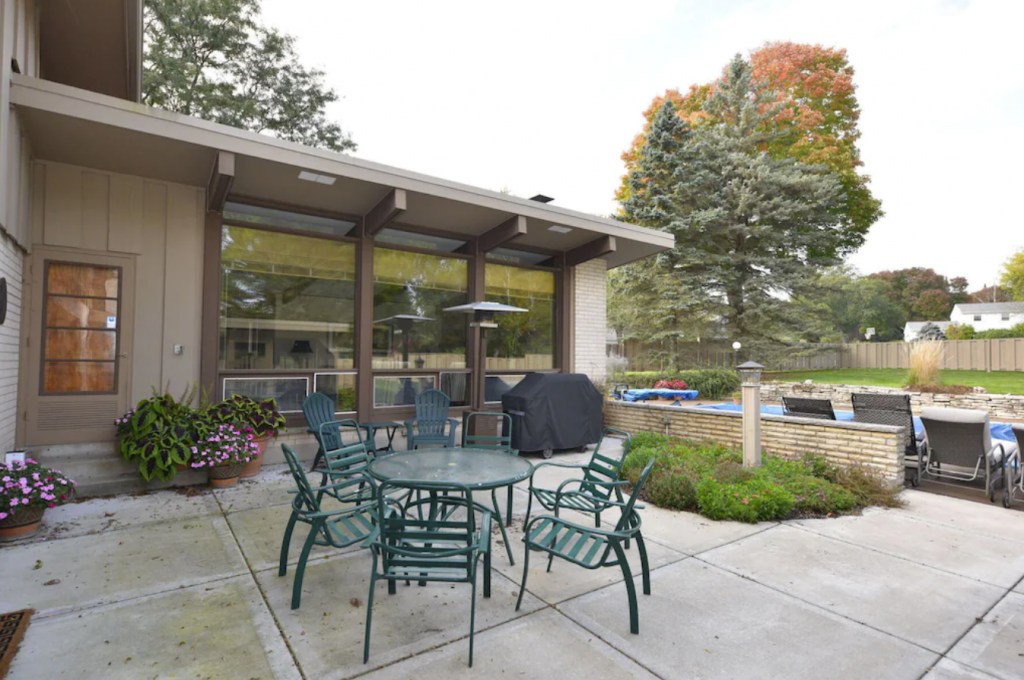 Mid-century 4-bedroom modern house with in-ground pool in Brookfield
This mid-century modern house sits on a spacious 3/4-acre lot that featuring a fenced-in 20×40 ft in-ground swimming pool. Its 4-bedroom, 2-bathroom sleeps up to 12 persons and has a full kitchen, a vaulted living room with gas fireplace, and a dining room overlooking the pool patio for entertaining.
Which of these VRBO rentals in Milwaukee and the Milwaukee area is your favorite? Let me know in the comments!