When in Doubt, Wear Black & White (A Classic Color Combo)
Skirt (On CLEARANCE) | Top | Flats | Bag c/o* | Necklace (similar) | Sunglasses c/o* | Cami | Belt
If you're ever unsure what to wear for any sort of day or event, black & white is always a safe bet! Ok, technically this title should say "off-white," as my top and striped skirt aren't a bright white color, but you can see where I'm going with this. This was a day I wasn't entirely sure what to wear. I was going apartment hunting in Moscow and then to dinner with my husband. So, this was a safe bet. Classic, chic but not over-the-top.
And this would make this outfit my first one from Moscow, Russia! Whoot, whoot! I'm still feeling out the style of this city, but my first impression is that most women dress in classically beautiful attire. (Which, I absolutely love.) This was my attempt to mimic that, but still put my own little twist on it.
And just in case you haven't heard me barking about this skirt on social media, I'll remind you one more time….this skirt is now on clearance! Which means once it sells out, it's gone for good. So, if you've ever considered buying this skirt, now's the time to do it. (Click here to shop it.)
I've styled it a plethora of different ways, from winter looks, to graphic tees & a fancy, lunch date outfit. It also made the cut of clothing that came with me to Moscow. I only packed two suitcases, so I had to be HIGHLY selective in what came with me! Needless to say, I really like it! It's also super comfy because the waistband is elastic, and it's true to size. However, it's on the short side for my comfort. So, I always wear a pair of shorts underneath it so no one has to see my undies if I bend over!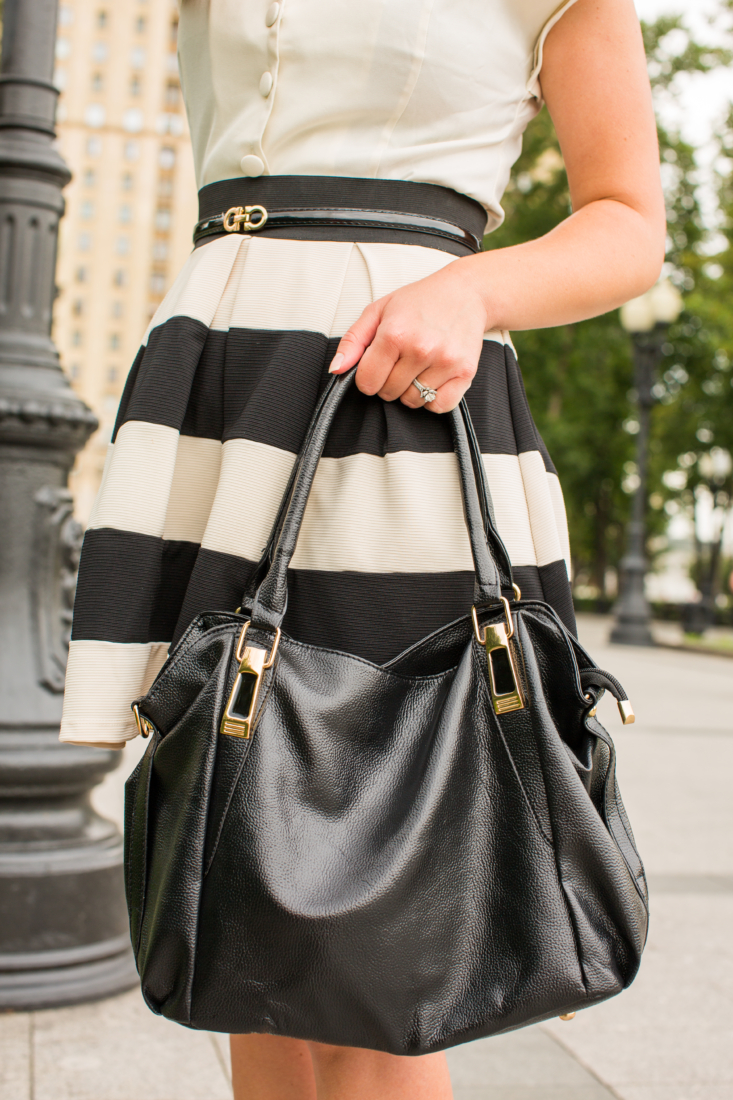 I'm loving how large this faux leather bag is from my friends at Leatherskinshop.com. It's big enough for my wallet, brush, random toiletries AND my DSLR camera. It also comes with a cross body strap, which I'll show a different day. I can't attest to its durability yet, as this is the first time I've used it. However, I will say that as far as faux leather goes it appears that it's well-made, but no one will be mistaking this for a real leather bag by any means. It has quite the shine to it, which gives away faux leather (in my opinion). I'll let you know how it holds up, though!
The building behind me in most of these photos is actually one of Stalin's "Seven Sisters." They're a group of 7 skyscrapers built from 1947 to 1953. (You can click here to read more about them, and which other famous skyscrapers were influenced by them.)
My next post on Wednesday will have some more in-depth thoughts on my time in Moscow so far, plus more photos of the city. But I can say as far as first impressions go, that I really like it here! I also feel safe enough wearing jewelry and using my camera when I'm out and about. (But Moscow does have a reputation for pickpocketing, so I'm still cautious.) Overall, though, it's a really beautiful and clean city!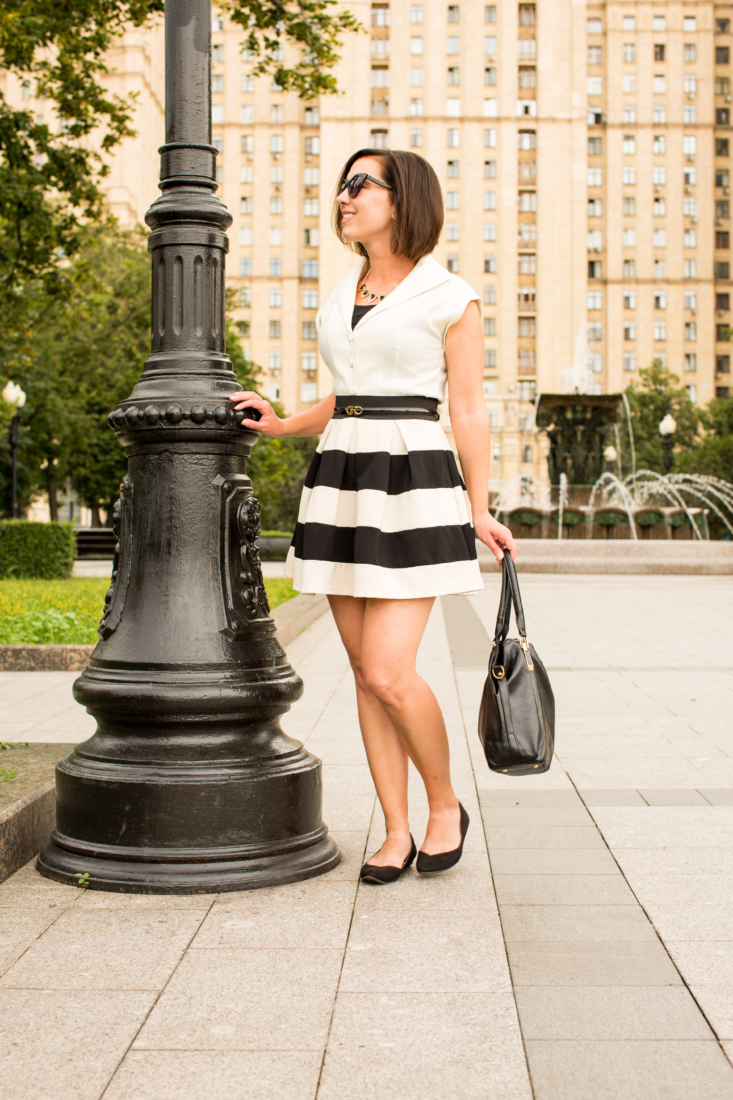 What's your go-to classic combo when you're not sure what to wear? Let me know in the comments!
Where to find it:
Skirt: ModCloth (On CLEARANCE – last chance to get it!)
Top: Unique Vintage
Flats: Chinese Laundry
Bag: c/o* Leatherskinshop.com
Belt: Amazon
Cami: Maurices
Necklace: Gift from my mom (Similar here)
Sunglasses: c/o* Polette

*Disclosure: some of these links are affiliate links. Meaning, if you click a link and make a purchase, Have Clothes, Will Travel gets a very small commission at no extra cost to you. Thank you for supporting the brands that make this blog possible! I am also a participant in the Amazon Services LLC Associates Program, an affiliate advertising program designed to provide a means for us to earn fees by linking to Amazon.com and affiliated sites.
*c/o = courtesy of, meaning the company gave me the product to be used on my blog, and I did not pay for it. All opinions are my own, and I am not being compensated for a positive review.