A Subtly Sparkly Outfit for NYE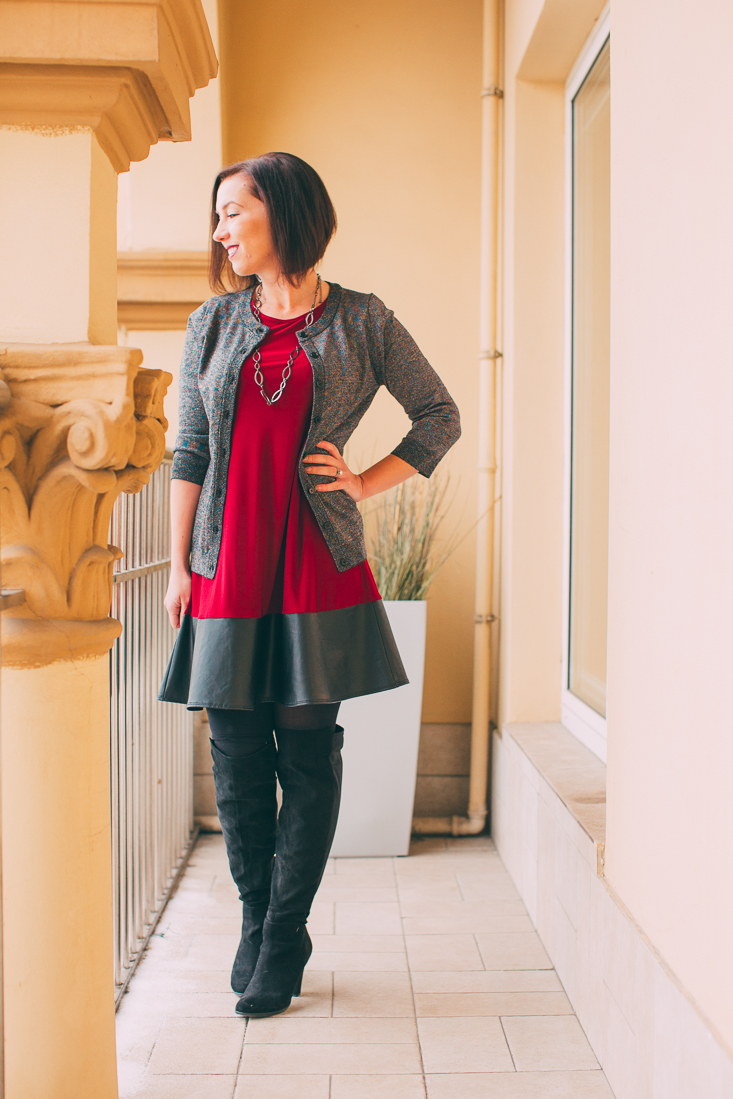 Cardigan c/o* | Dress (Similar here, here & here) | Boots c/o* (Similar) | Tights
I'm excited to be changing up my NYE look this year! I usually spend NYE in my PJs or in a comfy sweater and stretchy jeans either at my parent's house or friend's house eating seafood and snacks until I'm ready to die, haha. We'll watch movies and play games – and it's an awesome way to ring in the New Year!
However, this year, I'm going to be in Moscow for the celebrations and my brother-in-law is coming with! (He's spending Dec. 29 – Jan. 8 with my husband and me! We're going on all kinds of adventures in Russia together while he's here.) We were originally thinking we would stake out a spot in the Red Square to freeze our butts off and watch the fireworks. However, the last time we tried to watch an NYE firework display in a public space it was not the most ideal experience….and we really didn't want to deal with that madness again. (We tried to watch the fireworks in Sydney for NYE from a public park, and it was complete chaos!)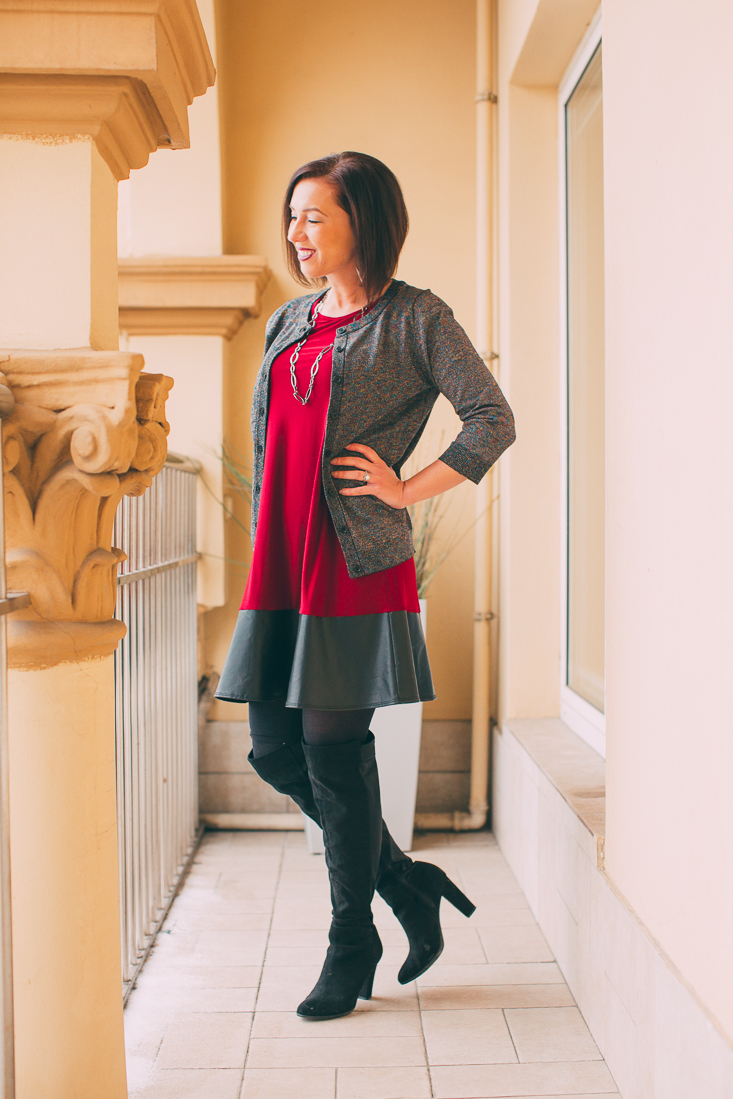 So, this year, we sprung to watch the fireworks from a boat! (This is what we, in hindsight, should've done in Sydney.) The boat will have dinner and snacks and entertainment and will pull up right alongside the Kremlin for a great view of the midnight fireworks display. I am SO excited! (I am a bit worried that I won't be able to stay up that long, though – the boat doesn't get back to the dock until almost 4 am!)
And to be completely honest, I'm still debating what I want to wear for this event. This was the first outfit I put together with NYE in mind. I like that the cardigan has a metallic sheen to it. It's really hard to tell in photos, but this cardigan SPARKLES (sparkles for NYE – yes please). I was really surprised just how sparkly it looked in person when I took it out of the package. This outfit works great for a slightly sassy Christmas outfit too. (I did actually wear this dress and boots for Christmas Day last year – I just never featured it on the blog.)
I also like the idea of wearing a cardigan for NYE just because layers can be so much comfier. Being able to take some layers off (or put some more on) is always a good idea, in my opinion. And it is going to be a LONG night, so comfort will be key!
Is anyone else planning their NYE outfit yet? Let me know in the comments!
Where to find it:
Cardigan: c/o* ModCloth
Dress: ModCloth Stylish Surprise (Similar here, here & here)
Boots: c/o* DSW (Similar here)
Tights: Old (Similar here)

*Disclosure: some of these links are affiliate links. Meaning, if you click a link and make a purchase, Have Clothes, Will Travel gets a very small commission at no extra cost to you. Thank you for supporting the brands that make this blog possible! I am also a participant in the Amazon Services LLC Associates Program, an affiliate advertising program designed to provide a means for us to earn fees by linking to Amazon.com and affiliated sites.
*c/o = courtesy of, meaning the company gave me the product to be used on my blog, and I did not pay for it. All opinions are my own, and I am not being compensated for a positive review.