The Coolest Airbnbs in Illinois Featuring Cabins With Pools, Treehouses, Houseboats & More
Searching for the best Airbnbs in Illinois? This is the post for you!
As a Wisconsinite, we always associate Illinois with crazy traffic and big city life. However, Illinois, of course, isn't all Chicago and offers plenty of fantastic outdoor experiences as well.
Whether you're searching for luxury lakefront cabins with pools, quirky treehouse stays or cute houseboats… there is a cool Airbnb in Illinois for everyone! I would love to hear which is your favorite in the comments.
*Disclosure: some of these links are affiliate links. Meaning, if you click a link and make a purchase, Have Clothes, Will Travel gets a very small commission at no extra cost to you. Thank you for supporting the brands that make this blog possible!
The Coolest Airbnbs in Illinois
Treehouses
---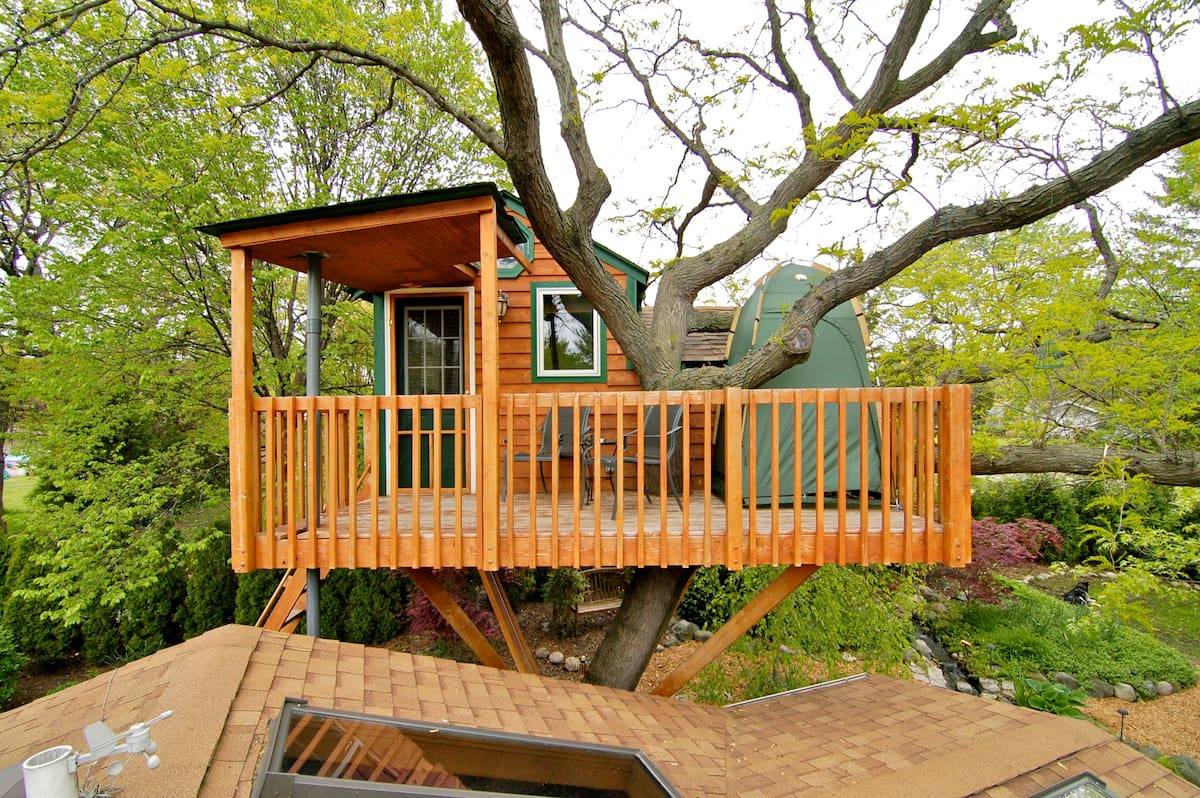 Enchanted Garden Treehouse – Schaumburg, Illinois
The cold weather is here but this treehouse and hot tub are warm! Come enjoy this nature-filled getaway without crowds and planes. Relax in the hot tub by the waterfall with the fire table blazing while the moon and stars swirl overhead. Have food delivered or grill your own. It's truly the perfect getaway!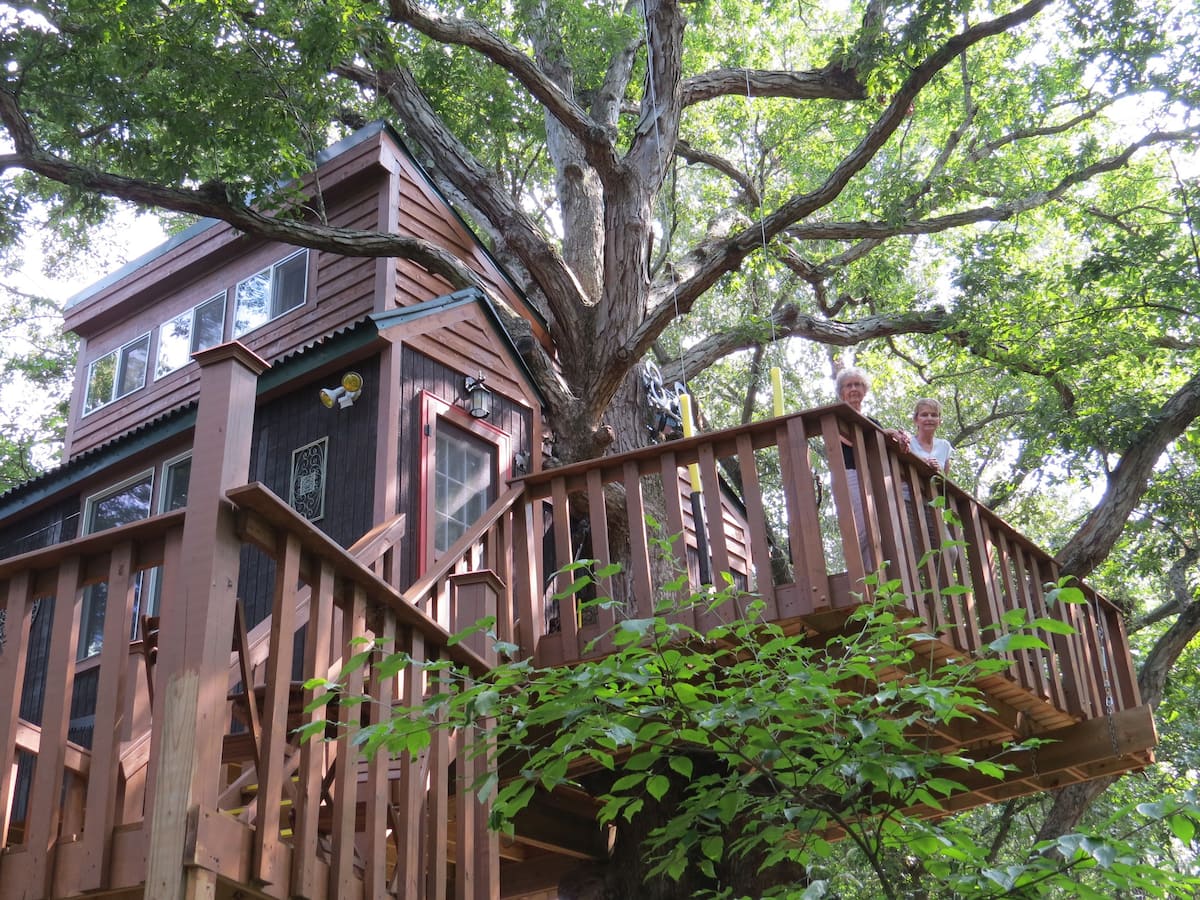 White Oak treehouse by Garden of the Gods – Elizabethtown, Illinois
Built in a 200+-year-old White Oak, this Grandfather of a tree will delight its visitors with a large branch that extends into the "cabin" and another coming up through the deck, 24' in the air! Just minutes away from the famous Garden of the Gods in the Shawnee National Forest, this treehouse is perfectly located.
Houseboats
---
Relaxing Water Oasis; Houseboat Getaway – East Peoria, Illinois
This floating home provides all the comforts of home and when paired with the added serenity of quiet, peaceful water living. It makes this stay one an Airbnb that truly outshines the rest! You'll have your own private, beautiful oasis when staying on this houseboat.
Floating luxury houseboat – East Dubuque, Illinois
This floating oasis is on the backwaters of the Mississippi River and is in the water YEAR ROUND! This 70-foot houseboat is newly remodeled and ready for you and your guests. It features a custom kitchen, a master bedroom with a full bed and a tv, a bunkhouse room with a full bed, and a basement bedroom with 2 full beds.
Grain bin
---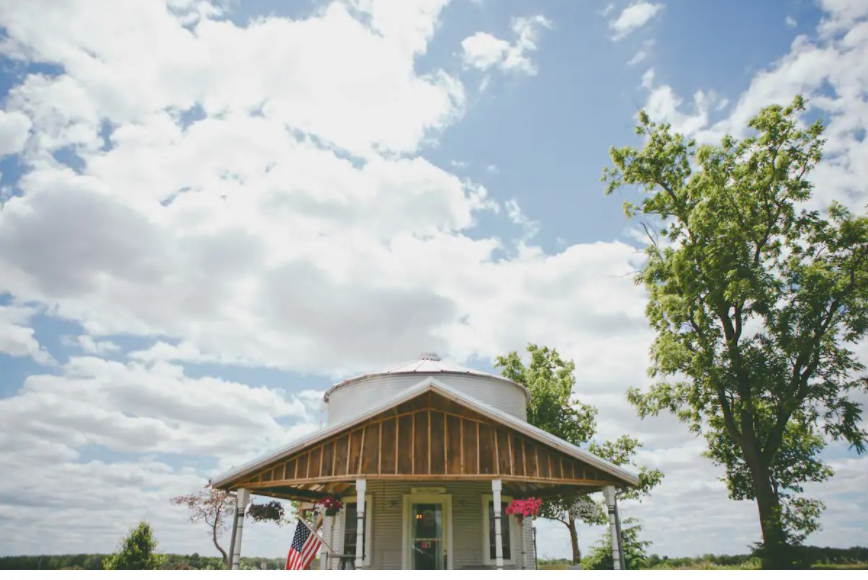 The Has Bin – Alvin, Illinois
Unique and quite the "Instagrammable" place to stay! This converted grain bin provides great views from the upper back deck. There is also a beautiful deck off the bedroom to the back.
Historic Home
---
Wooden Shoe Factory, Historic, w/ Bar & Breakfast – Teutopolis, Illinois
A cozy and quaint home with tons of old charm to delight vintage buffs. Used to be a small brick and wooden shoe factory in the late 1800s and through the Great Depression, this lovely home is a time capsule waiting to be explored. It features vaulted ceilings, antique furnishings, and a narrow spiral staircase that opens into a loft with a luggage hoist. It's stocked with bar and books and is only six minutes to I57, I70, Effingham, and dozens of restaurants.
Homes + Cabins With Pools
---

Private barn house with indoor pool – Virden, Illinois
This 6000 sq. ft private barn house features two loft bedrooms with king-size beds, full amenities, and private staircases overlooking a large heated pool. The pool measures 18ft wide and 38ft long with depth ranging from 3.5ft to 6ft. The property's southern-facing skylight brings a refreshing ambience to the space. Overall, it is spacious enough to accommodate large gatherings and family affairs.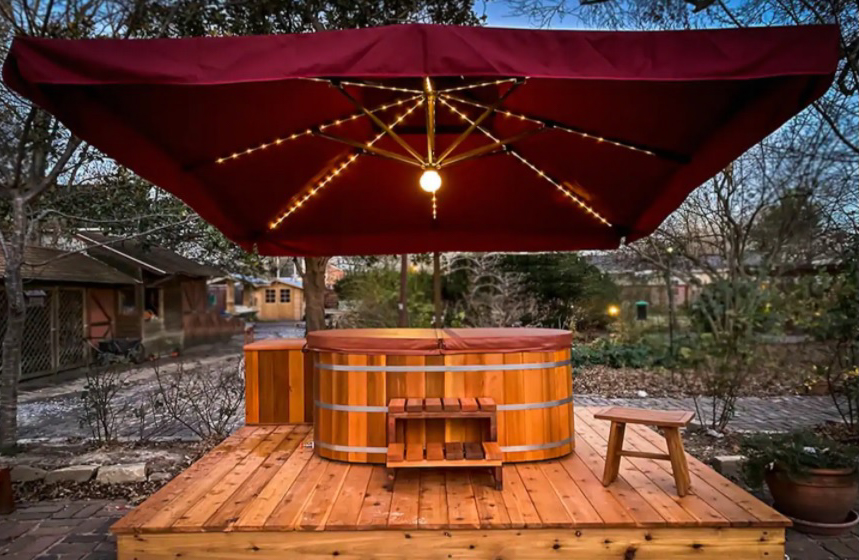 Carbondale Pool House – Carbondale, Illinois
A pet-friendly pool house that's also well-stocked with extensive herb collection—guests can help themselves to vegetables and herbs, cook at the outdoor grill, and dine al fresco in the garden. If not cooking, the Pool House has a 50,000 gallon in-ground, unheated, swimming pool that's open year-round with a Finnish sauna and a Japanese Ofuro soaking tub to relax and unwind in.
Glamping on private lake – Crystal Lake, Illinois
An elevated glamping experience awaits guests at this cozy camper next to a private lake and wonderful hiking trails—equipped with screened heated pool, spa room, and sauna. Guests can go on kayaking, hiking, or simply relax by the waterfall. Amenities include a fast WiFi, grill, charcoal, lawn games, and fishing poles to keep guests occupied and happy throughout their stay.

Cozy country farm stay in beautiful Lake County – Lake Villa, Illinois
A dreamy cottage situated on a welcoming horse farm and beautiful grounds, guests can spend countless hours basking in the property's forest preserve or in the swimming pool. The space is comfortable, private, and clean with a beautiful canopy bed and sleep sofa. The property is surrounded by Bluebird Meadow with easy access to the chain-o-lakes region.
Secluded cabin with private pool – Brookport, Illinois
A beautiful, spacious, and secluded log home on a 90-acre property that adjoins the Shawnee national forest. This home is sure to please guests no matter the age as it comes with a fully stocked kitchen, comfy rooms, large deck, tiki hut, and a private pool. The property is also on the Ohio River Scenic and is just 18 miles from Paducah, Metropolis, and Golconda.
Relaxing-House on River with Hot Tub and Pool – East Moline, Illinois
A home base for outdoor enthusiasts, this lovely, three-bedroom house overlooking the Mississippi river is a great place to spend quality time with family and friends. Guests get to enjoy to the entire home, yard, game room, and indoor hot tub and swimming pool, as well as easy access to hiking and biking trails with a fishing and a private boat ramp.
Safe private retreat on two acres with heated pool – Highland Park, Illinois
A private Zen retreat on a two-acre estate that's perfect for a group looking to enjoy the summer weather; this prominent house in Highland Park comes completely furnished and has a full kitchen. The outdoor space is expansive enough to play basketball, soccer or football and has a heated pool for guests to enjoy; the space is also close to Ravinia, the Naval base, and botanical gardens.
Beautiful Cabins (without pools)
---
Luxury cabin – Utica, Illinois
A luxury cabin across from Starved Rock State Park trails, waterfalls, and canyons. This 2,800 square foot property has a sunny living room with vaulted ceiling, three bedrooms with king-size bed and bathrooms, spacious living area, fireplace, and a fully-stocked kitchen. Its wood furnishings give this place a rustic and warm ambiance, with a charming deck to spend morning coffees in and new patio furniture to enjoy the view of woods.
Luxury Cabin on The Wine Trail – Pomona, Illinois
A lovingly transformed luxury cabin that features a spacious open floor plan, five comfortable bedrooms, and a modern galley-style kitchen. The barn is a flexible space with custom craftsmanship and plush amenities that can sleep up to 16 guests using 8 beds. The property is located in the Shawnee National Forest and is also just 15 minutes away from local shops and restaurants in Murphysboro. It's a great home base for adventure seekers and nature-loving guests.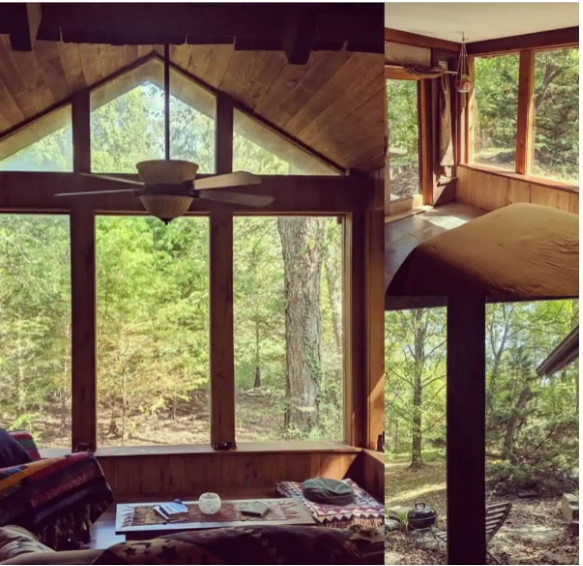 A cozy cabin nestled in nature – Cobden, Illinois
A Zen-style cottage nestled in the hillside of Cobden that let guests become one with nature. The large, open window sans curtains allow for a complete experience of the surrounding forest, pond, sky, and fauna. The natural setting is perfect for those looking to enrich their creative spirit as inspiration can be found in every corner; the cottage is also equipped with kitchen amenities and a comfy double bed.

Cozy Log Cabin in the woods – Batavia, Illinois
A hidden gem in the woods, this cozy log cabin lets guests unwind, unplug, and reconnect with themselves or with nature. Its open living space and large windows make for an impressive view of the oak forest outside. Luxury abounds in this space as it features heated floors and a fireplace outside the balcony. The main bedroom has a deck overlooking the woods with a memorable view of the Fox River.
Hillside Chalet – Cobden, Illinois
This hillside haven is a wonderful getaway from the noise of the city. Considered to be the wine country of southern Illinois, this wonderful cabin sits on 50 acres of beautiful land and just in the midst of Shawnee National Forest. It's also 10 minutes from SIU and Carbondale and a stone's throw from the Stone Creek golf course. Whatever the season, guests are treated to a vacation they'll fondly remember.
Remote Workplace Quiet, Cozy Couples Retreat – Oregon, Illinois
The Whispering Pine cabin takes from the original home that was built in the property in the 1940s. Remodeled to accommodate two cozy bedrooms, the cabin is every bit as charming with its full kitchen and stocked china. The backyard overlooks the majestic Pine Creek while its fire ring and grill outside lets guests in on some barbecue fun. Directly across the cabin is White Pines State Park with several miles of trails and playground equipment for guests to enjoy.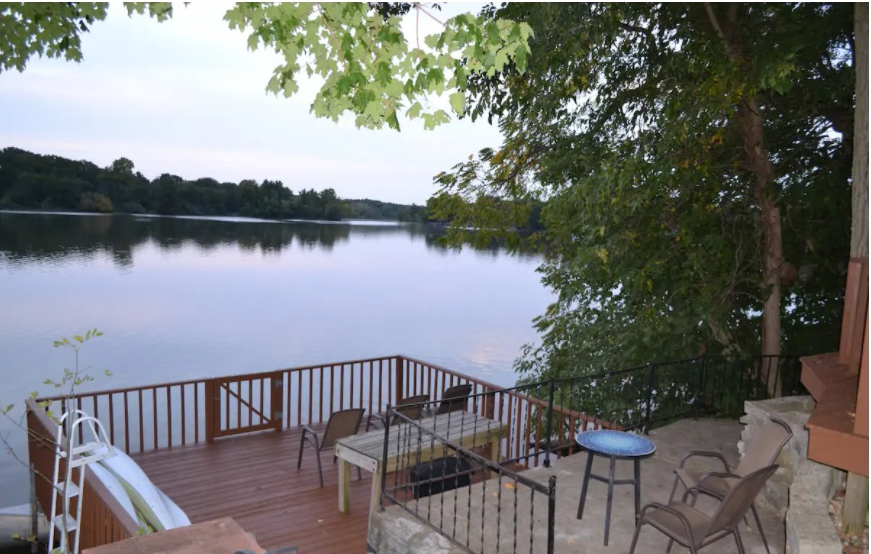 Cottage on Lake Paradise – Mattoon, Illinois
A dreamy cottage nestled on Lake Paradise with wood finishes throughout the property. This 2-bedroom, 1 bathroom cottage is the perfect abode for guests wanting a quiet but memorable water getaway with activities including fishing, canoeing, or kayaking. It's great for bird watching, too, as the large sliding door in the lake room opens into a three-tiered patio, with the lowest level sitting over the water while the second deck features a fire pit with wood, dual weber grills, and a picnic table for outdoor gatherings.
Modern Meets Vintage House with Hot Tub – Bloomington, Illinois
This comfy house was originally built in 1878 and retained much of its historical features including an exposed chimney, original staircase, and original trim. It's been modernized to include a covered patio, outdoor dining, fire pit area, and a hot tub. The house brings in a lot of natural light from its large windows and 9ft ceilings and is close to local restaurants and attractions.
THE BIRDS NEST ~ Outdoor Hot Tub, Fire Pit, Screened Porch, Wooded Views – Galena, Illinois
Relax and enjoy the sounds of nature in this beautifully furnished and secluded home in the Galena Territory. The space has three bedrooms, each with queen-size bed and bathroom. Enjoy a glass of wine in the large living room by the gas log fireplace or step outside the screened porch to relax in the property's the new hot tub while watching the sunset. The historic Galena is also just minutes away for guests to enjoy its quaint shops, historic buildings, and great restaurants and bars.
Which of these Airbnbs in Illinois is your favorite? Let me know in the comments!