The Coolest Airbnbs in Michigan for 2023 – Treehouses, Yachts, & More!
I love finding unique places to stay! I recently put together a list of the coolest Airbnbs in my home state of Wisconsin, and that post was such a hit, I wanted to do another with Airbnbs close to our home.
Michigan is right next door for us Wisconsinites, and has some incredible Airbnbs as well! I was blown away by our options in Wisconsin, but I think Michigan has just as many cool places! I mean, they have treehouses, lighthouses, houseboats the most glamorous "farms" & cabins I've ever seen and more! It's amazing!
I'd love to hear which is your favorite Airbnb in the comments at the end of the post. Enjoy!
Read next: The Best VRBO Rentals in Michigan
The Coolest Airbnbs & Vacation Rentals in Michigan
*Disclosure: some of these links are affiliate links. Meaning, if you click a link and make a purchase, Have Clothes, Will Travel gets a very small commission at no extra cost to you. Thank you for supporting the brands that make this blog possible!
Treehouses
---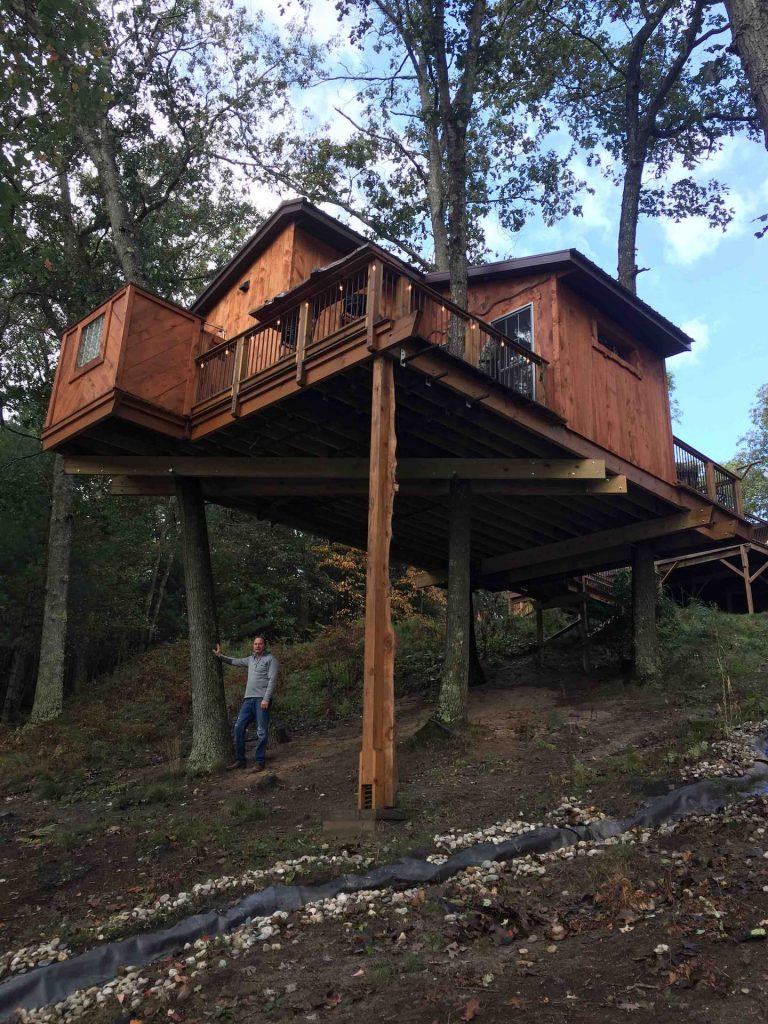 Serenity Now Treehouse – Whitehall, Michigan
Serenity Now Treehouse is the perfect place to unplug for a couple of days of tranquility and peace. This unique Airbnb has an outdoor shower (as well as an indoor shower), and a full kitchen (even a dishwasher!)…plus Direct TV and games are available should you find yourself staying during a weekend of rain. Guests can also use a rowboat for a float down the creek during spring, summer, or fall.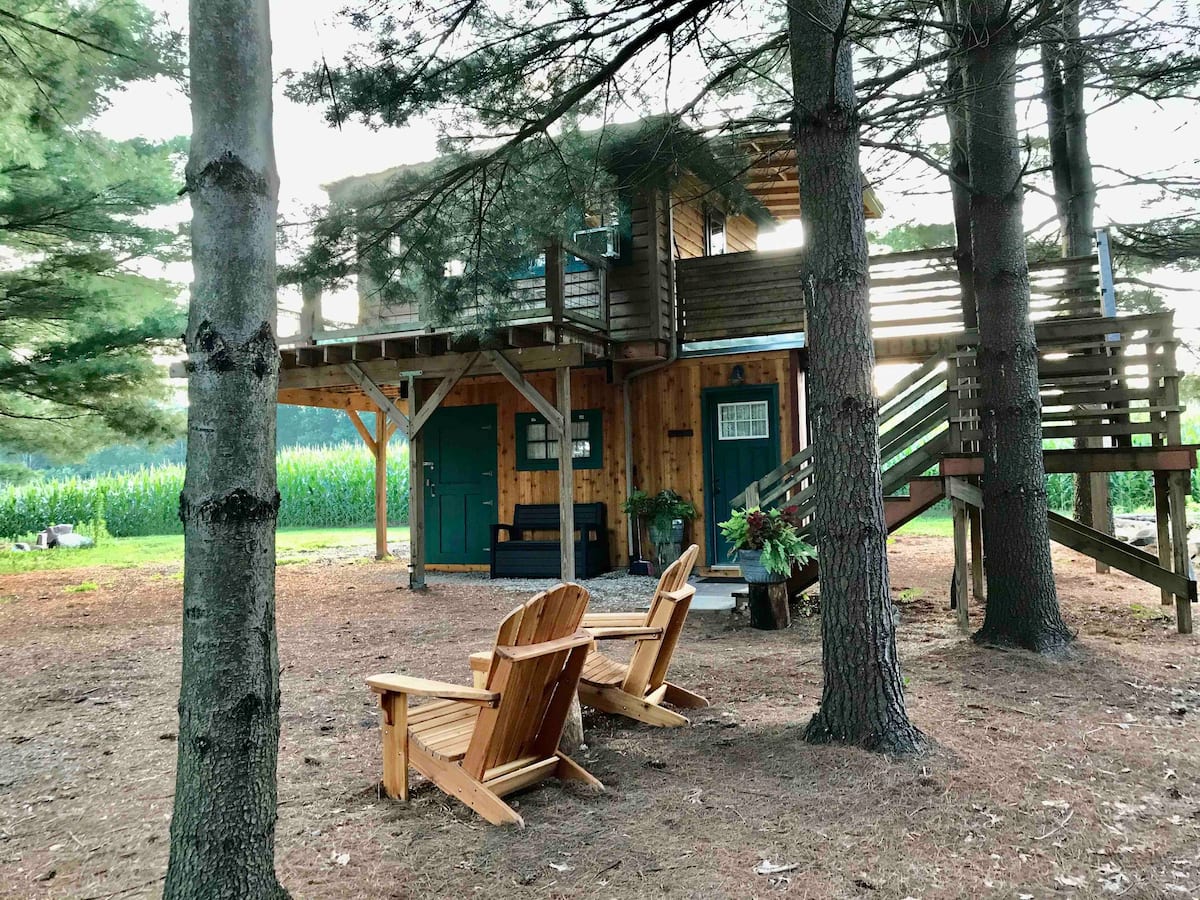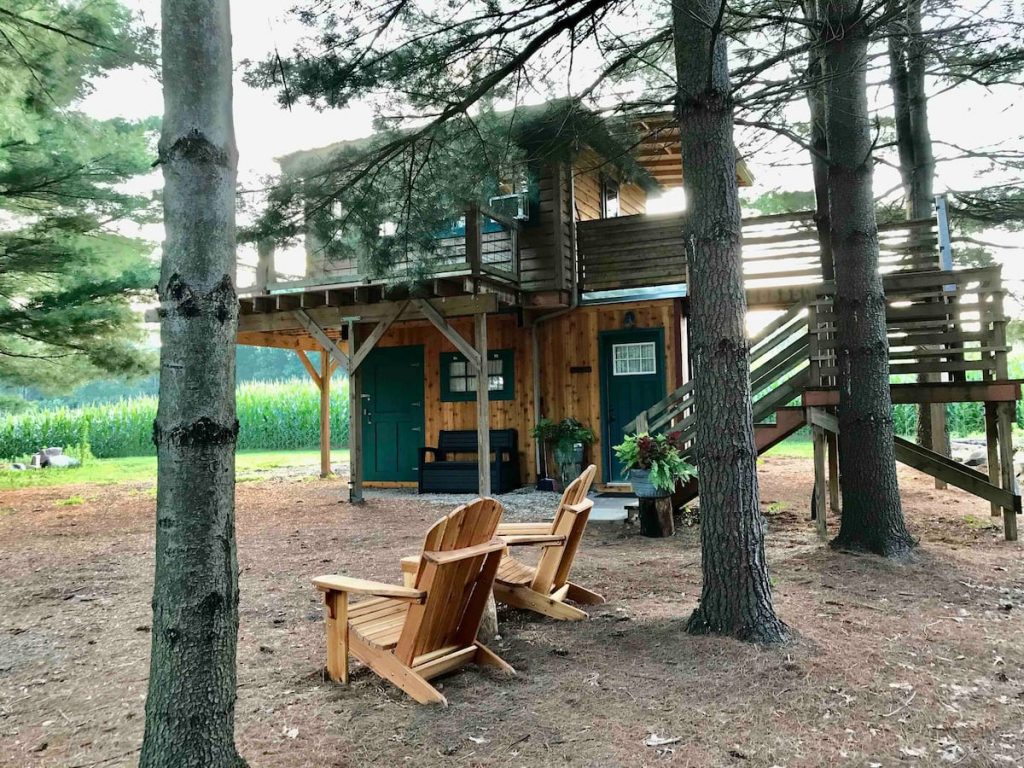 Outpost Treehouse – East Leroy, Michigan
A charming and cozy treehouse in the middle of a 65-acre lush farm with modern amenities including complimentary WiFi, 32-inch TV, air-conditioning, hot and cold running water, a private bath, and a 14×14 room with a queen-size bed. Its 15 hand-crafted windows are great for watching the Michigan wildlife. While there are no cooking facilities, the treehouse has a refrigerator and a fire pit to let you enjoy a nice camp cookout.
Shipping Container
---
Steelhaven – Sleek, Modern Shipping Container Home in Mancelona
Have you ever wondered what it's like to stay in a shipping container? Here's your chance! This hip Shipping Container pad is the ultimate glamping experience. It is a unique and modern, brand-new shipping container home made of three 40-foot containers. You're surrounded by nature, and you can enjoy a true escape to unwind, and recharge.
Lighthouses
---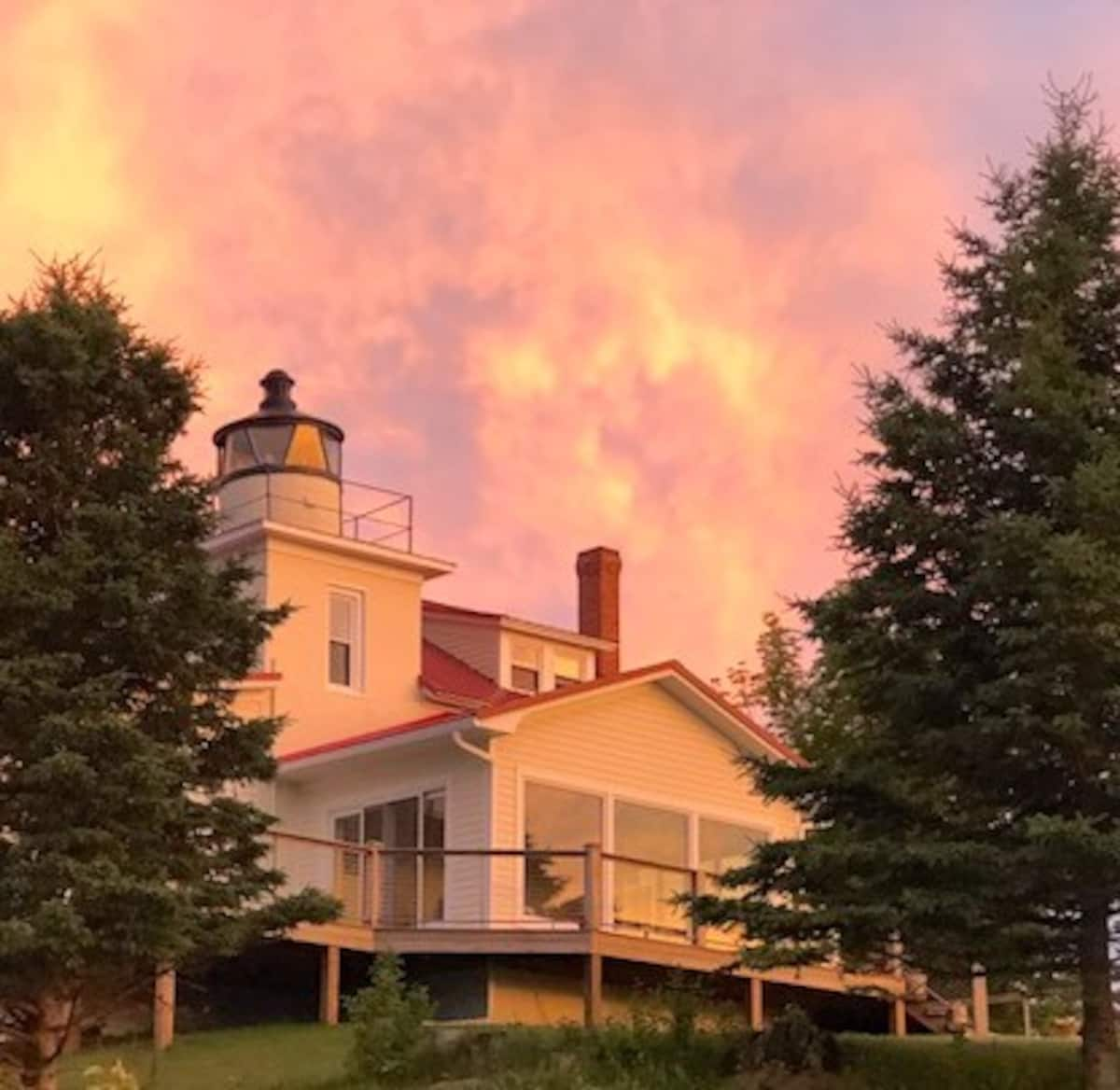 Stunning 1850's Eagle River Lighthouse – Eagle River, Michigan
This carefully restored 1850s lighthouse features a stunning interior that opens onto an amazing four-season sunroom and wraparound deck with panoramic Superior views. Soak up lake breezes, curl up on oversized sofas, or enjoy meals in the gourmet kitchen. It's steps away from miles of Lake Superior beach, ATV/snowmobile trails, top-notch dining at the Fitz, and Eagle River Falls.
Houseboats
---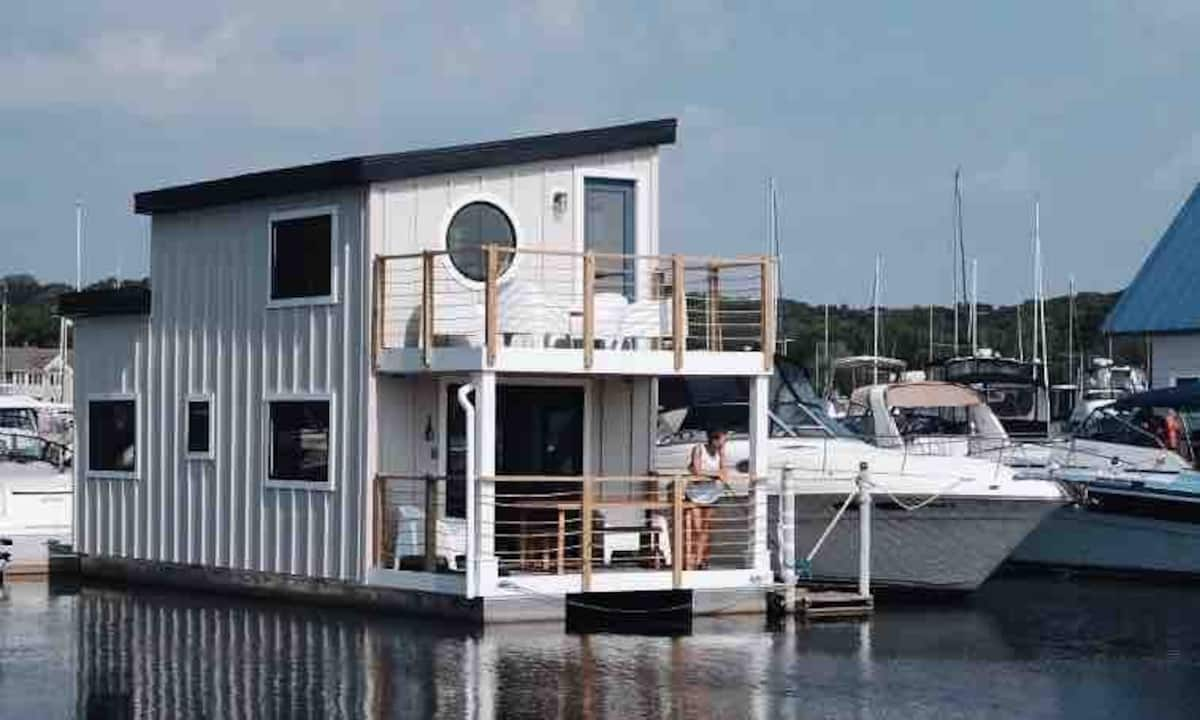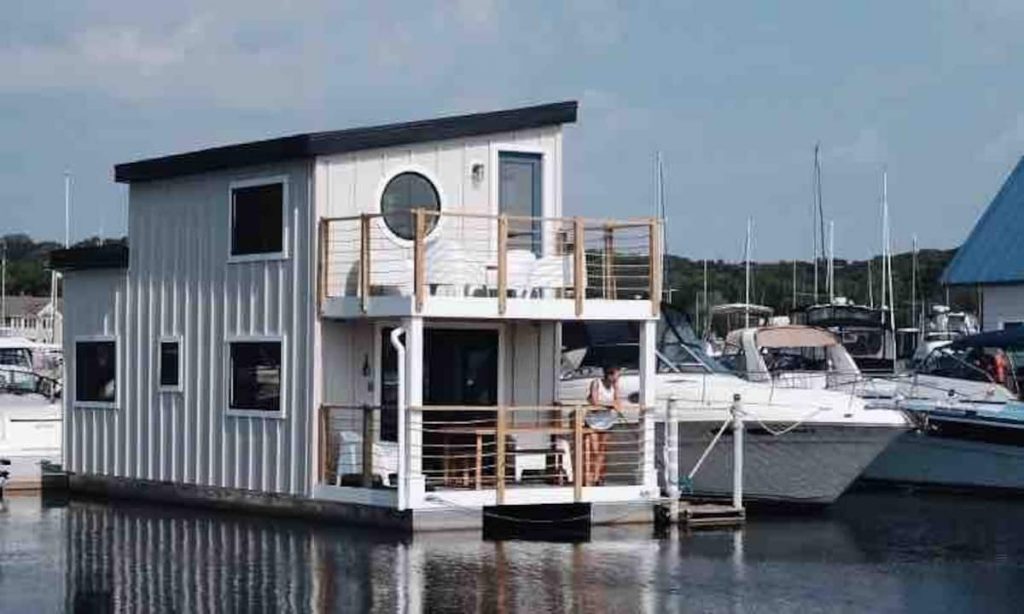 Floathaus of Saugatuck – Saugatuck, Michigan
Enjoy a memorable experience sleeping on Michigan's west coast and watch the sunset/sunrise from the deck at the "Floathaus of Saugatuck" located in Tower Marina. Guests will have access to a waterfront pool and park, laundry, grills, and a private bathroom. Guests can hop in the provided kayak and explore the waters, even walk to nearby shops, dine, or see art while in the area.
Boats/Yachts
---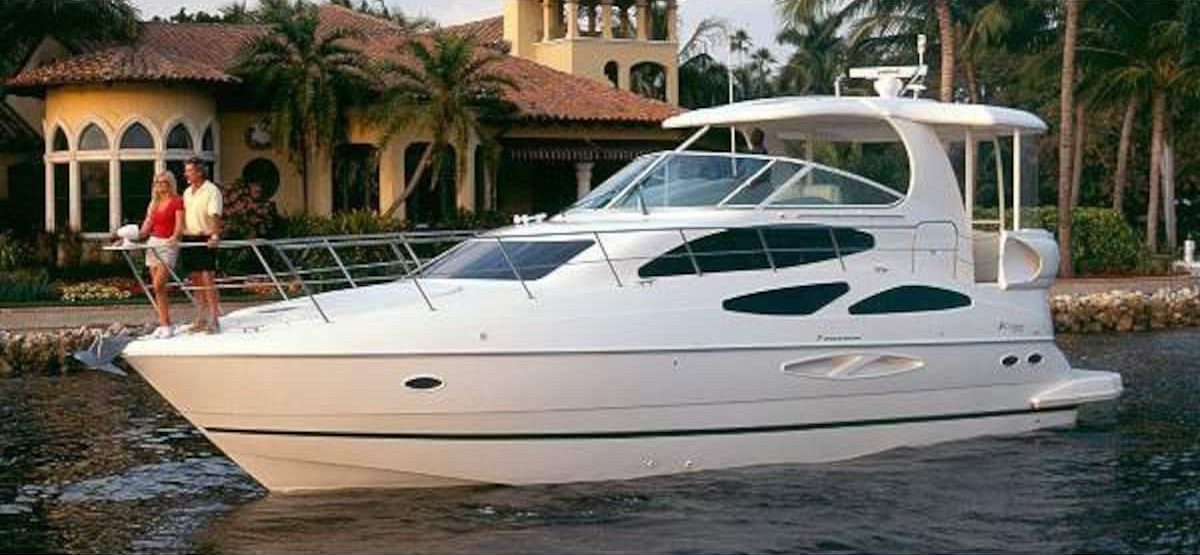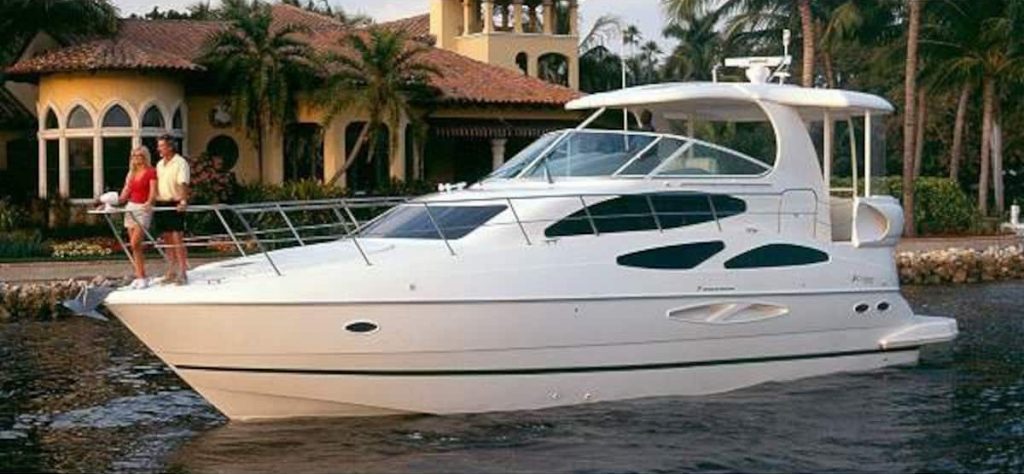 Yacht – Saugatuck, Michigan
Come experience your best night's sleep and relaxation. You're sure to have lots of fun on the water in this beautiful spacious motor yacht! It features a private guest suite with a private adjacent bathroom with a shower.
Kalisha Yacht Carver 35 – Saugatuck, Michigan
This beautiful yacht is docked next to the Kalamazoo replica lighthouse and is near the Red Dock bar and grill. The yacht sleeps up to 6 people and has a bathroom with a shower, a kitchen with sink, microwave, and 2 stovetop burners. You also have to option to rent 2 Jetskis for 4 hours, and if you do so, you will receive a four-hour complimentary cruise on the yacht with your own private captain.
Dome house
---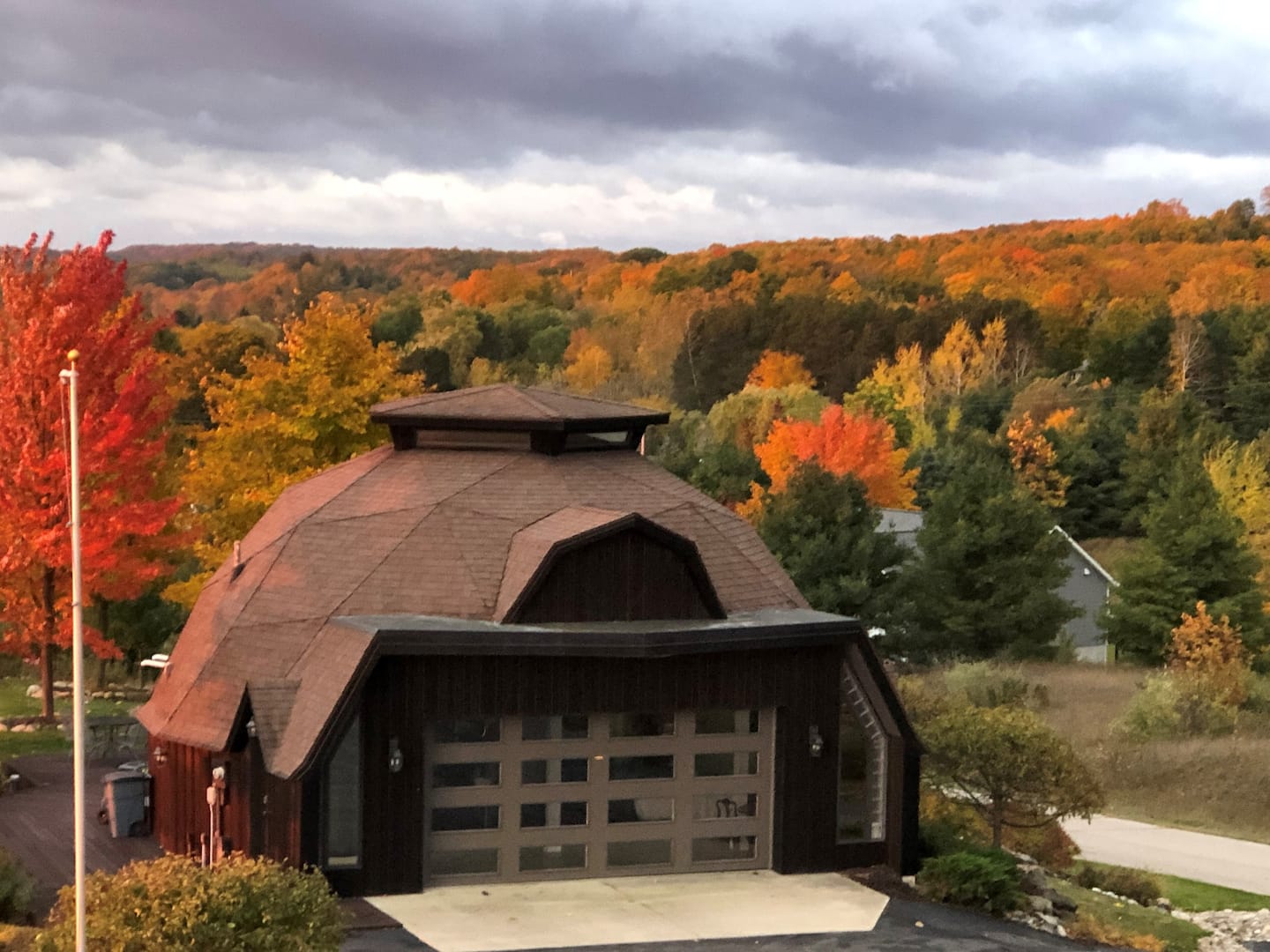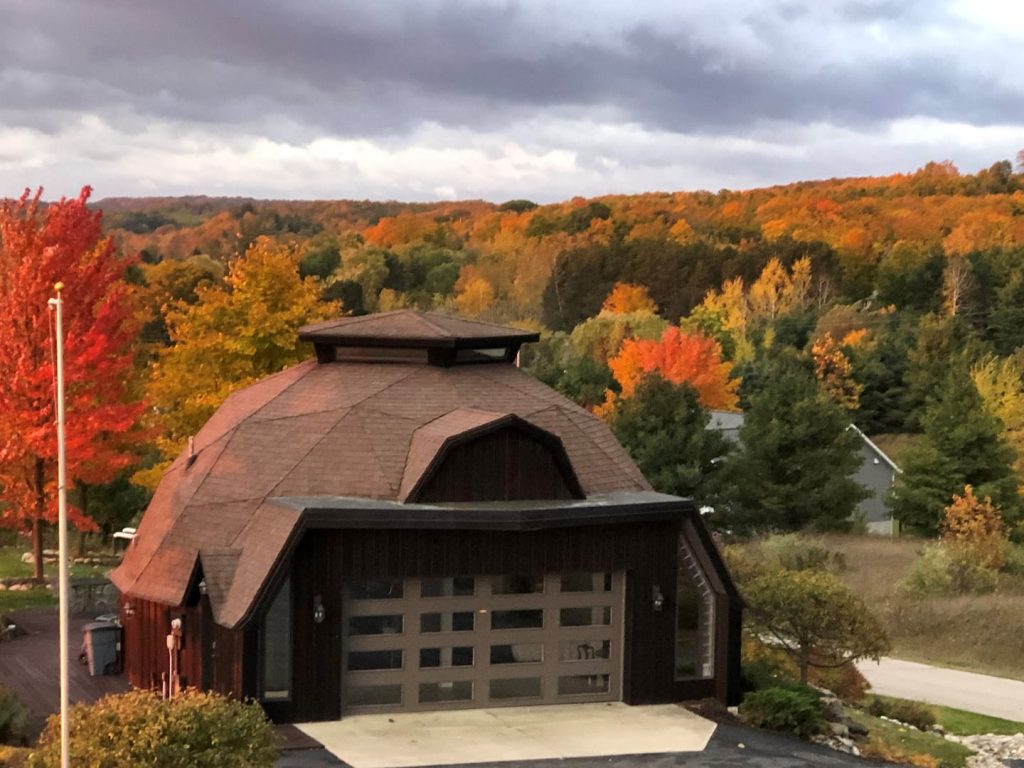 Dome home with spectacular views! – Suttons Bay, Michigan
A wonderful dome home with amazing views to relax and watch the sunset from the porch. The interior was newly renovated in 2019 and features a mezzanine with two queen beds and extra inflatable beds for more sleeping space. Modern amenities include air conditioning, heating, a washer, a private entrance, an indoor fireplace, and a dedicated workspace.
Glamping – Tepees & Yurts
---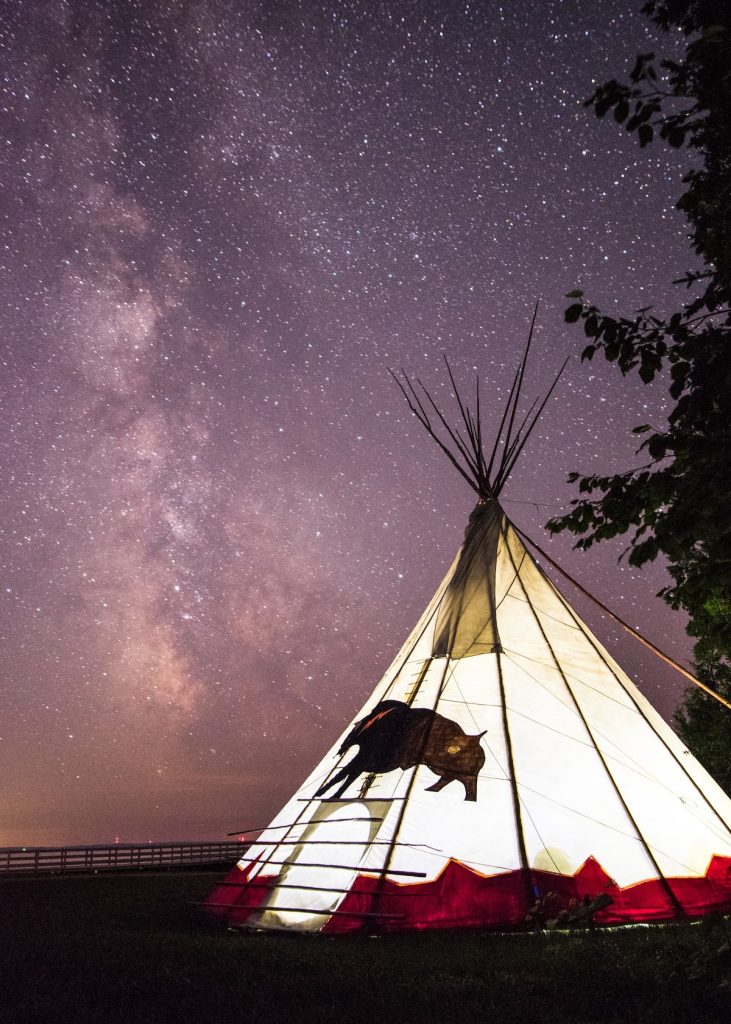 The Lost Tepee – Saint Ignace, Michigan
This tepee has fantastic views, sunsets, and natural beauty all around. It's just right for couples and solo adventurers. The tepee is set for two adults that sleep together or one solo traveler.
Ferned Creek Bell Tent Lux Camping/Glamping – Bitely Michigan
Take glamping to the next level at the Lulabelle Glamor Tent. It's located next to a lush green forest overlooking a beautiful orchard. Guests can enjoy a genuine off-the-grid campout while stargazing at night accompanied by the wonderful sounds of nature. Relax, eat, or read on the wicker chairs by day or take a lovely trip to Lake Michigan or around Saugatuck, Douglass, and Holland shops, galleries, and restaurants.
Homes & Cabins
---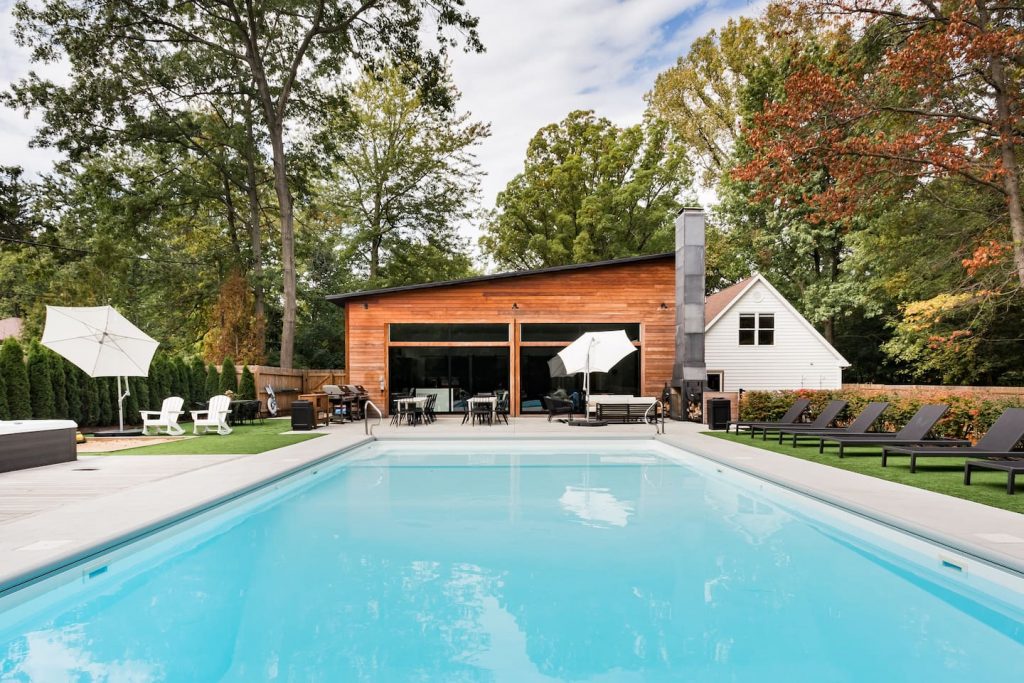 Sprawling Home with Chef's Kitchen & Pool – Union Pier, Michigan
This home is a beautiful luxury rental property designed for epic feasts and outdoor living located two blocks from Lake Michigan in SW Michigan, just 70 miles from Chicago. The custom-designed rambling 6,000 sq. ft. home accommodates large groups with ease thanks to its generously-sized communal spaces and cozy bedrooms.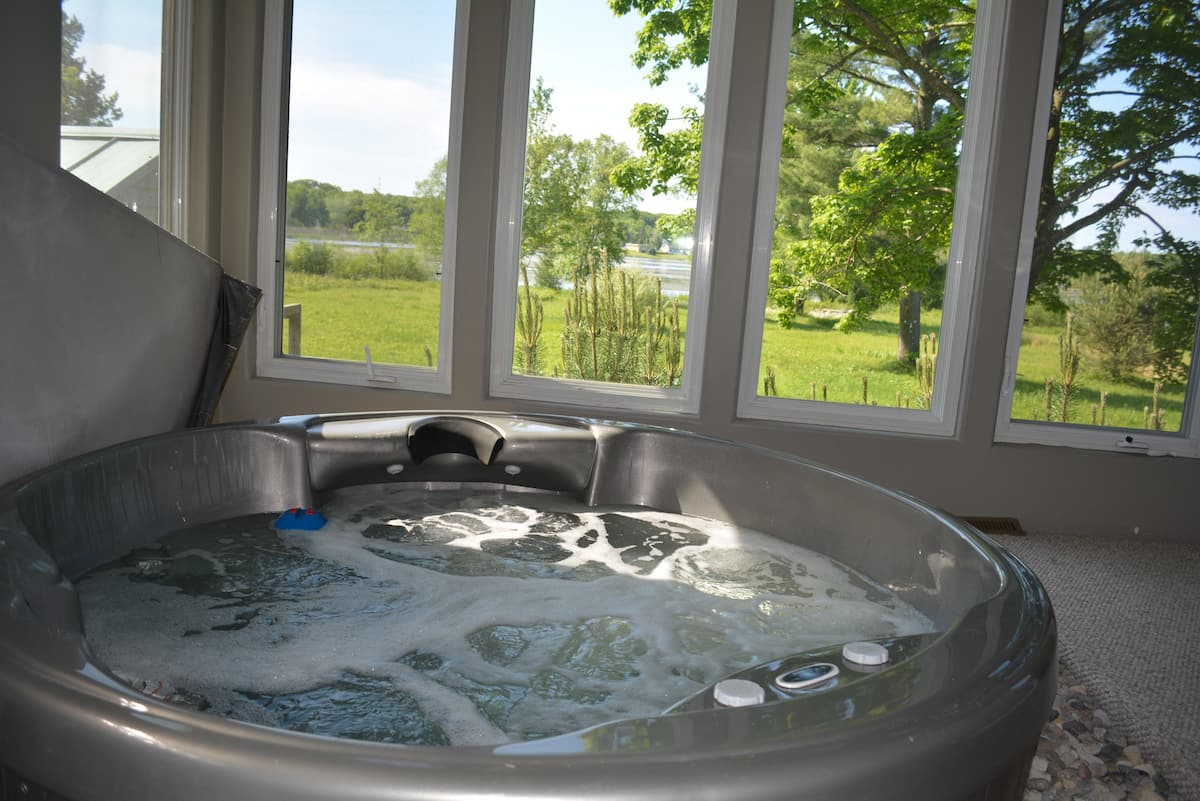 West Wing on the Lake w/ sauna and hot tub! – Hamlin Township, Michigan
This Airbnb is located on Lincoln Lake, which goes right out into Lake Michigan. Enjoy the hot tub or time in the sauna, after a nice ride on this Airbnb's kayaks or canoe. It features a full private kitchen, living room, dining room, bedroom, and office.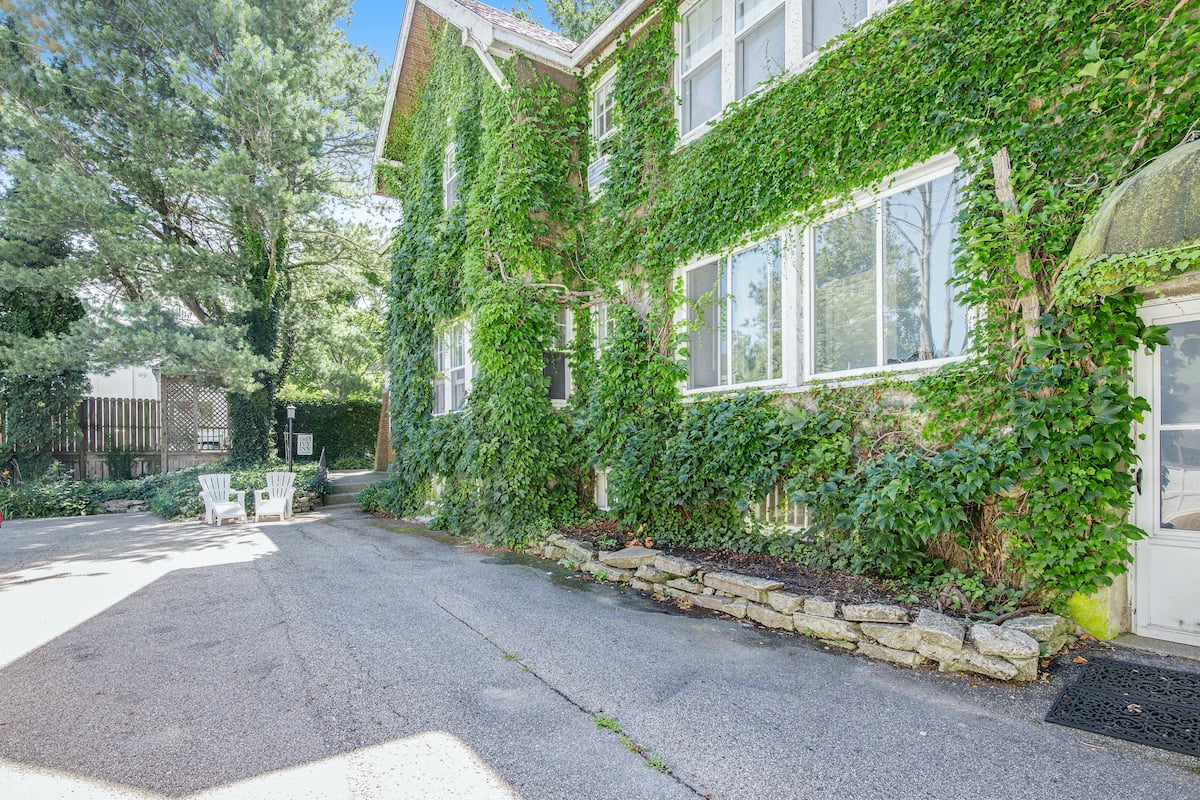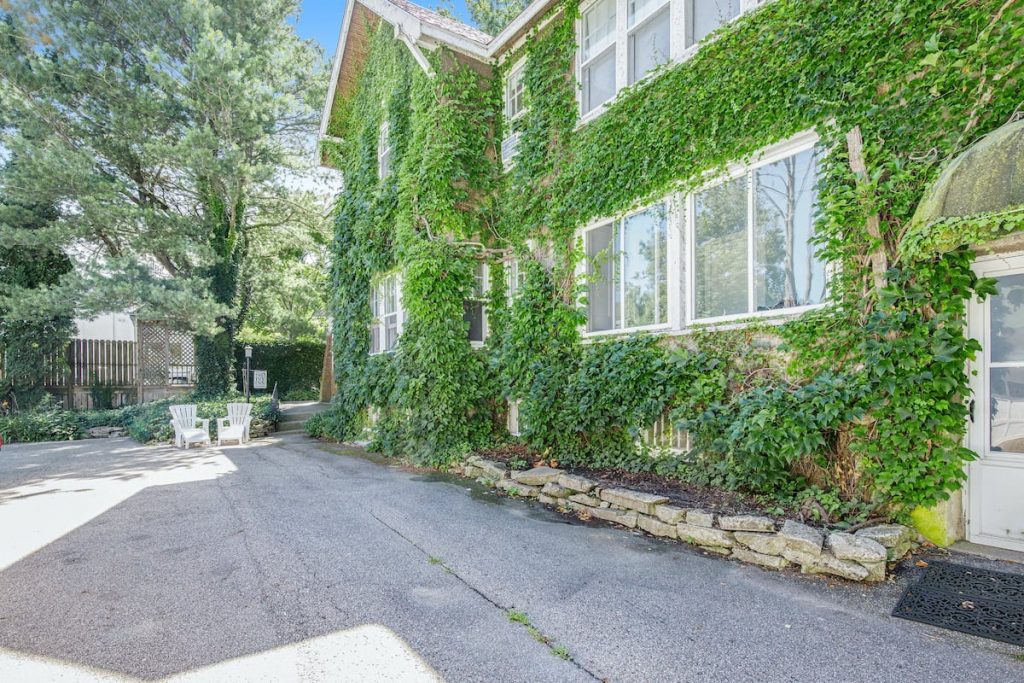 Charming historical home – Saugatuck, Michigan
A friendly historical home with six bedrooms (each with a private bath) and a private gated entrance. The space is large enough to accommodate book club gatherings, getaways, get-togethers, and family reunions. For ultimate comfort, the living room features a gas fireplace, 65-inch TV, surround sound system, dedicated workspace, and modern amenities for a memorable and unique stay.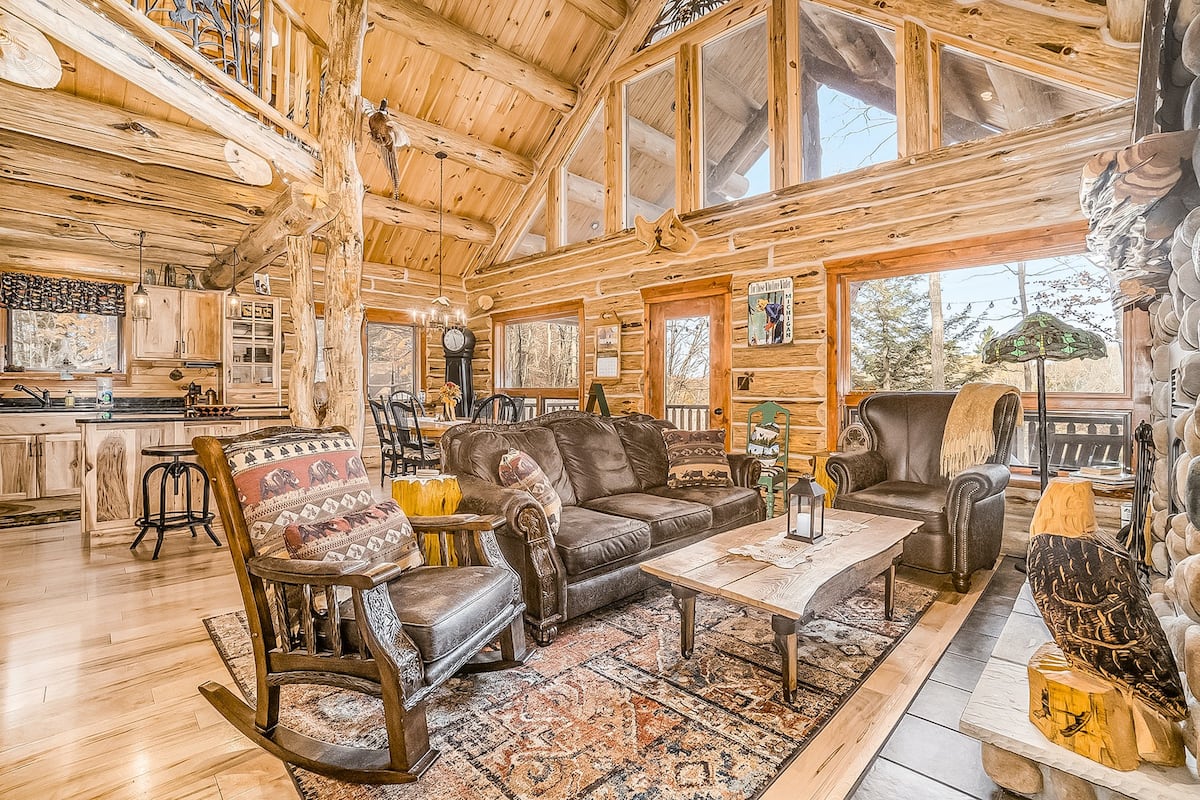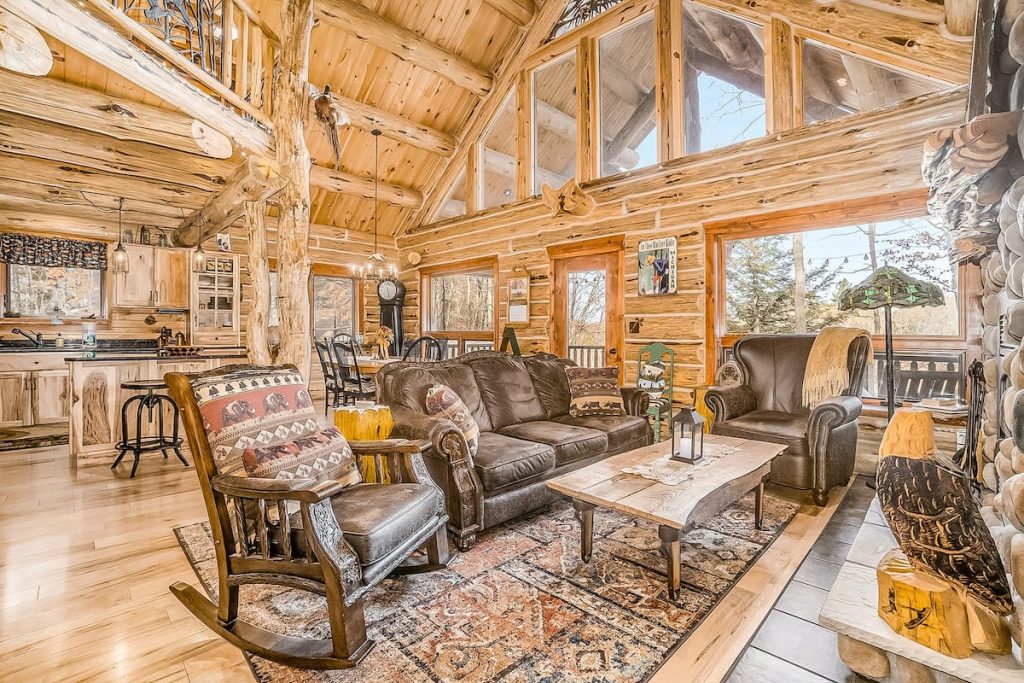 Delightful riverfront cabin – Thompsonville, Michigan
An incredible cabin tucked into the woods with a stunning view of the river! This comfortable log cabin is always ready for guests who want a memorable outdoor adventure. It's close to hiking trails and Crystal Mountain; guests can also stop by the Crystal Spa & Fitness Center for the perfect bit of relaxation. Fantastic amenities include free WiFi and cable, a full kitchen, free parking, a dedicated workspace, a gym, and a pool.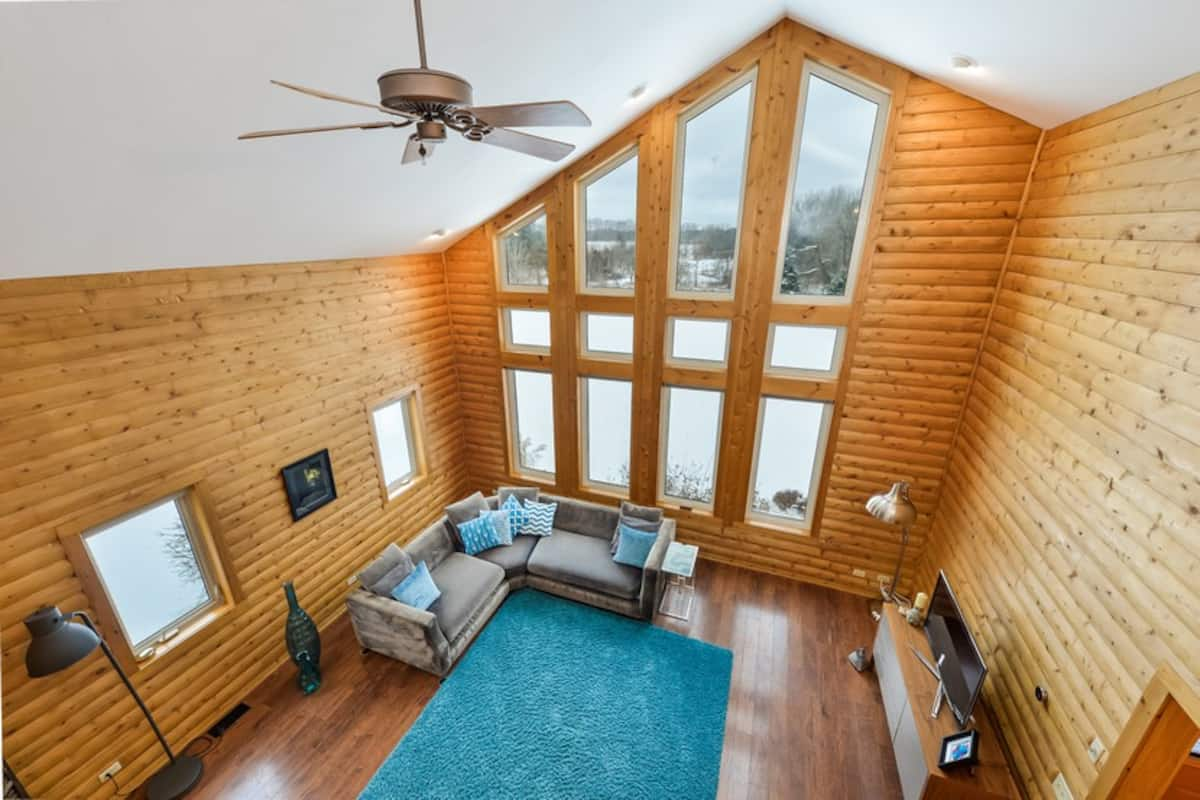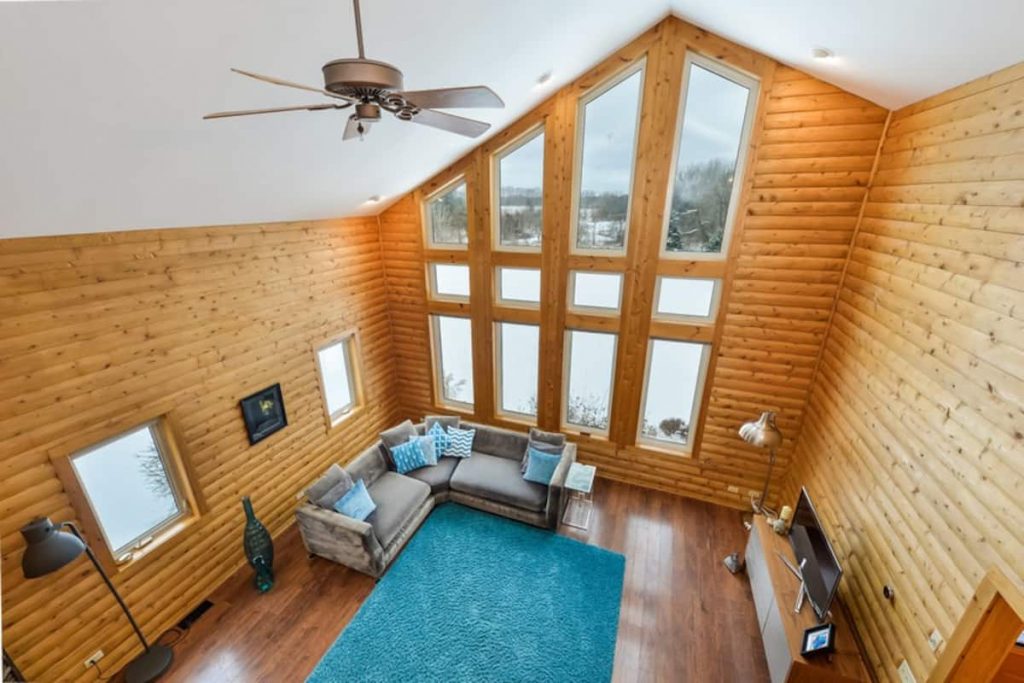 Entire Cabin – Fennville, Michigan
A peaceful cabin retreat with access to a vibrant lake community and is built with modern conveniences. This cabin situated in the private countryside has a cathedral-like design overlooking the lawn and surrounding woodland. Its interior features stunning timber pillars supporting the gallery and staircase with a walkout basement that leads directly to a lovely sun trap.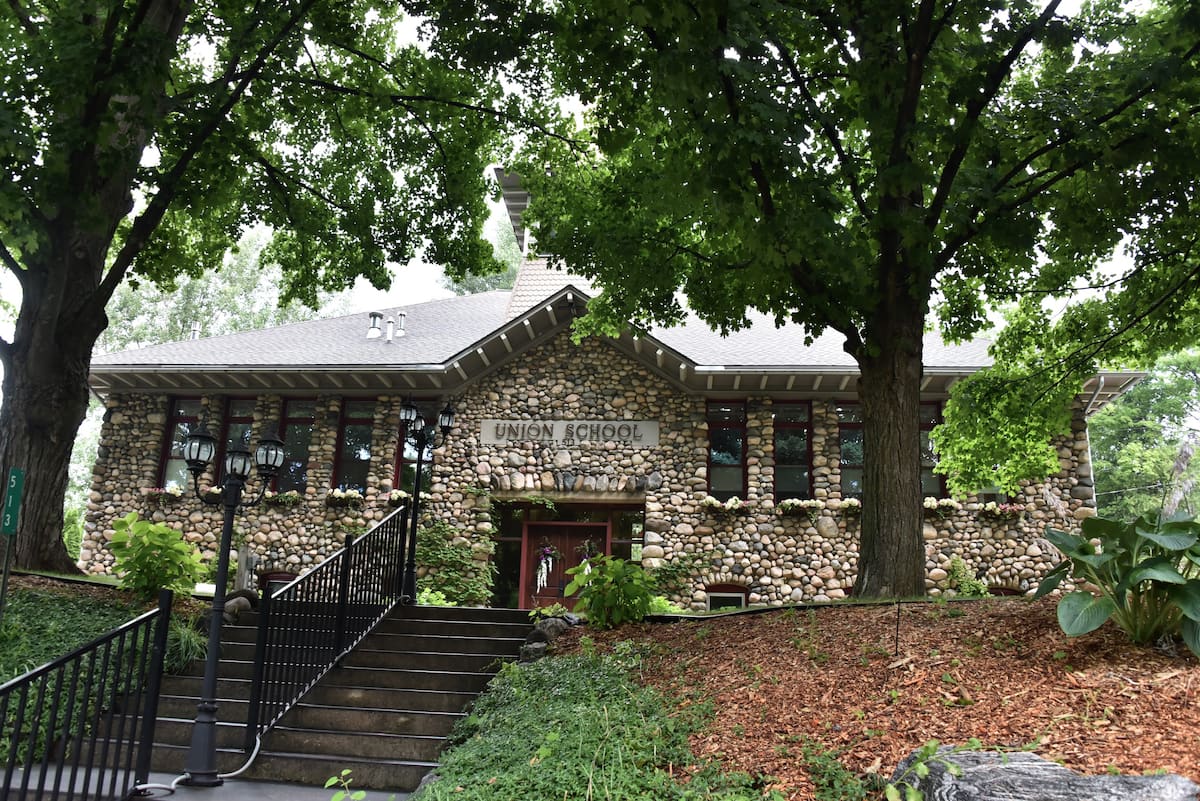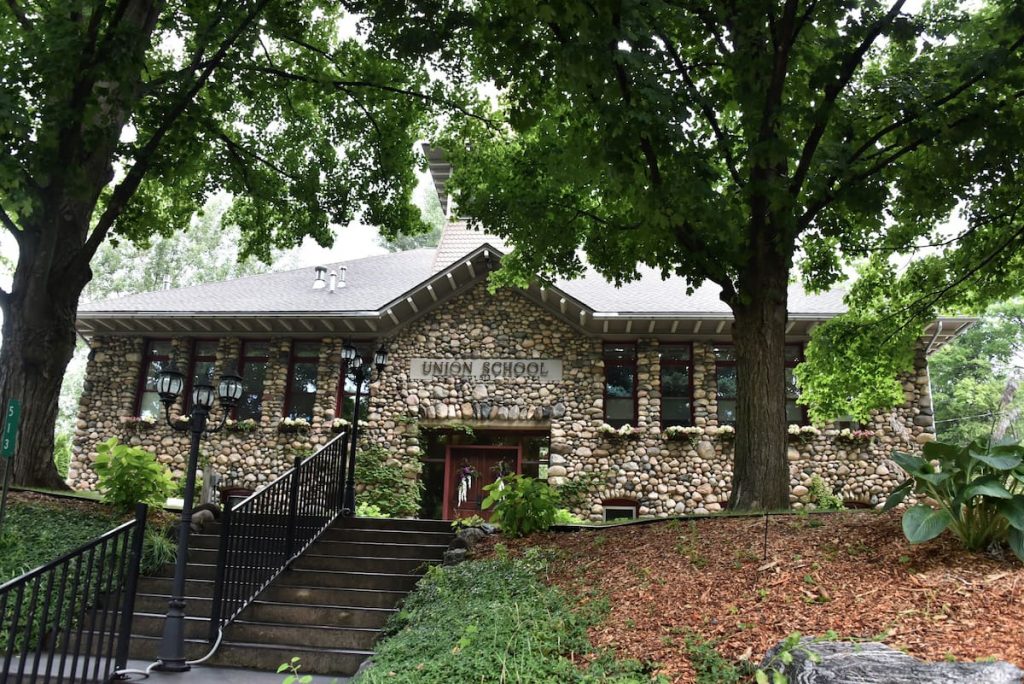 Historic Stone Schoolhouse – Suttons Bay, Michigan
A historic 100-year-old stone schoolhouse thoughtfully renovated into a sustainable condominium with two bedrooms and 2 luxury bathrooms in the heart of Suttons Bay Village. The place is only a five-minute walk to restaurants, eclectic shops, and walking trails with a breathtaking view of the beach just two blocks away.
Tiny Homes
---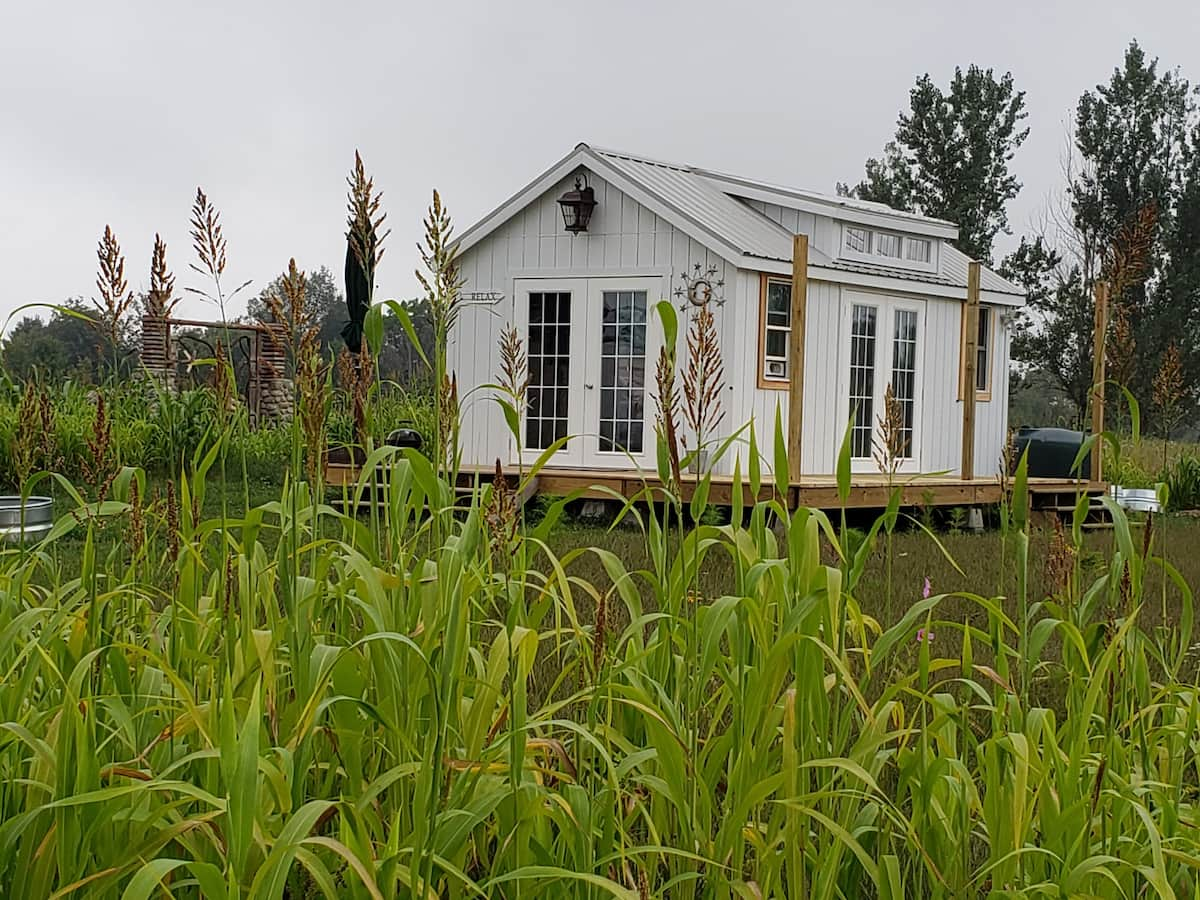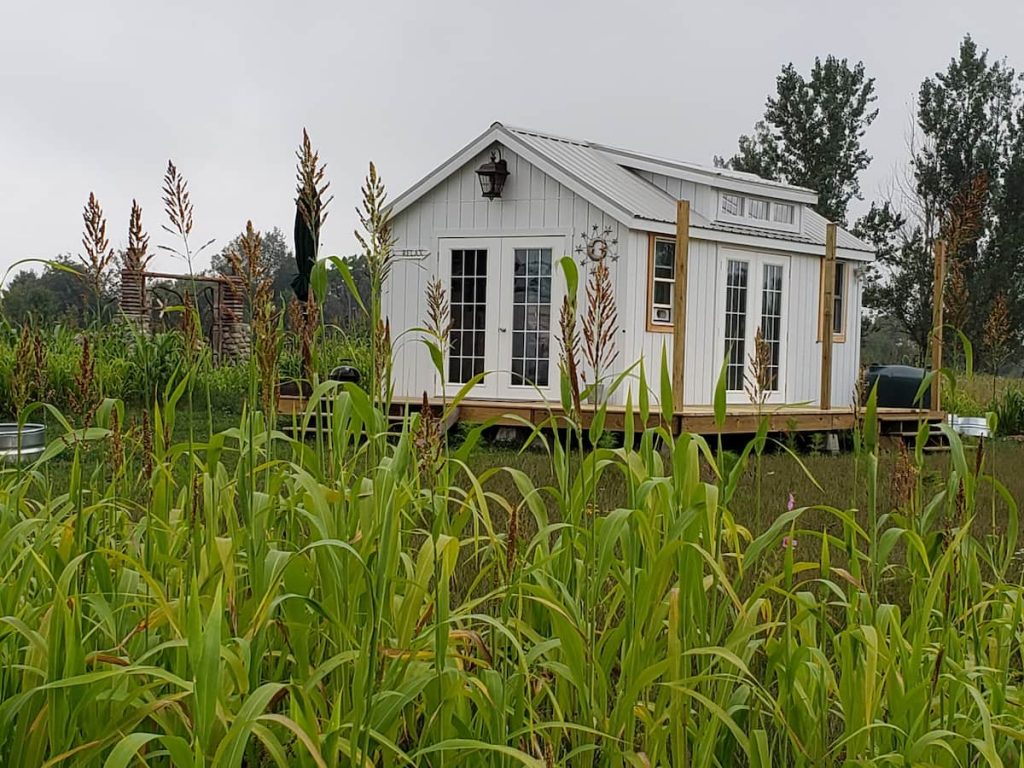 The Firefly Stargazer Tiny Home – Hastings, Michigan
Cute and comfy place for a quick respite, this tiny house at Victoria's Garden Farm is a well-designed space for guests seeking a unique and refreshing R&R. View the night sky through the clear roof of the house as the nature sounds to lull you to sleep. Wake up feeling well-rested and recharged and have a nice cuppa on the deck.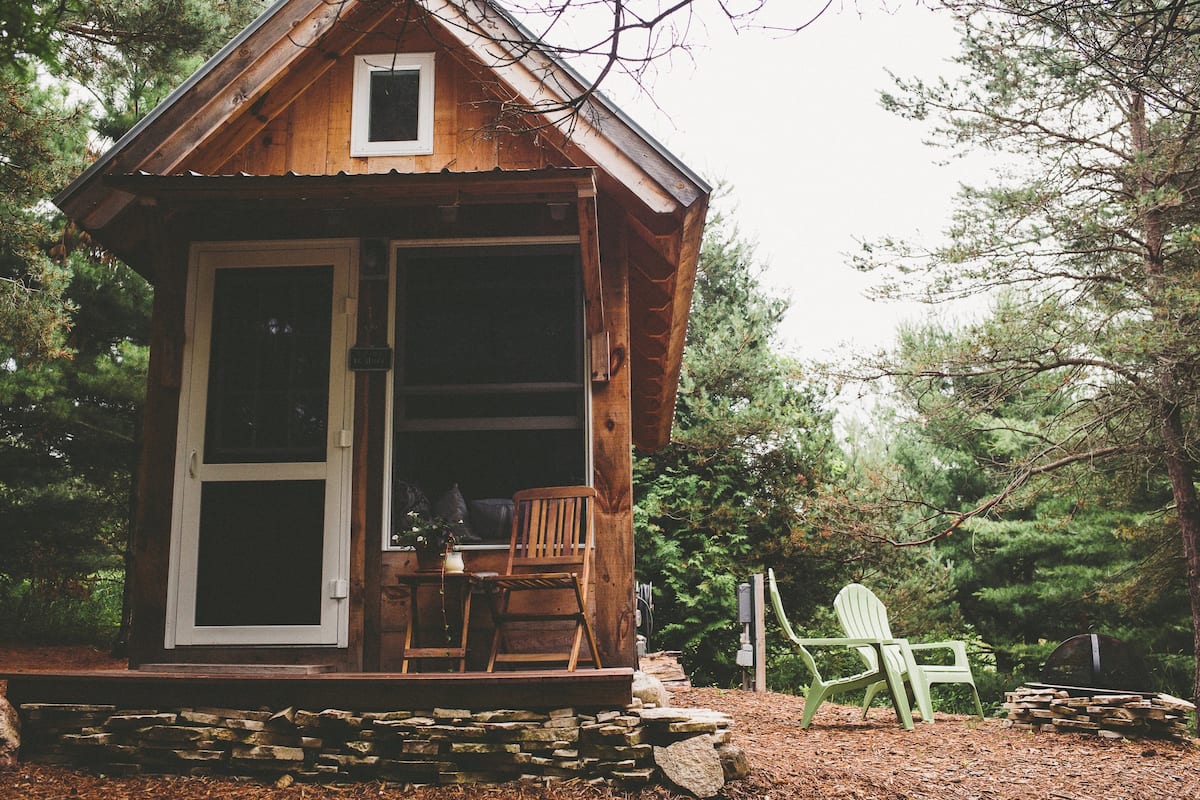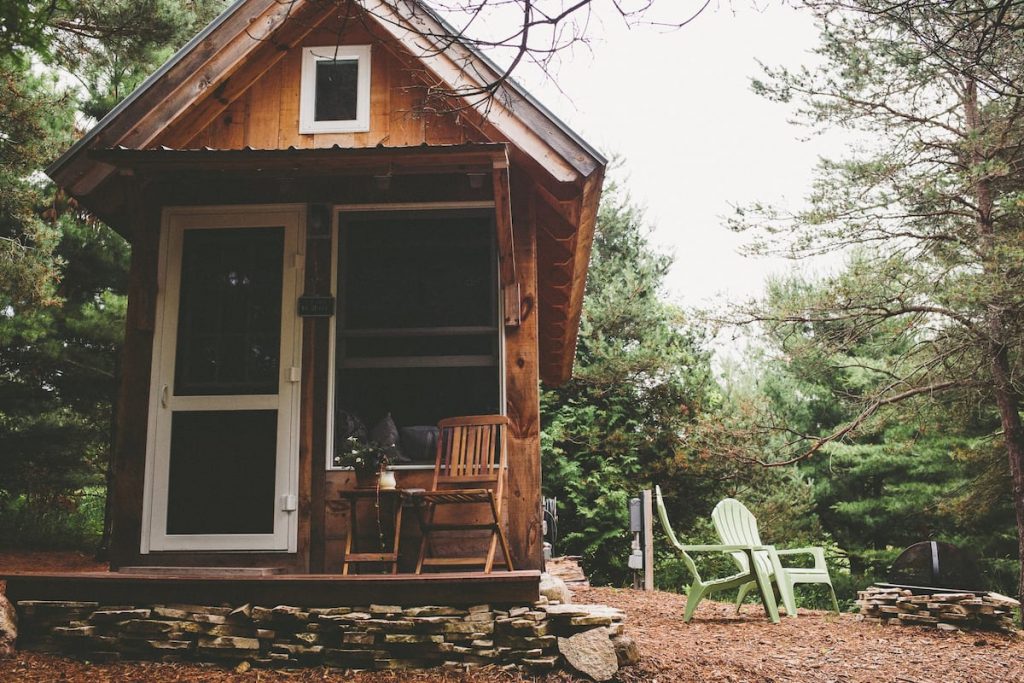 Tiny House –

Charlevoix, Michigan
This 200 ft. tiny house is tucked nicely away in the beautiful northern Michigan woods. Its light and airy space is comfy and bright, and without being too constricting. It is only 2.5 miles from downtown Charlevoix.
Barns
---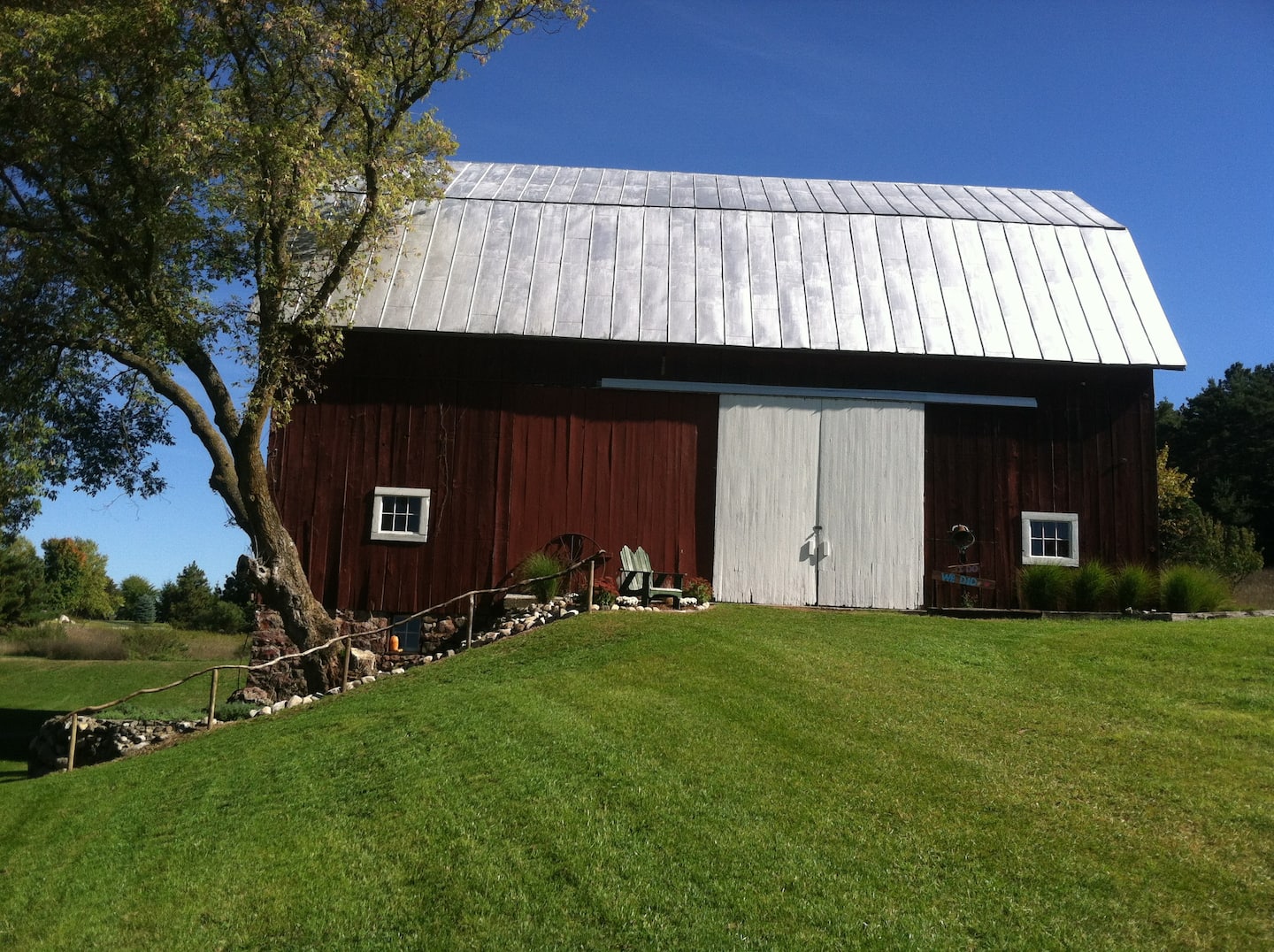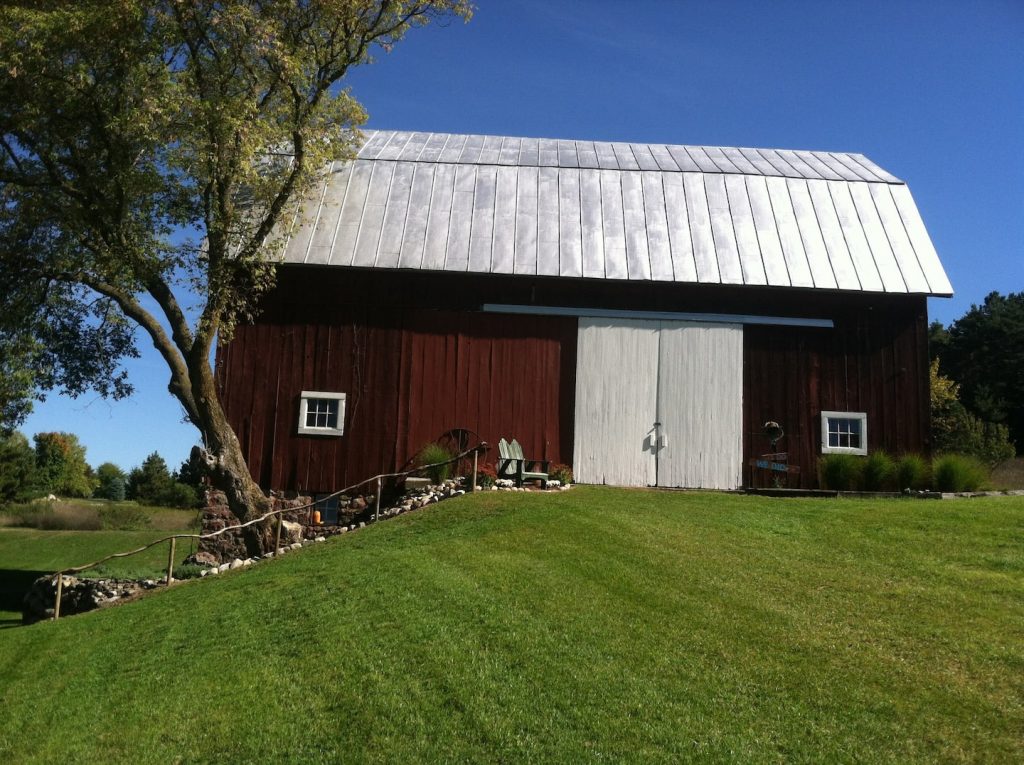 Country Living Farm Stay – Traverse City, Michigan
This farm stay lets you bask in the peaceful country setting with access to a 125-year-old barn, vegetable garden, and an entire yard. You'll get to enjoy a romantic dinner outdoors or near the fire pit and explore the perennial flower garden and a small vineyard. Amenities include a king-size bed, living room area, kitchen, refrigerator, private bathroom with shower, large deck (200 sq ft) with gas barbecue, and WiFi.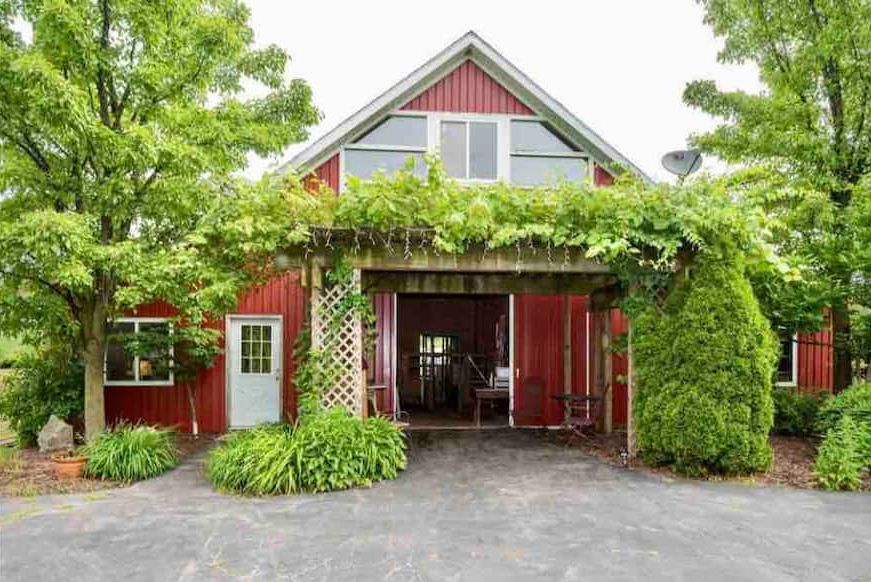 Llama retreat "Loft Cottage" – Sawyer, Michigan
A cozy barn loft that's just a short drive into town or to a number of local vineyards. The cozy barn is also close to many wineries, breweries, and hometown restaurants. The rear windows overlook pastures of regal llamas while the front yard features a beautiful garden for guests to relax while sipping a cup of coffee or tea any time of the day.
*Which of these Airbnbs in Michigan looks the coolest to you? Let me know in the comments!
Need a housesitter while you are gone?
---
I, personally, recommend TrustedHouseSitters if you need to find a housesitter/someone to watch your pets while you are away.
How TrustedHousesitters works is they connect home and pet owners with trustworthy, verified sitters who won't charge to look after your pets, in exchange for a unique place to stay. They have sitters and homes all over the world!
It's a fantastic way to find trustworthy people to watch your home and pets while you are away. (And on the flip side, it's a cool way to stay in different areas of the country and world without having to pay for accommodation! I have a friend who literally didn't own or rent a home for years, and only used TrustedHouseSitters to find the next spot she was going to stay.)
Click here for more information on TrustedHouseSitters.