Adventures in Harajuku: Outfit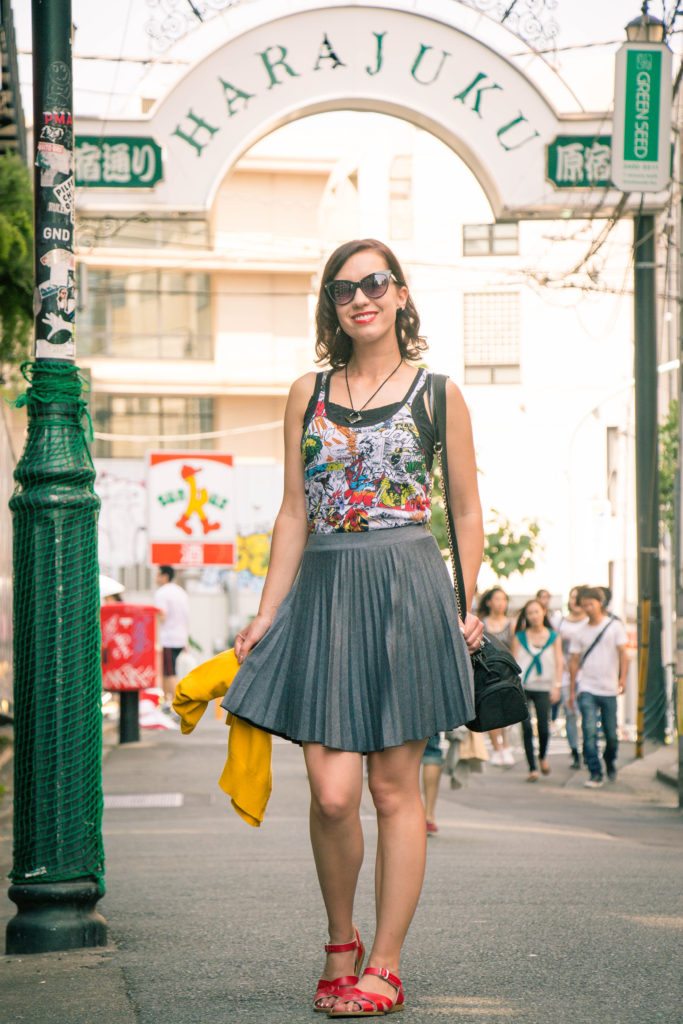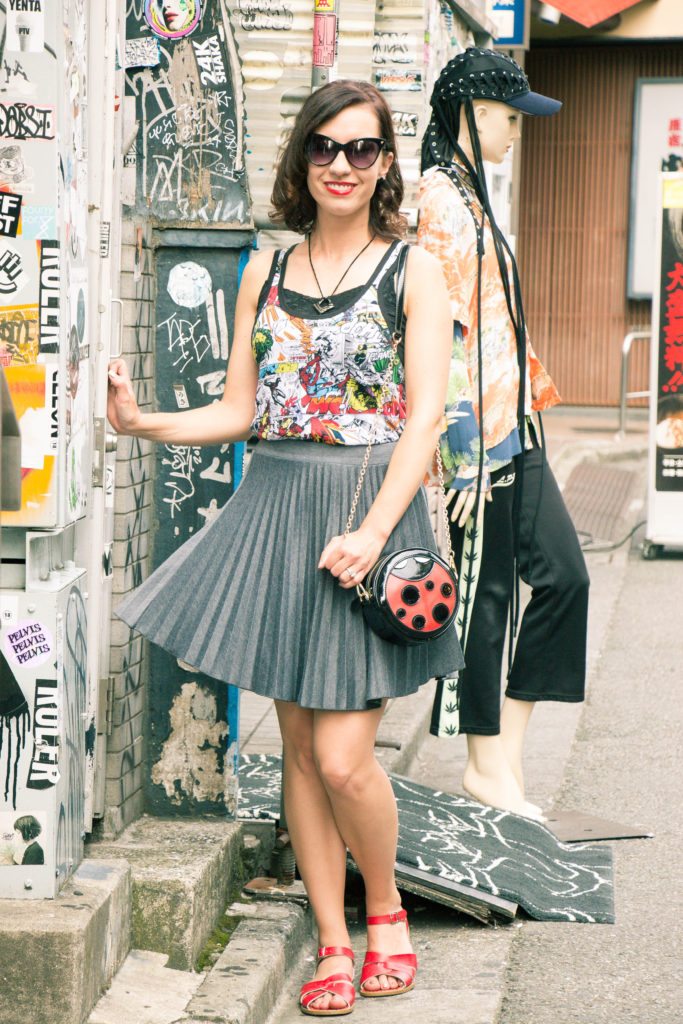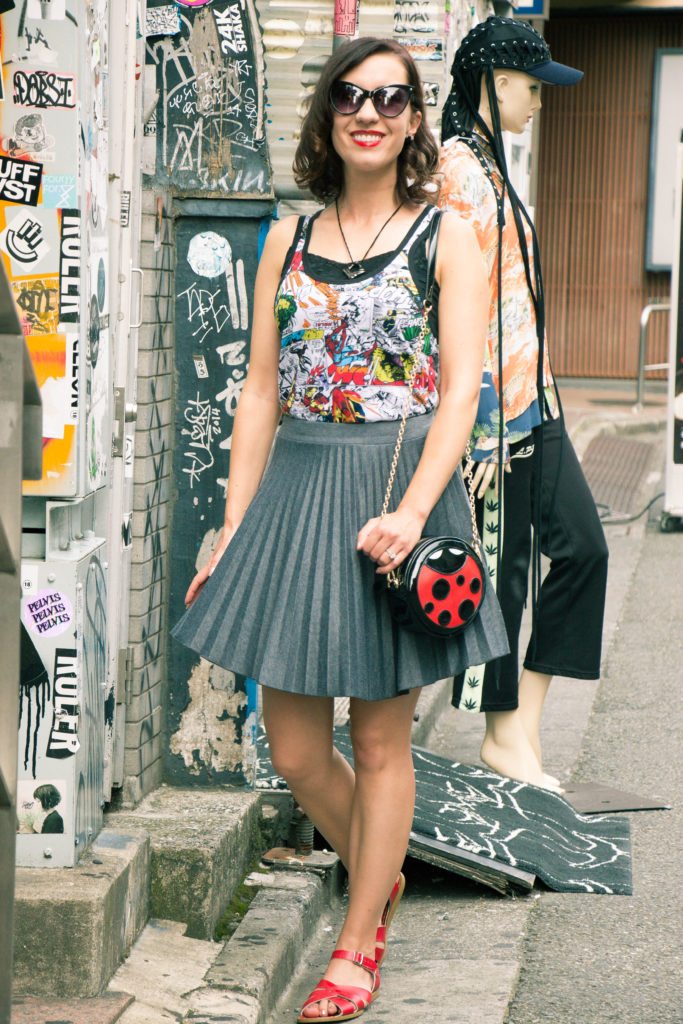 Shop the look:

Harajuku is one spot in Tokyo that was pretty much a requirement to check out, as everyone who has been to Tokyo had told me to go. Even the person who cut my hair last week in Tokyo told me to go see it (more on that adventure a different day)!
I knew Harajuku is all about nonconventional fashion and fun street style. So, I figured this would be a good time for me to break out one of my more geeky, not-so-conventional outfits. Plus, I'm pretty sure it was 600 degrees Fahrenheit with 6,000 percent humidity the day I went…so, the name of the fashion game was to not turn into a human popsicle and melt all over the street! Haha.
This skirt and my fancy, Marvel tank top were the perfect way to stay cool, but still be a bit on the unique side for outfits. My Marvel tank top was actually a Christmas gift from my brother and sister-in-law! I'm going to mention one more time how awesome they are! My sister-in-law is always picking out the best geek attire for me. (Click here, here & here to see her other awesome geek gifts!) I had been waiting for it to warm up before I broke this tank top out…and oh boy, I didn't have to wait long in Tokyo! Tokyo is certainly warm and muggy in the summer! Something my Wisconsin-born self is having a hard time adjusting to. Haha.
(On a side note, I have no idea what the place was I was taking photos in front of with the graffiti and creepy mannequin. I just liked how the graffiti kind of matched my tank top. Haha.)
As for Harajuku, it was a bit on the crazy side. We went on a Saturday, and holy smokes – there were tons of people! And no shortage of places to shop.
However… I honestly am not a fan of shopping…at least not brick-and-mortar store shopping. I much prefer online shopping from the comfort of a couch with a cup of coffee (or wine, depending on the day, haha) and reading a whole ton of reviews before I purchase something. So, I feel some of the magic of Harajuku may have been lost on me in that sense. I did appreciate the street fashion (but I felt too weird being a creeper and taking photos of strangers).
With that being said, though. Now that I've sat around on a couch and did some research…I might have to head back to Harajuku to purchase an affordable Yukata or Kimono, as there is a highly recommended store over in that area that's in my price range! (Or I might save that for Kyoto, we'll see. Anyone who has a recommendation on this, let me know in the comments!)
My favorite part of Harajuku, by far, was stopping in the Tamagotchi store! Did anyone else have those when they were growing up? They're the little handheld, egg-shaped devices that are digital pets. You had to feed it, play with it, etc. It made me so happy to see they are still being sold, and there are all kinds of merchandise surrounding it. You could even buy a Tamagotchi makeup case here! Haha.
Does anyone else prefer online shopping to instore shopping? And has anyone else been to Harajuku? Let me know in the comments!

Where to find it:
Tank top: Gift from my brother & sister-in-law (Similar here)
Skirt: Sold out (Similar here & here)
Sandals: Salt Water Sandals
Purse: Sold out (Similar here)
Sunglasses: c/o* Polette
Lipsense Lipstick in Blue Red: c/o* The Dusty Vixen
*c/o = courtesy of, meaning the company gave me the product to be used on my blog, and I did not pay for it. All opinions are my own, and I am not being compensated for a positive review.